Homemade Twix Bars
As an Amazon Associate and member of other affiliate programs, I earn from qualifying purchases.
What's not to love about Twix Bars? Crunchy bottom, caramel center, and chocolate all perfectly layered into one of America's favorite candy bars! Now, you can make this copycat recipe quickly and easily at home in your own kitchen. Warning: They are addicting!

Homemade Twix candy bars have never been easier! Forgo the shortbread cookie crust and make up a batch of these using club crackers and get these bars into mouths that much faster. The perfect sweet and salty candy bite will not disappoint.
I've veered a little bit from the original Twix bar recipe, not just for the base but also by using a combination of chocolate and peanut butter for the top layer. This mixture adds a depth of flavor and the best part is it makes it simple to prepare. If you've got a peanut allergy amongst you, don't worry, I have an option for you as well. See the details below.
If you're a fan of this popular candy bar and love this Twix recipe, you are sure to love these too: Candy Corn Salted Nutrolls, Candy Bar Fudge, or these Frosted Sugar Cookie Bars.
Easy Homemade Twix Bars
The ideal no-bake treat to make ahead, these Twix bars will keep for up to a week, if they last that long that is! Perfect to pair with your afternoon coffee, tea, or glass of cold milk. Make up a batch of this homemade version for your next family gathering, picnic lunch or haul them outside for your backyard barbecue.
Feel free to change them up to suit your tastes and modify them as you wish. We sometimes eat them with a scoop of ice cream on top. So decadent! Cut them into strips, bars, or bite-sized portions work too.

Ingredients for Twix Bars
For complete ingredients and instructions scroll to the bottom of this post for the full printable recipe card.
Club and Graham Crackers – I use Club and Graham crackers in these homemade Twix bars. The club crackers for the base instead of shortbread cookies and the graham crackers for the homemade caramel mixture.
Brown Sugar and Granulated Sugar – The combination of both sugars adds a depth of sweetness to these homemade candy bars.
Milk – Any kind of milk will work, even plant-based.
Butter – Salted or unsalted butter will both work well.
Semi-Sweet Chocolate Chips – Melted chocolate chips make up the chocolate layer in these bars.
Peanut Butter – Peanut butter adds creaminess and tons of flavor to these bars. Choose an all-natural peanut butter without any added sugar or oil.

How to make this Twix Bar Recipe
First: Line a 9×13 with foil and spray with non-stick cooking spray or coat with melted butter.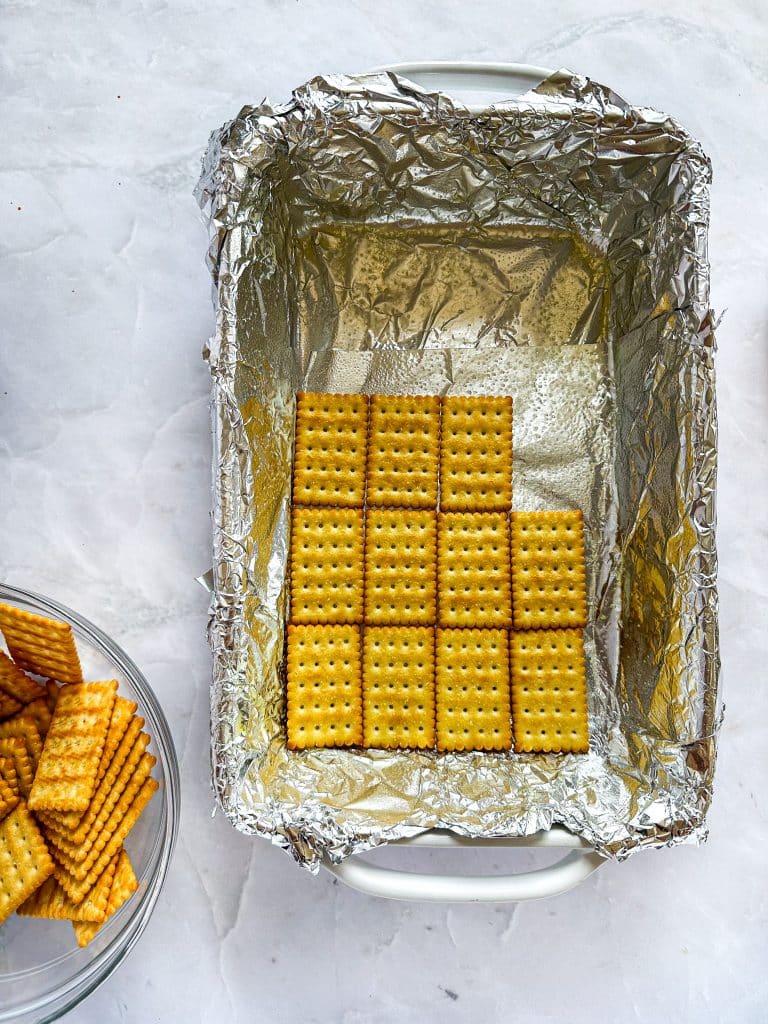 Second: Cover the bottom with a single layer of club crackers. This is like the shortbread layer in traditional Twix.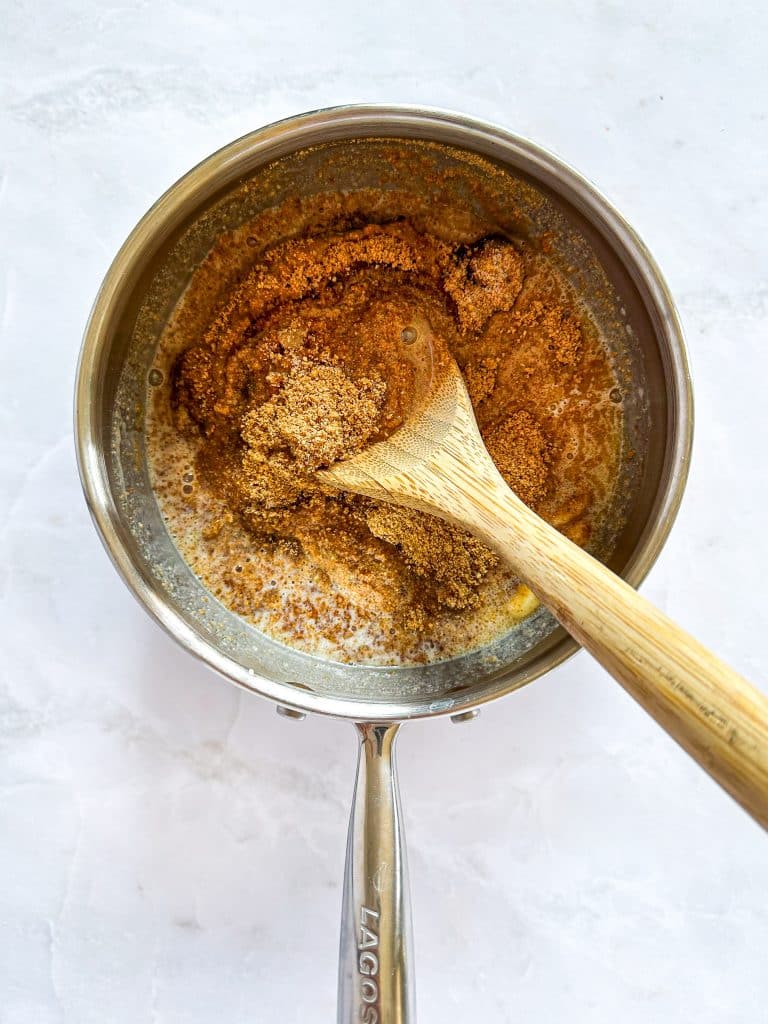 Third: Add butter, crushed graham crackers, the two sugars, and milk to a saucepan on the stovetop. Bring to a bubbling boil over medium heat and boil for 5 minutes, stirring almost constantly. Scrape the bottom of the pan to thoroughly mix the ingredients.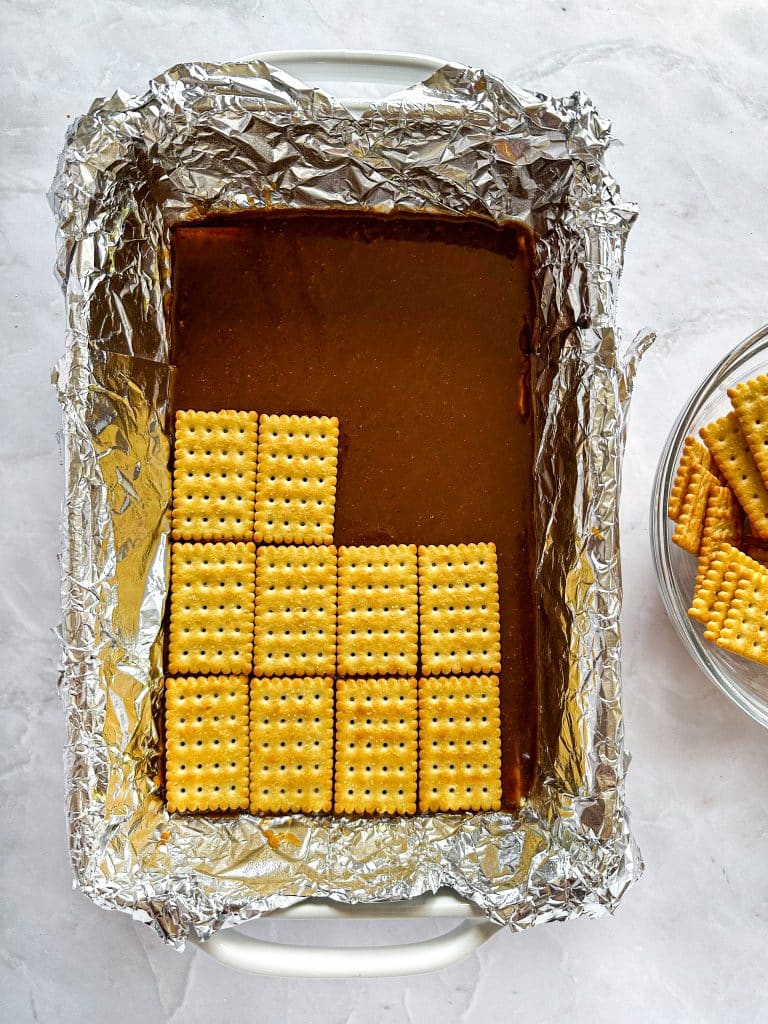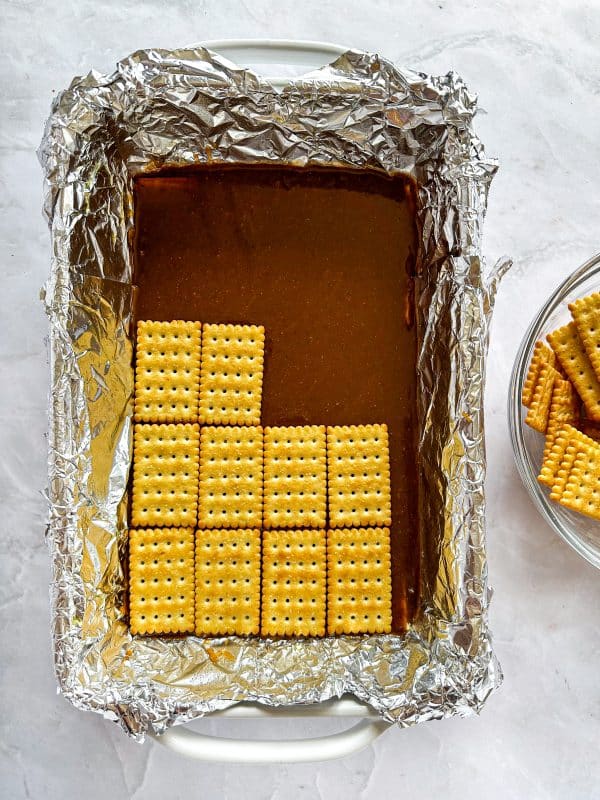 Fourth: Pour this chewy caramel sauce over the crackers and then add another layer of crackers.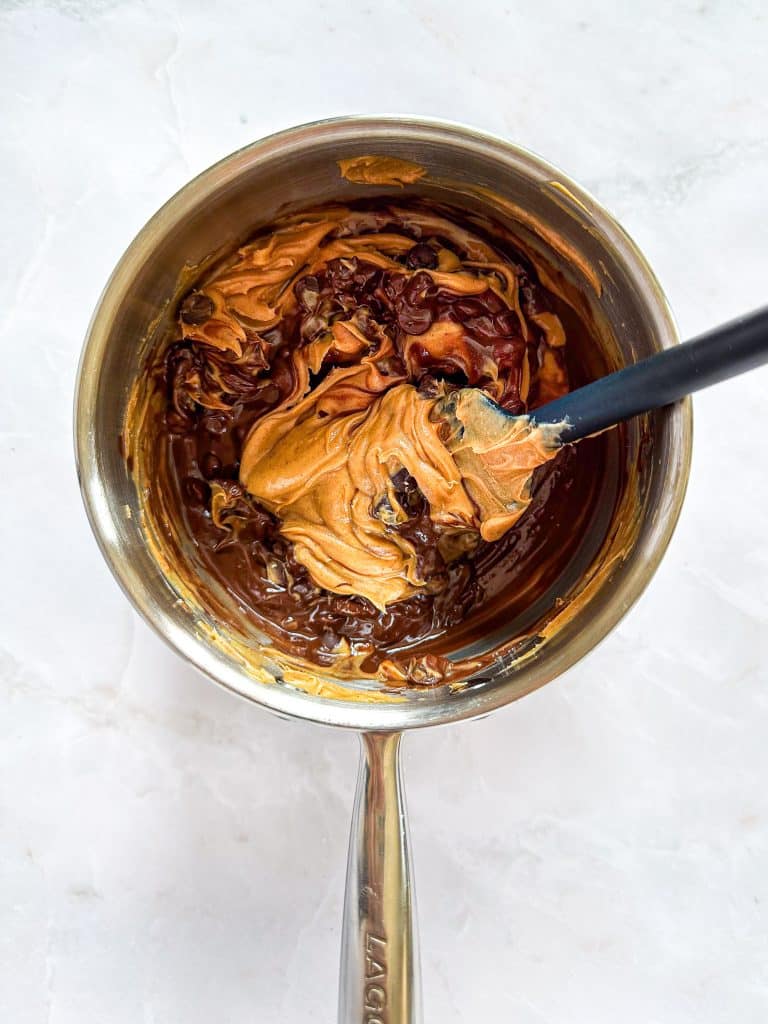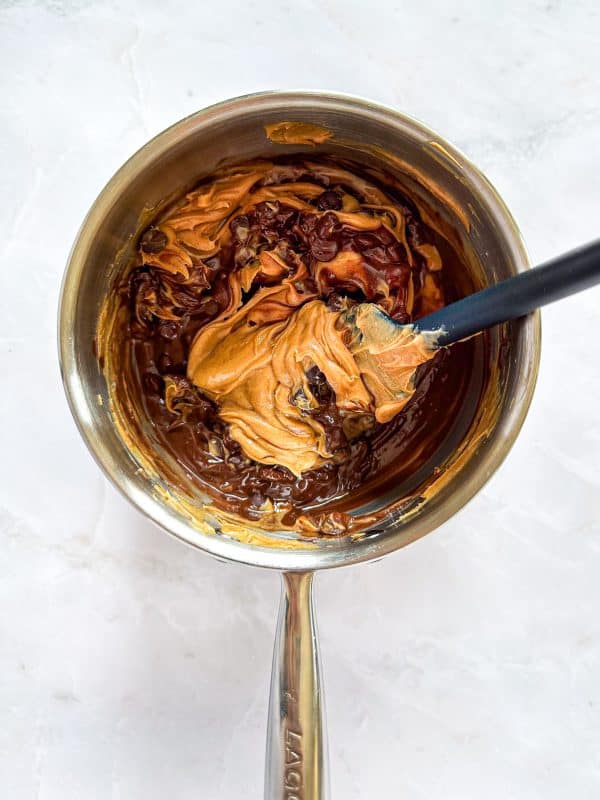 Fifth: Add chocolate chips and peanut butter to a small saucepan and melt, stir with a wooden spoon until smooth and golden brown.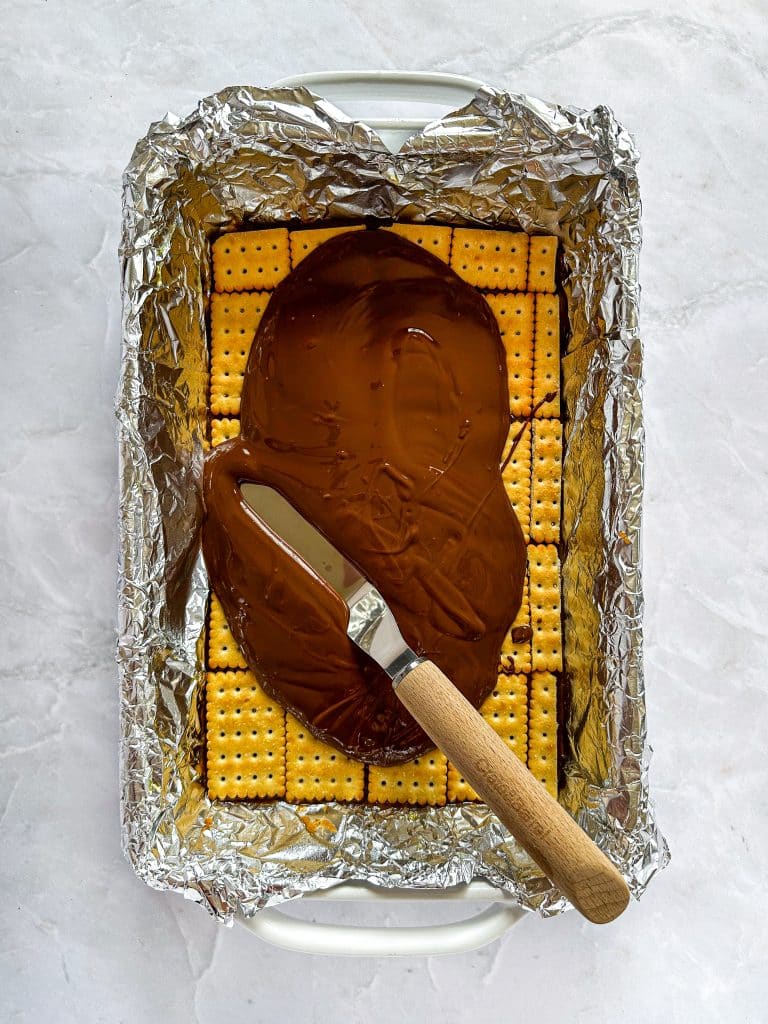 Pour the melted chocolate mixture over the crackers.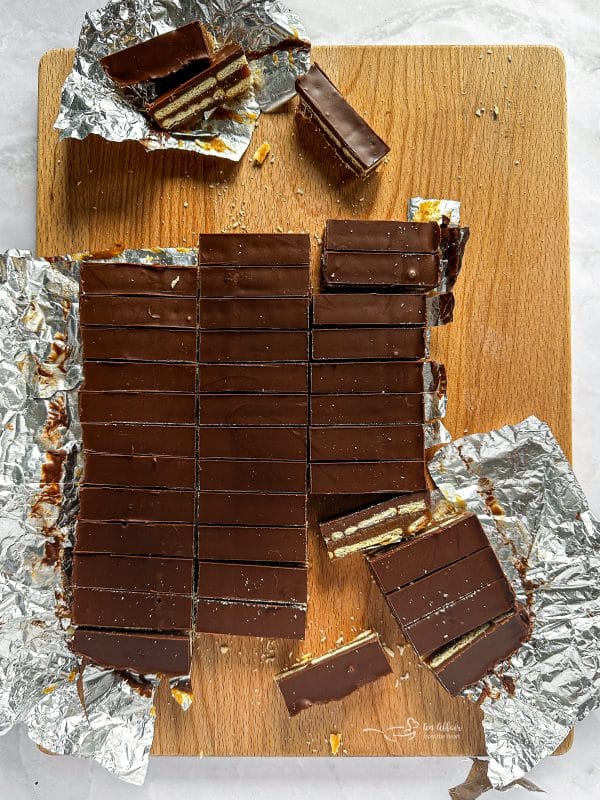 Sixth: Spread evenly and chill thoroughly before cutting with a sharp knife. Garnish with a touch of sea salt, if desired.
Leftover Twix bars can be stored in an airtight container at room temperature for up to one week. You can also freeze leftovers for up to 3 months.

Love it? Pin it!
If you love this recipe for copycat Twix bars make sure that you don't lose it! Pin it to your favorite Pinterest recipe board before you go!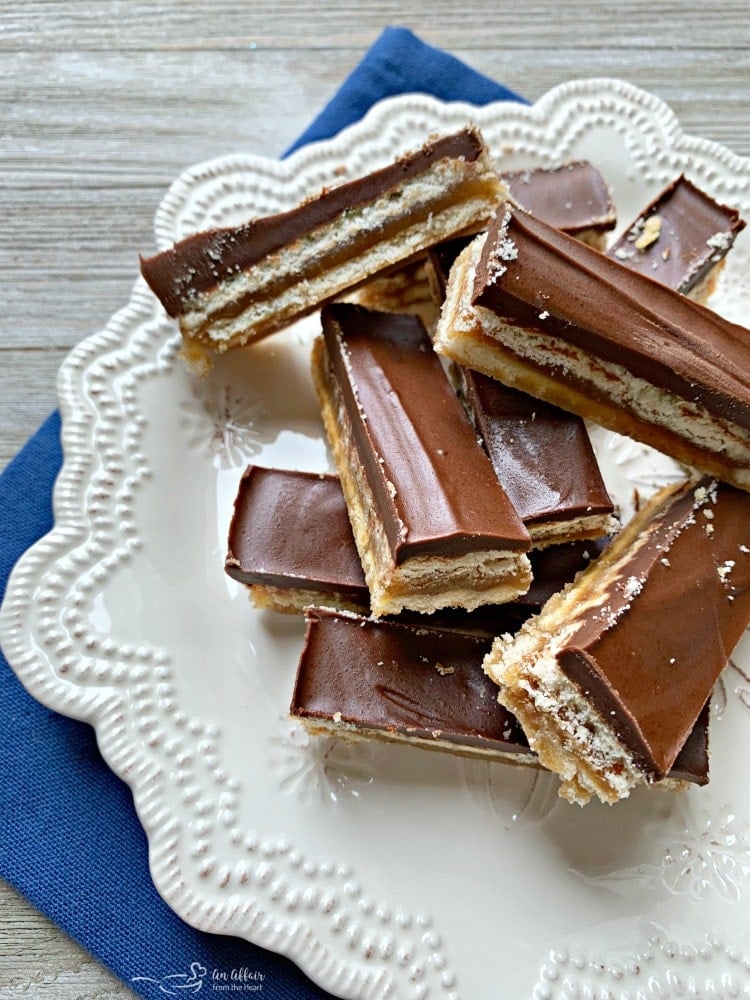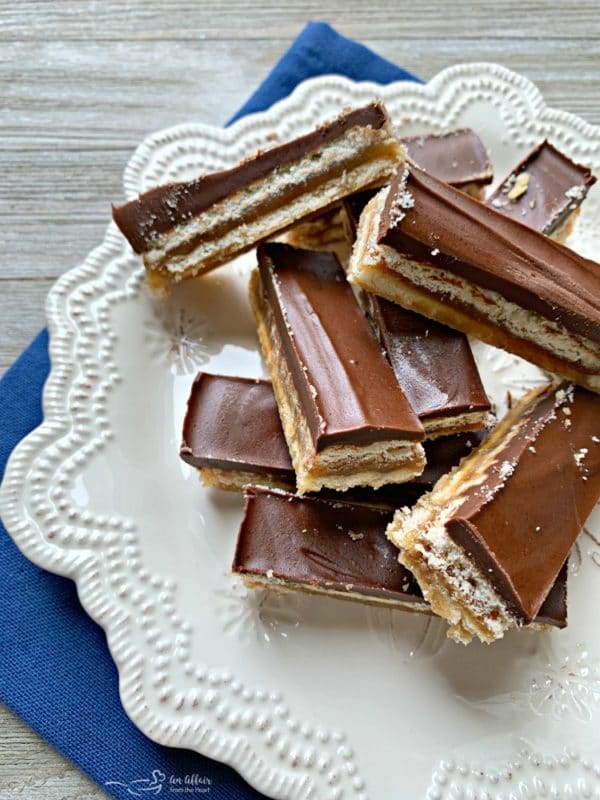 Homemade Twix Bars
I got this recipe years ago from an old friend. Tonja brought them to one of my Holiday Cookie Exchanges. Have you ever hosted one, or attended one? Always a good time!! I even did a whole blog post on How To Host a Holiday Cookie Exchange, in case you'd like to give one a try. It's a great way to get a whole bunch of different baked items for your holiday trays, plus, hang out with your friends during a very busy time of the year.
When my friend brought these Twix Bars, they were instantly a hit. I have had the recipe written on an index card from way back then. Then it took me years (Y E A R S!) to get them on my blog. But I added them back in 2018.
Look at that. Crisp buttery, slightly salty layers of crackers, sandwiching a quick-to-make caramel layer, covered in a peanut butter chocolate ganache. What's not to love?

FAQs about this recipe for Twix bars
What is the crunchy thing in a Twix bar? The crunchiness in a traditional Twix bar comes from the shortbread cookie. This recipe doesn't use shortbread cookies but uses club crackers instead of the shortbread base.
What are Twix bars made of? A traditional Twix bar is made of shortbread cookies that are coated with caramel which is then coated with milk chocolate.
Why is there a left and right Twix bar? This right and left Twix bar was a marketing strategy to encourage consumers to eat more Twix bars.
Why does Twix taste so good? Twix bars are super tasty as they have a combination of sweet and salty flavors and of course, they have chocolate. Chocolate makes everything taste good, don't you agree?
What layers are in a Twix? Traditional Twix bars have 3 layers; a layer of buttery shortbread, caramel, and a thin layer of chocolate.

Substitutions
Remember that when it comes to making substitutions in recipes, you don't need to be afraid to get creative and use ingredients that suit your personal taste and dietary preferences. Make it your own!
Replace the peanut butter with almond butter, cashew butter, or any seed butter.

Change up the semi-sweet chocolate chips and use dark chocolate, white chocolate, or milk chocolate.

Add a touch of vanilla extract to the chocolate mixture for a slightly sweeter flavor.

If the chocolate mixture is too thick thin it out with a touch of melted coconut oil or vegetable oil.

To make these bars without peanut butter, make my chocolate ganache recipe to spread over the Twix bars and place in the fridge to set.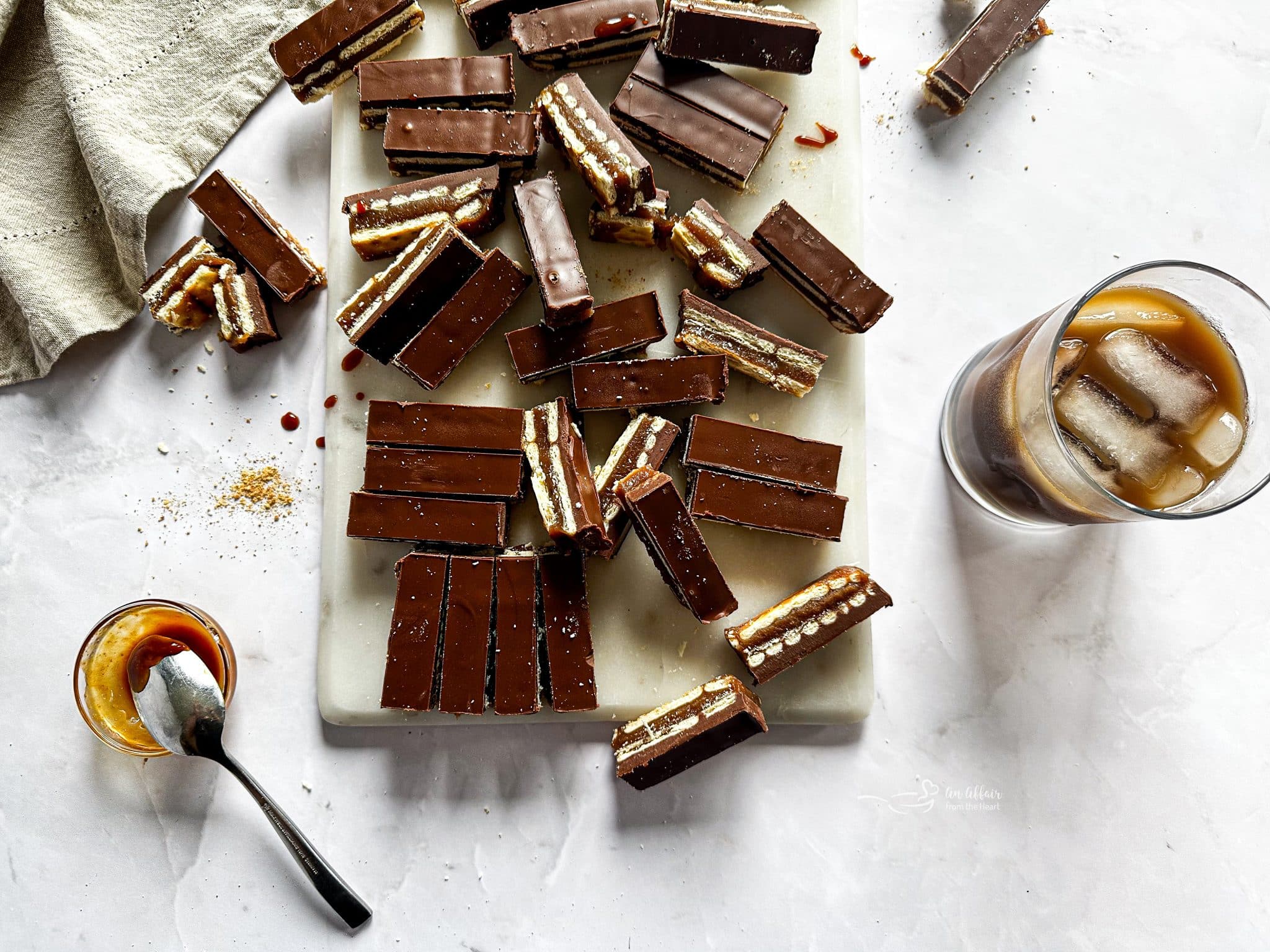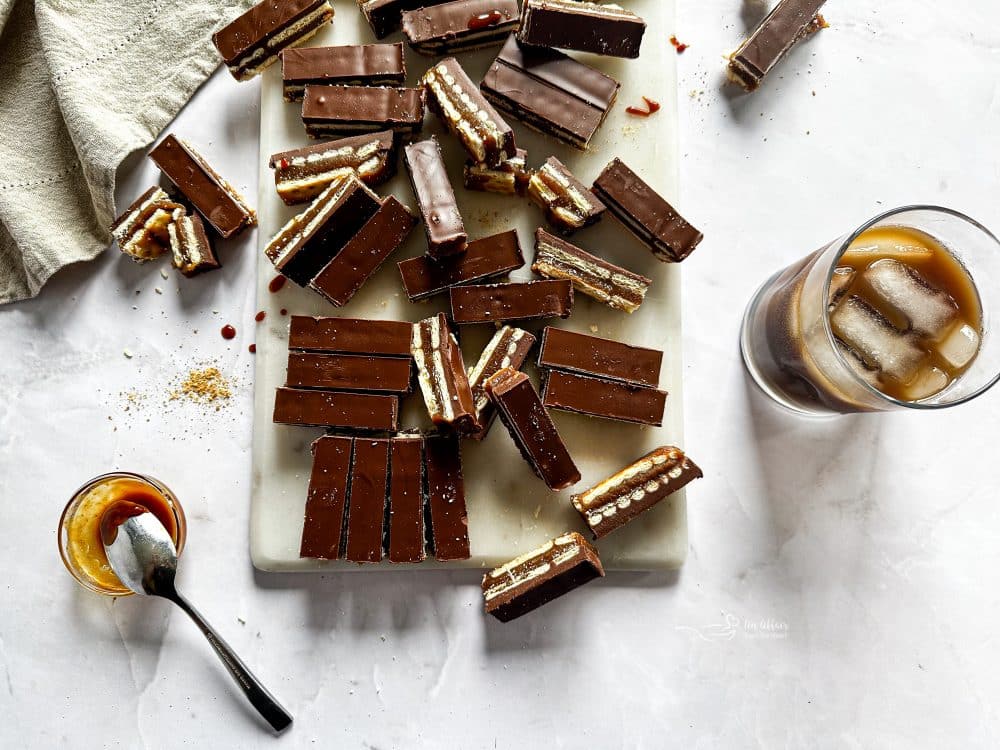 Tips & Tricks
Use smooth regular peanut butter and take it out of the fridge before you begin to prepare these bars.

If you're out of chocolate chips baking chocolate or a chocolate candy bar will also work.

Pick up a box of graham cracker crumbs and save yourself the step of turning them into crumbs.

Use a double boiler to melt the chocolate chips and then add in the peanut butter. Or place it in a microwave-safe bowl and melt it in the microwave.

Use your food processor to turn the graham crackers into crumbs.

More Recipes to Love
Really quick, before we get to the recipe, can I share a few of my other favorite recipes that either use candy bars or copy them?
Candy Bar Fudge as well as my recipe for Snickers Dip uses Snicker Bars and so does my Snicker Apple Salad. Salted Nut Roll Bars mimicking my all-time favorite candy bar and Almond Joy Brownie Bites are a must-make for coconut lovers! York Peppermint Patty Fudge, Twix Dip, Whatchamacallit Bars and Rolo Pretzels are a few more to enjoy!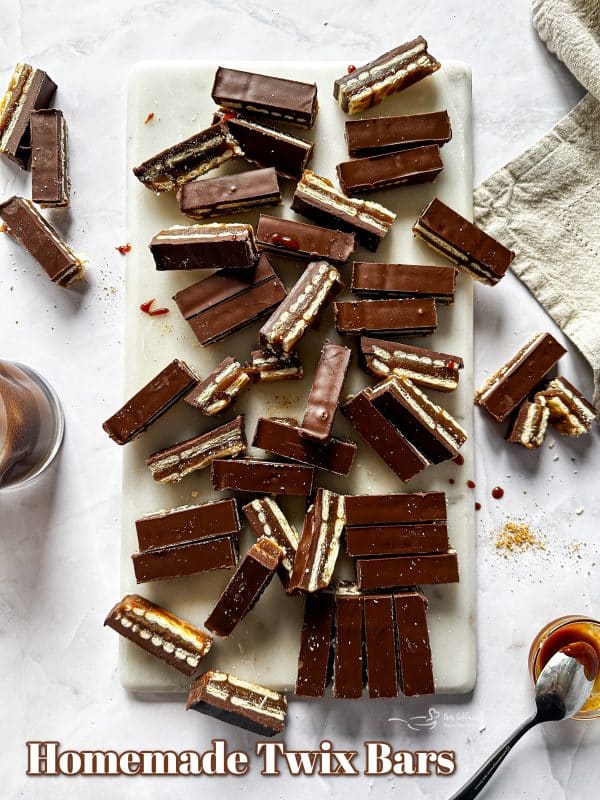 No need to run to the grocery store when the candy bar craving hits. Make up a batch of these quick and easy Twix bars. You'll be amazed that this homemade version tastes so good and is so simple to make.

Yield: 48 pieces
Homemade Twix Bars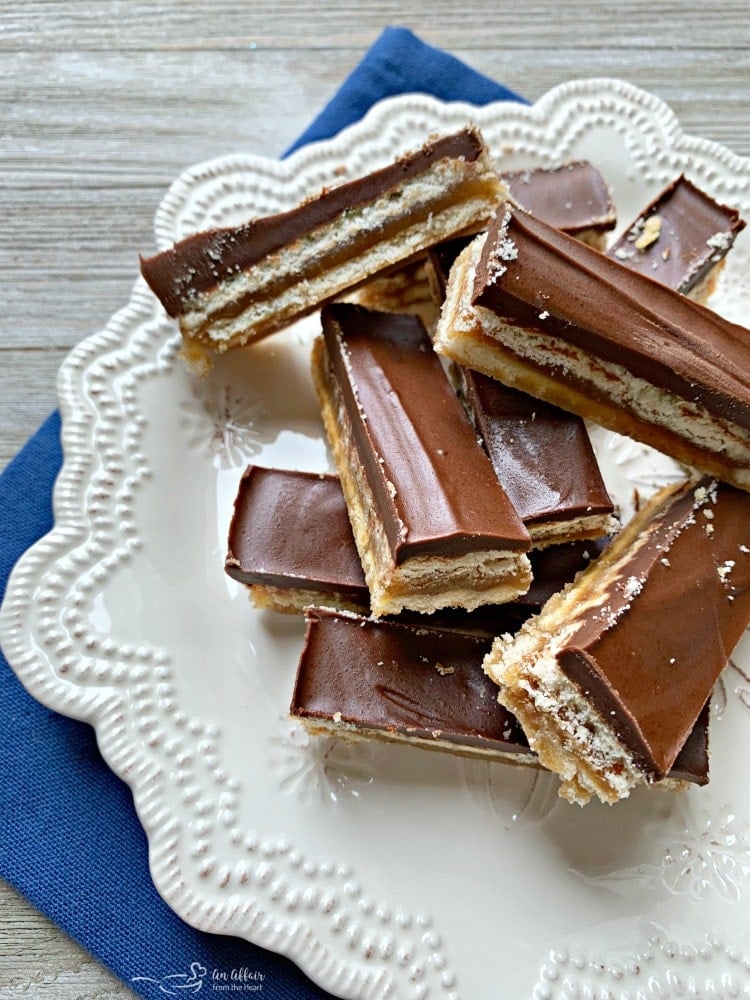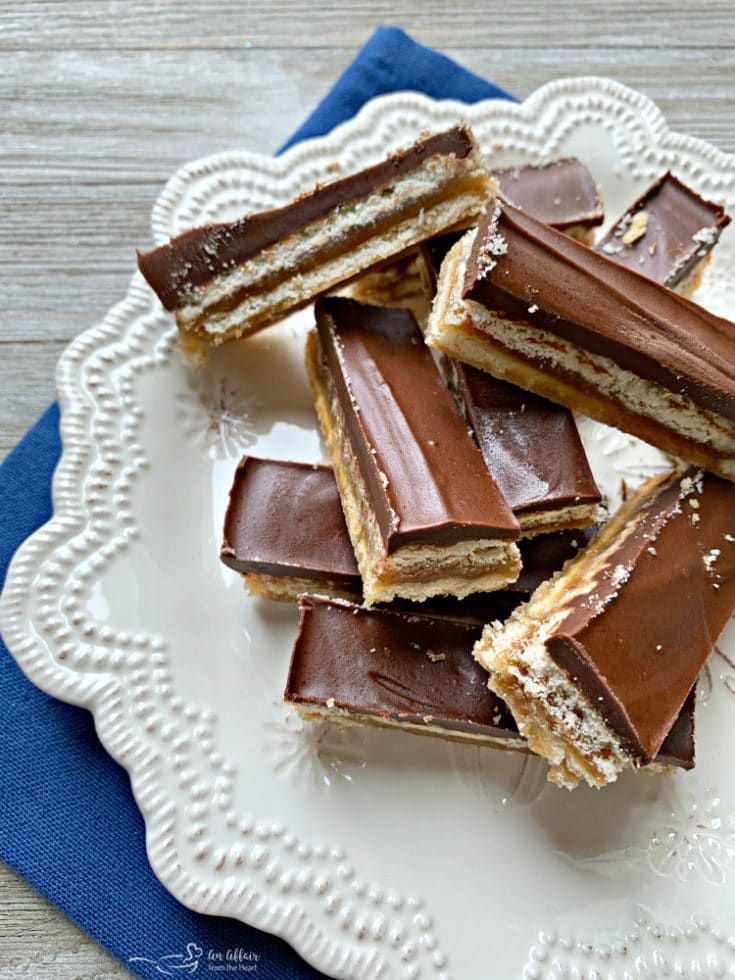 These Homemade Twix Bars are simple to make using layers of Club crackers, caramel and frosted with a chocolate peanut butter ganache.
Ingredients
Club Crackers
1 cup graham crackers, crushed
1/2 cup butter
1/2 cup sugar
3/4 cup brown sugar
1/3 cup milk
2/3 cup peanut butter
1 cup semi sweet chocolate chips
Instructions
Line a 9x13 baking dish with foil and spray with non-stick cooking spray.
Cover the bottom with a layer of club crackers to the edges.
Add butter, crushed graham crackers, two sugars and milk to a sauce pan. Bring to a bubbling boil and boil for 5 minutes, stirring almost constantly.
Pour mixture over the crackers. Add another layer of crackers.
Add chocolate chips and peanut butter to a saucepan and melt, stir until smooth. Pour over crackers. Spread evenly over the top.
Chill completely before cutting into 3 rows of 16 pieces.
Notes
*Milk Chocolate Chips can be used in place of the semi sweet.
**To make without peanut butter, make my chocolate ganache recipe: Melt 12 ounces of semi sweet chocolate (squares or chips) with ½ cup of heavy cream until smooth. Remove from heat and whisk in 1 Tablespoon whiskey or dark rum (or substitute dark coffee) Spread over Twix Bars and place in the fridge to set. Cut when chilled completely.
Nutrition Information:
Yield:
48
Serving Size:
1
Amount Per Serving:
Calories:

84
Total Fat:

5g
Saturated Fat:

2g
Trans Fat:

0g
Unsaturated Fat:

2g
Cholesterol:

5mg
Sodium:

45mg
Carbohydrates:

10g
Fiber:

0g
Sugar:

8g
Protein:

1g
Nutrition isn't always accurate.
This recipe was originally posted on October 17th, 2018. It has been updated to improve user experience and reshared on August 24, 2023.
This was part of a recipe share called Choctoberfest hosted by The PinterTest Kitchen and it's held for one whole week in October. Hundreds of bloggers get together and share nothing but chocolate recipes all week long. That year, in addition to this Twix Bar recipe, I shared Chocolate Pudding Frosting and Double Chocolate Caramel Brownies, too!