How To: Hosting a Holiday Cookie Exchange
As an Amazon Associate and member of other affiliate programs, I earn from qualifying purchases.
I have hosted a Cookie Exchange for the last 16 years.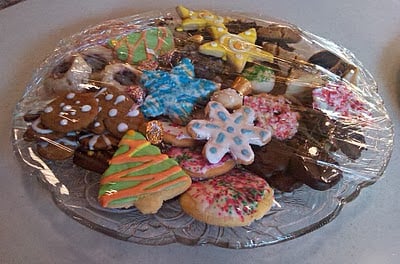 It's been a lot of fun and has totally evolved throughout the years.
When I started, we all had little kids and I had it with my stay-at-home-mom friends.
Everyone would come to my house, and I would have breakfast food, the kids would play and the moms would have coffee and chat.
As the kids got older, I would still have it in the morning, some would be in pre-school/grade school and some were home. People that came could make with at some point, with or without their kids.
Now, many of my friends have gone back to work, we all have school aged kids or our kids are out of school and we just want to go OUT.
So, for the last few years I have had my Cookie Exchange at my Sister-in-Law (to be)'s Wine Store.
Yes. Wine + Cookies= HAPPY WOMEN
Every year I have good intentions of taking photos of the event, and every year, I start having fun and completely forget.
I did manage to find a couple of photos from last year, and incorporated some cute ways to package cookies for gifts or an exchange.
Links to the yumminess, too!!
So, I will type up here on this post what I do to organize the event, so maybe you and your friends can have one, too!
Hosting your own Holiday Cookie Exchange
The month of December always fills up fast for everyone. I always try to get my date on the calendar by mid-November.
Since the invention of facebook, I typically do a facebook event, almost all of my friends have facebook, and the one that doesn't, well it just gives me an excuse to chat with her on the phone! *smile*
I always try to select my date as close to Christmas as possible, my exchange typically falls somewhere between the 18th and the 21st. That way guests have goodies for their family and friends during the holidays.
Each guest RSVP's with what cookie/candy they plan to bring. I try REALLY hard to not get duplicates, or "all chocolate" or too much mint, or too many things with nuts.
Many of the people that come only bake for this, and when they return home with all of their goodies, I don't want their platter of treats to be all brown because everything is chocolate. *wink*
I want there to be a nice assortment of flavors and colors for everyone's cookie platters.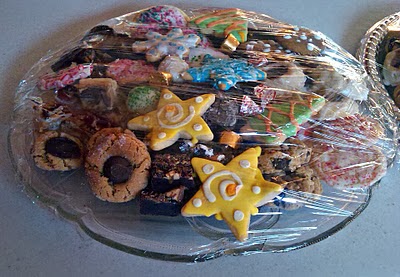 So, it's a first come first serve thing. If you planned on making peanut butter kisses, and someone else signs up first, you go back to the drawing board and find something else.
The number of people changes every year. Some years I have had as many as 15 people, other years there are only 8. Whatever number of people in attendance there are, that's how many dozen cookies you will bring of your cookie.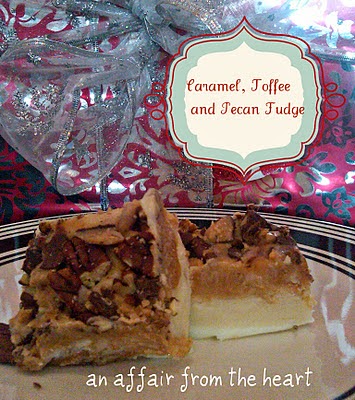 For example, there are 10 of us coming, myself included, and I am making sugar cookies, I bring 9 dozen of my cookie to the party. Friend A brings peanut butter kisses, 9 dozen, friend B is bringing fudge, 9 dozen pieces, and so on.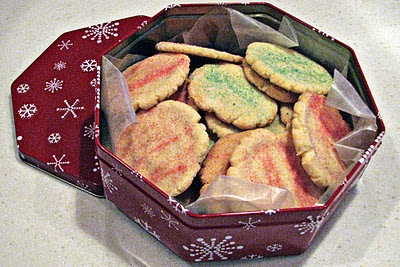 Everyone brings their candy/cookie wrapped/boxed with one dozen per package. Some place theirs in bags, some boxes, some on plates and some in tins. Whatever they decide. On their packages, they attach their recipe for their baked good inside.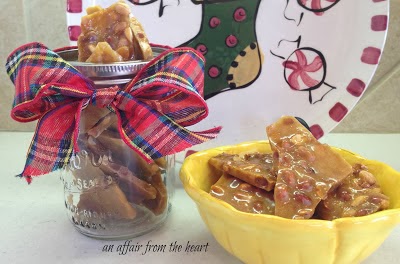 gift or bring candies like Peanut Brittle in mason jars with ribbon attached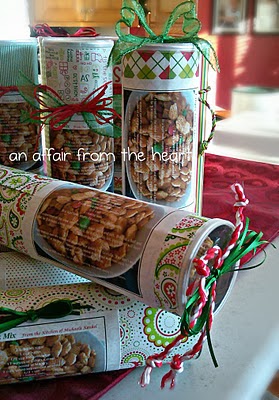 Up-Cycled Pringles cans I made with recipe attached for my exchange last year
Everyone brings their own baked good (all 9 dozen) in a big box or basket. I line them up, and at the end of the evening everyone takes one package from each guest (except themselves) and then leaves with 9 dozen different kinds of cookies, and all they did was make one kind.
See?
Everyone is welcome to bring an appetizer to share, and we sip wine and relax.
Who doesn't need to relax a little by the middle of December??!!
One other fun thing we added a few years back, is we do a gift exchange.
Everyone brings a wrapped gift (dollar amount is about $15) and we place them on a table.
We draw numbers and start at 1 and that person opens a gift.
Person number 2 can either steal the gift from the person who opened it, or open their own.
If there are 10 people, we play from 1 up to 10 and back down to 1 so everyone gets a chance to steal.
But the gift can only be stolen twice.
It's a lot of laughs!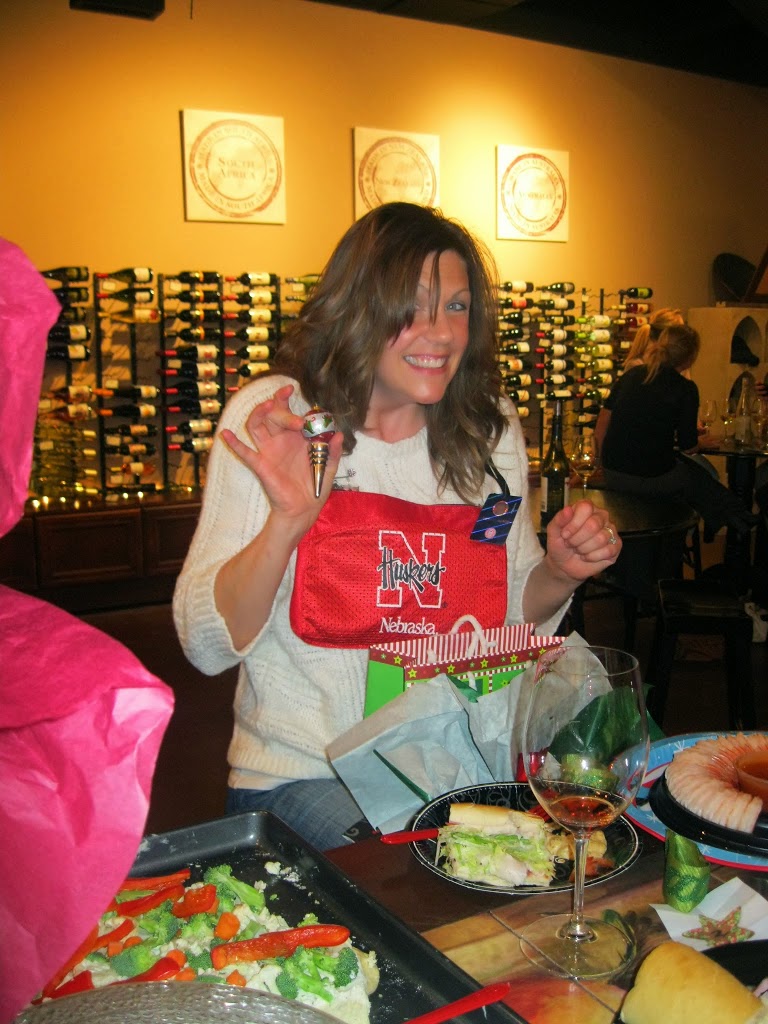 Toni got a great HUSKER bag…too bad she's a huge Iowa State fan! Ha!
It's a fun activity, and there always seems to be something new and creative!
Fun to shop for , too!!
So in a nutshell that is how I do my cookie exchange.
I hope everyone enjoys it as much as I enjoy hosting it!
girlfriends cookie exchange 2012