TikTok Sauerkraut Arugula Salad
As an Amazon Associate and member of other affiliate programs, I earn from qualifying purchases.
Gut healthy TikTok Sauerkraut Arugula Salad packed with tangy Frank's Kraut, tender arugula, crunchy celery, cucumbers, and apples, with feta and pepitas. Olive oil and freshly cracked pepper mix with the salad ingredients to make the most amazing dressing for this healthy and delicious green salad! It's no wonder this salad went viral on TikTok!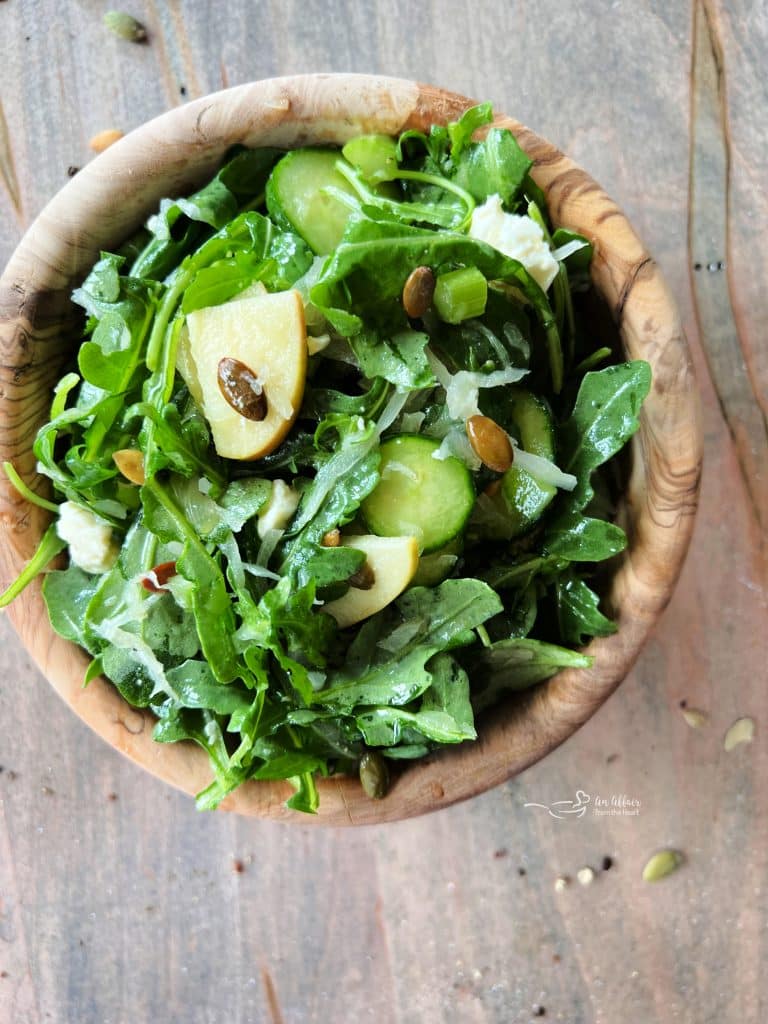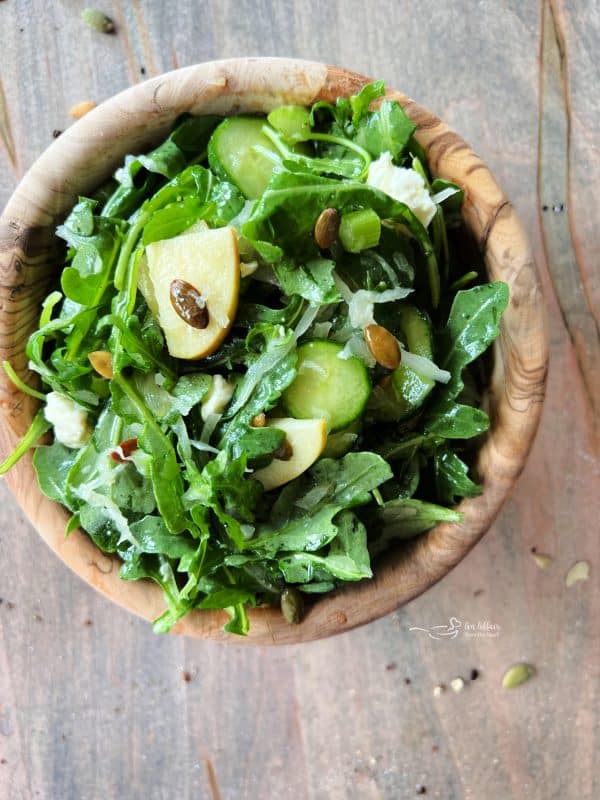 This TikTok recipe is a great side salad for grilling, or by itself for lunch. You can spruce it up by adding protein like grilled chicken, salmon, hard-boiled eggs, sausage, or even a turkey burger.
Sauerkraut Arugula Salad
I originally found the inspiration for this recipe in a TikTok video by Paige Lindgren. The beauty of salads is they are so versatile, so I put my own little spin on it, and you can too, by changing up the veggies and the fruits you use. Even though it has already passed us by this year, this would be a great salad for St. Patrick's Day!
Quinoa, red peppers, lemon juice, or red onion would be a great addition to this salad and would give it an extra pop of color and flavor. This would be a delicious way to make a base for a beet salad too!
Not only does this salad pack a ton of flavor, but it is also gut healthy! Making this sauerkraut and arugula salad for your family or guests is doing them a favor.
This post is sponsored by Frank's Kraut, but my lifelong love and opinion of their delicious sauerkraut are all my own.

MORE ABOUT THIS SAUERKRAUT AND ARUGULA SALAD
Most sauerkraut salads contain carrots or onions topped with a sweet dressing. This one has so much flavor, all you need is a light drizzle of olive oil! In her TikTok, Paige describes this salad as "weirdly good." She mentions that the sauerkraut softens the peppery arugula. This salad is also a great way to use up leftover sauerkraut.
Arugula is known as a "bitter green" and sauerkraut is a fermented cabbage that gives it a sour flavor. You probably would not think to put such bold flavors together however they balance each other beautifully while delivering beneficial gut health.
More must-try salads: Green Salad with Lemon Thyme Vinaigrette, Cucumber Ranch Salad, and Mediterranean Celery Salad with Olives

WHY YOU SHOULD TRY SALADS WITH SAUERKRAUT
Lately, TikTok salads have been blowing up social media. The green goddess salad has been a popular favorite online. This salad is similar because it is all green! Trust me, you are going to be making this salad more than just once.
All of the simple ingredients are readily found at your local grocery store. This easy recipe is really just prepping the ingredients and throwing it all in a salad bowl. No stove, no oven, just your cutting board!
This vegan salad is crunchy, sweet, and sour. It hits all the right flavor notes in one dish and is likely going to become one of your favorite recipes. Talk about impressing guests while fueling your body!

GRILL OUT WITH FRANK'S KRAUT
Grilling season is in full swing! There is nothing like a meal cooked outside on a warm summertime day, is there? Gathered around the grill, beverage of choice in hand, just waiting in anticipation of what's to come.
We eat a lot of burgers, hot dogs, and brats in the summer. They are so easy to make and never disappoint! It's when you top them with your favorite toppings that things get really good, though. And in our house, the toppings always include a big jar of Frank's Kraut!
Let's take that one step further though, and whip up a quick and healthy side salad using that same yummy Frank's Kraut!

INGREDIENTS NEEDED FOR ARUGULA AND SAUERKRAUT SALAD
This recipe uses a handful of simple ingredients that you may already have in the refrigerator or pantry! To see the full measurements, scroll down to the recipe card.
Arugula:

The distinct peppery flavor of arugula gives this salad the best flavor.

Cucumber:

I prefer English cucumbers.

Celery:

I am a huge fan of celery and the perfect healthy crunch it provides.

Sauerkraut:

Adds the tangy sourness because of the vinegar solution it is kept in.

Apple:

Provides that perfect sweetness element to this peppery and tangy salad.

Feta cheese:

Salty in taste and gives a creamy texture.

Pepitas:

Yummy, salty, and nutty!

Olive Oil:

Binds ingredients together while providing rich flavor.

Black Pepper: Freshly cracked is best.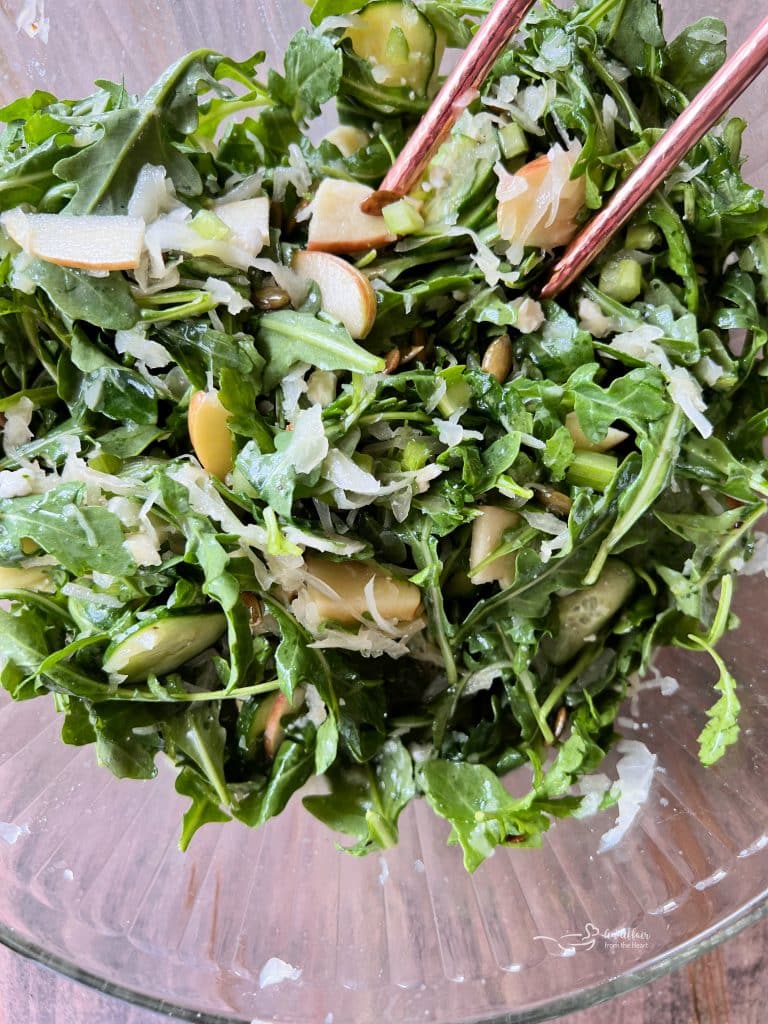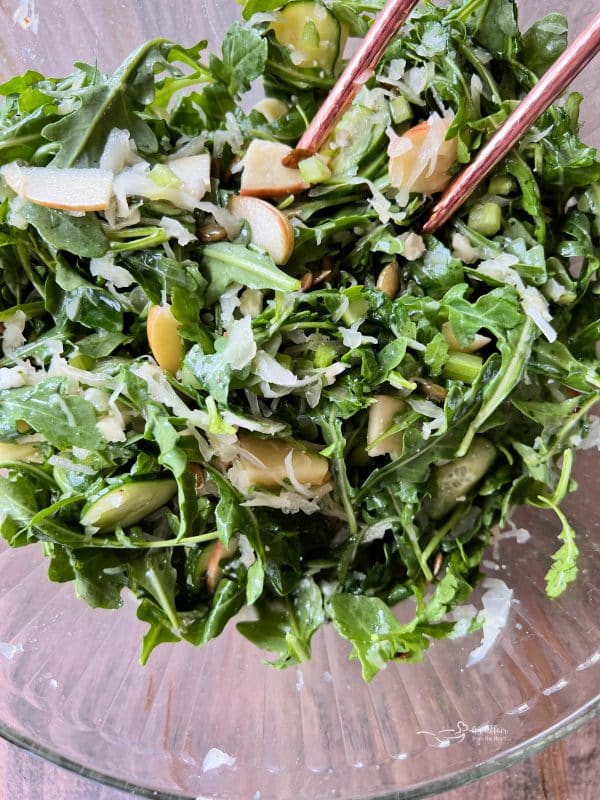 HOW TO MAKE SAUERKRAUT AND ARUGULA SALAD RECIPE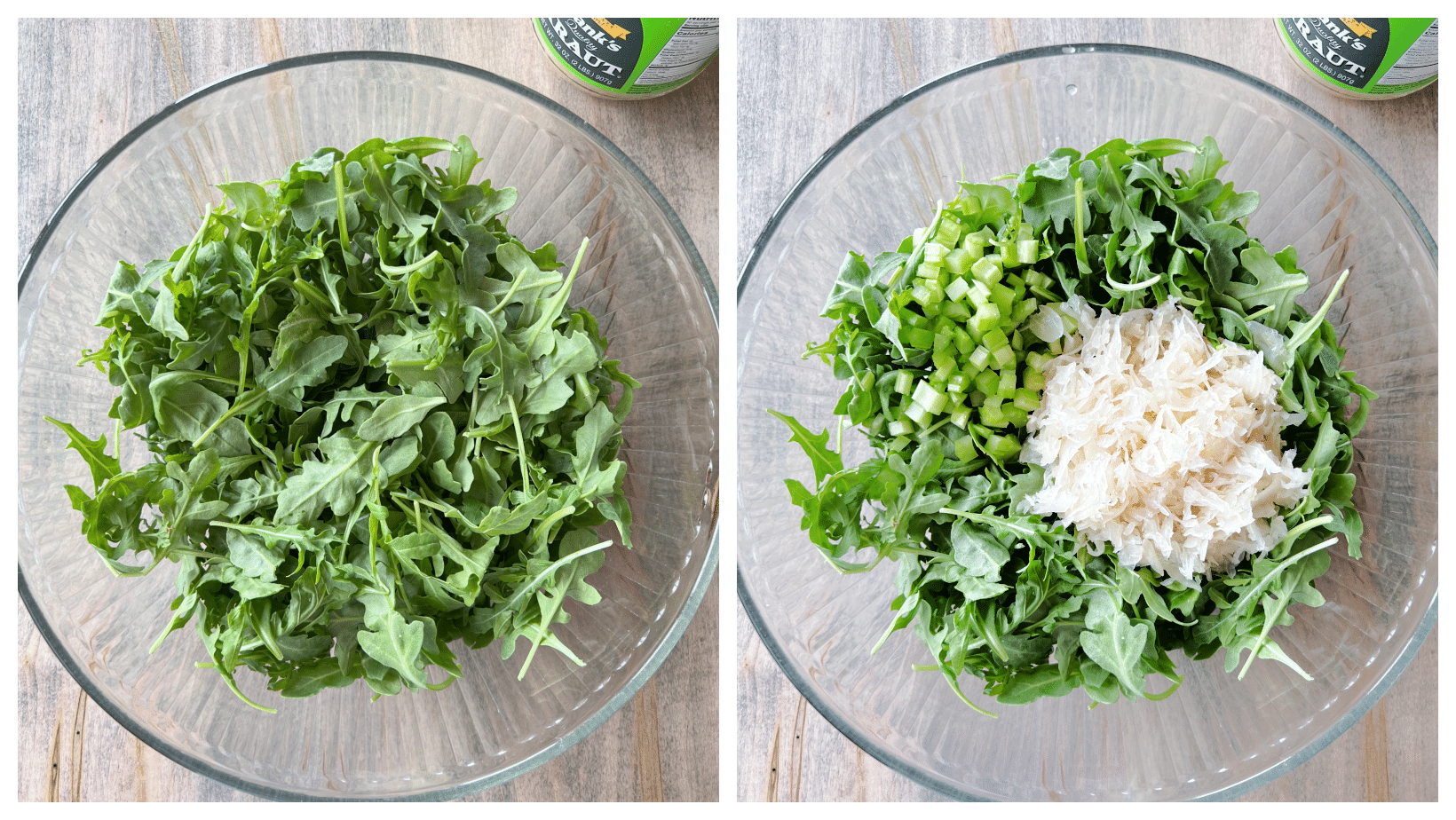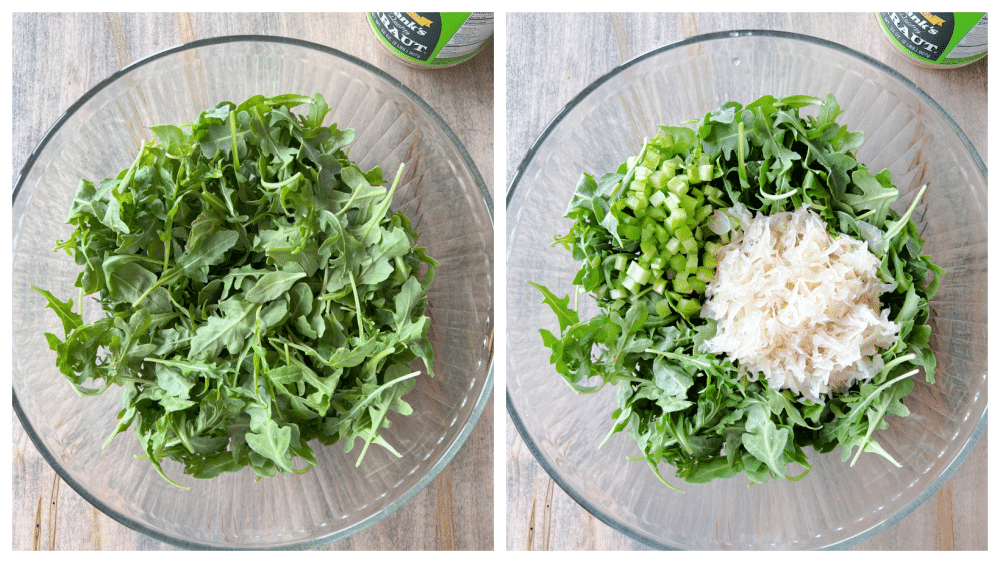 Layer all of the ingredients in a large bowl. Begin with arugula, then sauerkraut and celery. Paige's recipe suggested a bit more arugula than sauerkraut, but I have found I prefer it to be equal parts arugula and Kraut.
That tangy kraut is going to become part of the "dressing" on this salad, too, so you want to be able to taste it!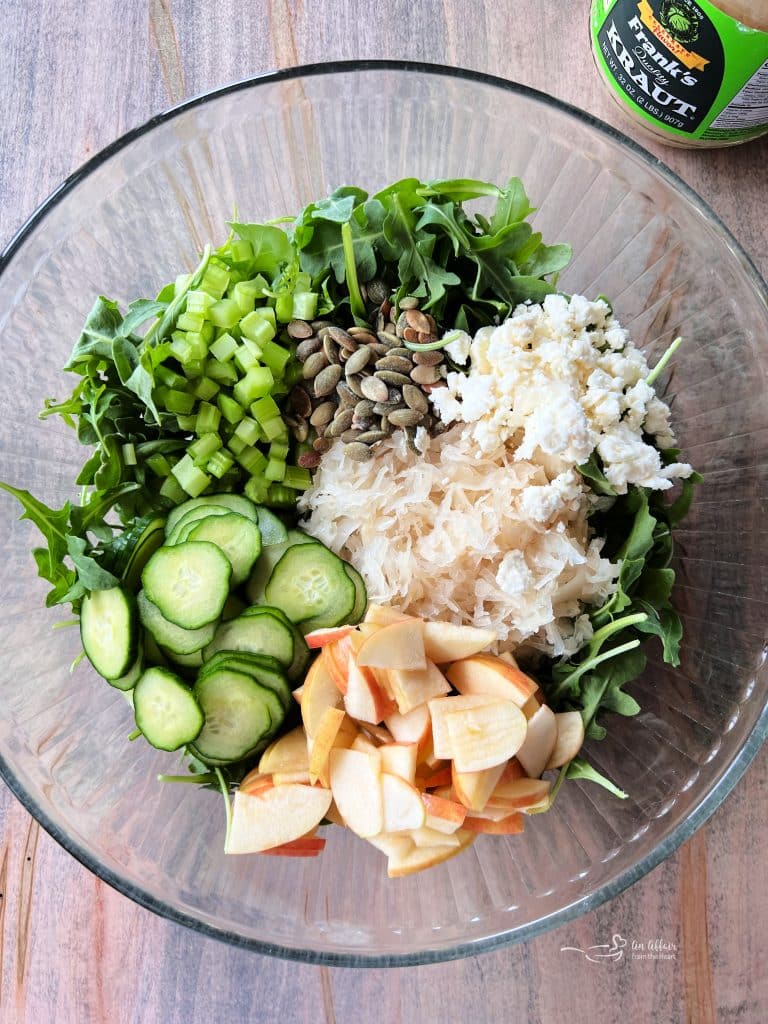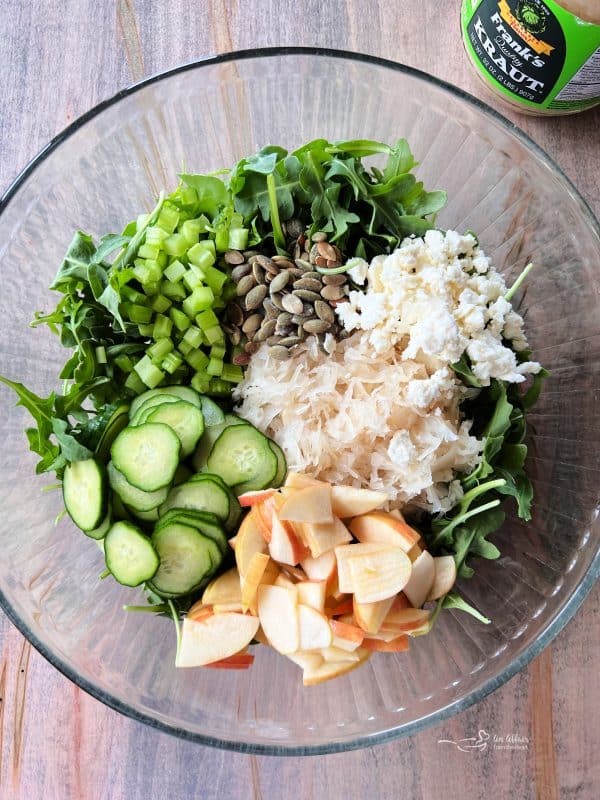 Next add in the cucumbers, apples, pepitas, and celery.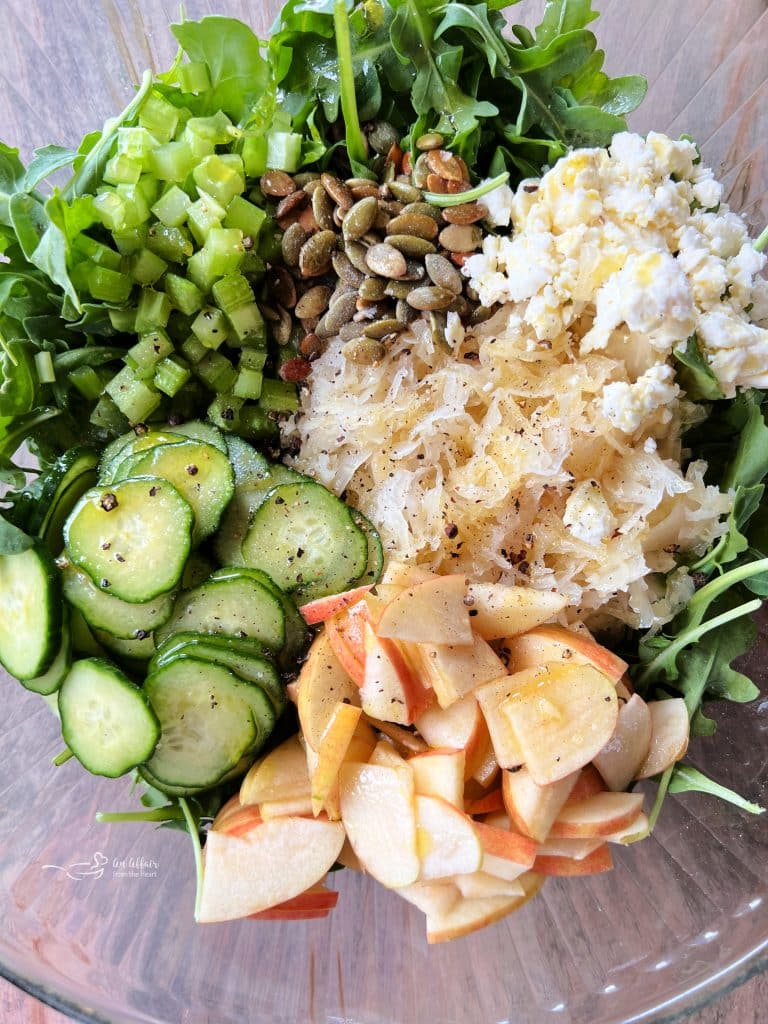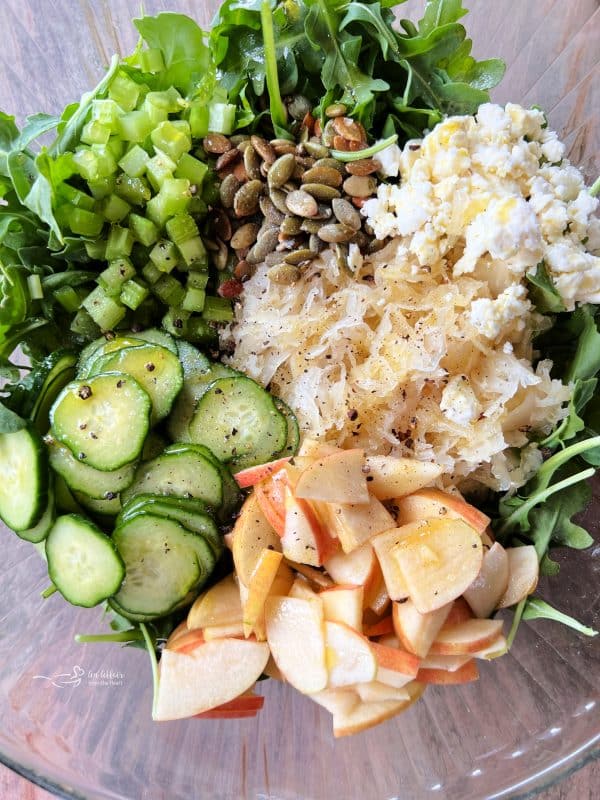 Dress your salad with olive oil and sprinkle with freshly cracked pepper and toss it together.
Serve. You can serve it immediately, or chill it in the fridge for a bit.
Hint: I started with all of my ingredients cold. Even the kraut – I like this salad really cold. But that of course, is a personal preference.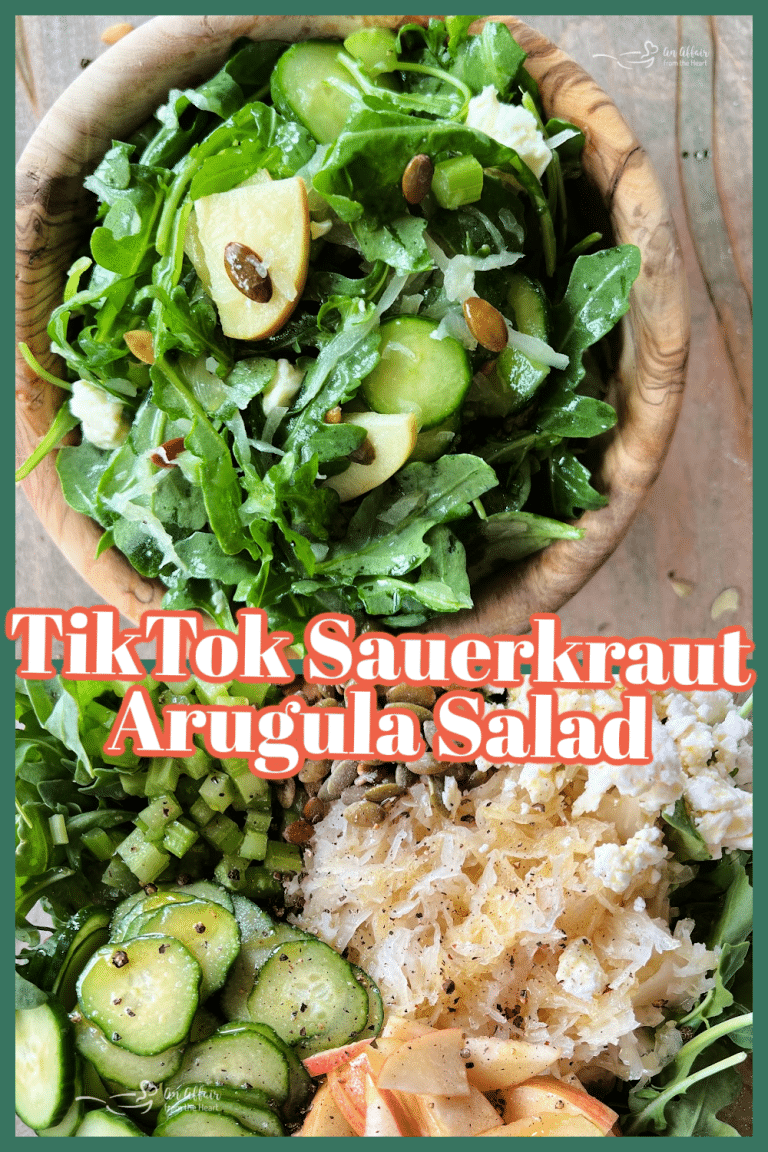 Love it? Pin it!
If you love this TIKTOK SALAD RECIPE Make sure that you can find it! Pin it to your favorite Pinterest recipe board before you go.

WHAT MAKES THIS SALAD GUT HEALTHY?
The two main ingredients in this salad are arugula and sauerkraut. Arugula is a fantastic vegetable filled with fiber, magnesium, and vitamin C. All of those elements are beneficial to providing good gut bacteria! The bitter flavor of arugula aids in your digestion process as well. Sauerkraut is great for your gut because it is fermented cabbage and the fermentation process also aids in digestion and gives your body beneficial probiotics.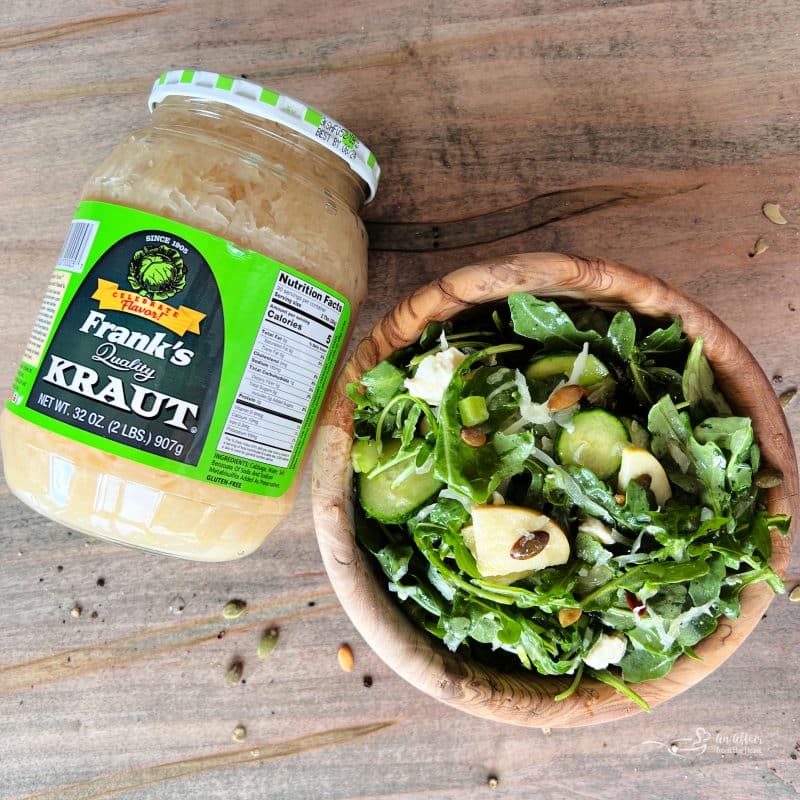 THE BENEFITS OF SAUERKRAUT
There are many health benefits to eating sauerkraut both from the cabbage and the fermentation process. Sauerkraut can aid in digestion due to the presence of probiotics and high fiber. It is also high in vitamins such as Vitamin C & K, folate, iron, magnesium, and potassium.
It has been shown to aid in losing weight as it is low in calories, sugar, and fat, plus high in fiber which helps you to feel full longer. Adding a portion of sauerkraut daily can strengthen your immune system, improve your digestion, and possibly reduce your risk of certain diseases.

FAQ'S
CAN I SUBSTITUTE KIMCHI IN PLACE OF SAUERKRAUT? While sauerkraut is the best ingredient to have in this salad, there are gut-healthy alternatives. Kimchi is a very similar ingredient because they are both fermented cabbages. However, kimchi is a bit saltier and heavily seasoned, so it will change the flavor and add lots of sodium to the dish. Whichever one you choose to do will both deliver great gut-healthy properties.
WHAT PROTEIN PAIRS BEST WITH THIS SALAD? While perusing on Paige Lindgren's TikTok many of the comments suggested adding tuna. Fish will go great with this salad because of the tangy, acidic flavors that are already present. It is also a very light, healthy, and easy-to-digest protein. If you are not a fan of fish, try lean meat like turkey or chicken. Or for a truly vegan recipe, you could add a veggie burger.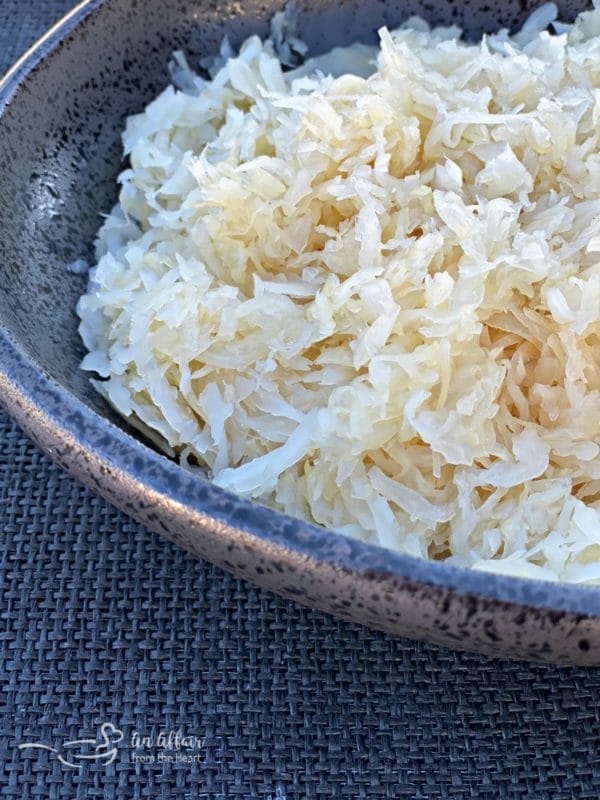 Check out my Ultimate Guide to Sauerkraut
SUBSTITUTIONS:
Cucumber: Bell pepper would be a good crunchy substitute or use avocado to add more creaminess and healthy fats. Or just add avocado along with all other ingredients!
Apple: Any "salad fruit" would also go well. Pears, raisins, dried cranberries, or even apple crisps would be great, and make this the perfect salad for Thanksgiving. Green apples will provide more tartness while a red apple will give the salad more sweetness. If you have one, you can use a spiralizer to prep your apple and cucumber.
Feta Cheese: Any light, crumbly, creamy cheese would also work well. Goat cheese is always a great alternative. For a milder flavor, you can use queso fresco cheese. Ricotta is also similar but contains more moisture, so the texture is different.
Pepitas: Sunflower seeds or pumpkin seeds are similar to pepitas. However, you can also use nuts. Pine nuts give the same sweet, rich flavor and provide a great texture.
Olive Oil: Avocado oil is a good alternative. If you want to add a little extra pizazz, you can add other dressing ingredients such as lemon juice, soy sauce or vinegar. Or, make my homemade salad dressing from my Sauerkraut Salad recipe.
Keep in mind when adding extra vinegar that sauerkraut already has a tangy, sour flavor from its vinegar brine. However, you can make a vinaigrette or citrus dressing if you really love that sharp, acidic taste. Vinegar you could use are balsamic, red wine, white wine, apple cider, or rice vinegar.
TIPS AND TRICKS
Finely chopping your vegetables makes it easier to eat and also gives the salad more crunch. Like mentioned earlier, if you have a spiralizer, you can spiralize your apple or cucumber. Looks so pretty!

The following ingredients would be fun extra add-ins: bell peppers, red onion, hearts of palm, artichoke, avocado, parmesan cheese, nutritional yeast, or quinoa.

I think this salad is best served chilled. To prepare this salad for entertaining, you can always chop up your vegetables ahead of time and keep them chilled in the fridge. When it comes time to serve, just dump chilled ingredients in a bowl and dress! Chilling your salad bowl will aid in keeping the dish cold while serving.

Garnish your salad with green onion, black pepper, red pepper flakes, sesame seeds, or some lemon or lime juice.

Salads typically can stay fresh in your fridge in an airtight container for 2-3 days. Eating the leftovers may be tastier because then all the ingredients have time to meld and marinate!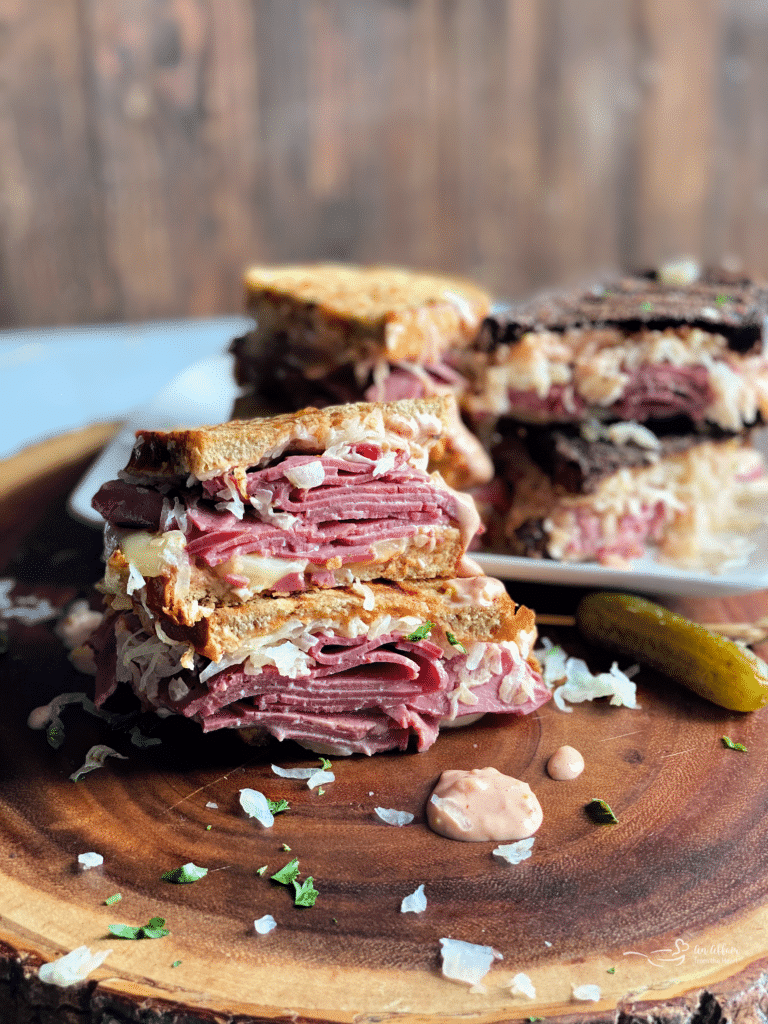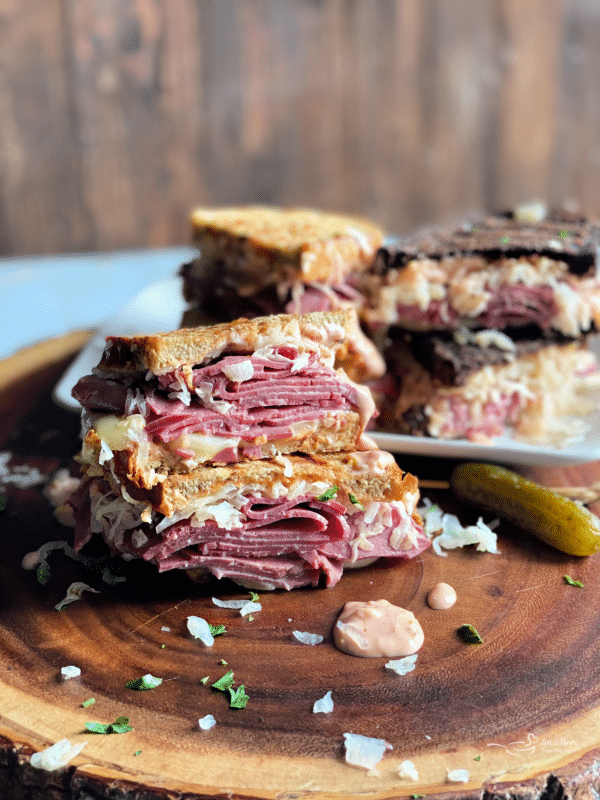 LOVE SAUERKRAUT? TRY THESE DELICIOUS RECIPES:
Before we get to the recipe, I would like to offer up a HUGE thank you to Frank's Kraut! My Reuben Burger recipe was the beginning of what has become a seven-year relationship of making recipes that use their most excellent sauerkraut!
Here are some more scrumptious recipes I have made with Franks' Kraut:
Check out all of my Sauerkraut Recipe Category
Take some time to visit Frank's Kraut, find out where to buy the best sauerkraut on the planet, and read about the wonderful benefits of adding it to your diet.
Follow them on Facebook, Instagram, Pinterest and Twitter to score all kinds of great recipes.
Follow my Sauerkraut Recipe Board on Pinterest!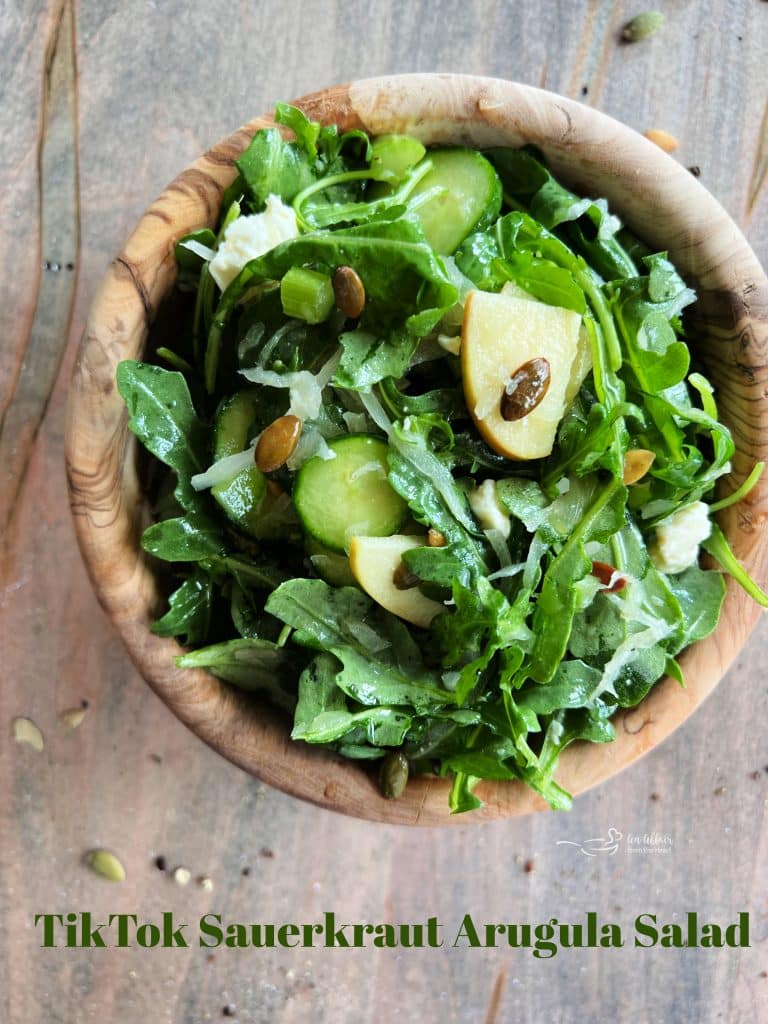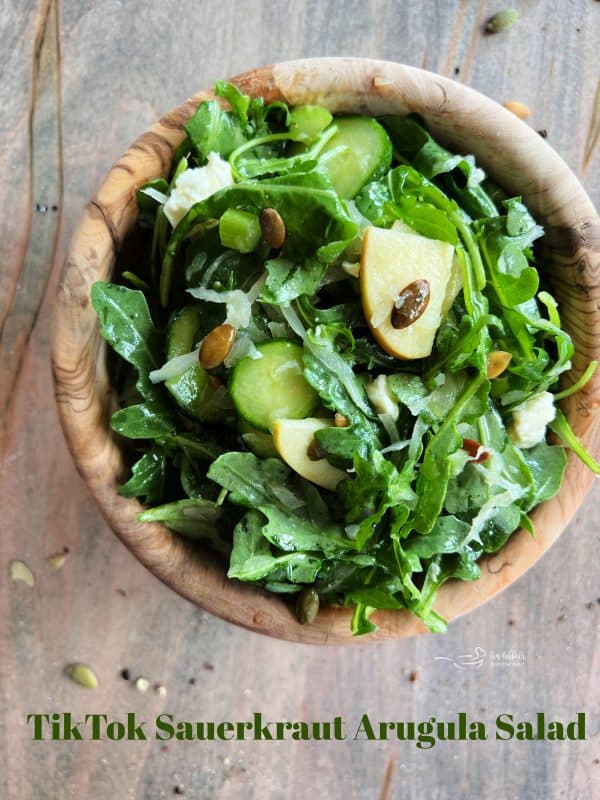 It is the time of year for yummy salads! Make this sauerkraut and arugula salad for your next summer barbecue. It's light, easy, and healthy!

Yield: 2 servings
Tik Tok Sauerkraut Arugula Salad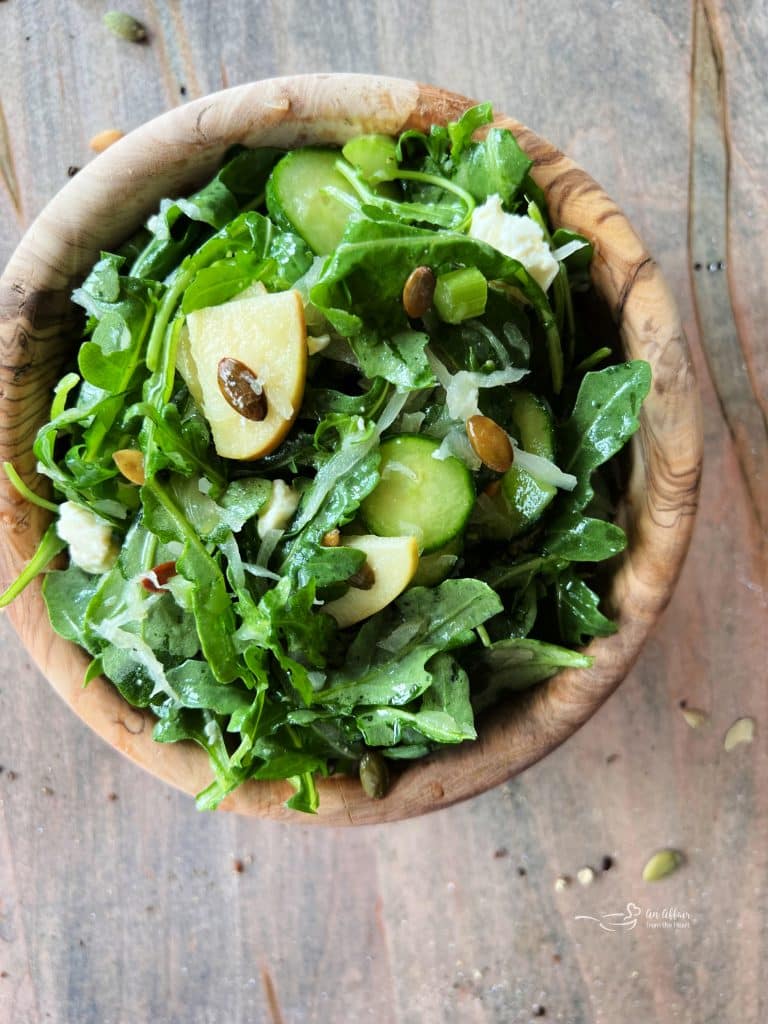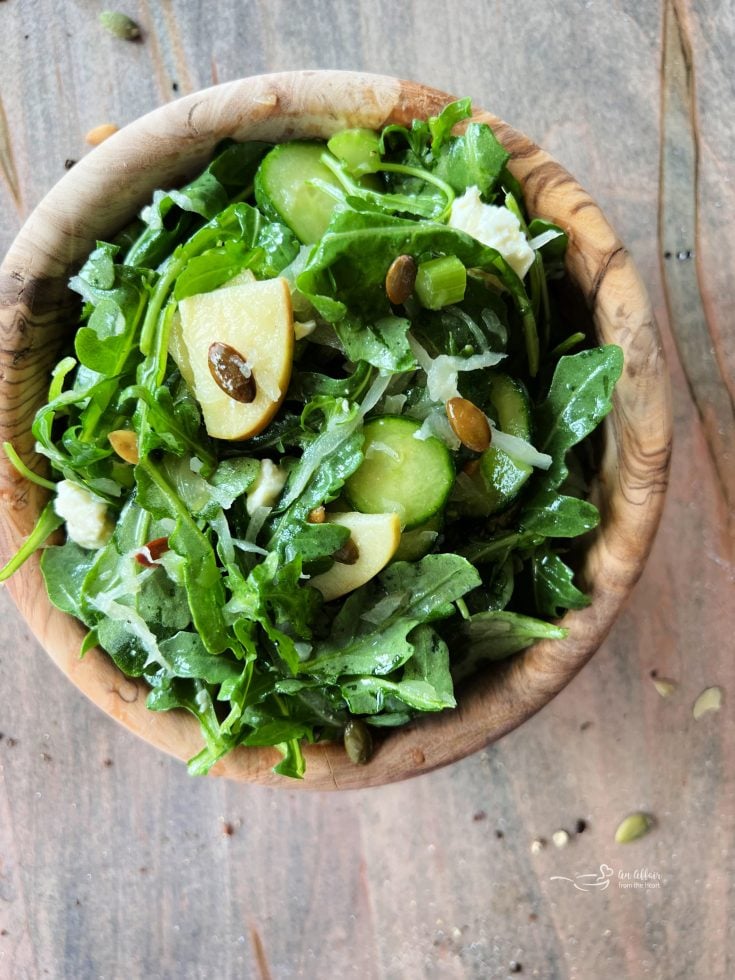 Ingredients
1 (5-ounce) container of baby arugula
½ English cucumber, sliced thin (about 1 cup)
1 stalk celery, sliced
1 cup sauerkraut, UNdrained
1 small apple, sliced thin (about ¾ cup)
¼ cup crumbled Feta cheese
¼ cup salted Pepitas
1 ½-2 Tablespoons Olive Oil
Instructions
Add all of the ingredients to a large salad bowl.
Drizzle with Olive Oil and Toss to coat.
Serve immediately.
Notes
This salad recipe will serve two as an entree and 4-6 people as a side to a main course.
I prefer it when all of the ingredients are cold. Chilling the salad a bit before serving is great too, but not necessary
Recommended Products
As an Amazon Associate and member of other affiliate programs, I earn from qualifying purchases.
Nutrition Information:
Yield:
2
Serving Size:
1
Amount Per Serving:
Calories:

331
Total Fat:

25g
Saturated Fat:

6g
Trans Fat:

0g
Unsaturated Fat:

18g
Cholesterol:

17mg
Sodium:

854mg
Carbohydrates:

22g
Fiber:

7g
Sugar:

13g
Protein:

9g
Please note that nutrition is not guaranteed accurate.
adapted from the original recipe by @PaigeLindgren on TikTok