Baked Sauerkraut Bacon & Swiss Dip slathered over a toasted baguette is just what your next get-together needs. Tangy cream cheese and Frank's Kraut with Swiss cheese, green onion, and crisp bacon all whipped together and baked up in minutes.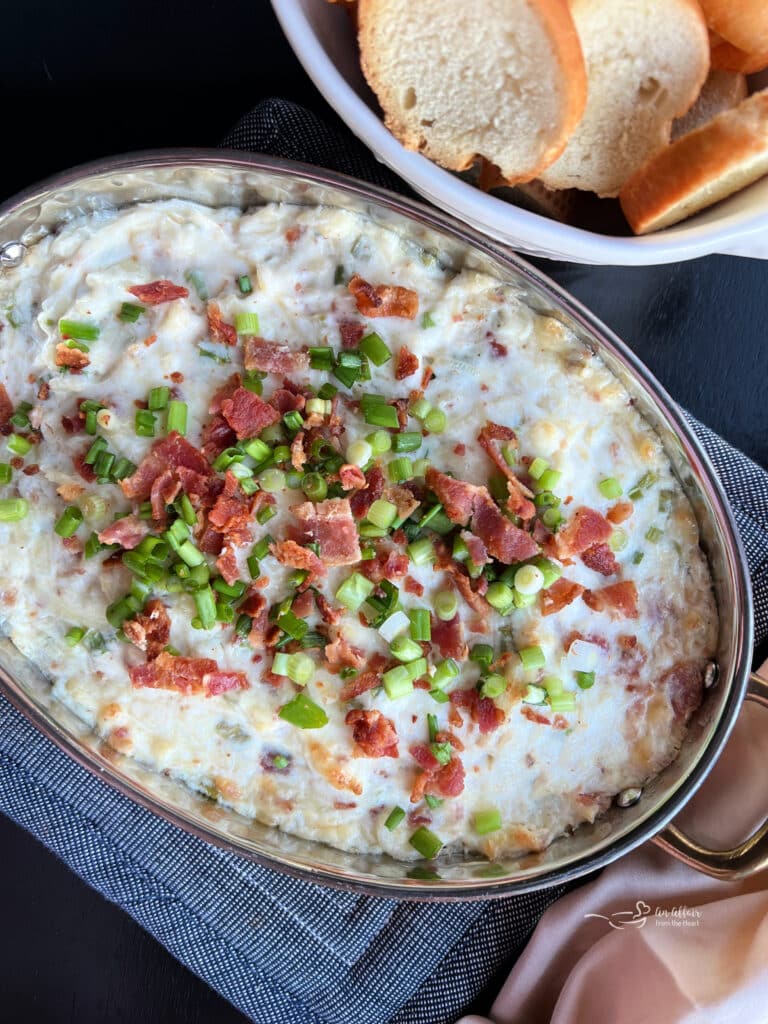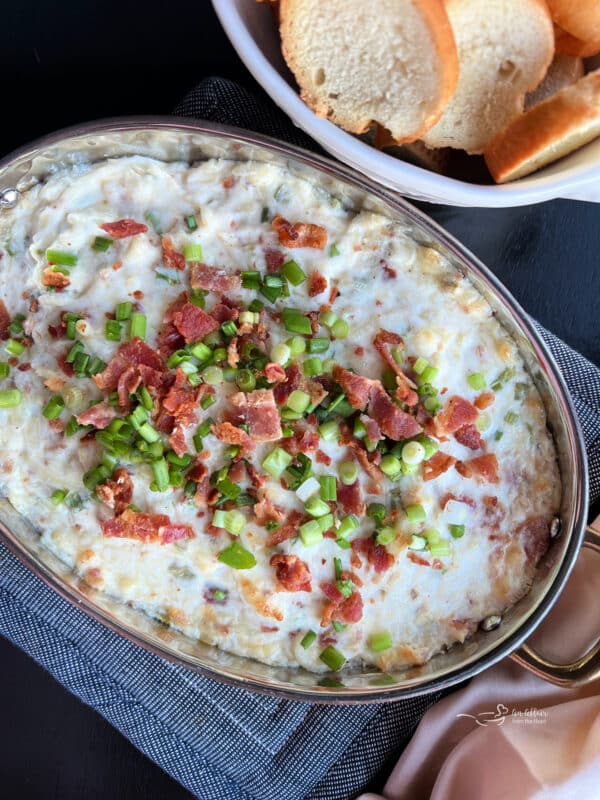 We absolutely devoured this scrumptious appetizer, and I know that you will too!
This swiss cheese and bacon dip is the ultimate dip to have on hand this holiday season but it's simple enough for a movie night at home.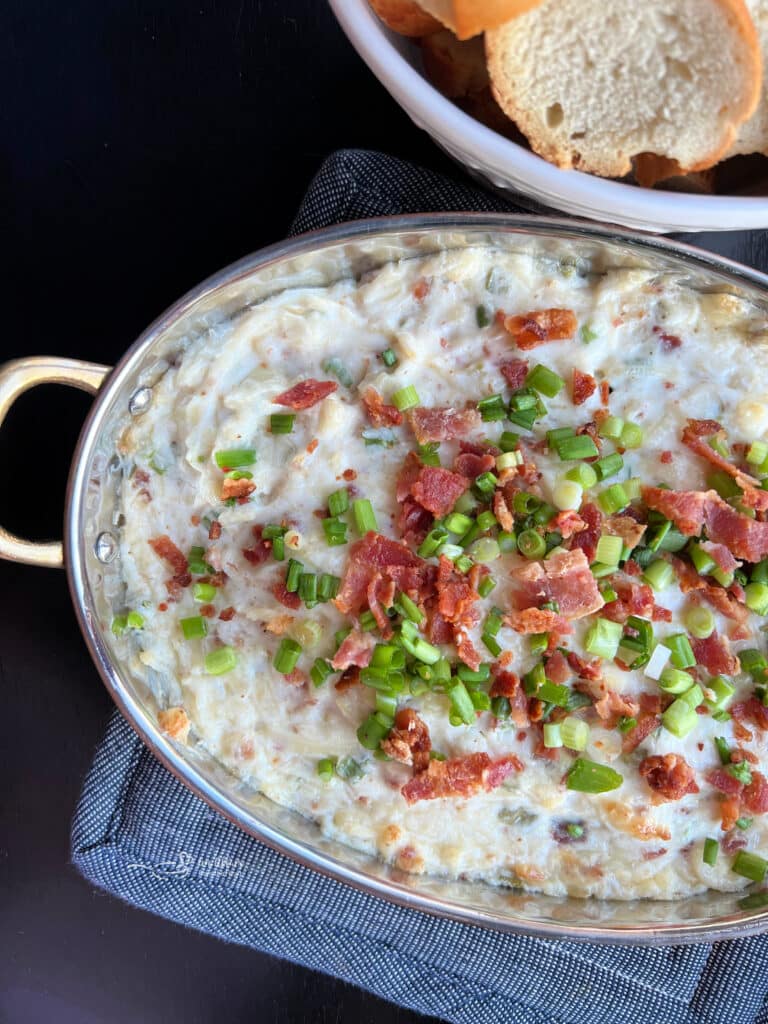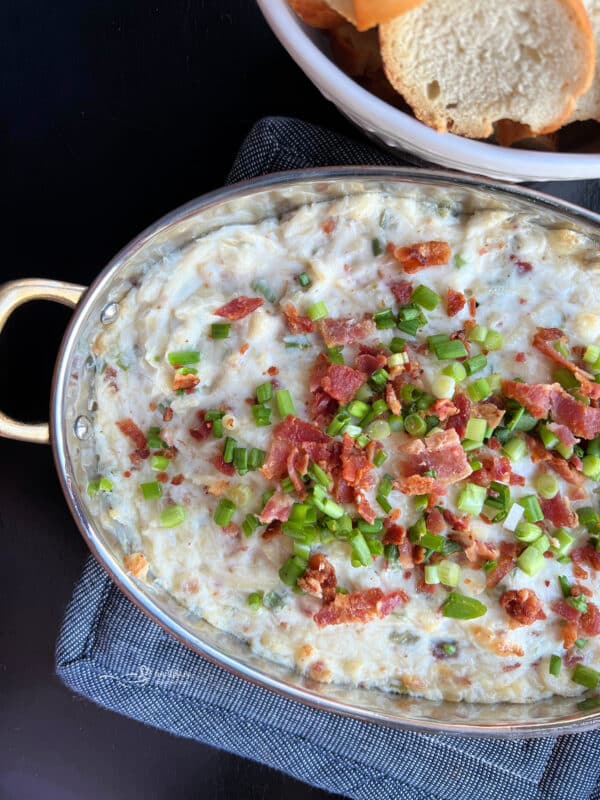 Sauerkraut, Bacon & Swiss Dip
Cream cheese, bacon, sauerkraut, and swiss cheese come together to make a super savory, salty dip that complements pretty much anything. I serve this dip with cut-up baguette slices but you can cut up your favorite veggies or serve this warm dip with chips and pretzels. Anything you choose to dip in this baked dip is going to taste great and result in a mouthful of yum.
If you're entertaining you can easily prep this dip ahead of time and warm it up just before you want to serve it so it is rich and gooey when your guests arrive.
If your family is anything like mine and you enjoy a good dip, I've got a few recipes for you to try over the holidays; Fiesta Corn Dip, Mexican Bean Dip, or this Philly Cheesesteak Dip.
This recipe is sponsored by Frank's Kraut, but my lifelong love of their delicious sauerkraut and my opinions here are all my own.

Frank's Kraut
If you haven't added sauerkraut to your repertoire these days, what are you waiting for? Sauerkraut is shredded cabbage that has been fermented. Fermented foods are all the rage these days and for good reason! They are good for our gut health.
Fermented foods contain probiotics which keep the good and bad bacteria in our gut in balance. This balance of good and bad bacteria is important for keeping us healthy and helping our bodies digest the food we eat and absorb the nutrients. It's no surprise that sauerkraut is considered a Super Food.
Sauerkraut goes well with so many foods, not just in this dip. Some people eat a few tablespoons of sauerkraut on its own every day just for its health benefits. We really enjoy sauerkraut in our house, so much so that I have quite a few recipes with it: Sauerkraut, Bratwurst and Potato Soup, Everything Saukerkraut Bread, and Grilled Polish Sausage and Sauerkraut.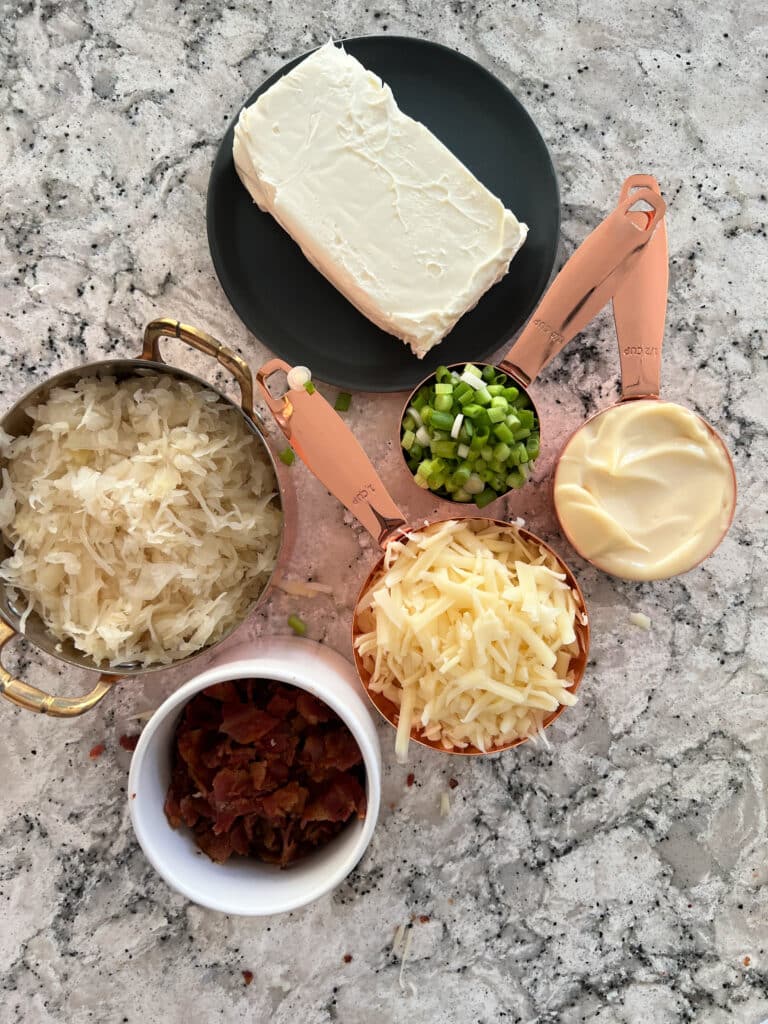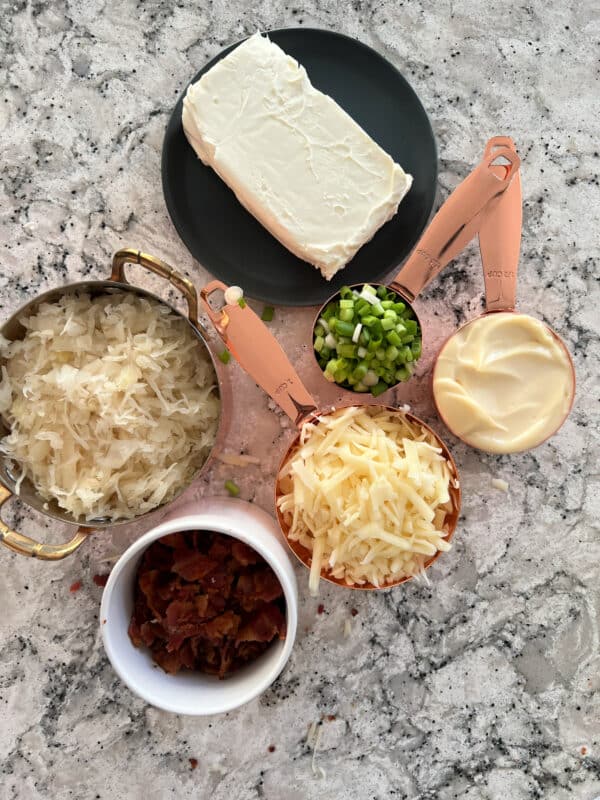 Ingredients Needed To Make Sauerkraut, Bacon, and Swiss Dip
Complete instructions and ingredients can be found in the recipe card at the bottom of this post.
Cream cheese-

I softened an 8 oz block of full-fat cream cheese. I suggest you use full-fat cream cheese to make this dip nice and creamy.

Mayonnaise –

Any kind of mayonnaise will work in this dip. I like to use an olive oil-based mayonnaise but you don't have to.

Frank's Kraut

– I only use Frank's Kraut. For this recipe, you will want to be sure to drain the kraut before you add it.

Swiss cheese –

Swiss cheese pairs nicely with the flavors in this dip so I suggest you use it in yours. I added the swiss cheese shredded so it melted nicely.

Bacon

– I like using pork bacon in this recipe but if you prefer turkey bacon that's fine too. Just make sure it is cooked crisp before you crumble it.

Green onion –

I used green onion in the dip itself and for the garnish. I think green onions impart a great flavor to the dip but if you don't have any on hand you can substitute chives or shallots.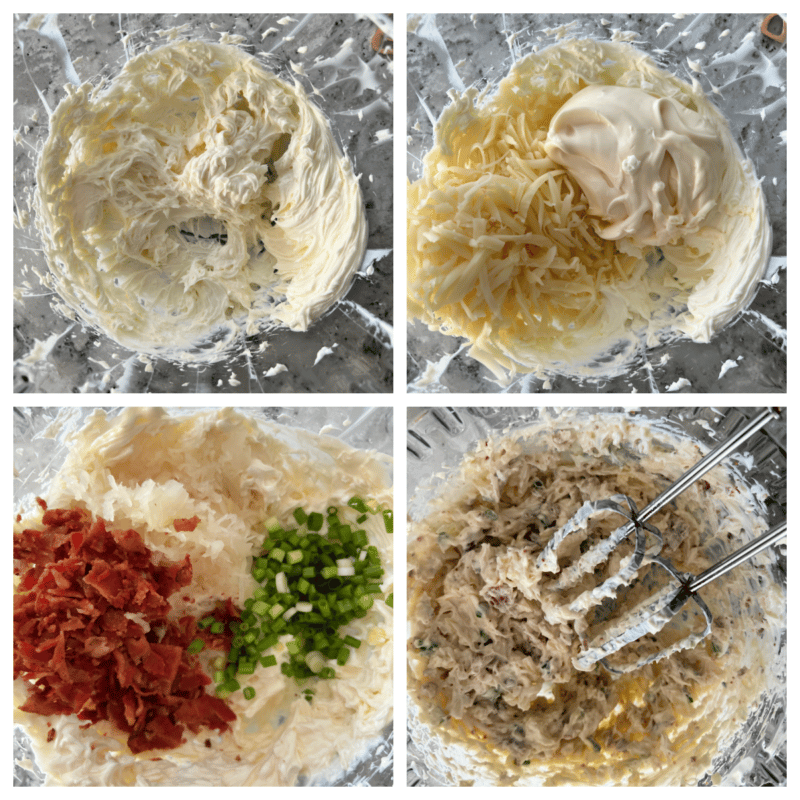 How to make this sauerkraut dip recipe
Begin by preheating the oven to 350 degrees F. and spraying a small baking dish with non-stick spray.
Next, with your mixer beat the cream cheese until fluffy. Mix in the mayonnaise and shredded Swiss cheese.
Add in Frank's kraut, green onion, and bacon.
Reserve 2-3 tablespoons of the bacon and green onion for garnish.
Mix to combine.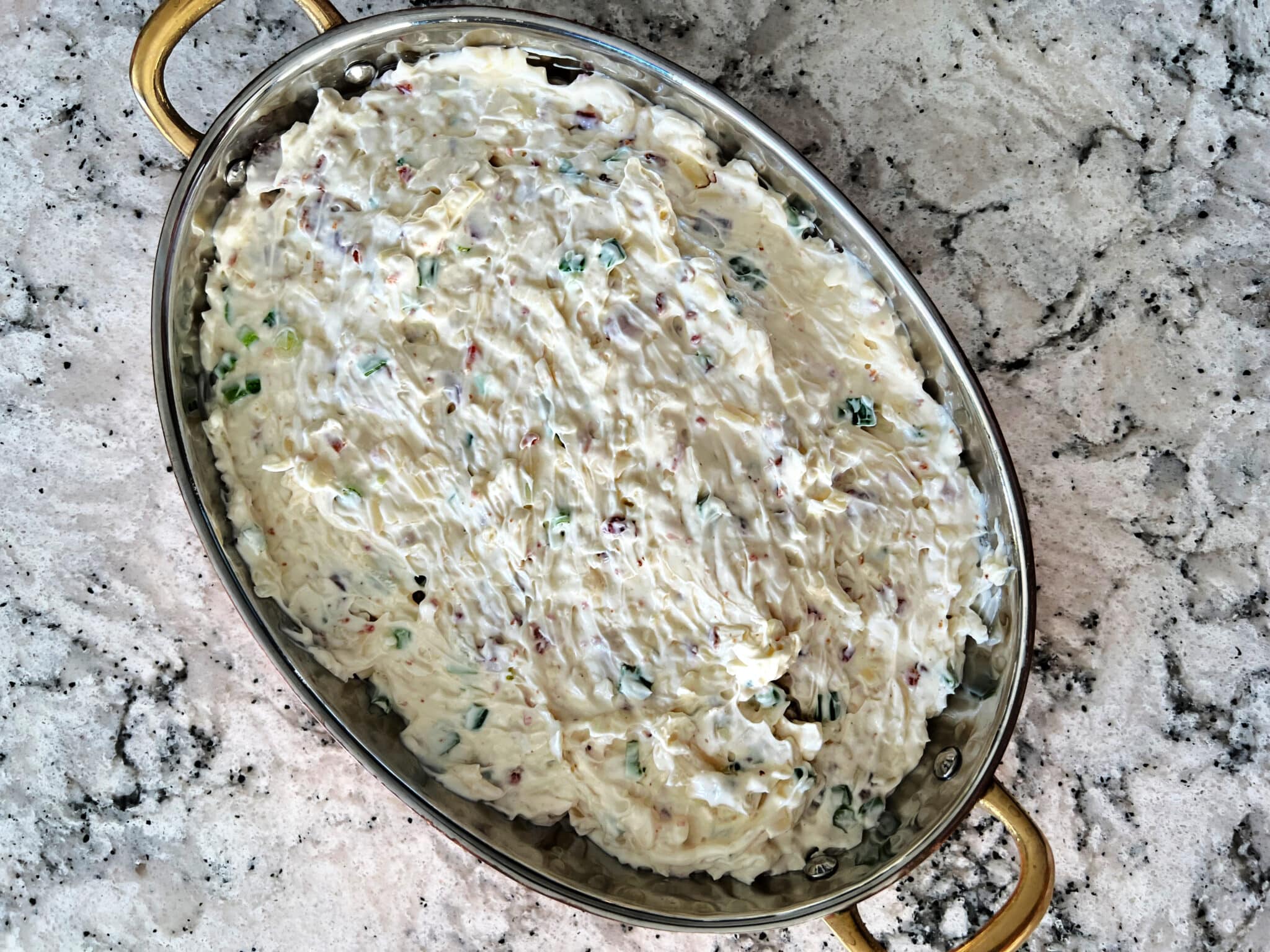 Next, Spread the dip into the prepared baking dish and bake for 15 minutes.
Finally, garnish with the green onions and bacon pieces. and serve it hot with toasted baguette slices.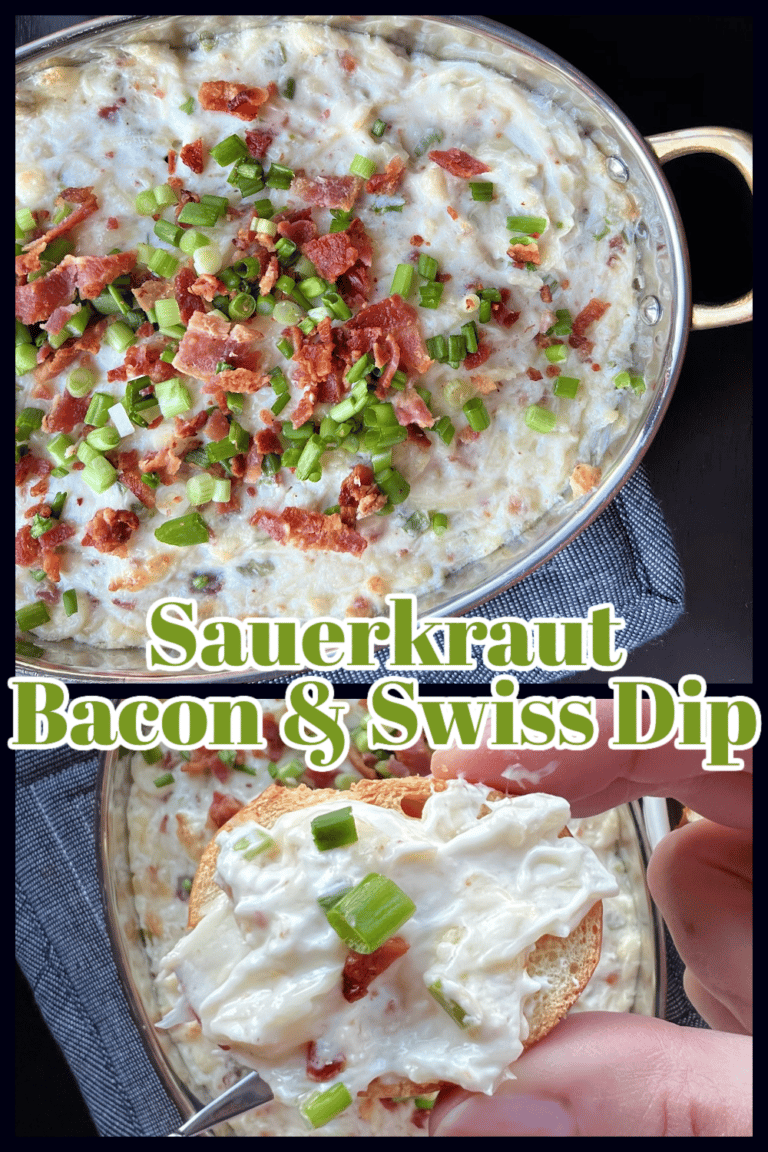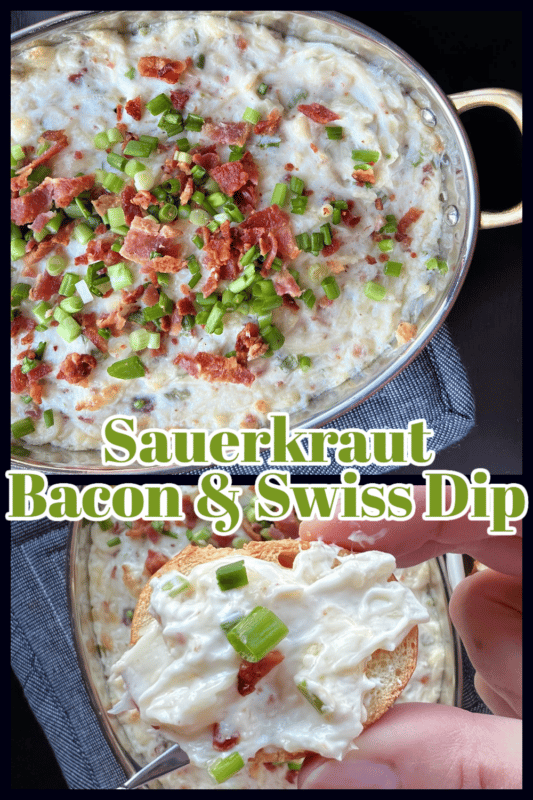 Love it? Pin it!
If you love this swiss cheese and bacon dip recipe, make sure you don't lose it! Pin it to your favorite Pinterest recipe board before you go!

HOW HEALTHY IS KRAUT?
Sauerkraut comes packed with vitamins. Vitamins C and K, low in sugar, and high in fiber, kraut has been used as a folk remedy for a number of ailments for years. Of course, it is always nice when modern science realizes some of those traditions actually possess some merit, right?
Love Sauerkraut? Everything you always wanted to know about Kraut! Where it comes from, how it's made, and tons of Sauerkraut recipes in this Ultimate Guide to Sauerkraut

FAQs
Can I substitute a lower-fat option for the cream cheese? I know I suggest using full-fat cream cheese as it really gives the dip the rich, creamy mouth feel but if you are looking for another option I suggest you try cottage cheese or ricotta or a combination of both. Process or blend whichever option you choose so it has a smooth texture.
What kind of mayonnaise is best for this swiss sauerkraut dip? The mayonnaise aisle at the grocery store has really exploded over the past years and it can be confusing trying to figure out which one will taste the best in your recipe. If you use the mayonnaise you always use then chances are it is the best one for you.
Can I use turkey bacon instead of pork? If you are unable to use pork then yes you can easily substitute turkey bacon. Just make sure to cook it nice and crisp so it crumbles into the dip nicely.
SUBSTITUTIONS:
If you don't have cream cheese on hand you can substitute a mixture of cottage cheese and ricotta or mascarpone cheese. Or a combination of these cheeses.

If you don't have bacon you can use cooked ham. Just dice it and mix it into the dip.

Chives and shallots are both good options for green onions.

Mix up the cheese but do aim for a sharp cheese flavor. You can combine cheddar and Parmesan or use Fontina, Jarlsberg, or Provolone.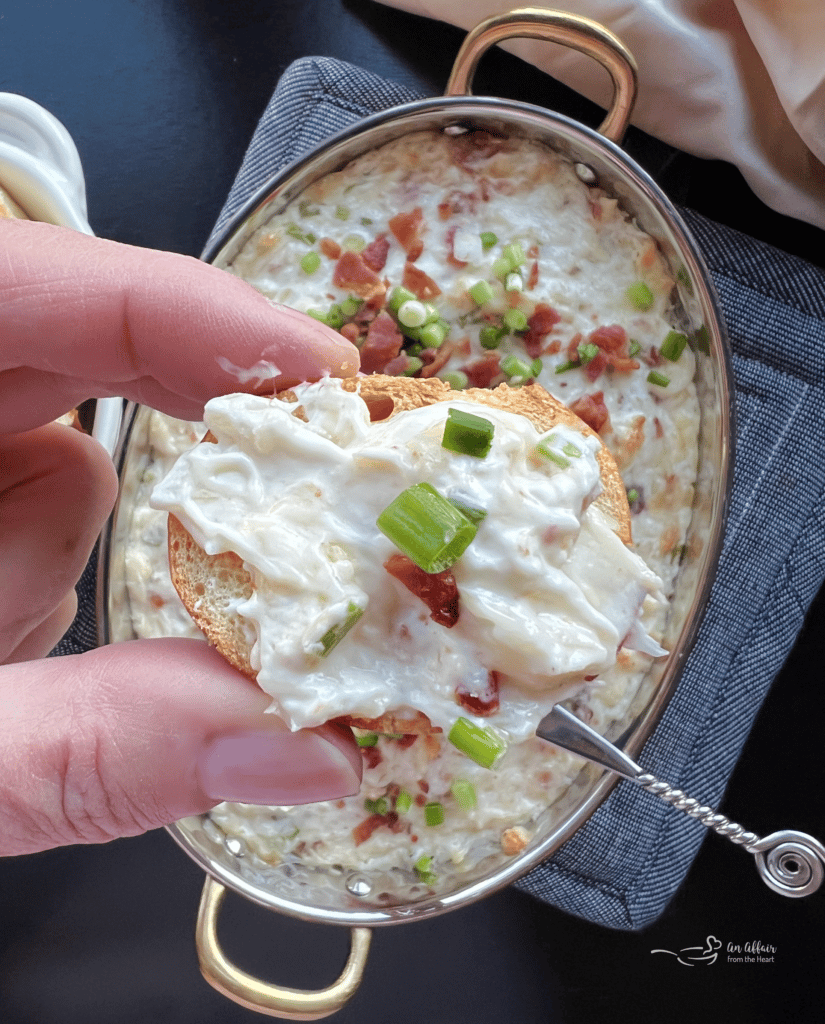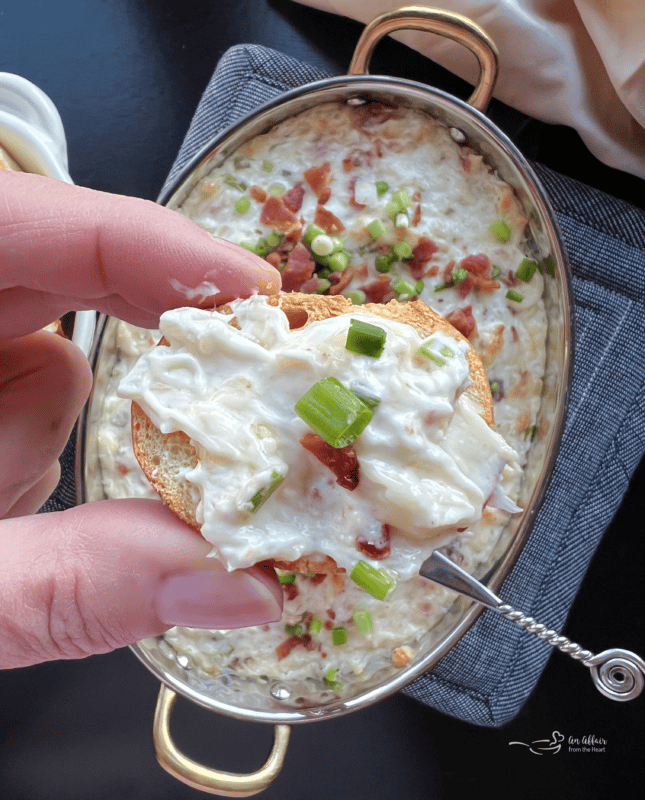 Tips & Tricks
Make sure to spray the baking dish well so you don't get left with a big sticky, gooey mess in your pan.

Take the cream cheese out of the fridge an hour or so before preparing the dip so it has time to soften.

You can store the dip in the fridge in an airtight container for 3-4 days. I do not suggest you freeze this dip.
Save the bacon drippings in a Mason to use in another recipe.

More Sauerkraut Recipes to Love
I have so many recipes and ways to use Frank's Kraut! Here are just a few of them:

FRANK'S KRAUT
My love of Frank's Kraut doesn't just span years, it spans decades. It's the only sauerkraut my family has ever eaten. Coming from Polish and German descent, that's saying something, isn't it?
You can find many fantastic sauerkraut recipes here on my blog, as well as on Frank's Kraut Website. I even have a Pinterest Board dedicated just to sauerkraut! You will be sure to find new and creative recipes year-round at all of these places, and when you follow Frank's Kraut on Facebook, Twitter, Instagram and Pinterest.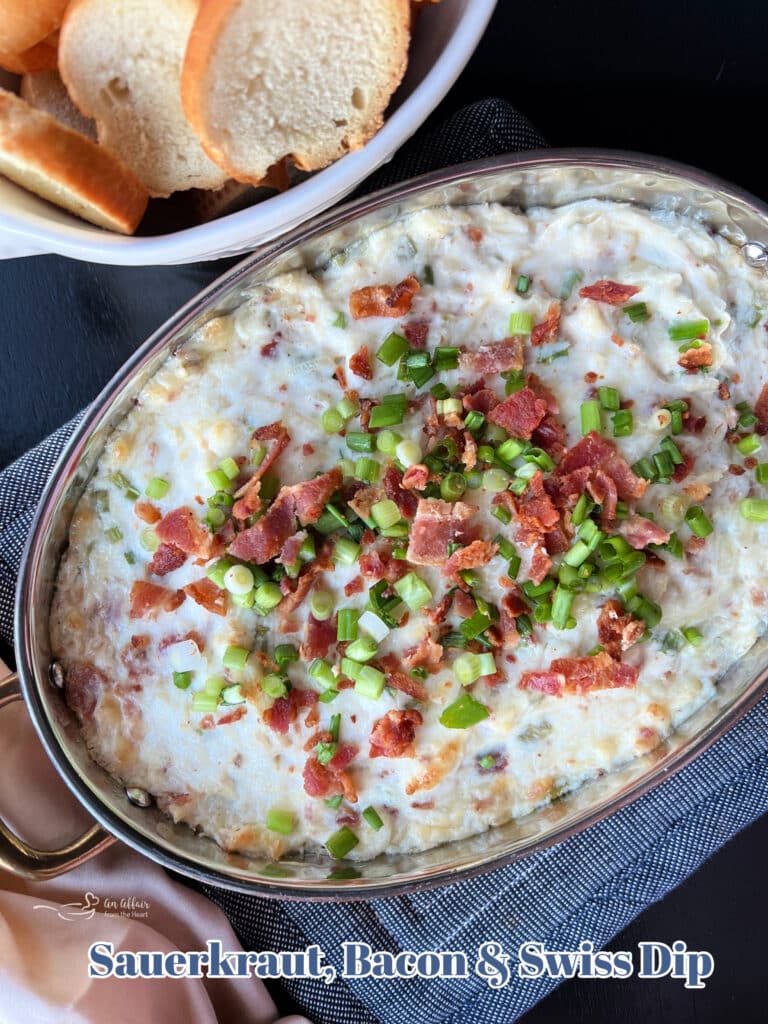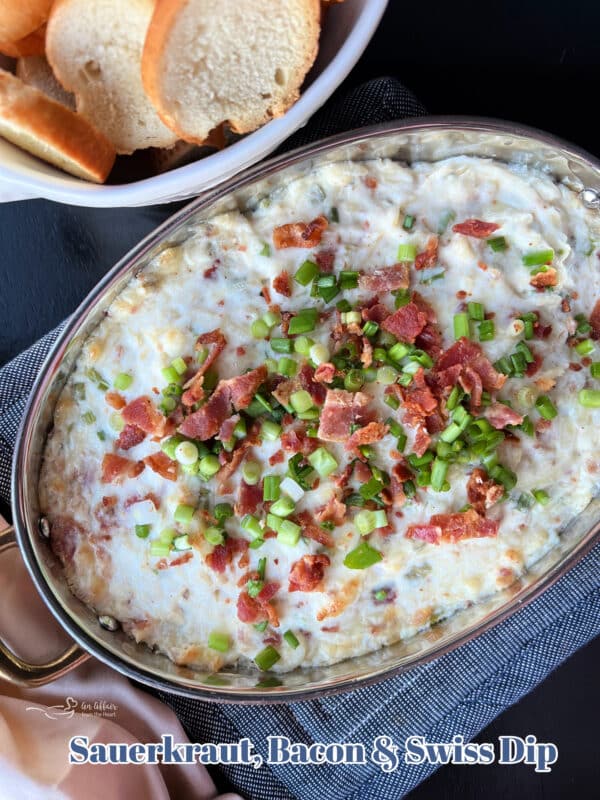 This swiss cheese dip is the ultimate in ooey-gooey goodness and perfect for dipping anything from carrots to pretzels. You really can't go wrong with this swiss, sauerkraut dip, it is absolutely delicious. Make some yourself and let me know what you think.

Yield: 8
Sauerkraut, Bacon & Swiss Dip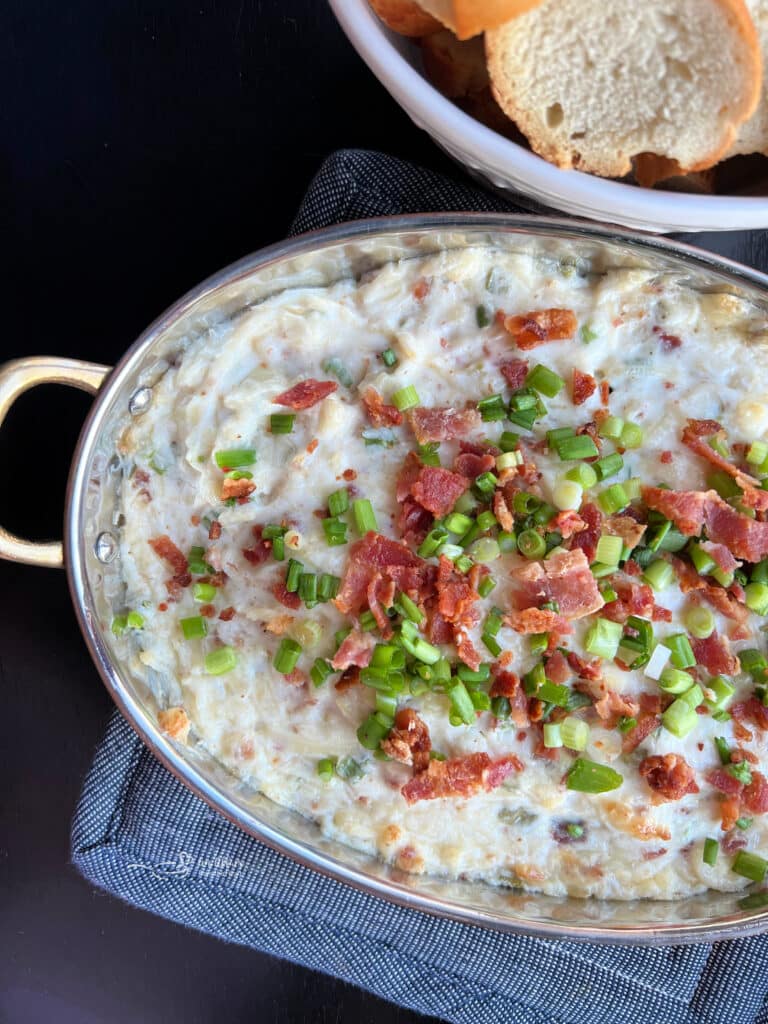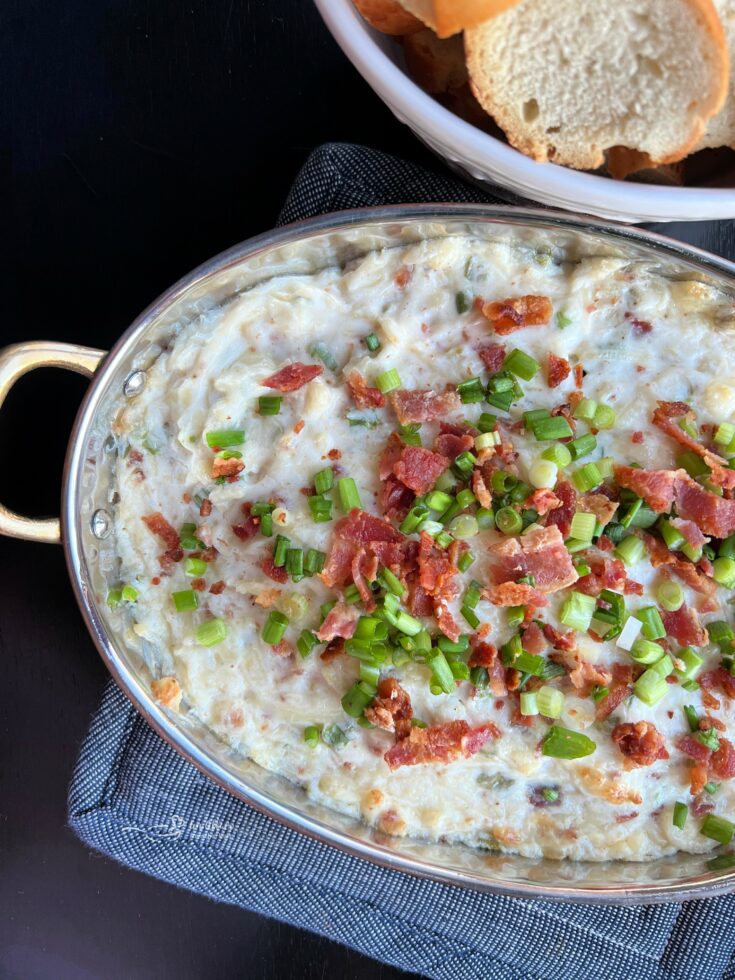 Baked Sauerkraut Bacon & Swiss Dip slathered over a toasted baguette is just what your next get-together needs. Tangy cream cheese and Frank's Kraut with Swiss cheese, green onion, and crisp bacon all whipped together and baked up in minutes.
Ingredients
8 ounces of cream cheese, softened
½ cup mayonnaise½ cup Frank's Kraut, drained
1 cup Swiss cheese, shredded
8 slices of bacon, cooked crisp and crumbled, divided
¼ cup green onion, sliced + top of 1 green onion sliced for garnish
Instructions
Preheat oven to 350 degrees F. spray a 9x9 baking dish with non-stick spray and set aside.
In your mixer beat the cream cheese until fluffy. Mix in the mayo.
Add in Frank's kraut, Swiss cheese, bacon, reserving 2-3 Tablespoons for the top and the onion. Mix to combine.
Bake for 15 minutes. Garnish with shallots and bacon pieces and serve with toasted baguette slices.
Recommended Products
As an Amazon Associate and member of other affiliate programs, I earn from qualifying purchases.
Nutrition Information:
Yield:
8
Serving Size:
1
Amount Per Serving:
Calories:

367
Total Fat:

33g
Saturated Fat:

13g
Trans Fat:

0g
Unsaturated Fat:

18g
Cholesterol:

66mg
Sodium:

637mg
Carbohydrates:

6g
Fiber:

1g
Sugar:

2g
Protein:

12g
Please note that nutrition is not guaranteed accurate.

If you make this recipe, I'd love to know! Snap a picture, share the photo on social media with the hashtag #AnAffairFromTheHeart – I'd love to see what you made! – Michaela