The Traditional Reuben Sandwich – A pile of corned beef, slices of Swiss cheese, Frank's Kraut and Thousand Island dressing grilled between two slices of your favorite rye bread until the cheese is perfect and melty. What more could anyone really ask for in a sandwich? It's the whole package.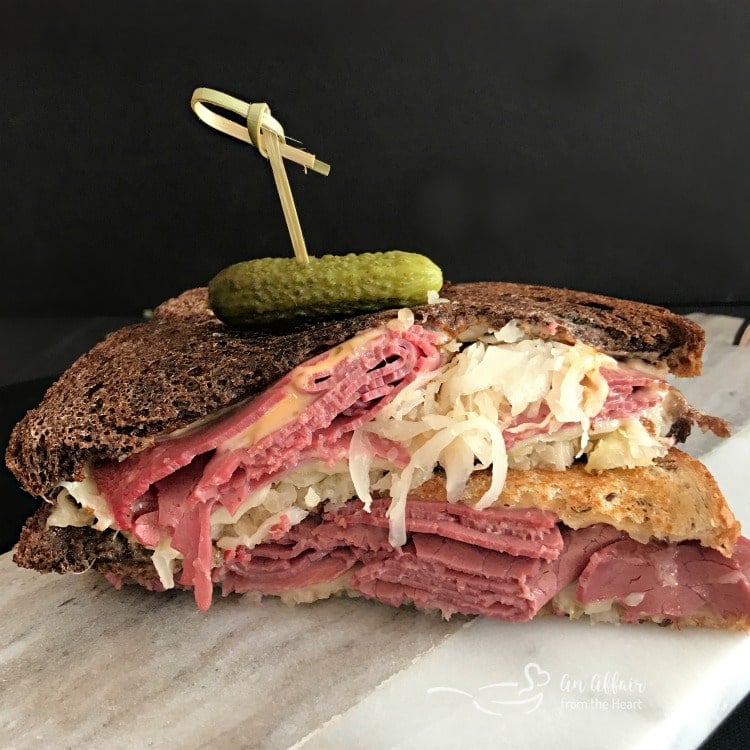 Being from Omaha, where the Reuben Sandwich originated, there is no better way to bring in National Reuben Month than with a Traditional Reuben Sandwich.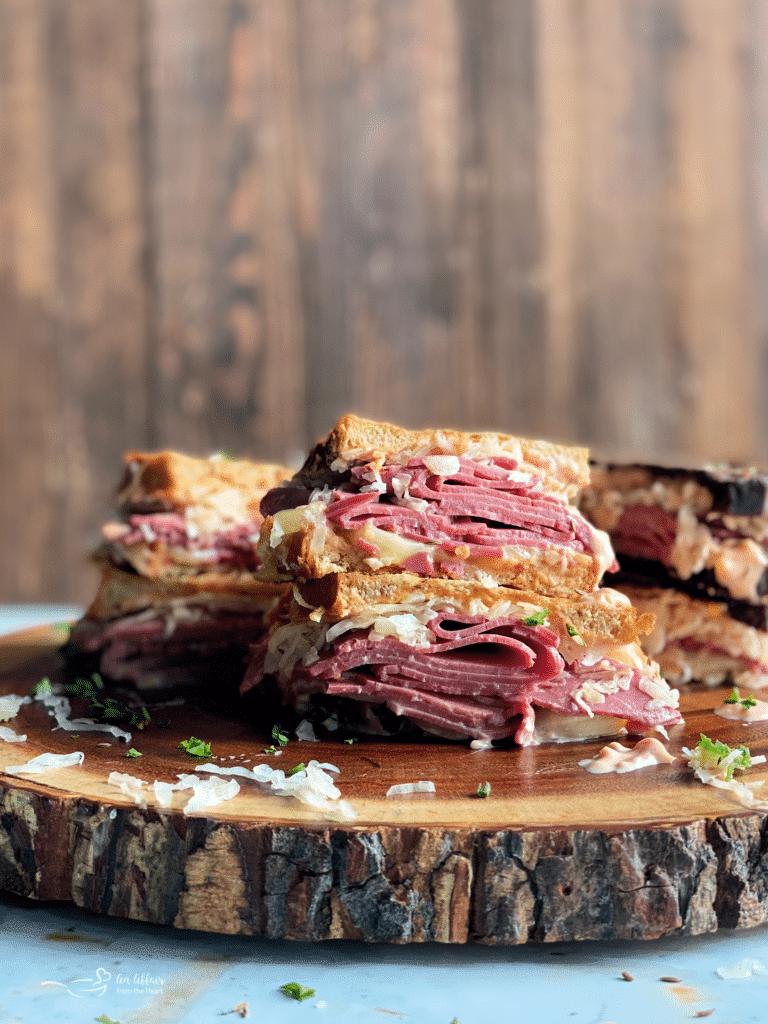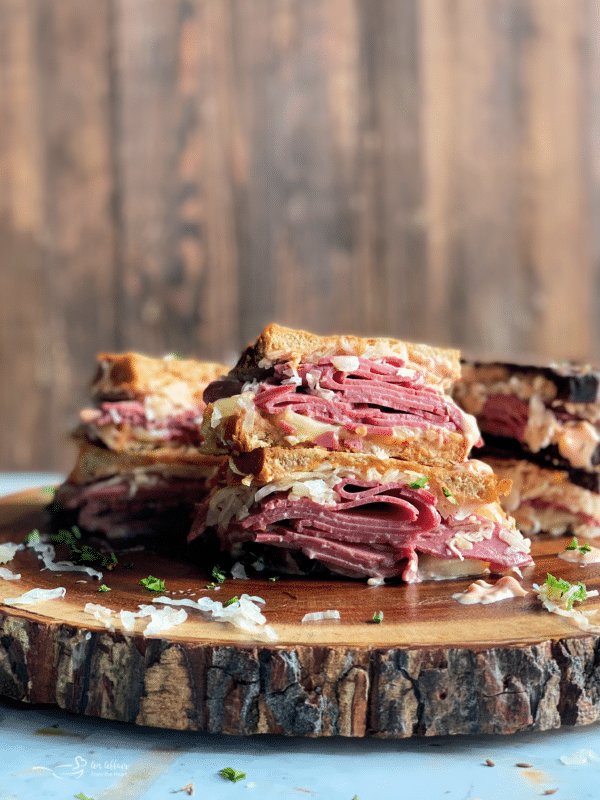 Thank you to Frank's Kraut for sponsoring this post. Know that the opinions in this post and the love for their sauerkraut are all my own. Please support the brands that make An Affair from the Heart possible.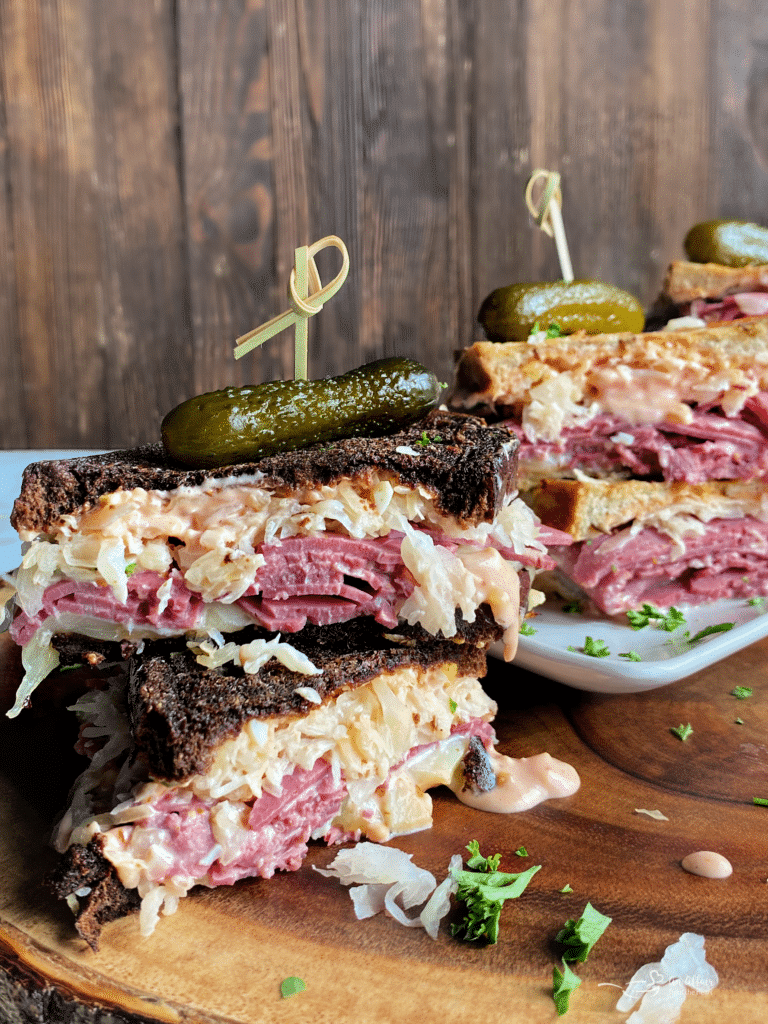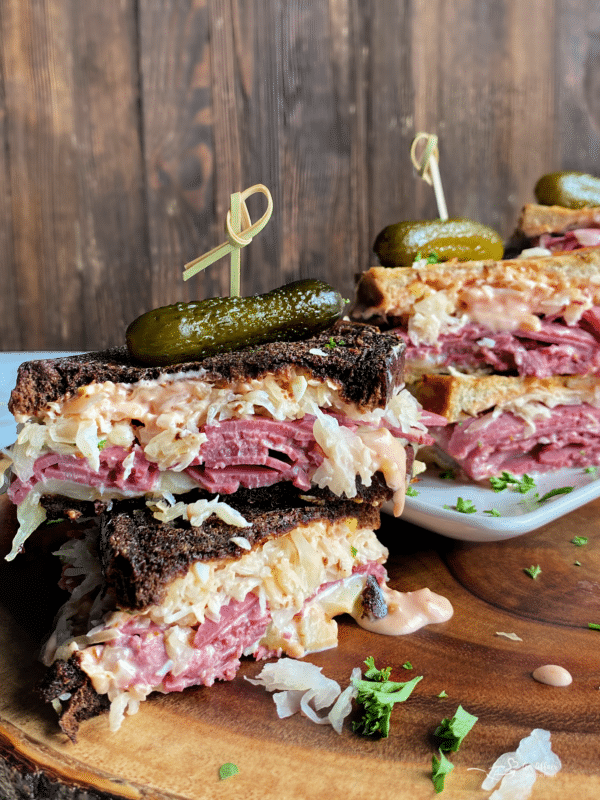 Where did the Reuben Sandwich Originate?
Some folks in other places may argue where the Reuben Sandwich originated. I am holding true to the fact that it was created right here in my hometown of Omaha, Nebraska, at the well known Blackstone Hotel. A Jewish Lithuanian-born grocer, named Reuben Kulakofsky, was the maker of the first Reuben Sandwich.
Reuben attended a weekly poker game held at the Blackstone Hotel between the years of 1920-1935. The group came to refer to themselves as "The Committee." The sandwich came into fame when one of the other poker players, Charles Schimmel, the hotel's owner, put the sandwich on the hotel's lunch menu. And the rest, as they say, is history.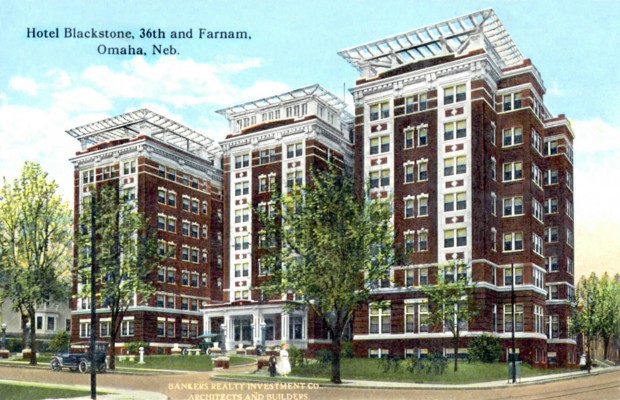 The Blackstone Hotel, now known as the Blackstone Center, is located at 302 South 36th Street in Omaha, Nebraska. The hotel was built in 1915, it was declared an Omaha Landmark in 1983. It's no longer used as a hotel but as offices in a very up and coming area called the Blackstone District.
March is National Reuben month, but in Omaha, we have a National Reuben Sandwich Day – March 14, of every year. Many of the local restaurants and pubs have their claim to fame Reuben sandwich, and you can get them year round, but March — March is when the Reuben is really celebrated!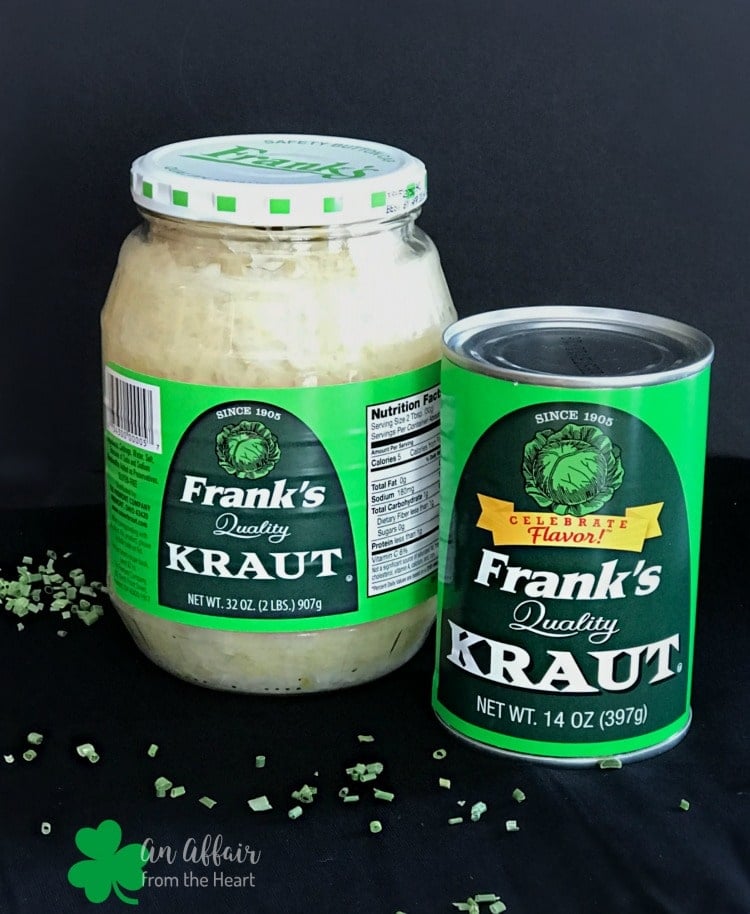 What is the Best Sauerkraut for a Reuben?
Nothing makes a Reuben better than Frank's Kraut. My family has only ever purchased Frank's Kraut, my grandmother, my mother, and now me.
I have had a long standing relationship with Frank's over the last few years, and developing recipes for them has been a real honor for me. We have shared countless sauerkraut and Reuben Recipes over the years, I hope you take some time to see all of the different ways we have used their wonderful kraut, right here on my website.
Everything from appetizers and salads, from soup to pizza, from main dishes to even dessert!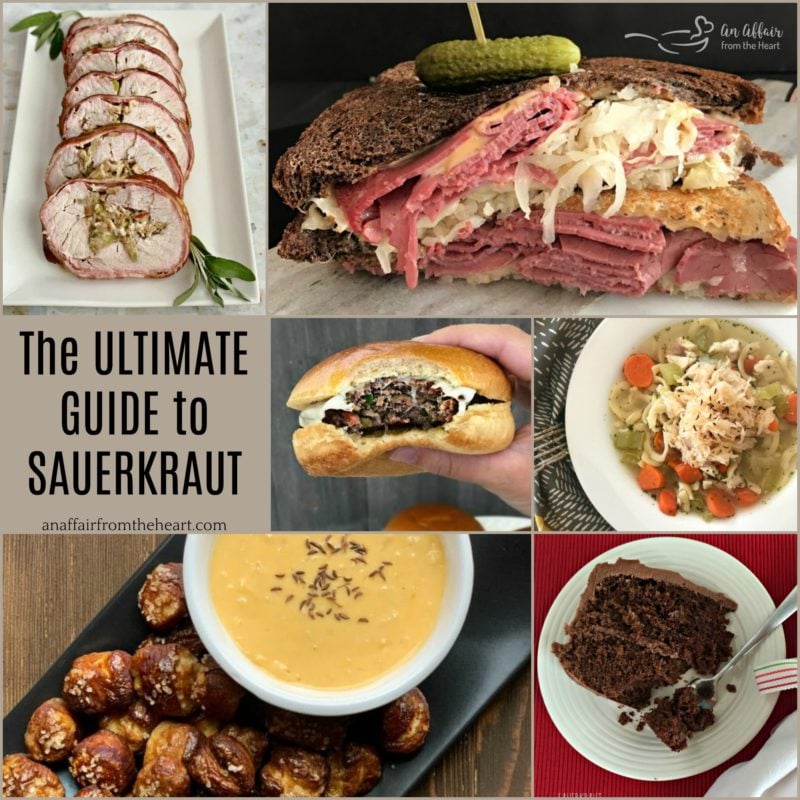 Check out The Ultimate Guide to Sauerkraut!
LOVE SAUERKRAUT?
Follow along with Frank's Kraut on their social media to get delicious recipes all year long. Follow them on Facebook, Twitter, Pinterest, and Instagram for all things sauerkraut!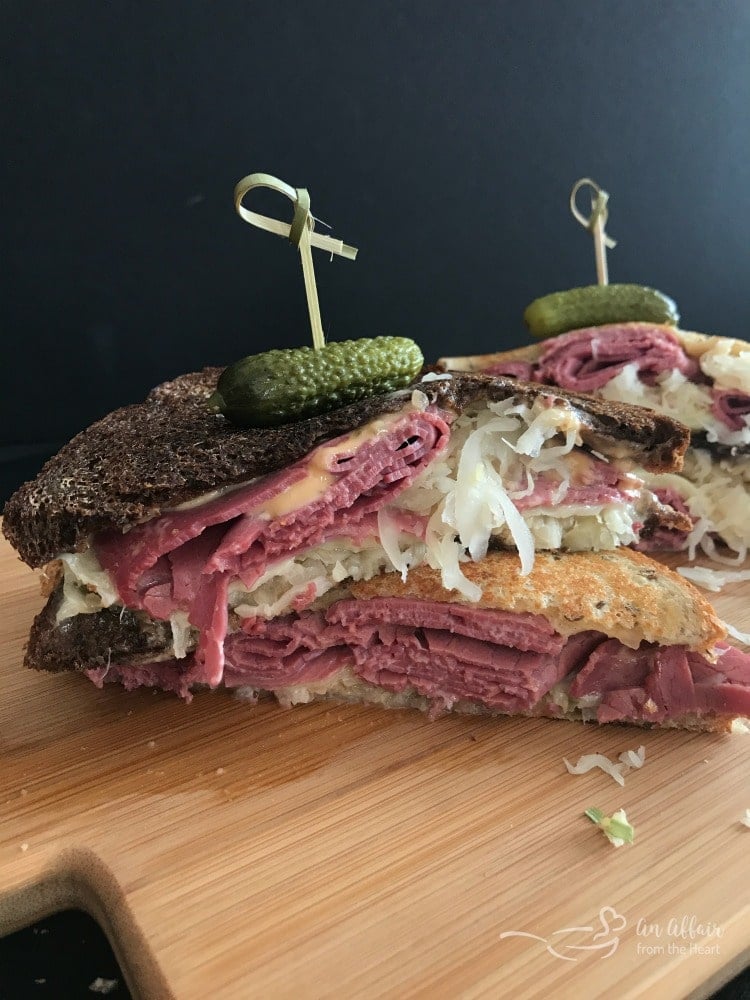 Many times I purchase marbled rye bread when I make Reubens. This time I gave my family the option between seeded light rye or pumpernickel rye. Most of them decided on half and half.
Good choice!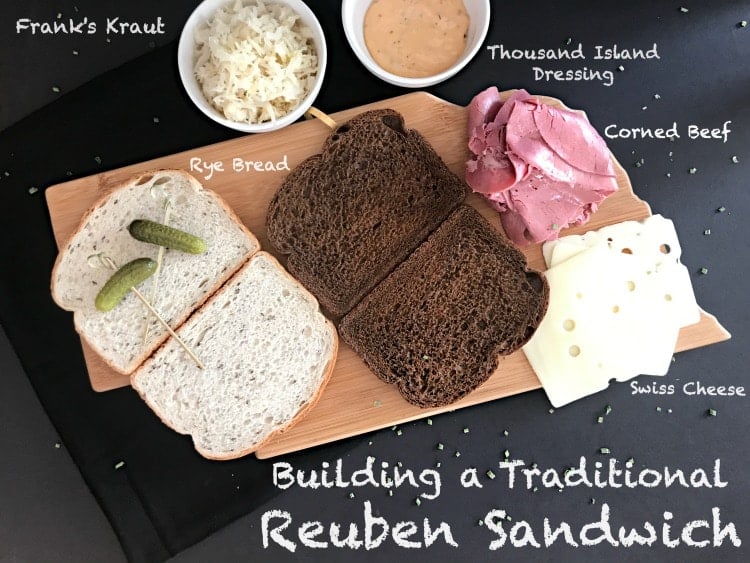 Ingredients in a Reuben Sandwich
Building the perfect Reuben is easy! Frank's Kraut, Corned beef, Swiss cheese, Rye bread, and Thousand Island Dressing.
Some will debate that Reuben sandwich dressing should be a Russian dressing. I have always used Thousand Island Dressing, just like the Blackstone Hotel. Of course, that is the beauty of recipes, you can make it your own. If you choose to use Russian dressing for your Reuben sauce, you do you!
I myself will continue to make them with my Homemade Thousand Island Dressing!
How to Make a Reuben
The best Reuben sandwich recipe isn't difficult to make. It's very much like making the most epic grilled cheese ever! Once you have your ingredients together, it's time to start assembling them.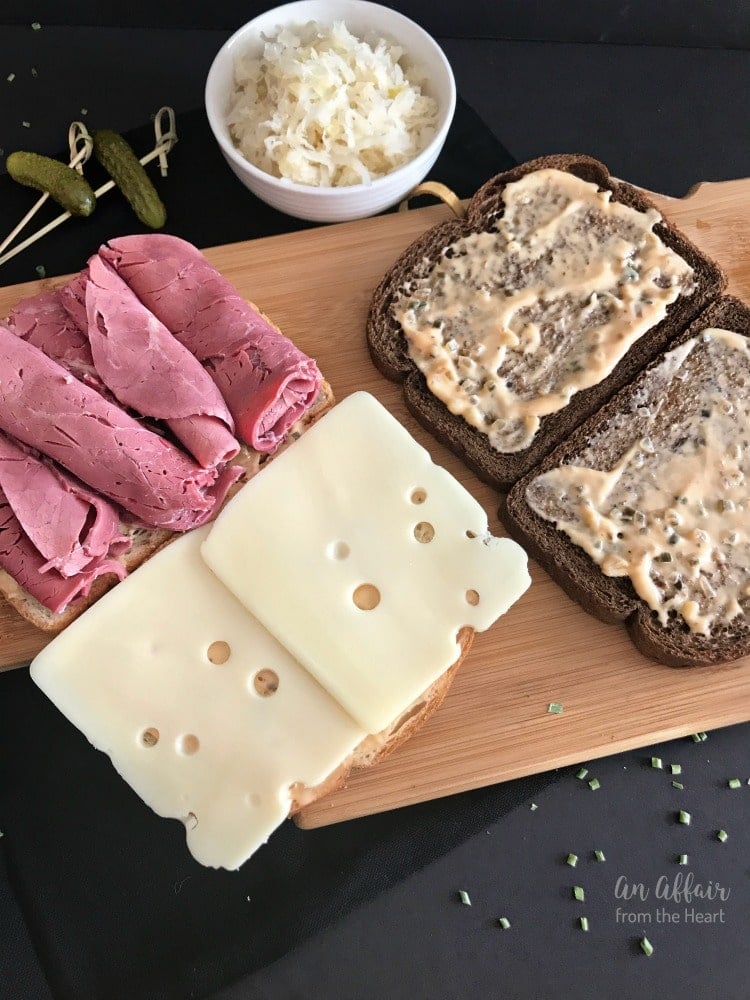 Begin by slathering dressing on both sides of the bread. Top one side with corned beef, the other with a couple of thick slices of Swiss cheese.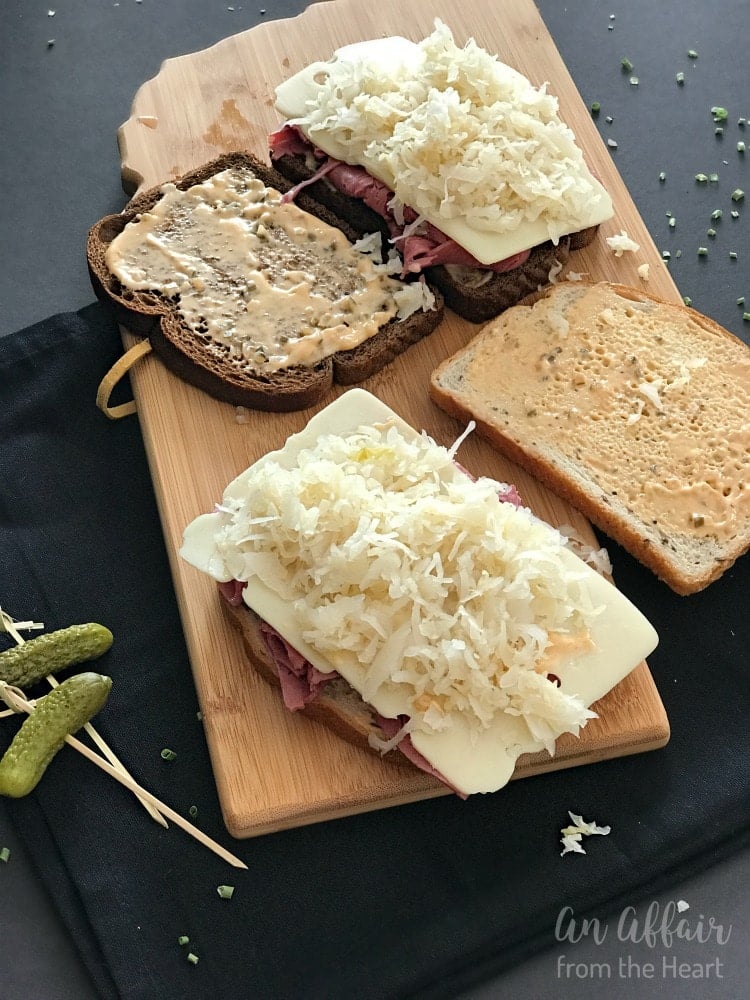 Now it's time to add the Frank's Kraut! Don't be shy! Put a big mound of it on!
Heat your skillet up and butter the outside of both pieces of bread, just like you would for a grilled cheese. Place in a hot skillet and get nice and golden brown on both sides, and get that cheese all melty and gooey.
Feel free to dollop on some more Thousand Island dressing before you serve it.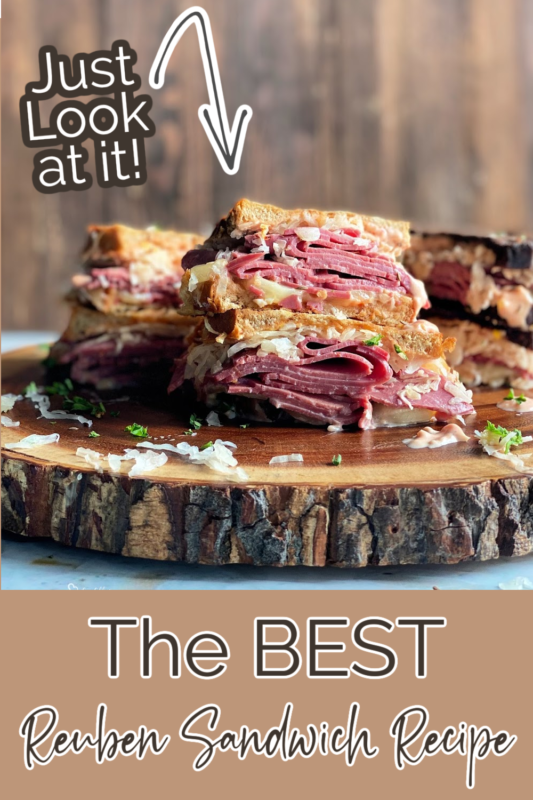 Love it? Pin it!
Don't forget where you found this recipe! Pin it to your favorite Pinterest recipe board before you go!
My friends, does it get any better than that? Dive on in.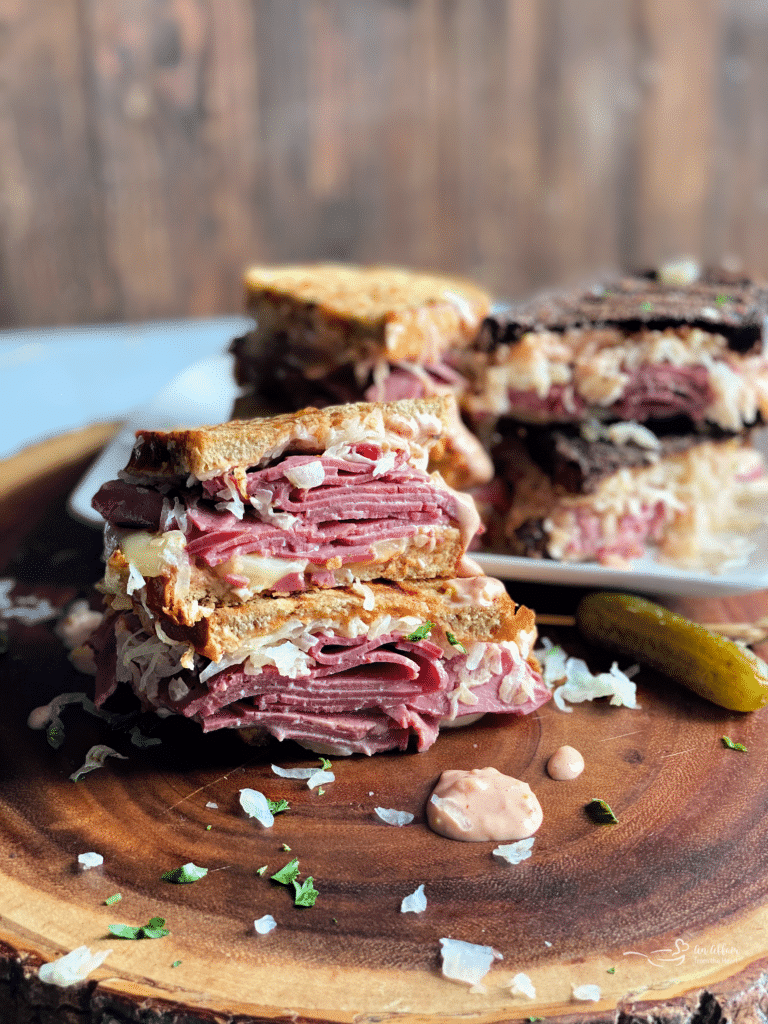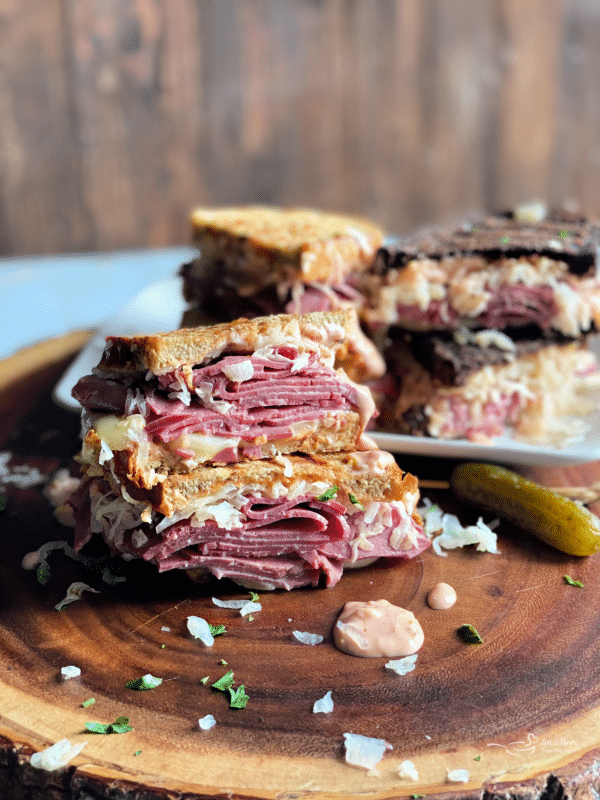 So the next time you're tempted to ask "Where can I find a Reuben sandwich near me?" Don't look any further than your own kitchen and this recipe for a traditional Reuben sandwich!

How to Reubenize Anything
Love Reubens? The Reuben actually has a couple of origin stories, it just depends on who tells it. Learn all about Reuben and how to Reubenize anything!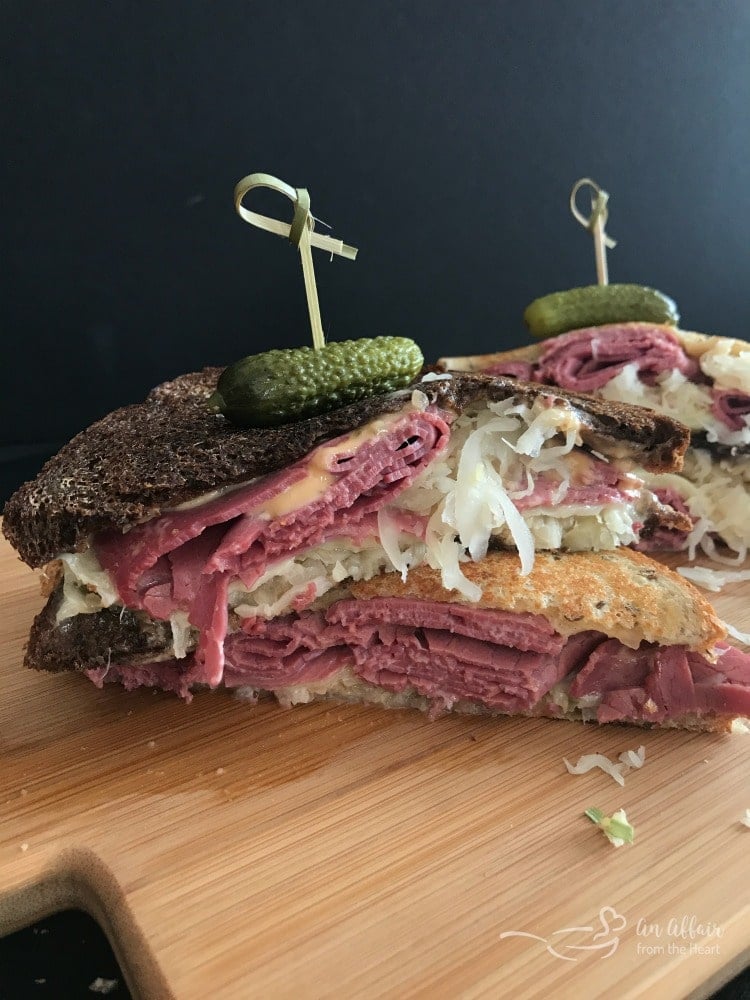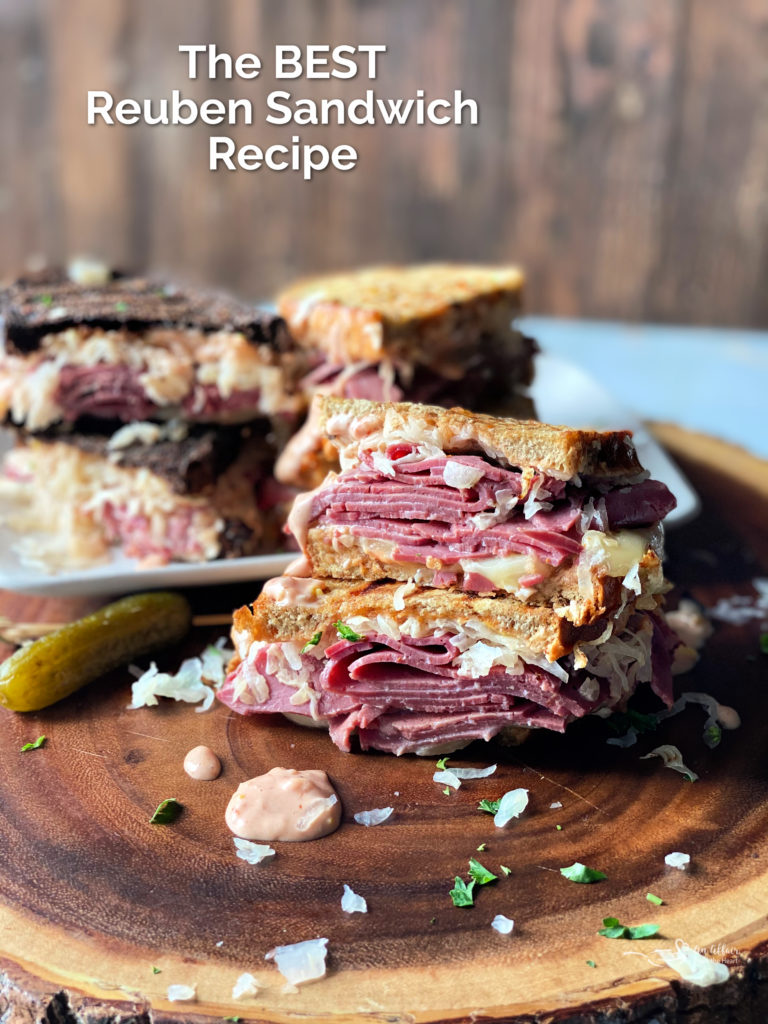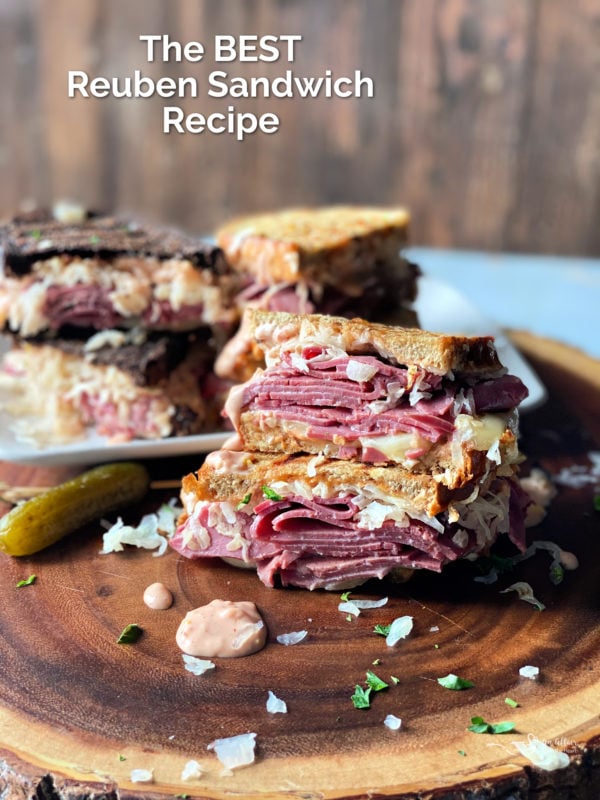 Who's ready to dig in? I'm drooling over here — let's get to the recipe for the best Reuben Sandwich!

Yield: 1 sandwich
Traditional Reuben Sandwich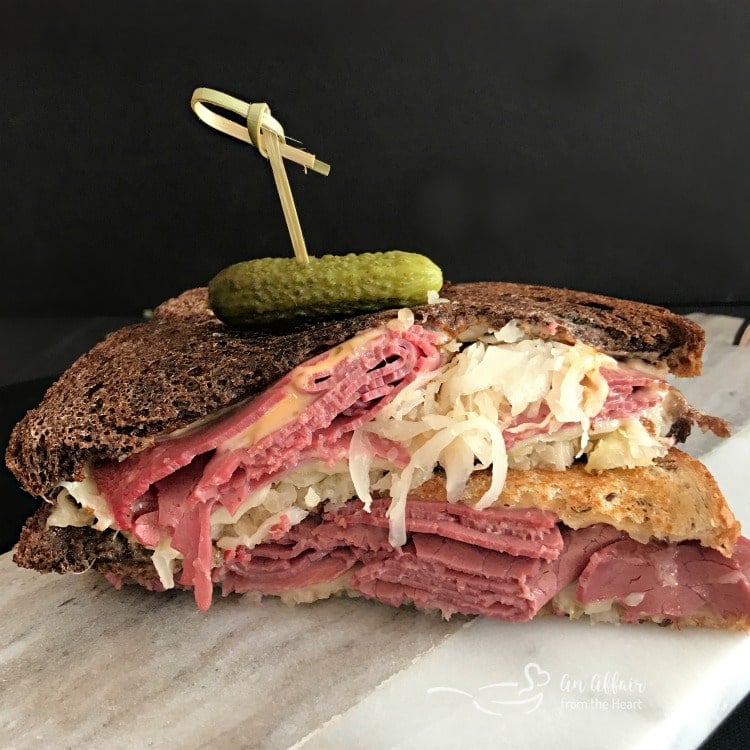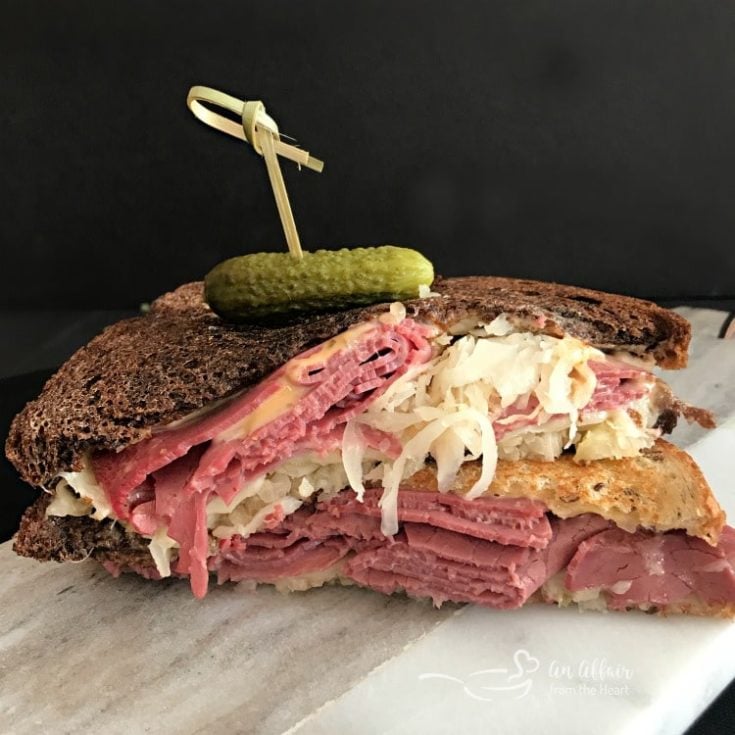 A pile of corned beef, slices of Swiss cheese, Frank's Kraut and Thousand Island dressing grilled between two slices of your favorite rye bread until the cheese is perfect and melty. What more could anyone really ask for in a sandwich? It's the whole package.
Ingredients
2 slices rye bread
4 ounces corned beef
2 slices Swiss cheese
1/4 cup Frank's Kraut
Thousand Island Dressing
Butter
Instructions
Slather Thousand Island Dressing on both inside of the bread. Top with cheese, then corned beef, then sauerkraut.
Butter the outsides of both slices of bread and place in a hot skillet until both sides are golden brown and cheese is melted in the middle.
Add more dressing before serving if desired.
Recommended Products
As an Amazon Associate and member of other affiliate programs, I earn from qualifying purchases.
Nutrition Information:
Yield:
1
Serving Size:
1
Amount Per Serving:
Calories:

1040
Total Fat:

79g
Saturated Fat:

33g
Trans Fat:

1g
Unsaturated Fat:

36g
Cholesterol:

234mg
Sodium:

3266mg
Carbohydrates:

34g
Fiber:

7g
Sugar:

9g
Protein:

48g
Please note that nutrition is not guaranteed accurate.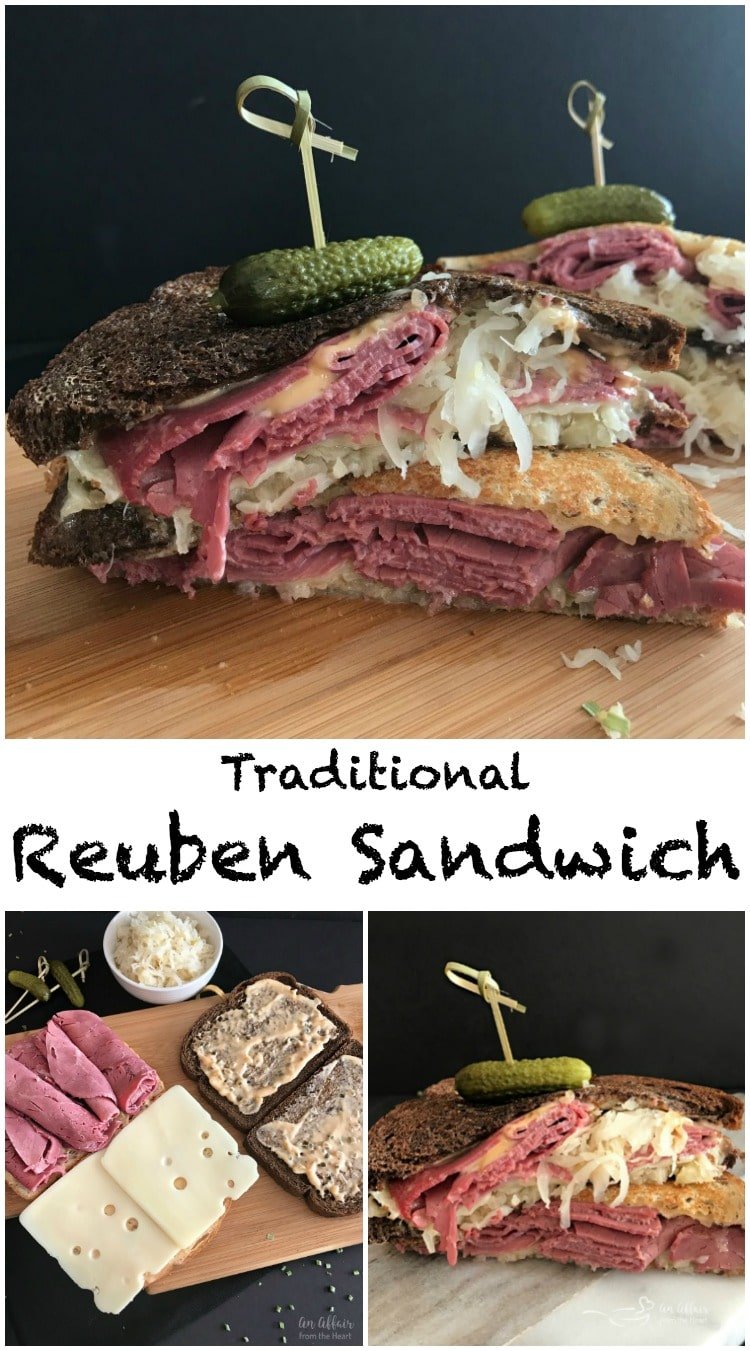 If you make this recipe, I'd love to know! Snap a picture, share the photo on social media with the hashtag #AnAffairFromTheHeart – I'd love to see what you made! – Michaela