Boneless Country Style Pork Ribs, slow cooked in Dr. Pepper, then baked to caramelize the Dr. Pepper BBQ sauce. Only 3 ingredients!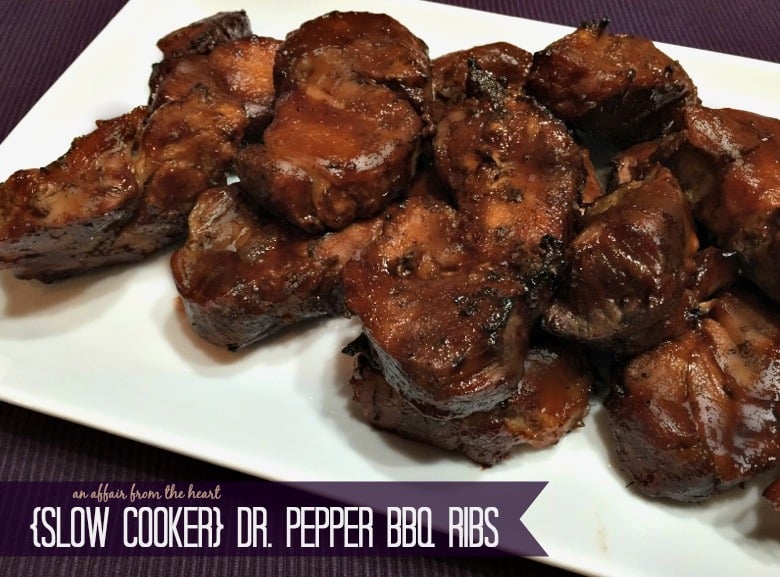 I am what you would call a fair weather winter person.  Growing up in the Midwest, it doesn't seem right to NOT have snow on the ground at Christmastime, but by the time mid-January hits, I am tired of the dreary grey skies and the cold and the white stuff that has now turned a not so pretty white.
I long for long summer days with sunshine and patio sitting and GRILLING.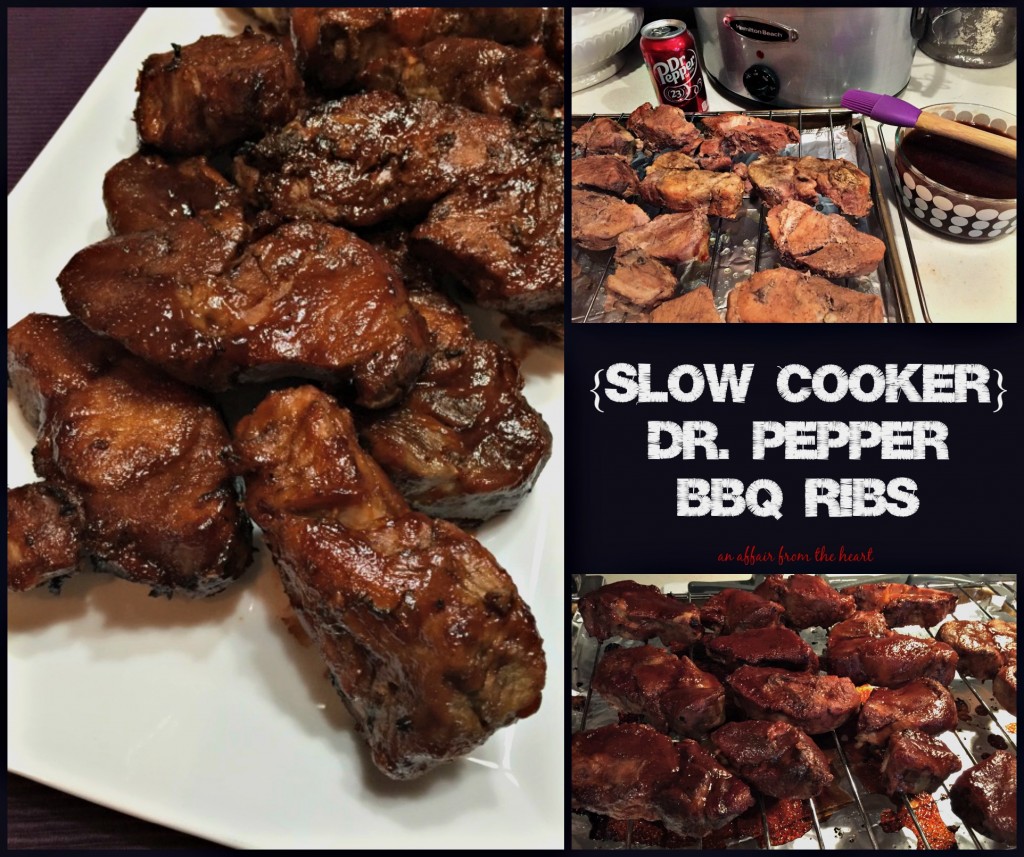 My son has been home from college for the last month, and he returns this weekend.  I have been letting him get in his dinner requests this week. Yesterday though, I thought I would wing it.  I had some boneless country style pork bibs in the freezer, so I defrosted them and decided to have barbecue.  My family NEVER argues about barbecue, it's something I know that everyone will be happy about.
I typically boil my ribs in beer before I grill them.  You can find my recipe for those pork ribs HERE.   Yesterday though, more white stuff was falling from the winter sky, and I decided dinner would not be getting made on the patio.  I tossed the ribs in my slow cooker, and dumped a can of Dr. Pepper over the top.
After they cooked slow all day, becoming so tender I could barely move them to my baking rack, I knew they would be awesome.  I transferred them to a rack over a cookie sheet, and brushed them with a combination of BBQ sauce and more Dr. Pepper.  The sauce was super yummy!  I baked them for 30 minutes to caramelize the sauce, flipping them once and adding more sauce.
They were sensational.  I served them with hash browns,cornbread and sweet corn.  My husband said "This is the best dinner you have made in a long time!" (He's partial to the entire menu, so I had no doubt he would be thrilled!) I love making him and his tummy happy!
---
If you love Dr. Pepper and you love BBQ Ribs — here are a couple more recipes you need to try!
Let's Dig in! 

Slow Cooker Dr. Pepper BBQ Ribs
Boneless Country Style Pork Ribs, slow cooked in Dr. Pepper, then baked to caramelize the Dr. Pepper BBQ sauce.
Author:
An Affair from the Heart - anaffairfromtheheart.com
Recipe type:
pork/BBQ/crockpot
Ingredients
4.5 pounds boneless country style pork ribs
2 cans Dr. Pepper soda, divided
¾ cup BBQ sauce (your favorite, we love our Sweet Baby Ray's!)
Instructions
Place ribs in the bottom of your slow cooker, pour 1 can of soda over them. Cover and slow cook for 7 hours on low or 4 hours on high.
Preheat oven to 400 degrees. Cover a cookie sheet with foil then place a wire rack over the top.
Combine ¾ cup BBQ sauce with ½ cup Dr. Pepper soda.
Carefully remove the ribs from the slow cooker, placing on rack. Brush tops with sauce. Bake for 15 minutes, flip and brush other side. Bake 15 minutes more.
Serve remaining sauce at the table.

If you make this recipe, I'd love to know! Snap a picture, share the photo on social media with the hashtag #AnAffairFromTheHeart – I'd love to see what you made! – Michaela