Cherry Limeade Sweet Rolls
As an Amazon Associate and member of other affiliate programs, I earn from qualifying purchases.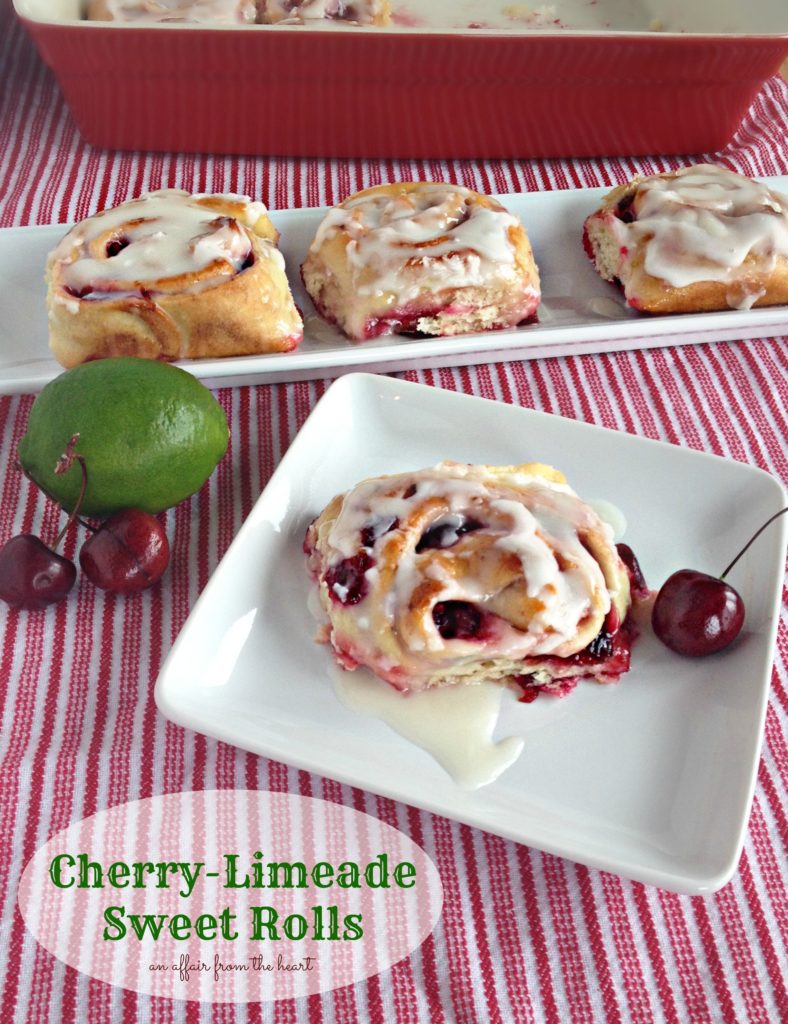 So, crazy fact. As much as I bake, and LOVE to bake, I have never in my life made homemade sweet rolls. This was the first time in my life I had ever baked with yeast. I have to admit, I was nervous when I baked up these Cherry Limeade Sweet Rolls! I was so afraid they would flop! I was seriously dancing a jig when they turned out perfectly!
I have It Bakes Me Happy to thank for this amazing recipe and for taking me out of my comfort zone. I was tickled pink when I got Emily's blog to bake from for my August Secret Recipe Club assignment! It's almost embarrassing the amount of time I spent on her blog!! It was so hard to keep my joy a secret and not comment on everything she posts and give it away that I had her lovely page this month!
Emily is a fabulous baker and has a self proclaimed sweet tooth, but don't let that get you thinking that she only posts sugary sweet recipes! She has a wide variety of main dishes and sides, along with fun printables to make your creations extra special. I have a secret to tell you though, until I chose what I was going to make, I wouldn't even let myself LOOK at those links! With a site like "It Bakes Me Happy", I was SO going to be baking!! I had so many recipes I wanted to make, my head was swimming; Brownie Muffins, Chocolate Zucchini Snack Cakes, Toasted Coconut Marshmallow Cups, and Blackberry Peach Cobbler to name just a few of the pages I had saved. For some reason though I kept coming back to these rolls. I decided it was kismet, and I must break out of my comfort zone and make these little beauties!! My youngest daughter has thanked me every time she cut herself one for breakfast!
THEY. ARE. MAGNIFICENT.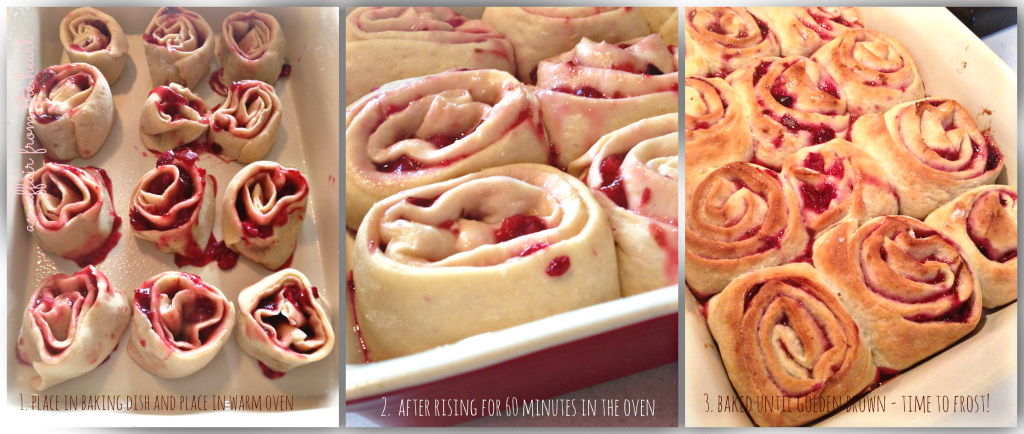 If you're like me, and you have never tried to make sweet rolls from scratch, I think this would be a great place to begin your journey. Emily explained the process so perfectly. They came together like a dream!
When I placed them in the baking dish, my first thought was how much they resembled little rosettes! The I whispered a little "please let them rise" prayer as I placed them in the oven. When I took them out, they had risen beautifully, taking up the whole 9 x 13 dish! After baking them to a golden brown I slathered on the lime glaze after they had cooled slightly. … Pure Heaven!
So, Emily, thank you for inspiring me to try something new, and for the endless source of deliciousness I will continue to bake from on your blog! It's truly Bakes ME Happy to have had the chance to bake from it!
<3 Michaela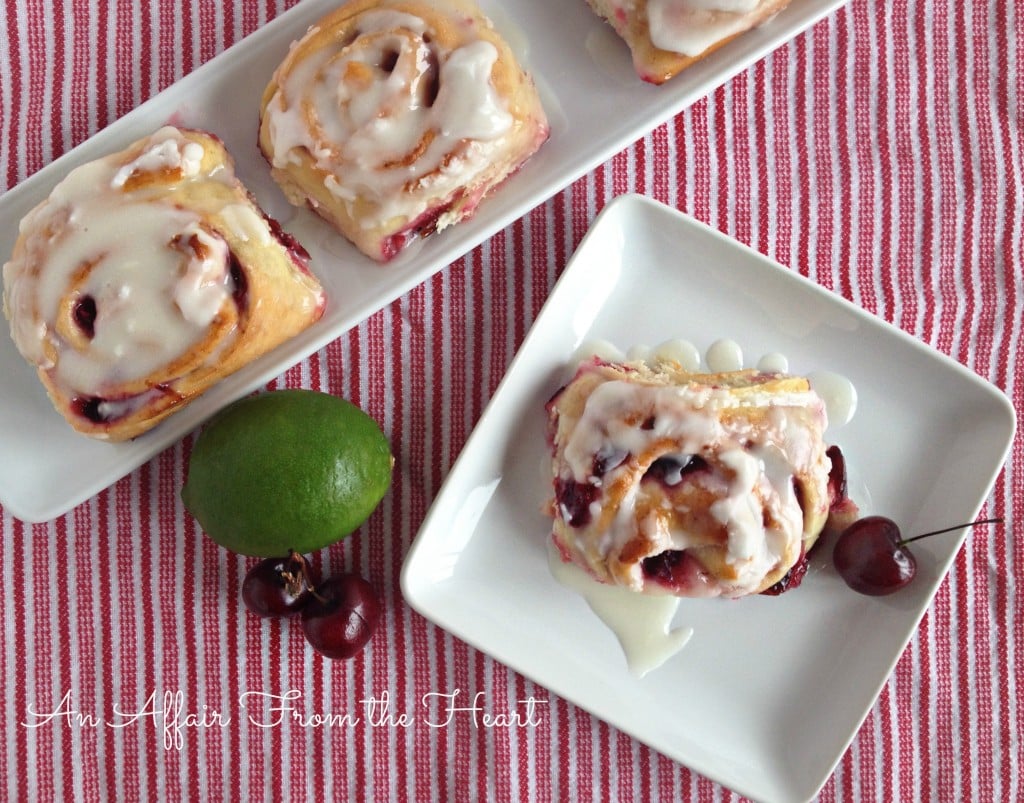 This recipe is from It Bakes Me Happy
Yield: 12 rolls
Cherry Limeade Sweet Rolls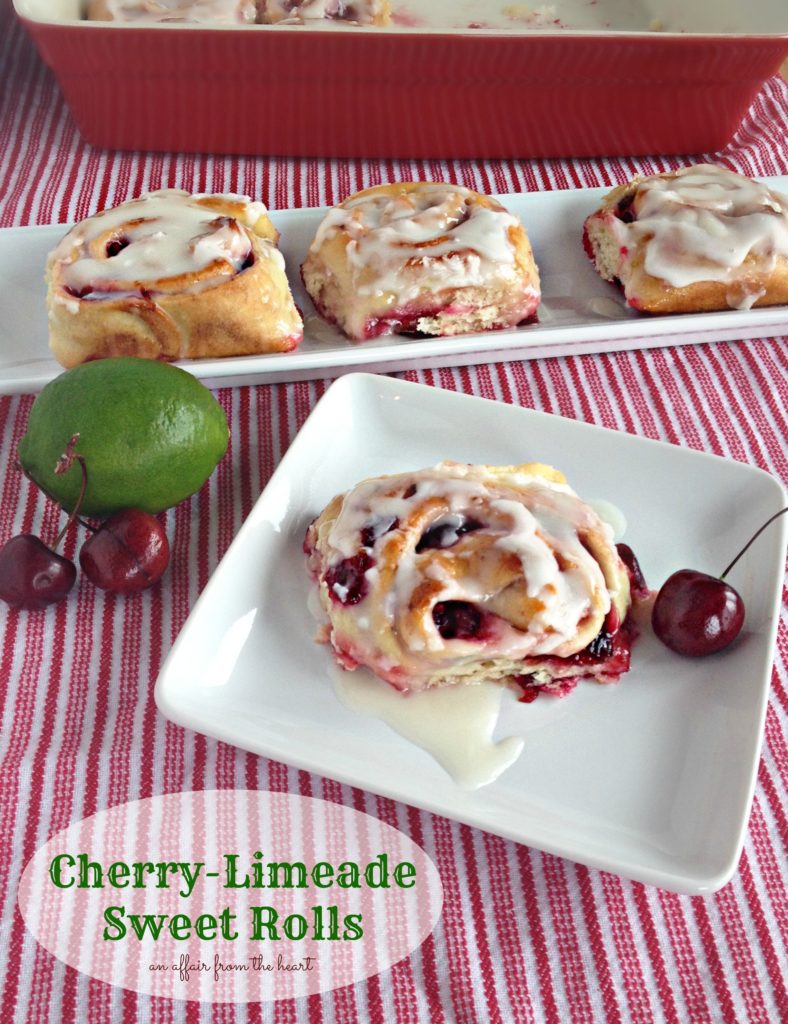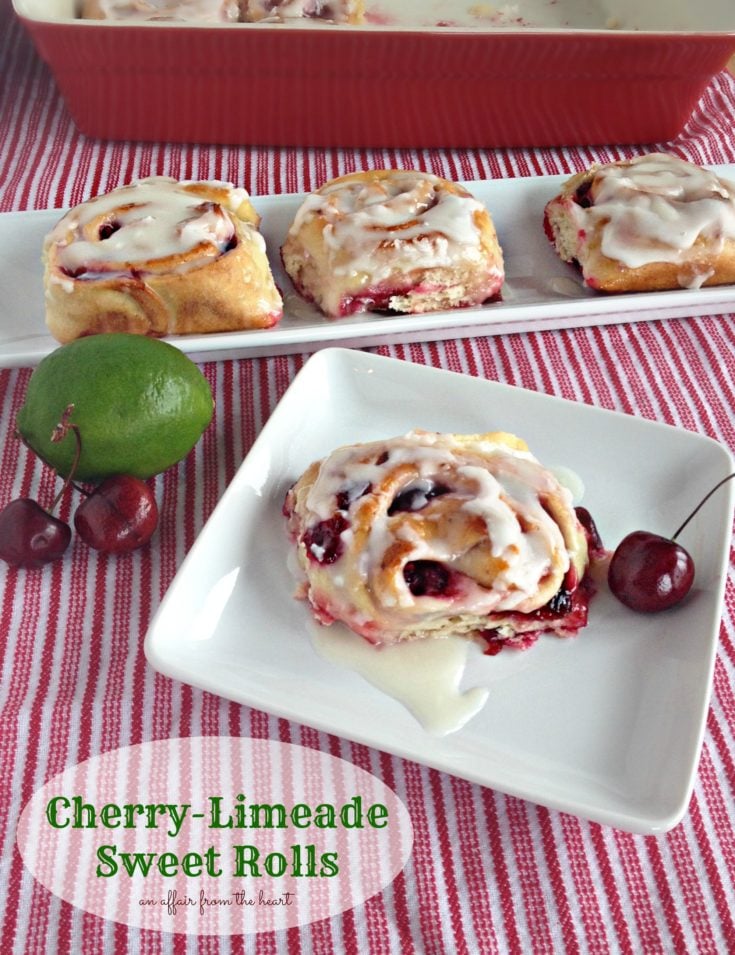 Sweet Rolls baked with a fresh cherry center and glazed with a lime icing.
Additional Time
1 hour
39 minutes
Total Time
2 hours
5 minutes
Ingredients
2 3/4 cup all purpose flour
1/4 cup sugar
1 teaspoon salt
2 1/4 teaspoon yeast
1/2 cup water
1/4 cup milk
1/4 cup coconut oil, divided*
1 egg, large
1 cup cherries, washed, pitted and sliced
2 teaspoon corn starch
1 teaspoon sugar
zest of 1 lime
juice of 1/2 lime
1/3 cup sugar
1 cup powdered sugar
juice of 1/2 lime
When I made these rolls, I didn't have any coconut oil. So I used vegetable oil for one part and butter for another. I have since then purchased coconut oil, and will try them that way next time!
Instructions
In the bowl of your stand mixer add the flour, sugar, salt and yeast, stir to combine.
In a microwave safe bowl combine the water, milk and 2 Tbs coconut oil, (I used vegetable oil) heat for 1 minute over high power.
Using the dough hook, gradually add the liquid mixture to the flour mixture, add the egg and knead over medium/low speed for 4-5 minutes; the dough will be sticky.
Place the dough on a clean surface and cover with plastic wrap, let sit 10 minutes.
In a saucepan over medium heat cook the cherries, corn starch, 1 tsp of sugar, lime zest and juice for 5-6 minutes, until darkened and soft.
Remove from the heat and let cool.
Preheat your oven to 200º F and prepare a rectangular baking dish with cooking spray.
Roll the dough out into a large rectangle (a little extra flour will keep it from sticking to your counter).
Stir the 1/3 c sugar into the cooled cherry mixture.
Spread 2 Tbs of coconut oil (I used butter) over the dough and top with the cherry mixture.
Starting with the long side roll the dough towards you and pinch the seam to seal.
Slice the log in half and then slice each half into six equal pieces.
Place the rolls into the baking pan, cover with foil, turn the oven off and place the rolls inside to rise for 45 minutes - 1 hour.
After the rolls have risen, remove from the oven and set the foil aside.
Preheat your oven to 350º F and bake for 25 minutes, until golden on top.
Remove the rolls from the oven, let cool 5-10 minutes.
In a bowl stir together the powdered sugar and lime juice to form an icing.
Spread the icing over the rolls and serve.
Nutrition Information:
Yield:
12
Serving Size:
1
Amount Per Serving:
Calories:

309
Total Fat:

10g
Saturated Fat:

7g
Trans Fat:

0g
Unsaturated Fat:

2g
Cholesterol:

18mg
Sodium:

231mg
Carbohydrates:

51g
Fiber:

2g
Sugar:

26g
Protein:

4g
Nutrition isn't always accurate.
To see more of our group's Secret Recipe Club August Reveal please see the links below!
'); // ]]>