Corn Pie Casserole
As an Amazon Associate and member of other affiliate programs, I earn from qualifying purchases.
This recipe for corn pie is simply incredible and includes a symphony of classic flavors you will love. The perfect side dish for your main course, this creamed corn casserole is easy and so delicious! Sweetened with honey and made with butter and sour cream, this recipe is made with both creamed and whole corn for an effortless meal that is so yummy you could even enjoy it for dessert!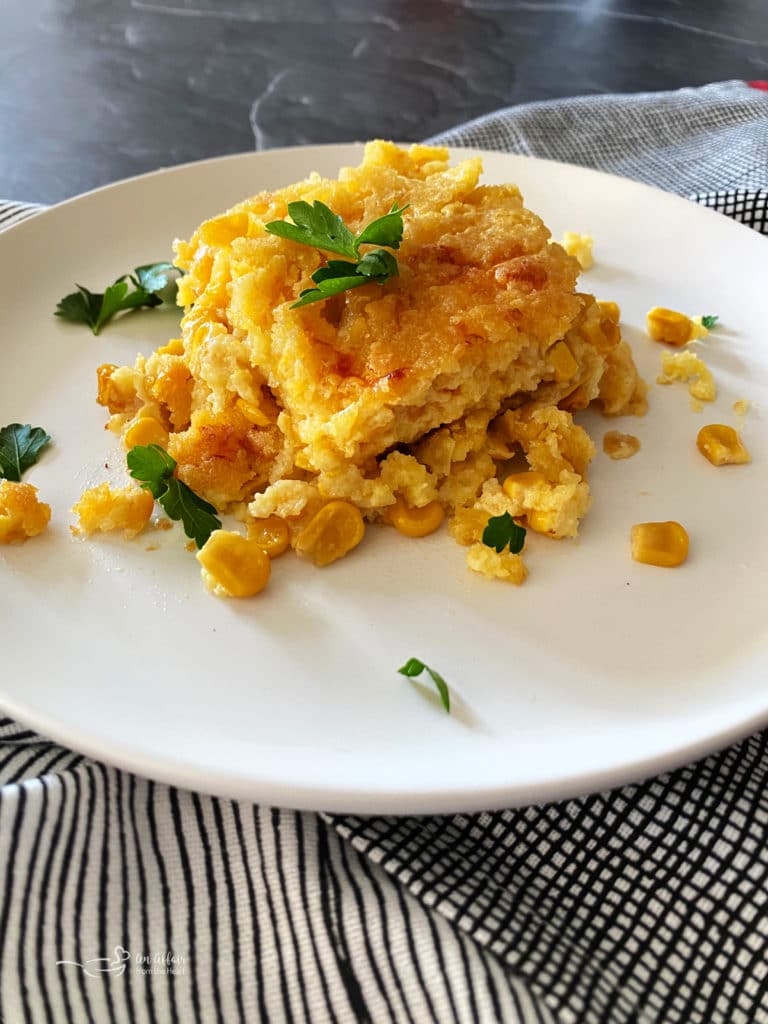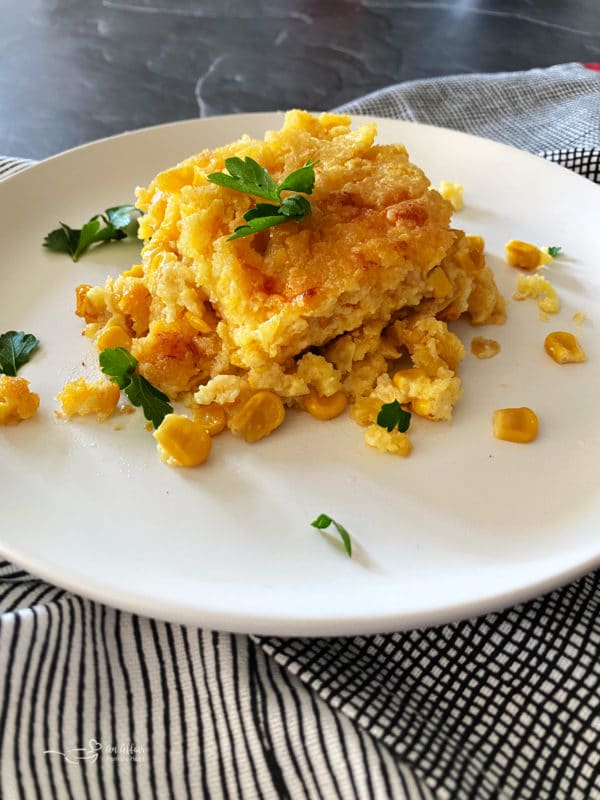 Who doesn't love corn? Sweet, tender, and a true reminder of my childhood when I'd eat it straight out of the can, there is just something so satisfying about corn. Turn the corn into a corn pudding with buttery and creamy flavors, then we're in business. The perfect corn casserole for that holiday side dish or maybe you're just wanting a comforting meal at home– this recipe is going to become a new favorite for the family.
Made with Jiffy corn muffin mix and a handful of other basic ingredients, this creamed corn casserole is so easy to make and ready in less than an hour. Feeling like you want to prep this casserole ahead of time? You can certainly make this recipe in advance. See the tips at the bottom of the page if you're wanting to make this casserole before your next event or dinner.
This recipe is sponsored by Great American Comfort Classics, but my opinions of their products and statements made here are all my own.

Why You're Going Love Creamed Corn Casserole
Easy to Make: All you have to do is mix a handful of ingredients together in a bowl and transfer to a casserole dish to bake into yummy goodness. It really doesn't take much for this recipe!
Delicious and Sweet: All thanks to the naturally sweet flavors of corn and honey, this corn pudding recipe is the perfect combination of savory and sweet. Butter and honey? Yes, please!
The Perfect Side Dish: Ease your mind with this simple vegetable side dish. This casserole is so yummy even the kids will love it. What's better than Jiffy cornbread mixed with buttery corn?
What is the difference between corn pie, corn casserole, and corn pudding?
All of these corn-based recipes seem the same, right? Well, although all of these delicious recipes contain some of the same key ingredients such as butter, honey, corn, and cornmeal: there are actually some differences! Typically made into a pie form with a top crust and sometimes paired with potatoes, corn pie can be a little different. Corn casserole is a mixture of Jiffy corn muffin mix, corn, honey, sour cream, and butter that is dumped into a baking dish and baked to perfection– the texture is soft and tender. Corn pudding is typically made with sugar and is a little more tender than corn casserole. All of these recipes are very similar with slight differences, but some people all call them the same names.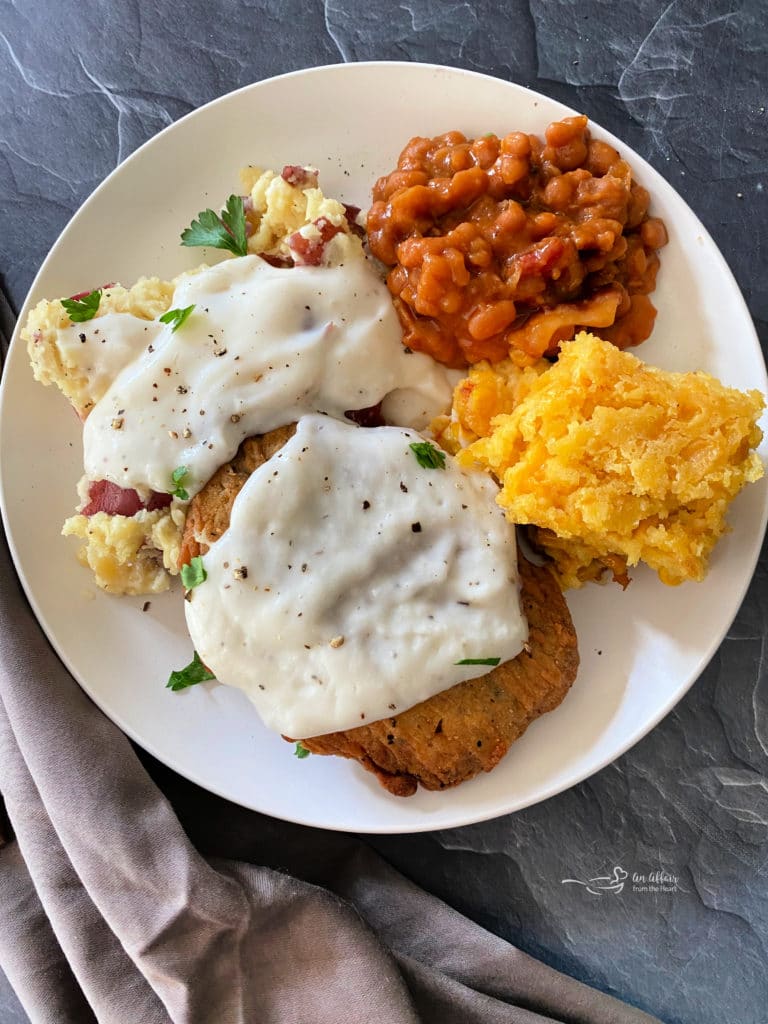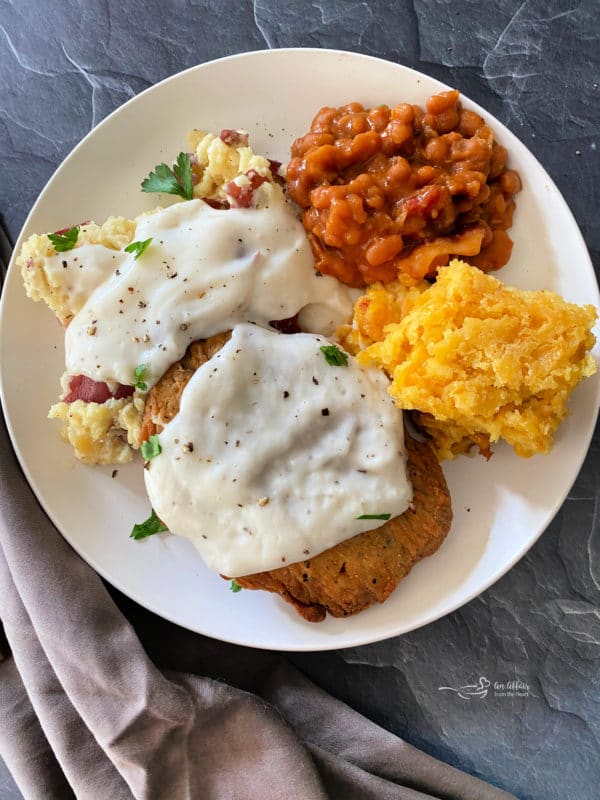 Corn Pie, Country Fried Steak, Pork 'n Beans, Mashed red potatoes & GRAVY
Are you like me? Do you find yourself scurrying around at the last minute trying to come up with something for dinner that your family won't raise their nose up at, or better yet, an actual meal that is full of comfort foods, prepared in your very own kitchen and not out of a paper bag at the drive-thru?
Well, I have a new secret to share with you that will help you prepare this whole meal you see above, in less than one hour. I know, you are doubting me, right? But stick with me here a minute and let me share how you can be settling down to this meal tonight, and it is as easy as reaching into your freezer and your pantry.
Country Fried Steak & Gravy FROM GREAT AMERICAN COMFORT CLASSICS
Recently, I was asked to try some new convenience items at my local HyVee supermarket. Comfort Classics, under the Great American brand, is a new line of fully cooked protein comfort food classics. The collection has Southern Style Chicken Breast Fillets, Meatloaf Slices, Crispy Steak Strips, Chicken & Waffle Style Bites, and Country Fried Steaks.
All of the Comfort Classics items were made with savvy parent consumers in mind, addressing the need for high quality, good tasting, convenient ways to prepare meals for their families. It's perfect for when moms and dads are busy with work, kids, life in general and they don't always have the time to cook, but are trying to stay out of the drive-thru, and just want to gather their family around the dinner table at the end of the day.
Comfort Classics has a nice variety of proteins to choose from that can be prepared in the oven, microwave, or air fryer, for a meal that is ready in minutes!
You may remember the meal I made with their Southern Fried Chicken Fillets a couple of weeks ago? I showed you how this beautiful comforting meal of breaded chicken fillets, a green veggie, and my Slow Cooker Mashed Potatoes and Comfort Classics gravy was on the table in about 45 minutes!
Yep. You heard me correctly. Only forty-five minutes for this meal that looks like a Sunday supper that took all day long.

Country Fried Steaks & Gravy
Today's meal features the Great American Comfort Classics Country Fried Steak and uses the gravy mix that comes with it.
The package of country-fried steaks came with 5 pieces and a packet of peppered gravy mix. I have to tell you, I was a bit leery when I thought about making gravy from a packet. Gravy is from scratch here in my house, and I am known to make a mean batch of gravy. But I will admit, the gravy that comes with the Comfort Classics meals is really good.
More to Love Great American Comfort Classics Country Fried Steak:
Made with Premium Ingredients
Excellent Source of Protein
Fully Cooked
Includes Pioneer™​ White Gravy Packets
Made with Inspected USDA Beef
Ready in less than 30 minutes
To make this meal, bring a pot of water to boil and salt it. Drop some red potatoes into the water, skins on, and cover with a lid. Next, you will want to prepare the corn pie. While it's in the oven the rest comes together quickly.

Ingredients
Corn Muffin Mix- The Jiffy Corn Muffin Mix is my top choice, but you can use any cornbread mix. The muffin mix really makes this recipe!
Butter- Make sure the butter is melted! You can use either unsalted or salted butter in this corn pie casserole.
Corn- You will need both creamed and whole kernel corn for this recipe. I like to use canned corn because it's easy and quick, but you can use frozen corn, too.
Eggs- Slightly beaten for additional moisture.
Honey- The star of this recipe: Corn and butter sweetened with honey is just perfection! If you don't have honey, then you can use any other type of sweetener.
Sour Cream- Feel free to use reduced-fat or regular sour cream.
Cheese- Medium shredded cheddar cheese. You can purchase the shredded kind in the bag, or grate your own cheese. I prefer to grate my own.
How to Make Corn Pie
With just a handful of steps, you will have a yummy corn pudding ready in no time! Scroll to the recipe card for more detailed steps and measurements.
Step 1
Preheat Oven: First, preheat the oven to 350 degrees Fahrenheit and prepare the casserole dish. Set aside.

Step 2
Combine: Next, in a medium to a large bowl, combine the Jiffy mix, melted butter, egg, honey, creamed corn, and sour cream until mixed.

Step 3
Add Cheese: After that, fold in the shredded cheese and drained corn.
Step 4
Transfer to Dish: Spread the corn casserole into the casserole dish.
Step 5
Bake: Bake the corn pudding for 45-50 minutes.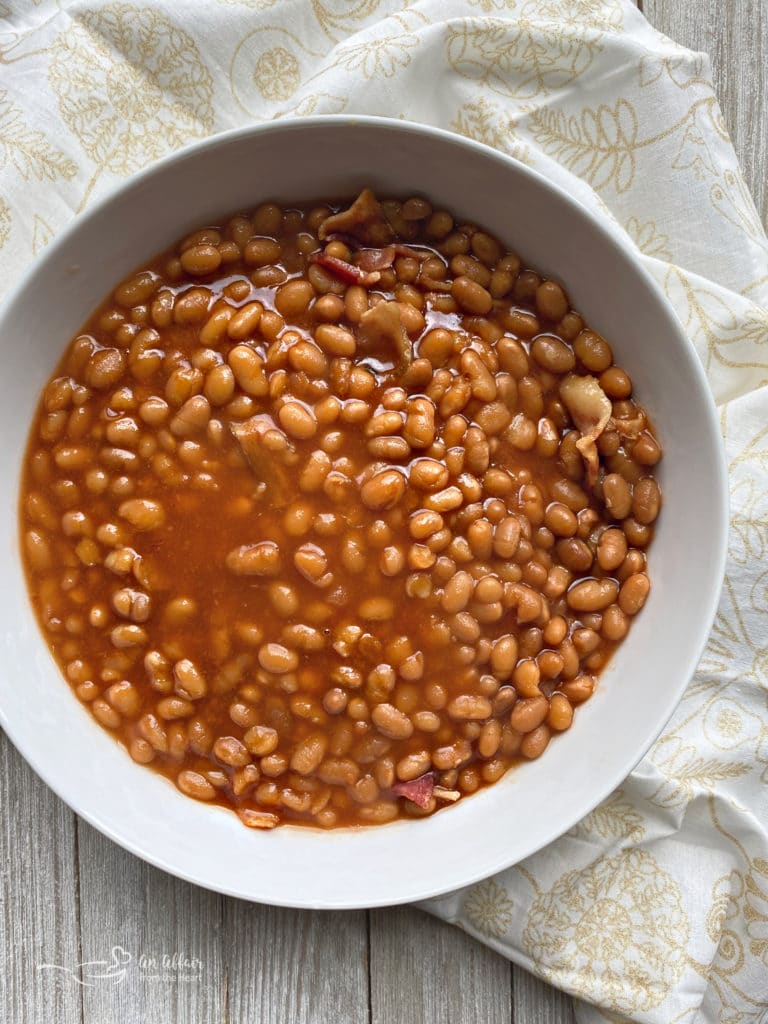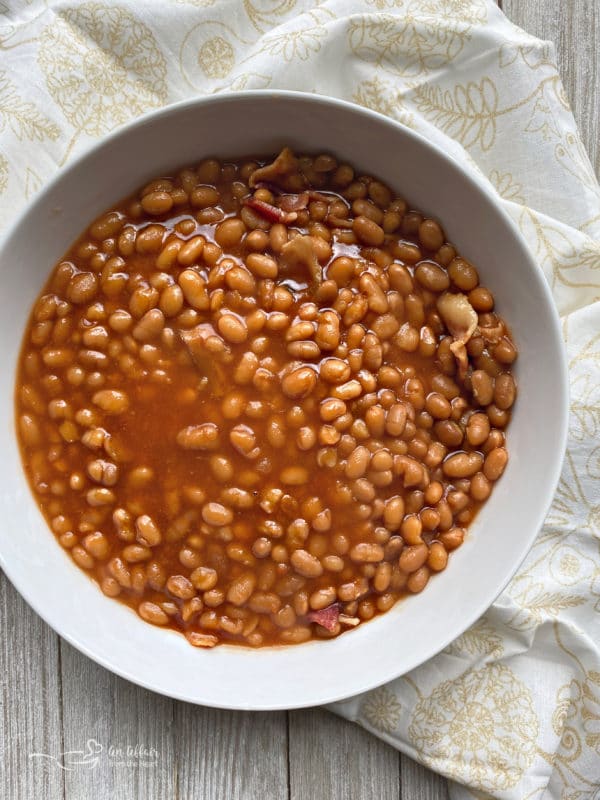 Next up: My Grandma's Pork and Beans! You can approach this recipe in a couple of different ways. You can have them in the slow cooker ready to go, or you can make them right on the stovetop, which is what I did this particular evening. You just mix everything together and let it cook on medium-low until you're ready to eat.
Bake the Country Fried Steak in the oven on a cookie sheet for about 25 minutes. Stir the gravy together on the stovetop, and keep warm until ready to serve.
When your potatoes are the desired tenderness, drain the water from them, add in a little milk, butter and salt & pepper. Give them a quick mash.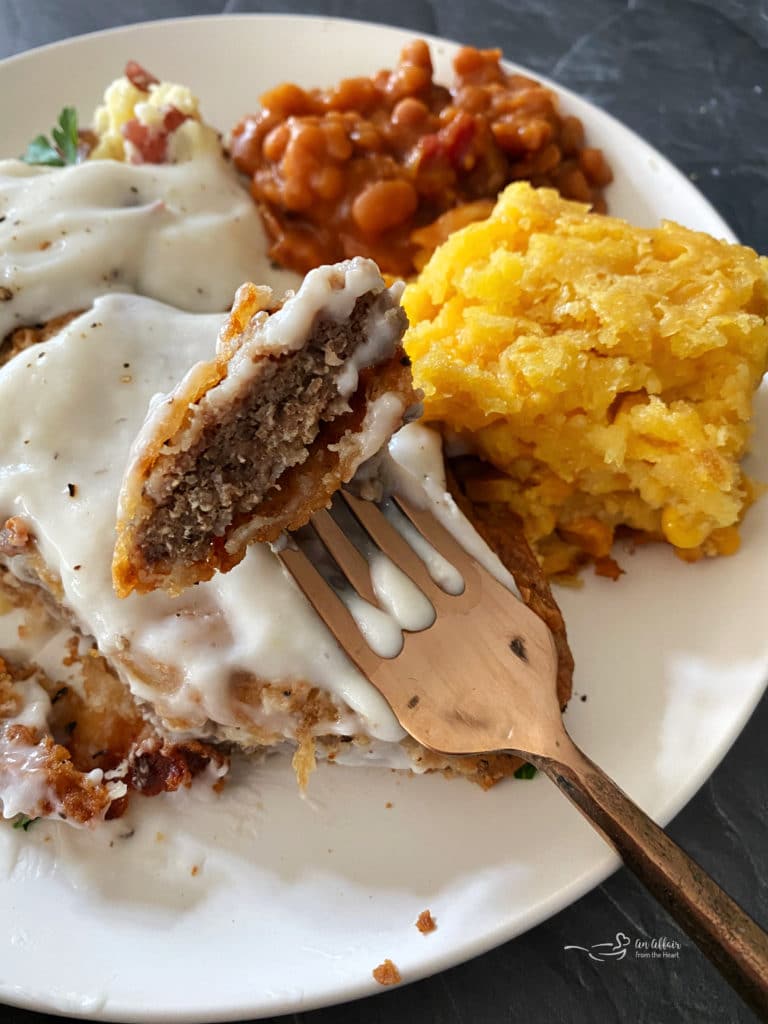 Plate everything, top with hot gravy, and serve. Watch your family gobble it up and rub their tummies with a satisfied smile on their faces.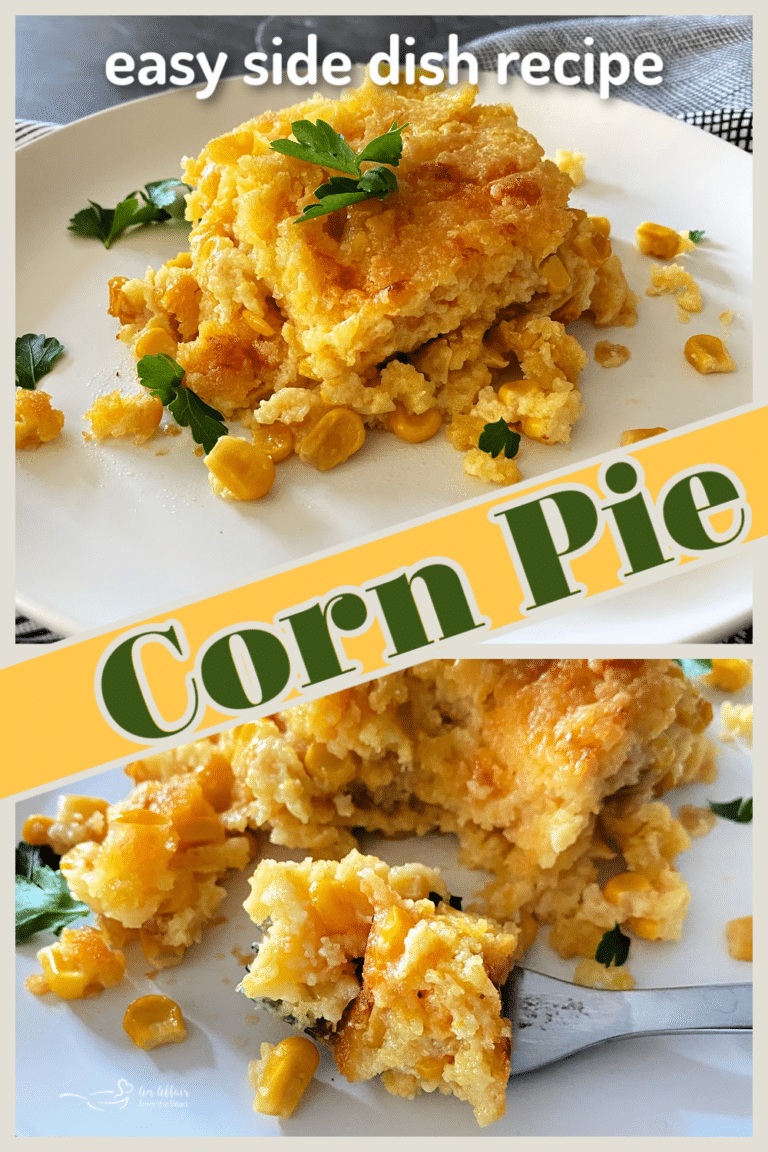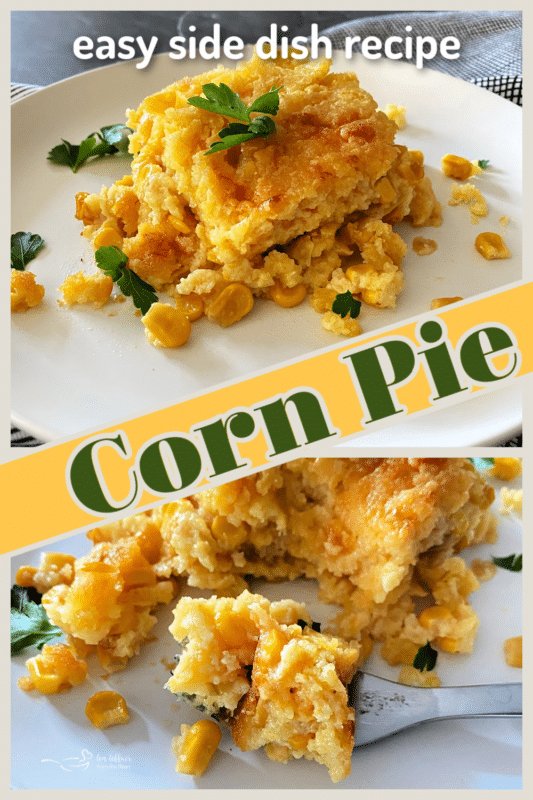 Love it? Pin it!
You'll want to make sure that you save this recipe so that you can find it easily when you want to make it! Pin it to your favorite Pinterest recipe board before you go!
Tips for Making Corn Pie Casserole
To prepare this recipe ahead, simply combine all the ingredients and transfer them to a baking dish. Cover and refrigerate the corn pudding for up to 24 hours before baking.
For a thicker version, this recipe can be baked in a 9X9 baking dish. Adjust baking and nutritional information accordingly.
Store the leftovers in the refrigerator in an airtight container. To freeze this recipe, transfer to a freezer-safe bag or container and freeze for up to six months in the freezer.

WHERE YOU CAN FIND GREAT AMERICAN COMFORT CLASSICS
Great American Comfort Classics launched its new line at select Hy-Vee stores in Omaha and neighboring Midwest states in April 2021. You will find Comfort Classics in the frozen aisle. But never fear, if you don't live near here, your local supermarket may carry the brand, too! You can find out by checking Great American Brand's website for more details.
If you want to see these delicious comfort food classics in your store, fill out a comment card or ask the store manager if they can get them in for you, and be sure to follow Great American Comfort Classics on their Facebook page for more information and recipes.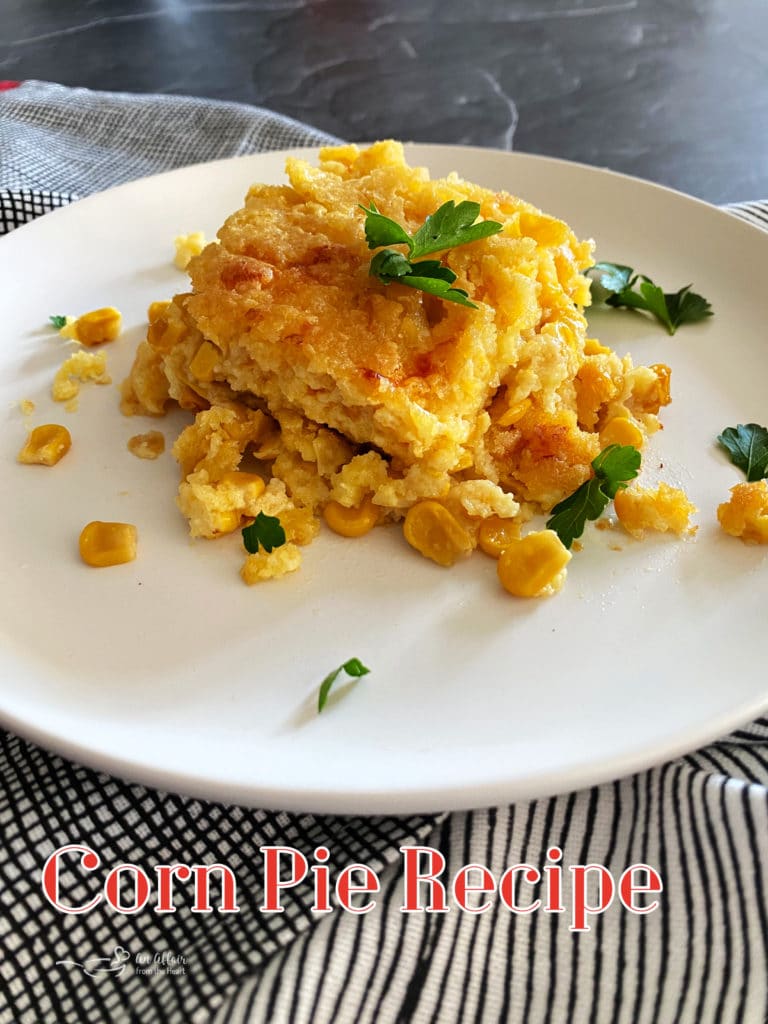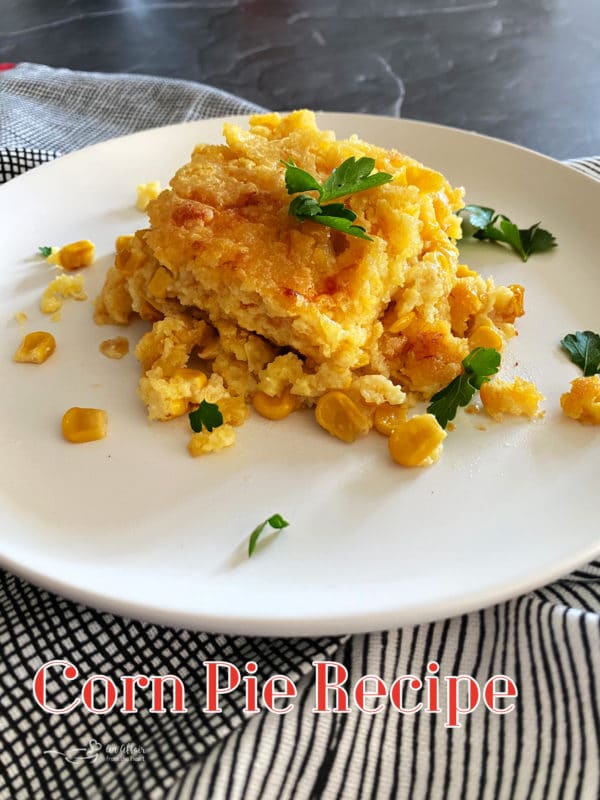 Time to get to the corn casserole recipe!

Yield: 12
Corn Pie Casserole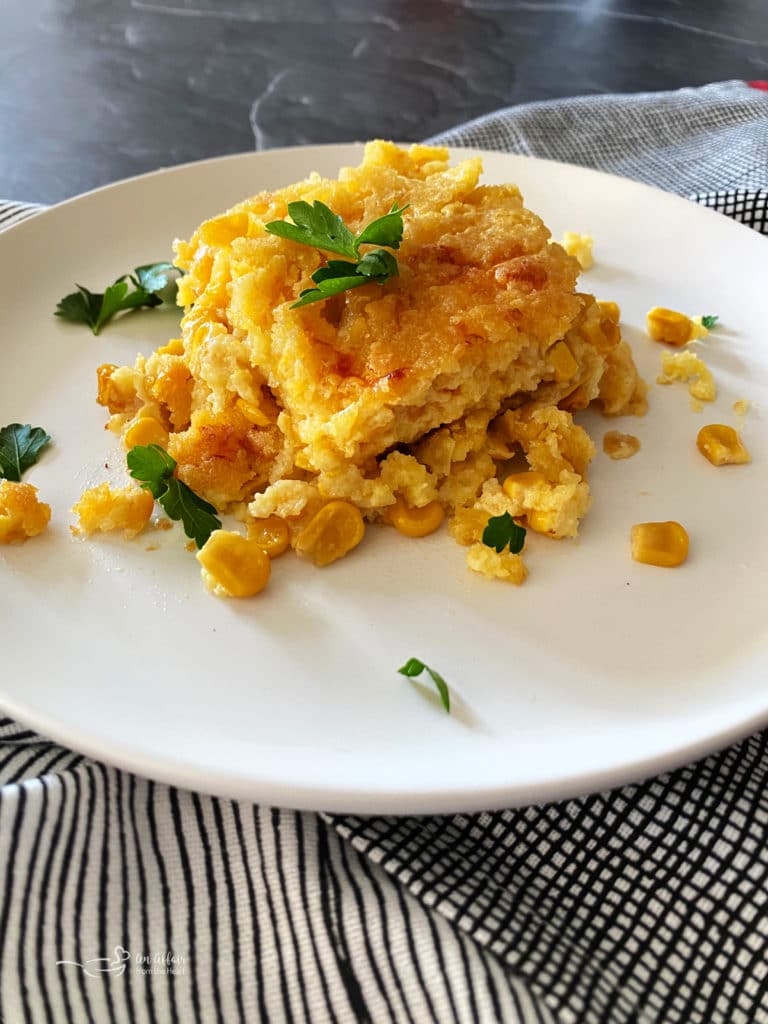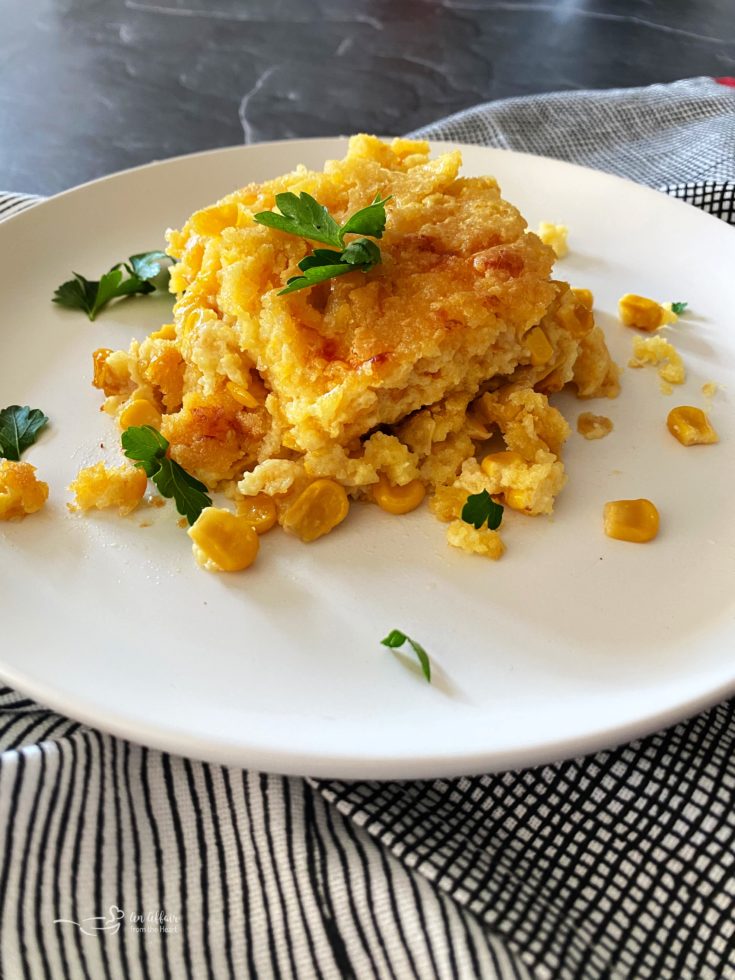 You are sure to love the flavors in this simple to make Corn Pie Casserole dish. Cornbread mix, canned corn, and canned creamed corn, sour cream, butter, and just a bit of honey to give it a little extra sweetness. It compliments any meal, making it the perfect side dish for potlucks, holidays and barbecues!
Ingredients
1 (8.5 ounce) box corn muffin mix
1/2 cup butter, 1 stick, melted
1 (15.25 ounce) can creamed corn
2 eggs, slightly beaten
1/4 cup honey
1 (8 ounce) container (1 cup) sour cream
1 (15.25 ounce ) can corn, drained
2/3 cup medium cheddar cheese, shredded
Instructions
Preheat oven to 350 degrees. Spray a 9x13 baking dish with cooking spray and set aside.
In a bowl, stir corn muffin mix, melted butter, egg, honey, creamed corn and sour cream until combined.
Fold in drained corn and shredded cheese.
Spread into the prepared baking dish.
Bake 45-50 minutes or until the top is golden brown and a toothpick inserted inside comes out fairly clean.
Notes
Can asl be baked in a 9x9 baking dish, for a thicker version. Adjust baking and nutritional information accordingly.
Recommended Products
As an Amazon Associate and member of other affiliate programs, I earn from qualifying purchases.
Nutrition Information:
Yield:
12
Serving Size:
1
Amount Per Serving:
Calories:

187
Total Fat:

12g
Saturated Fat:

7g
Trans Fat:

0g
Unsaturated Fat:

4g
Cholesterol:

63mg
Sodium:

215mg
Carbohydrates:

17g
Fiber:

1g
Sugar:

9g
Protein:

4g
Please note that nutrition is not guaranteed accurate.