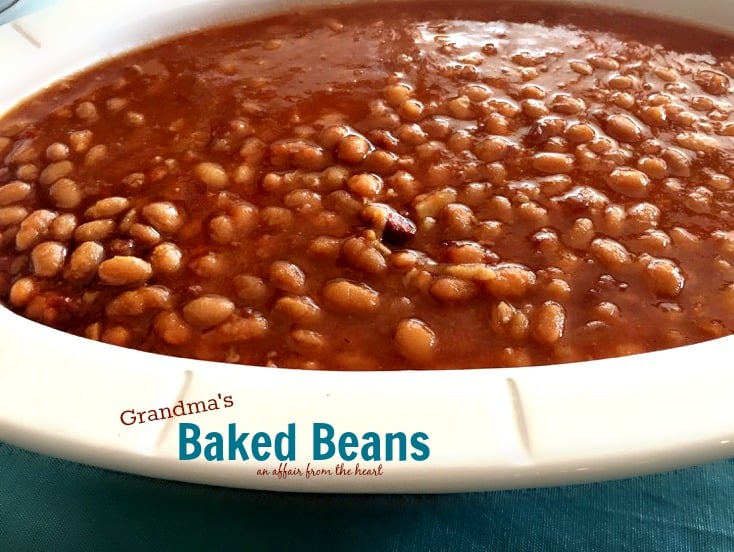 I loved when my Grandma Czaplewski made her baked beans for get-togethers. Something about them just always tasted better than anyone else's. My mom's twin, my Aunt Janette, gave me the recipe years ago, and they are the ONLY recipe that I ever make.
No talking dog with a secret recipe is going to change my mind either!
😉
Barbecue season is upon us, keep this one in your back pocket! You can thank me later!
Easy Baked Beans Recipe
Just like every mom, I am sure Grandma Czaplewski needed to streamline some nights. Convenient meals that she knew everyone would eat came in handy. Yes, cooking beans for hours in a slow cooker is great, but when you need to get something on the table shortcuts are always acceptable. In this case Grandma relied on canned beans for her easy baked beans recipe.
It isn't cheating to use canned beans when you have hungry mouths to feed!
What Kind Of Baked Beans To Use
You can use any kind of canned beans you want to use. Some come with the pork or franks added, and others don't. Since bacon is still wound into the recipe, if you want to use beans without pork added you won't miss out either way.
I personally like the Van De Kamps pork and beans. The beans have a nice texture, and the pork is not too salty. You can also find them in larger family serving style cans.
In this case, you get to save all the time getting the beans to cook to the perfect texture, and focus just on the flavor. The ketchup, mustard and brown sugar don't take much time to season the beans. If you don't tell anyone, then they are going to assume you have been cooking these for hours.
What Exactly Are Boston Baked Beans?
If you are wondering if this easy baked beans recipe is the same as Boston baked beans, then it is close, but not exactly the same. Boston baked beans are the same in every sense, but feature using molasses instead of brown sugar. Both versions taste great so it is kind of a "less calories, more great taste" sort of argument.
In any event, if you want to dial in the Boston style baked bean flavor, then substitute the brown sugar for an equal portion of molasses.
Why Beans Are Good For You
"Beans, beans, they're good for your heart, the more you eat them the more you…" and forget the rest. Because beans are actually great for your heart. They are full of fiber and great protein without any added fat, gluten, or anything else supposed to be bad for you.
And for the record, the gas issue is not so much of an issue with canned pre-cooked beans. The beans are broken down a bit so the sugars and fiber that cause gas are easier to digest.
The Best Bacon For Baked Beans
Nowadays, you can find so many different styles of bacon. It is sort of hard to keep up with them all and new styles of bacon seem to hit the shelves weekly. Maple bacon, jalapeno bacon, pepper bacon…
So what kind of bacon is great for baked beans?
I like the nice thick cut butchers style smoked bacon. It has a bit less fat, and lots of smoky meat. So it doesn't disappear when it cooks into the beans. Nothing worse than someone finding a bit of chewy tissue that might be bacon. You want to have a nice porky chunk of bacon to bite into.
Sometimes, you can find this style bacon in a bag of bacon ends and pieces. It is a bit cheaper than the sliced cuts, but with all the flavor, and essentially pre-prepped for the beans. That's a win-win-win… (followed by a "Yay TEAM!)
Slow Cooker Or Oven Baked
Since these beans do not take hours and hours to cook, you can use either a lidded casserole to bake them in the oven, or cook them to readiness in the crock pot. Both work just fine. Since it is barbecue season, you can and should bake them on the grill or in the smoker if possible to add a bit more smoke!
Some Dishes To Go With Your Baked Beans
I have a couple dishes that I love to make baked beans for in particular.
—
Yield: 12
Grandma's Baked Beans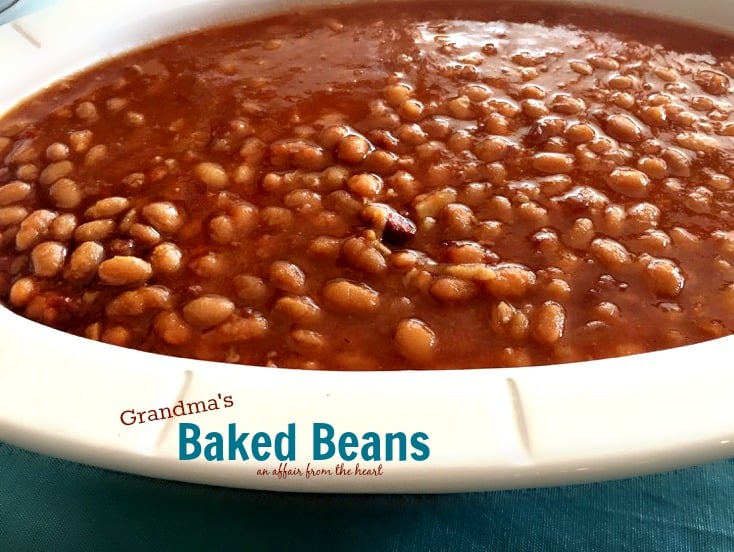 Homemade baked beans, made in the crock pot or oven. Best ever!
Total Time
3 hours
5 minutes
Ingredients
1 Family Sized can of Van de Kamp Pork 'n Beans (3# size)
3/4 cup ketchup
1/2 cup brown sugar
3 Tablespoons mustard
4 slices of bacon OR 1/2 cup real bacon pieces
Instructions
If you are using real bacon, partially cook it in the microwave. I have begun using the real bacon pieces --- easier and no grease.
Combine all ingredients in your crock pot, cook on high for 3-4 hours. Can be cooked in oven in a casserole dish for 30 minutes at 350 degrees.
Nutrition Information:
Yield:
12
Serving Size:
1
Amount Per Serving:
Calories:

145
Total Fat:

6g
Saturated Fat:

2g
Trans Fat:

0g
Unsaturated Fat:

4g
Cholesterol:

19mg
Sodium:

481mg
Carbohydrates:

16g
Fiber:

1g
Sugar:

12g
Protein:

8g
Nutrition isn't always accurate.

If you make this recipe, I'd love to know! Snap a picture, share the photo on social media with the hashtag #AnAffairFromTheHeart – I'd love to see what you made! – Michaela