Grandma's Baked Beans
As an Amazon Associate and member of other affiliate programs, I earn from qualifying purchases.
My Grandma's Pork 'n Beans is the only Baked Beans recipe I have ever known. Canned pork 'n beans sweetened with brown sugar and filled with pieces of thick bacon. Made on your stovetop or in your slow cooker, it's the perfect side dish for any time of the year!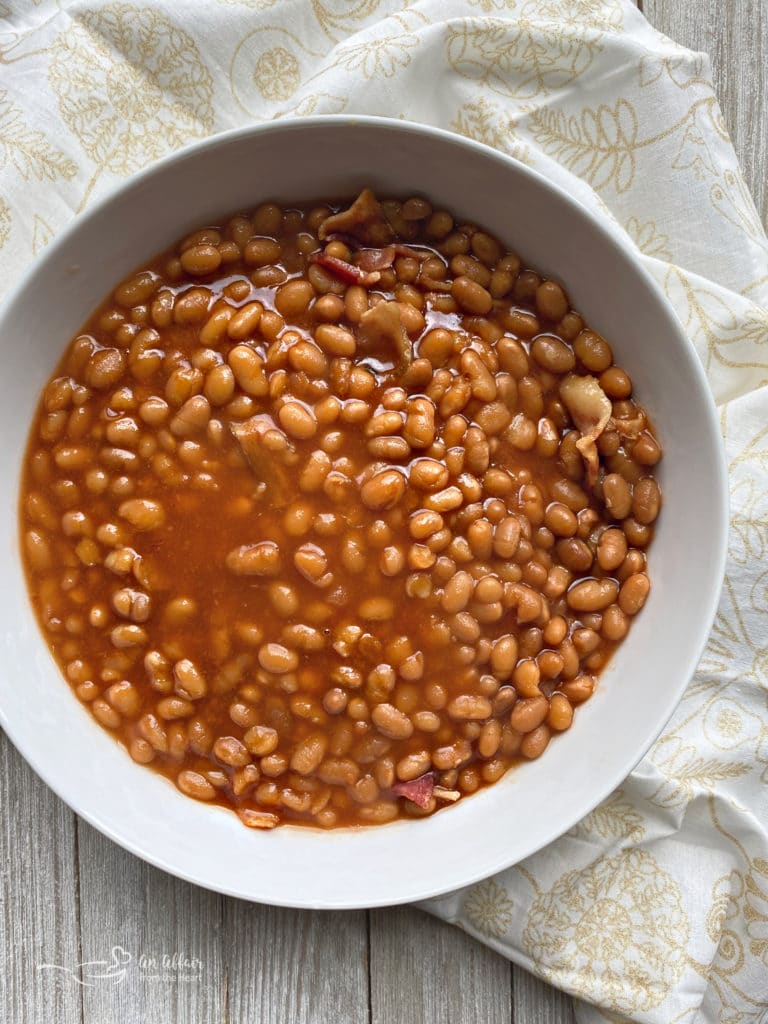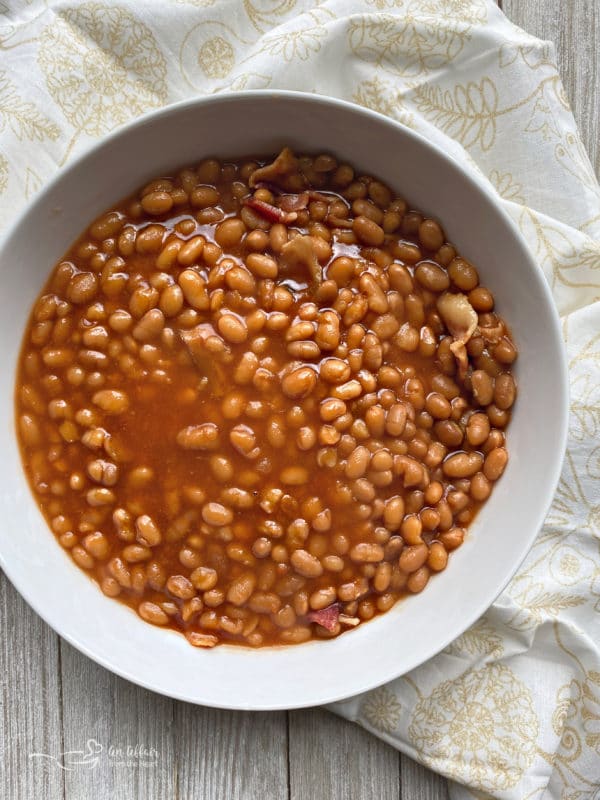 I always loved it when my Grandma Czaplewski made her baked beans for get-togethers. Something about them just always tasted better than anyone else's.
My mom's twin sister, my Aunt Janette, gave me the recipe years ago, and they are the ONLY recipe that I ever make. (No talking dog with a secret recipe is going to change my mind either!)
Barbecue season is upon us, keep this one in your back pocket. You can thank me later!
Easy Baked Beans Recipe
Just like every mom, I am sure my Grandma needed to streamline some nights. Convenient meals that she knew everyone would eat came in handy. Yes, cooking dry navy beans for hours in a slow cooker is great, but when you need to get something on the table shortcuts are always acceptable. In this case, Grandma relied on canned pork and beans for her easy baked beans recipe.
It isn't cheating to use canned beans when you have hungry mouths to feed!
What Kind Of Baked Beans To Use
I personally like the Van Kamps pork and beans. The beans have a nice texture, and the pork is not too salty. You can also find them in larger family serving style cans.
In this case, you get to save all the time getting the beans to cook to the perfect texture, and focus just on the flavor. The ketchup, mustard, and brown sugar don't take much time to season the beans. If you don't tell anyone, then they are going to assume you have been cooking these for hours.

Pork 'n Beans vs. Baked Beans
I have to say that growing up, we called this recipe "Baked Beans," when actually baked beans and pork and beans are two different things.
You can tell which are the Pork 'n Beans just by looking at them. They have a thinner broth, and they are lighter in color. Typically more savory in flavor, using ham hock for the "pork."
Baked beans are darker in color, usually from the addition of molasses, sometimes honey or brown sugar. Often they will contain peppers or onions, too. They have a flavor that is more of a sweet and savory one.
Why Beans Are Good For You
"Beans, beans, they're good for your heart, the more you eat them the more you…" and forget the rest. Because beans are actually great for your heart. They are full of fiber and great protein without any added fat, gluten, or anything else supposed to be bad for you.
And for the record, the gas issue is not so much of an issue with canned pre-cooked beans. The beans are broken down a bit so the sugars and fiber that cause gas are easier to digest.
The Best Bacon For Baked Beans
Nowadays, you can find so many different styles of bacon. It is sort of hard to keep up with them all and new styles of bacon seem to hit the shelves weekly. Maple bacon, jalapeno bacon, pepper bacon…
So what kind of bacon is great for baked beans?
I like the nice thick cut butcher style smoked bacon. It has a bit less fat, and lots of smoky meat. So it doesn't disappear when it cooks into the beans. Nothing worse than someone finding a bit of chewy tissue that might be bacon. You want to have a nice porky chunk of bacon to bite into.
Sometimes, you can find this style of bacon in a bag of bacon ends and pieces. It is a bit cheaper than the sliced cuts, but with all the flavor, and essentially pre-prepped for the beans. That's a win-win-win… (followed by a "Yay TEAM!)

Slow Cooker Or Oven Baked
Since these beans do not take hours and hours to cook, you can use either a lidded casserole to bake them in the oven or cook them to readiness in the crockpot. Both work just fine. Since it is barbecue season, you could even bake them on the grill or in the smoker if possible to add a bit more smoke!
I usually make mine in the crockpot because it frees up oven space, and I can make them early and forget about them until it's time to eat.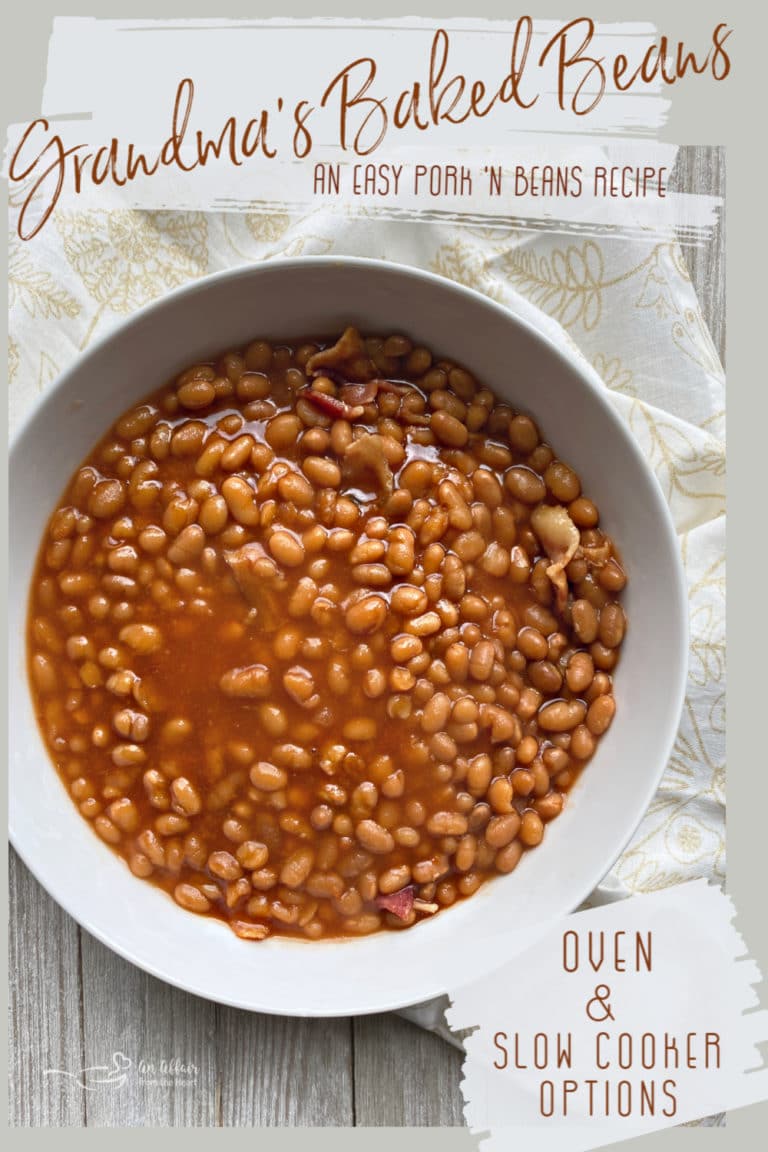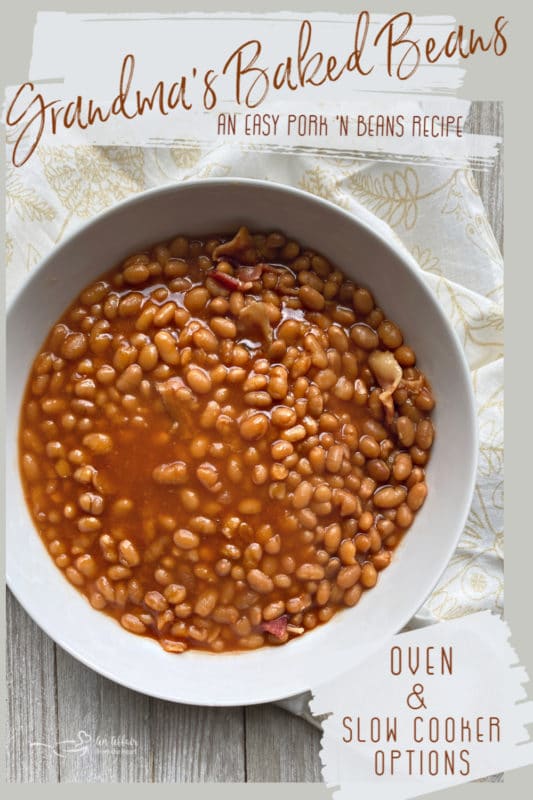 Love it? Pin it!
Don't forget where you found this recipe! Pin it to your favorite Pinterest board before you go!
Some Dishes To Go With Your Baked Beans
We eat these pork 'n beans year-round, so to me, they go with just about anything! But I have a couple of dishes that I love to make baked beans for in particular.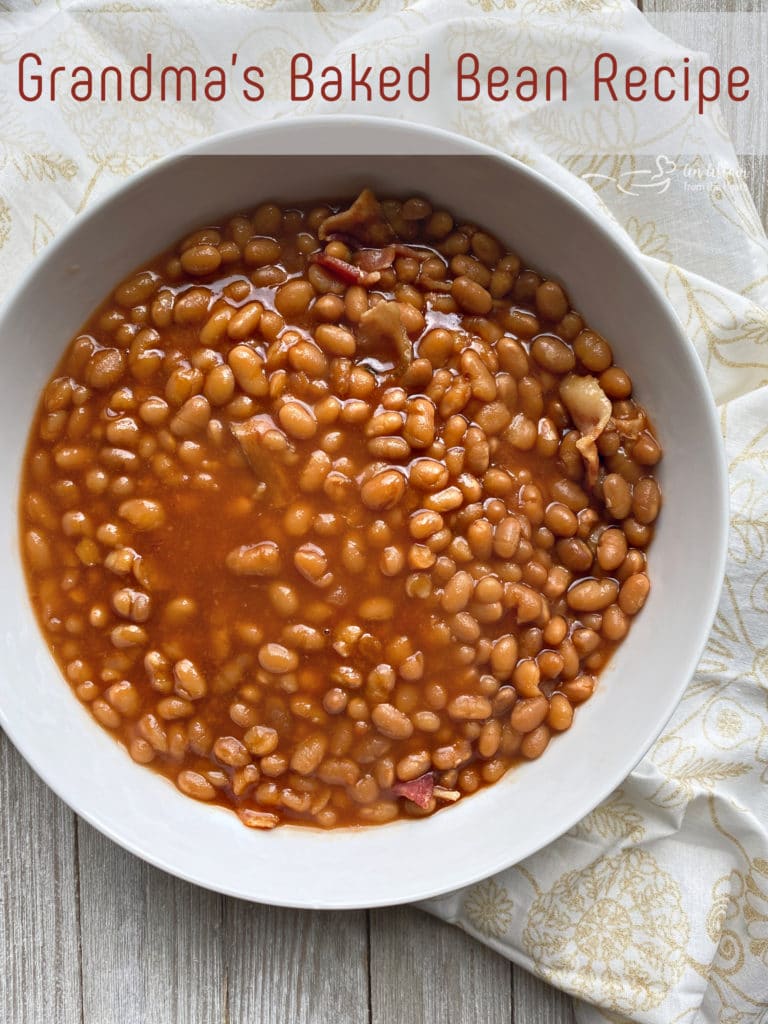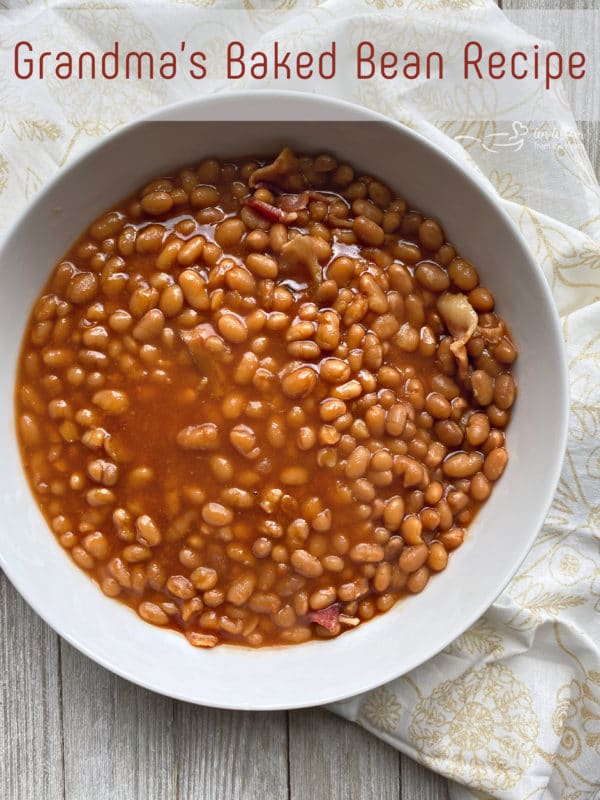 I can't wait for dinner! Let's make some baked beans!

Yield: 12
Grandma's Baked Beans (Pork 'n Beans)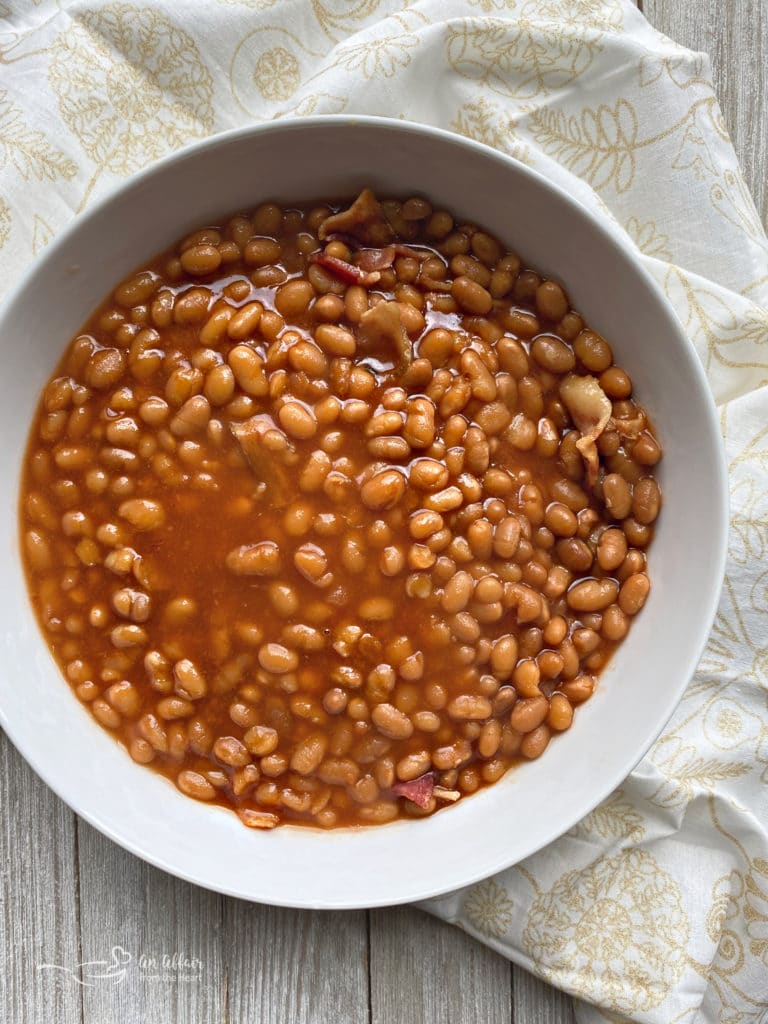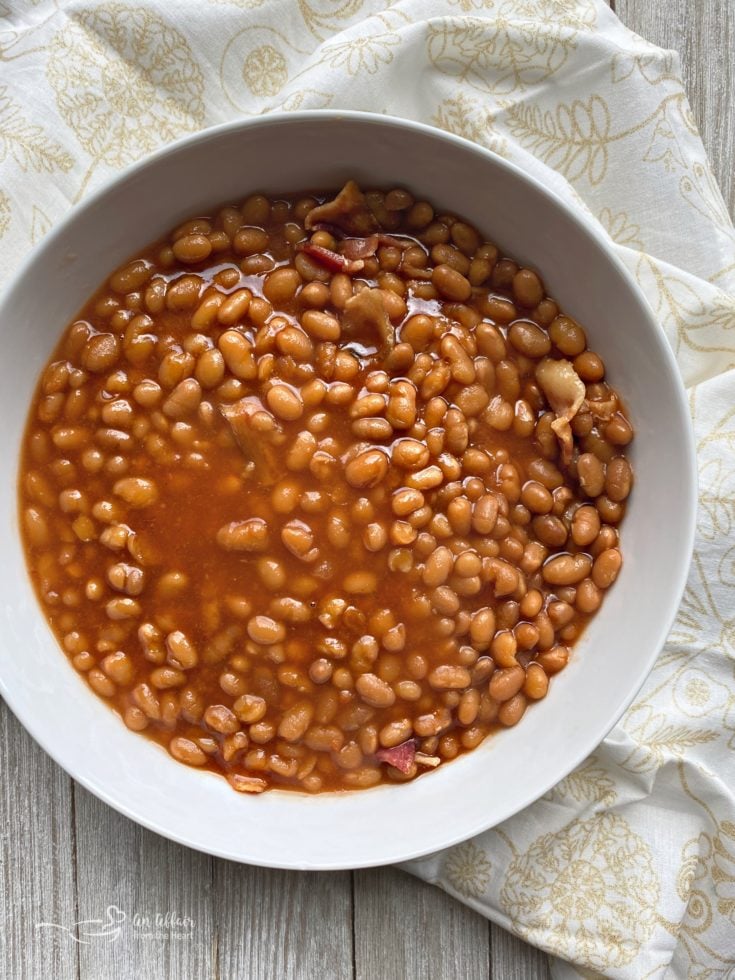 My Grandma's Easy Baked Beans (Pork 'n Beans) made in your slow cooker or in your oven. Savory thick bacon with a little sweetness from the brown sugar. The only baked beans recipe I have ever really liked!
Total Time
3 hours
5 minutes
Ingredients
3 (15 ounce) cans Van Kamp's Pork 'n Beans
1/2 cup ketchup
1/3 cup brown sugar
2 Tablespoons mustard
6 slices of bacon, partially cooked and crumbled (OR 1/2 cup real bacon pieces)
Instructions
Combine all ingredients in your crockpot, cook on low 4 hours. It can be cooked in the oven in a casserole dish with a lid for 30 minutes at 350 degrees.
Notes
Real bacon is always the best option, but in a pinch, the real bacon pieces work, too!
Recommended Products
As an Amazon Associate and member of other affiliate programs, I earn from qualifying purchases.
Nutrition Information:
Yield:
12
Serving Size:
1
Amount Per Serving:
Calories:

94
Total Fat:

3g
Saturated Fat:

1g
Trans Fat:

0g
Unsaturated Fat:

2g
Cholesterol:

12mg
Sodium:

294mg
Carbohydrates:

12g
Fiber:

1g
Sugar:

9g
Protein:

5g
Nutrition isn't guaranteed accurate.
This recipe was originally posted on April 17, 2015. It was updated to improve user experience and reposted on May 29, 2020.