This easy meal requires only three ingredients and next to no time at all! Sweet apricot BBQ glazed chicken served over Basmati rice with a quick dusting of cilantro.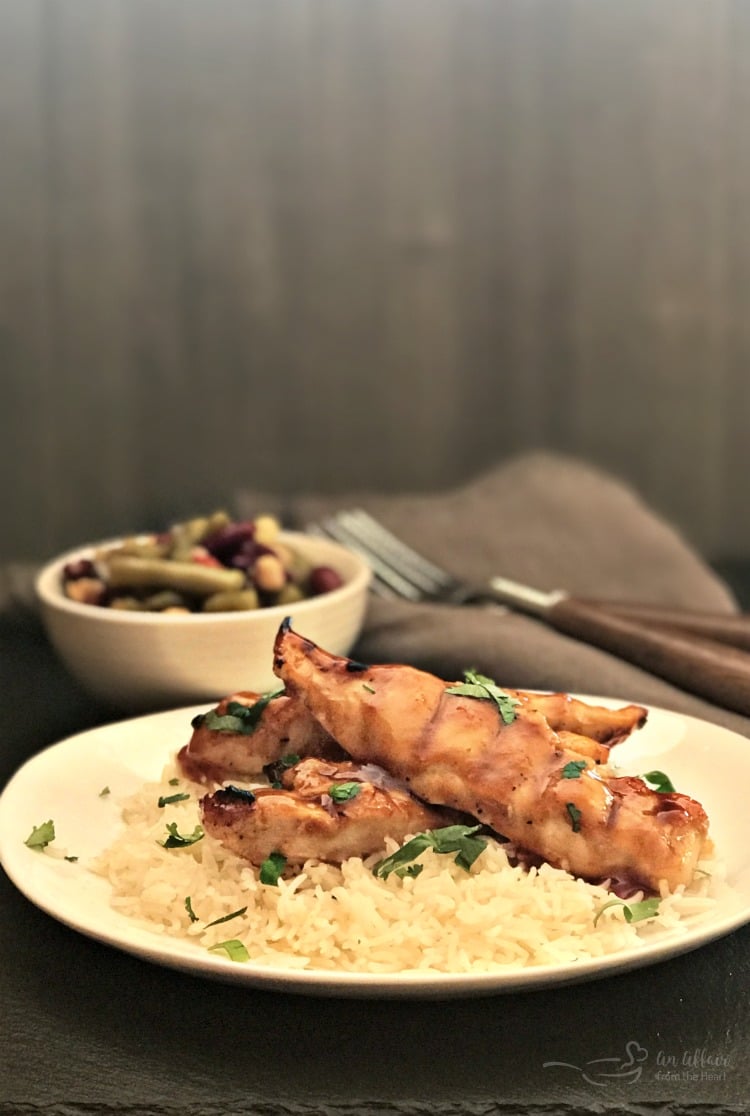 March is National Chicken Month.  I don't know about you all, but I am always looking for new ways to make chicken.  I mean, we have it at least 2-3 times per week! How about you?  Well, this chicken here?  It's not only yummy, it's so easy, anyone could make it!  I made this chicken in my oven, however when it's nice out, you should try it on your grill!
This is a sponsored conversation written by me on behalf of Paisley Farm, but the opinions are all my own. Thank you for supporting the companies and products that make An Affair from the Heart possible.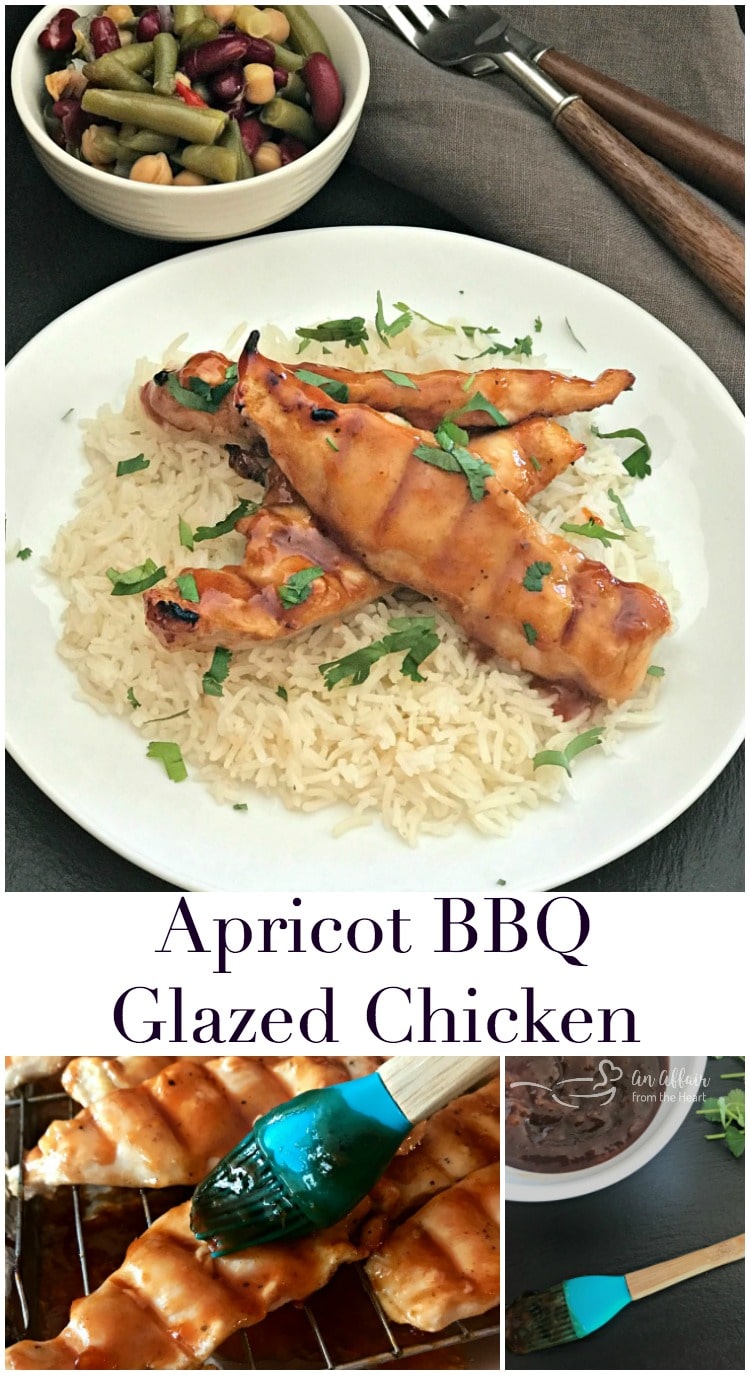 My kids LOVED this chicken.  I think it would be one that even picky eaters would enjoy.  It's hard not to love BBQ, but when you add those apricot preserves, it's a wonderful sweetened up version that you will love.  Pinkie swear!  I served them over Basmati rice and dusted them with cilantro, but they would make a terrific accompaniment to a hearty mac 'n cheese, or even on a bun!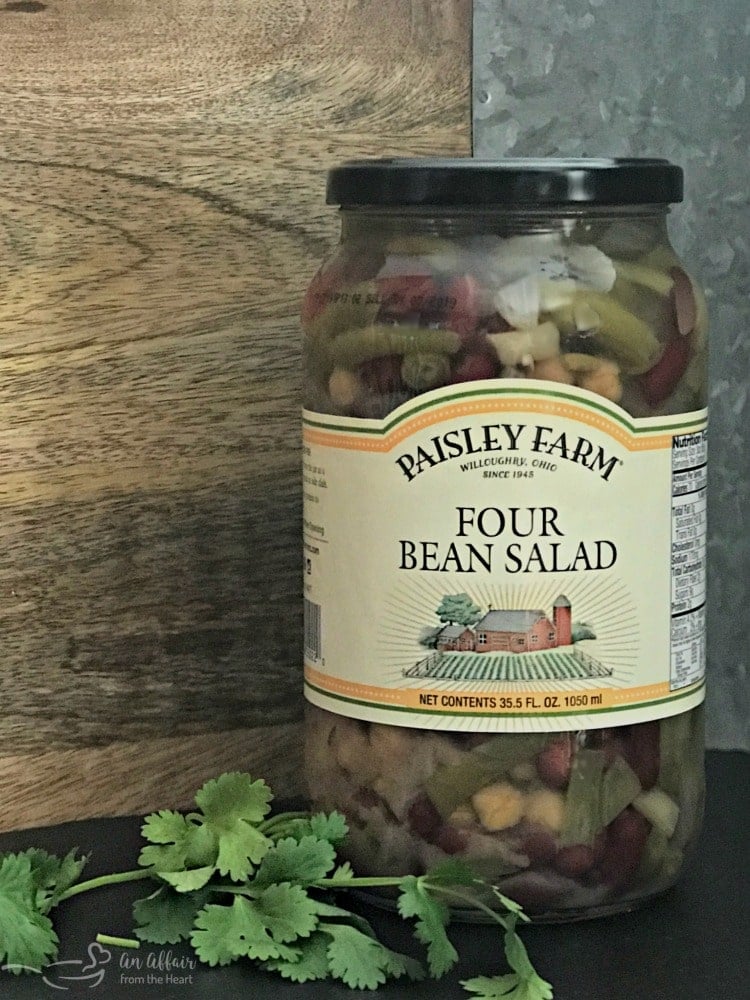 Perfect side dish?  Our favorite Paisley Farm Four Bean Salad.   Whether you doctor it up like this Italian Bean Salad, or serve it right out of the jar, you can't go wrong.  This Four Bean Salad and Apricot BBQ Glazed chicken is perfect for anytime.  Now, when it's still chilly outside, or even later when you can make the chicken on the grill and enjoy a nice picnic outside!
Paisley Farm Four Bean Salad is a sweet blend of kidney, garbanzo, green, and wax beans accented with freshly diced onions and red peppers. It's convenient straight from the jar goodness makes this one of their most popular items.  Paisley Farm Four Bean Salad  is colorful and delicious and can be served and enjoyed from gourmet table settings to summer picnics, and everywhere in between.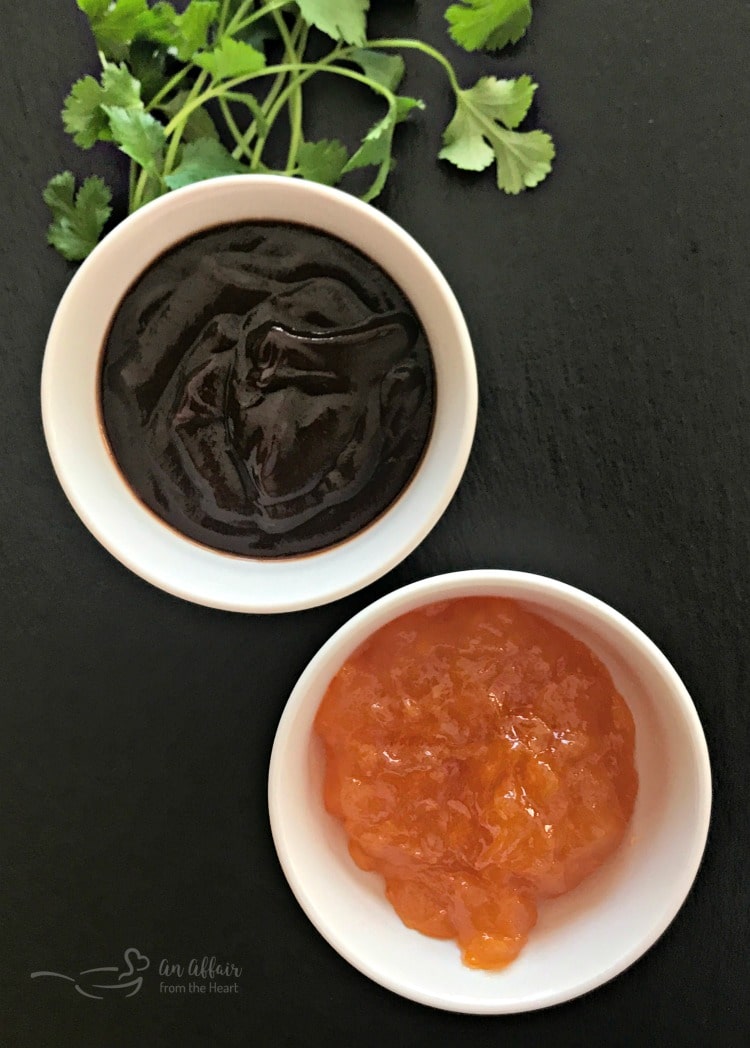 Your favorite BBQ sauce and some apricot preserves and you're well on your way!! You already have 2/3 of the ingredients here!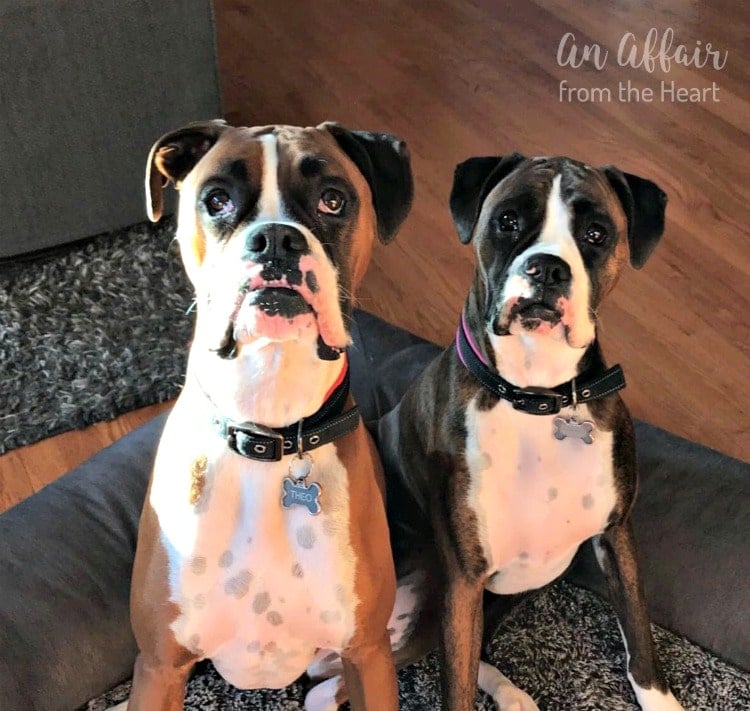 Sidebar — I don't know what magic that jar of apricot preserves held, but it brought the dynamic duo running in full-on beg mode.  I am certain they have never had an apricot, so I don't know what that was all about — but I knew the recipe would be a success.  I hadn't even gotten the chicken out!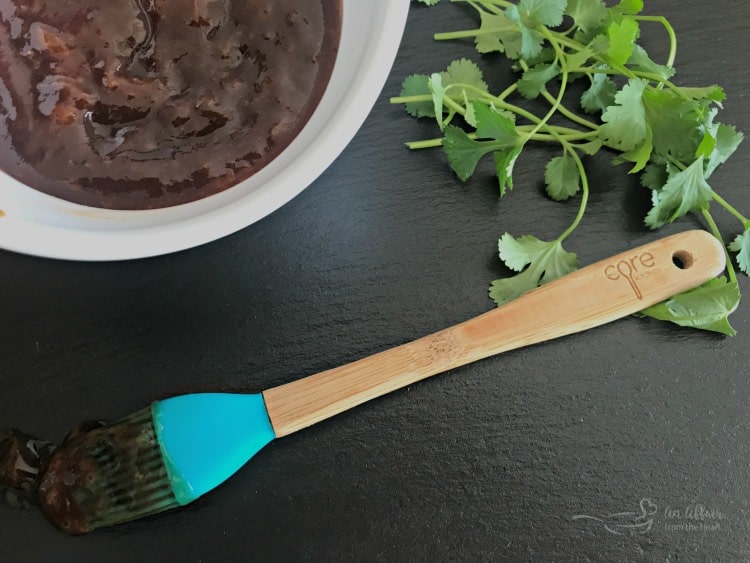 Stir the two together and set aside.  Place the chicken on a rack over a cookie sheet lined with foil.  Bake for 10 minutes and flip the chicken over and start adding the sauce, in intervals and baking.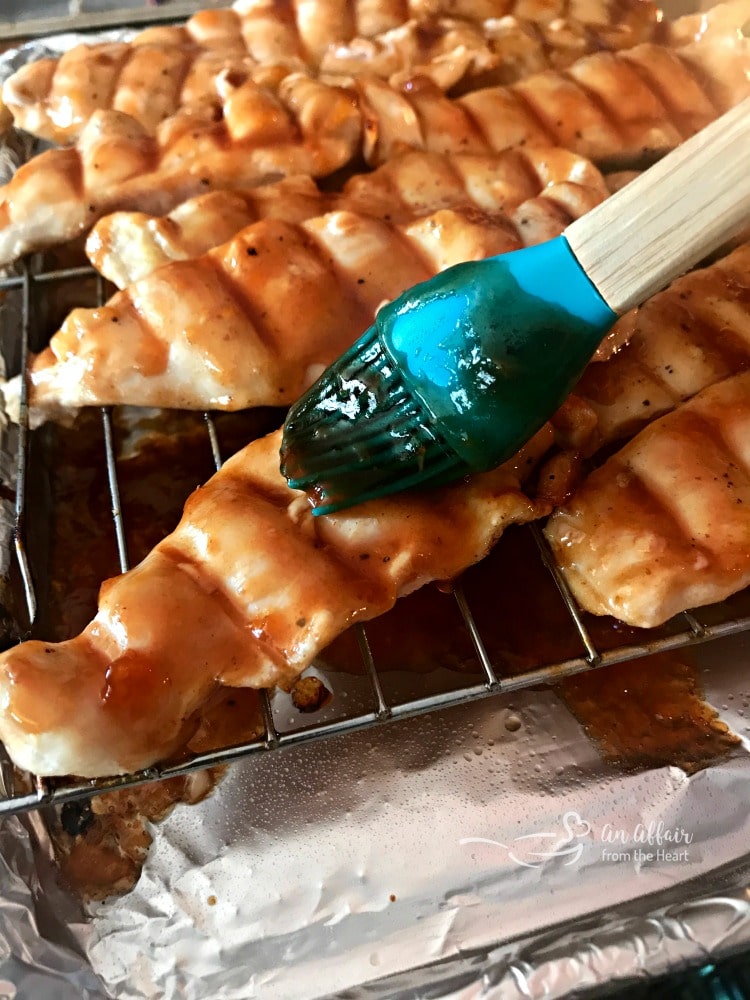 The last round will get broiled to caramelize the sauce to the chicken.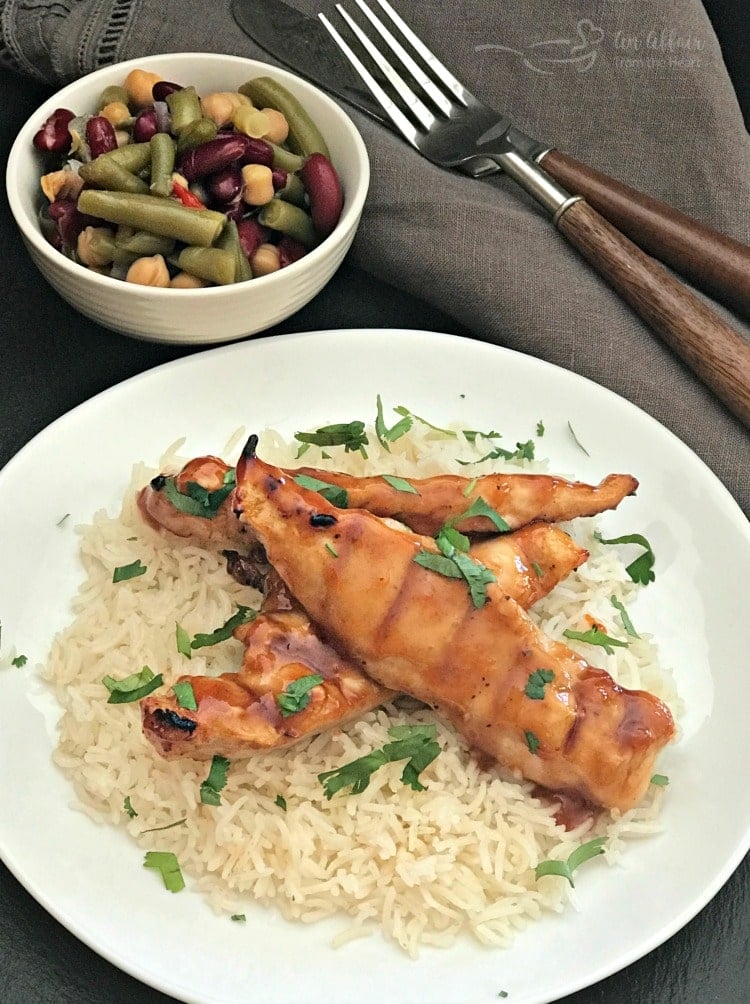 Serve it over Basmati rice with a sprinkling of cilantro and a side of Paisley Farm Four Bean Salad.  Dinner — Easy and Done.  Want a couple of other ways to serve up a side of Paisley Farm Four Bean Salad?
For more great recipes and products from Paisley Farm, visit their website and follow them on FaceBook, Instagram and Pinterest.
What do you say we make some Apricot BBQ Glazed Chicken?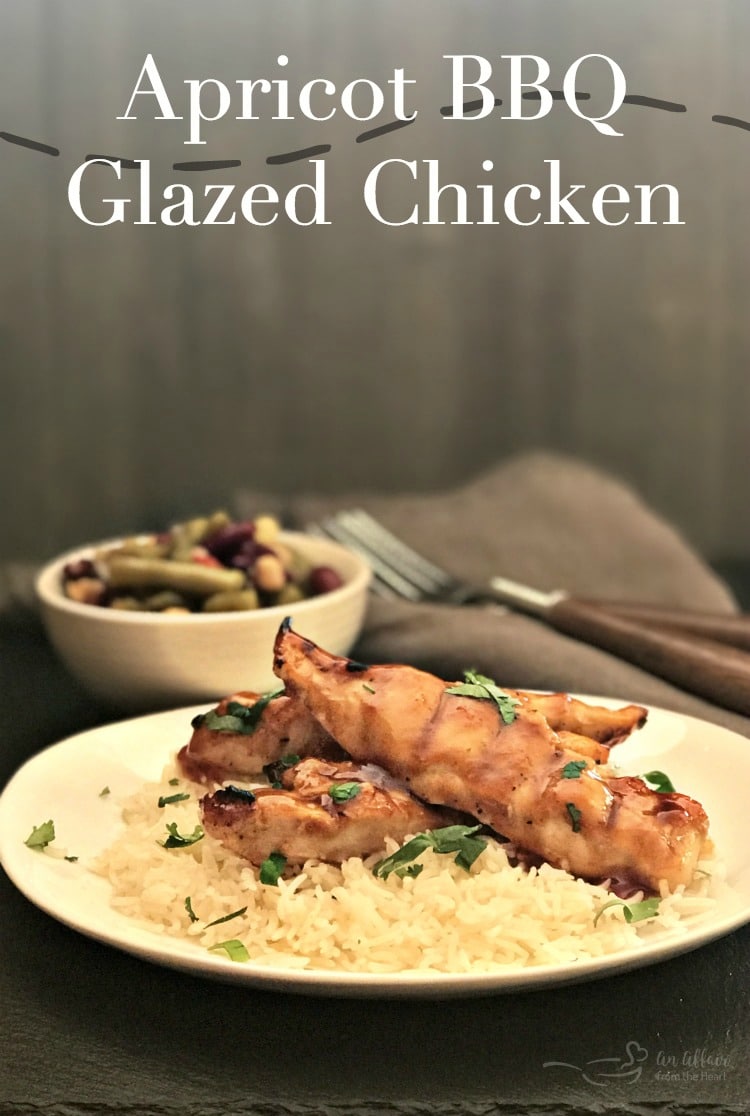 Yield: 8 - 4 ounce servings
Apricot BBQ Glazed Chicken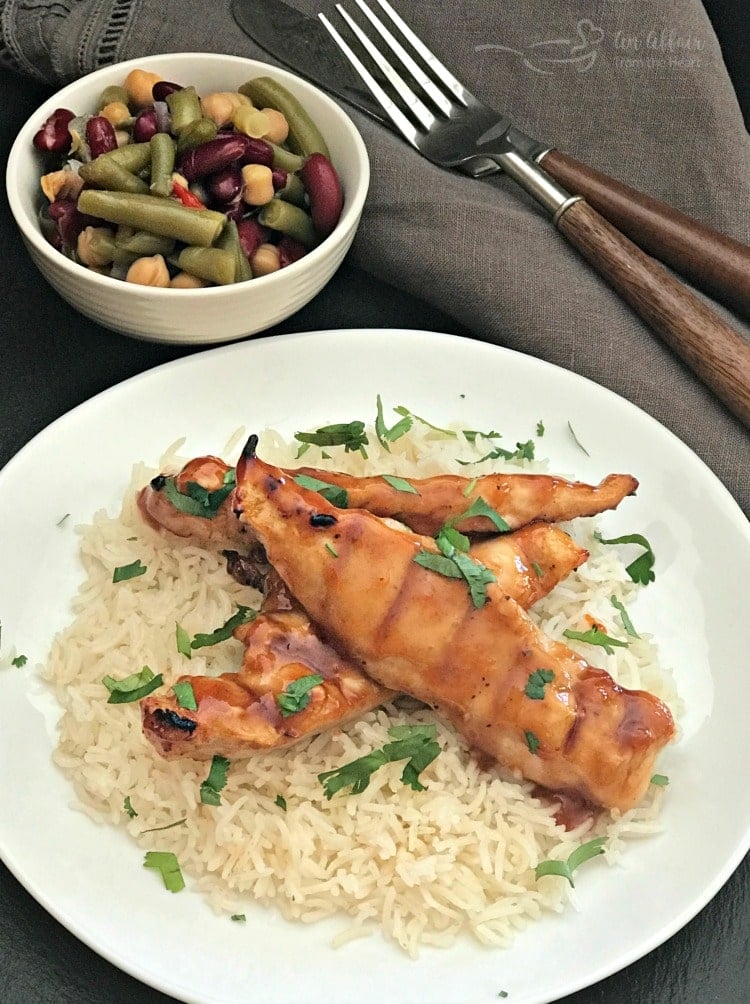 Ingredients
2 pounds chicken breast tenderloins (chicken breast strips)
½ cup apricot preserves
¼ cup BBQ sauce
Olive oil, salt and pepper
Basmati rice and cilantro for serving
Instructions
Preheat oven to 425 degrees. Line a baking sheet with foil and top with a wire rack. Spray wire rack with non-stick spray.
Lightly brush chicken with olive oil and sprinkle with salt and pepper.
Place chicken tenderloins on the wire rack. And place in the center of the oven. Bake for 10 minutes, flip over and brush the sauce on. Bake for 10 minutes, flip and brush the sauce on the other side. Bake 10 minutes more, Brushing the sauce on to coat the chicken. Turn oven to broil and keep pan in the center of the oven. Brush sauce on and broil til it caramelizes, flip and do the other side. Serve over Basmati Rice dusted with cilantro.
There is always plenty of Easy Weeknight Meal Inspiration here on my blog!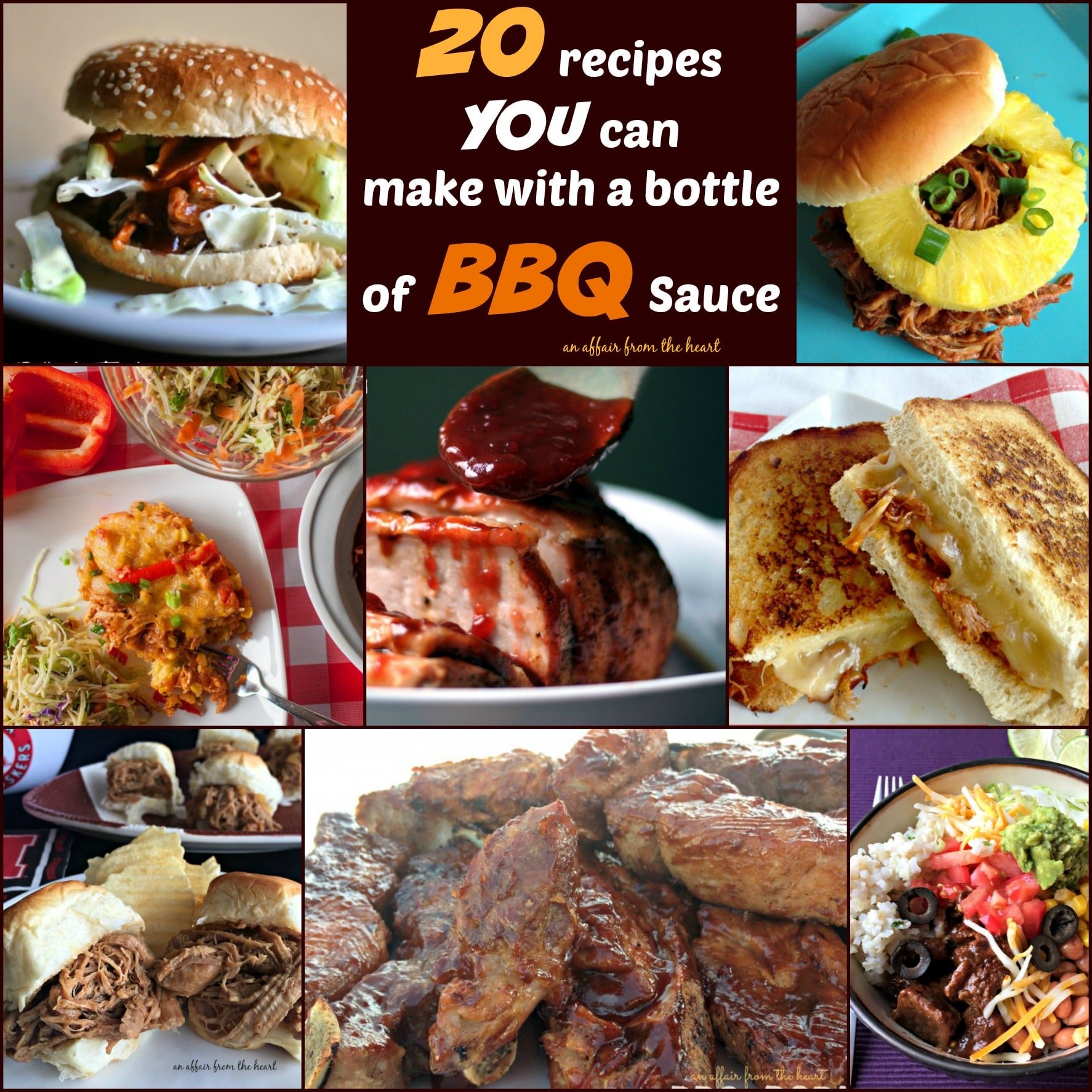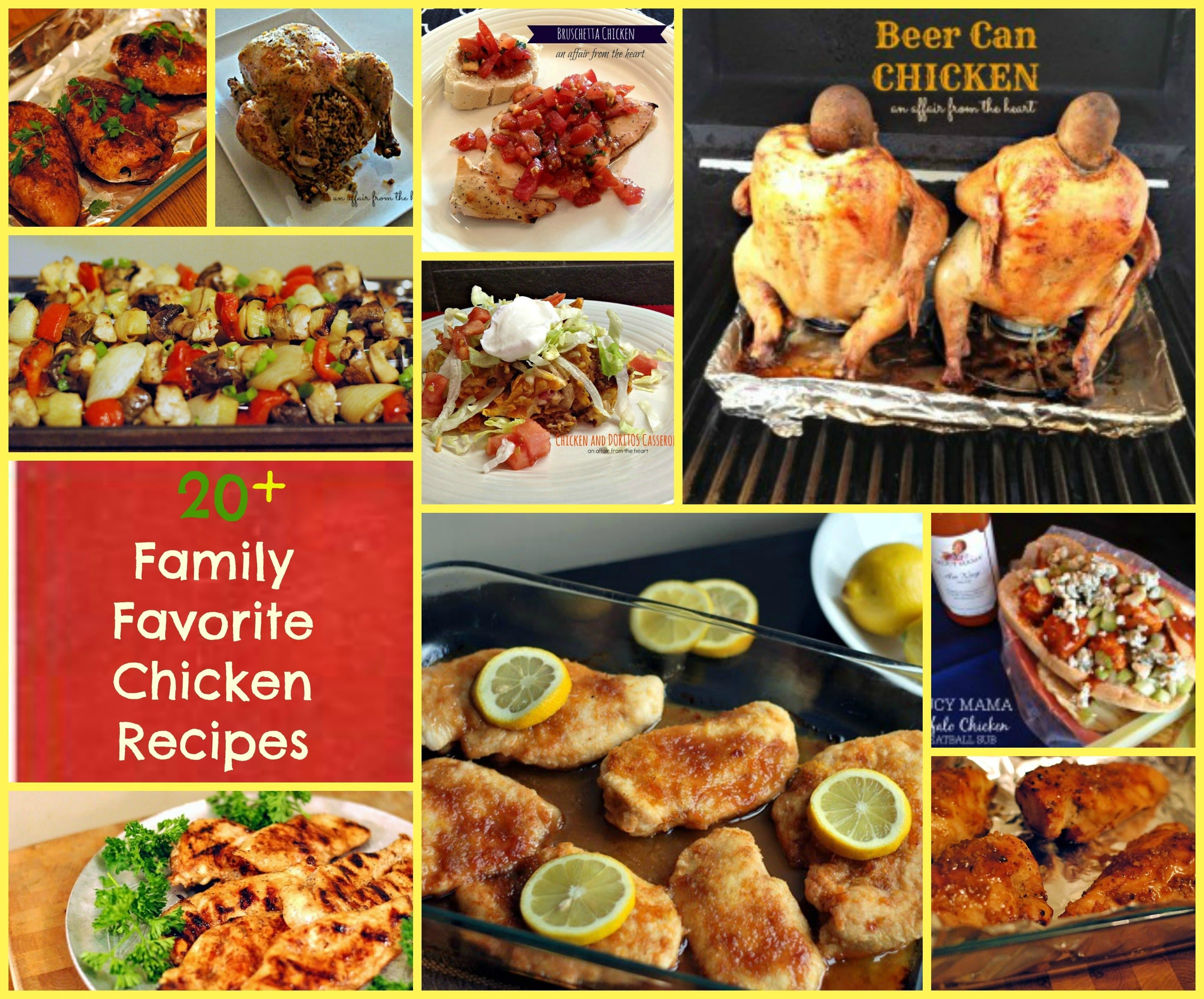 If you make this recipe, I'd love to know! Snap a picture, share the photo on social media with the hashtag #AnAffairFromTheHeart – I'd love to see what you made! – Michaela