A bed of baby spinach leaves, topped with Paisley Farm Four Bean Salad, thick bacon, crunchy brussels sprouts, ripe tomatoes, hard boiled egg, olives and red onion all topped with the creamiest homemade roasted garlic dressing.
We are approaching the end of winter … right? (please say that's right)  If you are starting to think about swimsuit season, and I am sure that many of you are, it's time for more salads and lighter fare.  This salad is full of hearty veggies and topped with a delicious homemade dressing that will keep you feeling satisfied.
This is a sponsored conversation written by me on behalf of Paisley Farm, but the opinions are all my own. Thank you for supporting the companies and products that make An Affair from the Heart possible.
We eat a lot of salads.  But, I will be honest.  I get bored easily, and eating the same 'ol thing all of the time just doesn't really go over well with me.  So, different toppings, different types of lettuces and clever dressings are all instrumental in keeping this salad loving girl a happy one.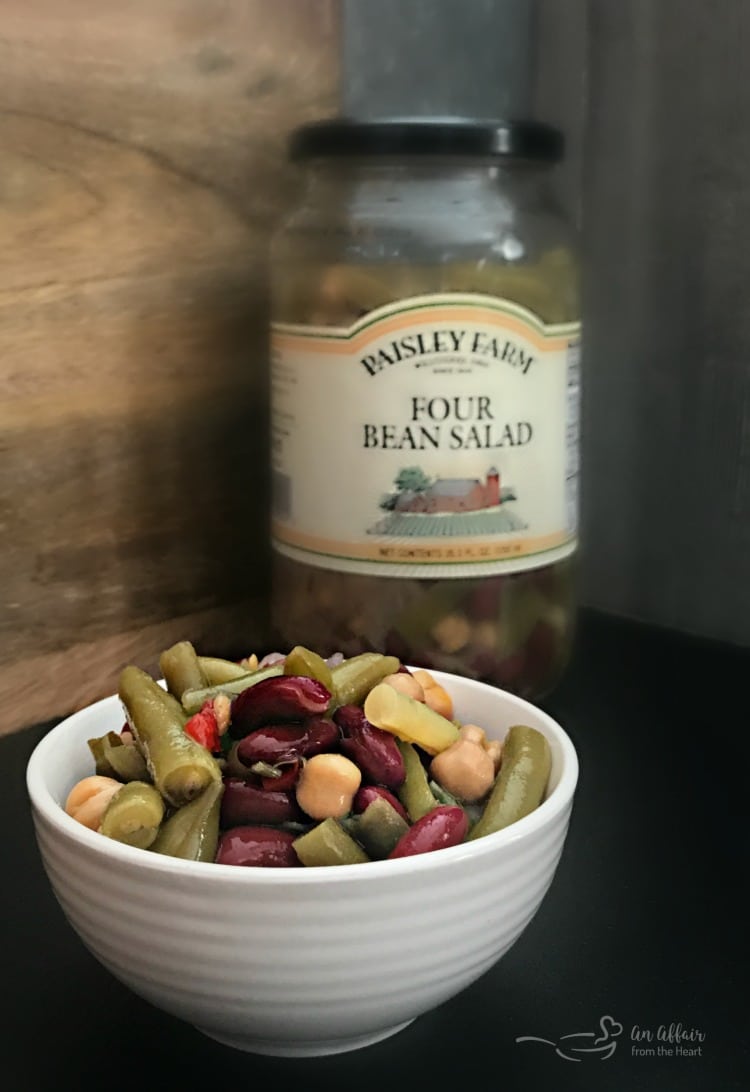 I always keep a couple of jars of Paisley Farm Bean Salad in my pantry.  It's easy to open a jar up to use as a quick and delicious side to meals, as an ingredient within them, or as a topping on a salad, like I am today.
If you have never made homemade dressing, I urge you to change that.  There is nothing on a shelf that is going to compare with what a few ingredients and a little extra time can do to make your own homemade dressing.  In this particular dressing, one extra step, roasting the garlic, puts the flavor right over the top.  Sure, you can make it without, but trust me, the roasting? EASY and so worth it.
This Creamy Roasted Garlic Dressing, comes together super fast, roast the garlic in your oven, it'll get combined with some Pecorino Romano cheese, some fresh lemon juice, some mayonnaise, cream and some salt and pepper.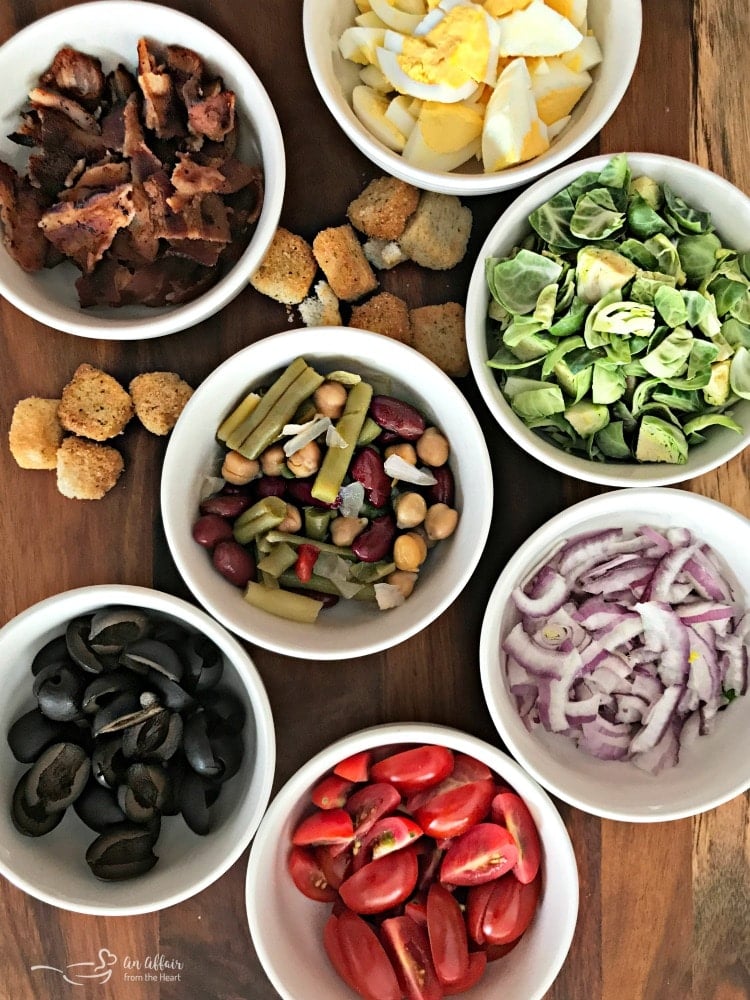 For the salad … baby spinach leaves, Paisley Farm Four Bean Salad,  prepared thick sliced bacon, hard boiled eggs, red onion, tomatoes, black olives, brussels sprouts and croutons.  Of course .. you can switch up the veggies to your liking, but if you are wanting something tried and true — follow along here for what I found to be salad perfection.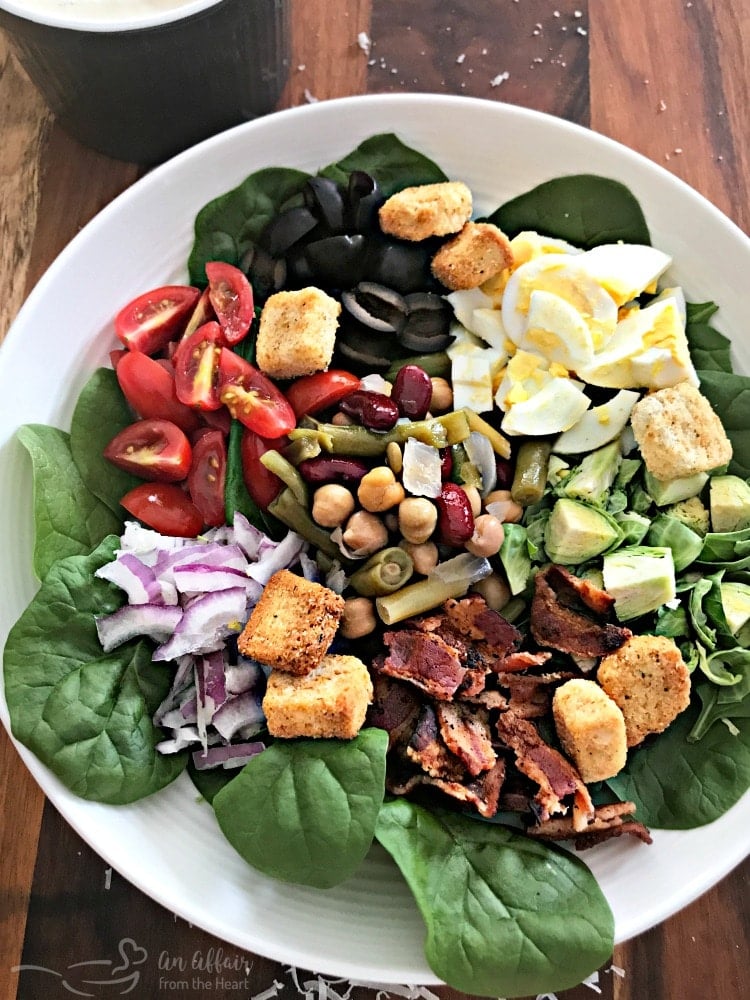 Start by adding a couple of handfuls of baby spinach leaves to a plate.  Top with all of the ingredients, add your dressing and give it a toss.  We always add a nice sprinkling of fresh cracked black pepper, too.
Have you tried Paisley Farm Four Bean Salad?  It's all natural and can be served anytime.  From family picnics, to elegant meals, or just snacking straight out of the jar, you can't go wrong with this salad.  Paisley Farm Four Bean Salad is a sweet blend of kidney, garbanzo, green and wax beans accented with freshly diced onions and red peppers to give it even more flavor.
Let's make some salad!

Yield: 2 large dinner salads
Loaded Spinach Salad with Creamy Roasted Garlic Dressing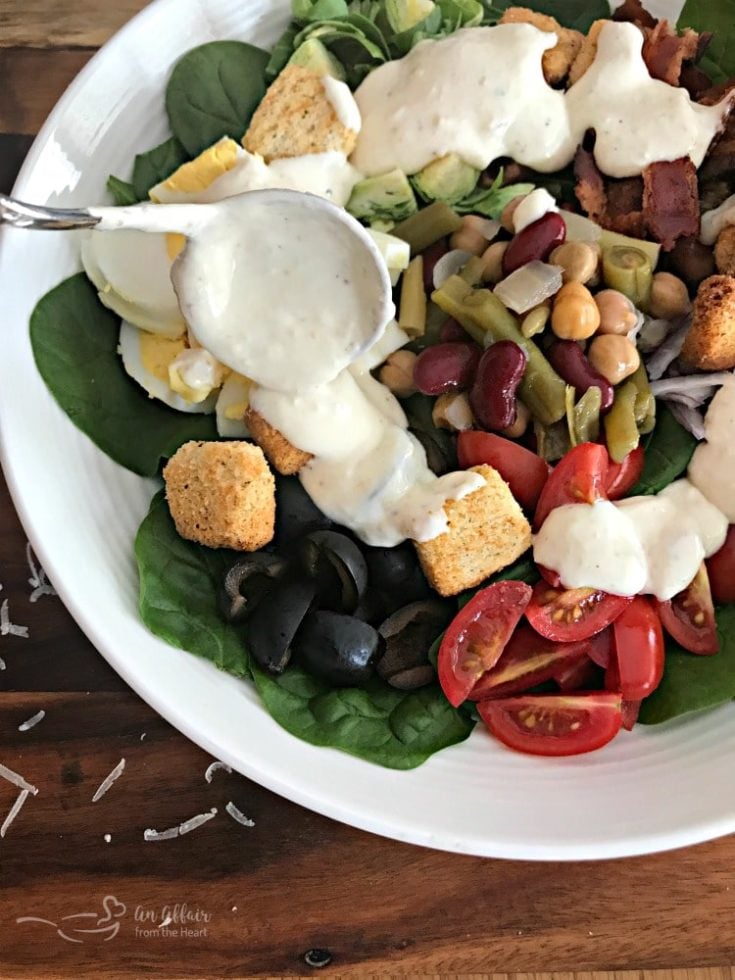 Ingredients
For the Salad:
Four handfuls of baby spinach leaves
3/4 cup Paisley Farm Four Bean Salad
1/2 cup brussels sprouts, chopped
1/4 cup red onion, sliced thin
1/2 cup thick cut bacon, prepared and chopped
1/2 cup hard boiled eggs, chopped
1/2 cup grape tomatoes, sliced in half
1/2 cup black olives, sliced
For the Dressing:
1 large head garlic, *roasted, mashed with the back of a fork
1/4 cup Pecorino Romano Cheese, shredded
1/2 cup real mayonnaise
Juice of 1/2 lemon
1/3 cup heavy cream
1 teaspoon salt
1/2 teaspoon coarsely ground black pepper
Instructions
Prepare dressing by combining all of the ingredients in a large wide mouth mason jar. Blend together using a stick blender. Place lid on dressing and refrigerate until ready to use.
Place two handfuls of spinach leaves on each dinner plate. Top with other ingredients, using half of each for each salad. Top with dressing to your liking, and toss.
For more great recipes and products from Paisley Farm, visit their website and follow them on FaceBook, Instagram and Pinterest.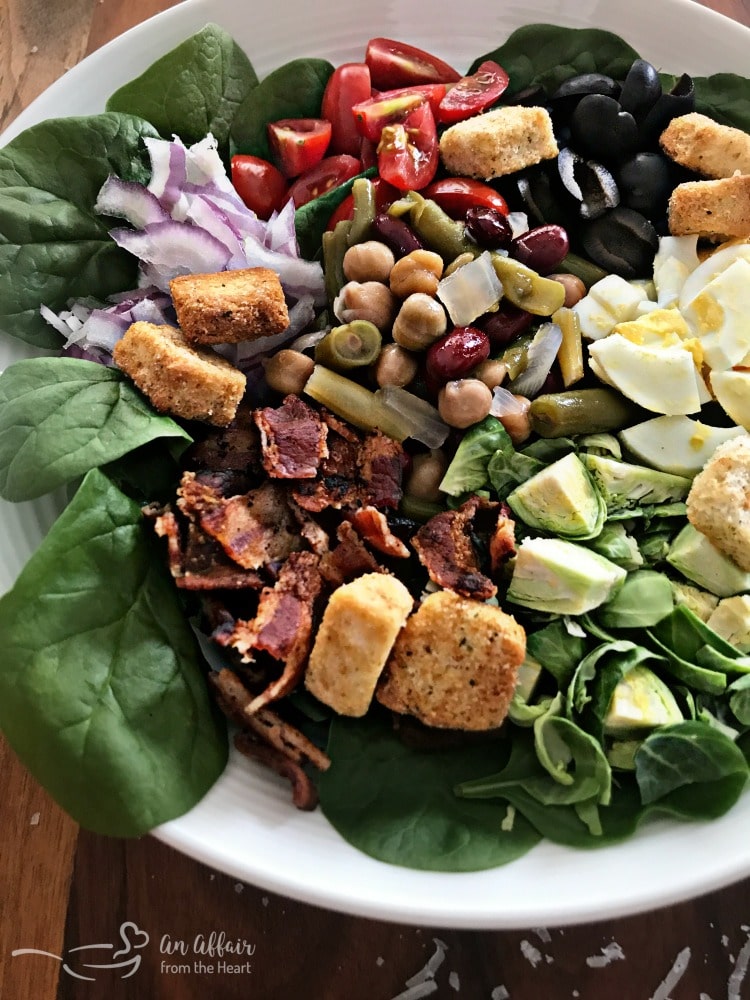 If you make this recipe, I'd love to know! Snap a picture, share the photo on social media with the hashtag #AnAffairFromTheHeart – I'd love to see what you made! – Michaela