Pickled Okra Relish
As an Amazon Associate and member of other affiliate programs, I earn from qualifying purchases.
If you are looking to really jazz up your burger or your bratwurst, I have just the thing! This Pickled Okra Relish is a little bit spicy, a little bit tangy, and packed with flavors of fresh tomatoes, corn, onion and smoky bacon.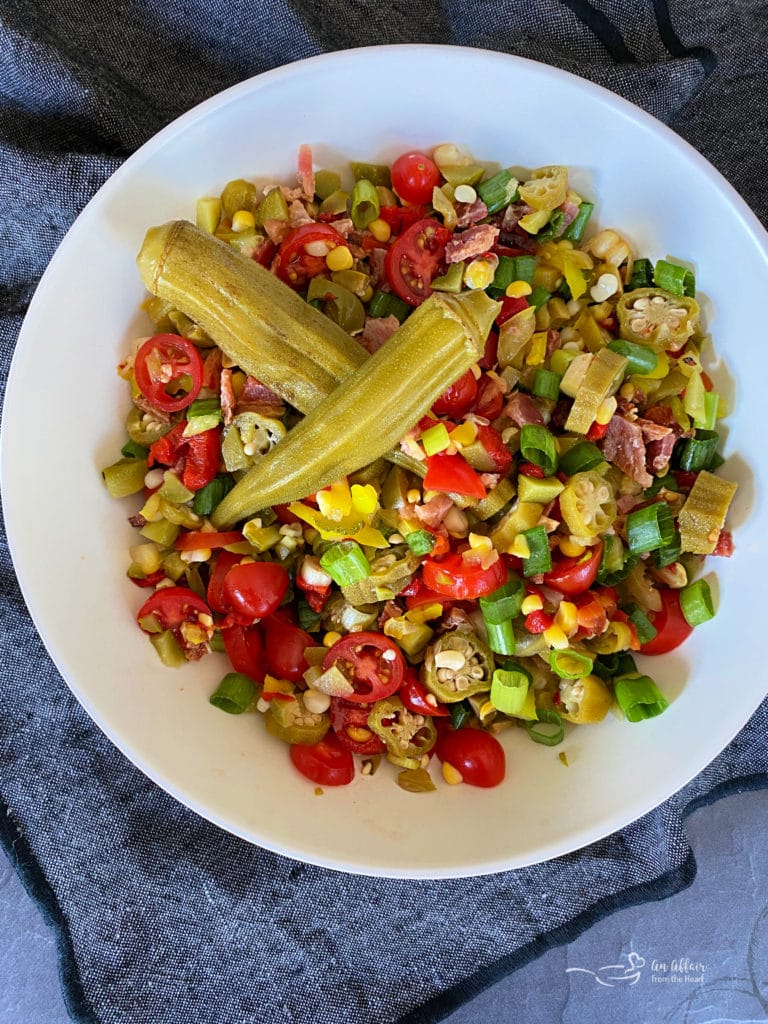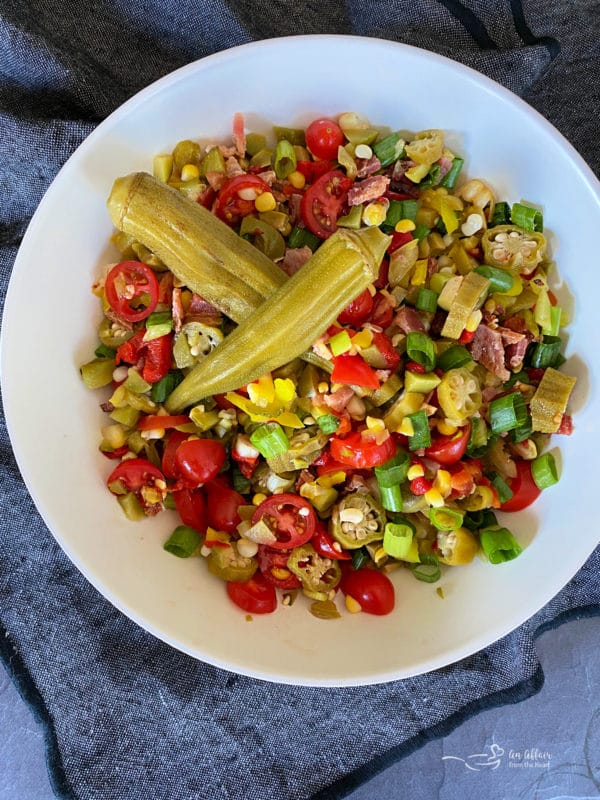 I have a confession to make. Growing up, if you would have mentioned the word "okra" to me, I would have looked at you sideways. These days, I jump at the chance to eat new things, especially when they come in the way of homemade pickled vegetables. Ely Farms Pickled Okra is no exception.
This pickled okra relish is bursting with the flavors of summer but contains ingredients that are easy to come by year round, so you don't have to wait for the seasons to change to enjoy it!
This post has been sponsored by Ely Farms but my love of their Nebraska grown pickled vegetables and my opinions here are all my own.
SOME OF THE ITEMS BELOW CONTAIN AFFILIATE LINKS; I AM A PARTICIPANT IN THE AMAZON SERVICES LLC ASSOCIATES PROGRAM, AN AFFILIATE ADVERTISING PROGRAM DESIGNED TO PROVIDE A MEANS FOR US TO EARN FEES BY LINKING TO AMAZON.COM AND AFFILIATED SITES. I AM ALSO AN AFFILIATE FOR OTHER BRANDS. HOWEVER, I ONLY PROMOTE THINGS THAT I LOVE AND THINK YOU WILL LOVE, TOO. FOR MY ENTIRE DISCLOSURE POLICY PLEASE

CLICK HERE

.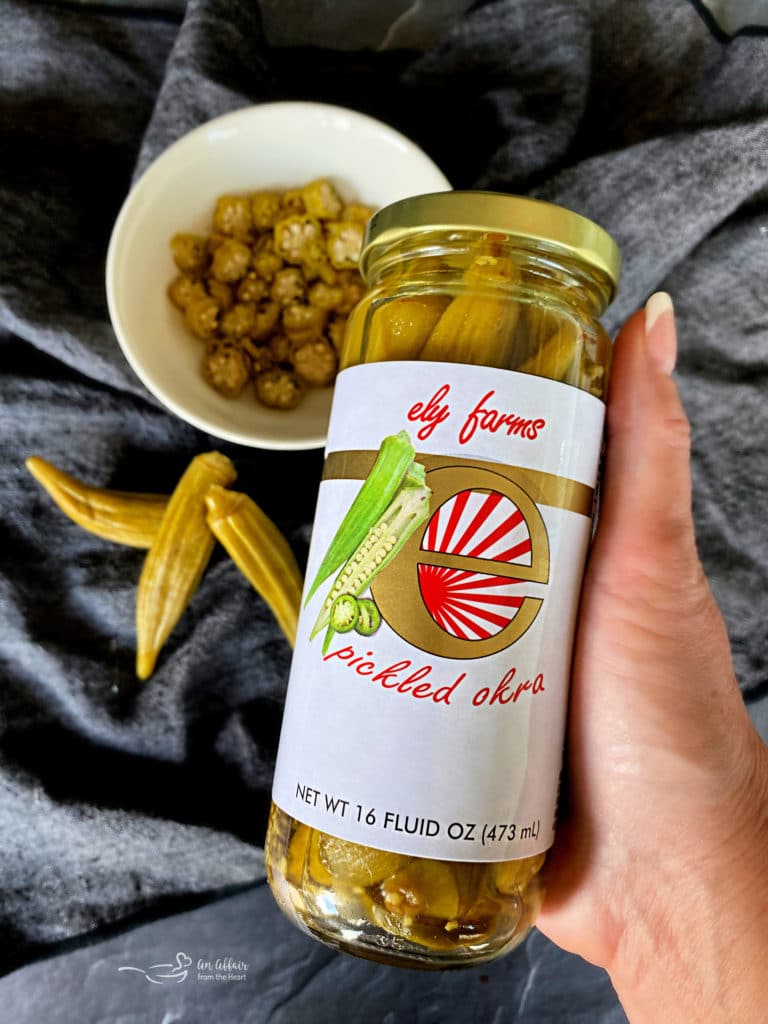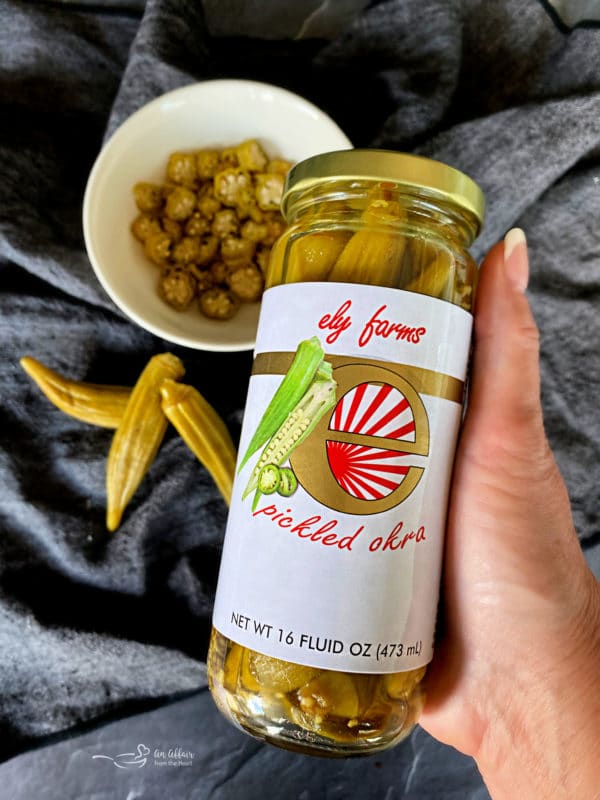 Ely Farms Pickled Okra
Neal Ely, the owner of Ely Farms, told me that his family has always grown okra in their family garden. That may seem a bit surprising to most Midwesterners, I know that it was to me!
An old family recipe for pickled okra became the driving force behind adding pickled okra to their Ely Farms collection of Pickled Asparagus and Pickled Green Beans. Even though they don't use the exact recipe, they developed something similar and it worked so well it's what they stuck with.
"Mom's killer pickled okra recipe" it's how it's referred to. It has the perfect zesty flavor. The texture is crisp and refreshing. With a hint of garlic and dill, along with a light 'kick' compliments of red hot chili pepper, it'll keep you coming back for more!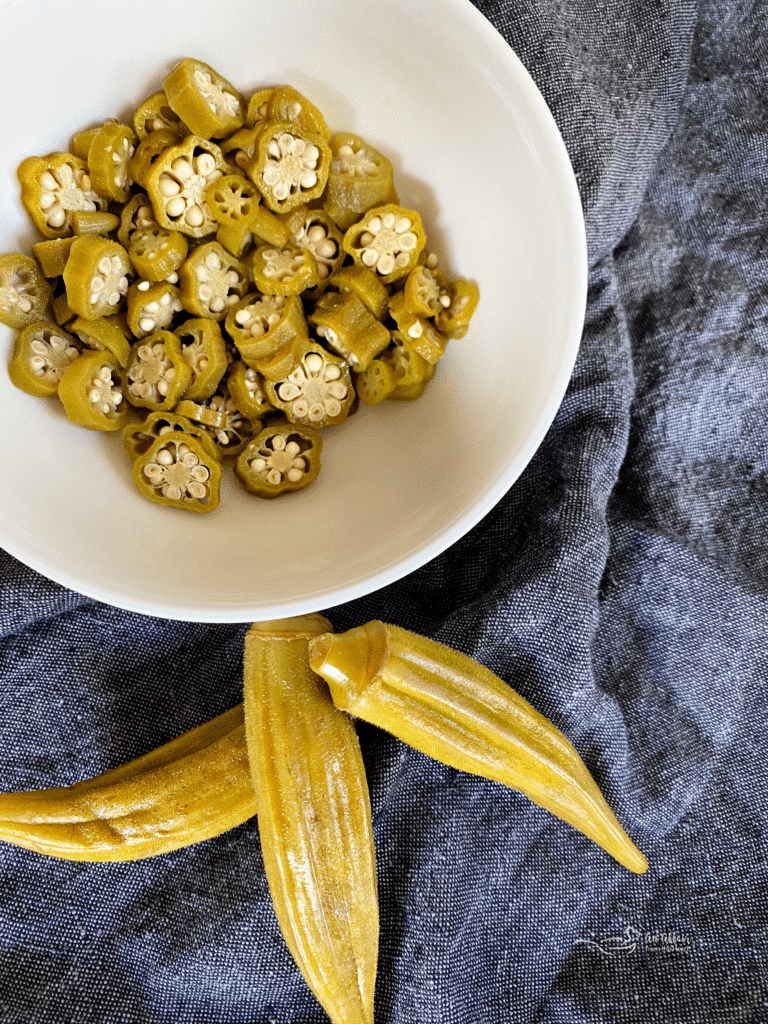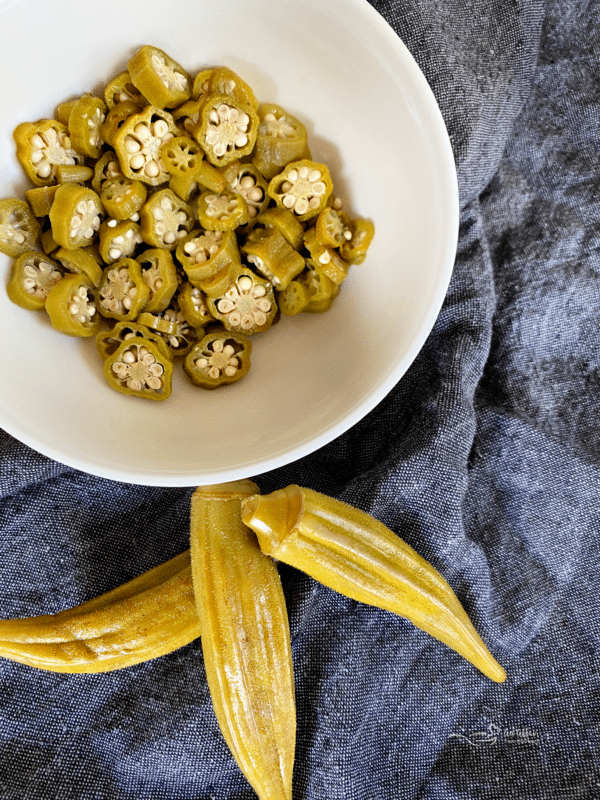 Nebraska's Own
All of Ely Farms products are grown and produced in Grafton, Nebraska. No crazy ingredients here, friends, the pickled okra contains only these ingredients: okra, water, vinegar, salt, garlic, jalapeno, spices.
Ely Farms pickled okra makes an excellent appetizer, hors d'oeuvre, and condiment. No matter how you enjoy it, just understand that it will disappear quickly once opened!

Pickled Okra for Tailgating
When I think of okra recipes, I think of things like jambalaya and gumbo. I have a delicious recipe for a Rustic Harvest Stew, that contains okra, on my blog that we love. But it's 100 degrees in the shade here in Nebraska right now, and we are supposed to be thinking about Cornhusker Football.
Unfortunately, Husker Football won't be played this Fall. We were recently informed by Kevin Warren that Big 10 athletics have all been postponed until further notice while we still battle the COVID-19 pandemic.
Our family has committed to at home tailgates this football season, enjoying games from days gone by, and of course good food! When it comes right down to it, spending time with friends and family bonding over a team we all love is what makes it so much fun!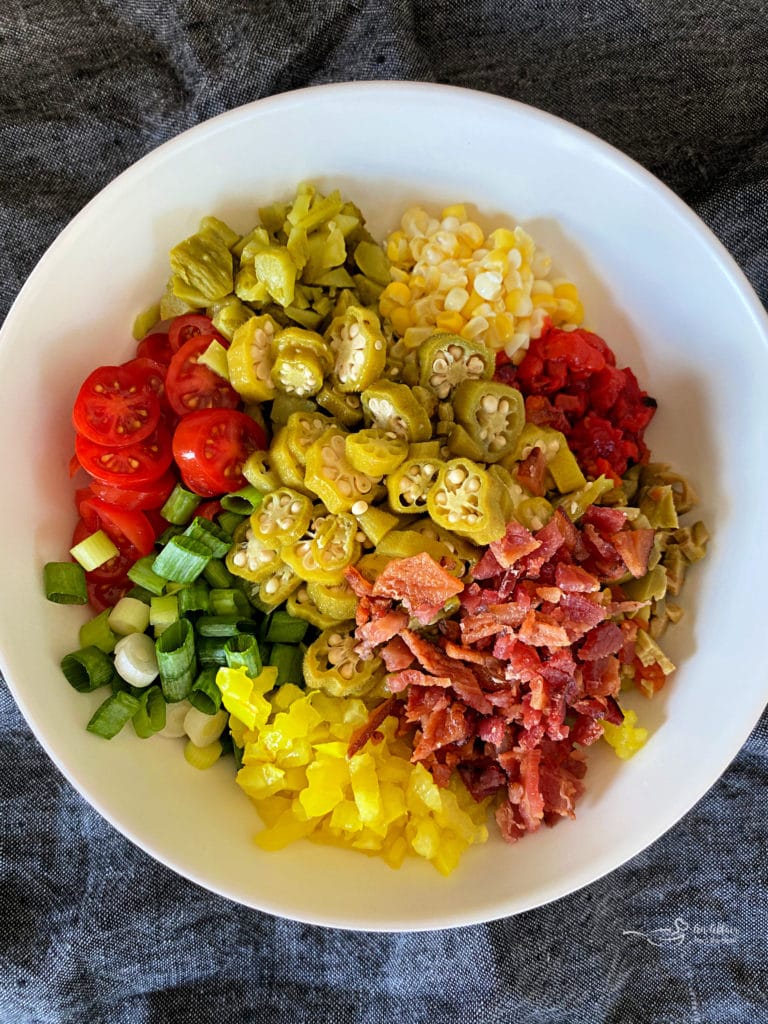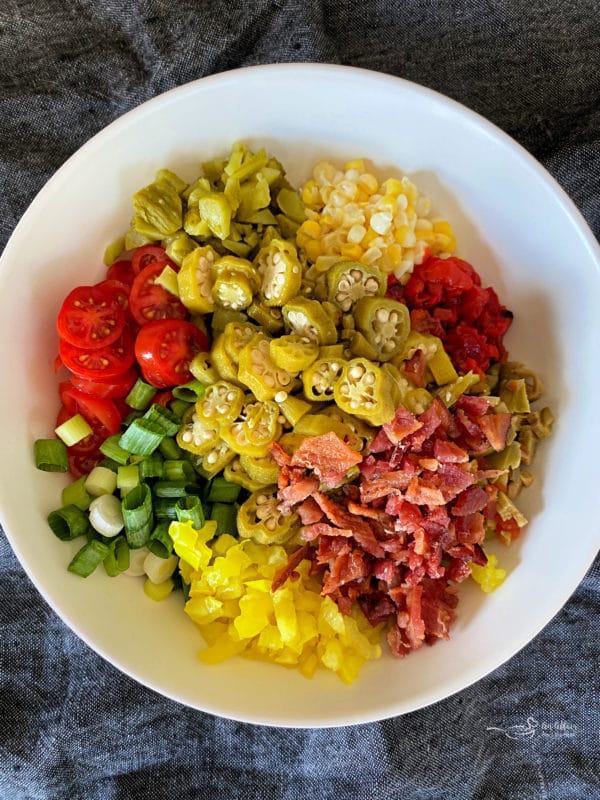 Ingredients in Pickled Okra Relish
When using the ingredients I suggest, there will be no need for any "dressing" of any kind. Each of the items brings such a dynamic flavor all on its own, there isn't any need to get fussy with dressings.
What's included:
roasted red peppers
Spanish olives
dill pickles
banana peppers
grape tomatoes
green onion
smoked bacon
With the exception of the smoked bacon, fresh sweet corn, green onions and tomatoes, everything else is pickled, too. But like Ely Farms, everyone has their own idea of pickling. Some like it sweet, some like it tart, some like it spicy, and others prefer the milder side of things. Combining all of these different ideas into one relish is a true delight for the taste buds!
Personally, I love a little bit of heat to pickled veggies, how about you? That is one of the things that I love about Ely Farms pickled veggies, there is a little bit of heat from the red pepper.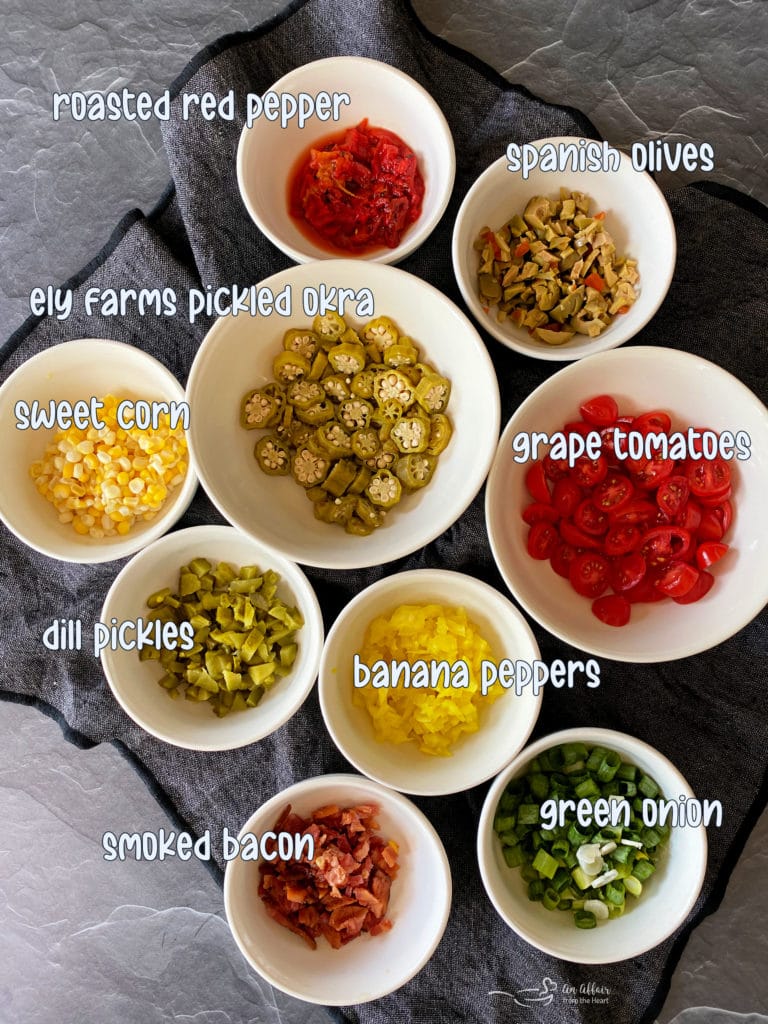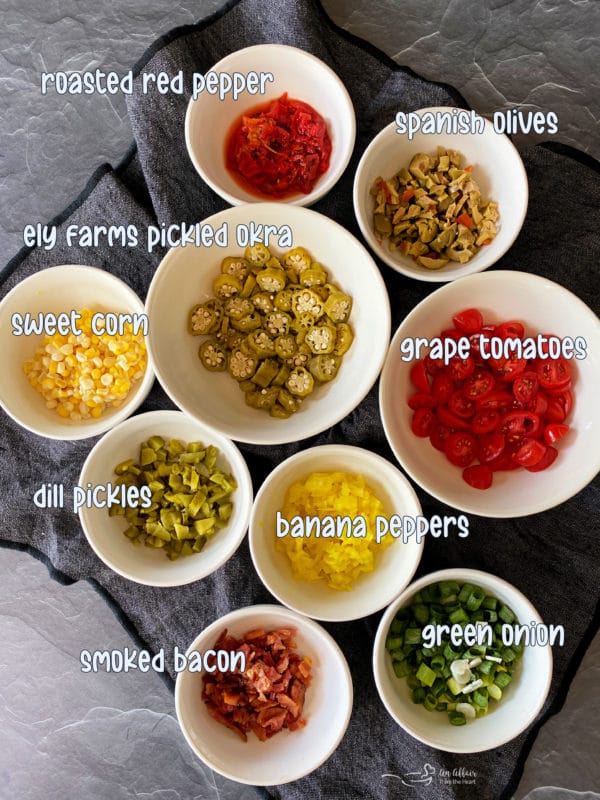 I wanted to add in a little more heat though, I decided on banana peppers, I love them, and you can often catch me eating them right from the jar. I contemplated some pickled jalapenos too, but I have some who are a bit on the "wimpier" side when it comes to heat, so I omitted them, but if you like the heat, I think they would make a great addition!
Simply mix everything together and pop it in the fridge overnight.
See the complete printable recipe at the bottom of this post.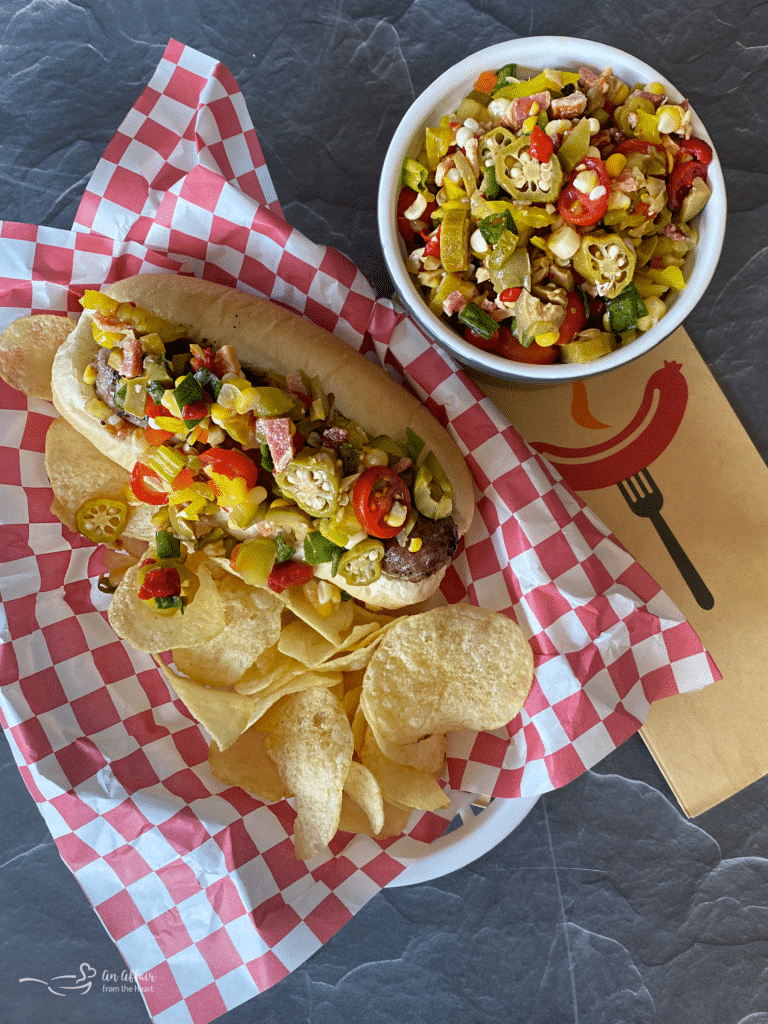 The next day you can pile it on top of your brats, burgers and hot dogs! Or like my son said, "I'd eat that straight out of the bowl like salsa!"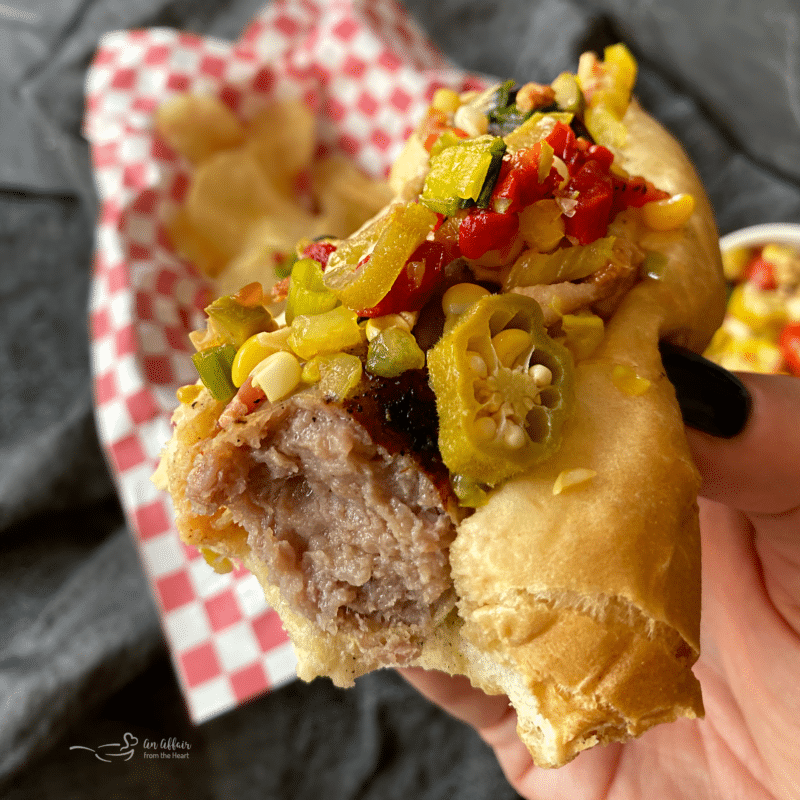 "get in my belly!"
Ely Farms Products
Ely Farms Pickled Asparagus Spears was a national FFA entrepreneur winner. Since its beginning in 1999, Ely Farms Pickled Asparagus Spears have become a highly acclaimed specialty product in the state of Nebraska – known for its unique taste.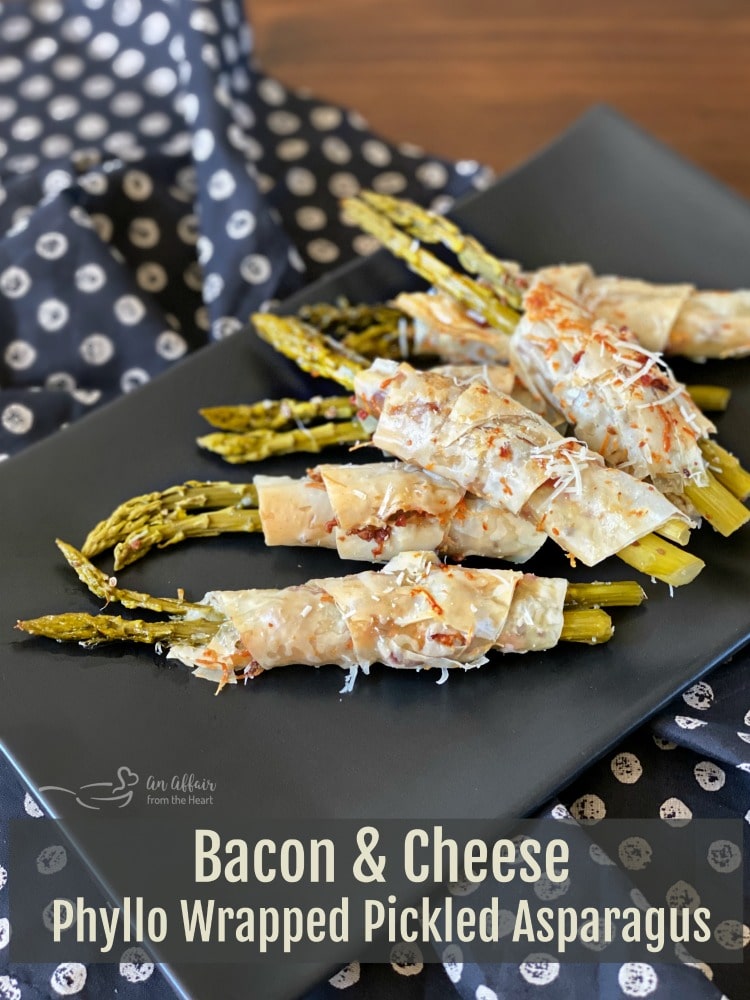 If you have been with me a while, you would have heard me talk about it already. I did a holiday appetizer with it, Bacon & Cheese Phyllo Wrapped Pickled Asparagus.
Sales originated in their hometown of Sutton, Nebraska and they have recently seen their Pickled Asparagus product spread into surrounding areas. You can find Ely Farms Pickled Asparagus Spears in grocery and specialty stores in Nebraska, Iowa, Kansas, and Colorado. Of course, you can also find it online on their website, as well as through Buy Nebraska.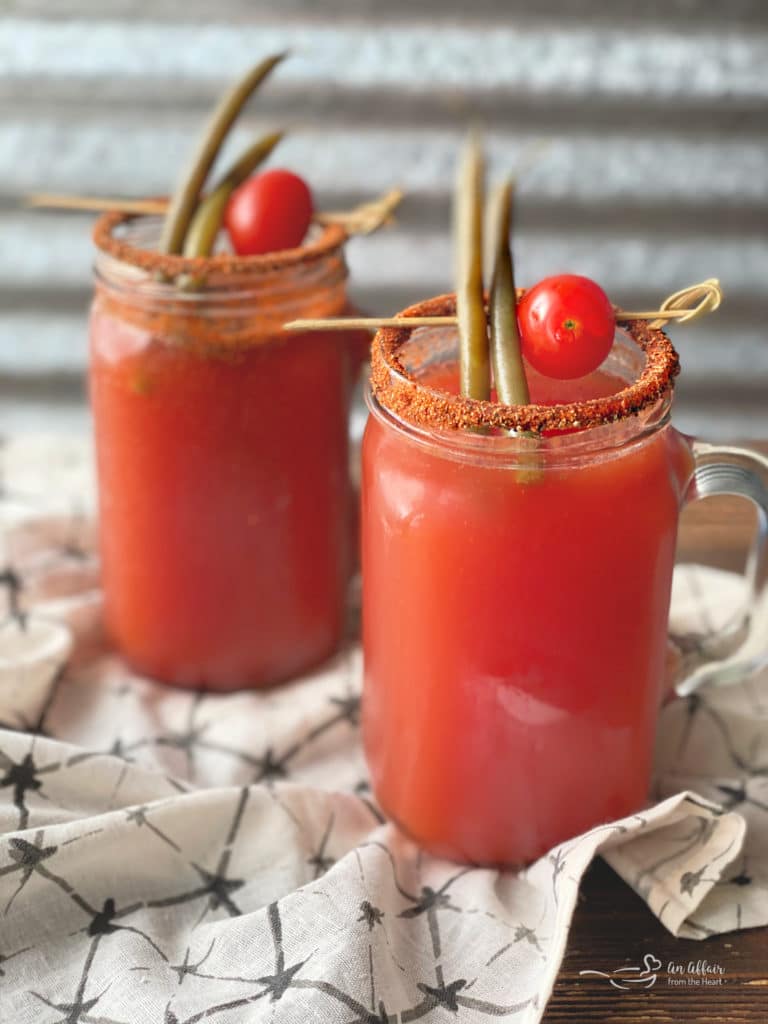 More recently, Mom's secret recipe became the perfect flavoring to two more products, Pickled Okra and Pickled Green Beans. I had the pleasure of sharing the green beans with you a couple of months ago. Showing them in this recipe for a Kicked-Up Red Beer!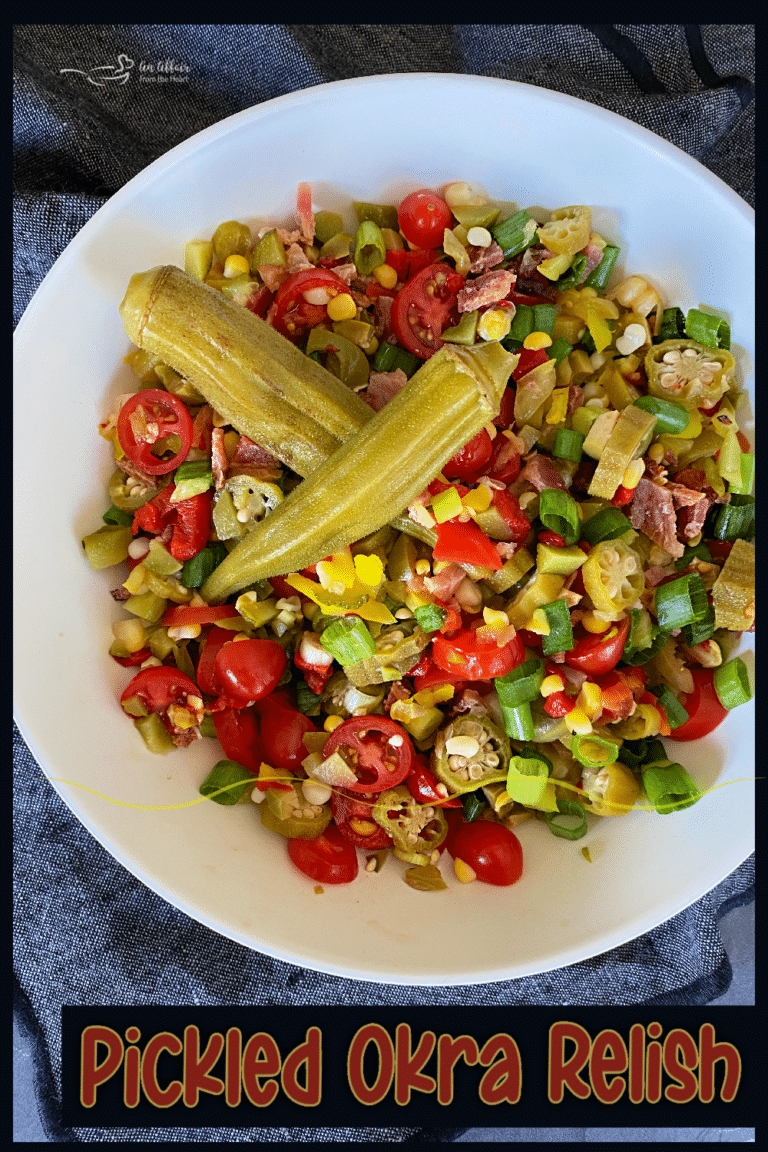 Love it? Pin it!
If you love this Pickled Okra Relish, pin it to your favorite Pinterest recipe board before you go, to find it easily!

Win a WHOLE CASE of Ely Farms Products!
Neal Ely is one generous guy — he's giving away another case of his pickled veggies to one lucky winner! Enter below to win 4 jars of each: Pickled Asparagus, Pickled Green Beans and Pickled Okra!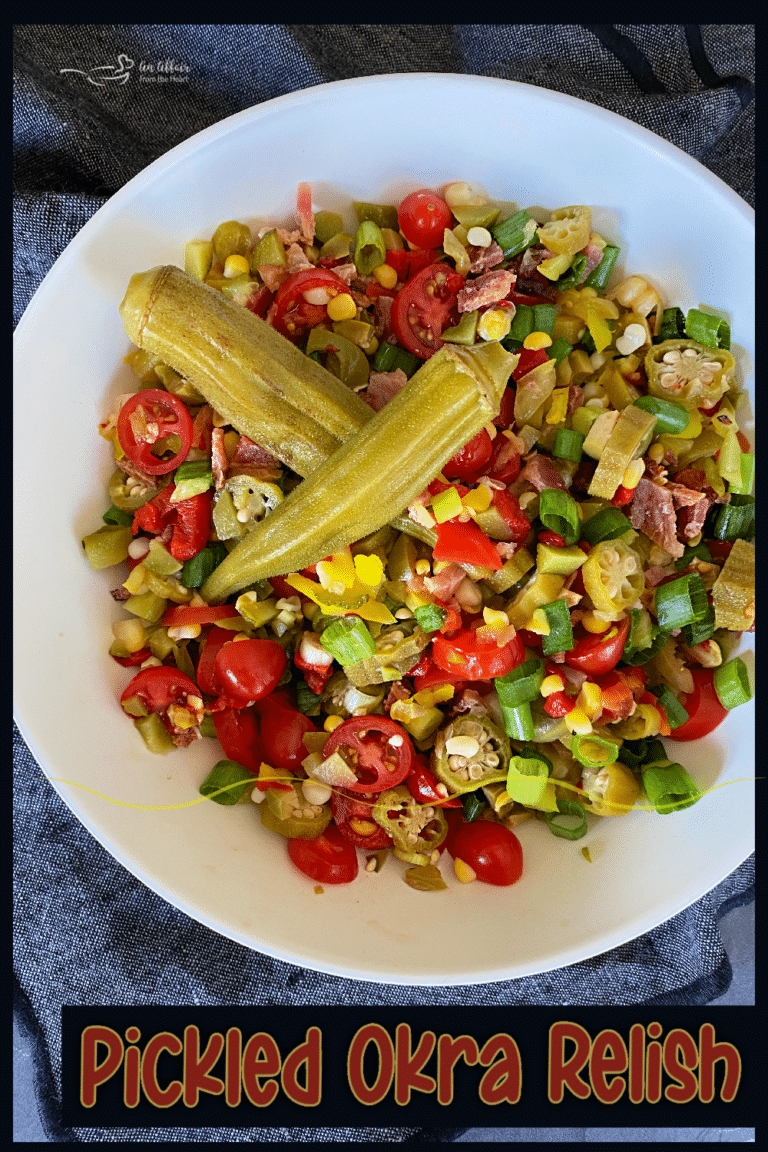 Let's get to the Pickled Okra Relish recipe!

Yield: about 4 cups
Pickled Okra Relish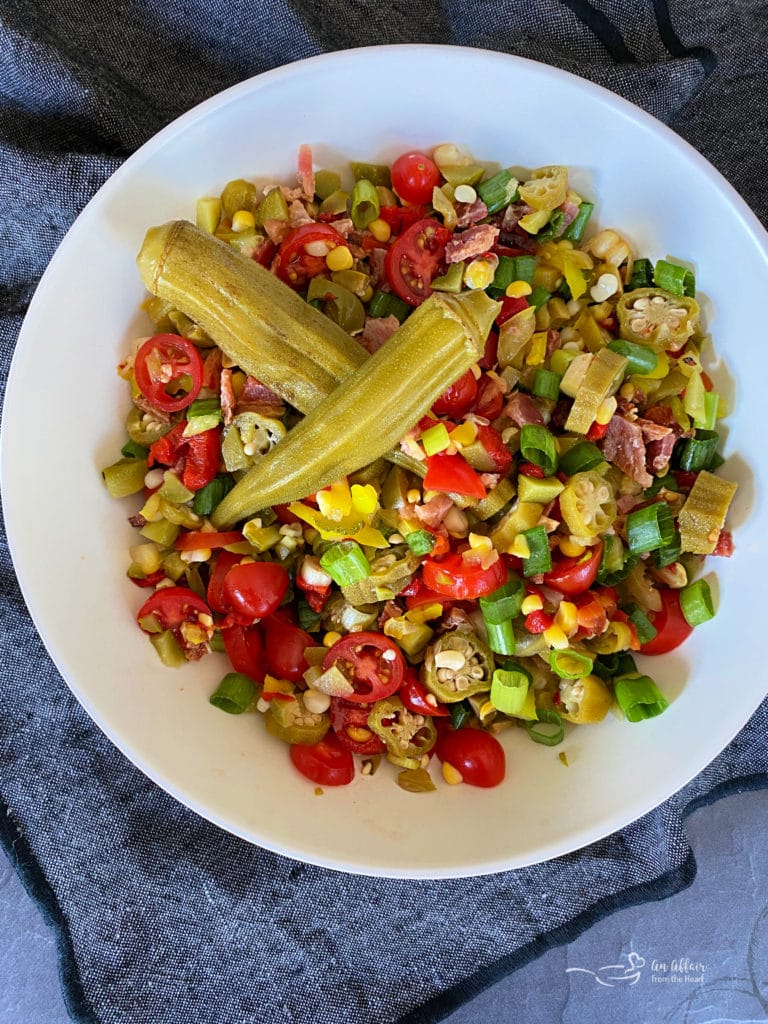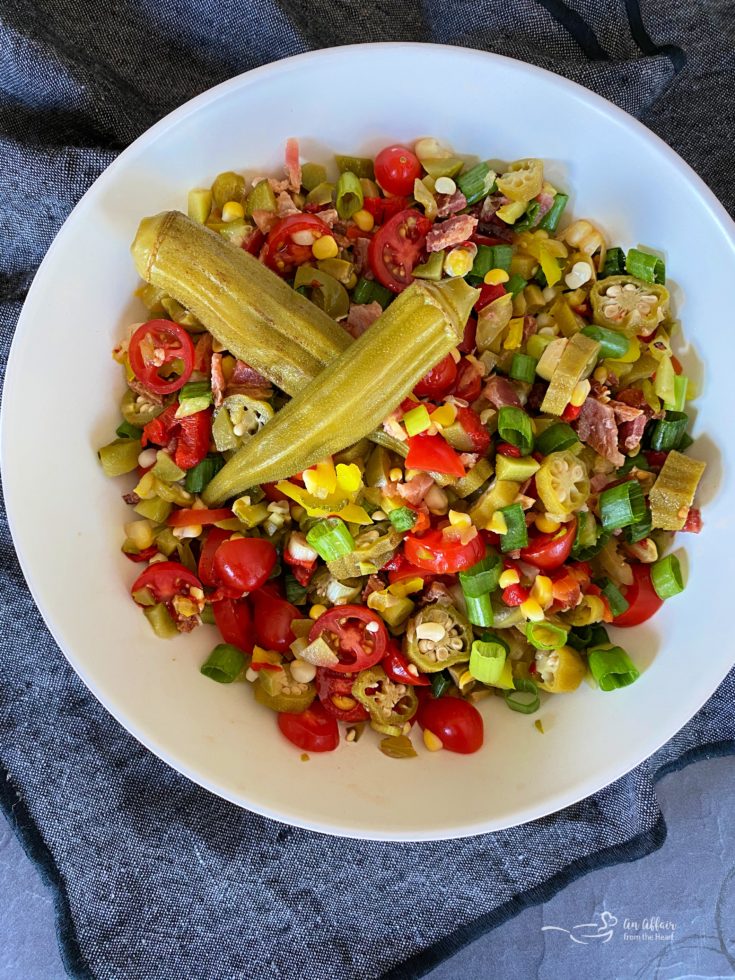 If you are looking to really jazz up your burger or your bratwurst, I have just the thing! This Pickled Okra is a little bit spicy, a little bit tangy, and packed with flavors of fresh tomatoes, corn, onion and smoky bacon.
Total Time
1 day
10 minutes
Ingredients
1/2 cup Ely Farms Pickled Okra, sliced
1/4 cup pickled banana peppers, chopped
1/4 cup dill pickle chopped
1/4 cup pimento stuffed Spanish olives, chopped
1 small ear of sweet corn, cooked and removed from the cob (about 1/3 cup)
1/4 cup jarred roasted red peppers
2 pieces thick smoked bacon, cooked and crumbled
2 green onions, sliced
1/2 cup grape tomatoes, halved
Instructions
Combine all ingredients in a bowl.
Refrigerate overnight.
Serve as a topping on brats, hot dogs or burgers. Or enjoy on chips right from the bowl!
Notes
Serving size is based on 1/4 cup as a topping.
Recommended Products
As an Amazon Associate and member of other affiliate programs, I earn from qualifying purchases.
Nutrition Information:
Yield:
15
Serving Size:
1
Amount Per Serving:
Calories:

20
Total Fat:

1g
Saturated Fat:

0g
Trans Fat:

0g
Unsaturated Fat:

1g
Cholesterol:

2mg
Sodium:

50mg
Carbohydrates:

3g
Fiber:

1g
Sugar:

1g
Protein:

1g
nutrition isn't guaranteed accurate.