Rustic Harvest Stew
As an Amazon Associate and member of other affiliate programs, I earn from qualifying purchases.
This hearty stew will have you embracing the crisp fall weather. Rich flavors of Italian sausage, potatoes, sweet corn, polenta and okra will have your tummy full and satisfied.
Did you see okra up there and think "I don't know about okra." Well, let me tell you — this recipe was my first time cooking with okra, too. My family LOVED this recipe. Especially my youngest son, who couldn't get enough of this stew.
I will be honest, I really wanted to try it, but almost chickened out because of the okra. I even googled "what is a good substitute for okra" – and I finally told myself to get out of my comfort zone and just make it the way that Debra intended for me to. Who's Debra, you might ask? Well, she is the food blogger and mastermind souper-chef behind the food blog, Bowl Me Over.


Debra was my assignment for our fall edition of Freaky Friday. It's a group of food bloggers that I have organized to do a little blog swap once per season. We get our secretly assigned blog, and we get to cook/bake from it and keep it a secret until all of our recipes are revealed at the same time, and that time is NOW.
I was super excited to get Debra's blog. She is not only an absolutely darling person, she makes some really amazing dishes. Debra lives with her hubby in Fresno, California. She and I are similar in our love for family, cooking, and our pets. Debra does and online live feed once per week where she teaches your how to prepare a dish. Please take the time to pop over to her blog, and follow along with her on social media.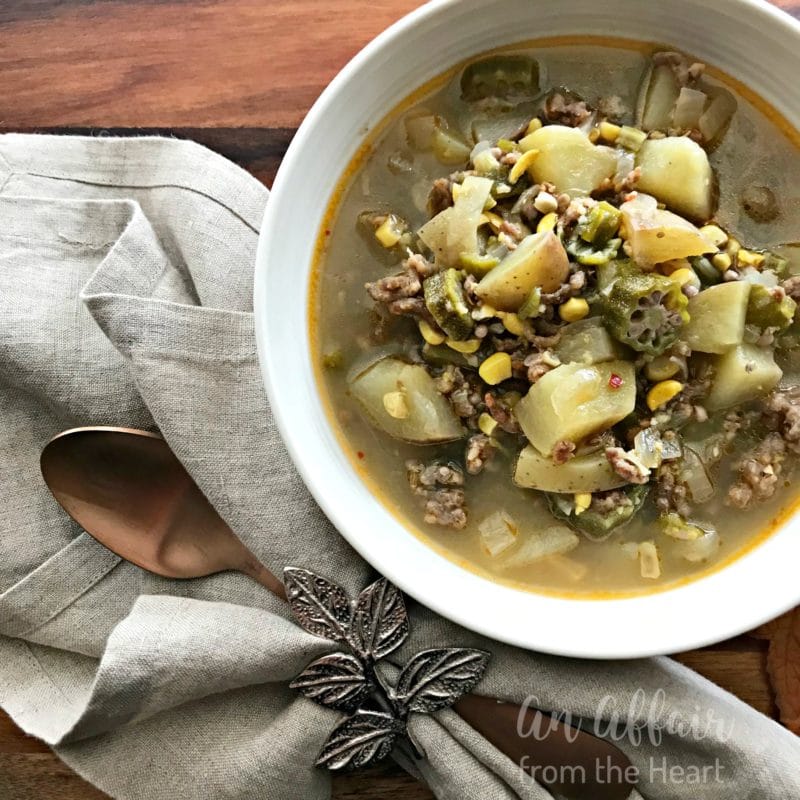 Trying to decide on a recipe from Debra's blog will most likely be your most difficult task. I know it was mine. I do my best to try ad stick to the season at hand, this being our fall round, I decided that I would pin a bunch of her salad recipes to try, but I would refrain from sharing one of them today. But JUST LOOK at this Iceberg Wedge Salad with Homemade Bleu Cheese Dressing!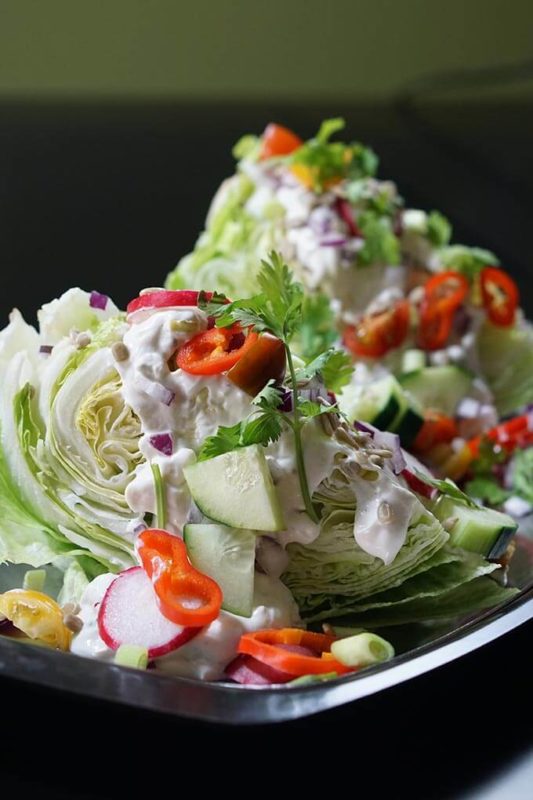 That baby is getting made FOR SURE. Of course, her array of soups and stews is huge, with a blog name like "Bowl Me Over" how couldn't it be, right? My kids are anxious for me to try her Easy Homemade Ramen Bowls. She has a large amount of breakfast recipes, like these Overnight Oats, and has a whole section on Homemade Jams. I have wanted to make her Ja Makin' Me Crazy Mango Jam since she posted it in July. (#bucketlist) I guess what I am saying is to take some time to sit and browse all of the yumminess going on over there at Bowl Me Over!
In the end, I chose this Rustic Harvest Stew, because it just screams fall, don't you think?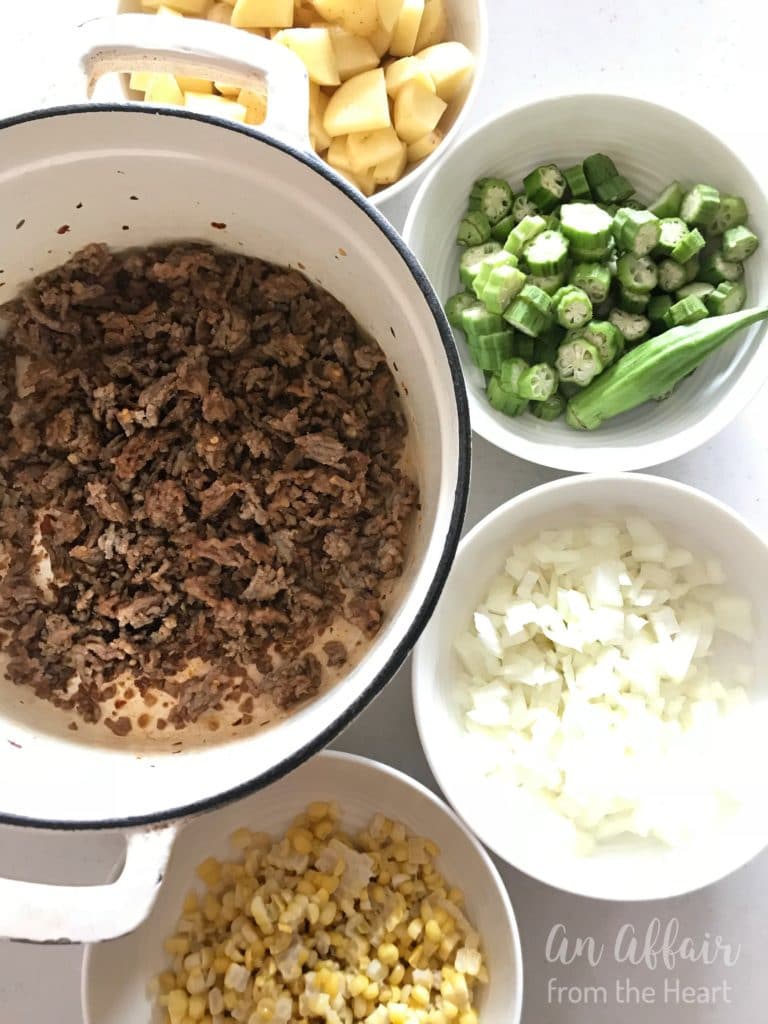 Our new recipe begins with browning some ground Italian sausage with some red pepper flakes. Drain any excess grease off and toss in some potatoes, onions, okra and garlic.
Saute for about 5 minutes, then add in corn and polenta. Mix well and season with salt and pepper. Add in the chicken stock, and give it a good stir. Cover and simmer for about 20 minutes. The stew will thicken as the potatoes cook through.
We served it up with some buttermilk biscuits and honey. They complimented the hearty stew nicely.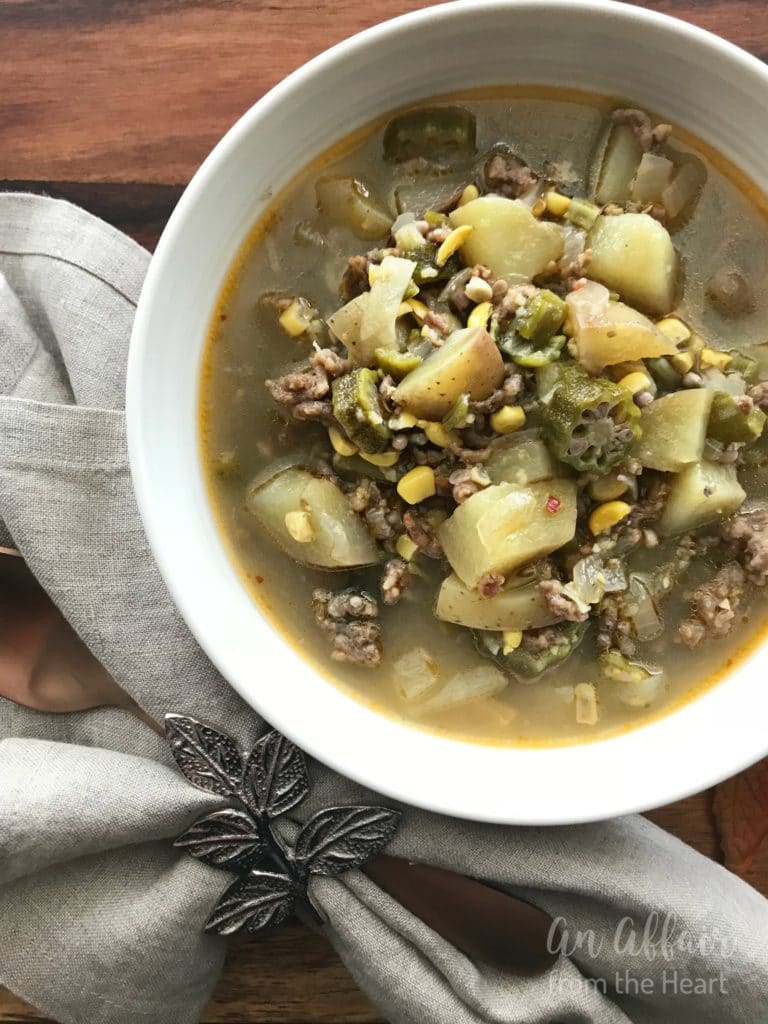 I added a bit more red pepper to my stew than Debra did. I like that bit of heat it gave the stew. This actually reminded me a lot of Olive Garden's Zuppa Tocana. One of our favorites!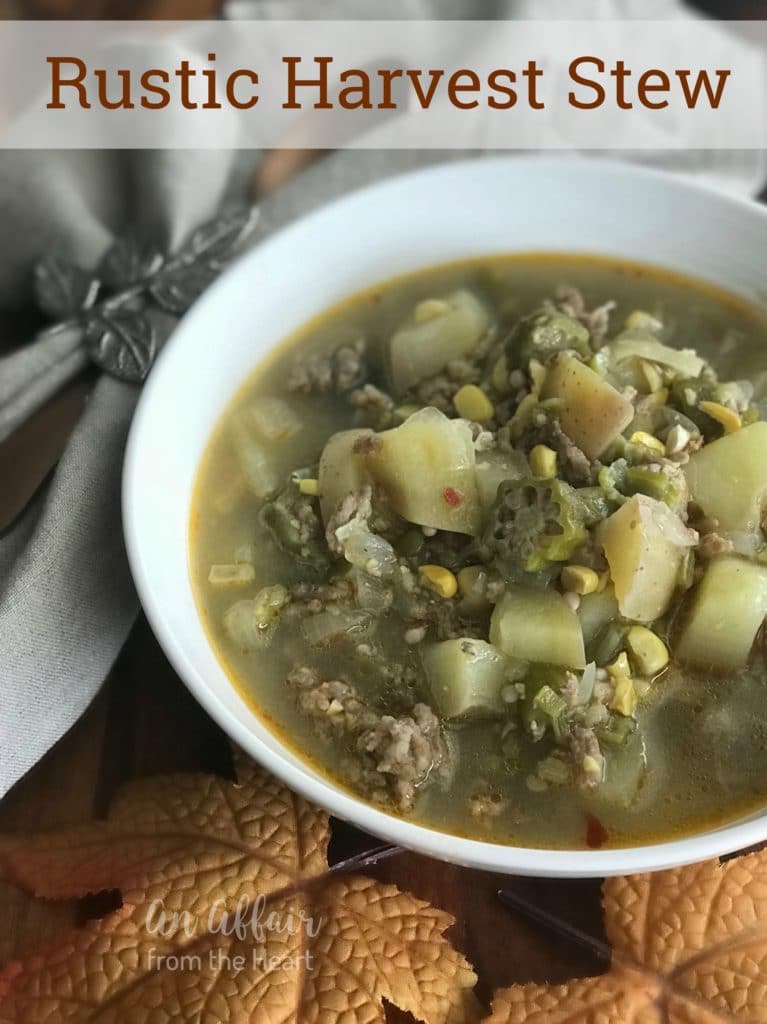 Here is a list of all of this Freaky Friday Participants and what they made for our fall round!! Please give them a visit, you might just find your new favorite recipe!!

An Affair from the Heart – Rustic Harvest Stew
Take Two Tapas – Pepperoni Pizza Packets
LeMoine Family Kitchen – Mixed Berry Muffins
Hostess at Heart – Spicy Sriracha Snack Mix
Aunt Bee's Recipes – Easy Black Bean Soup
Bowl Me Over – Spicy Thai Noodle Soup with Shrimp
Seduction in the Kitchen – Marinated Olives with Red Wine Vinaigrette
The Foodie Affair – Unstuffed Bell Pepper Casserole with Cauliflower Crumbles
Full Belly Sisters – Easy Coconut Macaroons
Who Needs A Cape? – Loaded Slow Cooker Pierogies
Lisa's dinnertime Dish – Italian Stuffed Pepper Cauliflower Rice Skillet
A Dish of Daily Life – Banana Crumb Cake with Pecans
The Devilish Dish – Slow Cooker Crack Chicken
Mildly Meandering – Apple Cake Sundae
Life Currents – Pineapple Serrano Hummus
Plattertalk – Baked Pumpkin Donuts
Pic Nic – Dark Chocolate Pecan Tart
Honey & Birch – Cranberry Jalapeno Cream Cheese Appetizer
Yield: 8 servings
Rustic Harvest Stew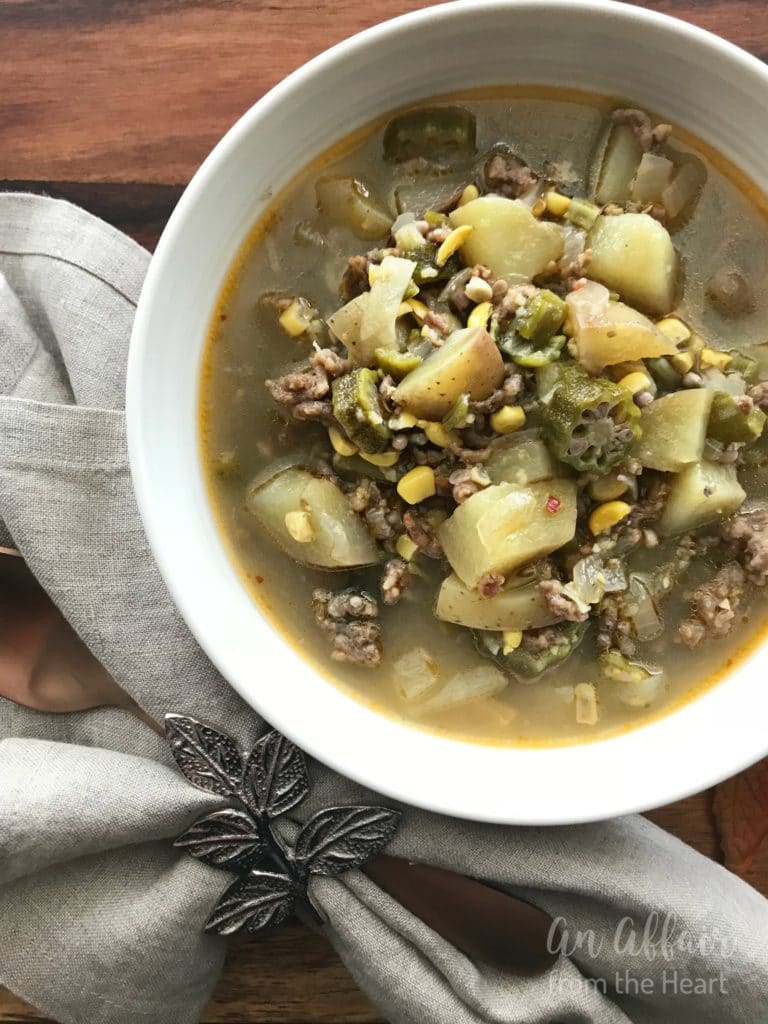 This hearty stew will have you embracing the crisp fall weather. Rich flavors of Italian sausage, potatoes, sweet corn, polenta and okra will have your tummy full and satisfied.
Ingredients
1 lb mild Italian sausage
1/2 pound okra thinly sliced
4 cups gold potatoes, skins left on, cubed
1 onion, chopped
3 cloves garlic, minced
1/4 cup polenta
1 cup frozen sweet corn
4 cups chicken stock
1 teaspoon salt
1/2 teaspoon pepper
1/2 teaspoon red pepper flakes
Instructions
Brown sausage and red pepper flakes in a large dutch oven over medium heat. Drain excess grease.
Add in the okra, garlic, potatoes & onions. Sauté for about 4 minutes and add the corn and polenta. Mix well, seasoning with the salt, and pepper.
Add the chicken stock, give it a good stir, cover it and simmer for about 20 minutes, or until potatoes are cooked through.
Notes
Nutrition Information:
Yield:
8
Serving Size:
1
Amount Per Serving:
Calories:

353
Total Fat:

18g
Saturated Fat:

6g
Trans Fat:

0g
Unsaturated Fat:

13g
Cholesterol:

37mg
Sodium:

891mg
Carbohydrates:

32g
Fiber:

3g
Sugar:

6g
Protein:

18g
Nutrition isn't always accurate.