Lemon Pepper Chicken
As an Amazon Associate and member of other affiliate programs, I earn from qualifying purchases.
This Lemon Pepper Chicken recipe is baked in the oven, a perfect easy dinner for two. Serve over rice, pasta, veggies, or whatever you like. Homemade lemon pepper seasoning is made within minutes and coats the tender chicken breasts while they bake to make sure they are filled with plenty of lemon flavor.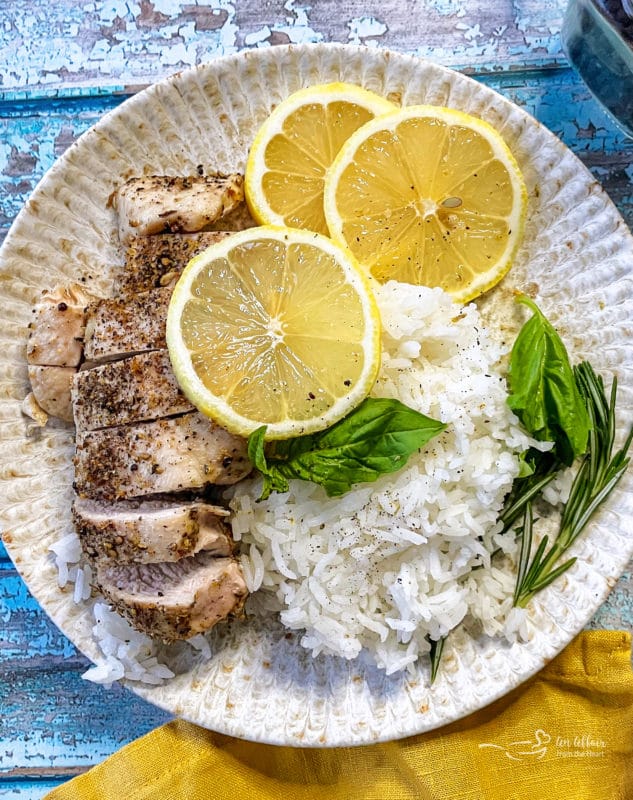 DIVE INTO THIS BAKED LEMON PEPPER CHICKEN RECIPE
Juicy chicken is covered in a bright and savory, homemade, lemon pepper seasoning that is made with fresh lemon zest and whole black peppercorns. So rich in flavor! If you know the flavors of lemon and pepper spice, then you just know that this lemon pepper chicken is going to taste spectacular: bright citrus mixed with fragrant and spicy peppercorns, mmm.
One thing I love about this easy meal for two is that it can be prepared in so many ways: grill it, cook it on the stovetop in the skillet, bake it in the oven, or cook it in the air fryer. Not only is this chicken easy to prepare, but it goes well with so many things including basic rice recipes, spaghetti squash, delicious creamy pasta, salads, and so much more. My favorite thing to pair this chicken with is my Cacio e Pepe with Mushrooms recipe whenever I'm wanting an easy pasta dish that is simply delicious, comforting, warm, healthy, and filled with protein.
Serve this healthy lemon pepper chicken for special occasions, holidays, or date nights. No special occasion? Perfectly fine because this simple chicken breast recipe is ideal for any occasion including those relaxed evenings at home whenever you want dinner prepared in a few simple steps.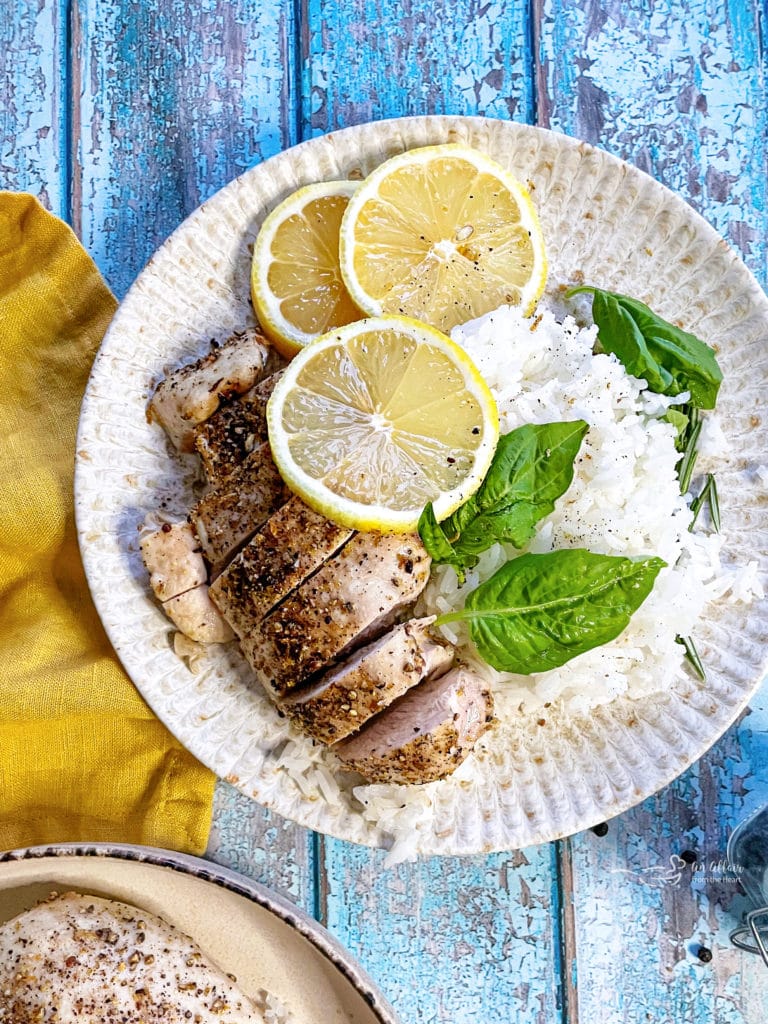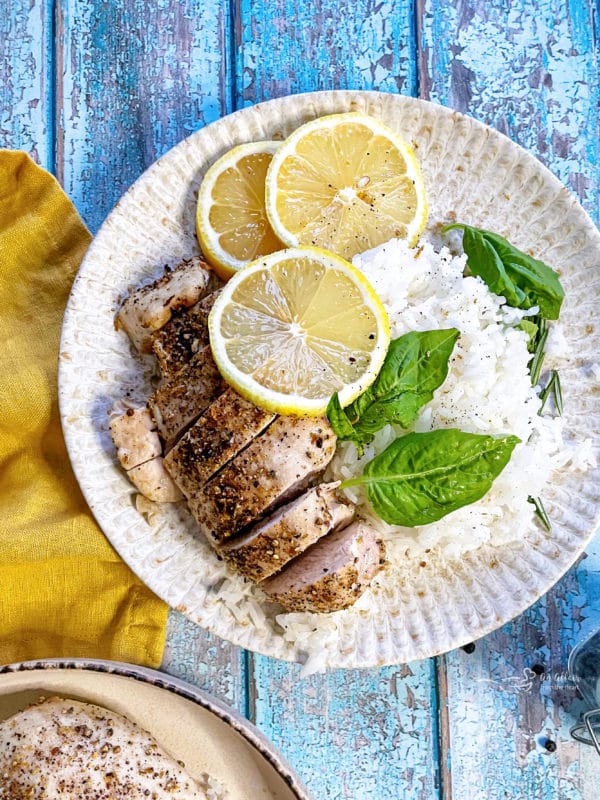 Recipes for Two
This Lemon Pepper Chicken recipe with homemade lemon pepper seasoning is the 2nd in a series I am working on with recipes for two people. My husband and I are "empty nesters" for the first time in 27 years, and I am learning how to scale my cooking back, and taking you along for the journey!
There will be main dish meals, side dishes, and desserts coming throughout the year, and I am super excited to share them all with you – so stay tuned!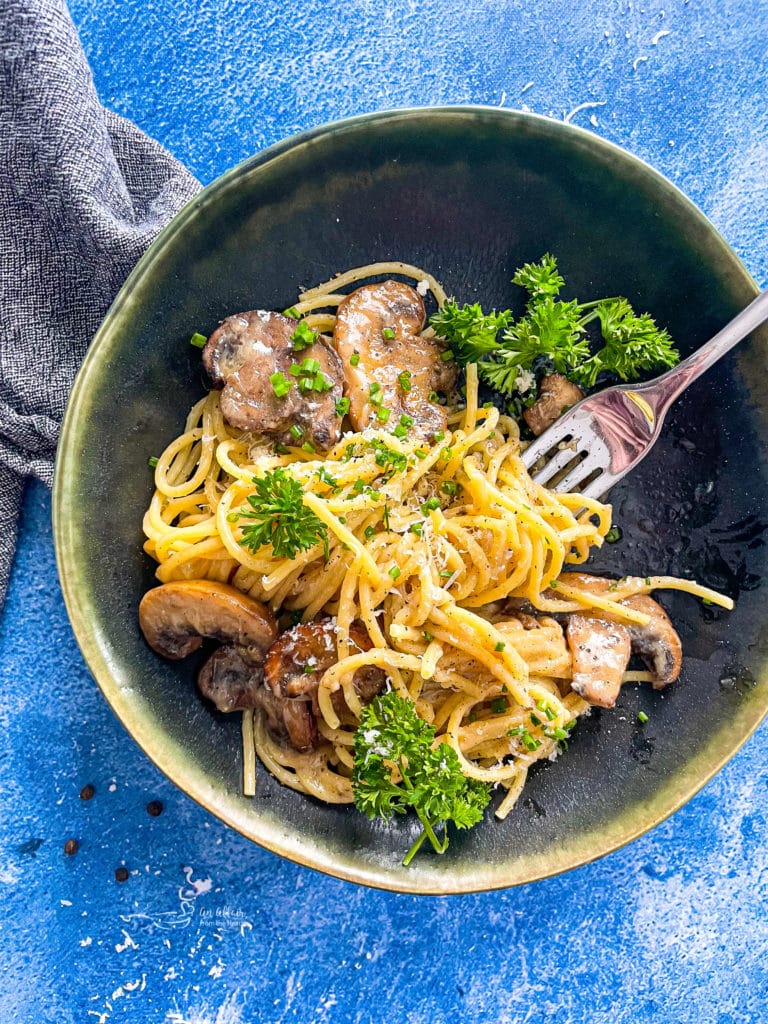 Cacio e Pepe for Two – another delicious meal in our recipes for two series.
WHY THIS RECIPE WORKS SO WELL
Filled with a Ton of Flavor: Fresh lemon and peppercorns allow this chicken breast to become extra flavorful and filled with citrus elements.
Simple to Make & Versatile: Simply bake the lemon zest, coat the chicken, and bake the chicken in the oven until done! That's it. This recipe is super easy and perfect for almost any cooking level. Did I mention this chicken is perfect for grilling out on the grill for BBQs, too?
Perfect for Two: This recipe makes just the right amount of food for two people enjoying lunch or dinner at home. You don't have to worry about a whole bunch of food to waste with this meal!
Meal Prep Recipe: It's also a fantastic meal prep recipe idea. Toss the chicken on top of salads, inside wraps, or on sandwiches for lunch.
Delicious with Pasta: Mmm get creative with your favorite type of simple pasta recipes to get your yummy serving of protein and carbs to keep you warm and full!
Healthy: Lean chicken breasts are a healthy source of fat and lean protein that can be dressed almost any way. You can serve this chicken with lemon pepper with all sorts of healthy ingredients like fresh broccoli, potatoes, corn, green beans, atop salads, and more.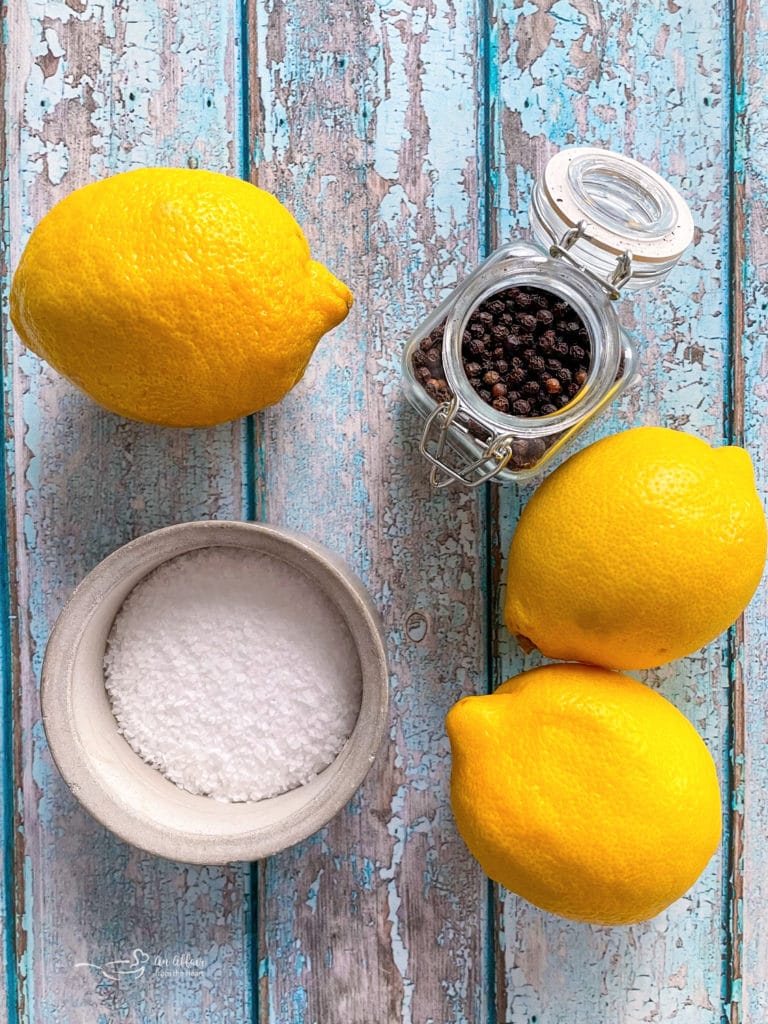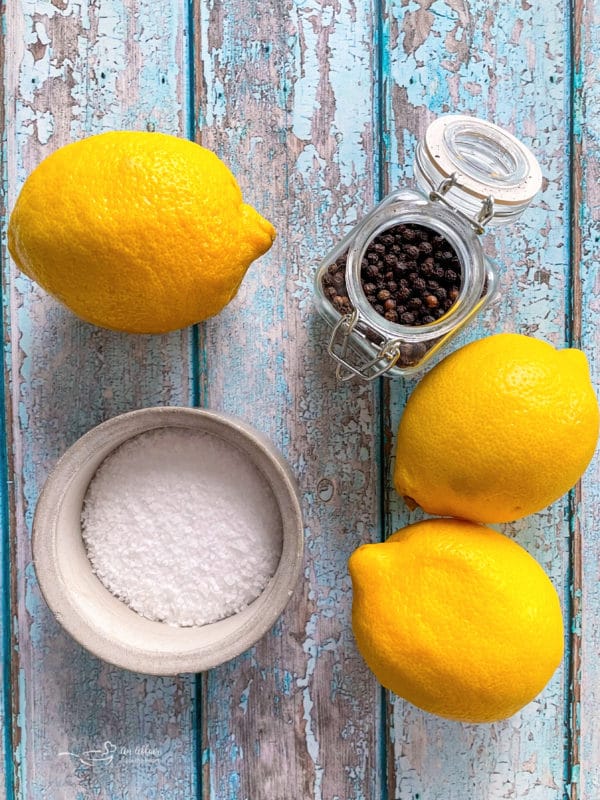 INGREDIENTS FOR EASY LEMON CHICKEN BREASTS
Lemon: Freshly grated lemon zest is used to create the lemon pepper spice seasoning for this chicken breast recipe. Isn't that so easy and creative?!
Black Peppercorns: Whole black peppercorns are freshly cracked for the best fresh flavors to mix with the grated lemon to create the pepper base to coat the chicken with.
Salt: Simple sea or table salt for this recipe will work!
Chicken Breasts: Boneless chicken breasts are used for this recipe because they are easy to cook, tender with juicy flavors, and easy to serve for a meal whenever you're short on time.
Olive Oil: Silky aromatic olive oil is great for this chicken especially when you use a higher quality olive oil, but any kind of vegetable cooking oil will be okay!

HOW TO MAKE PEPPER CHICKEN WITH LEMON ZEST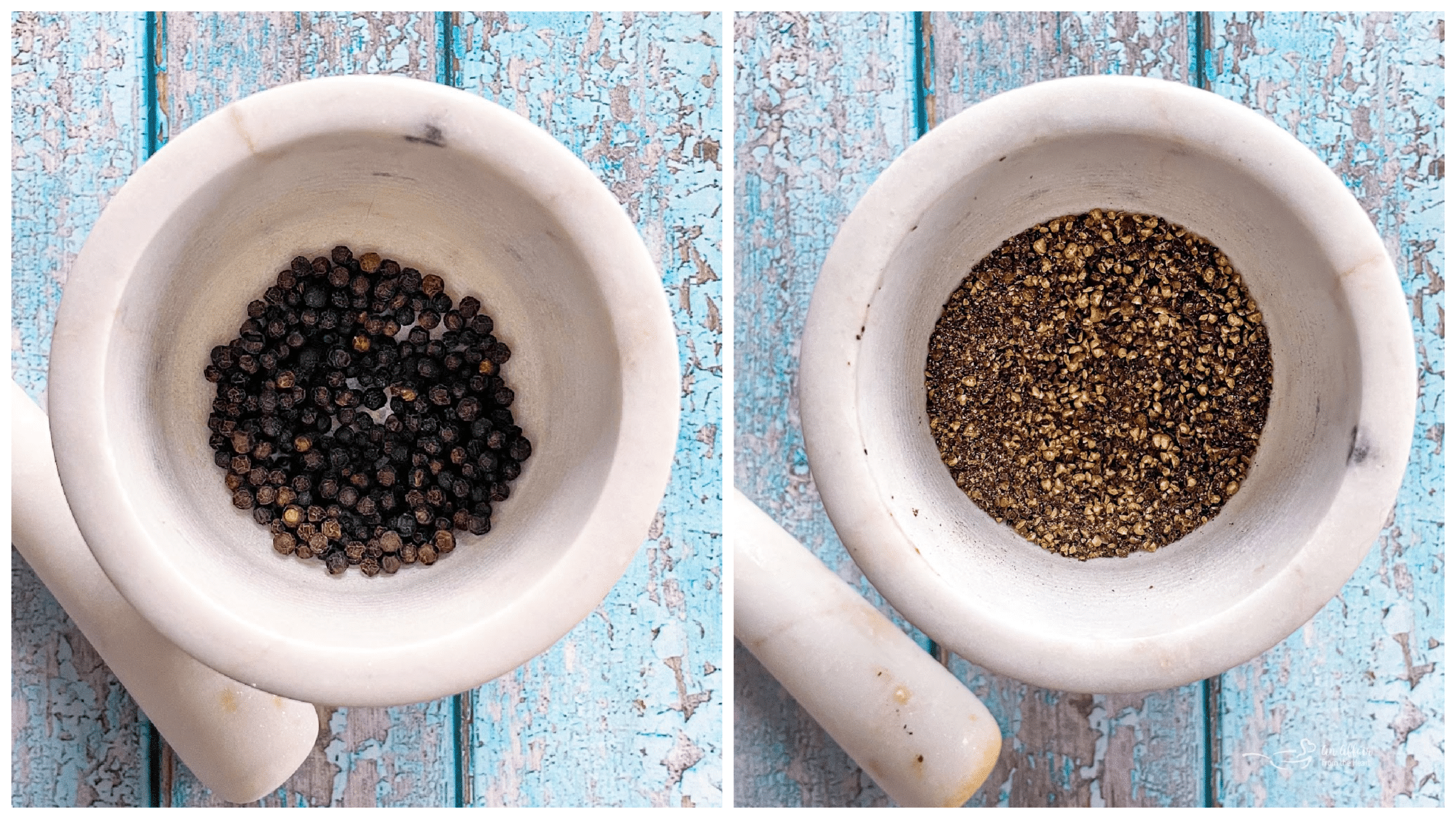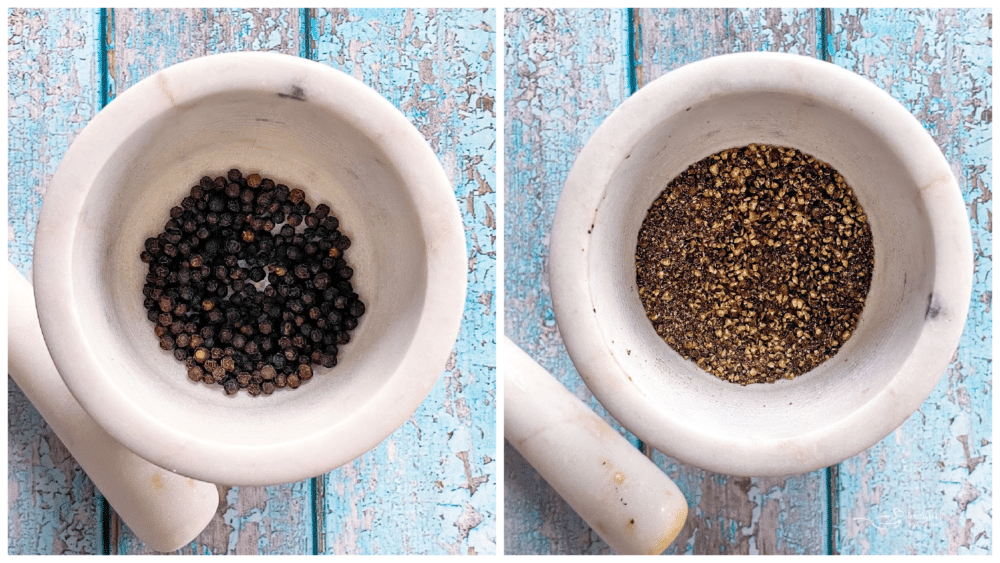 HOW TO MAKE HOMEMADE LEMON PEPPER SEASONING
First, you will want to prepare the homemade pepper seasoning that you can use for seriously ANYTHING. Make sure you have plenty of time for this step because it takes the longest.
Preheat the oven to the lowest setting, 170 degrees Fahrenheit, so the lemon zest cooks slowly and does not burn. Next, place an even layer of parchment paper down on a baking sheet so the lemon seasoning is easy to get off the pan.
Place the freshly grated lemon zest in an even layer onto the parchment paper making sure there are not any clumps of zest. If there are clumps of zest left while it bakes, then the zest will remain moist and not be dry the way it needs to be.
Once the lemon zest is on the baking sheet, then place the whole black peppercorns onto a different area of the pan that is not touching the lemon. Roast the lemon zest and peppercorns in the preheated oven for no more than forty minutes or until the lemon zest starts to deepen in color, dehydrate, and become extra fragrant.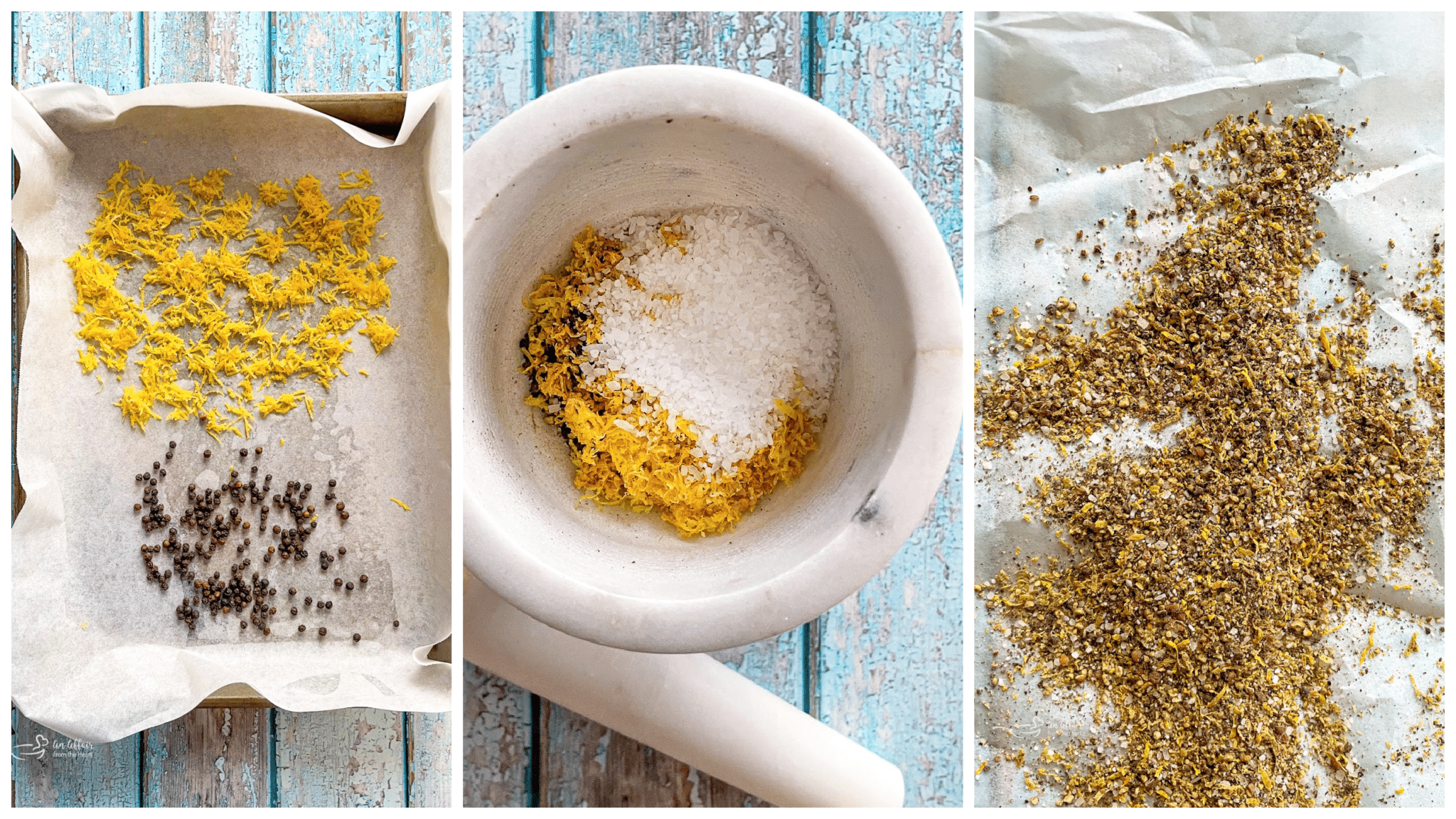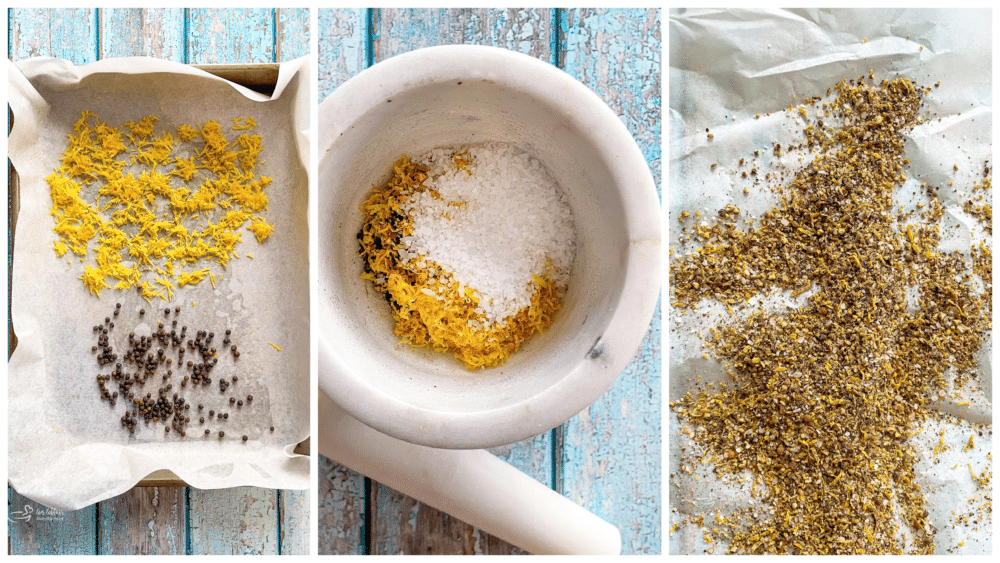 Finally, once the lemon pepper seasoning is dry and finished, carefully remove it from the oven and transfer the peppercorns and lemon to a food processor or blender to be grated into the seasoning. Once the peppercorns are blended, then you will add the dried lemon zest in addition to some salt to blend everything together into the seasoning.
MAKE THE CHICKEN

Now you can get started on the chicken part! Pull your chicken breasts out and make sure they are ready to be cooked.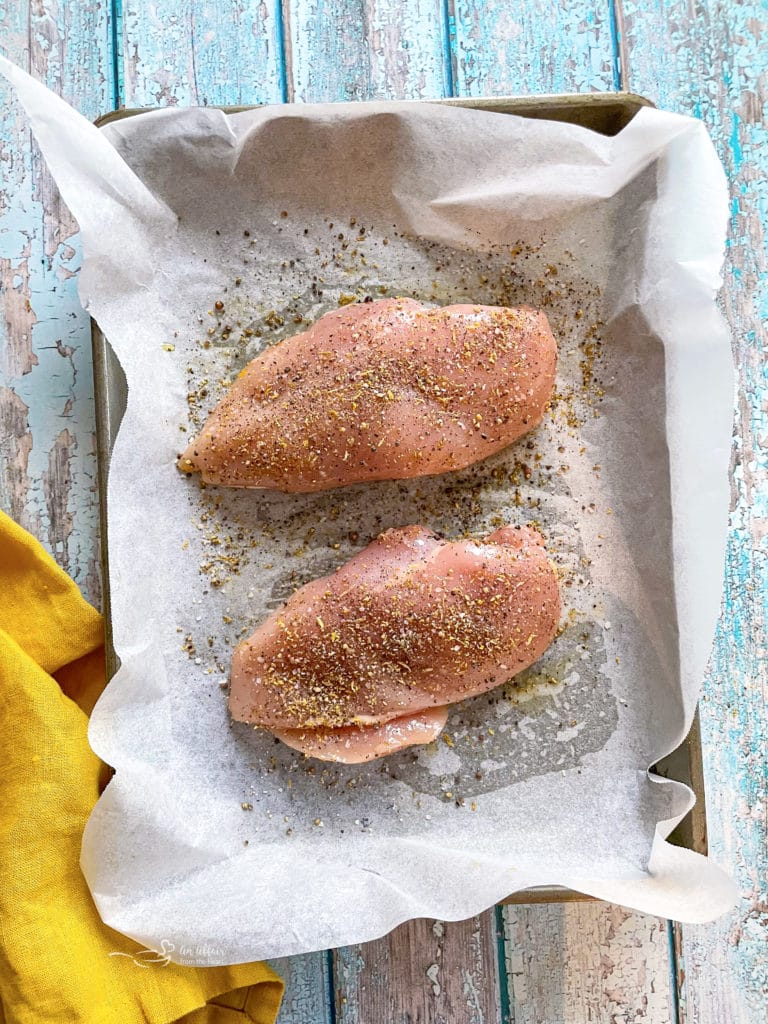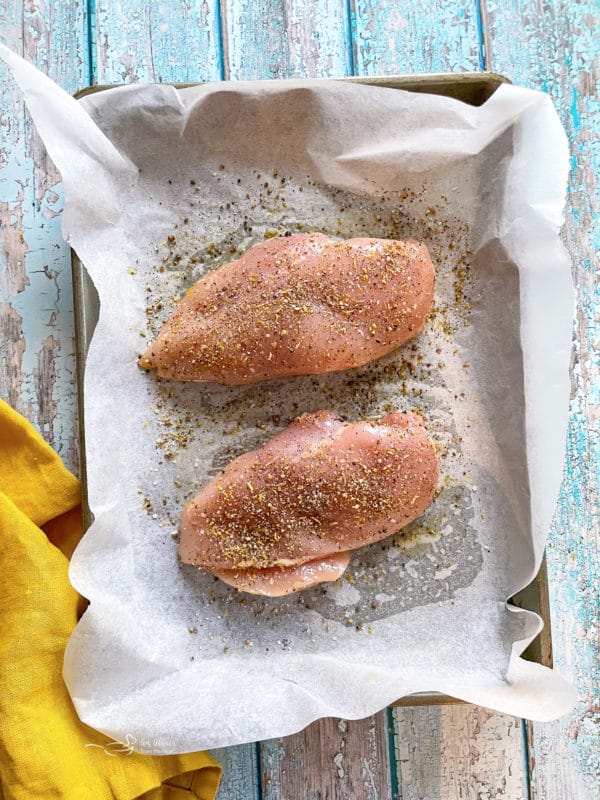 Preheat the oven to 400 degrees Fahrenheit. Secondly, brush the chicken breasts with a basting brush with oil until covered so the lemon pepper spice mix can stick to the chicken.
Cover the chicken with the lemon zest seasoning making sure to cover the entire surface so the chicken will be filled with yummy peppercorn and lemon flavors.
Place the chicken breasts into a baking dish and bake the chicken in the preheated oven, uncovered, for at least twenty to thirty minutes until the chicken is fully cooked around 164-165 degrees Fahrenheit.
Finally, remove the cooked chicken breasts from the oven and allow the chicken to rest for at least ten minutes prior to slicing to make sure the chicken breasts absorb all the juices and lemon flavors.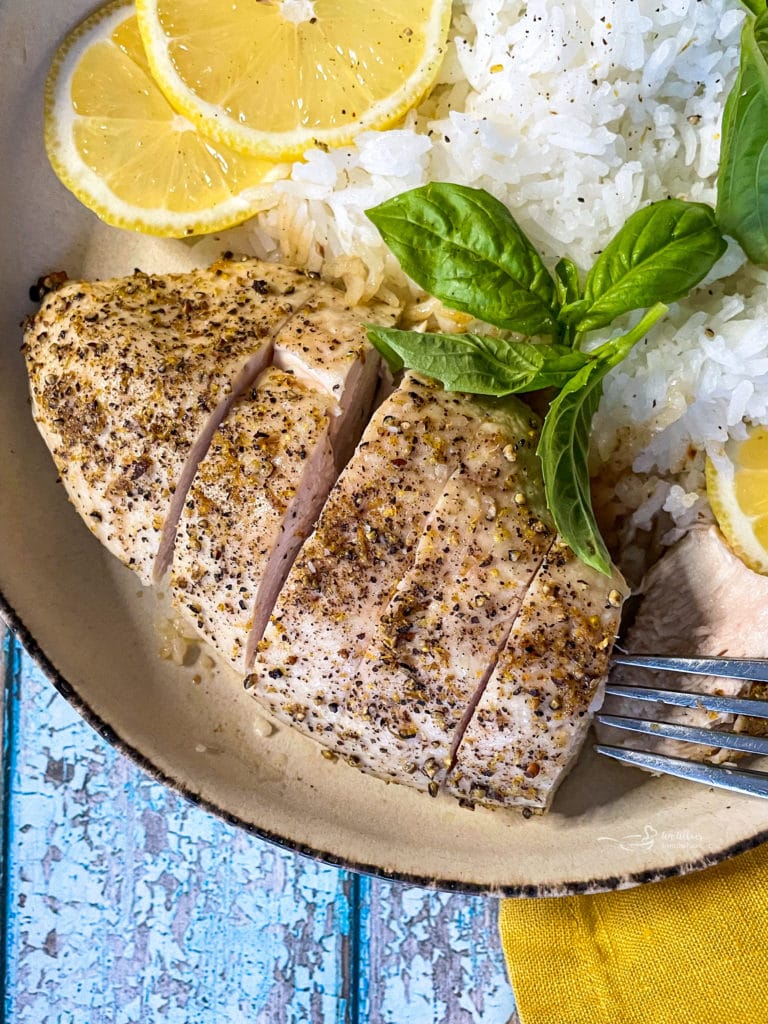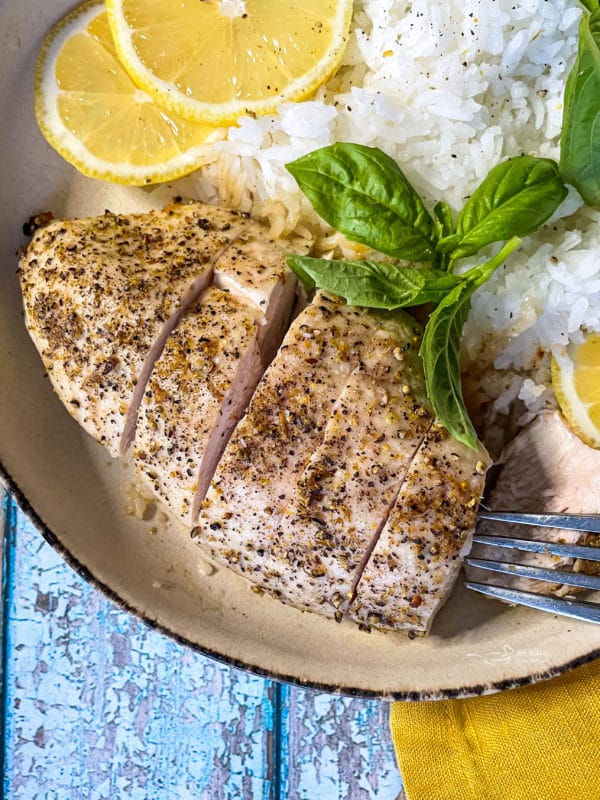 Serve with fresh lemon slices or fresh herbs like basil or rosemary!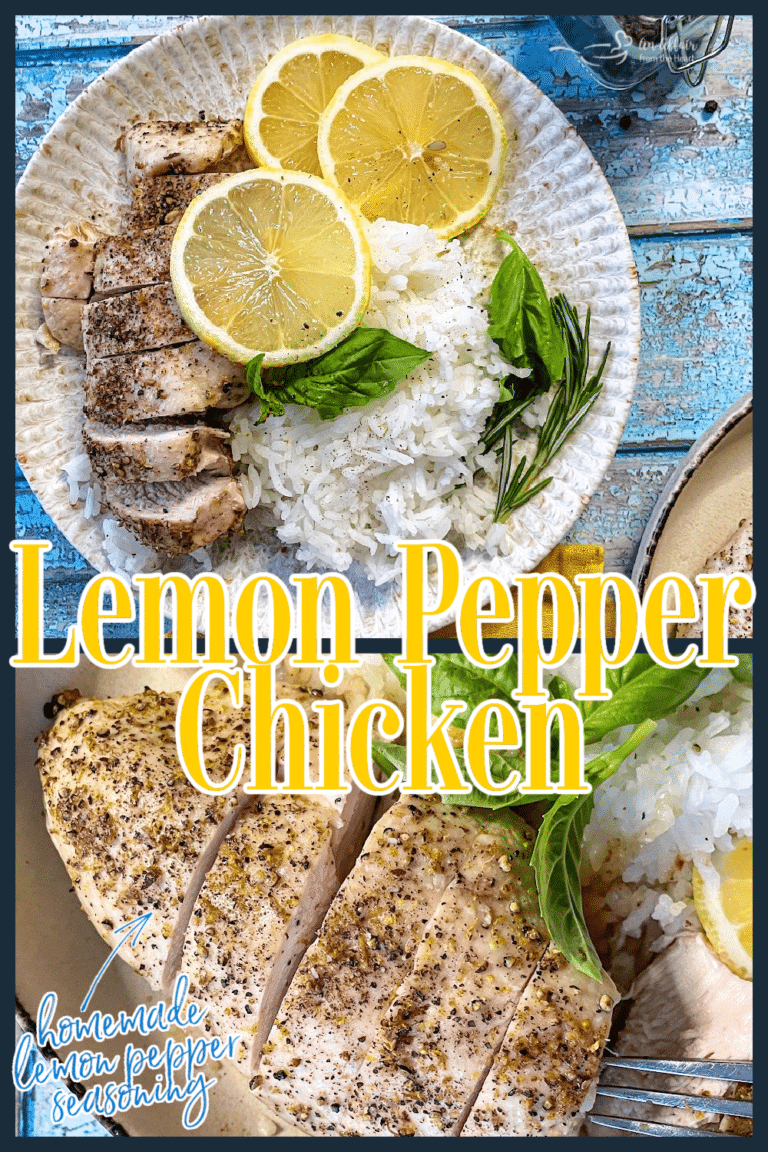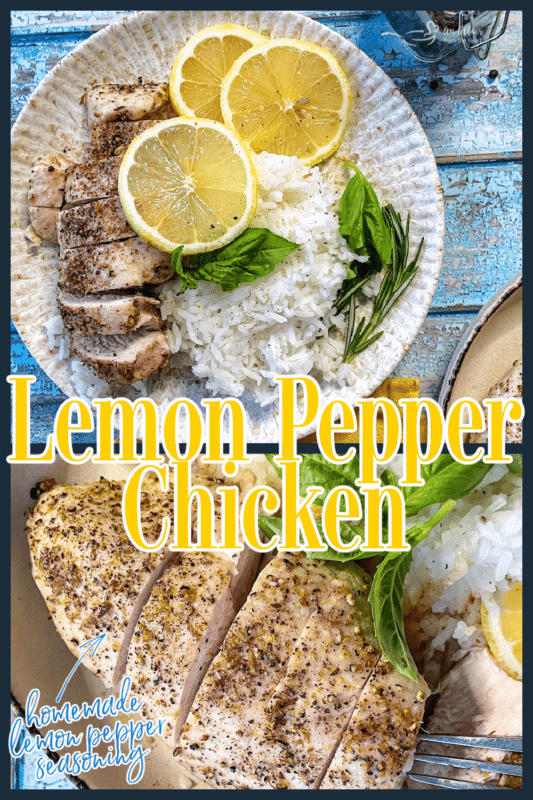 LOVE THIS TENDER LEMON PEPPER CHICKEN FOR TWO? SAVE IT TO PINTEREST!
If you're looking for extra ideas and kitchen inspiration when it comes to preparing dinner for just yourself or the two of you–then be sure to save this easy chicken breast recipe to your Dinner board on Pinterest to make sure you'll be able to easily get to this recipe for next time!
TIPS, SUBSTITUTIONS, VARIATIONS
If you have any leftovers, then be sure to refrigerate them in an airtight container in the refrigerator for at least one month.
Store the leftover lemon pepper seasoning in an airtight jar in a dry place. The homemade pepper mix should stay fresh for at least a week.
Switch things up and use lime instead of lemon!
Make your favorite Wing Stop-style lemon pepper chicken wings by using this easy spice mix at home. Coat some chicken wings in this pepper mix and you'll have crispy wings in no time!
Grill juicy chicken thighs on the grill with this seasoning or roast an entire chicken in the oven with this fresh lemon pepper blend.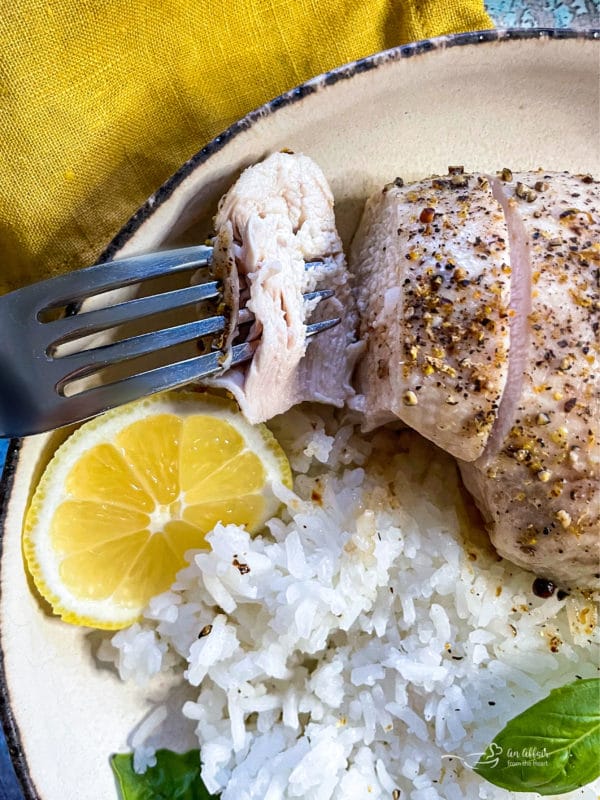 WHAT TO SERVE WITH THIS BONELESS SKINLESS CHICKEN BREAST RECIPE
Serve this healthy lemon pepper chicken with an array of yummy pasta, side dishes, veggies, and salads including
Mushroom Florentine Pasta with Chicken
Lemon Basil Pasta
New Potatoes and Peas
Grilled Chicken Waldorf Salad
Broccoli Stuffed Mushrooms
Mom's Broccoli, Rice, and Cheese Casserole
For dessert try my Lemon Brownies or this Lemon Raspberry Bread!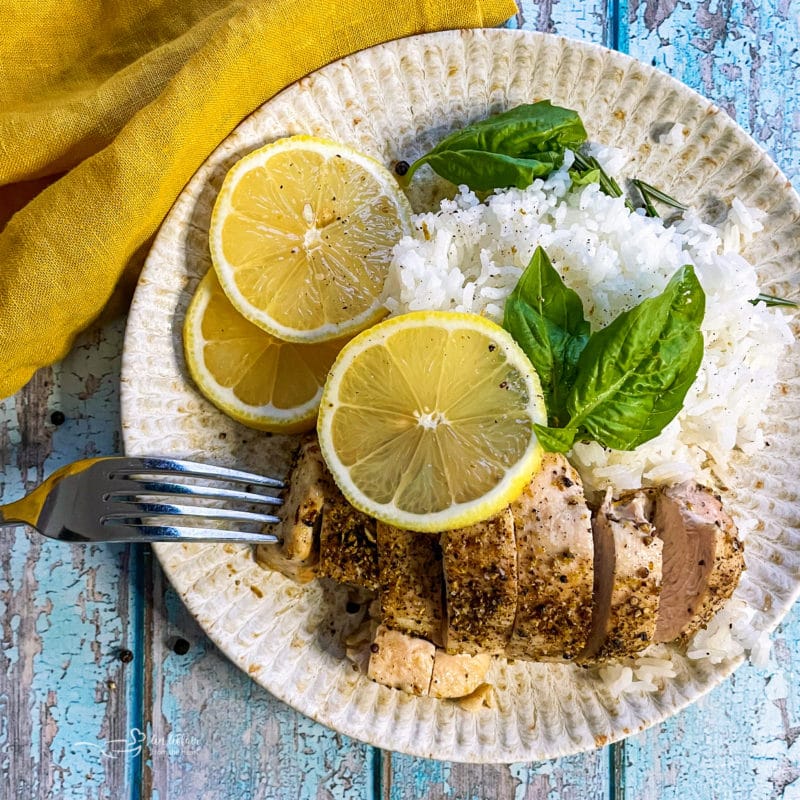 OTHER DELICIOUS CHICKEN RECIPES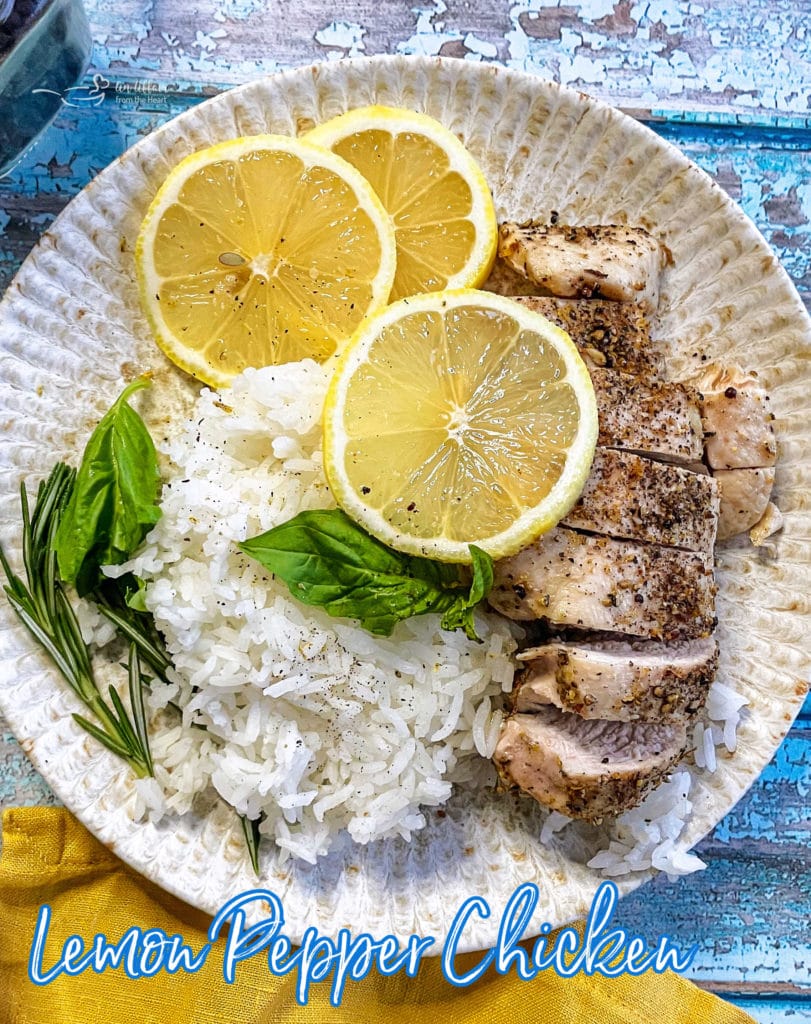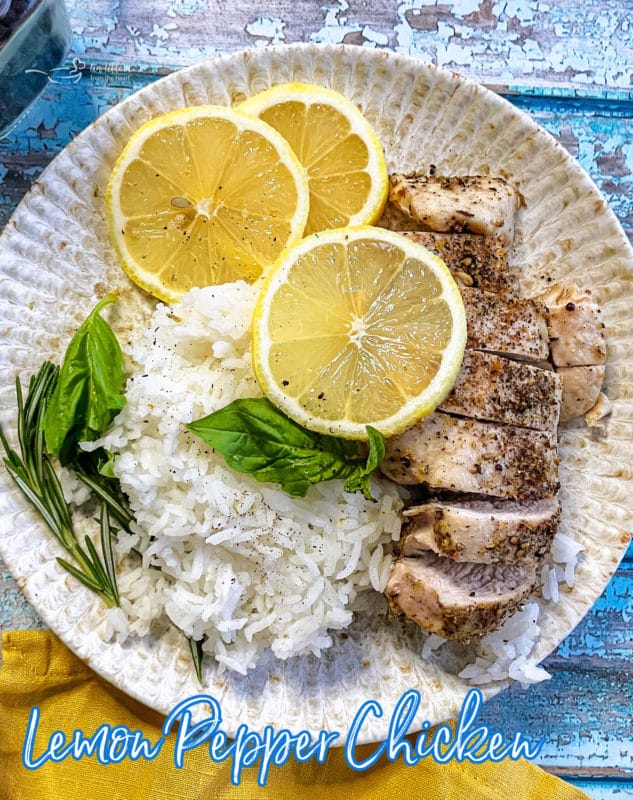 Let's make some Lemon Pepper Chicken!

Yield: 2
Lemon Pepper Chicken
Ingredients
For the Lemon Pepper:
¼ cup lemon zest (about 2-3 lemons)
1 Tablespoon black peppercorns
½ Tablespoon kosher salt
For the Chicken:
2 chicken breasts
1 Tablespoon Olive oil
Lemon Pepper Seasoning
Instructions
To prepare the lemon pepper seasoning: Preheat the oven to the lowest setting. (170 degrees F) Line a cookie sheet with parchment paper. Spread the lemon zest onto one section of the prepared baking sheet in an even layer, taking care there aren't any clumps. Place the peppercorns on the sheet in another section, keeping them separated from the lemon. Bake until the lemon is completely dry. Approximately 30-40 minutes. You will be able to tell because the color will deepen and it will be crunchy, not soft.
Transfer the peppercorns to a small food processor or spice grinder. Pulse them until they are finely ground. Add in the dried lemon zest and salt and give a quick pulse to combine everything.
To prepare the chicken: Preheat the oven to 400 degrees F.
Brush the outsides of the chicken breasts with olive oil and sprinkle with the lemon pepper.
Place in a baking dish and bake uncovered for 20-30 minutes, depending on the size of the chicken breasts. (internal temp of 165 degrees F)
Let chicken rest for about 10 minutes before slicing and serving.
Serve with additional fresh lemon slices, fresh basil or rosemary for added flavor, if desired.
Nutrition Information:
Yield:
2
Serving Size:
1
Amount Per Serving:
Calories:

284
Total Fat:

11g
Saturated Fat:

2g
Trans Fat:

0g
Unsaturated Fat:

8g
Cholesterol:

102mg
Sodium:

1142mg
Carbohydrates:

8g
Fiber:

3g
Sugar:

2g
Protein:

38g
Please note that nutrition is not guaranteed accurate.