This Potatoes Au Gratin recipe is made with a cheesy creamy sauce, golden and sweet potatoes that are thinly sliced, diced onion, and savory crisp bacon! Every bite of this holiday side dish will have you begging for more. Quick, easy, and perfect for whenever you are craving the best potatoes au gratin! This homemade potato recipe from scratch is one of the best classic recipes out there!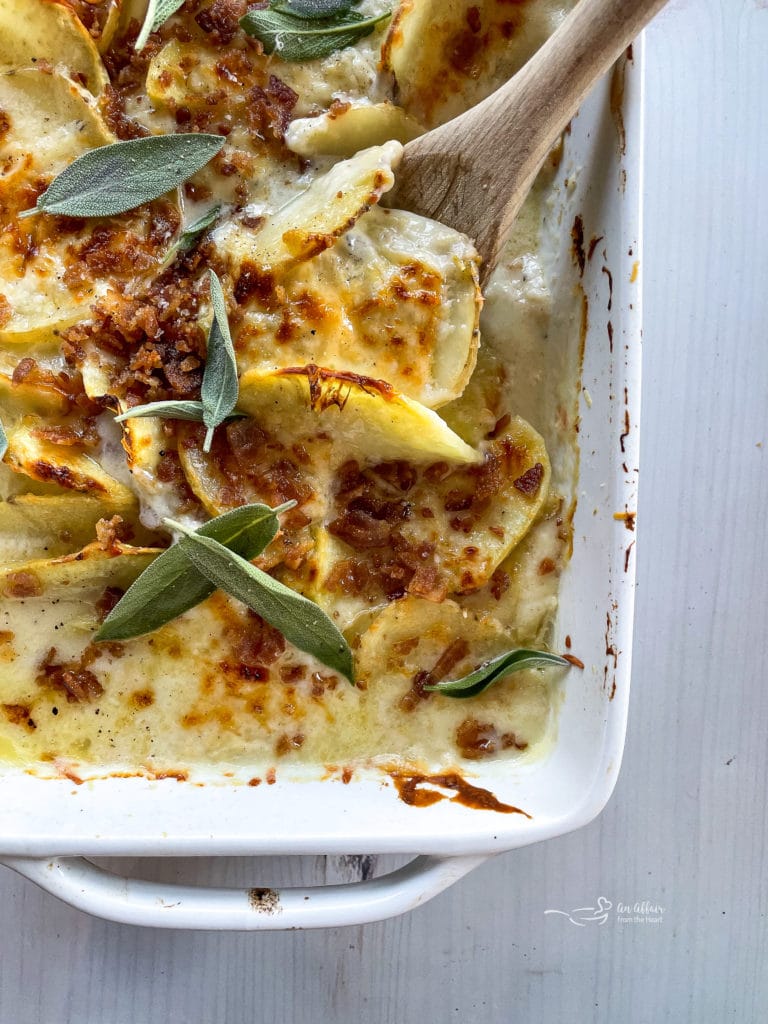 It's officially November, and that means the holidays are right around the corner. This Potatoes Au Gratin recipe will make the perfect side dish for whatever you are serving! Some people will even tell you that their favorite part of any holiday meal is the side dishes! Are you one of those people?
Well, if you are like me, and a huge fan of potatoes, and all about the sides, you are going to love this recipe and this recipe series this week! It's all about the #HolidaySideDishes and I am kicking the week off with this potato casserole.

Easy Sweet Potatoes Au Gratin from Scratch
Warm, savory, and made with cheesy flavors of asiago and parmesan cheeses, this homemade potato au gratin recipe is a winner for whenever you are looking for the perfect addition to your main course or protein. Family-friendly, easy, and full of comfort, these potatoes are made with both sweet and golden potatoes for the best of both worlds.
The potatoes are baked to perfection and topped with crispy bacon that makes this recipe even more delicious. The kids will love these potatoes! Serve this easy side dish for Thanksgiving, Christmas, Easter–you name it! This recipe goes with pretty much anything and any kind of food. These au gratin potatoes are similar to scalloped potatoes but way better!

Why This Homemade Recipe is the Best
Easy: These potatoes are so easy and transferred to a baking dish for an even easier way to dig in! This recipe is ideal for whenever you want a recipe from scratch that is simple to prepare with straightforward steps.
Full of Flavor: The combination of garlic, butter, bacon, and soft potatoes creates a bundle of flavors that will definitely leave an impression! What is better than two different types of cheeses baked flawlessly?
Versatile: Use only one kind of potato or use a variety! This recipe is also super easy to make dairy-free! Just use dairy-free milk and butter and leave the cheese off or use your favorite dairy-free cheese.
Family-Friendly: This comforting recipe is ideal for kids, adults, and in between! The creamy sauce coats the potatoes and ANYONE will love these potatoes au gratin.
How do you soften Potatoes for Au Gratin?
You don't have to worry about softening the potatoes for this recipe because they soak up all the delicious creamy flavors of this milk and cheeses which makes them tender, cheesy, and easy to bite into.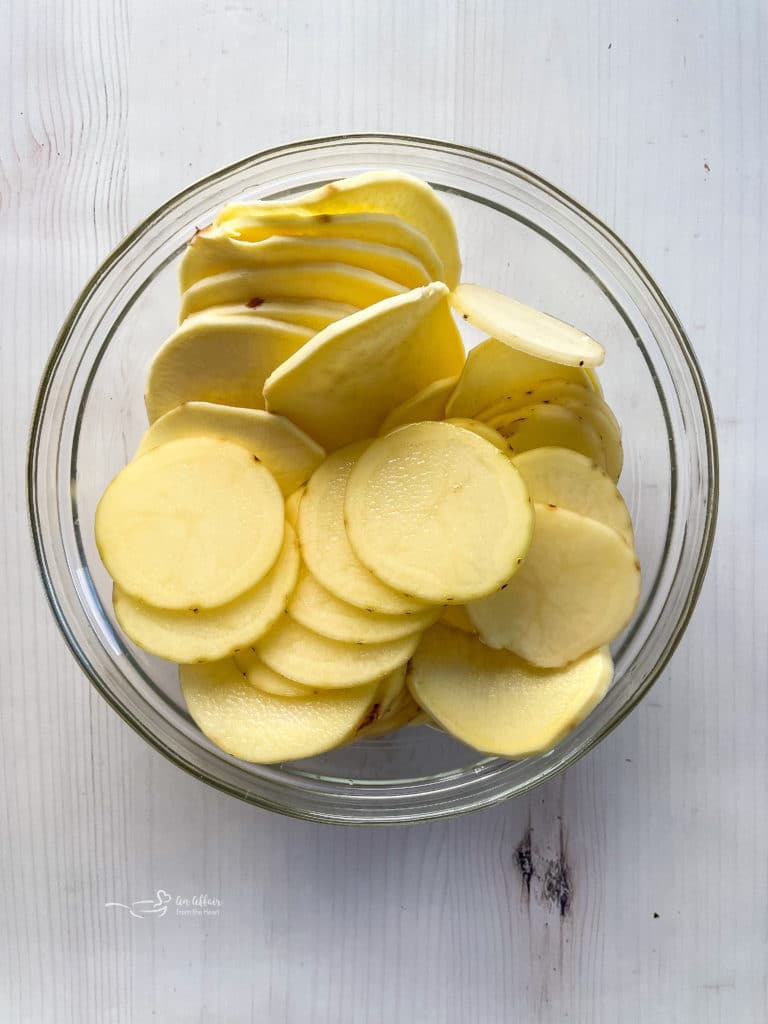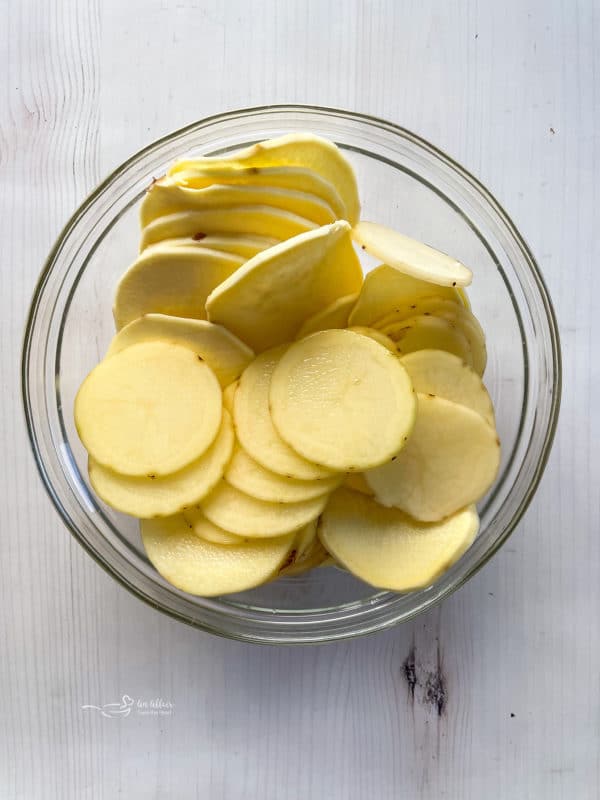 What is the Difference Between Potatoes Au Gratin and Scalloped Potatoes?
Although the difference is very small, there is one! Potatoes au gratin is cooked with cheeses in addition to a creamy sauce and scalloped potatoes are usually prepared with a sauce without cheese! Both forms of recipes use thinly sliced or "scalloped" potatoes.
Is Potato Dauphinoise the Same as Potatoes Au Gratin?
Potato dauphinoise and potatoes au gratin are very similar and prepared in the gratin French style. Both potato recipes are prepared with cream and cheeses can be cooked using either raw or cooked potatoes.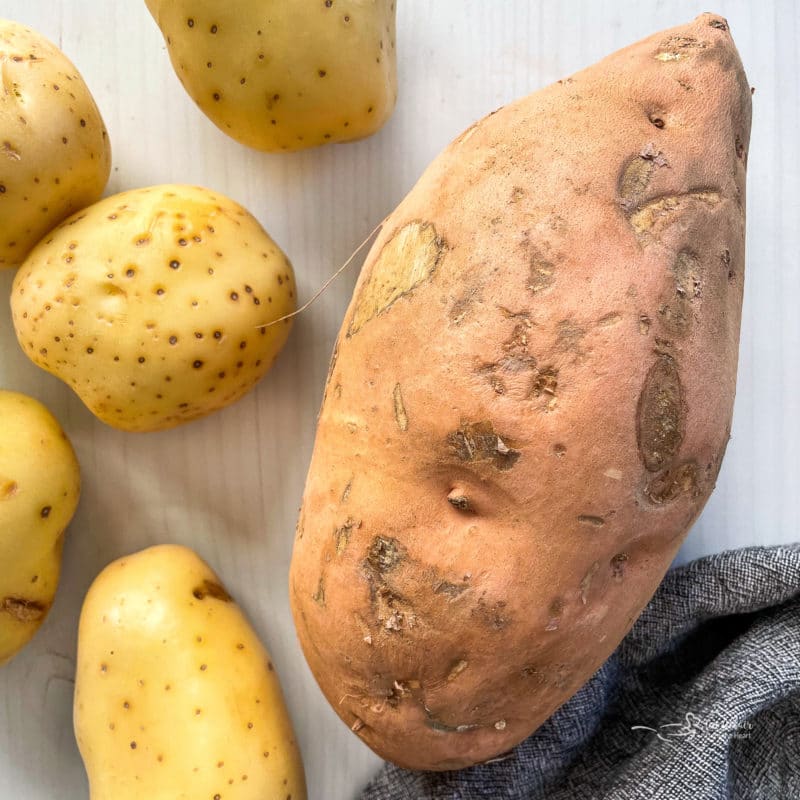 This recipe uses two kinds of potatoes, gold and sweet potatoes make it extra tasty!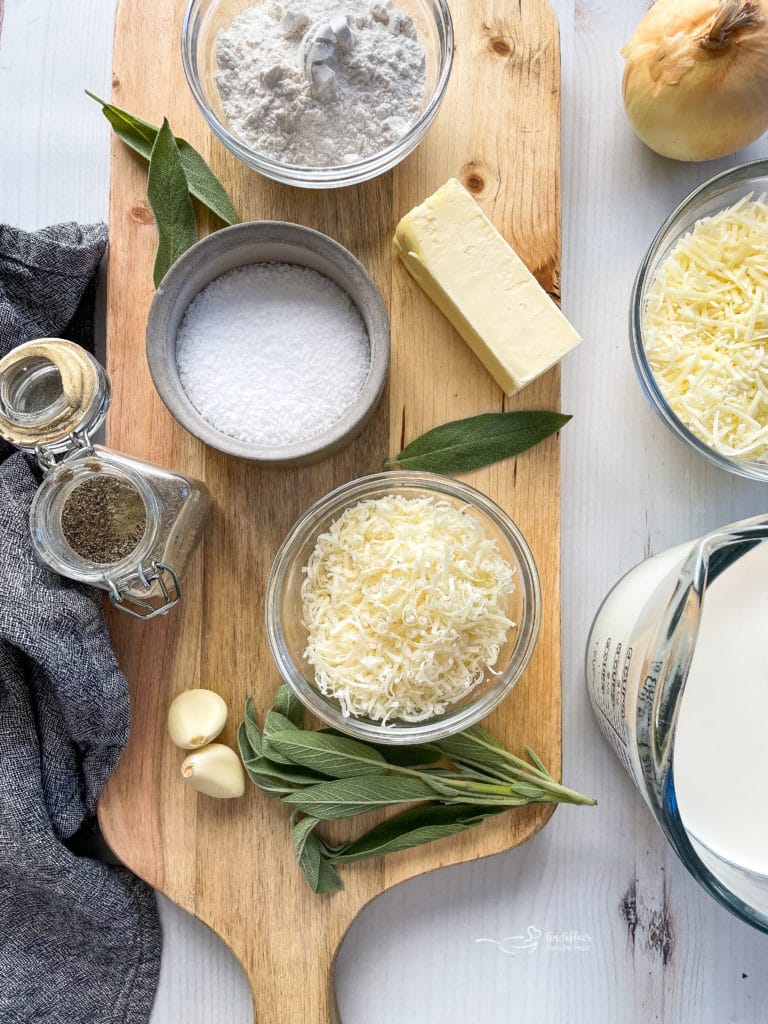 Ingredients
This recipe is made of yummy ingredients that make this potato au gratin one of the tastiest potato recipes out there!
Nonstick Cooking Spray– Use your choice of nonstick cooking spray to grease the casserole dish so the potatoes and cheese do not stick!
Onion– Either white or yellow onion will work for these potatoes! I've used both. Chop your onion ahead of time to save on prep work.
Garlic– I like to use freshly minced garlic because it is bold in flavor and super fresh. If you do not have access to fresh garlic, you can use ground garlic!
Butter– Unsalted or salted butter allows the sauce to be creamy and buttery. Butter and potatoes are the best combinations!
Salt and Pepper– You will need some salt and pepper to season this recipe to your preference.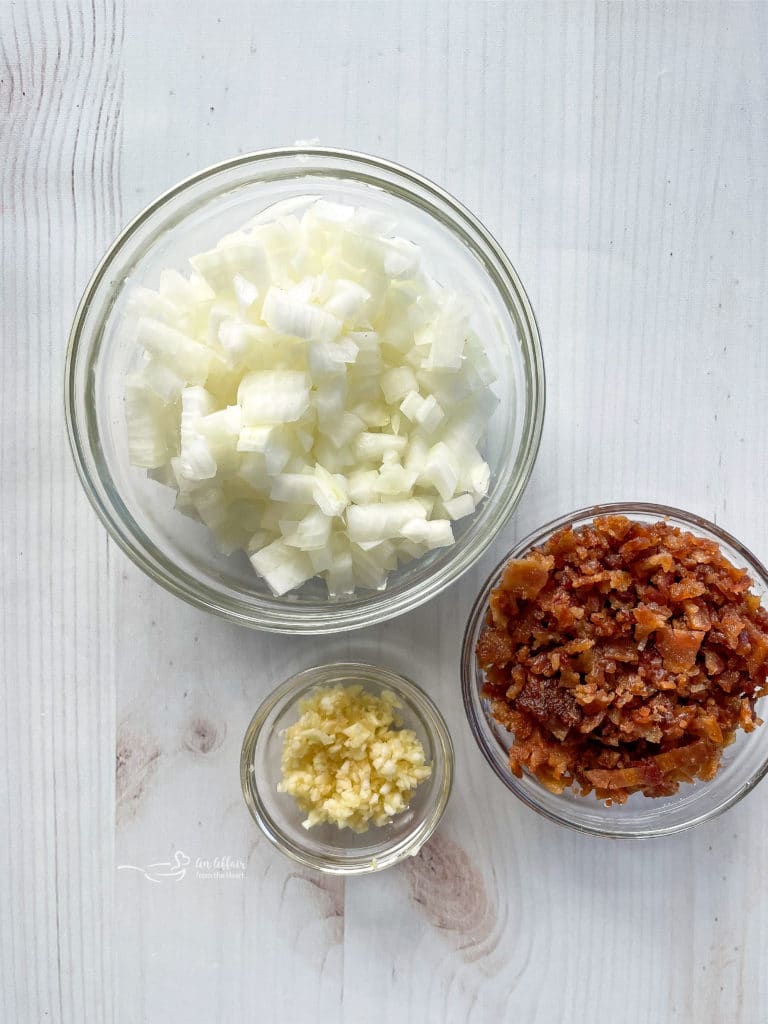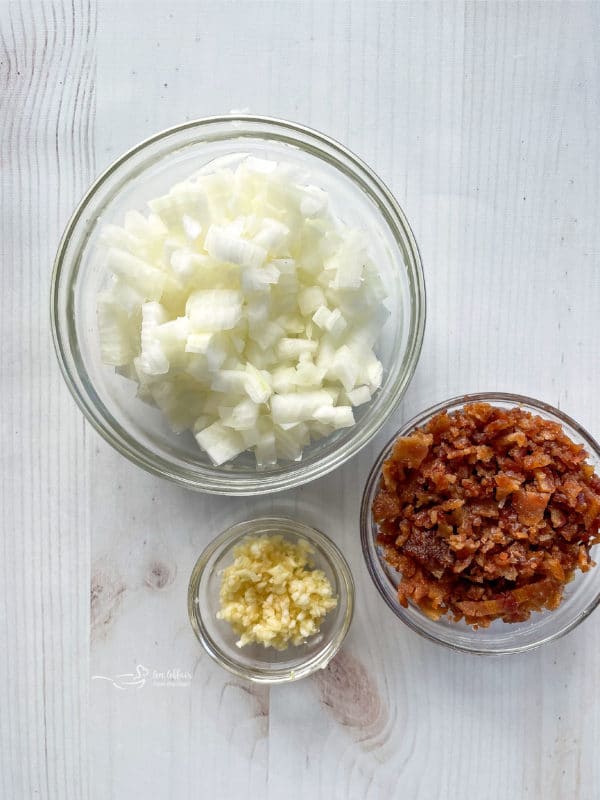 Flour– All-purpose flour is used to create the savory sauce that coats the potatoes. Use 1:1 gluten-free flour for a gluten-free potatoes au gratin recipe!
Milk– Dairy milk allows the sauce to be extra creamy and smooth. You can use full-fat, 2%, or any kind of milk!
Potatoes– Both sweet and golden potatoes are used to keep this recipe special. You will want to peel the sweet potatoes, but you can leave the skins on the golden potatoes since they are so tender.
Cheese– Parmesan and asiago cheeses are what I used to make this recipe extra rich in cheesiness. Grate your own cheese to extra flavor.
Bacon– Crispy-cooked bacon brings these potatoes to another level that gives this au gratin recipe extra crunch and savoriness.
How to Make This Recipe
You will keep coming back to this homemade recipe because it is so EASY to make! So don't wait for the holidays to prepare it, it makes a fantastic meal anytime!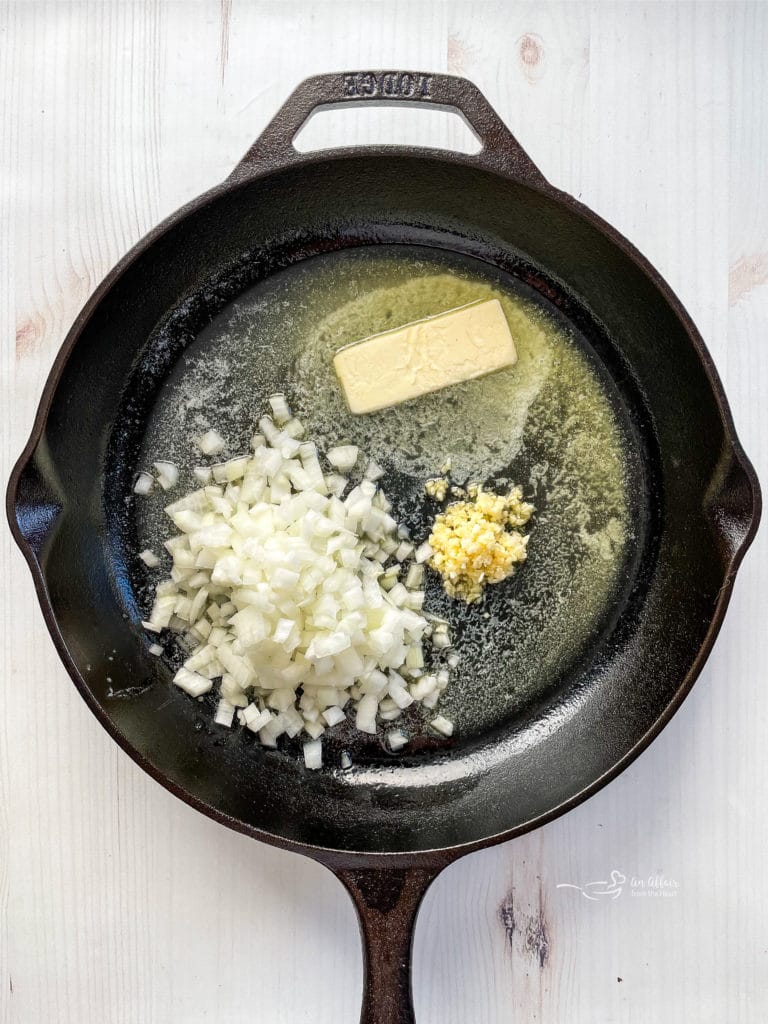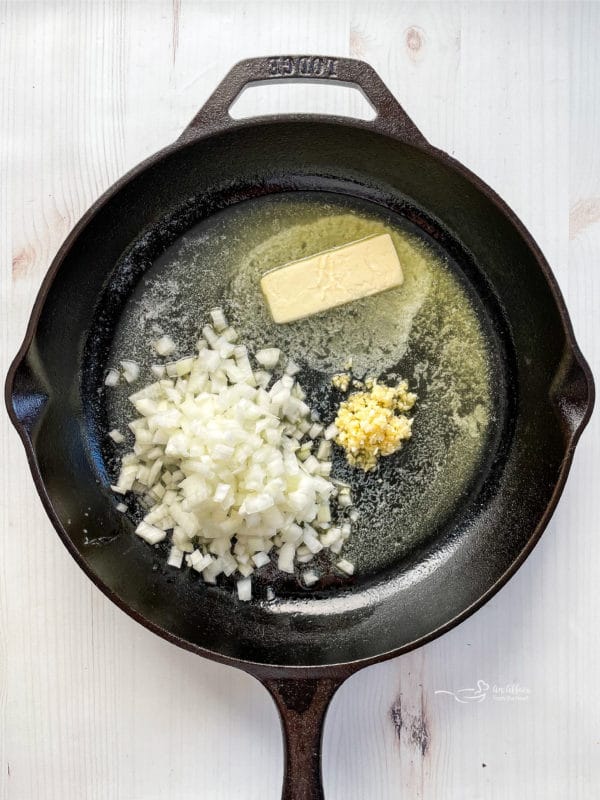 Step One – Cook the Garlic
First, preheat the oven to 350 degrees Fahrenheit. Prepare a three-quart casserole dish with nonstick cooking spray.
Melt the butter in a large skillet or frying pan over medium heat until fully melted. Next, add the chopped onion and minced garlic and cook until fragrant and tender.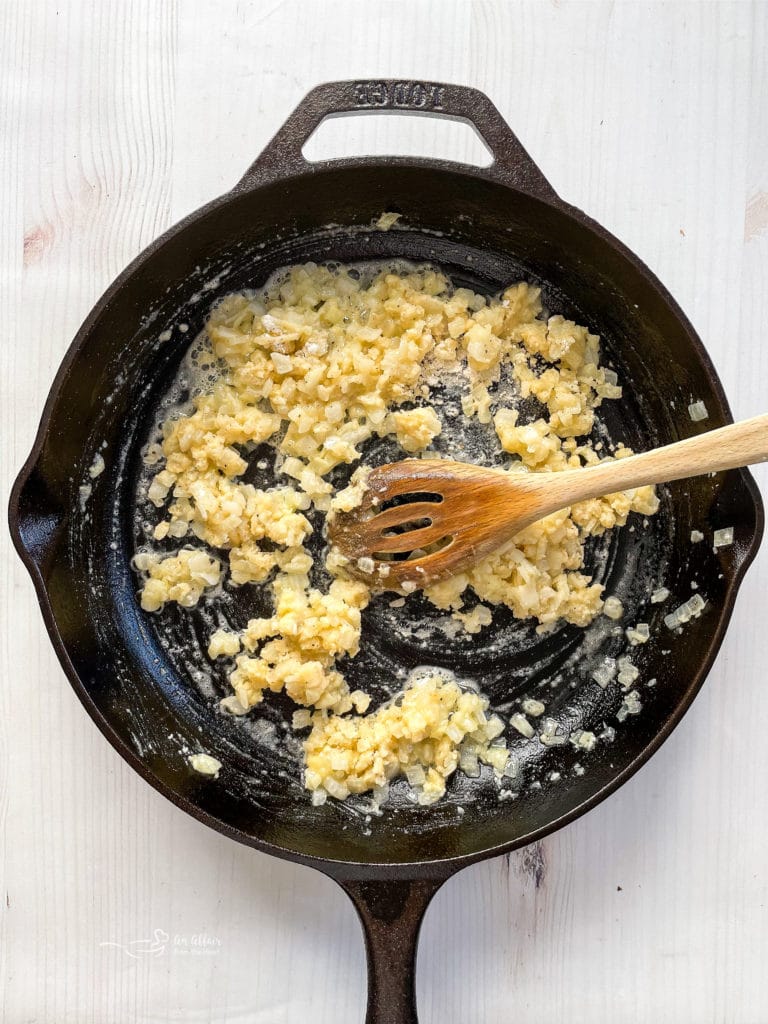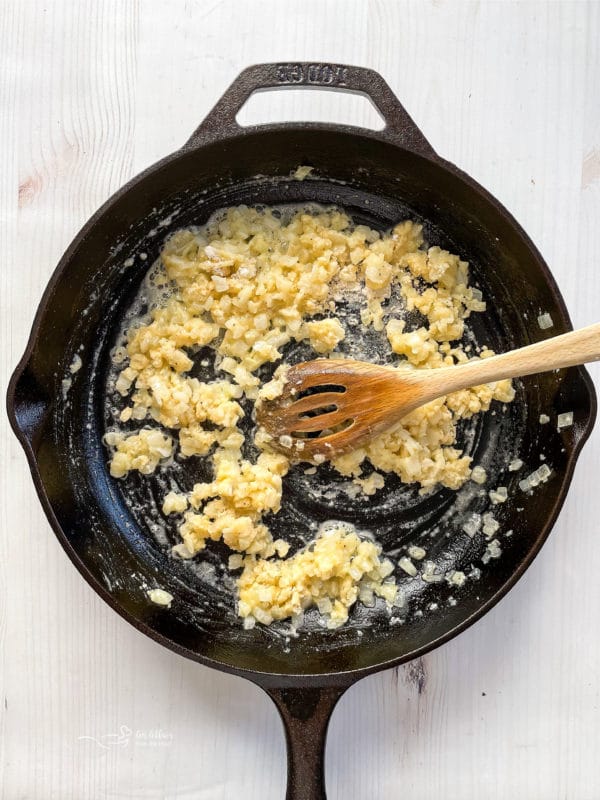 Step Two – Add the Flour
Next, whisk in the salt, pepper, and flour until fully combined. Be careful not to burn the mixture so make sure the heat is not too high.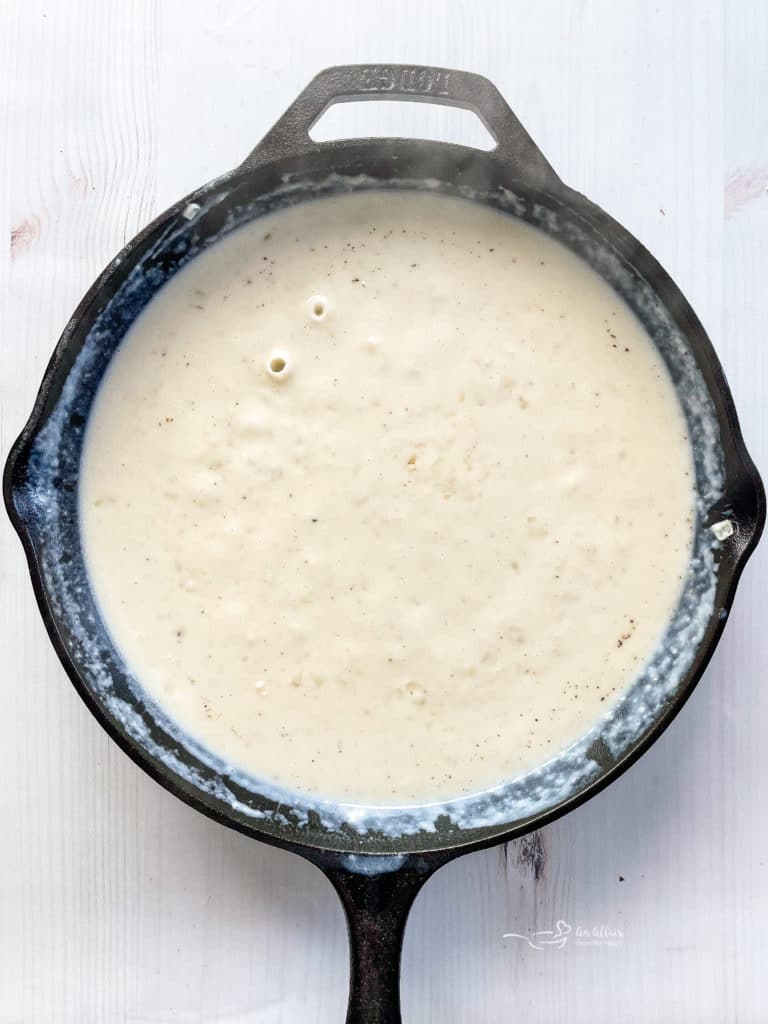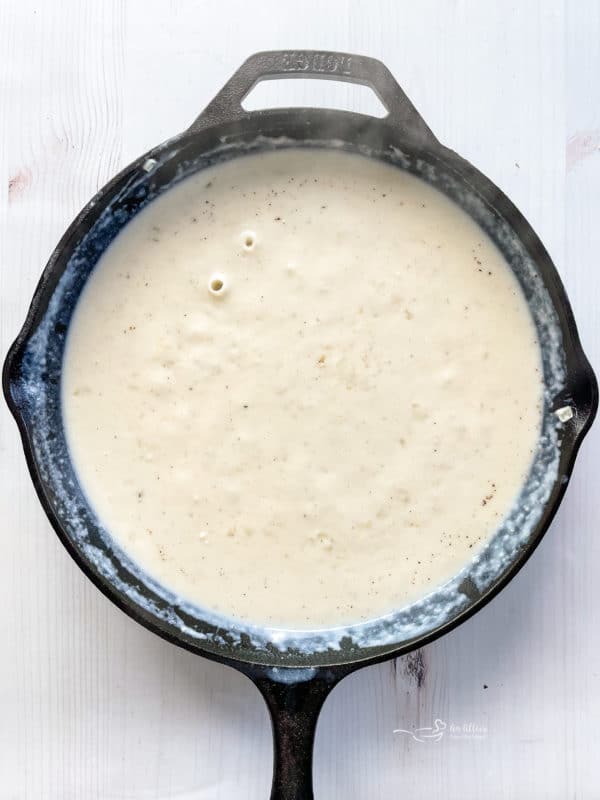 Add Milk
Gradually, whisk the milk into the butter mixture until it is thickened, hot, and bubbly. Remove the pan from the heat.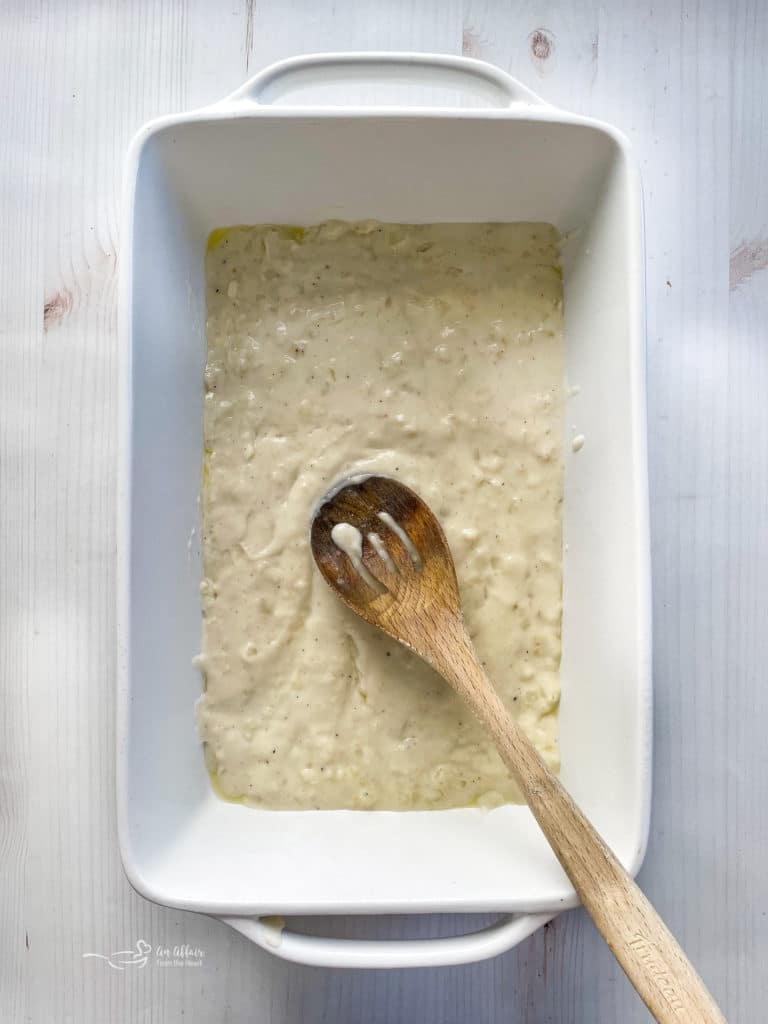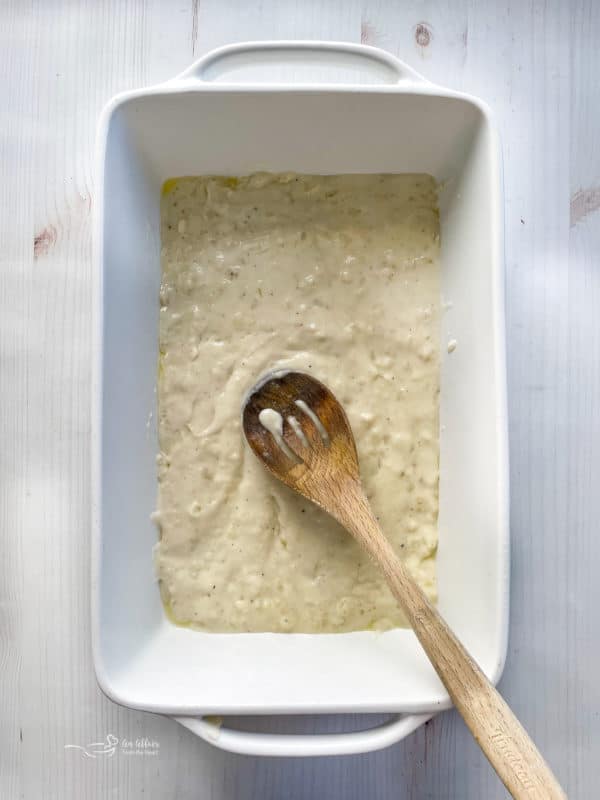 Step Four – Layer the Potatoes Au Gratin
Next, spread one-third of the prepared sauce into the bottom of the prepared casserole dish.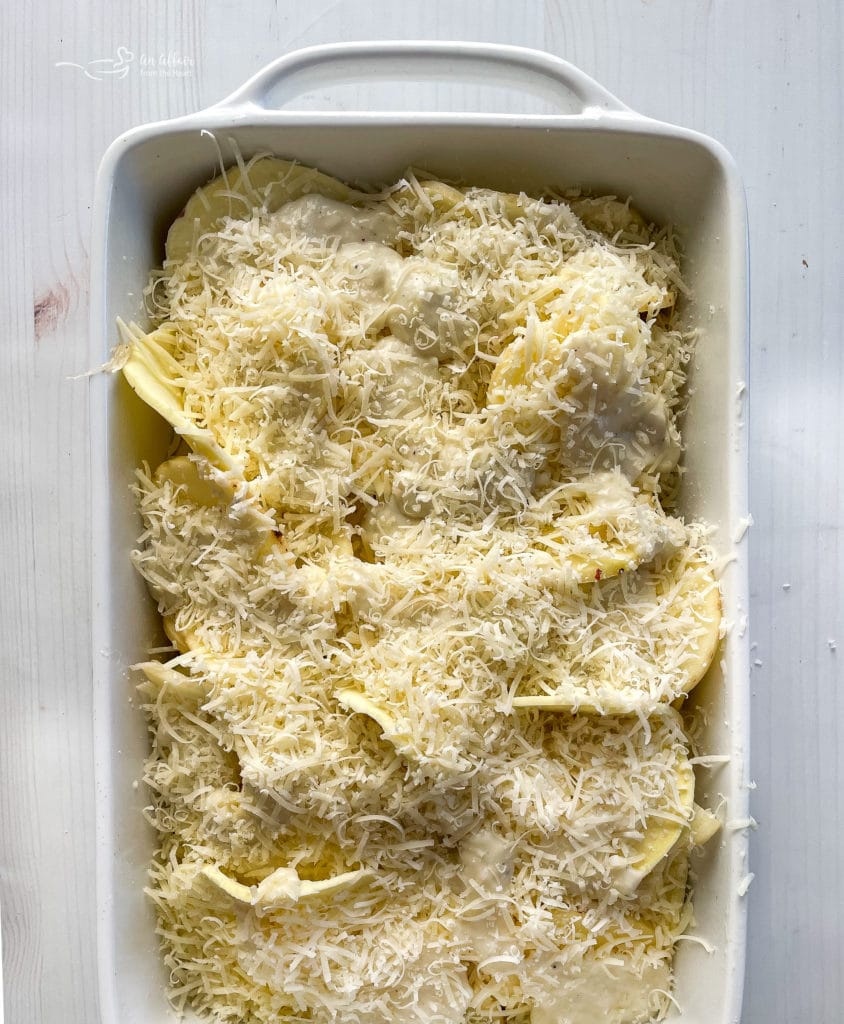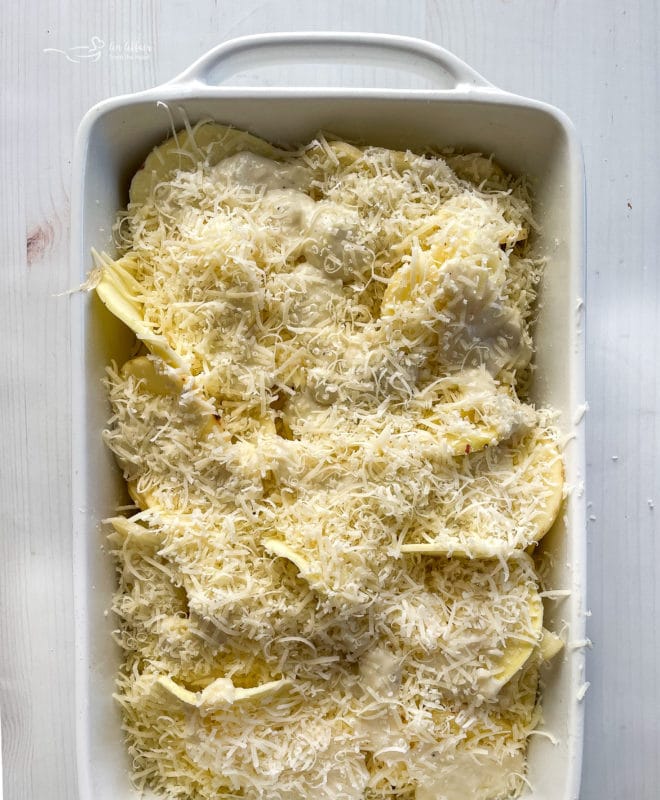 Top the sauce with half of the sweet and golden potatoes, then half of the asiago cheese.
Keep Layering
Top with another third of the sauce, then the remaining potatoes, and the remaining Asiago cheese. Spoon the remainder of the sauce over the cheese.
Step Six – Top with Parmesan
Finally, top the potatoes au gratin with shredded parmesan cheese.
Cover and bake the potatoes for 45 minutes.
Uncover the potatoes and bake for another 45 minutes or until the potatoes are tender and can easily be pierced with a fork.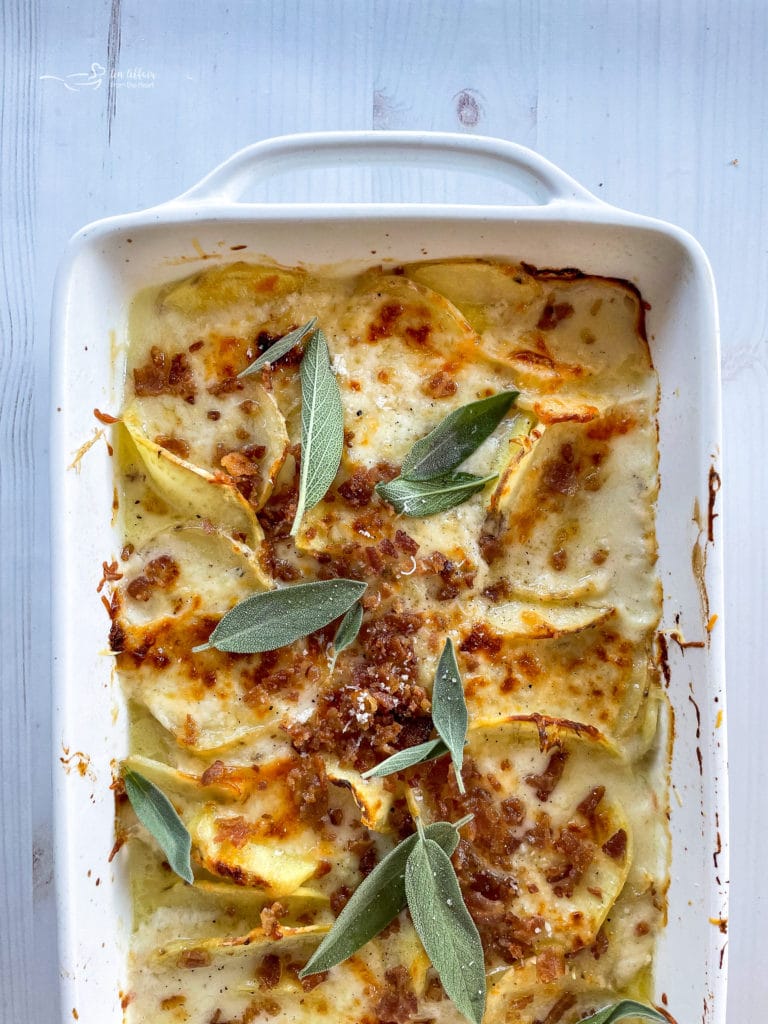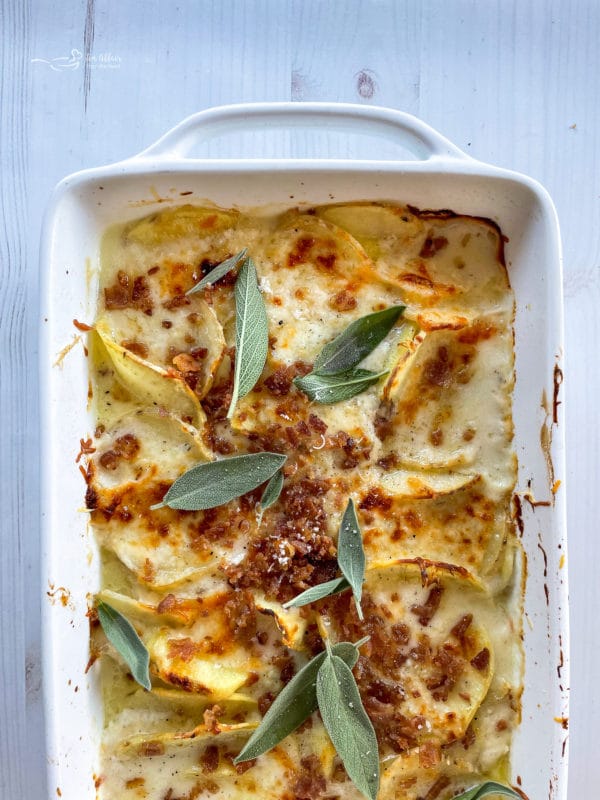 Add Bacon
Sprinkle the cooked bacon pieces over the top of the potatoes and allow the potatoes to stand, uncovered, at room temperature for at least ten minutes before serving.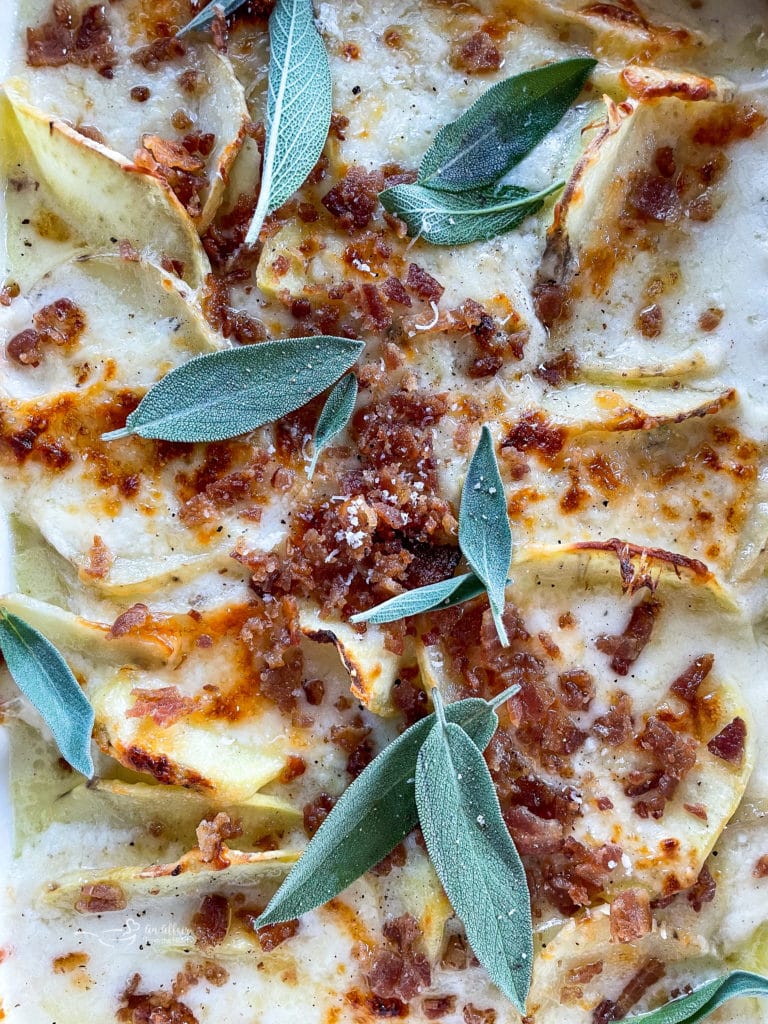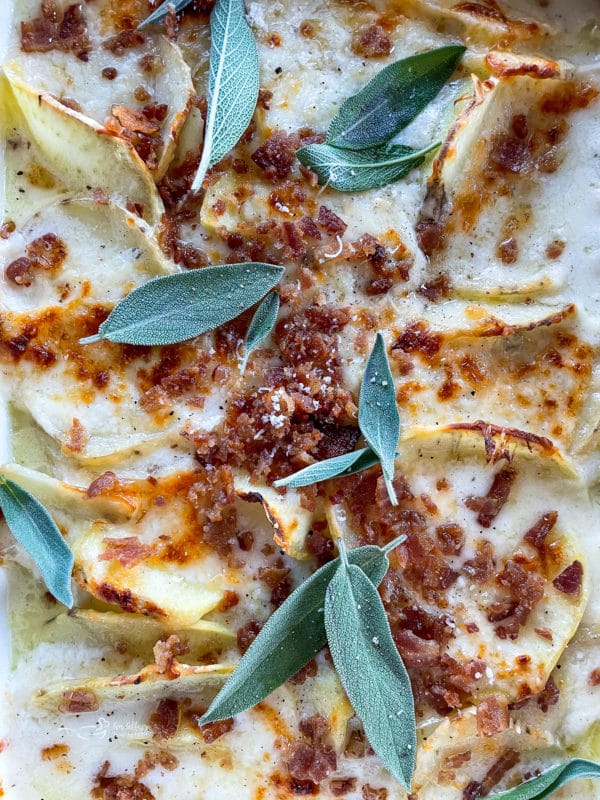 Top with fresh herbs such as sage, parsley, rosemary, or thyme, and enjoy! It will be hard to say no to seconds to this recipe!

Love them? Pin Them!
Don't forget where you found this potatoes au gratin recipe! Pin them to your favorite Pinterest board before you go!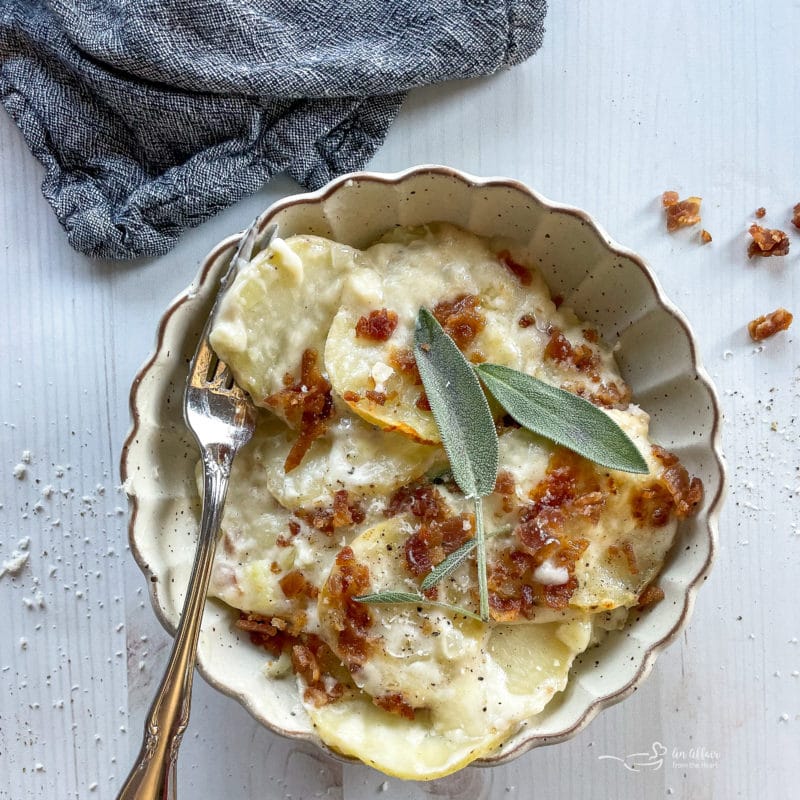 Can Potatoes Au Gratin be Made Ahead of Time?
Yes! You can prepare these potatoes au gratin ahead of time by assembling all of the ingredients into the baking dish and storing them in the refrigerator, covered, for up to three days before baking. The fact that these potatoes can be made ahead of time makes them perfect for whenever you need all of your festive side dishes prepared but want to save extra time in the kitchen.

Tips
Feel free to use Russet potatoes in place of Yukon Gold potatoes.
Mix up the cheese for extra flavors or use spicy Pepper Jack for a little bit of heat.
Don't forget the salt! Salt is very important in this recipe is allows these potatoes au gratin to be perfectly seasoned!
Store the leftovers in an airtight container in the refrigerator for up to four days.
To reheat, warm the potatoes in the oven at 350 degrees Fahrenheit for 15 minutes until they are fully heated. You can also warm these potatoes up in the microwave in a microwave-safe dish.

Serving Suggestions
Serve these potatoes with Glazed Smoked Ham, Mississippi Pot Roast, Spatchcock Chicken, or Smoked Turkey. This recipe truly goes with anything!

More Potato Recipes You Will Enjoy!
What's not to love about potatoes? Here are some more of my favorite potato recipes!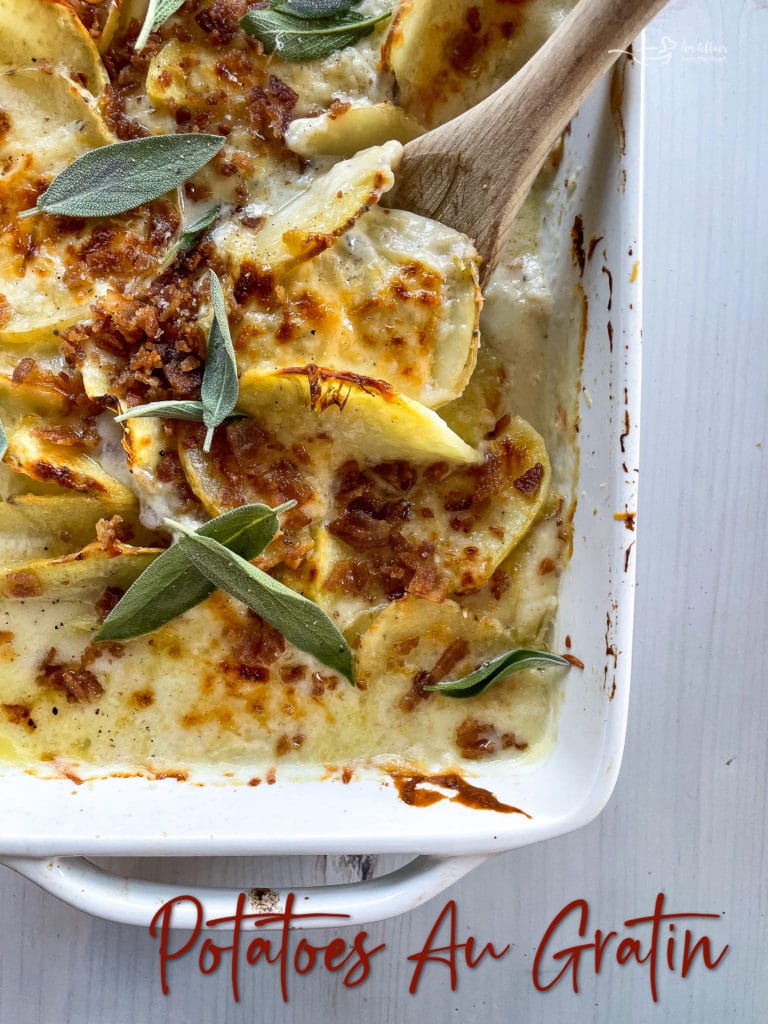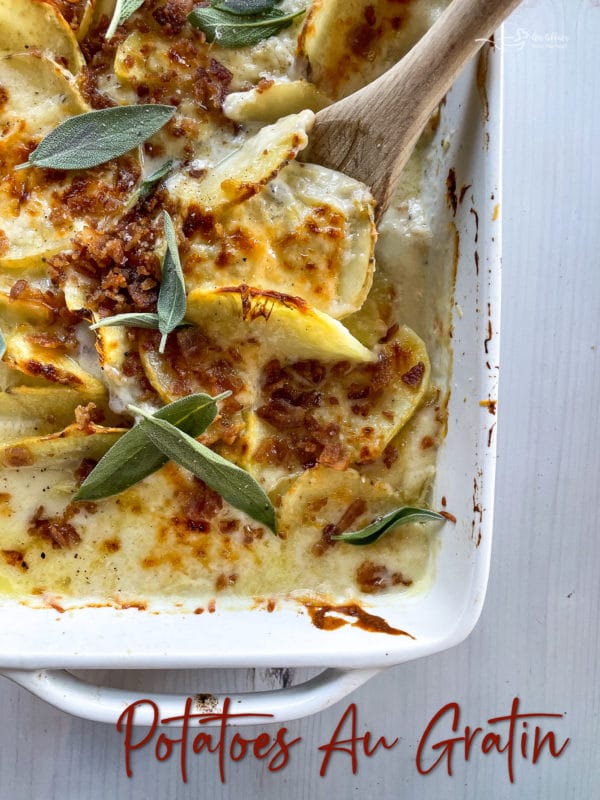 Your family is going to love this potatoes au gratin recipe!

Yield: 10
Potatoes Au Gratin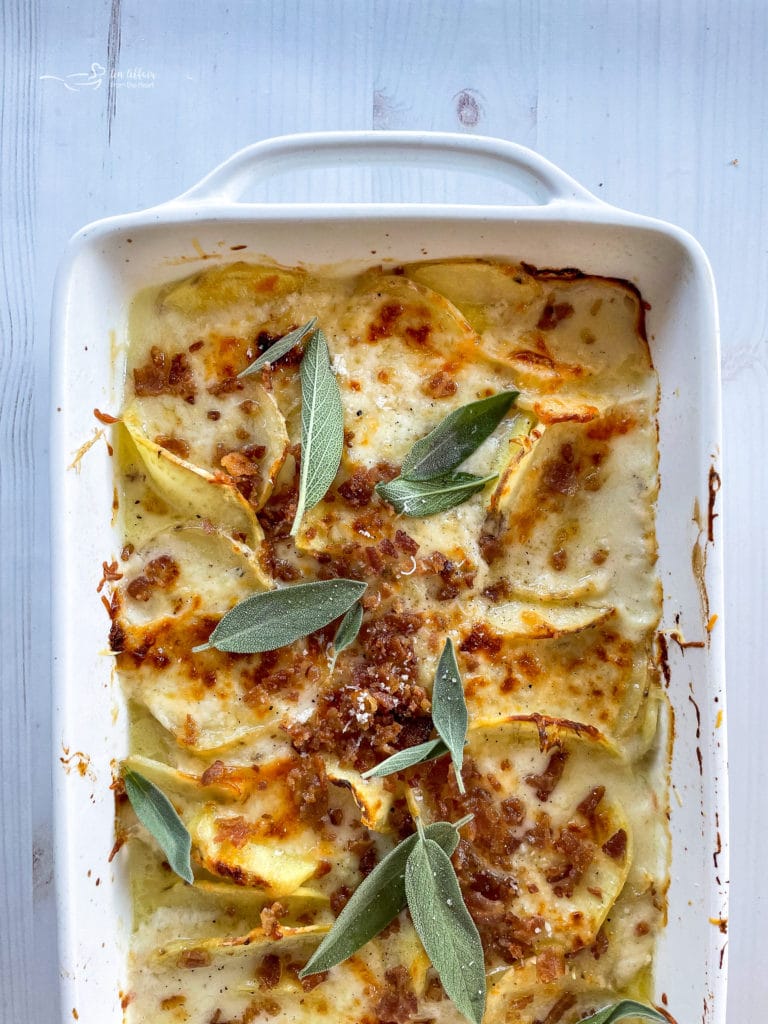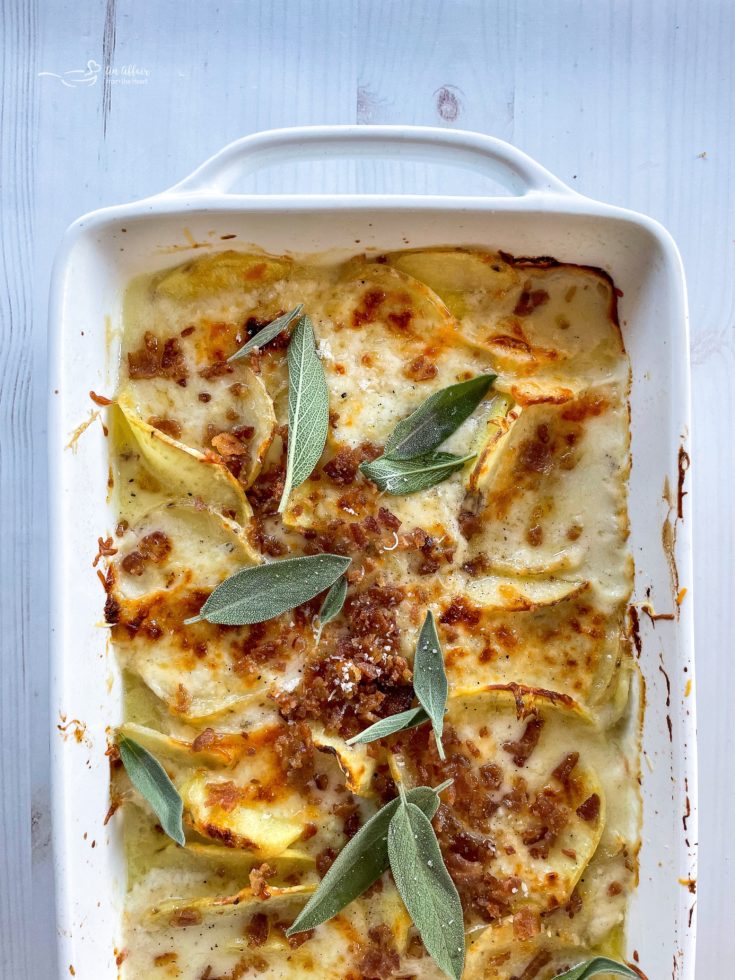 Warm, savory, and made with cheesy flavors of asiago and parmesan cheeses, this homemade potato au gratin recipe is a winner for whenever you are looking for the perfect addition to your main course or protein. Family-friendly, easy, and full of comfort, this potato dish is made with both sweet and golden potatoes.
Cook Time
1 hour
30 minutes
Additional Time
10 minutes
Total Time
1 hour
50 minutes
Ingredients
1 cup onion, chopped
2 cloves garlic, minced
6 Tablespoons butter
6 Tablespoons flour
1 teaspoon salt
½ teaspoon pepper
3½ cups milk
4 cups sweet potatoes, peeled and sliced thin
4 cups Yukon gold potatoes, skins left on, sliced thin
8 ounces Asiago cheese, shredded
½ cup parmesan cheese, grated
6 slices bacon, cooked crisp and crumbled
Instructions
Preheat oven to 350 degrees F. Prepare a 3 quart casserole dish with non-stick cooking spray.
In a large saucepan, cook onion and garlic in hot butter until tender. Whisk in salt and pepper and flour. Add in milk, continuing to whisk until sauce is thickened, hot and bubbly. Remove from heat.

Spread one-third of the sauce into the bottom of the prepared casserole dish. Top with half of both the gold and the sweet potatoes, then half of the Asiago cheese.
Top with another third of the sauce, then the remaining potatoes, and the remaining Asiago cheese. Spoon the remainder of the sauce over the top. Sprinkle with the parmesan cheese.
Cover and bake for 45 minutes.
Uncover and bake for another 45 minutes, or until potatoes are tender. Sprinkle bacon over the top, and let potatoes stand, uncovered for 10 minutes before serving.


Recommended Products
As an Amazon Associate and member of other affiliate programs, I earn from qualifying purchases.
Nutrition Information:
Yield:
12
Serving Size:
1
Amount Per Serving:
Calories:

355
Total Fat:

18g
Saturated Fat:

10g
Trans Fat:

1g
Unsaturated Fat:

7g
Cholesterol:

49mg
Sodium:

593mg
Carbohydrates:

37g
Fiber:

4g
Sugar:

10g
Protein:

13g
Please note that nutrition is not guaranteed accurate.
Here are more Side Dish Recipes:

If you make this recipe, I'd love to know! Snap a picture, share the photo on social media with the hashtag #AnAffairFromTheHeart – I'd love to see what you made! – Michaela