Cheesy Potato Soup
As an Amazon Associate and member of other affiliate programs, I earn from qualifying purchases.
This easy cheesy potato soup is filled with ingredients that are both cozy and delicious with an option for the Crockpot. Tender potatoes, cheddar cheese, and butter are some of the key ingredients this family favorite soup has to offer. Perfect for weeknight dinners, too!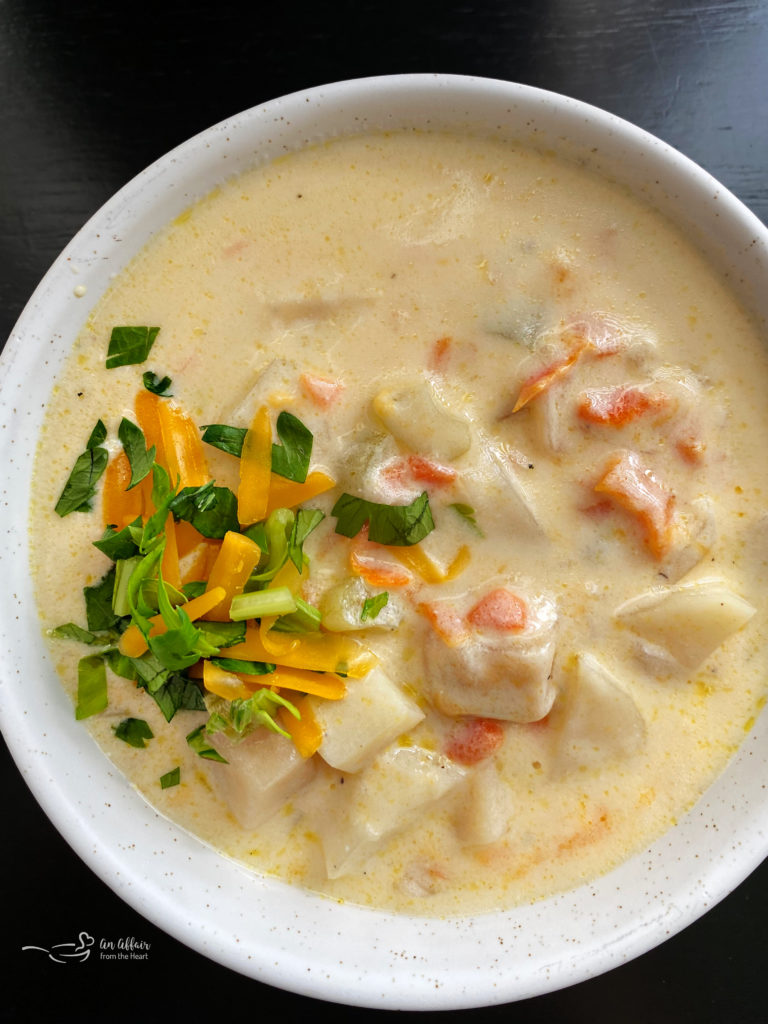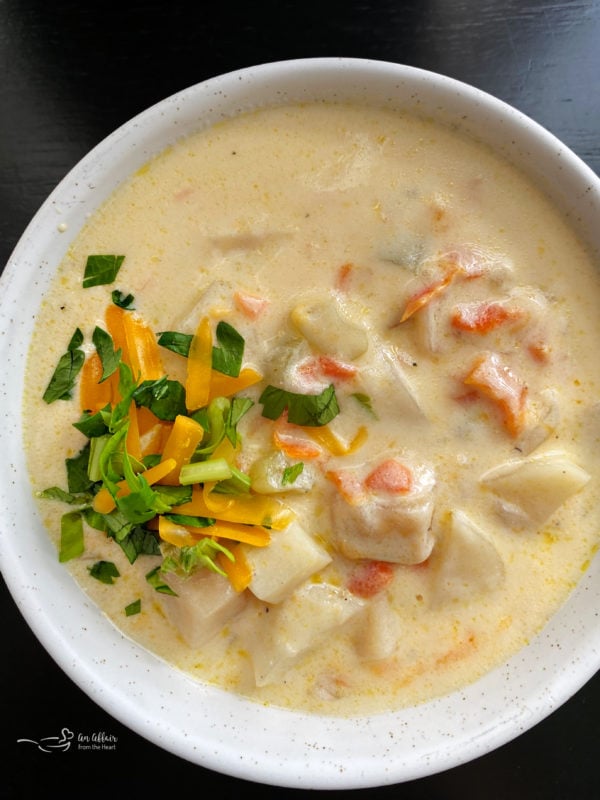 What is comforting, insanely rich with flavor, and perfectly tender? That's right: meatless potato cheddar soup. This easy creamy soup recipe is made in 30 minutes and simply transforms your dinner into a meal that you'll really want to keep around in that heirloom of a recipe box.
Cheesy Potato Soup
Potato soup brings me back to simple times at home. The aroma of onions, garlic, and butter filling up my house while the potatoes boil which are usually signs of an easy, yet pleasant recipe. Another soup I like to enjoy at home with my family is this nourishing cream of celery soup recipe.
I have been making this particular potato soup for over 20 years, I don't even remember exactly where I clipped the recipe from? I still have the clipping in my recipe box, clipped from a mailer I received years ago, and I remember the first time I read the recipe, thinking isn't it sort of an oxymoron to list "canned cream of potato soup" as an ingredient in potato soup? But guys, it just works wonders. I promise – this is one you just have to try!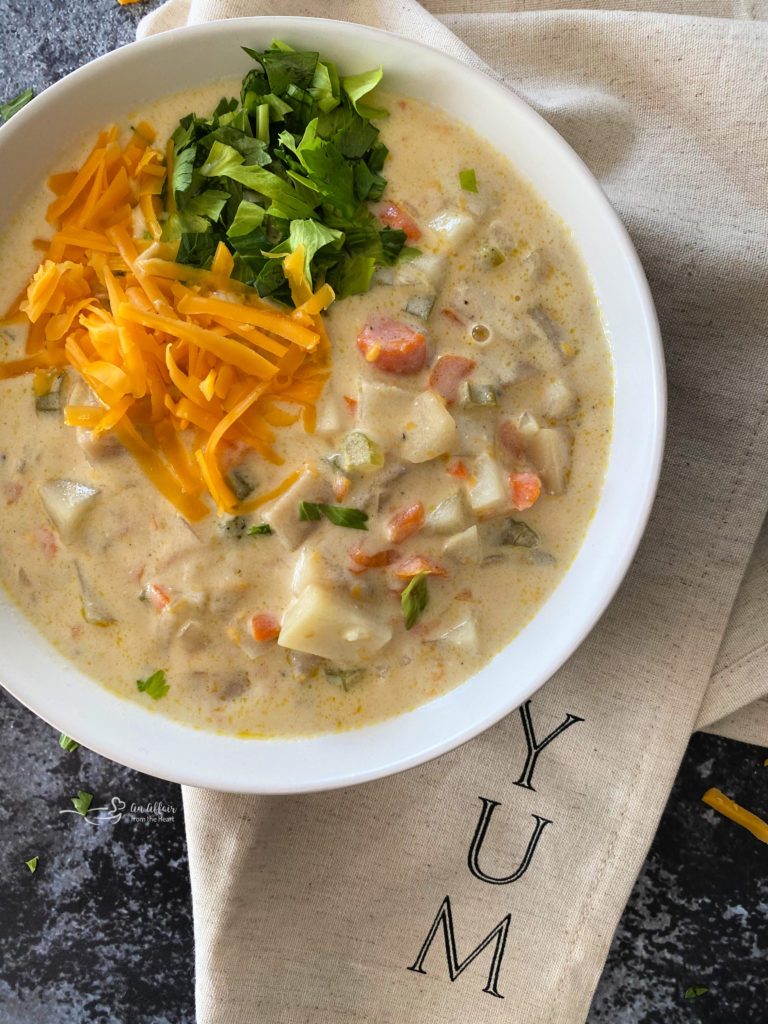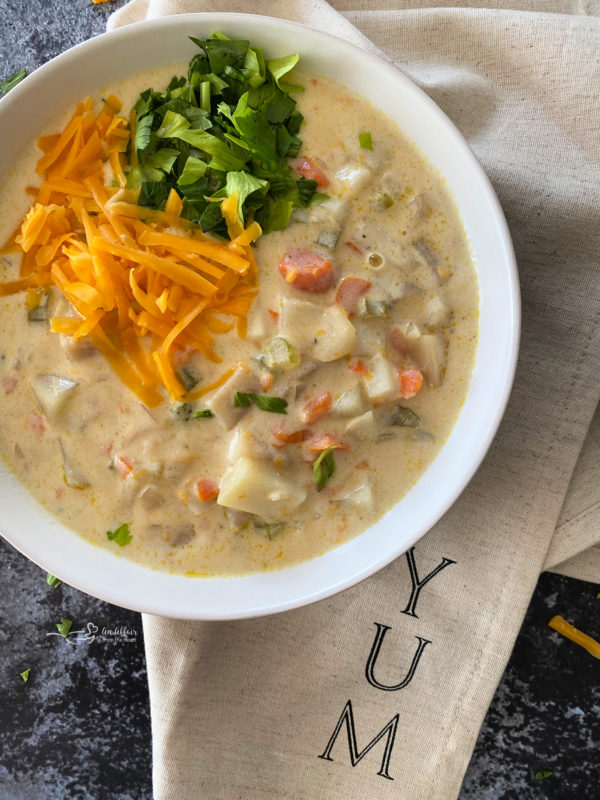 Cheesy Potato Soup
Soup is not only a budget-friendly recipe, but it's one of the easiest ways to make a delicious dinner. All you need is just a handful of ingredients for a soup that tastes timeless and classic. The best part about this potato soup recipe is that it's super lovely for meal planning which means the leftovers are even better.
Wanna really bring things up a notch with this easy potato soup? Simply add some grated cheddar cheese. If you want to grate your own cheese, which I highly recommend, then read my article on why you should grate your own grated cheese which also has some super valuable tips!

Fresh ingredients like celery, carrots, onions and potatoes are combined with these components to make it the velvety texture it is: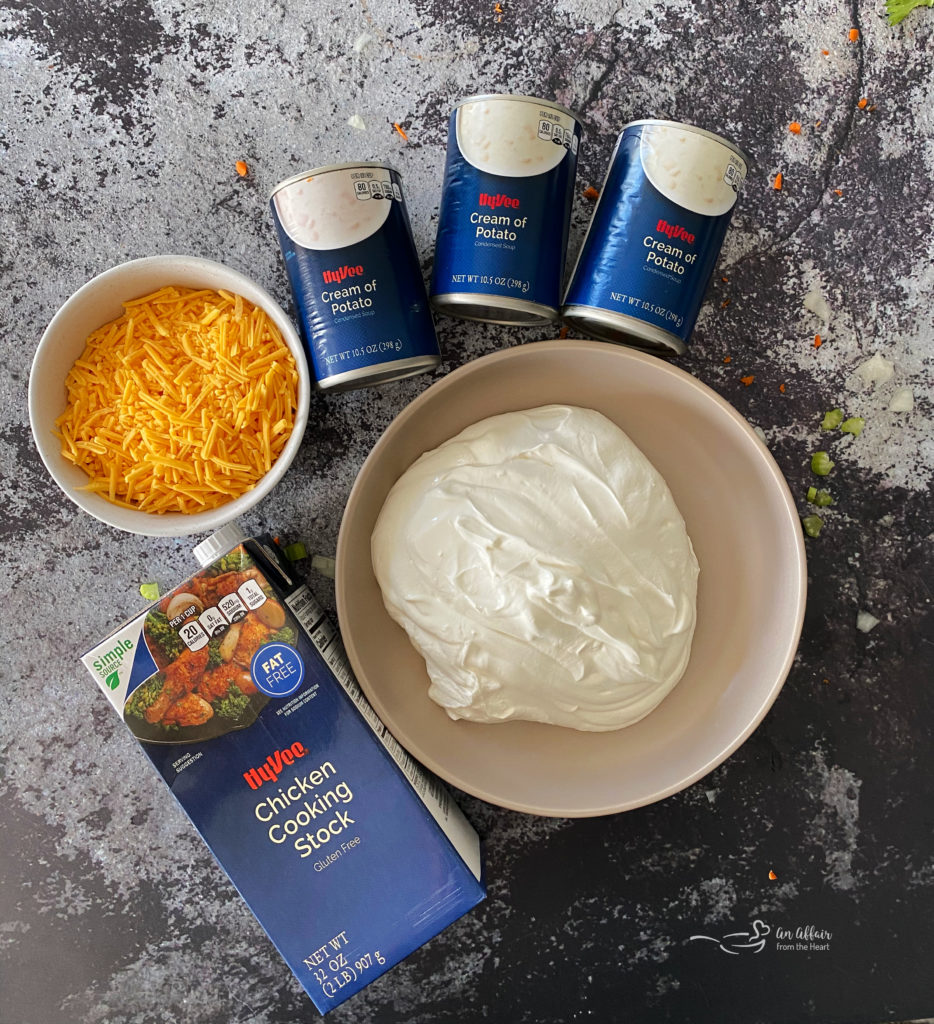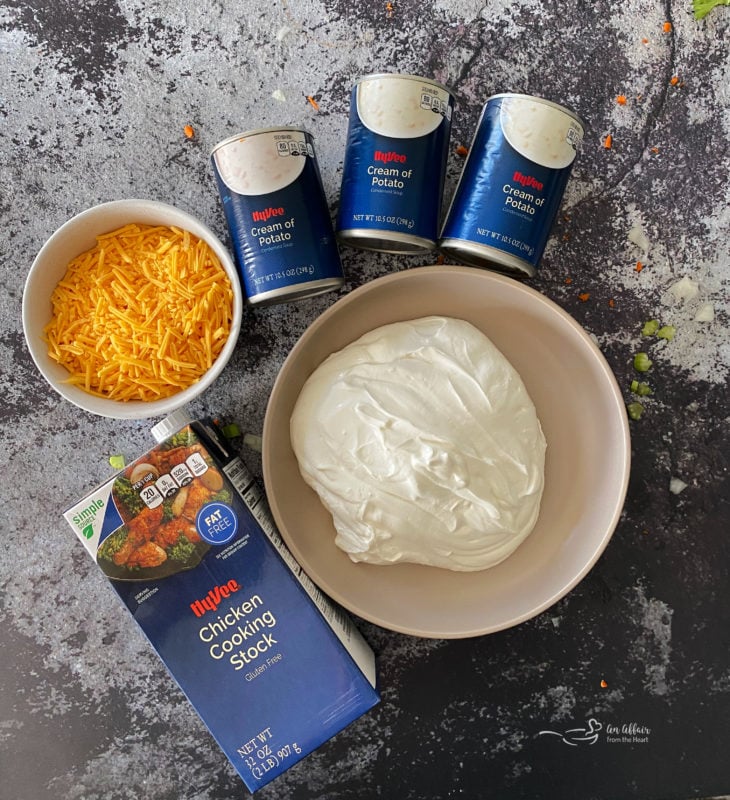 Ingredients for this Easy Potato Soup Recipe
Butter– For a rich and flavorful recipe, I use butter. If you don't have butter, you can try oil, but it won't have the same flavors as it would have with butter.
Celery– The crisp flavor of celery adds a delicate balance to this creamy soup giving it texture and bold flavor.
Carrots– Fresh carrots are used for extra vitamin C and to enhance the flavor of the soup. Tender and earthy, the carrots really round out this soup.
Onion– Onions sautéed in butter to enhance the flavor of the soup. You can either dice the onions or use a food processor.
Potatoes– I used russet potatoes for this recipe, but any potato will work such as Yukon gold, red potatoes, etc.
Broth– Either vegetable or chicken broth will work for this recipe. For a nice vegetarian option, use vegetable broth.
Cream of potato soup- This recipe is to enhance the soup add more comforting flavors of potatoes.
Sour cream– Sour cream is used to add a creamy base for this recipe. If you don't have sour cream, you can use plain yogurt.
Cheddar Cheese– Cheese is used in the base of the soup in addition to the topping. Freshly grated cheese is best for extra flavor and richness.

How to Make Cheesy Potato Soup
In a large pot, melt the butter. Add the celery, carrots, and onions and sauté for about five minutes.
Add the potatoes, cover with chicken broth, cover, and simmer for about 25 minutes, or until your veggies are your desired tenderness (I like mine a little firmer).
Stir in the cream of potato soup and sour cream.
Stir in one cup of freshly grated cheese, reserving the rest for topping.

Tips and Serving Suggestions
This soup gets even better after the first day. The flavors mend together as it sits longer in the refrigerator, I suggest making a batch of this soup to enjoy all week long!
To make it in the crockpot: Place everything with the exception of sour cream, cream of potato, and cheddar cheese in the slow cooker on low for six hours. Stir the remaining ingredients in and heat thoroughly before eating.
I enjoy this soup meatless, but it bacon or ham can be added to this soup for extra protein and flavor! I've tried both ways and each are amazing, and I've even added broccoli to this recipe.
This creamy potato soup is best served with fresh sourdough bread. Who doesn't love an easy homemade bread recipe with soup?

Love it? Pin It!
Don't forget to pin this recipe to your Pinterest board to save it for later!

More Delicious Soup Recipes
In addition to this cheesy potato soup recipe, I have four others. I have a Loaded Baked Potato Soup that is a stovetop recipe and an Instant Pot Loaded Potato Soup recipe, too. These both contain bacon, as does this super popular Potato, Green Bean and Bacon Soup. One of my favorites, though is this Sauerkraut, Bratwurst, and Potato Soup – it is just bursting with flavor!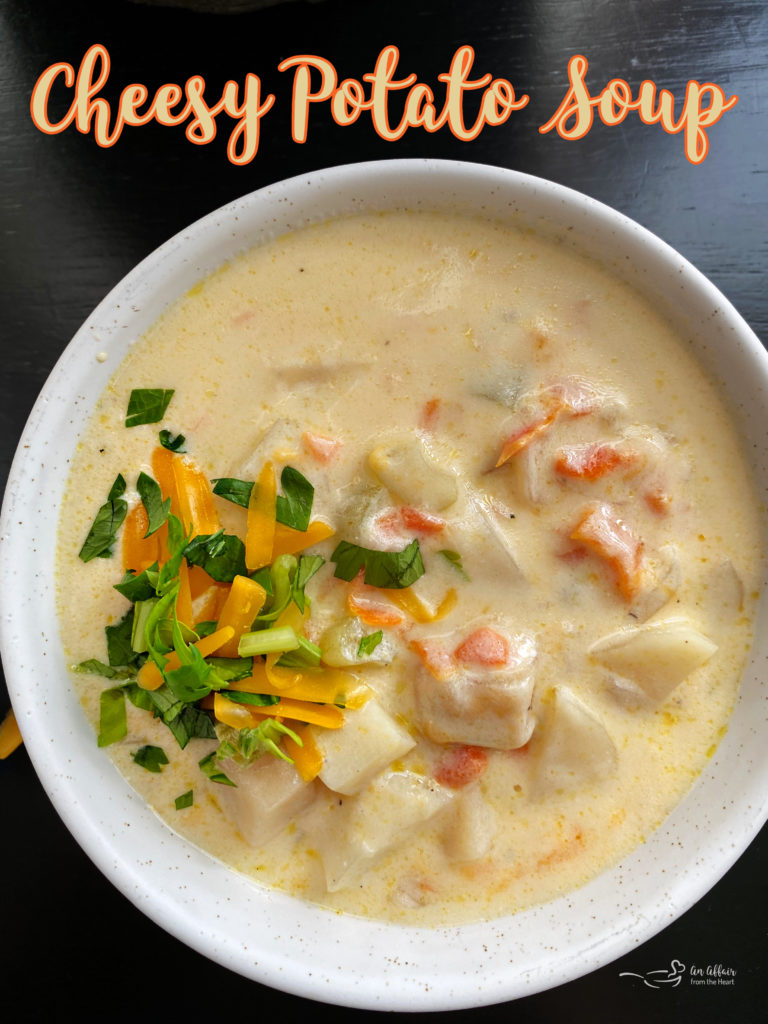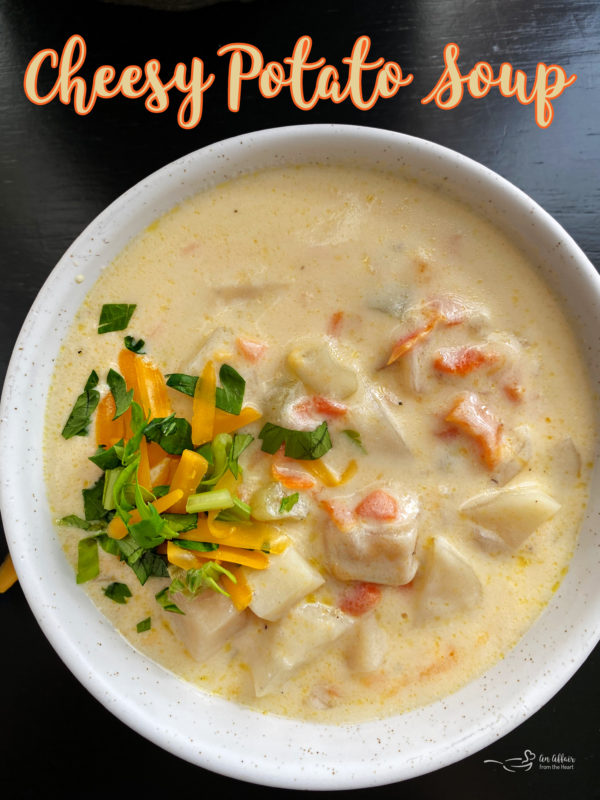 Let's make some cheesy potato soup!

Yield: 8 servings
Cheesy Potato Soup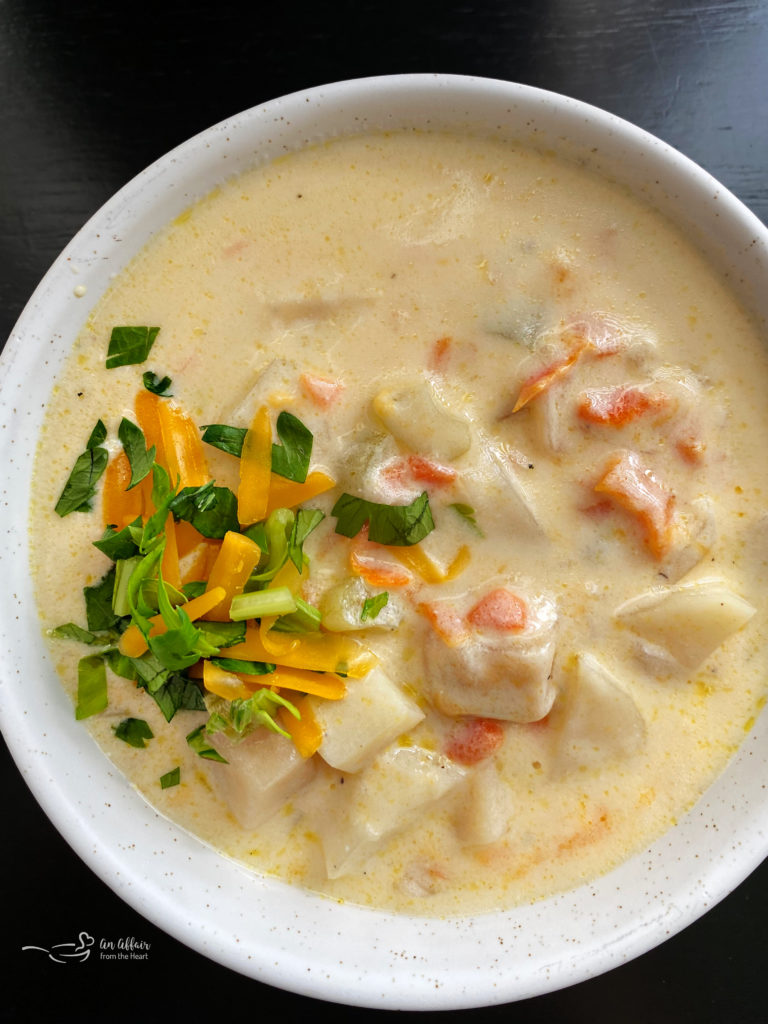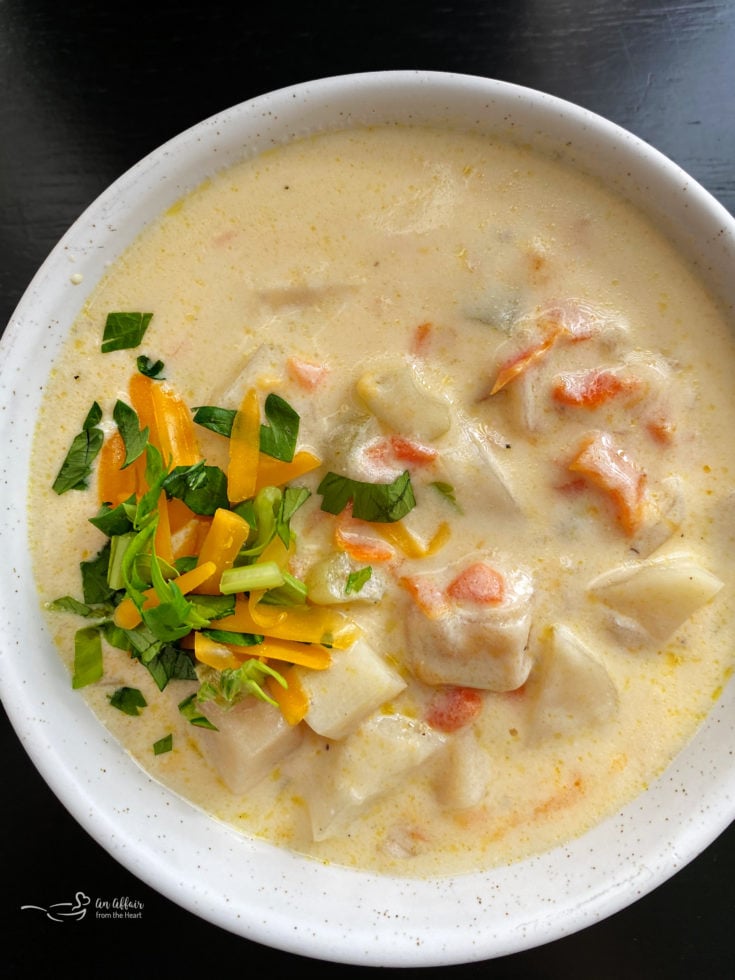 Potato Cheddar Soup is full of veggies and creamy cheesy flavor. A simple meatless meal that your whole family will enjoy!
Ingredients
4-5 stalks of celery, chopped
1 cup Julienned carrots, rough chopped
2 small onion, diced (about 1 1/4 cup)
4 potatoes, peeled and cubed (I use Russet)
4 Tablespoons butter
32 oz Chicken broth or a little more, make sure you cover the veggies (use vegetable stock to make this recipe vegetarian)
3 cans cream of potato soup
16 ounces container sour cream (2 cups)
2 cups cheddar cheese, shredded, divided
salt and pepper to taste
Instructions
In your soup pot, melt butter. Add the celery, carrots and onion and saute for about 5 minutes.
Add potatoes, cover with chicken broth, cover and simmer for about 25 minutes, or until your veggies are your desired tenderness. ( I like mine a little firmer)
Stir in cream of potato soup and sour cream.
Stir in 1 cup of cheddar, reserving the second cup for topping.

Notes
This soup is delicious served with sourdough bread, and the leftovers are even tastier!
To prepare this soup in the crockpot, place everything with the exception of sour cream, cream of potato and cheddar cheese in the slow cooker on low for 6 hours. Stir the remaining ingredients in and heat through before eating.
Nutrition Information:
Yield:
8
Serving Size:
1
Amount Per Serving:
Calories:

423
Total Fat:

28g
Saturated Fat:

15g
Trans Fat:

1g
Unsaturated Fat:

8g
Cholesterol:

80mg
Sodium:

1074mg
Carbohydrates:

34g
Fiber:

4g
Sugar:

7g
Protein:

12g
Please note that nutrition is not guaranteed accurate.
This recipe was originally posted on December 27, 2013. It has been updated to improve user experience and re-shared on March 4, 2021.