My Grandma's Hamburger Soup is comforting and delicious whether you make it with or without noodles. Packed with seasoned lean ground beef, veggies and barley, it's a hearty "stick to your ribs" kind of meal. Prepared on the stovetop or in a slow cooker, it's a long time family favorite of ours.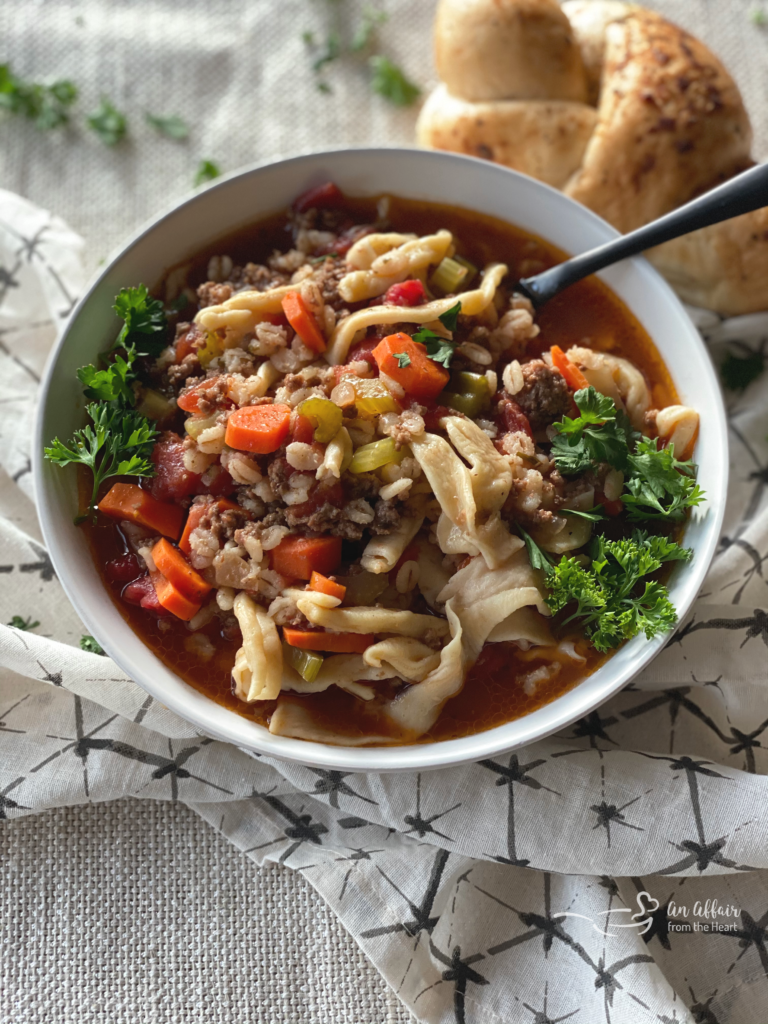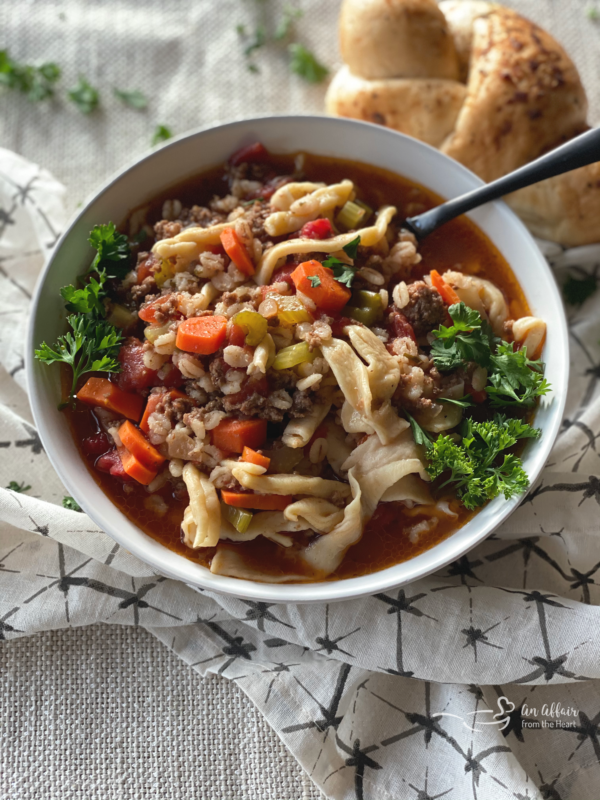 The BEST Hamburger Soup Recipe
My Grandma used to make hamburger soup, and I always loved it! I guess I have always been a huge fan of soups in general, and always LOVED my veggies!
I used to take soup to school in a thermos when I was in grade school. No PB&J for this girl… no way!
My all-time favorite canned soup as a kid was Campbell's Noodles and Ground Beef.

Ever hear of it? Well, they went and discontinued it.
The only place I could even come close to finding something even like it is at our bowling alley… I know, quit laughing, and guess what? They quit making it.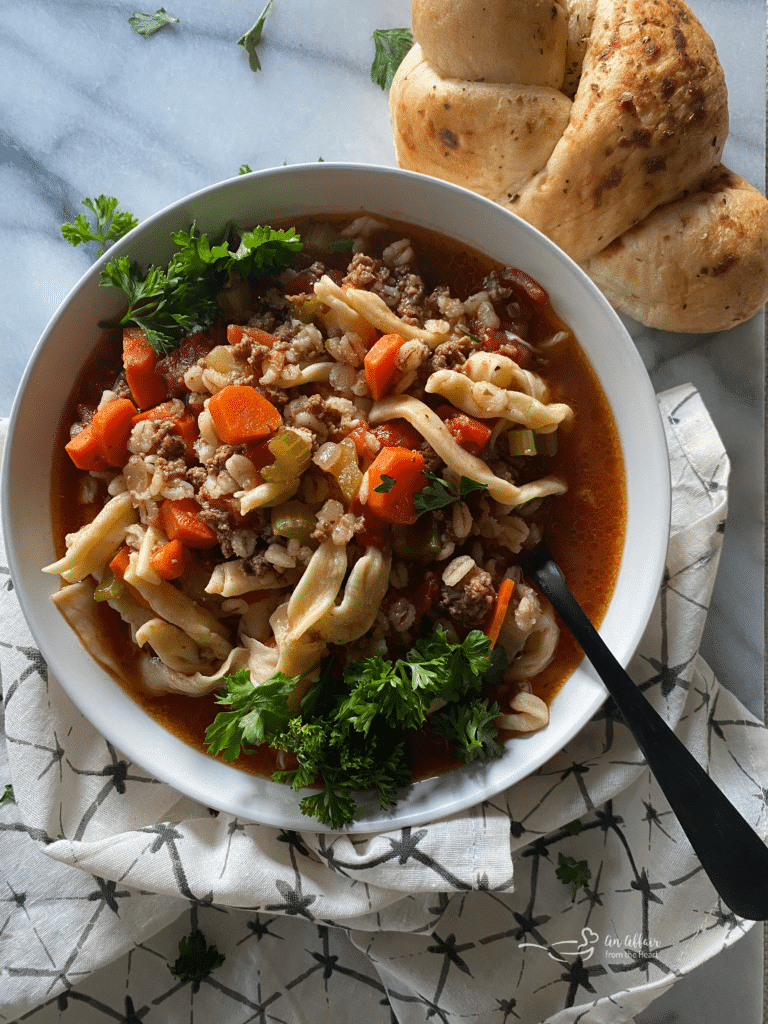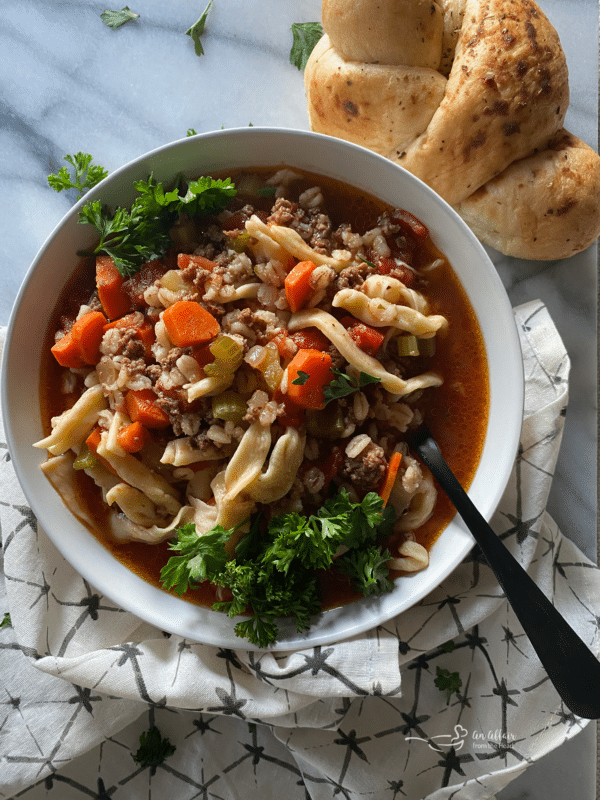 Hamburger Soup Recipe like Campbell's Noodles & Ground Beef
When my Grandma always made her hamburger soup, she never added noodles. I loved it that way, but when I was missing my favorite Campbell's soup one day, I thought that maybe I could come close to my old favorite if I added noodles.
So I added egg noodles, and I was super excited at just how similar it was! It wasn't exact, by no means, I am not calling this a "Copy Cat Recipe" or anything, but it helps when I have a hankering for my discontinued friend.
Cherished Recipes from my Grandma
When I first shared this recipe way back in 2014, I shared with you why I so enjoyed typing it up for you. The reason being, I can remember the exact moment she shared it with me.
I was sitting at her kitchen table, and she was reading it to me, and I was writing it on the notecard that sits in front of me right now.
I miss my Grandma. Every Day. If you are lucky to still have yours, make sure and spend all the time you can with her!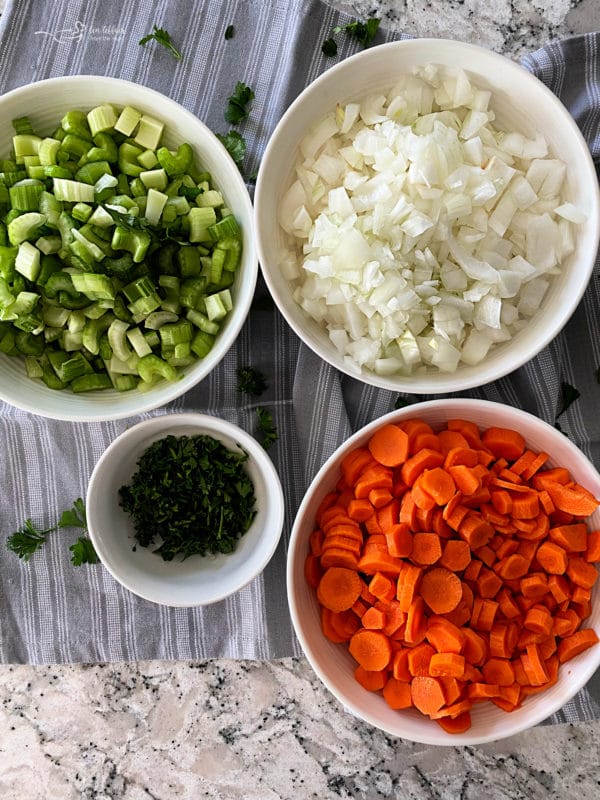 Ingredients in Grandma's Hamburger Noodle Soup
These basic ingredients come together quickly to make this classic hamburger noodle soup: lean ground beef, carrots, celery, onions, fresh parsley, canned tomatoes, barley, beef bouillon, ketchup, dried basil and egg noodles.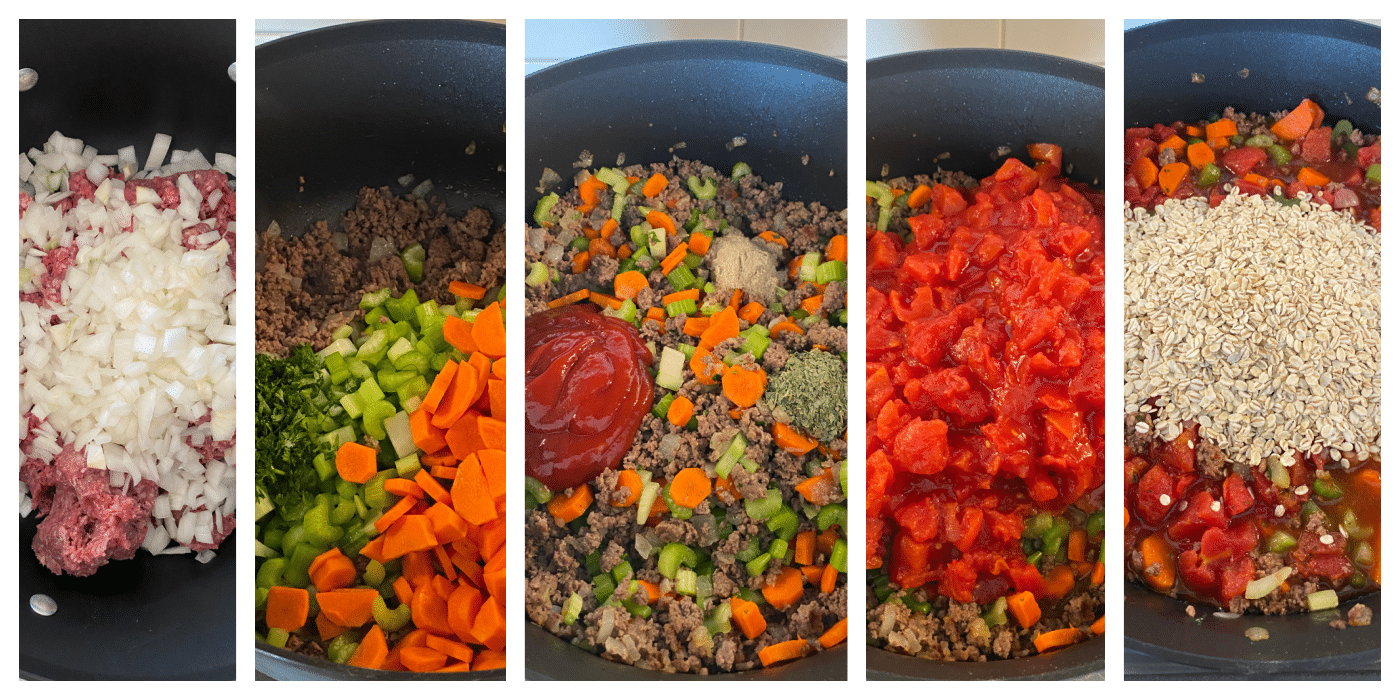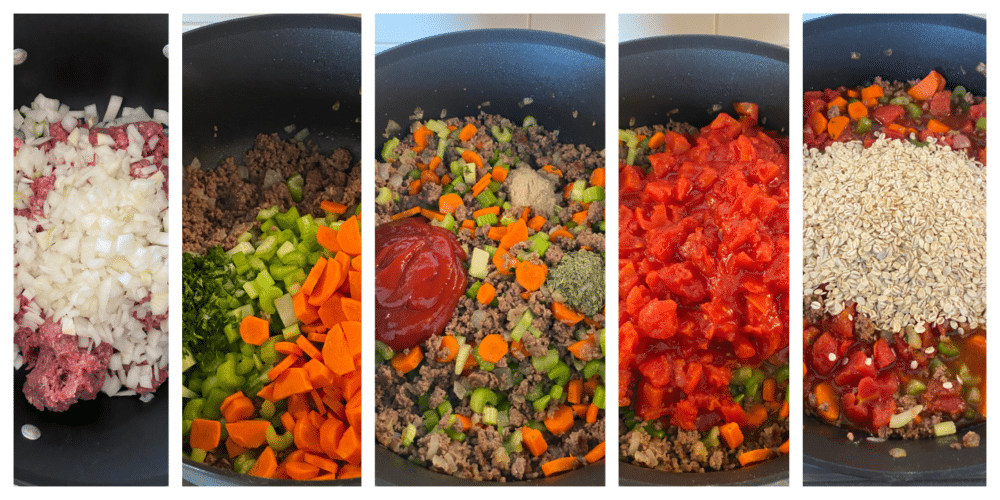 How to Make Hamburger Soup
This recipe for hamburger soup turns out great in a slow cooker or on the stovetop.
Begin by browning your ground beef with onion and salt and pepper. Drain any grease and return to pot. (or add all ingredients to crockpot at this stage)
Next add in all of the ingredients, with the exception of the noodles, to the pot, cover and bring to a boil. Reduce to a simmer and cook for 90 minutes.
If you are adding noodles, prepare them and add them right before you serve the soup.
find the full printable recipe at the bottom of this post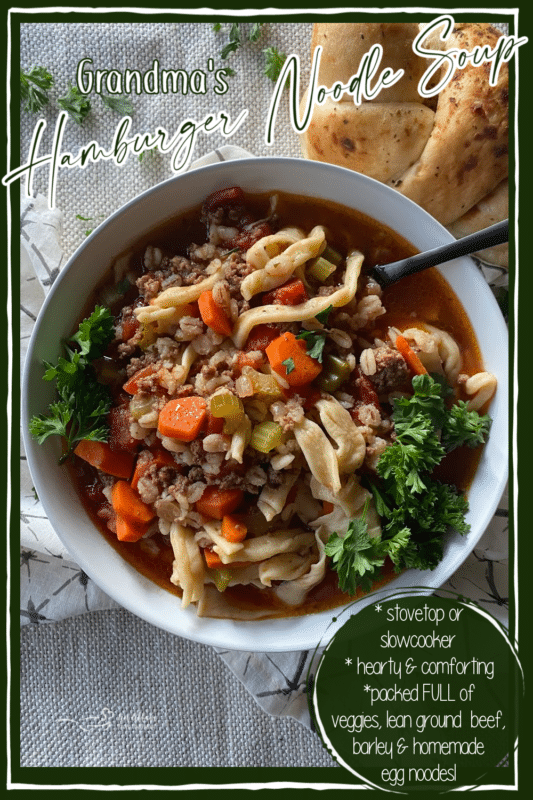 Love it? Pin it!
Don't forget where you found this Hamburger Noodle Soup recipe! Pin it to your favorite Pinterest recipe board before you go!
What kind of noodles to use for Ground Beef Noodle Soup
The first time I discovered adding noodles to the vegetable beef soup was so fabulous, I used Kluski noodles that I purchased in the dry pasta section of the grocery store. Many people use macaroni or other pastas in their Hamburger Noodle Soup Recipes. It's really about what you like.
Last year, I got the urge to make homemade egg noodles like I always did with my grandma and my mom back when I was a kid. I haven't turned back to the ones in the freezer section yet. Don't get me wrong, those are great when you are in a rush. But now, when I plan to make something with egg noodles, I always allot myself a little extra time to make egg noodles from scratch.
Another alternative to hamburger soup with noodles, would be hamburger soup with rice. Rice would make a great addition to the soup.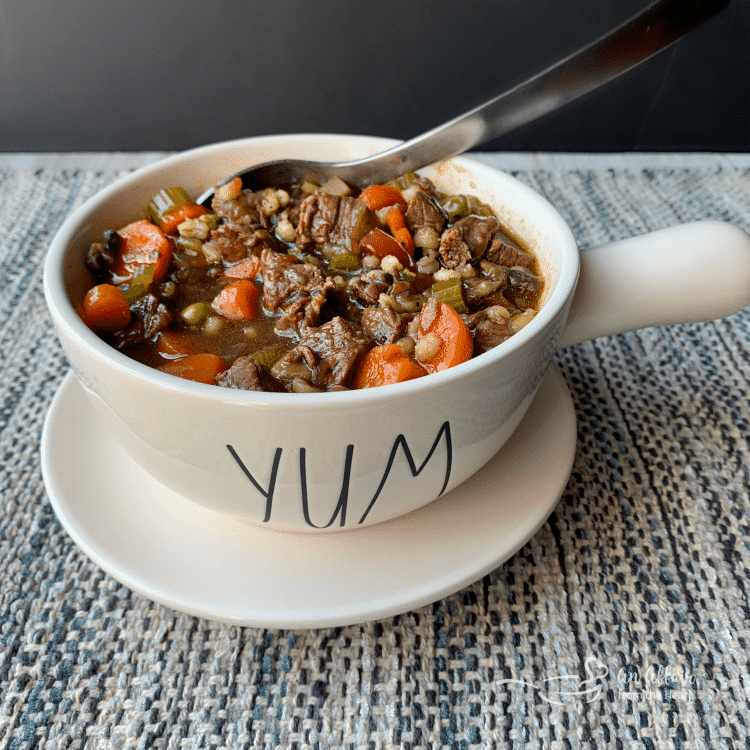 Instant Pot Vegetable Beef Soup
Easy Hamburger Soup with Barley
Do you cook with barley much? I absolutely love adding it to my soups and stews! It gives it a whole new level of heartiness in my opinion. Check out this Instant Pot Vegetable Beef Soup recipe. Done in no time and tasted like it cooked all day! It's full of yummy barley.
Even though my Mother in law's Mulligan Stew recipe doesn't call for barley, if I have it on hand, I always add it.
Fun fact about this ground beef soup recipe? It was featured on the Today Show Food website a few years back. How cool it was to have one of my Grandma's recipes on such a popular food website!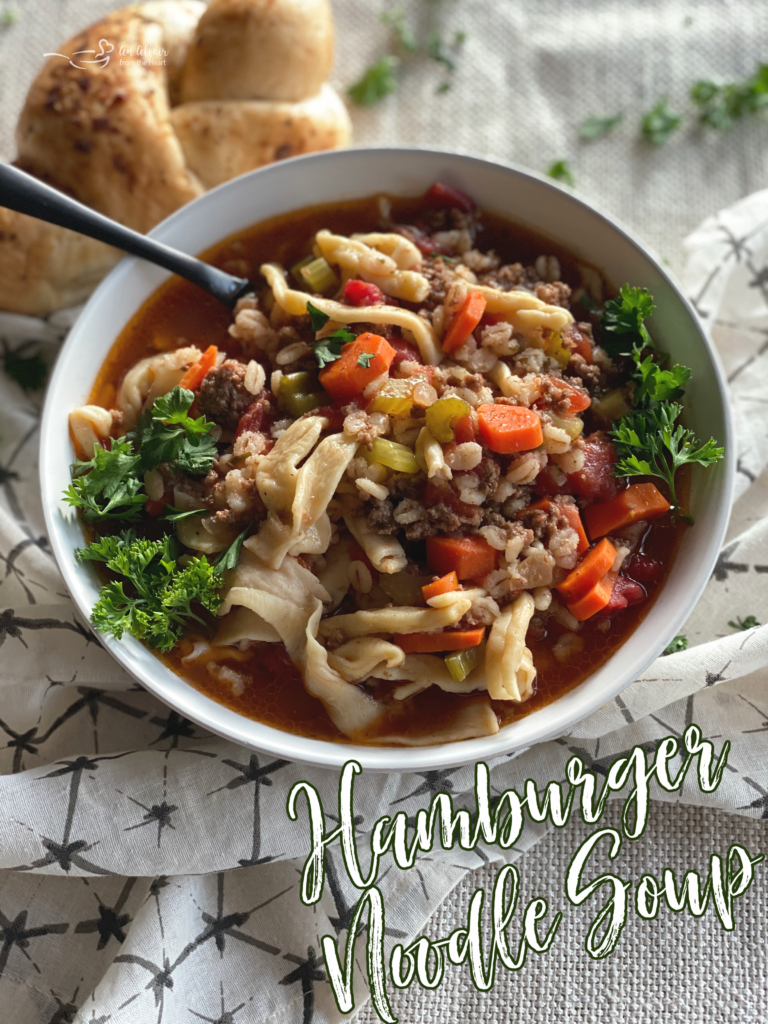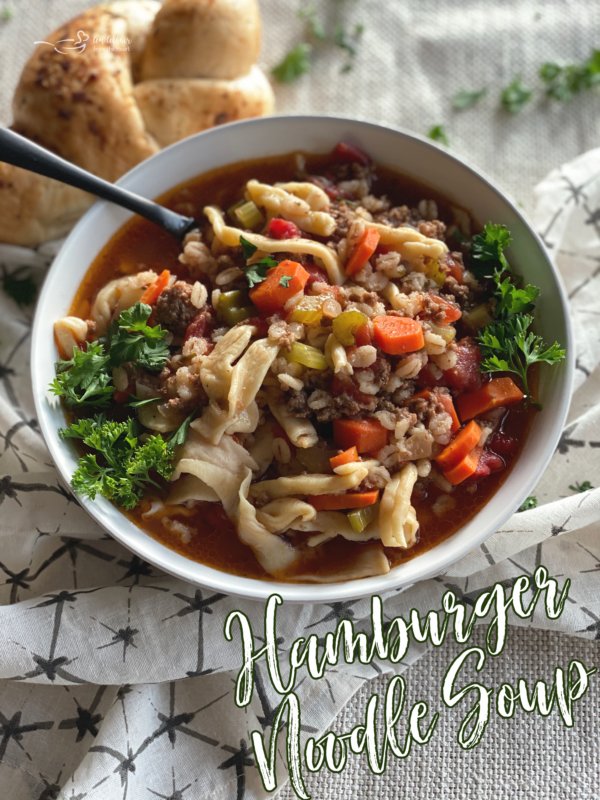 Let's get this comforting soup recipe!

Yield: 6 servings
Hamburger Soup With or Without Noodles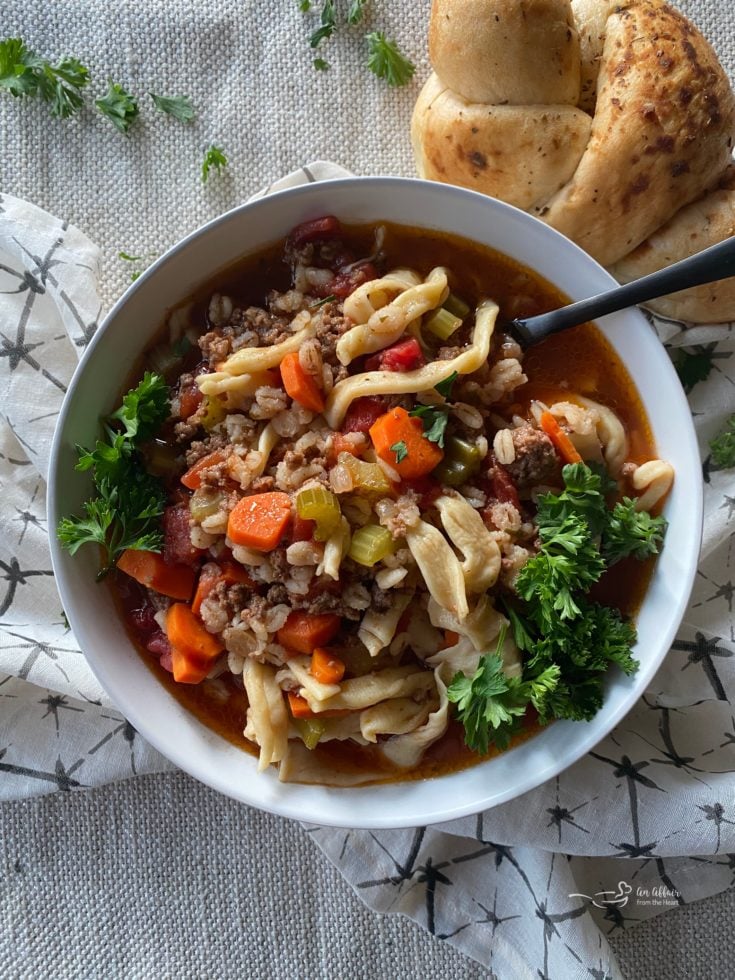 My Grandma's Hamburger Soup is comforting and delicious whether you make it with or without noodles. Packed with seasoned lean ground beef, veggies and barley, it's a hearty "stick to your ribs" kind of meal. Prepared on the stovetop or in a slow cooker, it's a long time family favorite of ours.
Cook Time
1 hour
30 minutes
Total Time
1 hour
40 minutes
Ingredients
1 pound ground beef
5 cups of water
1 - 16 ounce canned tomatoes
2 small onions, chopped
2 carrots, sliced
2 stalks of celery, sliced
1/2 Tablespoon parsley
1/4 cup barley (I use a little more, we love it!)
1/4 cup ketchup
1 teaspoon dried basil
1 Tablespoon instant beef bouillon
Salt and Pepper to taste
Egg Noodles (optional)
Instructions
In a large pot, salt and pepper ground beef to taste, and brown it with your onions.
Drain. Place back in the pot. *at this point you could add ingredients to your crockpot or continue on the stove*
Add the rest of your ingredients and bring to a boil.
Reduce and Simmer for 1 1/2 hours.
Add your prepared noodles before serving if desired.
If you make it in your crockpot, just cook it on low all day.
Notes
*I usually amp up my veggies, because we like lots of them, don't be afraid to add more or something different, I have cut small potatoes into it before, or green beans, too *
**I always double this recipe when I make it - I love to have leftovers. Freezes well, too! **
Recommended Products
As an Amazon Associate and member of other affiliate programs, I earn from qualifying purchases.
Nutrition Information:
Yield:
6
Serving Size:
1
Amount Per Serving:
Calories:

292
Total Fat:

14g
Saturated Fat:

5g
Trans Fat:

1g
Unsaturated Fat:

7g
Cholesterol:

75mg
Sodium:

586mg
Carbohydrates:

18g
Fiber:

3g
Sugar:

6g
Protein:

23g
nutrition isn't guaranteed accurate.
This recipe was originally posted on January 7, 2014. It was updated to improve user experience and shared again on December 1, 2020.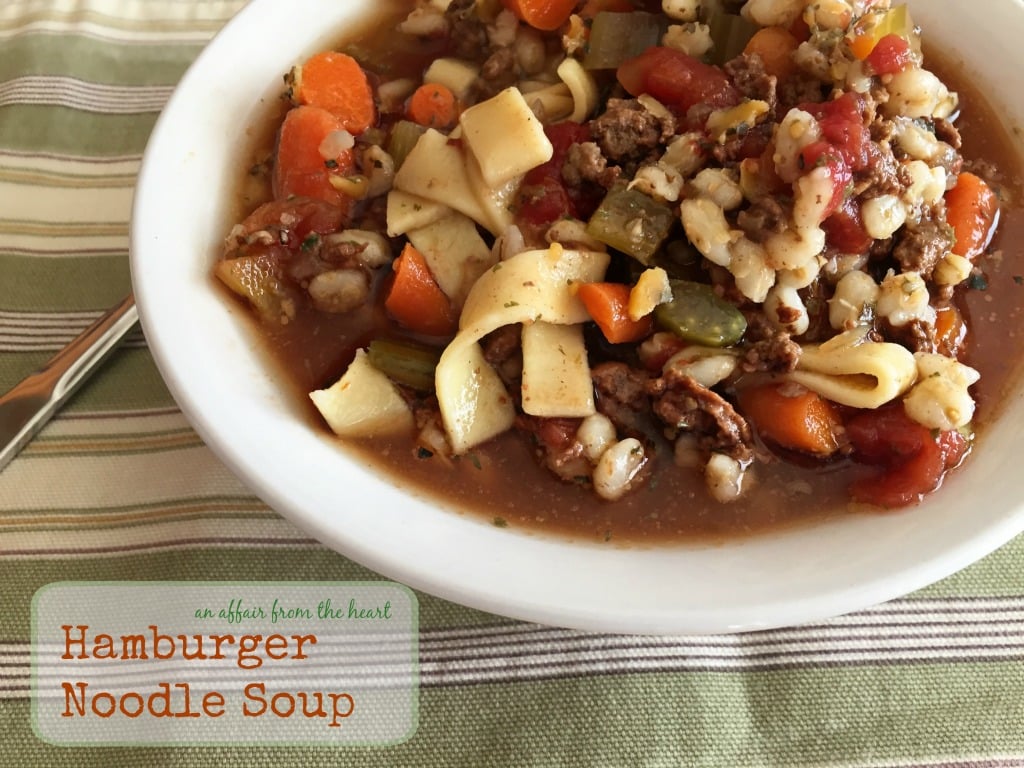 If you make this recipe, I'd love to know! Snap a picture, share the photo on social media with the hashtag #AnAffairFromTheHeart – I'd love to see what you made! – Michaela