Juicy Lucy Burger (Jucy Lucy)
As an Amazon Associate and member of other affiliate programs, I earn from qualifying purchases.
The Juicy Lucy – or Jucy Lucy – Burger is a sight and a taste to behold. It's like an inside-out cheeseburger! A thick double patty of lean ground beef with melted cheese in the center, served on a buttery toasted bun with dill pickle slices.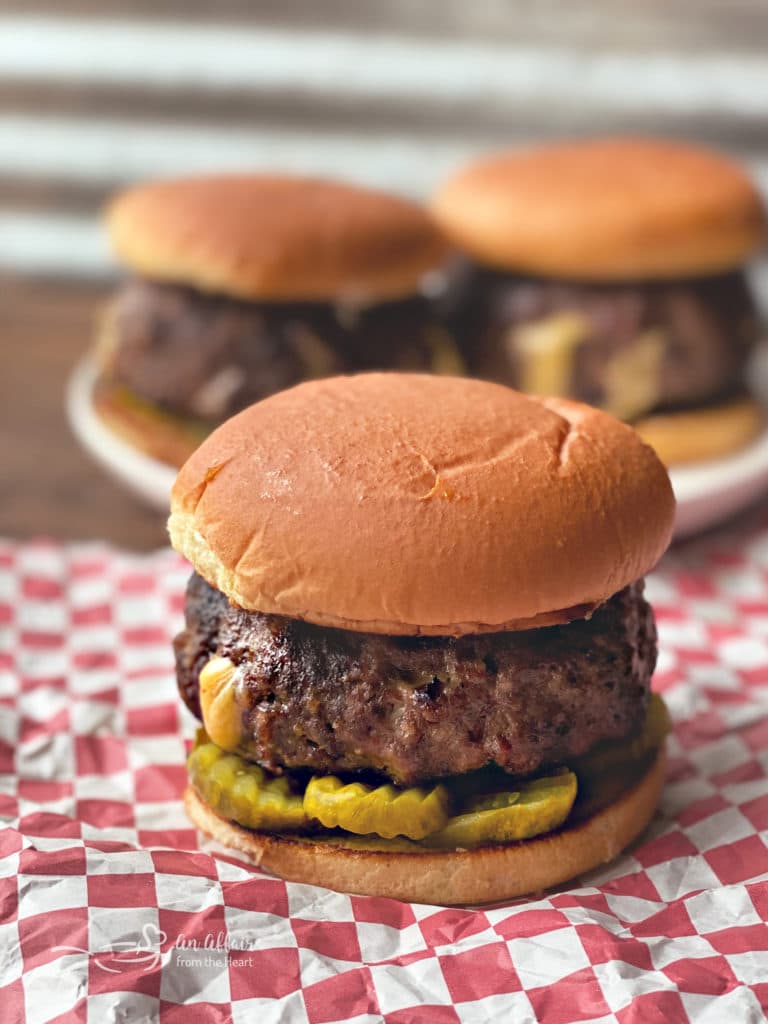 I am celebrating the early stages of summer here in Nebraska, even though summer doesn't officially arrive for a couple of weeks. You know the best way to celebrate summer? With an EPIC burger like this Juicy Lucy!
If you have never heard of a Juicy Lucy Burger, you are missing out, my friend! But never fear, I am here to show you just how to make this famous sandwich. It's easier than it seems. Promise.
This post is sponsored by Nebraska's own Dorothy Lynch Home Style Dressing & Condiment, but my love of their product and the opinions stated here are all my own.
SOME OF THE ITEMS BELOW CONTAIN AFFILIATE LINKS; I AM A PARTICIPANT IN THE AMAZON SERVICES LLC ASSOCIATES PROGRAM, AN AFFILIATE ADVERTISING PROGRAM DESIGNED TO PROVIDE A MEANS FOR US TO EARN FEES BY LINKING TO AMAZON.COM AND AFFILIATED SITES. I AM ALSO AN AFFILIATE FOR OTHER BRANDS. HOWEVER, I ONLY PROMOTE THINGS THAT I LOVE AND THINK YOU WILL LOVE, TOO. FOR MY ENTIRE DISCLOSURE POLICY PLEASE

CLICK HERE

.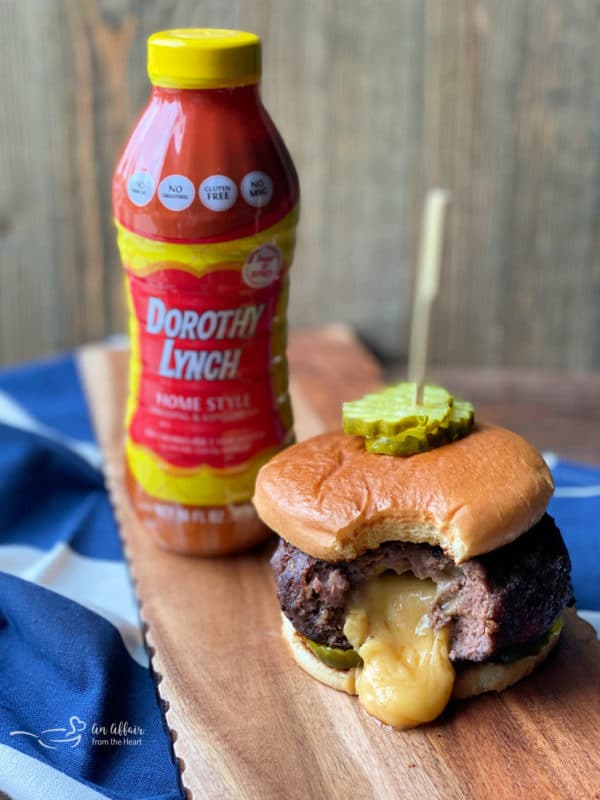 When the brainstorming began for my summer grilling recipe for Dorothy Lynch, the idea of the Juicy Lucy came up. I couldn't believe I had never added it to my huge collection of recipes. It was time that changed.
But like all of my other Dorothy Lynch recipes, it couldn't be basic. No, it would be made a bit more exceptional, just by adding a little bit of that sweet and spicy Nebraska favorite.
What is Dorothy Lynch, Anyway?
Dorothy Lynch Home Style Dressing & Condiment can best be described as a sweet and spicy dressing that has a thick and creamy texture. Because of its color, many will assume it's just another French dressing, but that simply isn't true at all.
In fact, it tastes nothing like it. French dressing is oil-based; Dorothy Lynch is tomato-based. The best word to describe its taste: Homemade.
"The" Dorothy Lynch created her signature dressing in the 1940s and served it at a restaurant she and her husband ran at the local Legion Club in St. Paul, Nebraska. The dressing became so popular, patrons would bring in their own bottles to have Dorothy fill them to eat at home.
So, it's just another salad dressing? No way! Dorothy Lynch is so versatile!
Even though Dorothy Lynch started out as a salad dressing, it is so much more versatile than that. We go through it quickly because we use it for all sorts of things!
It's delicious as a marinade, a vegetable dip, a pizza dip, and it's excellent with barbecue and fried chicken. Dorothy Lynch Home Style and Dorothy Lynch Light & Lean are both gluten-free.
It also makes a great addition to recipes. Its unique flavor has taken so many of my own recipes to the next level!
Using Dorothy Lynch Home Style Dressing & Condiment in Recipes
From my Sloppy Dorothy Sandwich to brunch pies and everything in between, Dorothy Lynch has been spicing up my recipes for decades.
Dorothy Lynch Recipes on An Affair from the Heart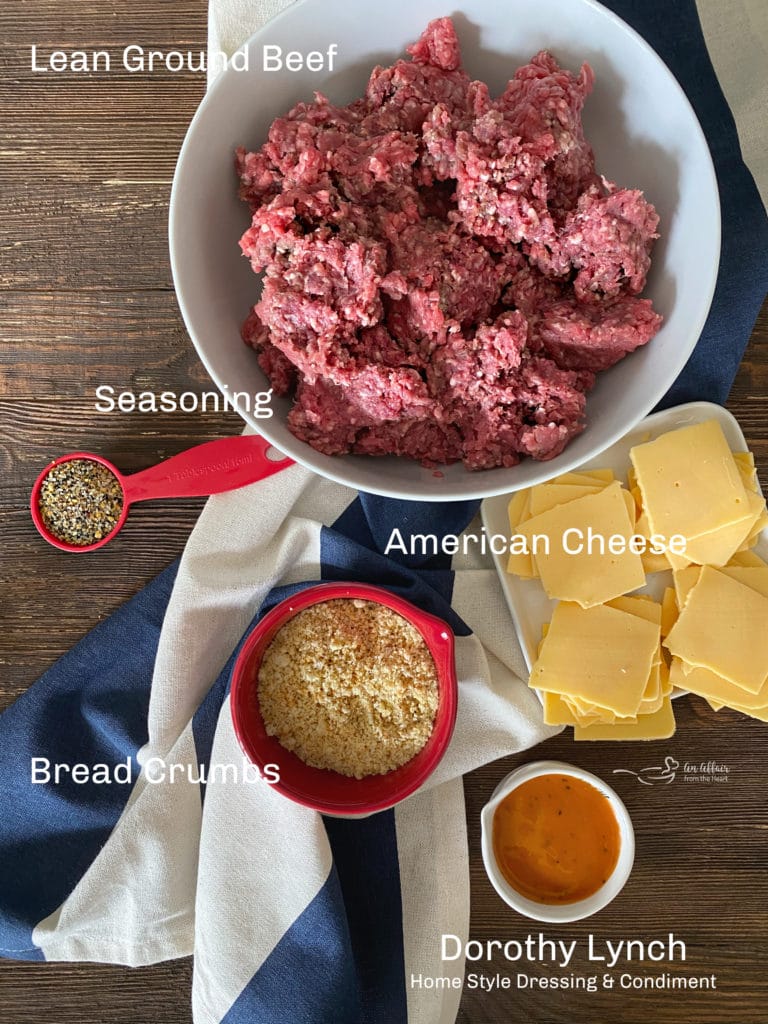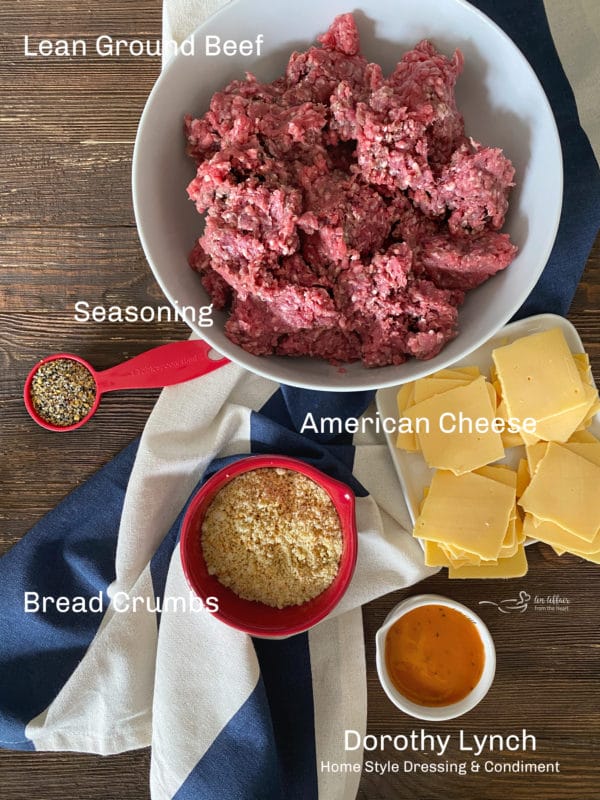 Introducing Dorothy's Juicy Lucy Burgers
Today, Dorothy Lynch Home Style Dressing & Condiment is one of the 5 simple ingredients you'll need to make this classic burger recipe. Lean ground beef, Montreal Steak Seasoning, bread crumbs, good quality American cheese, and Dorothy Lynch will make up our burgers.
I served mine with pickles on a buttery grilled bun. Of course, you are welcome to dress your Juicy Lucy up any way you like.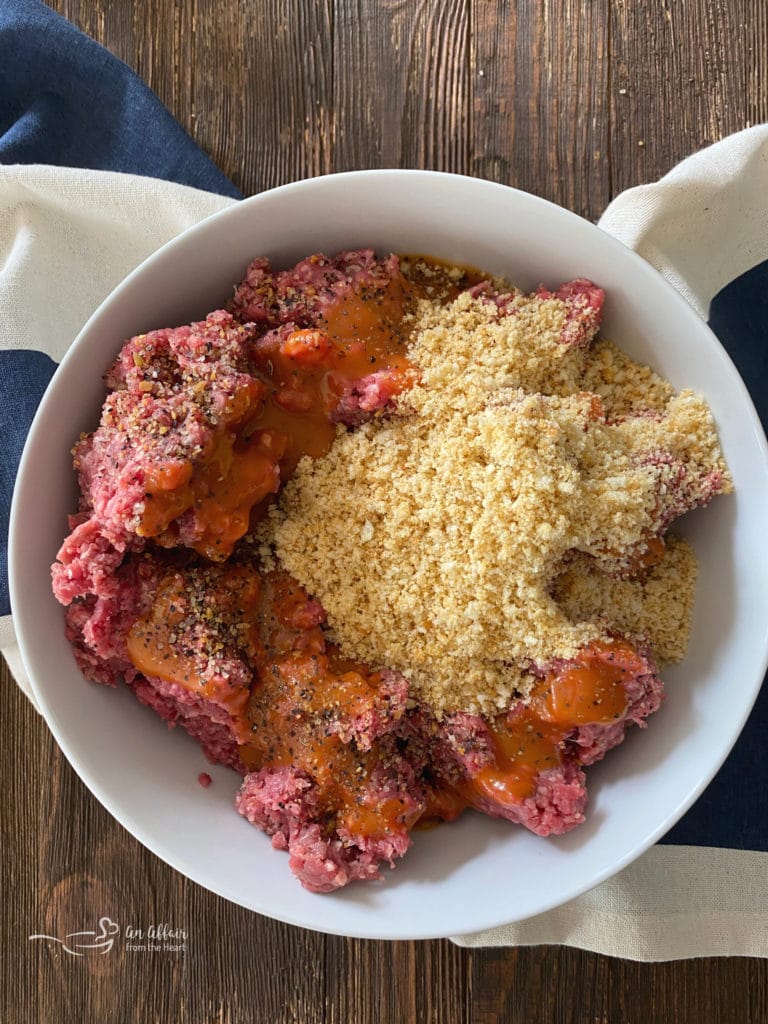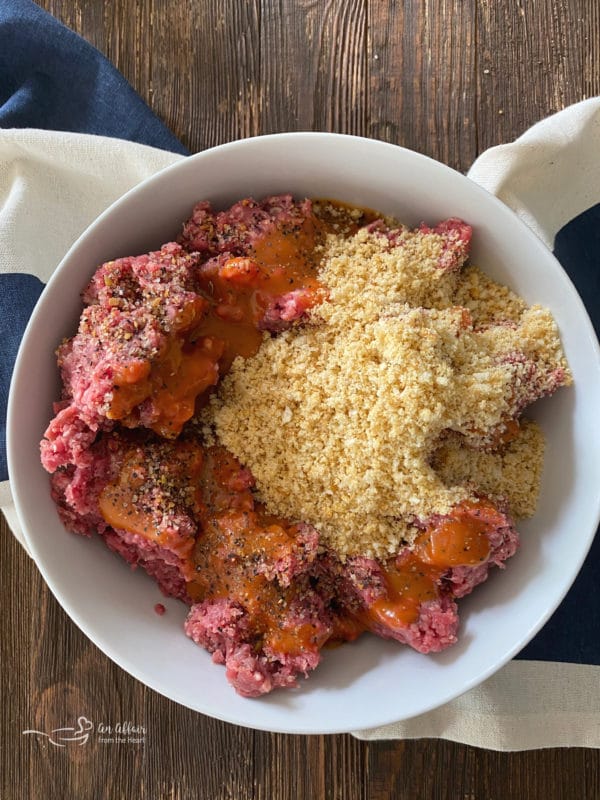 Begin by mixing together your ground beef, Dorothy Lynch, seasoning, and bread crumbs.
Tip: Don't have any bread crumbs? Toss some croutons in your food processor! Even toasted bread will work.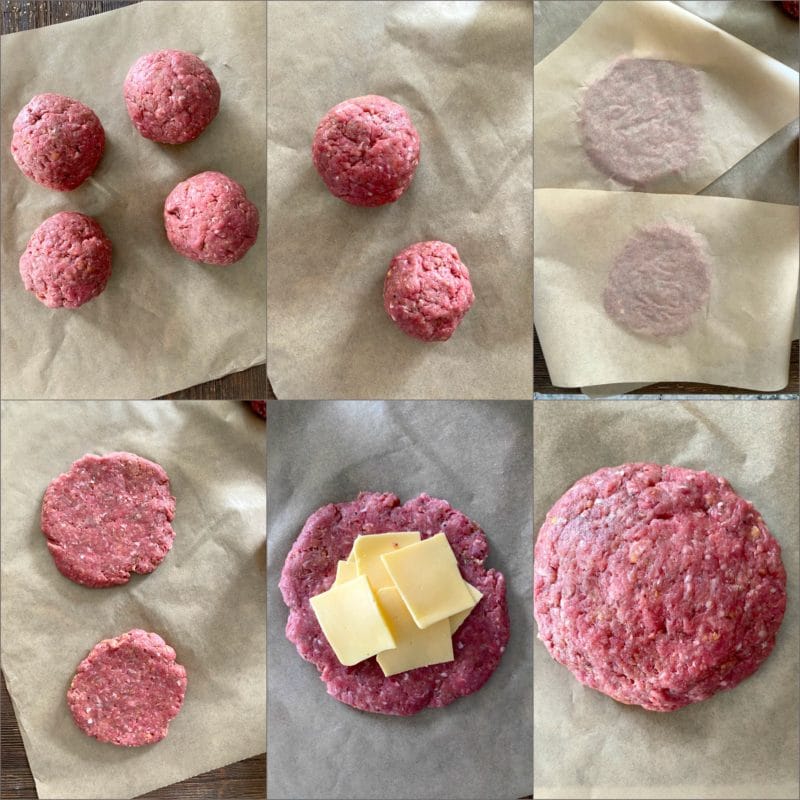 Step by Step Guide to Making the Best Juicy Lucy Burger:
Divide the meat mixture into four equal parts. Form each section into a ball.
Then you will divide each section into two more balls. Make one ball slightly larger than the other. The larger one will be the bottom layer and the smaller will become the top layer.
Place each ball between two sheets of parchment paper. Use something flat to squish them down. I used the bottom of a dinner plate. It worked great!
Place the squares of cheese in the center of each larger patty, mounded more in the center. (Remember to use a good quality American cheese, not that stuff between the sheets of plastic!)
Place the smaller patty on top of the larger one and form it around the heap of cheese.
Bend the bottom layer up around the edges and press to seal. Make sure you seal the edges really well! You don't want your cheese to ooze out before it's time!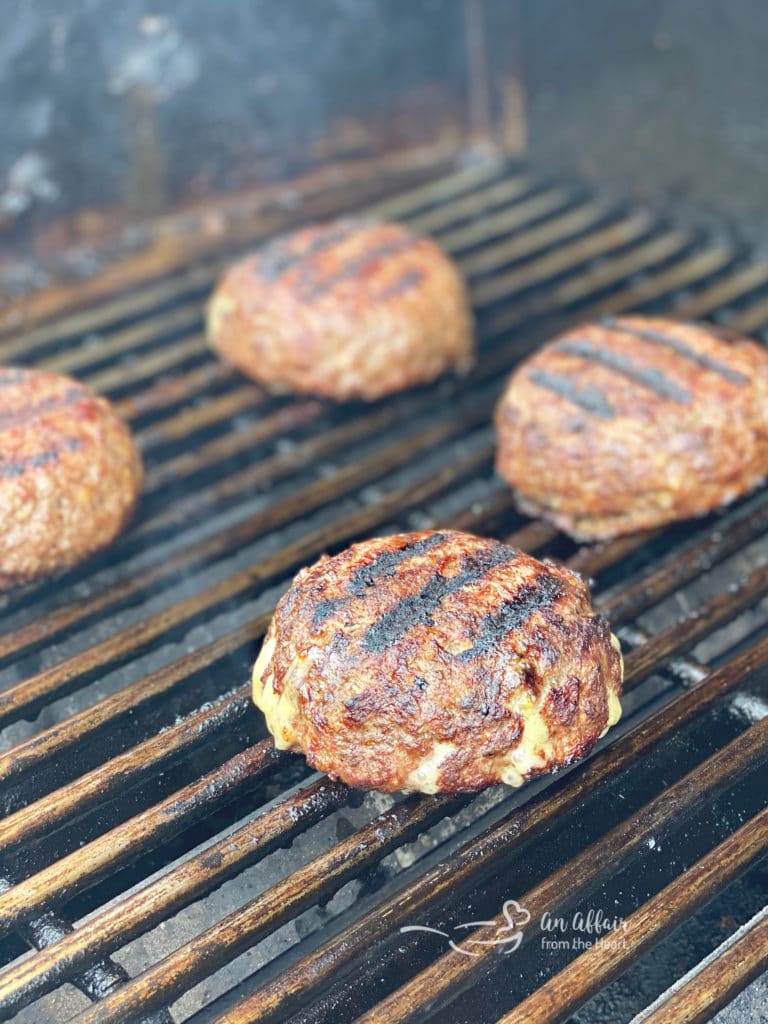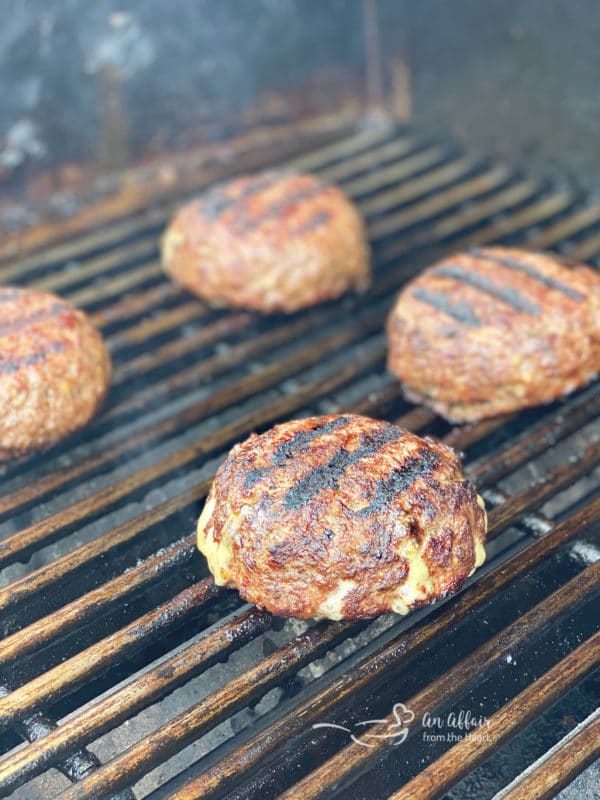 Place the patties on your grill and carefully turn them over. The more you mess with them, the more likely you will let the cheese out. Keep them nice and Juicy, Lucy!
These are no small burgers, my friends. Each one weighs in a little over a half-pound with the addition of the cheese.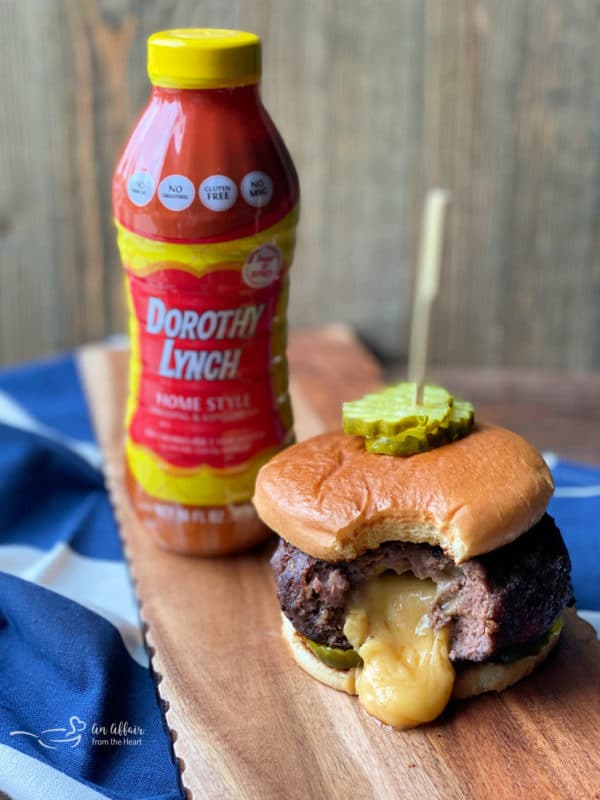 Serve the Juicy Lucy Burgers on a buttery toasted bun. I loaded it up with dill pickles, and of course, served it with more Dorothy Lynch for dipping!

Love them? Pin Them!
Make sure you pin these delicious burgers to your favorite Pinterest board before you go! You'll be glad you did when you're ready to make them!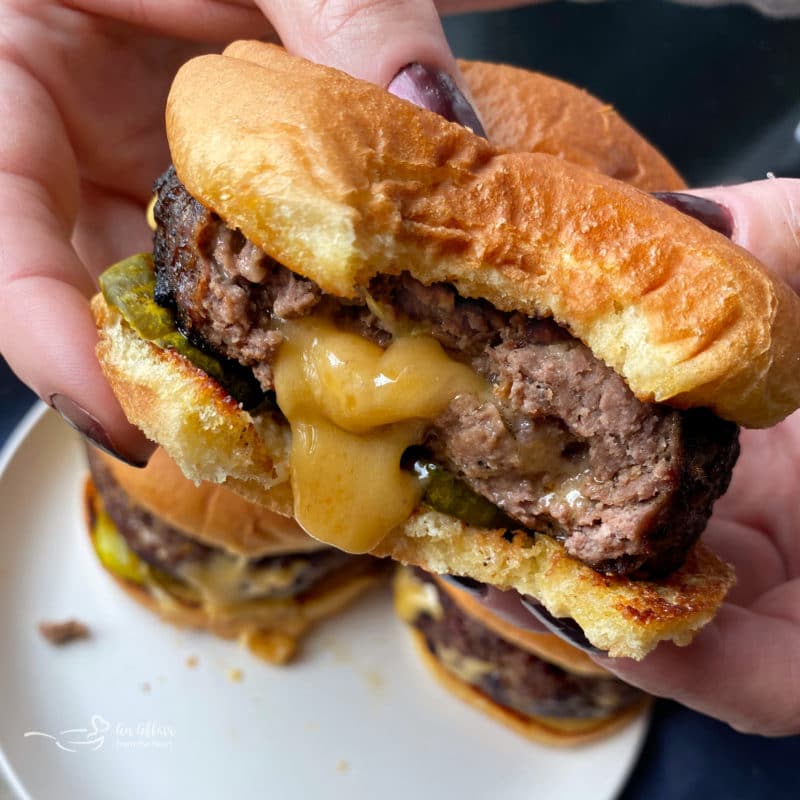 The History of the Juicy Lucy Burger
Kind of like how the history of the famous Reuben Sandwich, as told by us Nebraskans, originated in Omaha and not somewhere in New York City, there are two bars that claim to have invented the Juicy Lucy. Ironically, they are both located in Minneapolis, MN, and reside on the same street, about 3 miles from one another.
Matt's Bar claims that its original owner invented the Juicy Lucy in the 1950s, and they removed the "i" from the name as a play on words, deeming it the "Jucy Lucy." It was named after a customer took a bite of his burger and exclaimed, "Oooooh! That's one Juicy Lucy!"
The 5-8 Club really has no real history as to when they claim to have thought up the Juicy Lucy, but the bar itself dates back to the speakeasy days of the 1920s.
At this point in history, we are all just glad that somebody came up with the idea of making a burger with a melted core of cheese.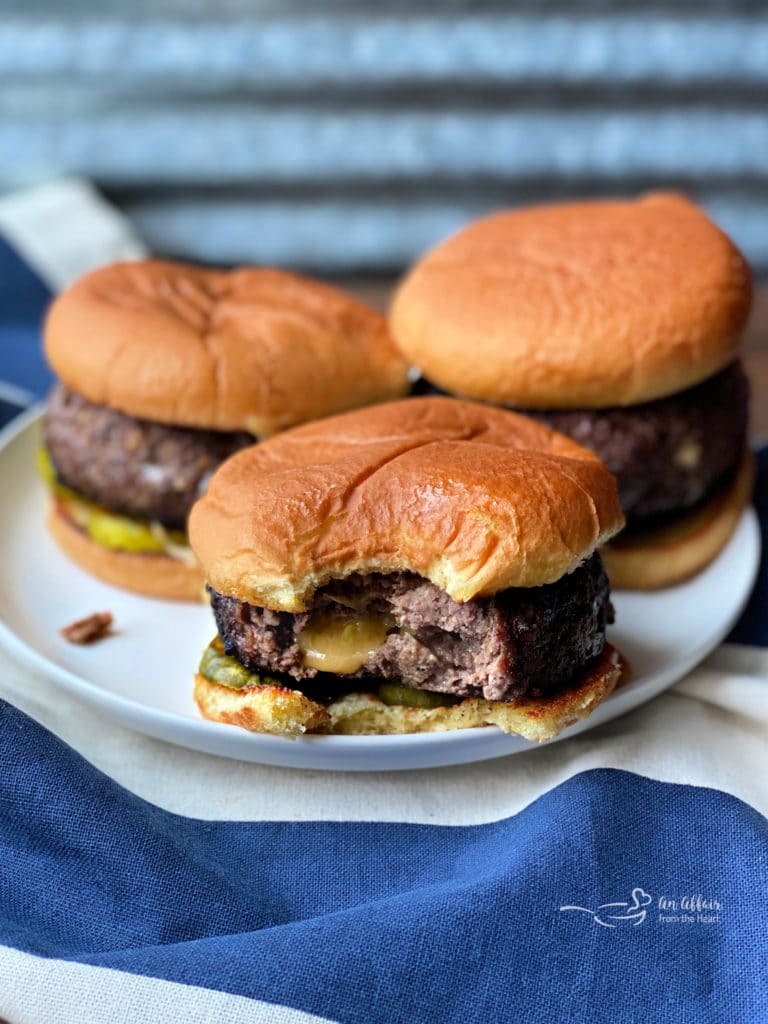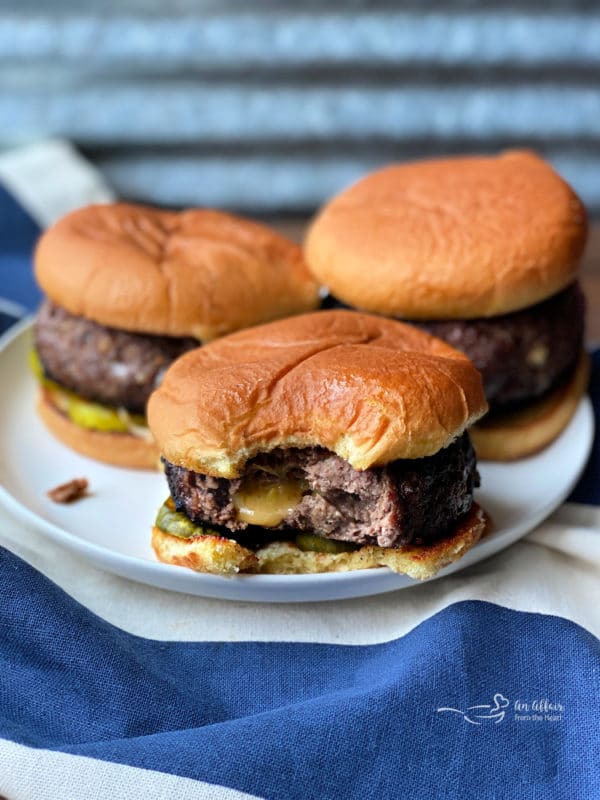 If you love a good burger, I know that these Juicy Lucy's will be at the top of your favorites list. When you try one, I'd love to have you share it with me!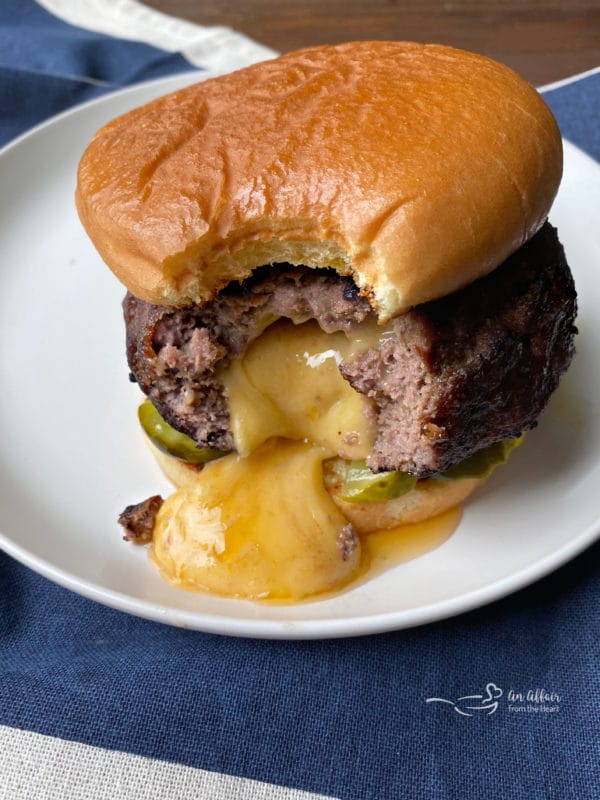 WHERE DO I GET MY OWN BOTTLE OF DOROTHY LYNCH?
Dorothy Lynch Home Style Dressing & Condiment can be purchased at many locally-owned Nebraska shops and at select grocery stores around the country including Walmart and Hy-Vee.
If you can't find it locally, you can always get your pantry stocked with Dorothy Lynch by shopping online at Buy Nebraska, Amazon, or on the Dorothy Lynch website, where you will find tons more great recipes!
Make sure to follow along with Dorothy Lynch on their website, and their Pinterest, Facebook, and Twitter account for delicious recipes all year long.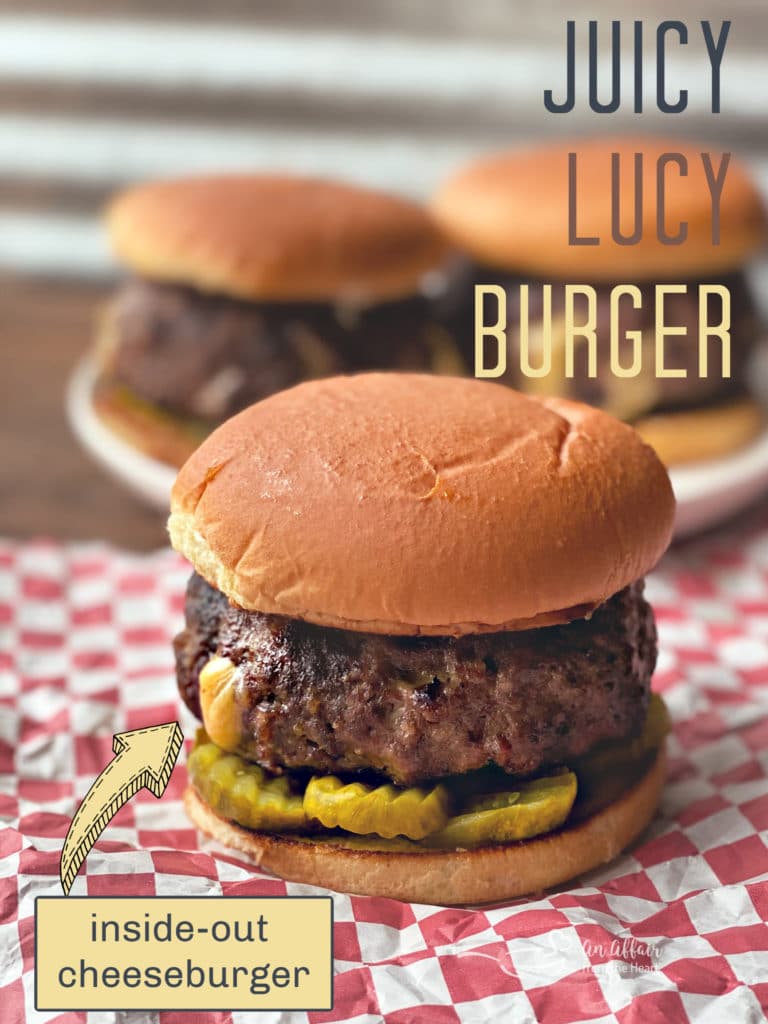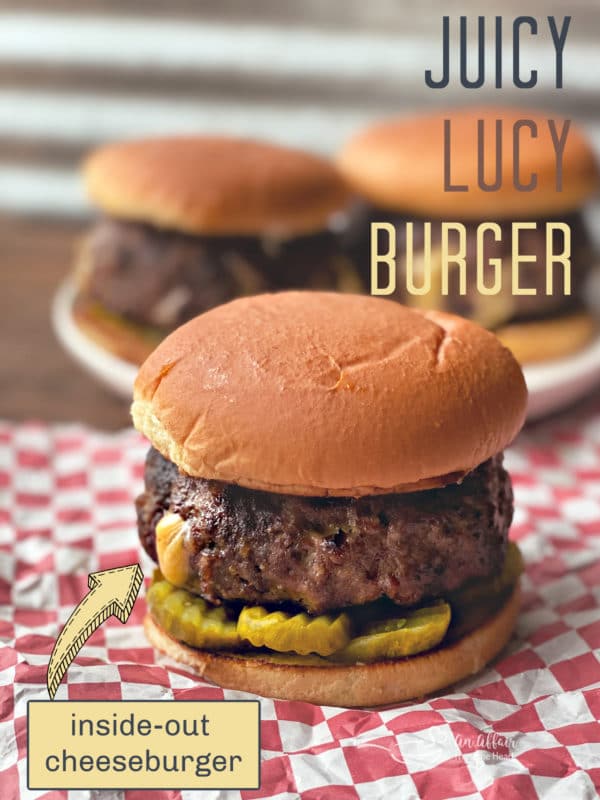 Let's make some Juicy Lucy Burgers, shall we??

Yield: 4 burgers
Juicy Lucy Burger (Jucy Lucy)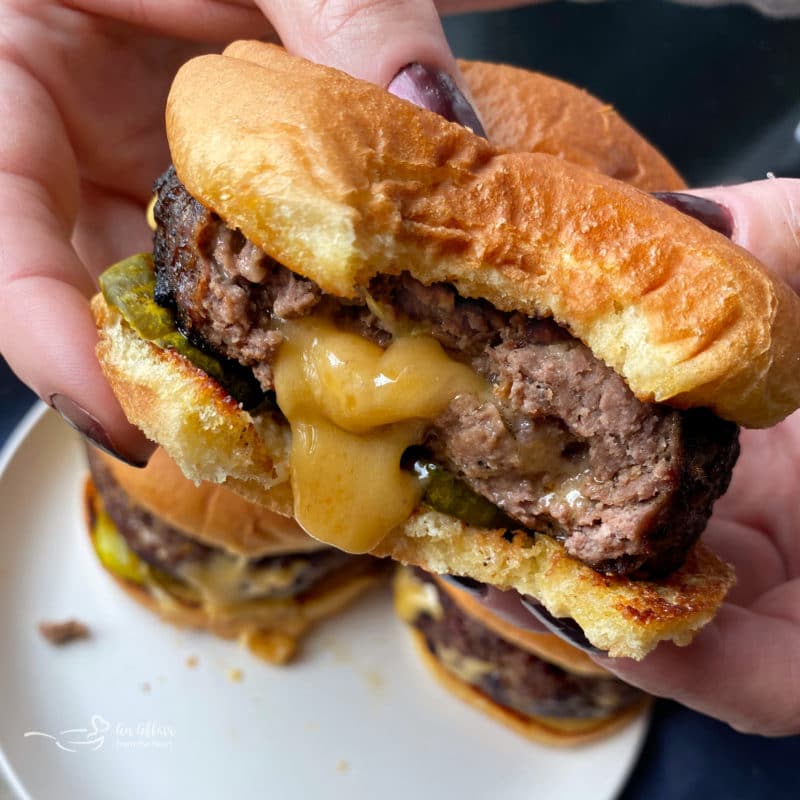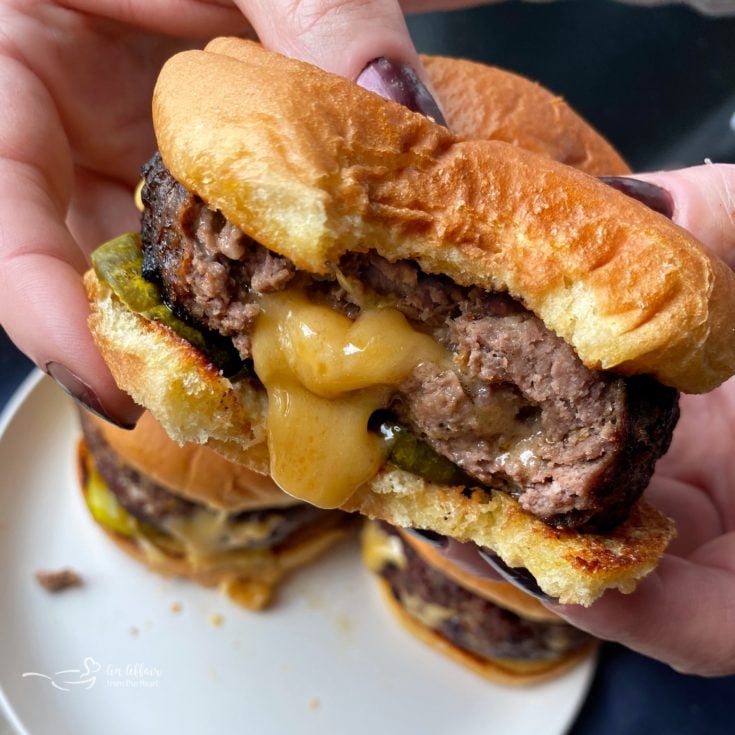 The
Juicy Lucy – or Jucy Lucy – Burger is a sight and a taste to behold. It's like
an inside-out cheeseburger! A thick double patty of lean ground beef with
melted cheese in the center served on a buttery toasted bun with dill pickle
slices.
Ingredients
2 pounds lean ground beef
½ cup bread crumbs
1 Tablespoon Montreal Steak Seasoning
¼ cup Dorothy Lynch Home Style Dressing & Condiment
7 slices good quality yellow American cheese, each slice cut into 4 pieces and divided evenly into 4 stacks.
Dill pickle slices and toasted hamburger buns for serving.
Instructions
Combine ground beef, steak seasoning, bread crumbs and Dorothy Lynch in a bowl.
To make the patties the same size, divide the meat in half, then in half again. You will have 4 half pound meatballs. Now divide each of those in half, only make one ball about ⅓ less the size of the other. Now you have 8 meatballs, 4 larger, 4 smaller.
Place the balls between two pieces of parchment paper. Using a flat object, like the bottom of a plate, press the ball to flatten each into a patty.
Place the
cheese squares In the middle of the large patty, stacking a little higher in
the center.
Cover with the smaller patty, and "fold" the edges of the bigger patty over the smaller one, making sure to seal it tightly so the cheese doesn't escape when you grill them.
Grill at 350 degrees, 6 minutes on each side. Test to make sure they are done to at least 160 degrees. (this will be medium doneness) Don't put the thermometer in the cheese, make sure to check only the meat.
Butter the buns on the inside and toast. I used a skillet, you can do this on the stove or the grill.
Serve with dill pickles.
Notes
These make really big burgers. If you decide to make them smaller, be sure to watch them on the grill. If they are smaller and thinner, they will grill much faster. This recipe is easily cut in half to serve two people.
Recommended Products
As an Amazon Associate and member of other affiliate programs, I earn from qualifying purchases.
Nutrition Information:
Yield:
4
Serving Size:
1
Amount Per Serving:
Calories:

896
Total Fat:

57g
Saturated Fat:

16g
Trans Fat:

1g
Unsaturated Fat:

35g
Cholesterol:

222mg
Sodium:

1424mg
Carbohydrates:

21g
Fiber:

1g
Sugar:

5g
Protein:

69g
Nutrition isn't guaranteed accurate.