Homemade Croutons from Leftover Bread
As an Amazon Associate and member of other affiliate programs, I earn from qualifying purchases.
Take that leftover bread, that day old bread, and make your own croutons to use on salads and soups.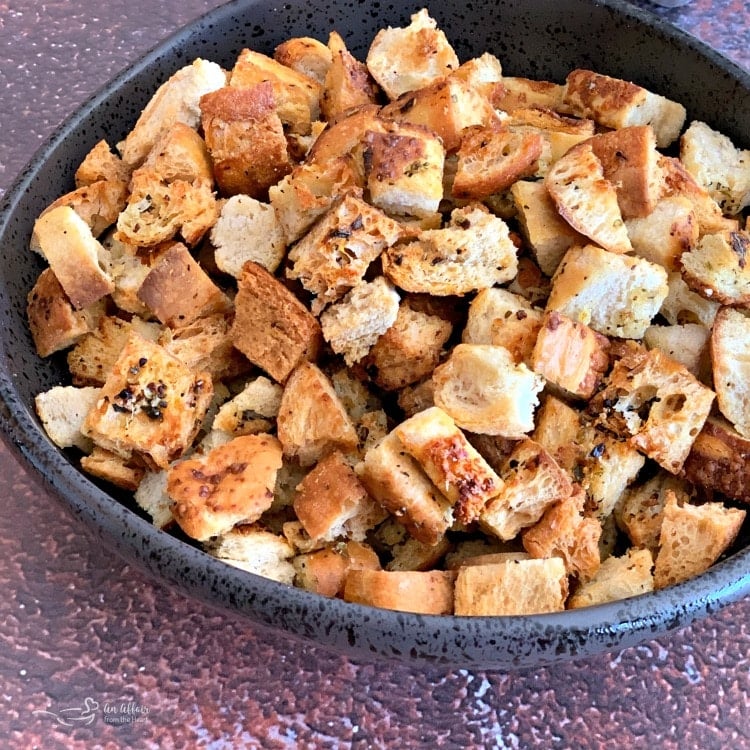 I make homemade croutons quite often. It's really simple, so why would you toss that left over bread when you can re-purpose it into something useful?
For some reason though, I have never really blogged about them though, with the exception of my Homemade Rye Bread Croutons I made to put in my Cream of Reuben Soup.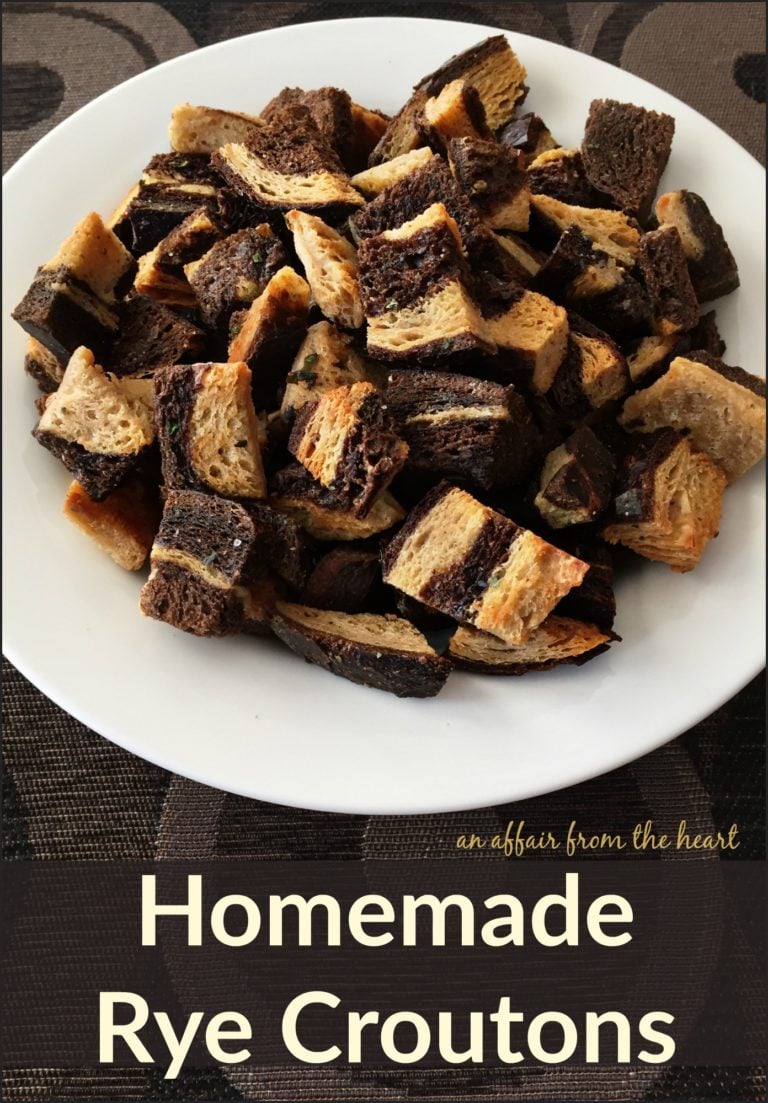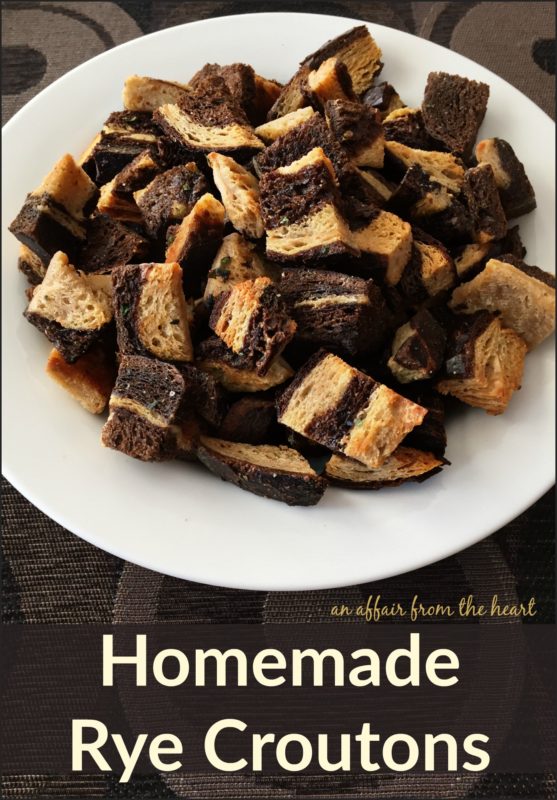 A couple of weeks ago for Sunday family dinner I bought two different kinds of bread because I went the the store hungry (don't you hate when you do that?) and I couldn't make up my mind. I was making soup and salad and wanted to make sure there was plenty of crusty bread to dunk in.
Some Sundays I buy bread and they ask if there is anymore and I have to tell them no. Other Sundays, like this particular one, they didn't eat near as much. So, some of it got sent home with them, and the rest got put in a bread bag on my counter. I looked at it for 3 days.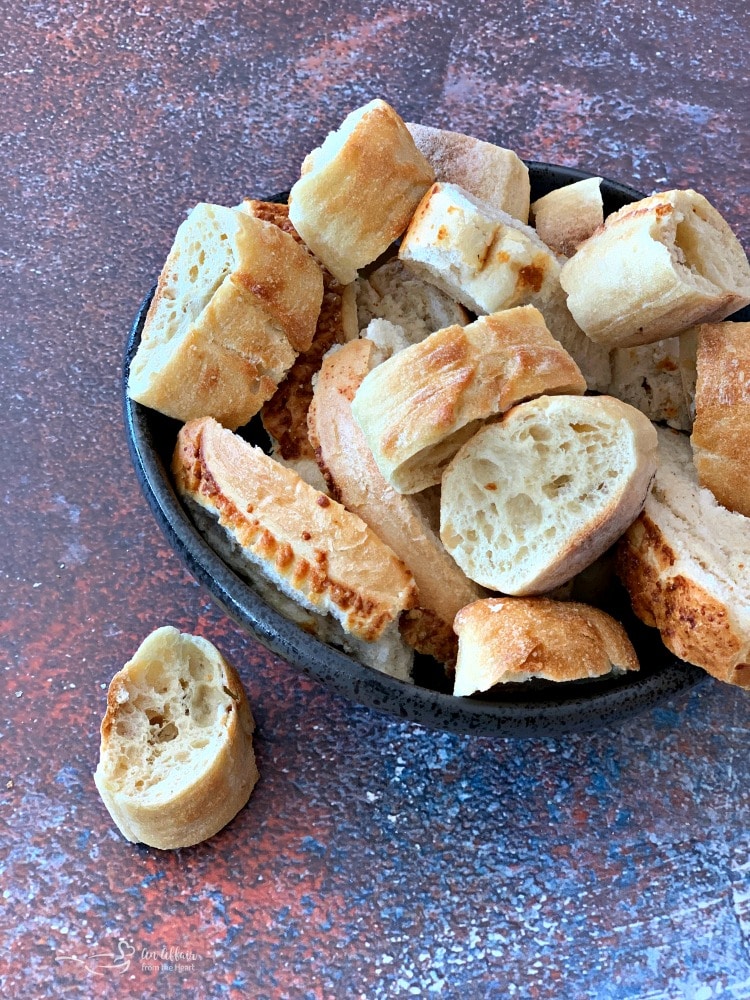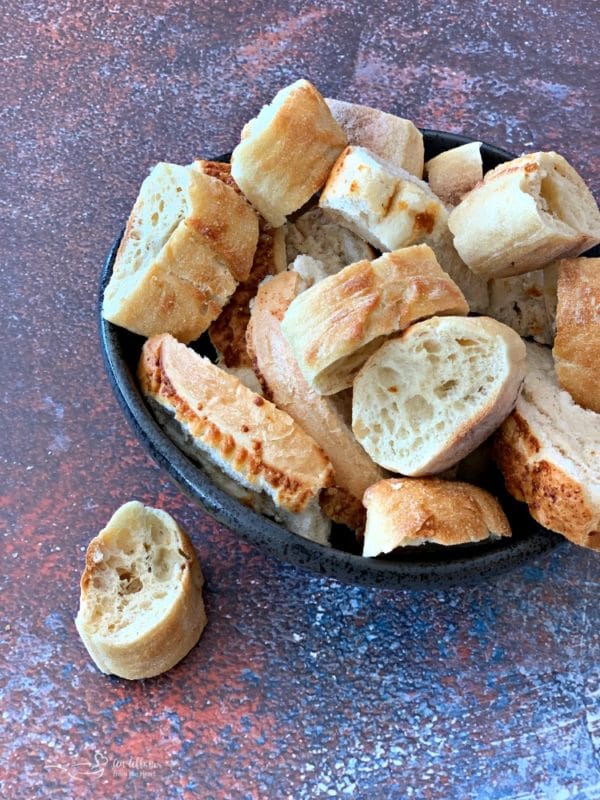 Before it started growing fuzz, I decided I would show you all how I make my leftover bread into croutons, so you could try it, too!
What do I need to make Homemade Croutons:
Leftover/Day Old Bread
Butter
Garlic
Italian Seasoning (or other)
Cheese (optional)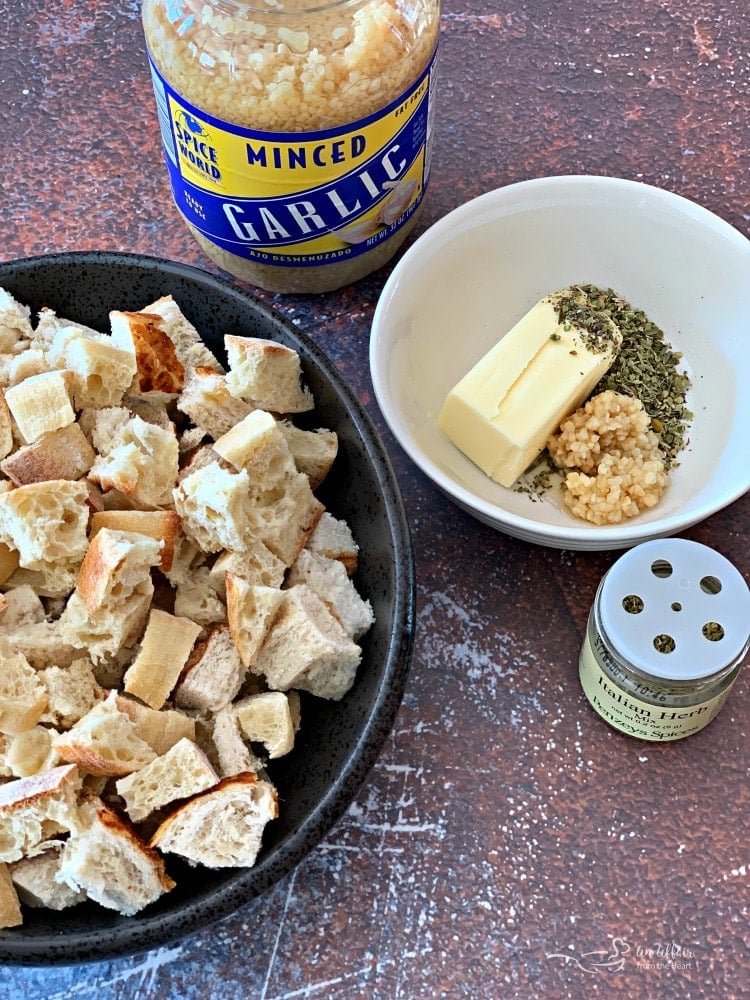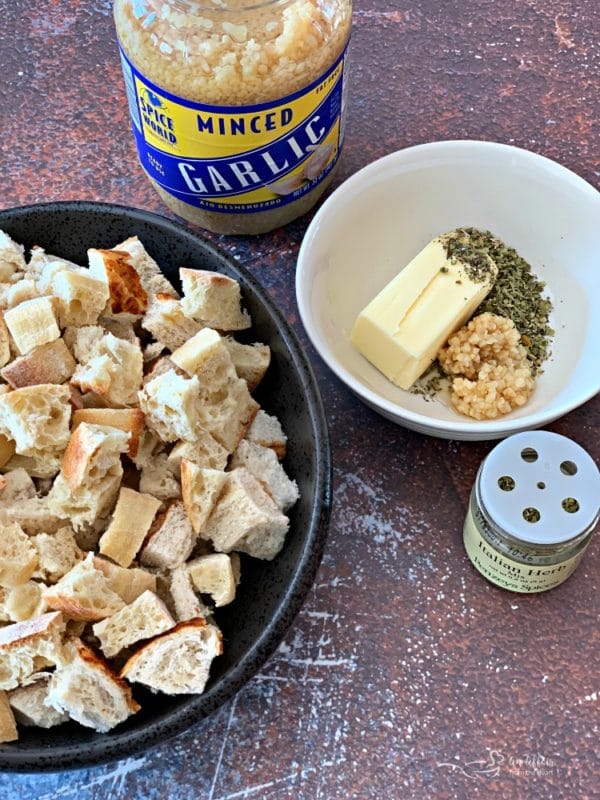 Cut your bread into cubes. Melt your butter with your garlic and seasonings.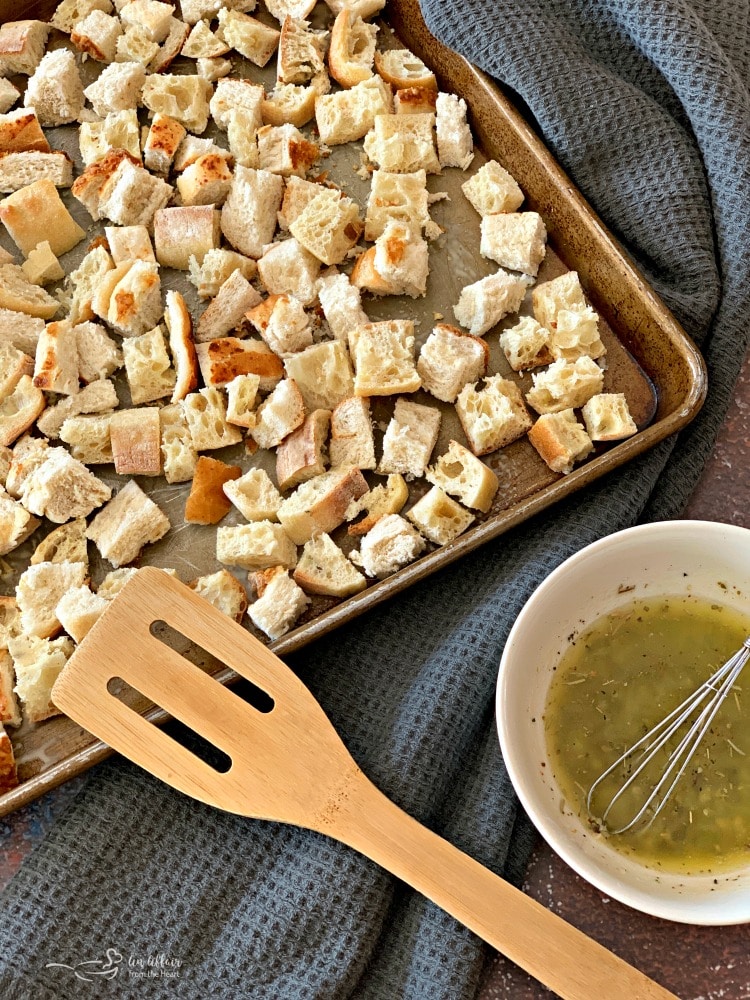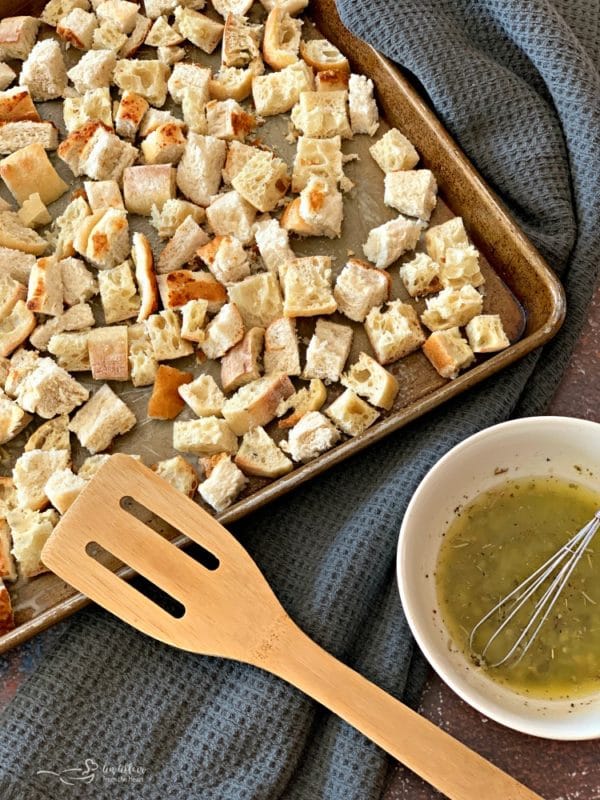 Drizzle with butter over the crumbs, and bake, turning the bread cubes every 15 minutes until they are toasted to your liking. Sometimes I add Parmesan cheese
I toasted these a little longer than normal. I typically take them out a little earlier, because I love when they are still somewhat soft in the middle.
You can change up the spices/seasoning to your liking. I used an Italian blend here, along with the garlic. Switch it up to go with your favorite soups or salads. One of my other favorites? Rosemary. Yummy. Any bread works, and will totally change with taste of your crouton. Or try mixing two together like say a Pumpernickel and a Sourdough. Gives a nice color dimension, too.
Other Ideas for Leftover or Stale Bread:
Panzanella Salad – this hearty salad is made with bread, tomatoes and herbs with a tangy vinaigrette.
Bread Pudding – take that stale bread and turn it into dessert!
French Bread Pizza – leftover french baguette? Make pizza!
Bread Crumbs – turn stale bread into Panko bread crumbs!
French Toast – Once the bread gets soaked for French toast, it doesn't matter if it's a bit stale.
Stuffing – My favorite part about any holiday meal? The stuffing. Don't buy the bread crumbs, make re-purpose your day old bread!
Are you ready to make your own croutons? Please come back and share your creation with me, or tag me on social media so I can see what you made!
Until Next Time,

Yield: 12
How To Make Homemade Croutons from Leftover Bread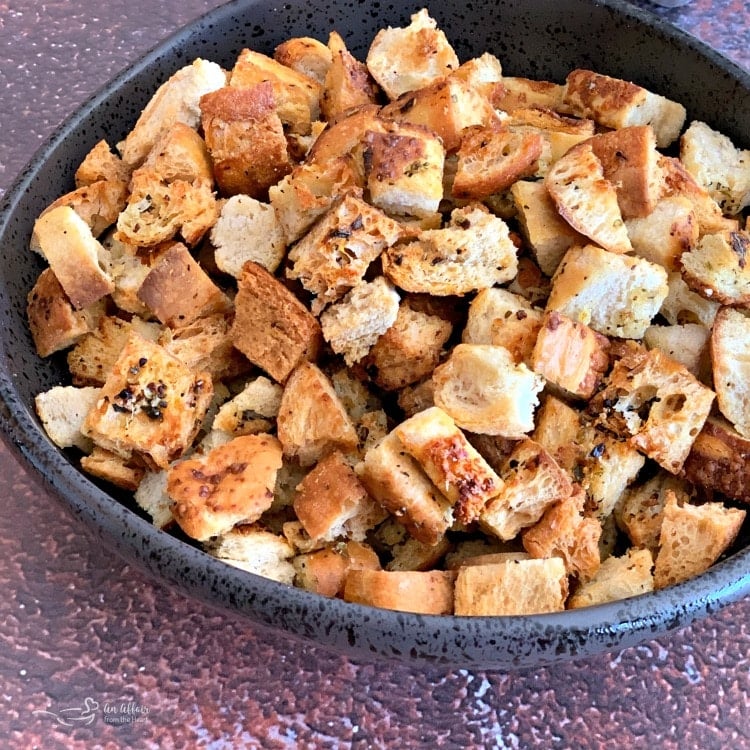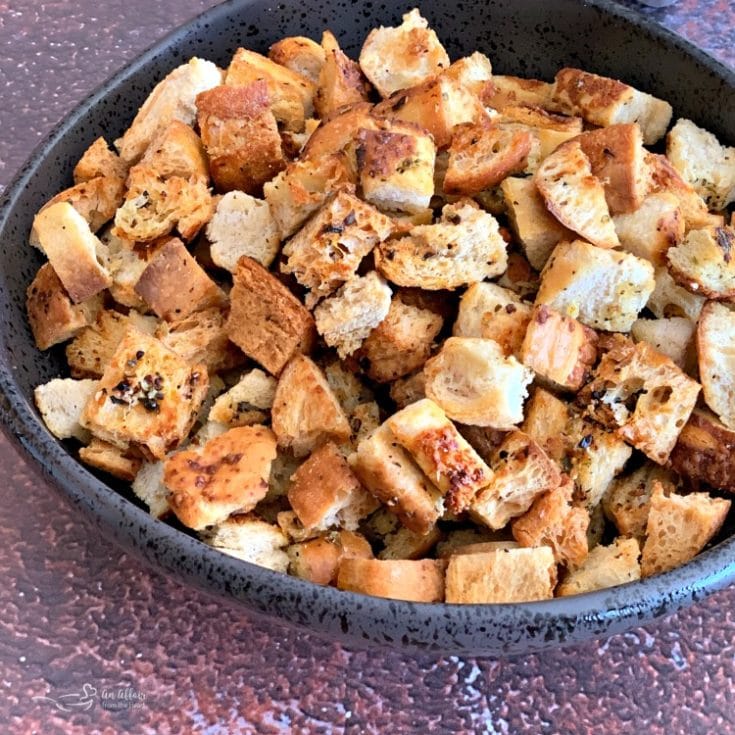 Take that leftover bread, that day old bread, and make your own croutons to use on salads and soups.
Ingredients
8 cups cubes leftover bread, crusts on
2 teaspoons minced garlic
2 teaspoons Italian Seasoning Blend
1/4 cup melted butter
Butter for pan prep
Sea salt optional
Instructions
Preheat oven to 375 degrees. Spritz a cookie sheet with spray butter, or rub with a stick of butter to coat.
Cut slices of bread into the size of croutons you desire. I left the crusts on.
Lay bread on prepared cookie sheet in a single layer.
Melt butter and whisk in Italian seasoning and garlic. Drizzle over the top of the bread.
Bake for 5 minutes, turn bread over. Continue this method every 5 minutes until bread is toasted to your desired crispness. I like mine golden brown on the outside and still soft in the middle. Mine took just under 20 minutes. Watch them closely.
Sprinkle with sea salt If desired) when you remove them from the oven. Let cool. Store in an air tight container. Use within one week.
Nutrition Information:
Yield:
20
Serving Size:
1
Amount Per Serving:
Calories:

69
Total Fat:

3g
Saturated Fat:

2g
Trans Fat:

0g
Unsaturated Fat:

1g
Cholesterol:

8mg
Sodium:

130mg
Carbohydrates:

8g
Fiber:

0g
Sugar:

1g
Protein:

1g
Nutrition isn't always accurate.