This is a legendary recipe in our family.  It's one everyone looks forward to on vacation — Uncle Brian's French Toast is one breakfast recipe you just HAVE to try!
This recipe is one of my favorite things my husband makes.  When I am asked what I want for breakfast for my birthday or for Mother's Day, it's always his French toast or his Omeletes.
In the summertime when our extended family gets together at the lake, somebody always asks when Uncle B is making his French toast.
Can you blame them?  Look at it!
This past weekend, we had my Mother and Father in law over for Sunday breakfast.  My dear friend, Betsy, had given me some fresh eggs, and I knew just what we were making.
FRENCH TOAST!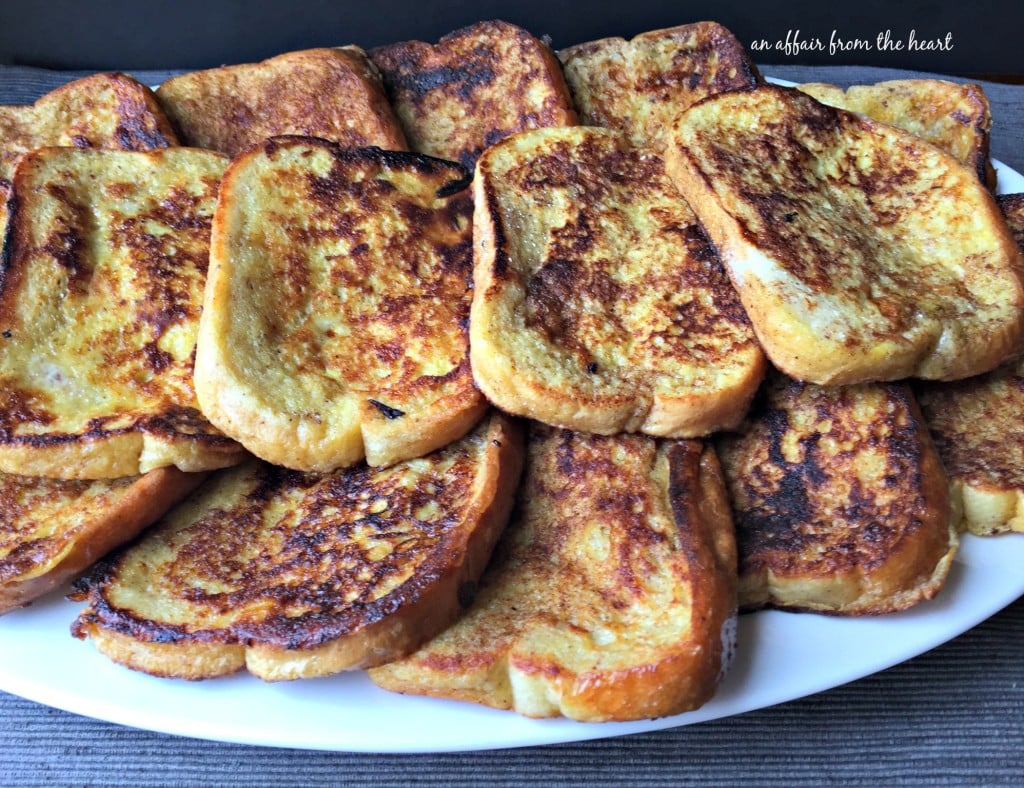 The secret to that perfect crusty outside, is the Italian bread.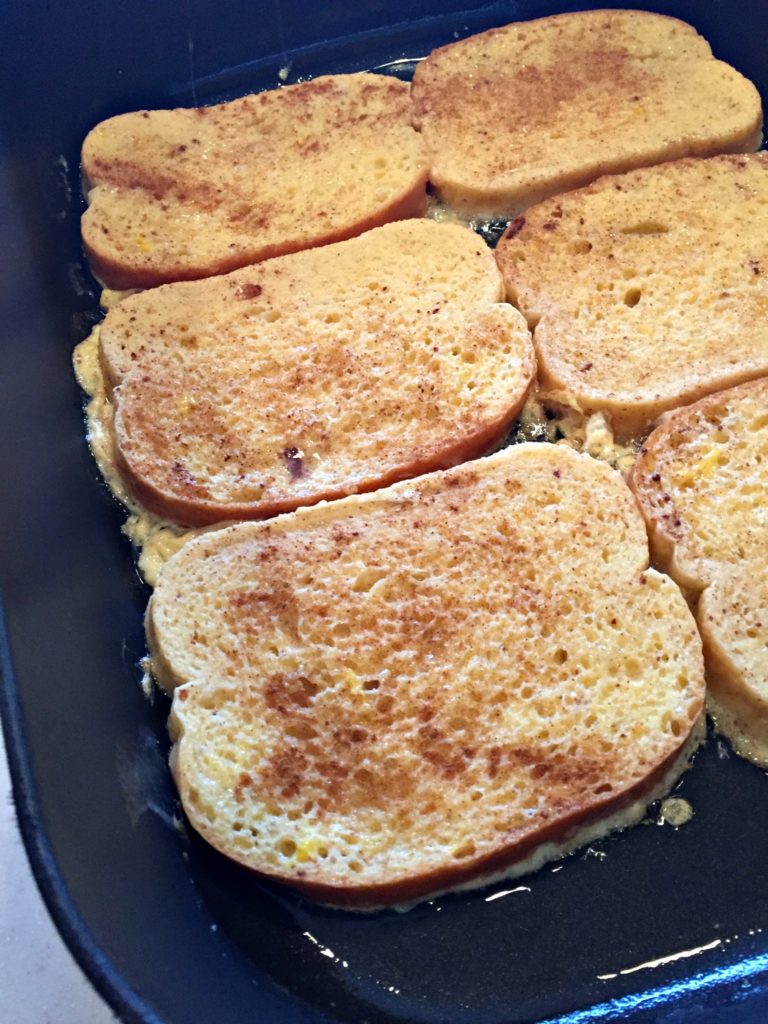 Cinnamon in the egg mixture and a light dusting over the top when cooking.  My most FAVORITE cinnamon is the Penzey's Vietnamese Cinnamon.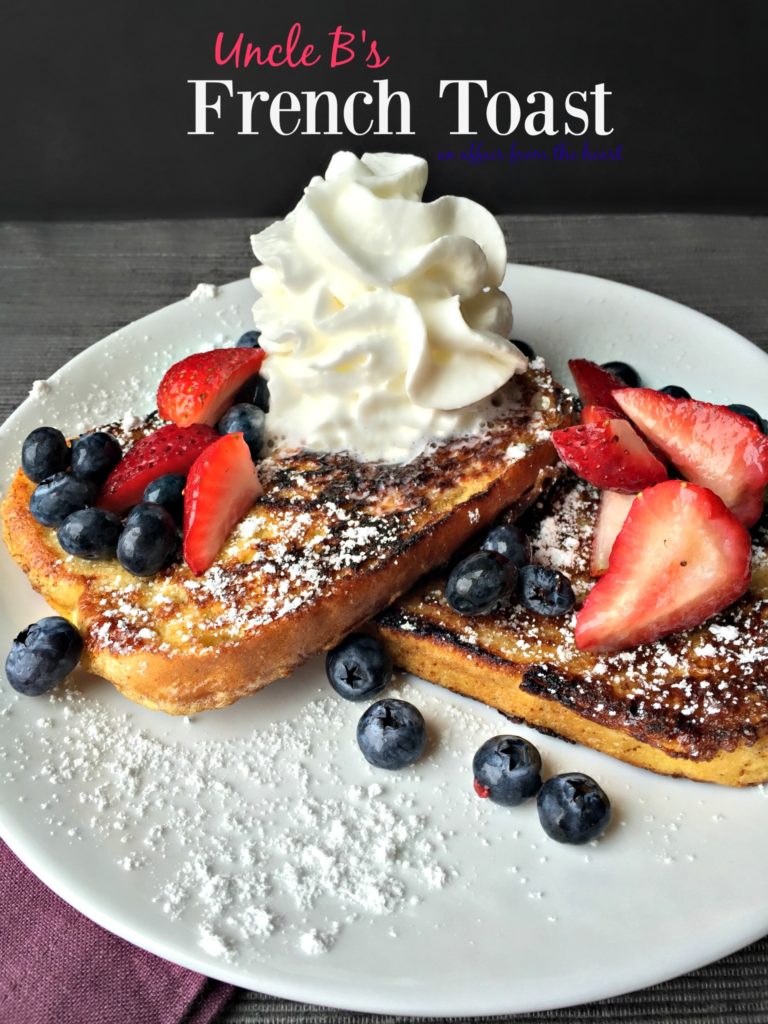 Mother's Day is this weekend.  Fellas — make your wife some of this French toast, she will sure be grateful!
—
Yield: 14 slices
Uncle B's French Toast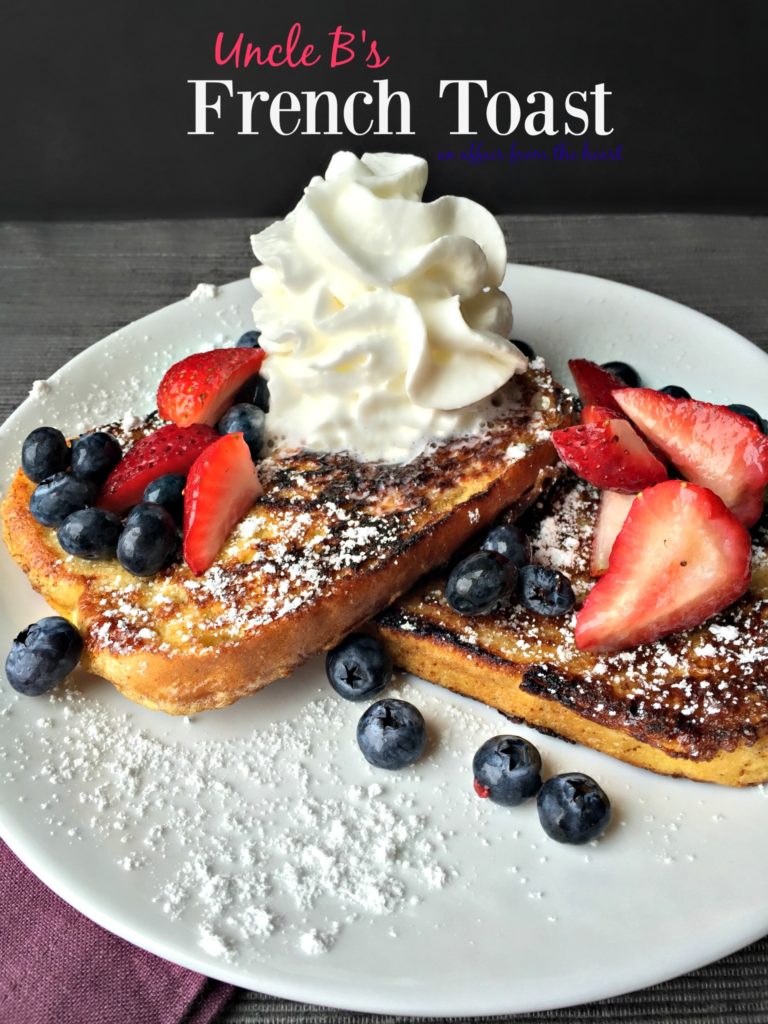 Ingredients
7 eggs
1 1/2 cups milk
1/2 cup sugar
1 teaspoon cinnamon + extra for sprinkling
14 slices Italian sandwich bread
Vegetable oil for cooking
Fresh berries, Powder sugar and whipped cream for serving
Instructions
Whisk together eggs, milk, sugar and cinnamon. Coat the bottom of a skillet with vegetable oil. Set the skillet to 350 degrees.
Dip the bread into the egg mixture, and place in the skillet. Sprinkle with cinnamon. Cook about 4 minutes and flip. Cook about 4 minutes more.
Plate French toast, sprinkle with powdered sugar, top with fresh berries and whipped cream.
Notes
This makes a large batch of French Toast -- cut the recipe in half if need be. We love to freeze the leftovers and pop in the toaster!

If you make this recipe, I'd love to know! Snap a picture, share the photo on social media with the hashtag #AnAffairFromTheHeart – I'd love to see what you made! – Michaela