Breakfast Sliders
As an Amazon Associate and member of other affiliate programs, I earn from qualifying purchases.
These super tasty and cheesy Breakfast Sliders are made with buttery Hawaiian Rolls, pork breakfast sausage, fluffy scrambled eggs, Colby Jack cheese, and crispy bacon for the best make-ahead breakfast you'll ever have! Serve these breakfast Hawaiian roll sliders at home for a well-rounded breakfast with the family or prepare them for a special brunch or holiday. This easy breakfast sandwich recipe is just the right kind of comfort food you need whenever you want nothing but a classic sausage, egg and cheese breakfast sandwich.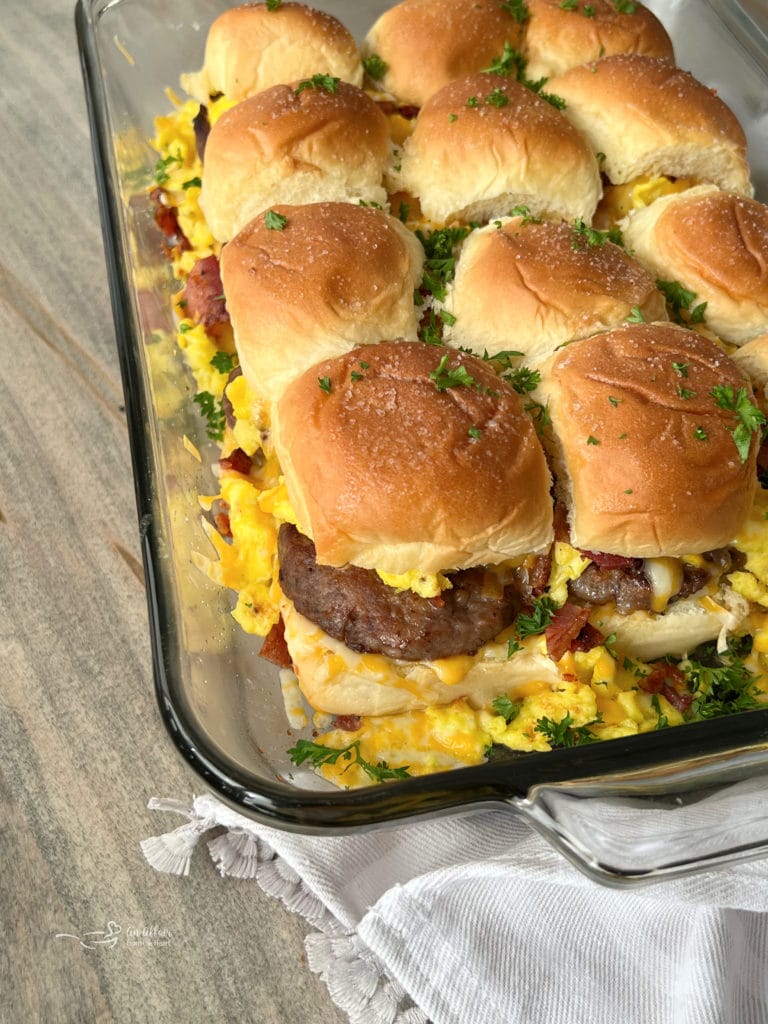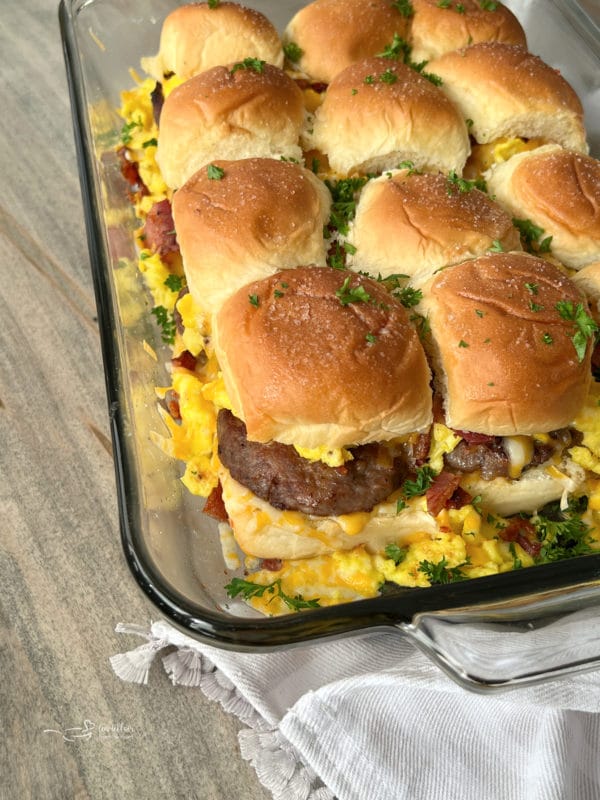 Make-ahead breakfast sliders with sausage and soft Hawaiian rolls are always the buzz around my house. What's not to love about bacon and melted cheese? We love these savory, sausage egg sliders because they are oh, so tasty and delicious with such classic breakfast flavors!
These cheesy egg and sausage breakfast sandwiches with bacon are great for serving for different holidays like Easter, Thanksgiving, Christmas, they are fantastic for weekend brunches, tailgating, or just a simple breakfast on the go!
This post is sponsored by Iowa Pork but my opinions and my lifelong love of pork recipes and Iowa Pork is all my own.
SOME OF THE ITEMS BELOW CONTAIN AFFILIATE LINKS; I AM A PARTICIPANT IN THE AMAZON SERVICES LLC ASSOCIATES PROGRAM, AN AFFILIATE ADVERTISING PROGRAM DESIGNED TO PROVIDE A MEANS FOR US TO EARN FEES BY LINKING TO AMAZON.COM AND AFFILIATED SITES. I AM ALSO AN AFFILIATE FOR OTHER BRANDS. HOWEVER, I ONLY PROMOTE THINGS THAT I LOVE AND THINK YOU WILL LOVE, TOO. FOR MY ENTIRE DISCLOSURE POLICY PLEASE

CLICK HERE

.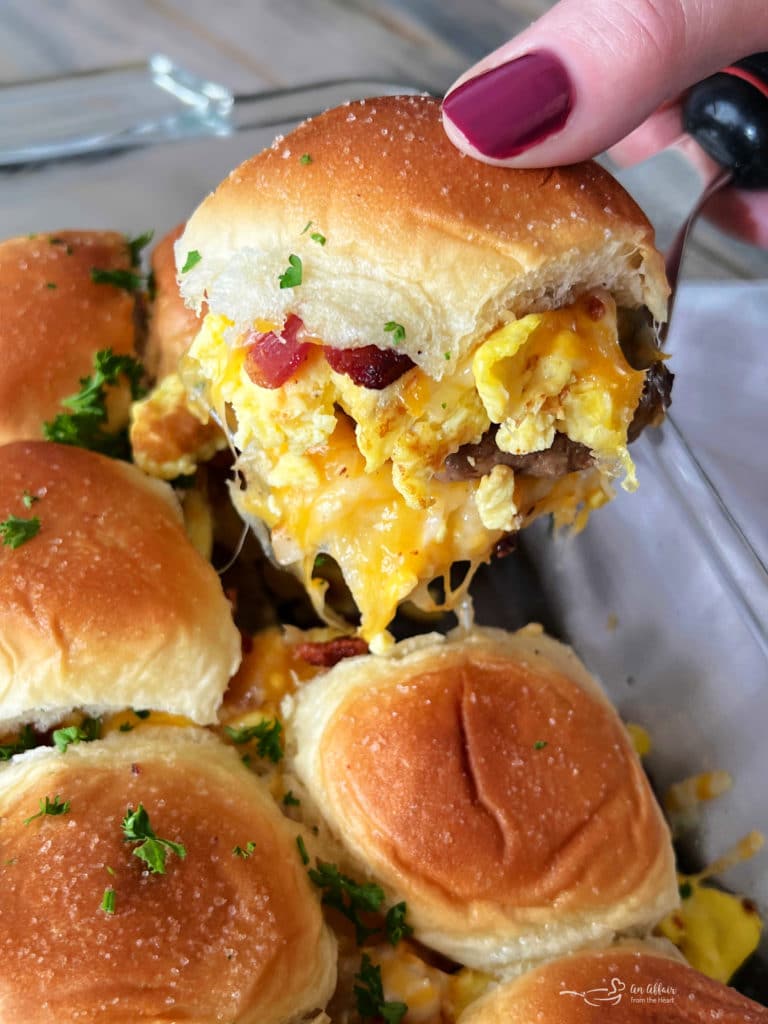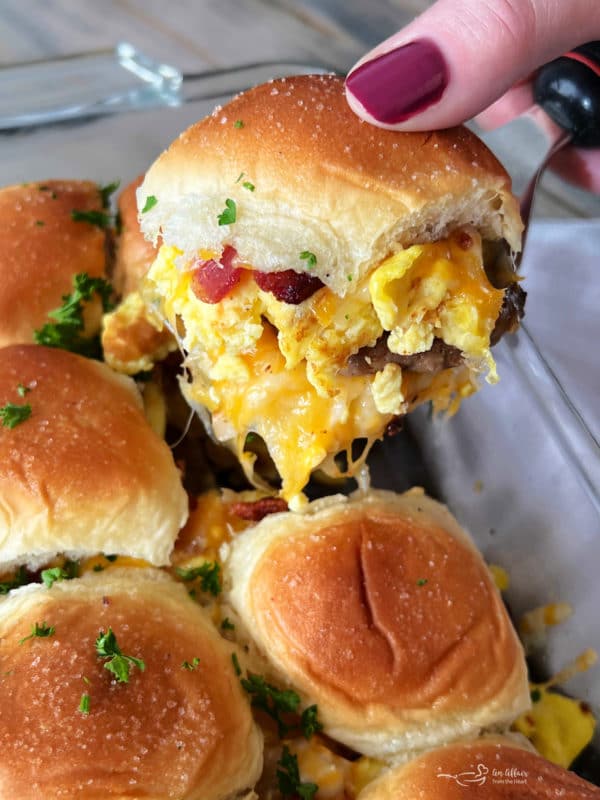 Let's Talk Sliders!
There is nothing better than making a batch of sliders ahead of time and then baking them when you are ready to eat.
Whether they are for breakfast like these milder sausage and egg sliders are or they are spiced up with a little horseradish sauce, maybe they are classic, stuffed with ham and cheese or even a little quirky made with Italian meatloaf! Heck, maybe they use Thanksgiving leftovers! By gosh, you just can't beat a baking dish of sliders, can you?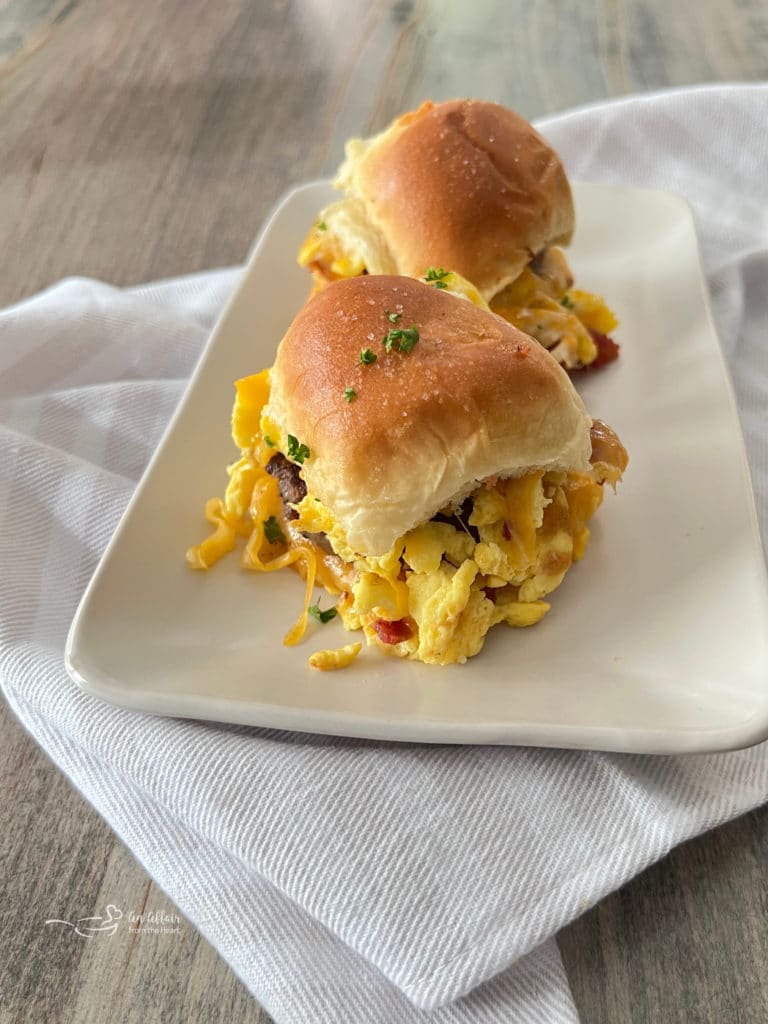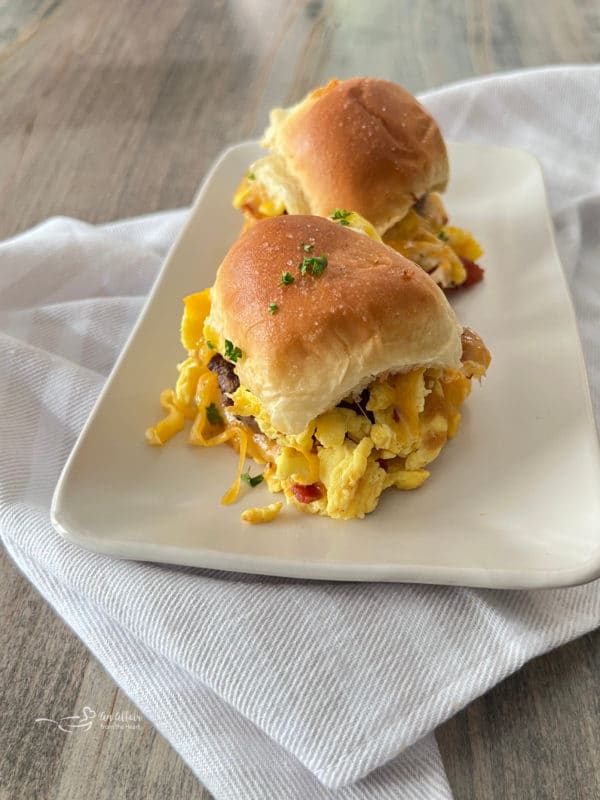 WHY THESE MAKE AHEAD BREAKFAST SAUSAGE AND EGG SLIDERS ARE SO AMAZING
Quick and Easy: These pork sausage egg sliders are one of the easiest breakfast foods to make! Simply cook your yummy sausage and eggs and layer between melted cheddar cheese and slider rolls, bake, and you're ready to eat!
Cheesy and Savory: The combination of protein-rich eggs, freshly grated cheddar cheese, fluffy rolls, and salty aromatic sausage in these breakfast Hawaiian rolls sliders will swoon anyone! If you love a good sausage, egg, and cheese breakfast, then you will love this warm casserole style meal.
Family-Friendly: The kids love when I make this recipe for different holidays, occasions, or just on simple weekends. This recipe is a great option for satisfying the whole family and serving them up the best flavors of a classic egg breakfast.
Simple for Meal Prep: Did I mention how easy it is to make these breakfast sliders for meal prep? If you're going to be busy, go ahead and prep the layers with the ingredients and refrigerator until you are ready to bake. You can make these breakfast sliders one day in advance before baking. Once you've baked the sliders, you can enjoy them for a quick and easy breakfast on the go or whenever you need to sit down and enjoy some comfort food at the start of the day.

WHAT IS BREAKFAST SAUSAGE?
Breakfast sausage is a pork sausage that is commonly served with all types of breakfast food including biscuits, breakfast casseroles, and other types of breakfast sandwiches. Typically, pork breakfast sausage is served as either links or patties and made with simple aromatics like black pepper, sage, and sometimes maple syrup, peppers, etc.
IS GROUND PORK AND PORK SAUSAGE THE SAME THING?
Actually no. Pork sausage is made with ground pork but includes other spices and ingredients. Ground pork is simply that, ground pork, but with no other spices added. So if you are wondering if you can use ground pork instead of pork sausage, you can, but you're going to want to add some spices to it, as regular ground pork contains no seasoning.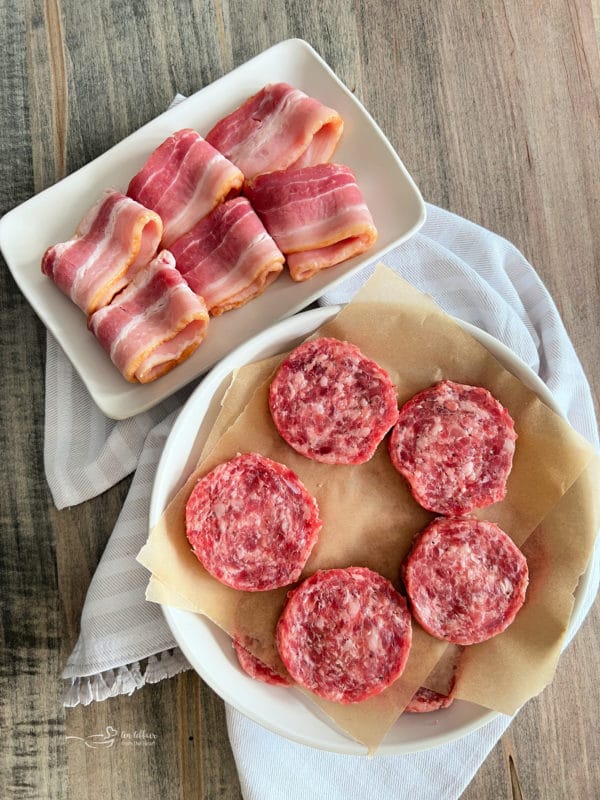 We didn't just stop with pork sausage for these sliders though — we added in some thick-cut bacon, too!

THE POWER OF PORK:
Did you know that eating twice the currently recommended amount of protein has been linked to beneficial effects on muscle composition like leg power, weight loss, and weight management?
The Institute of Medicine suggests that about 10 to 35 percent of your daily calories should come from protein. Pork is a complete protein, meaning it comes packed with all essential amino acids. When you add pork to your meals, you'll feel fuller longer, which in turn can help lower post-meal glucose and insulin levels.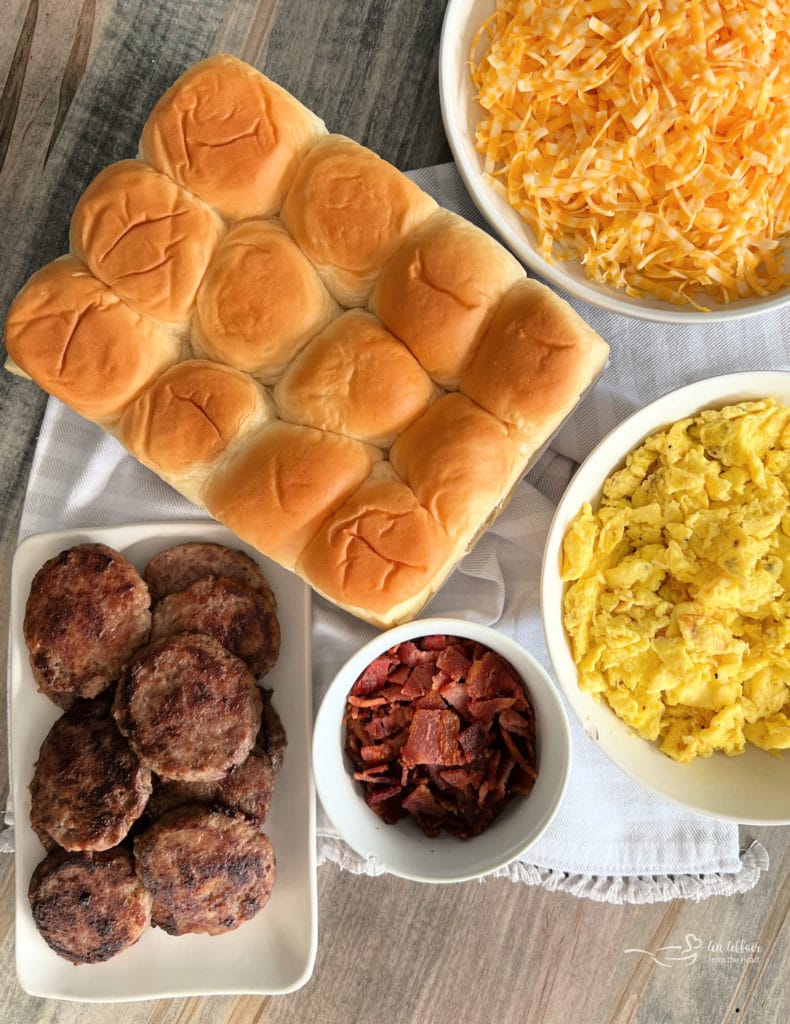 INGREDIENTS FOR CHEESY BREAKFAST HAWAIIAN ROLL SLIDERS
You're going to fall in love with the ingredients list for these sliders! So easy and features the best combinations of savory, cheesy, and meaty flavors.
Butter: You will need just a tiny amount of butter to grease the dish to make sure nothing sticks to it! A little bit of butter is used when making the scrambled eggs as well.
Sausage: Pork sausage is made into patties to form just one of the layers of protein in these breakfast sliders. I use ground pork sausage to make the patties but feel free to use any type of breakfast sausage patties.
Bacon: Crispy-cooked, thick, smoked bacon adds a crunchy texture to these egg sliders! These breakfast sandwiches would be tasty with just the sausage, but c'mon, we all know that bacon makes everything better!
Colby Jack Cheese: The perfect blend of smooth cheddar flavors, Colby jack cheese is melted over these sliders and allows them to be so flavorful and appetizing. I've made this recipe with all kinds of cheeses so feel free to get creative! Just remember, grating your own cheese is always better!
Eggs: The eggs are used to make scrambled eggs to layer in between the breakfast proteins and cheese. I love to make a nice soft scramble with salt and pepper. Mmm–there is nothing quite like it.
Milk: I like to use a little bit of milk when I scramble my eggs because it allows them to be super soft and fluffy. Any kind of whole milk will work or you can use heavy cream or half and half.
Salt and Pepper: A classic blend of sea salt and freshly cracked pepper gives these sliders extra seasoned flavors. Adjust as needed!
Butter Hawaiian Rolls: I used Hawaiian butter rolls for this recipe. They are more savory and not sweet like regular Hawaiian rolls. You can easily find these butter rolls in the bread aisle at most markets.
Fresh Parsley: Totally optional, but leafy chopped parsley gives these sliders an element of fresh bold flavors that really seal the deal before serving!
HOW TO MAKE SAUSAGE BREAKFAST SLIDERS
In very few steps, you'll have a grand luxurious breakfast ready to serve to the family or all to yourself!
Step One: Preheat Oven and Prepare the Baking Dish
Preheat the oven to 350 degrees Fahrenheit to make sure the sliders will cook as quickly as they can!
Butter the 9×13 baking dish with butter make it nonstick. You will want to make sure to grease the pan because the cheese and eggs will stick to it if not! Cooking spray will also work.
Step Two: Prep Your Slider Ingredients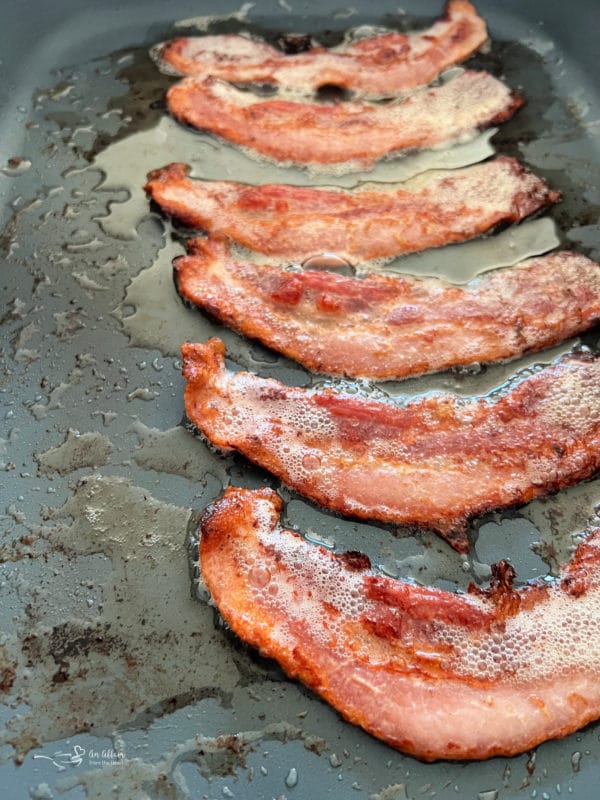 I can hear this picture, can't you?
COOK THE BACON & SAUSAGE
Fry the bacon until it's crispy. Drain any excess fat and chop it into smaller pieces.

Next, form the pork sausage into twelve small patties and cook them in a hot skillet over medium heat until brown. About 4-5 minutes on each side.
Pork sausage shouldn't be pink in the center and should have an internal temperature of 160 degrees F.
GRATE THE CHEESE
Grate the Colby Jack cheese with a box grater until you have enough cheese for the recipe. If you are using pre-shredded cheese, then go ahead and measure your cheese out.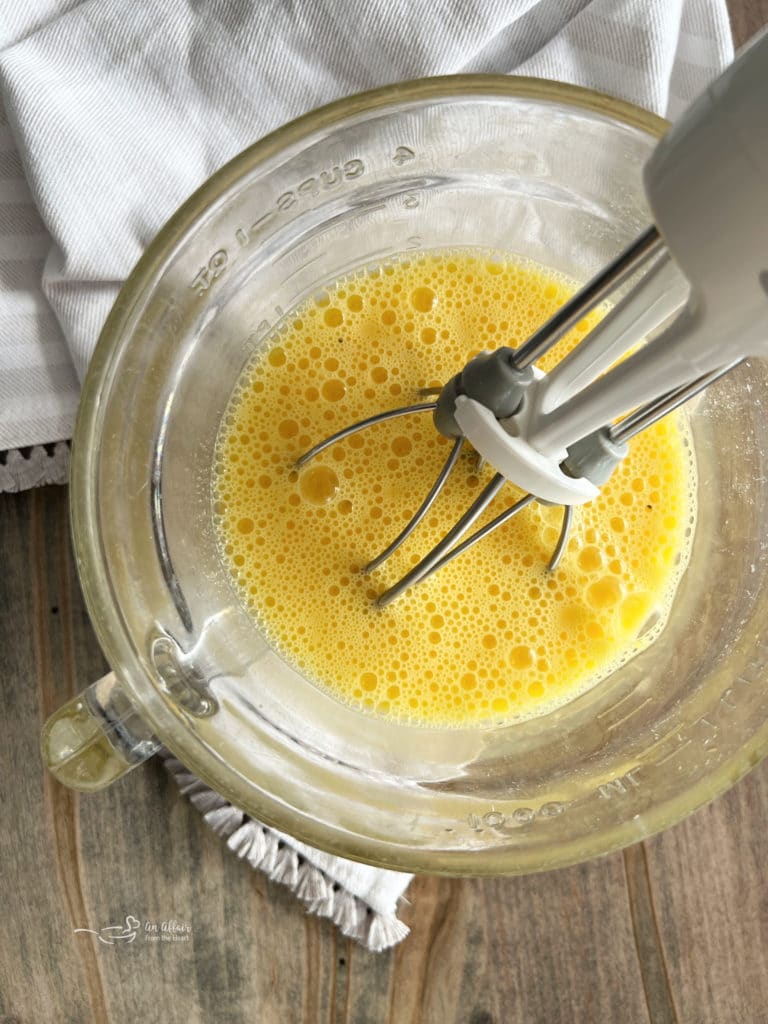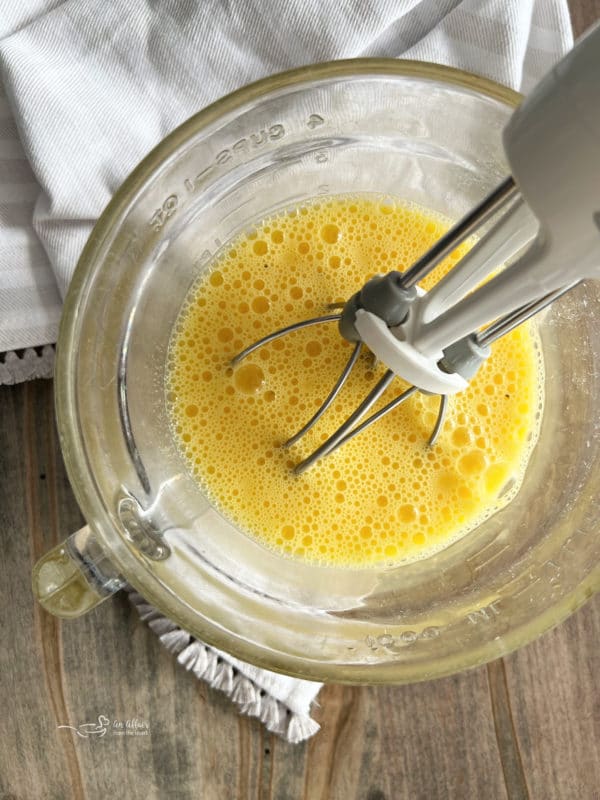 MAKE THE SCRAMBLED EGGS
In a medium-sized bowl, beat the eggs with milk, salt, and pepper. In a large skillet with butter over medium heat, scramble the eggs with a spatula until fully cooked, then remove them from the pan.
Step Three: Build The Sliders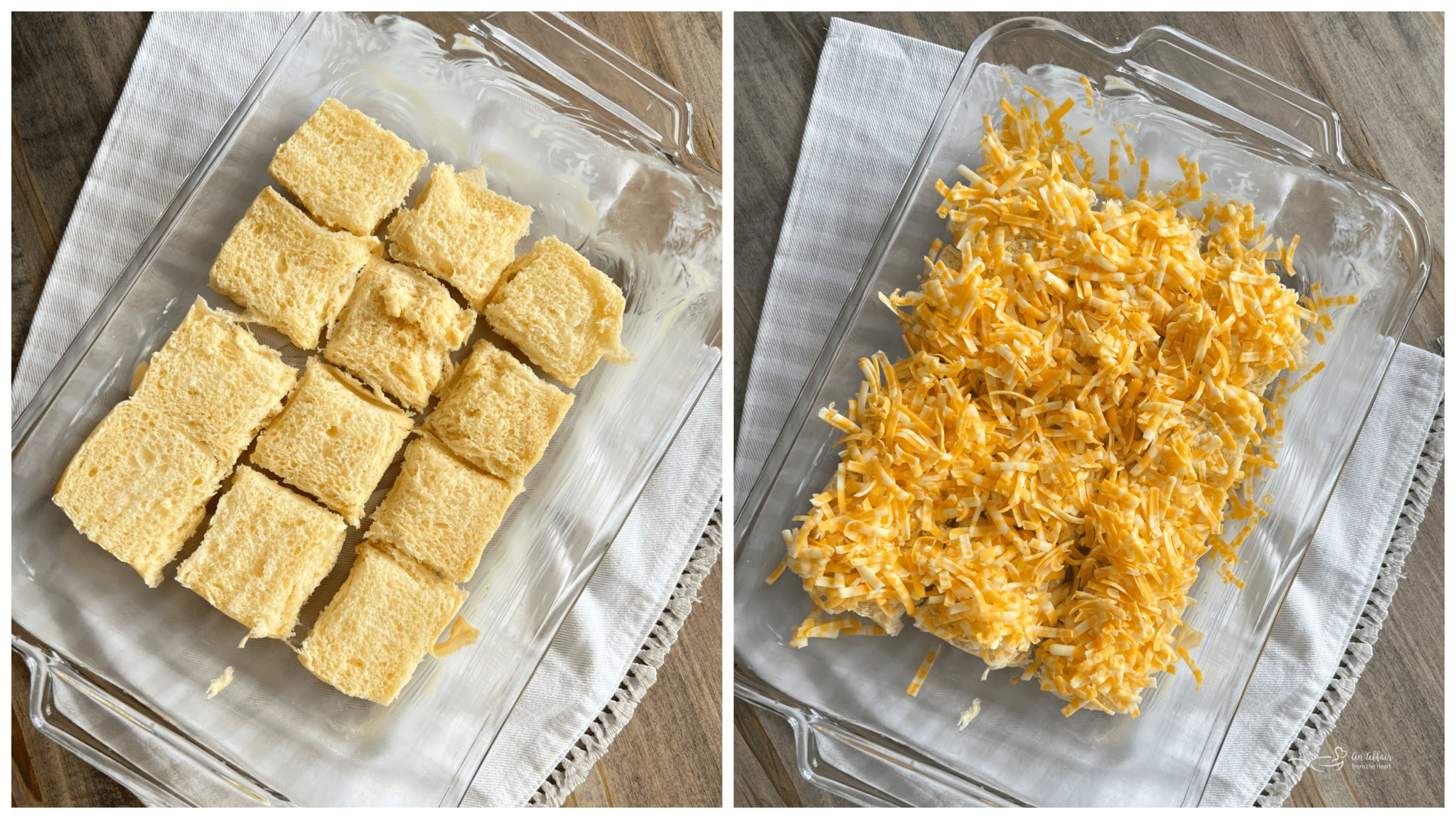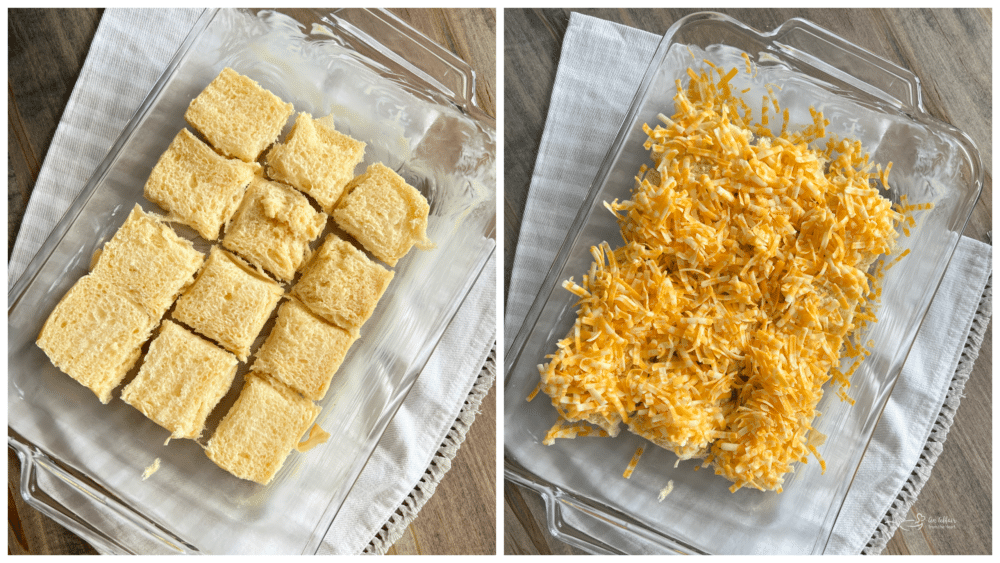 Next, horizontally cut the Hawaiian rolls in half with a knife. Arrange the bottoms of the rolls into the baking dish.
Sprinkle half of the shredded cheese over top of the bottom sides of the buns.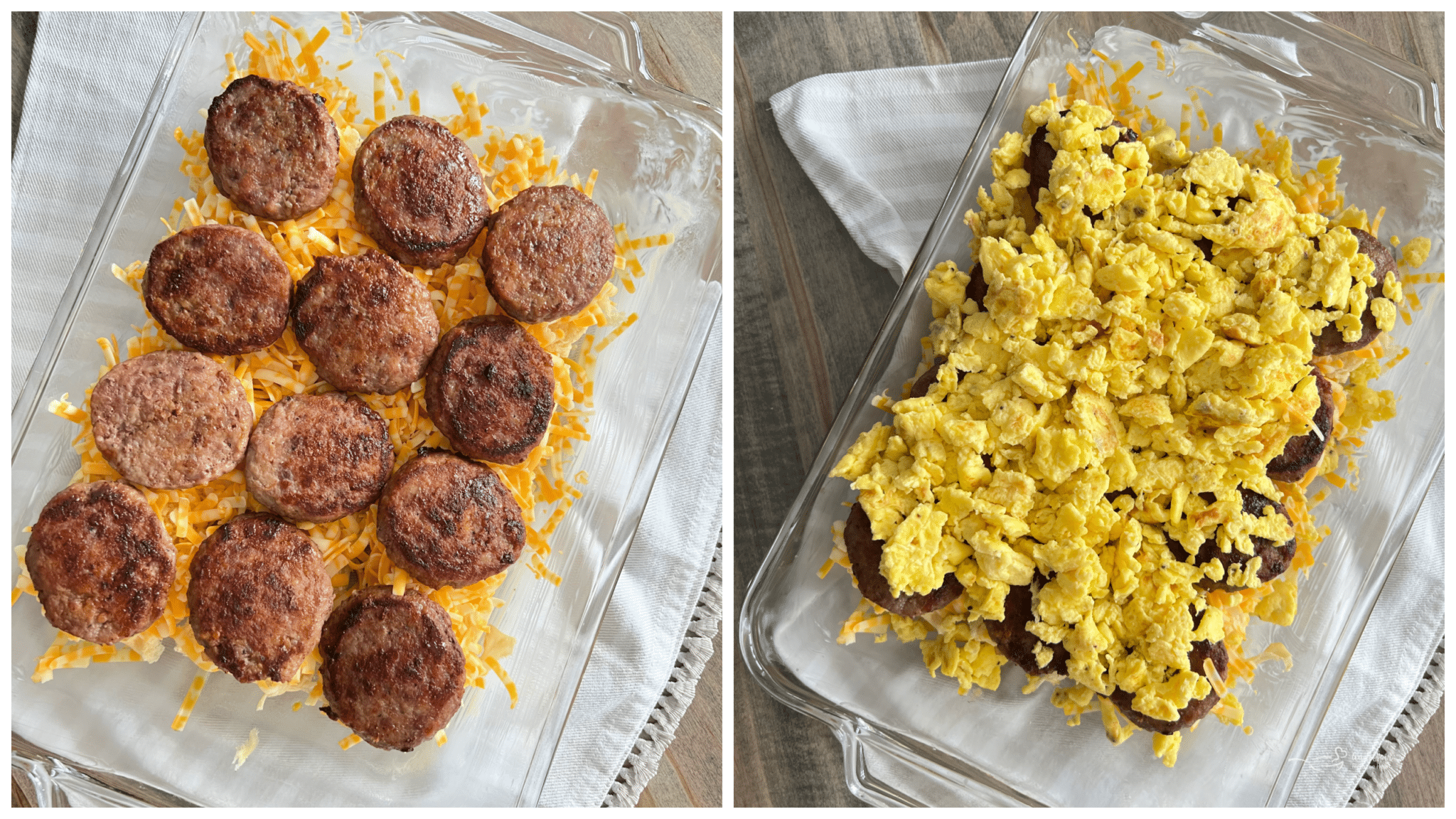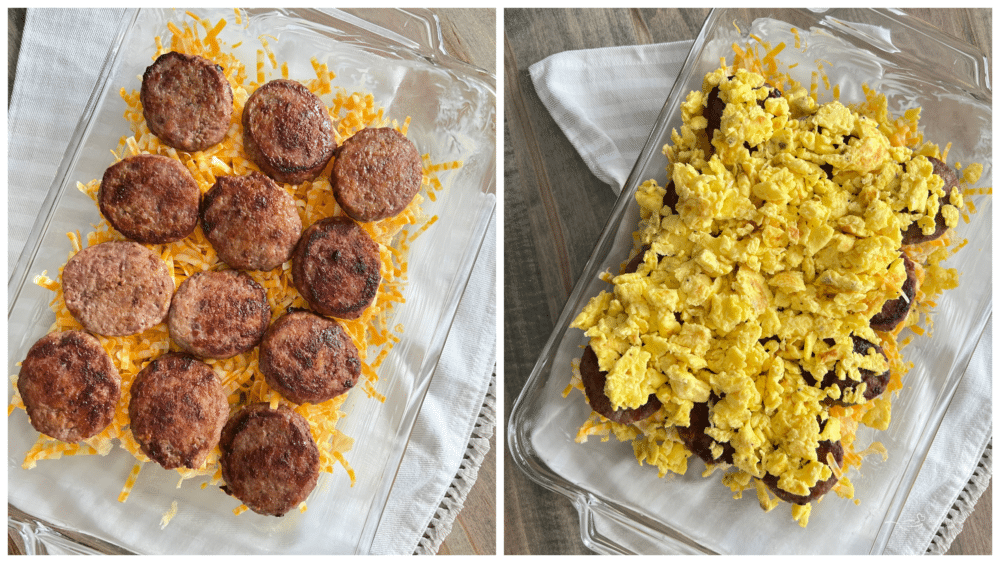 Next, Top each roll with a breakfast sausage patty. Cover with scrambled eggs.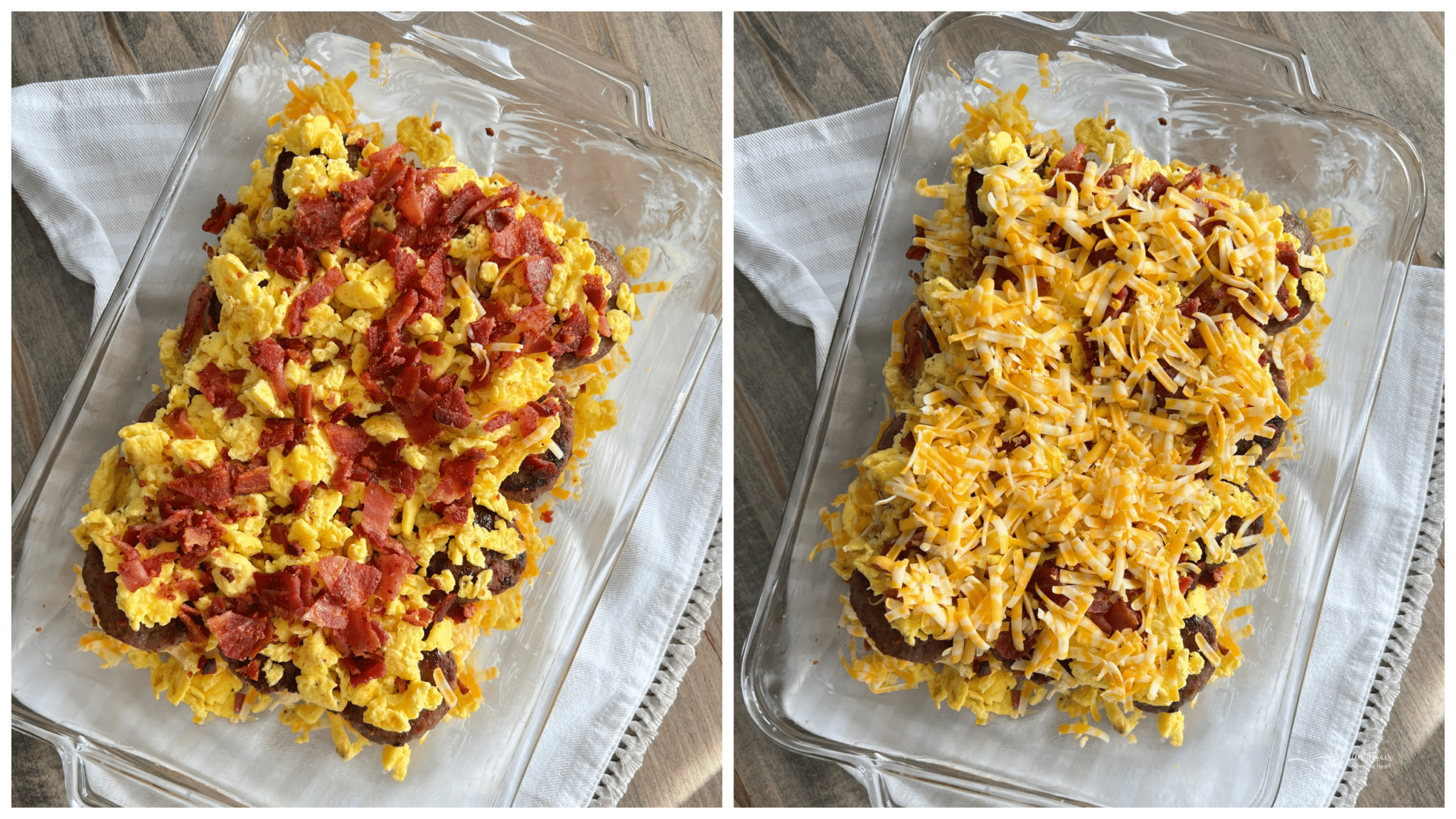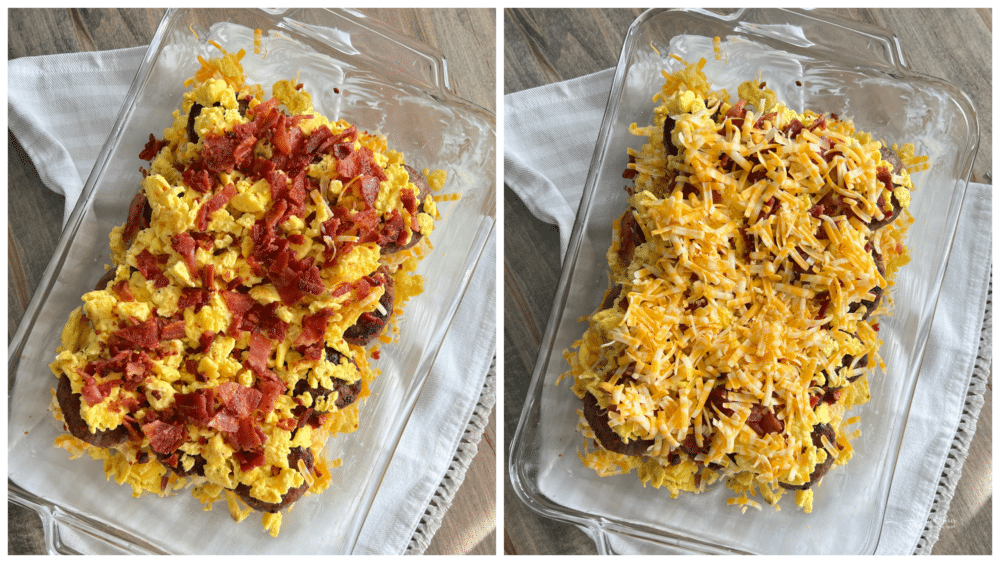 Sprinkle the cooked bacon pieces over the eggs, then stop with the remaining cheese.
Place the tops of the Hawaiian rolls on top of the sliders and brush the tops of the rolls with melted butter with a basting brush. Lightly sprinkle the rolls with salt before baking.
Step Four: Bake & Serve
Bake the sliders for fifteen minutes in the preheated oven until the tops are lightly browned and the cheese is melted. Remove the rolls from the oven and allow them to stand at room temperature for five minutes before serving.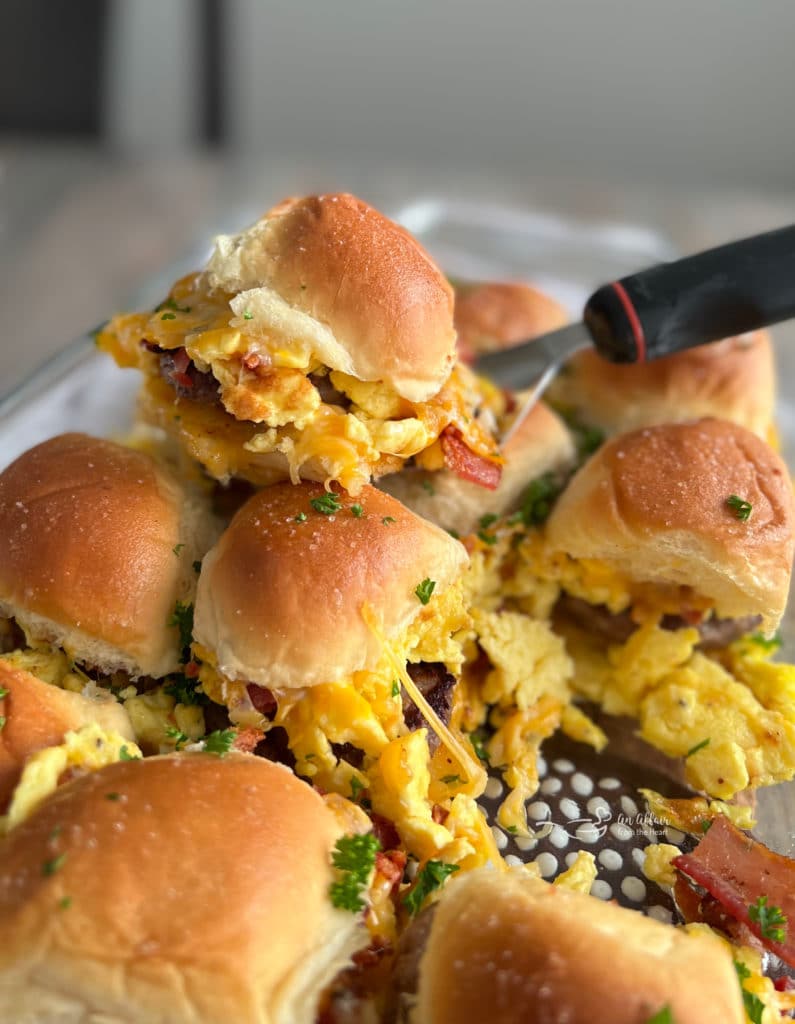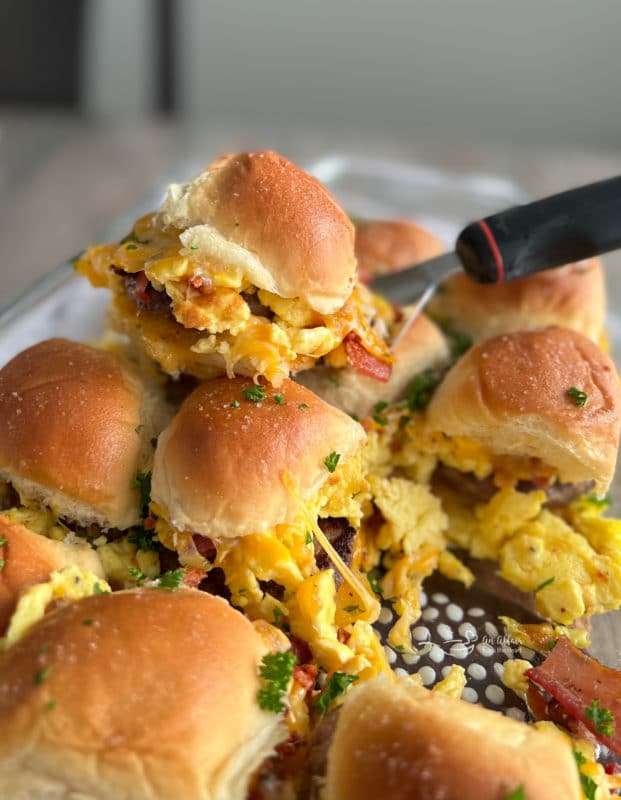 Garnish the cooked breakfast sliders with fresh parsley just before serving you would like. Enjoy!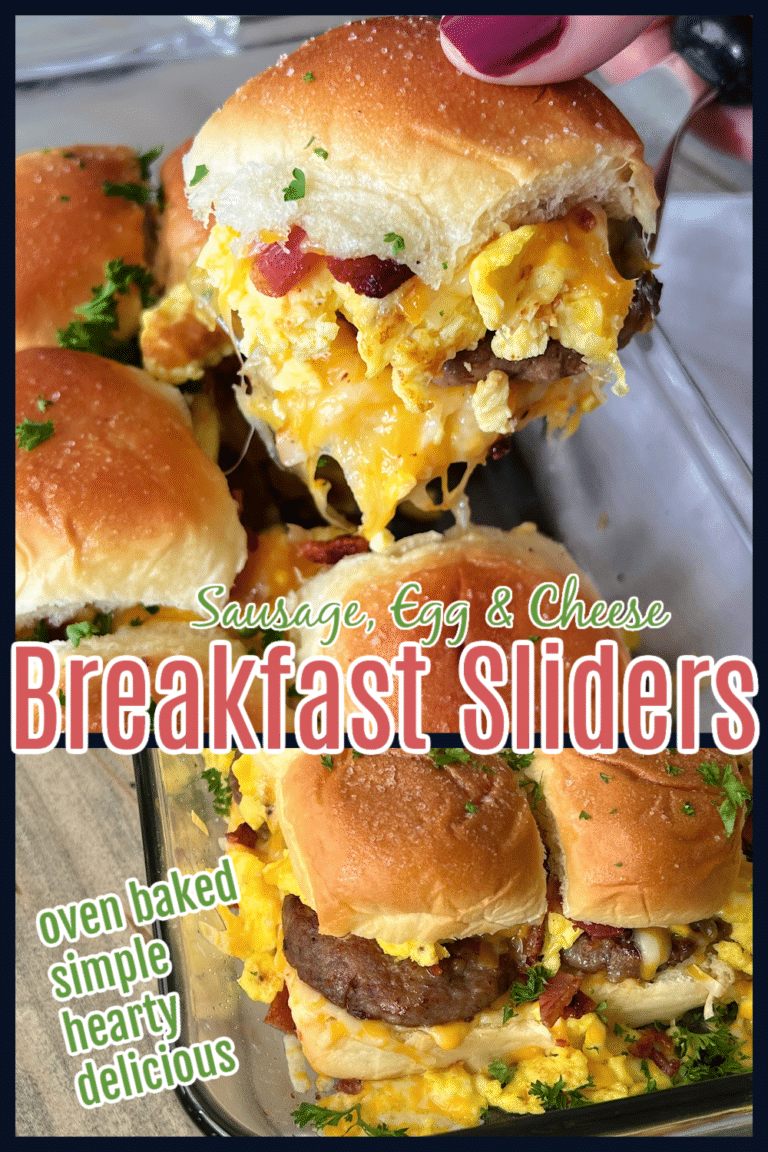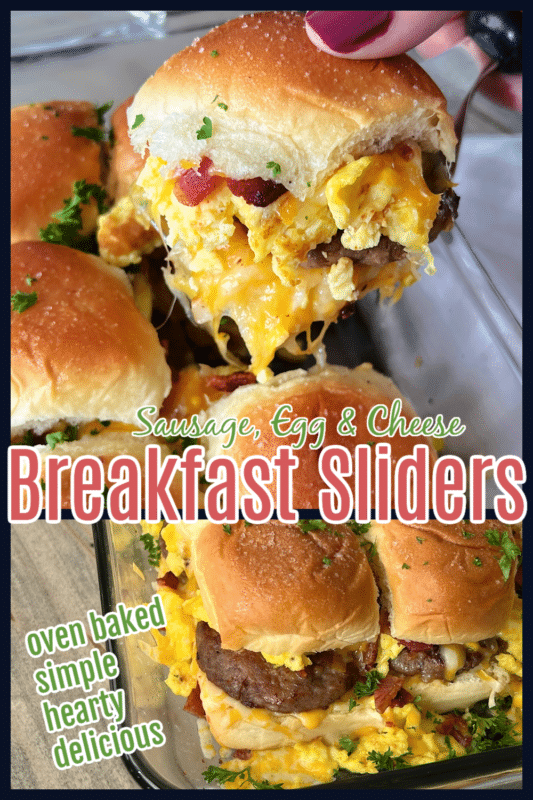 LOVE THIS RECIPE?! SAVE IT TO PINTEREST!
Go ahead and save this amazing breakfast sausage and egg slider recipe to your breakfast board on Pinterest! This is one of those recipes that comes in handy whenever you are looking for that perfect breakfast meal at home.
TIPS AND NOTES
You can cook your scrambled eggs however you would like. You can do either a soft or hard scramble. Both options are great.
Some different cheese ideas include cheddar cheese, white cheddar cheese, and pepper jack.
Grating your own cheese allows the cheese to be better in flavor and easier to melt. I usually always grate my own cheese, but of course, there are times when I have had to use pre-shredded cheese.
Substitute the Hawaiian rolls with fluffy biscuits or English Muffins for a spin on this recipe.
Store the leftovers in an airtight container in the refrigerator for up to four days. Reheat the sliders in the microwave or oven until warmed through.
Add some spiciness to these breakfast sliders by topping them with sliced jalapeños or sprinkling red chili flakes over them
Cooking Pork Perfectly
When cooked properly, pork turns out juicy and perfect each and every time you make it. Whether you are grilling it, baking it, or frying it, when you know how to Properly Cook Pork, you will be filled with nothing but satisfaction when you prepare it.


DID YOU KNOW?
About one-third of the pork raised in the United States comes from Iowa. That means that the majority of the pork eaten here in the United States comes from Iowa Pork farmers. Whether you purchase meat from a supermarket chain or your local butcher, know that you are supporting farm families.
As the wife of a man who grew up on a farm in Iowa where his family raised hogs and farmed, I thank you for that. To know these dedicated, hard-working people is to love them.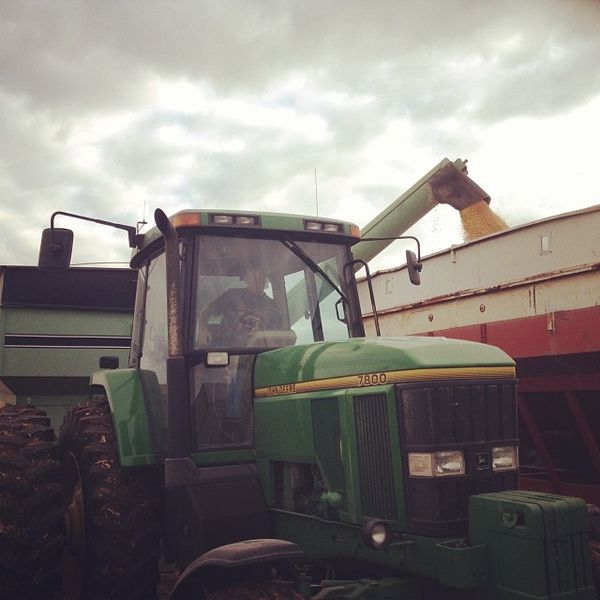 Yes, that's true! My husband grew up on a farm in rural Iowa. In the early days of our marriage, we spent just about every weekend up there.
My husband raced dirt track cars out of his dad's shop in Iowa in those early years. Every weekend we headed up on Friday night, where he raced in Denison, and on Saturdays, he'd get the car ready for the races in Harlan, Iowa. While he did that I spent the day with his mom.
Growing up in Omaha, I didn't have much experience with farms, or how they worked. I loved the wide-open spaces, and goofy things like feeding the cats, cutting fresh asparagus, riding in the tractor or the combine, and riding around on the four-wheelers.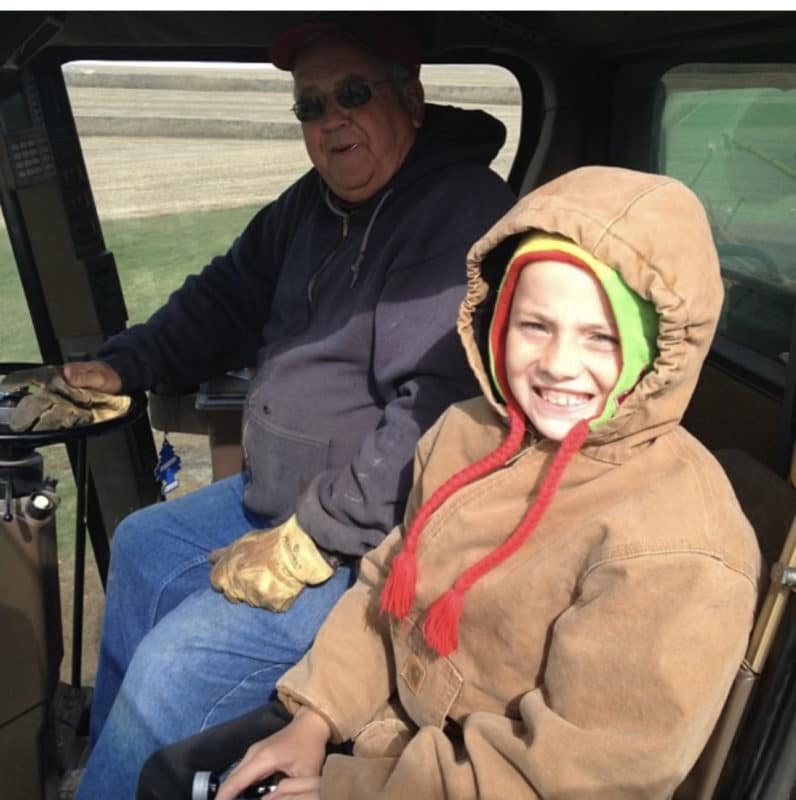 My father-in-law raised hogs, grew corn and soybeans, and owned the local feed store where they provided all sorts of things for the local farmers. One thing you know you can always count on from a farmer, hard work. One of my favorite things he said:
"IF YOU'RE LOOKING FOR A HELPING HAND, THE FIRST PLACE TO LOOK IS AT THE END OF YOUR ARM."
More Recipes and Ways to Enjoy Pork
No matter the cut, or how it's prepared, Pork is served at our family table frequently. Here are some more pork recipes for you to enjoy:
Be sure to follow along with Iowa Pork on Instagram, Facebook, Pinterest, and Twitter for delicious pork recipes year-round!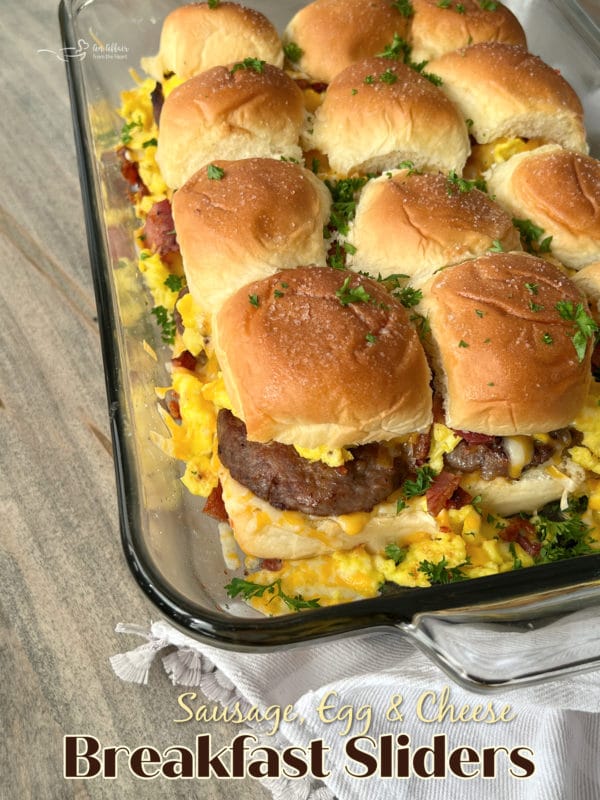 Mmmmm… Breakfast never tasted so good! Let's make some Sausage, Egg & Cheese Breakfast Sliders!

Yield: one dozen
Breakfast Sliders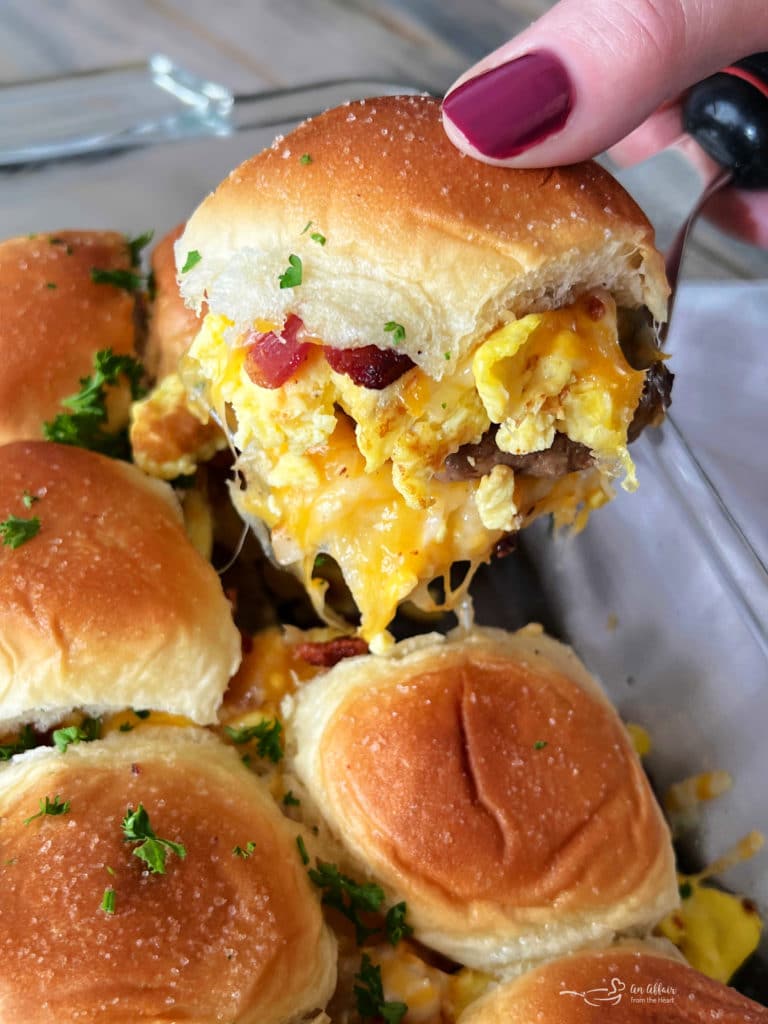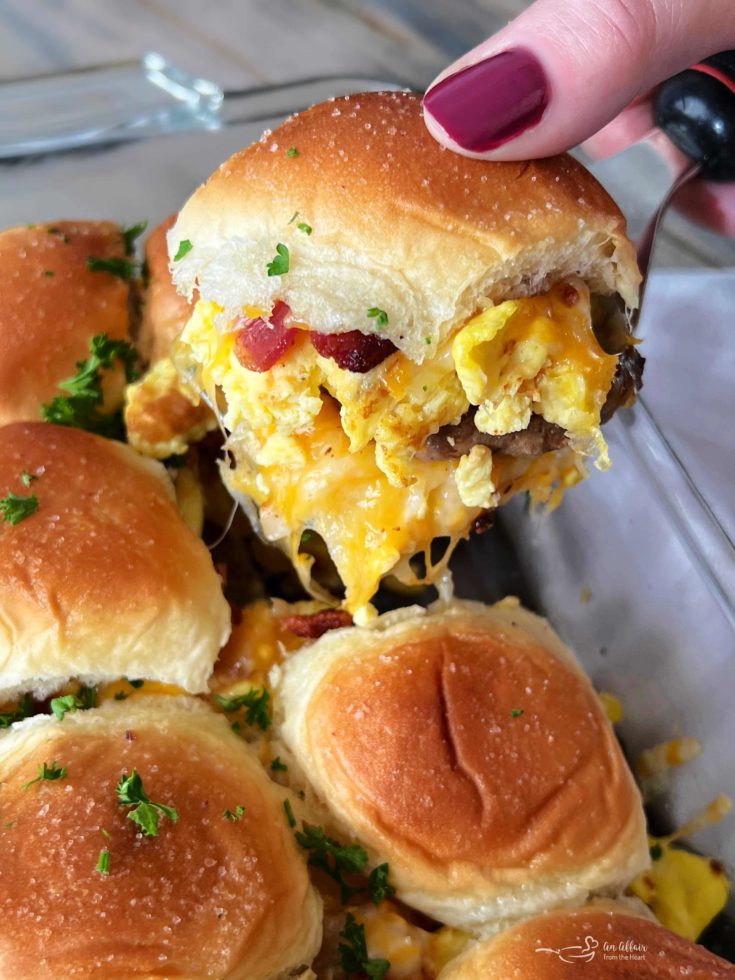 So simple to make and so delicious to eat! These SAUSAGE, EGG & CHEESE BREAKFAST SLIDERS are baked in the oven on buttery Hawaiian-style rolls, sausage patties are topped with crumbled bacon, scrambled eggs, and cheese. Perfect for breakfast on the go, brunch, and tailgating, too!
Additional Time
5 minutes
Ingredients
1 pound pork sausage
5 pieces thick cut bacon
8 eggs
1/4 cup milk
salt & pepper
3 Tablespoons butter, divided
2 1/2 cups Colby Jack cheese, shredded
1 package Hawaiian Savory Butter Rolls
fresh parsley for garnish, if desired
Instructions
Preheat oven to 350 degrees. Butter a 9x13 baking dish with 1 Tablespoon of butter, set aside.
Form the sausage into 12 evenly sized little patties. Cook the patties, and set them aside on a paper towel-lined plate.
Cook bacon until crisp. Drain on a paper towel-lined plate. Chop into small pieces.
Shred Colby Jack cheese.
Combine the eggs with the milk, add in salt and pepper and cook them in a skillet with 1 Tablespoon of butter. Scramble the eggs, and remove them from the pan.
Cut the Hawaiian rolls in half horizontally, and arrange the bottoms into the buttered 9x13 baking dish.
Sprinkle half of the cheese over the rolls. Top each roll with one sausage patty, then cover the patties with scrambled eggs. Sprinkle bacon pieces over the eggs, and top with remaining cheese.
Position the tops of the Hawaiian rolls over the rolls in the baking dish. Melt the remaining 1 Tablespoon of butter and brush the tops of the rolls. Give them a light sprinkling of salt.
Bake for 15 minutes, or until the tops are browned and the cheese is melty. Let stand for 5 minutes before serving.
Garnish with fresh parsley before serving, if desired.
Notes
Store the leftovers in an airtight container in the refrigerator for up to four days. Reheat the sliders in the microwave or oven until warmed through.
Recommended Products
As an Amazon Associate and member of other affiliate programs, I earn from qualifying purchases.
Nutrition Information:
Yield:
12
Serving Size:
2
Amount Per Serving:
Calories:

330
Total Fat:

26g
Saturated Fat:

12g
Trans Fat:

0g
Unsaturated Fat:

13g
Cholesterol:

194mg
Sodium:

654mg
Carbohydrates:

3g
Fiber:

0g
Sugar:

1g
Protein:

20g
Please note that nutrition is not guaranteed accurate.