Pork ribs coated in spices to give them a little heat, then wrapped in bacon and rolled in brown sugar. Cooked low and slow on the grill or in your oven. Moist, tender ribs in a coating of sweet and salty bacon. Sweet & Spicy Bacon Wrapped Pork Ribs a little bit of sweet heat a whole lot of flavor!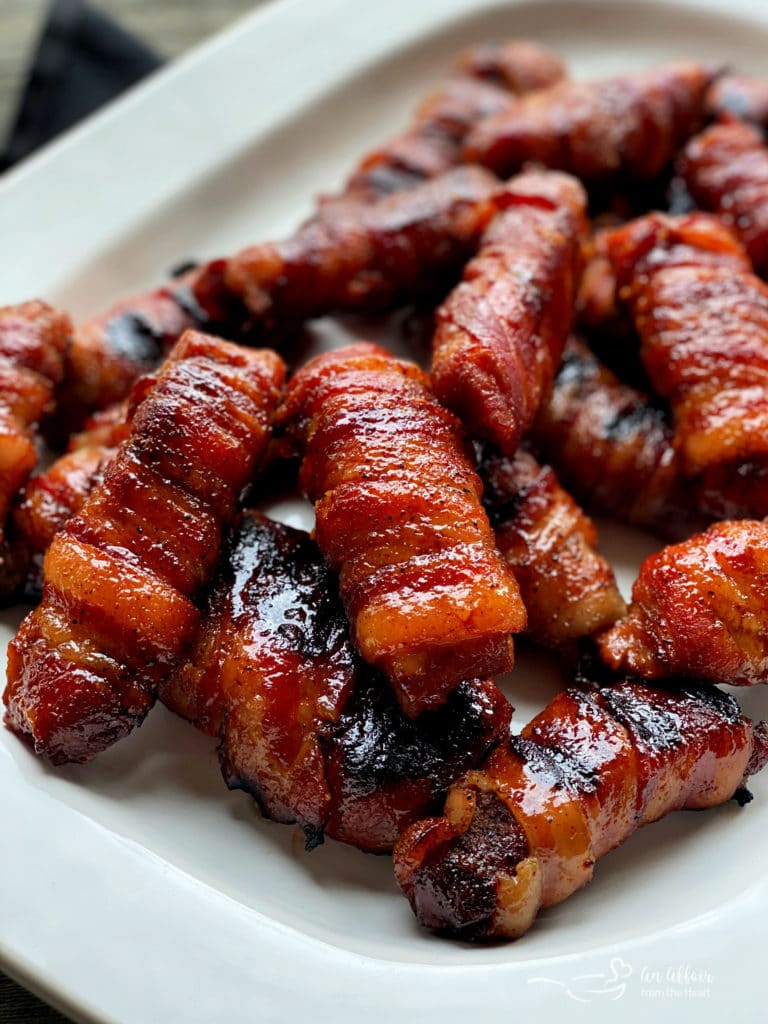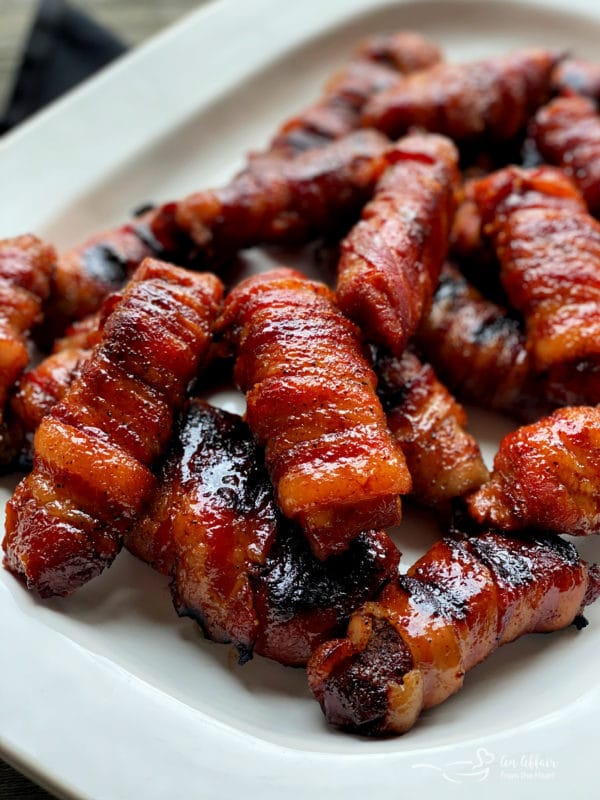 To tell you that I am excited to be sharing this Sweet & Spicy Bacon Wrapped Pork Ribs recipe with you today would be an understatement! I have had this one under wraps for a couple of weeks now, and I have had to restrain myself from even just teasing you with a photo! I mean just look at them!
Pork ribs are one of our most favorite meals, all year long, but when we get to eat them hot off the grill or the smoker? That is a special treat. That little bit of char and that extra smoke takes them over the top.
This post is sponsored by Iowa Pork but my opinions and my lifelong love of pork recipes and Iowa Pork is all my own.
SOME OF THE ITEMS BELOW CONTAIN AFFILIATE LINKS; I AM A PARTICIPANT IN THE AMAZON SERVICES LLC ASSOCIATES PROGRAM, AN AFFILIATE ADVERTISING PROGRAM DESIGNED TO PROVIDE A MEANS FOR US TO EARN FEES BY LINKING TO AMAZON.COM AND AFFILIATED SITES. I AM ALSO AN AFFILIATE FOR OTHER BRANDS. HOWEVER, I ONLY PROMOTE THINGS THAT I LOVE AND THINK YOU WILL LOVE, TOO. FOR MY ENTIRE DISCLOSURE POLICY PLEASE

CLICK HERE

.
Sweet & Spicy Bacon Wrapped Pork Ribs
Even the name sounds delicious, doesn't it? These country style pork ribs have so much going for them. Lean pork ribs are coated in a mixture of spices, salt and pepper, garlic powder, and cayenne pepper, giving them some heat.
The ribs are then wrapped in bacon, sprinkled again with spices and then coated in brown sugar. The ribs are nestled in a pan and cooked low and slow on your grill, smoker, or in your oven.
As they cook the flavors sink into the pork ribs, they become moist and tender. They also make their very own glaze.
That glaze is then brushed over the ribs when they are placed directly on the grill to crisp up the bacon. The sweet glaze gives the bacon that "candied bacon" effect.
Country Style Pork Ribs
What are Country Style Pork Ribs? Country style ribs are cut from the blade end of the pork loin close to the shoulder. They have more meat than other ribs. They are called ribs even though they don't contain rib bones at all. Bone-in country style pork ribs instead have parts of the shoulder blade.
Having the meat come from both the pork shoulder area as well as the pork loin gives the ribs that "white and dark meat" appearance. They are packed with flavor and when done right, will be incredibly moist and tender.
Personally, I always purchase the boneless country style ribs. I like the option of eating them with a fork, not my fingers. But that is just a weird quirk about me.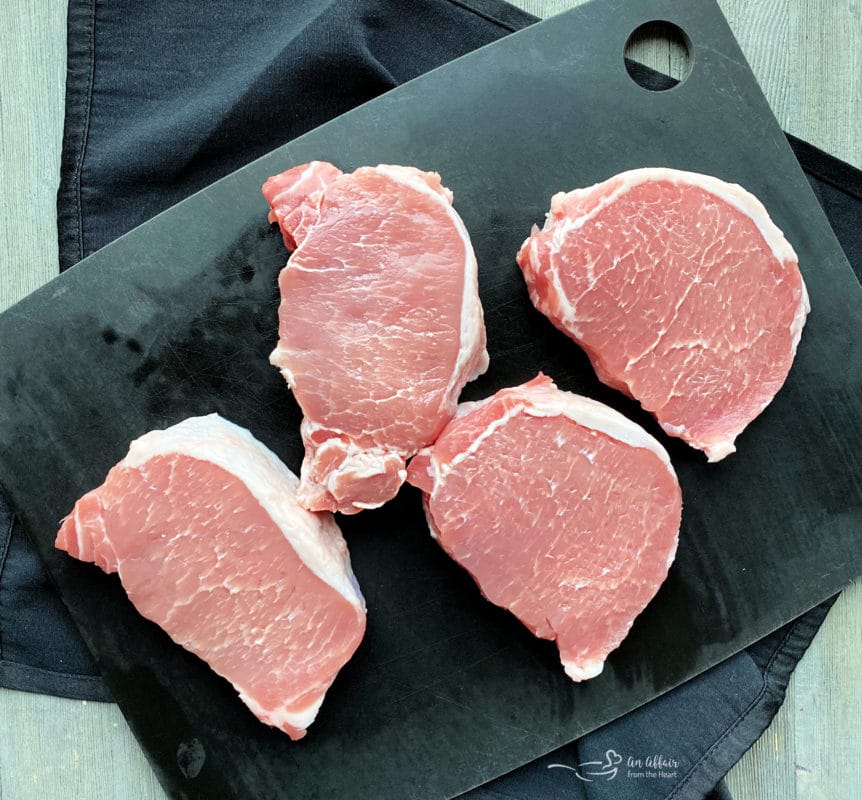 I can't find country style pork ribs. What else can I use?
In these unprecedented times, sometimes it difficult to predict what our stores will have available in their meat cases. Thankfully, pork is flexible and you can swap out some cuts for others and still achieve the taste you were going for.
If you can't find the ribs, try some pork loin chops. I bought these boneless ones at my local butcher and trimmed them into long sections to give them the appearance of ribs.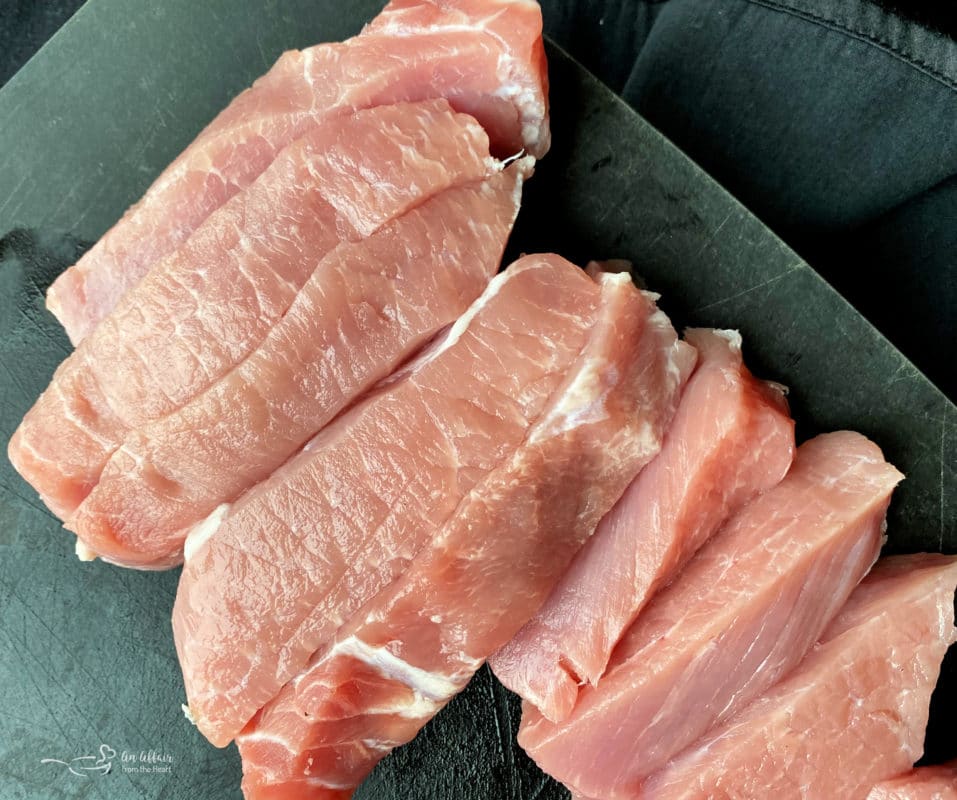 I prepared them the same way, only showing how they turned out using the oven, instead of the grill.
One thing about using the pork loin chops, you will have the white meat, versus the marbled white and dark meat of a country style rib.
Did you know that about one-third of the pork eaten in the United States comes from Iowa?
Whether you purchase meat from a supermarket chain or your local butcher, know that you are supporting farm families. As the wife of a man who grew up on a farm in Iowa where his family raised hogs and farmed, I thank you for that. To know these dedicated, hard working people is to love them.
Bacon Wrapped Pork Ribs on the Grill
What do I need to prepare these pork country ribs on the grill? No matter if you are using a gas grill, a charcoal grill or an electric smoker like a Traeger grill, these bacon ribs will come out perfectly.
They require minimal ingredients. You'll need garlic powder, cayenne pepper, salt and pepper, brown sugar, pork ribs, and bacon. I use a disposable aluminum pan, but you can also use one that is safe for your grill.
Sometimes I wrap the whole big rib, and other times I cut them smaller to make them stretch a bit further.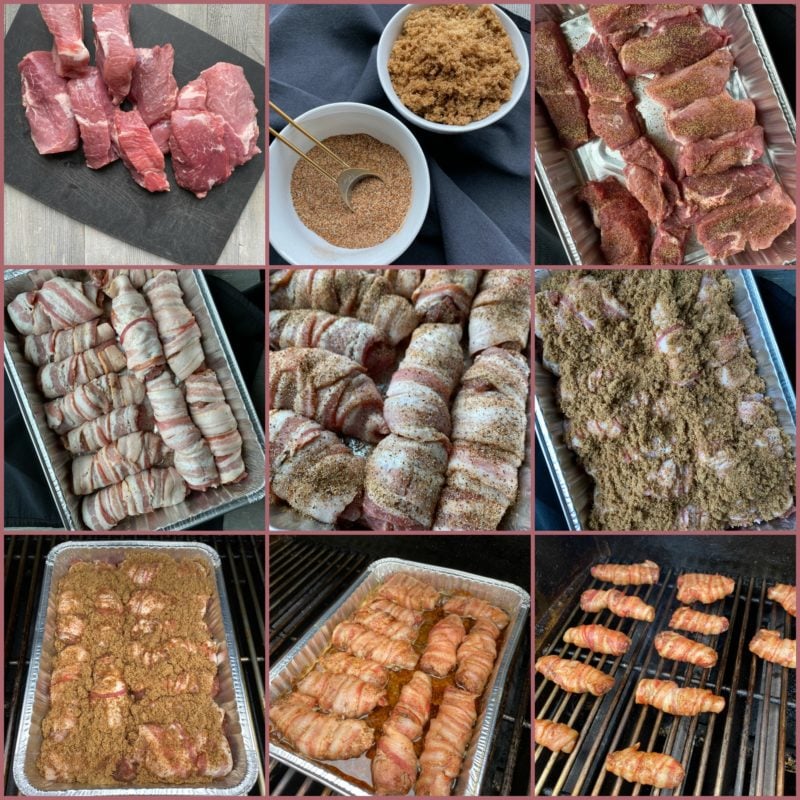 Step By Step Instructions for Sweet & Spicy Bacon Wrapped Pork Ribs
1. Begin by laying your ribs in your 9×13 pan. Sprinkle spices mixture over the tops of the ribs, then flip them and do the bottom side. Reserve some spice. 2. Wrap each rib in bacon. Depending on the size of the rib, you may be able to get by with one piece, I used two. I mean it's bacon! Yum. 3. Lay the bacon wrapped ribs back in the pan, sprinkle with the remaining spice mixture. 4. Sprinkle the brown sugar over the top of the ribs evenly. I like using the dark brown sugar for that molasses it gives, but they are equally as tasty with light brown sugar. Use what you have on hand. 5. Place that pan on your preheated grill or smoker on indirect heat. Cover and let them cook low and slow. That is how they get tender. 6. When ribs reach an internal temperature of 145 degrees F. remove them from the pan and place them directly on the grill to crisp up the bacon, brushing the glaze over them as they do.
Bacon Wrapped Pork Ribs in the Oven
As I mentioned, you can prepare this same rib recipe in the oven, too. That way you can enjoy them, even when it's snowing and blowing outside.
For the oven baked ribs, I used the pork chops that I sliced.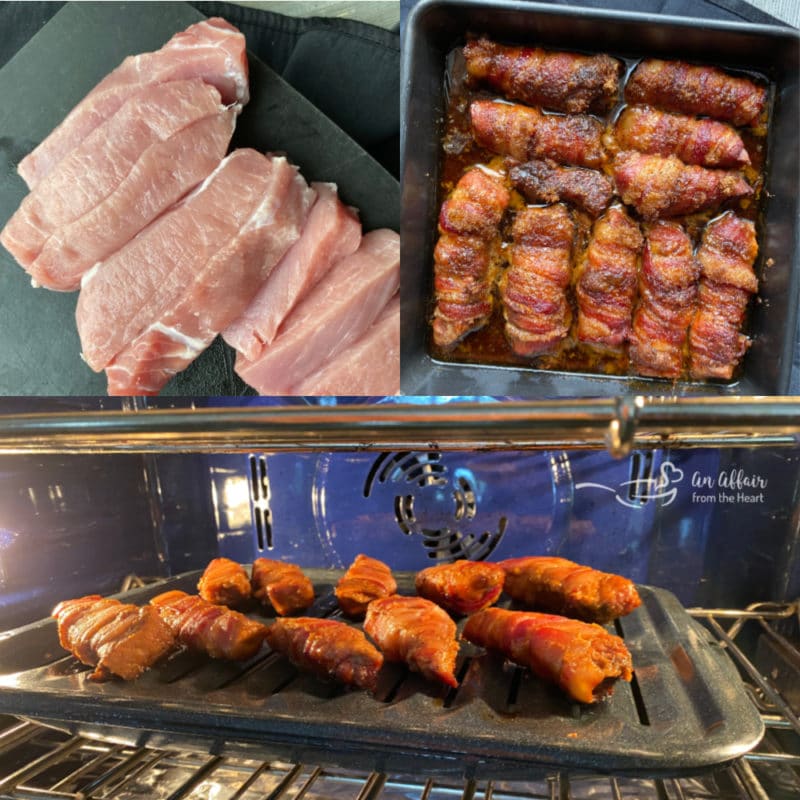 Preparing them is the same as the grilled version, only place them in the oven. Again, cooking them low and slow is the key.
Transfer them to your broiler pan or a rack over a baking sheet, brush with glaze and bake until the bacon crisps.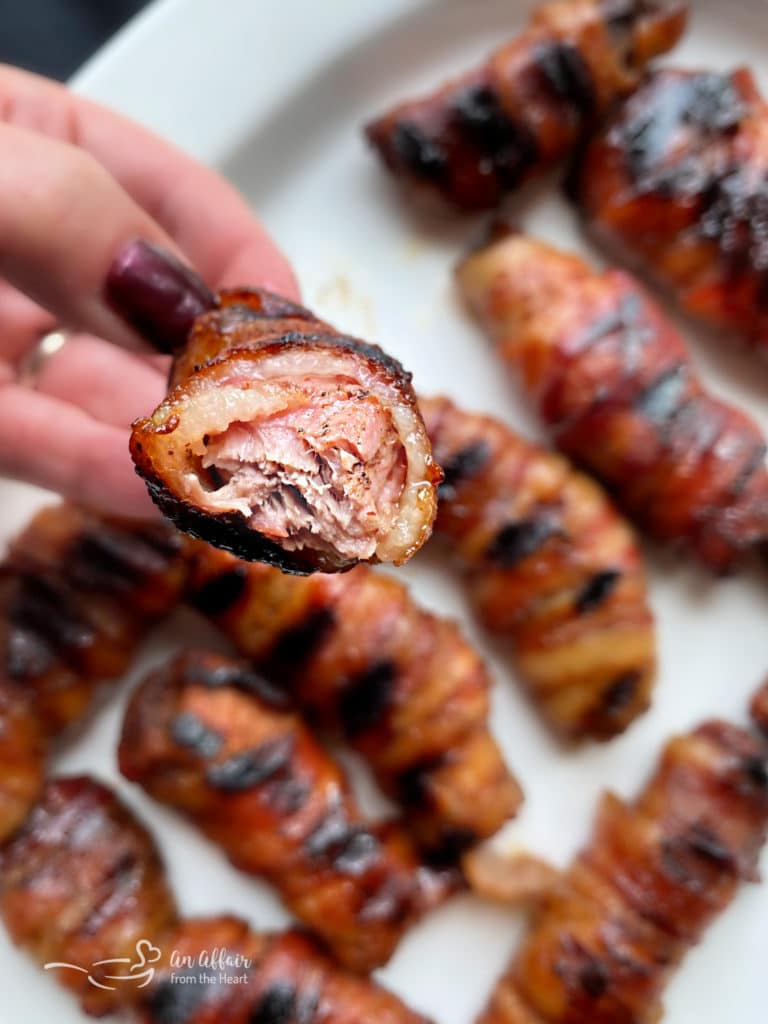 Internal Temperature for Country Style Pork Ribs
Safe internal cooking temperatures for pork will vary, depending on the cut of the meat. Iowa Pork has an informational chart that explains the temperatures for each cut.
For these country style ribs, and when using the pork loin chops, the desired temperature is the same. You want the internal temperature to be 145 degrees Farenheight.
Use a meat thermometer to check the center. Taking care not to touch the bone. Let meat rest for 3 minutes before serving.
When cooked correctly, the meat will be tender and juicy with a beautiful blush pink center.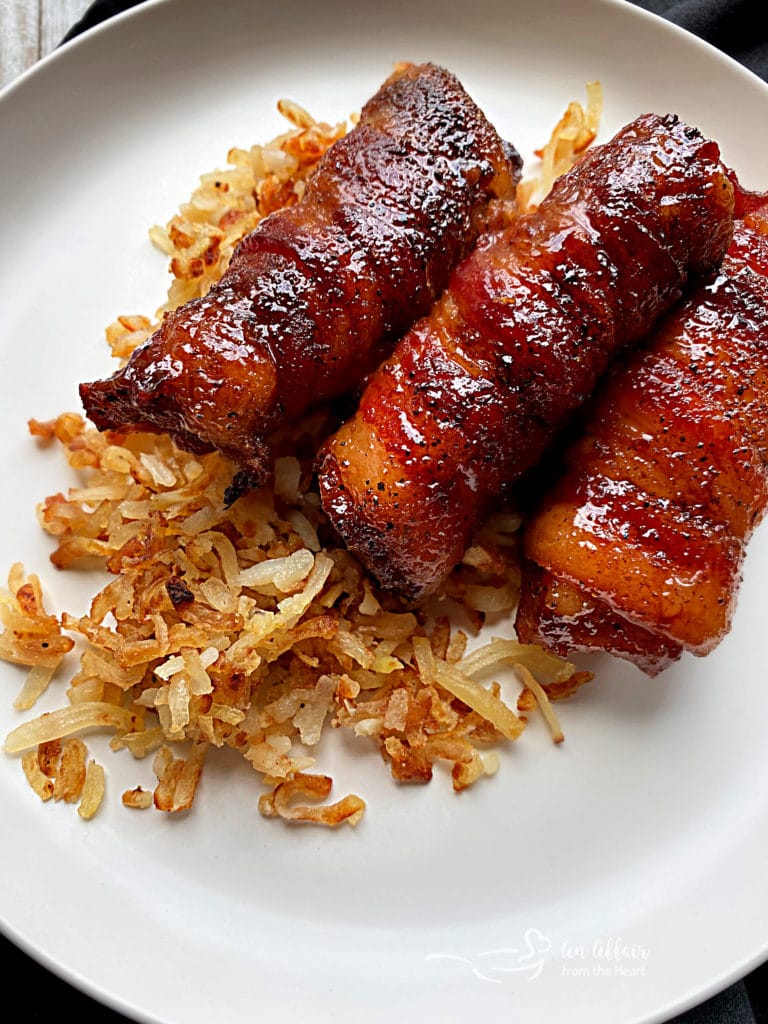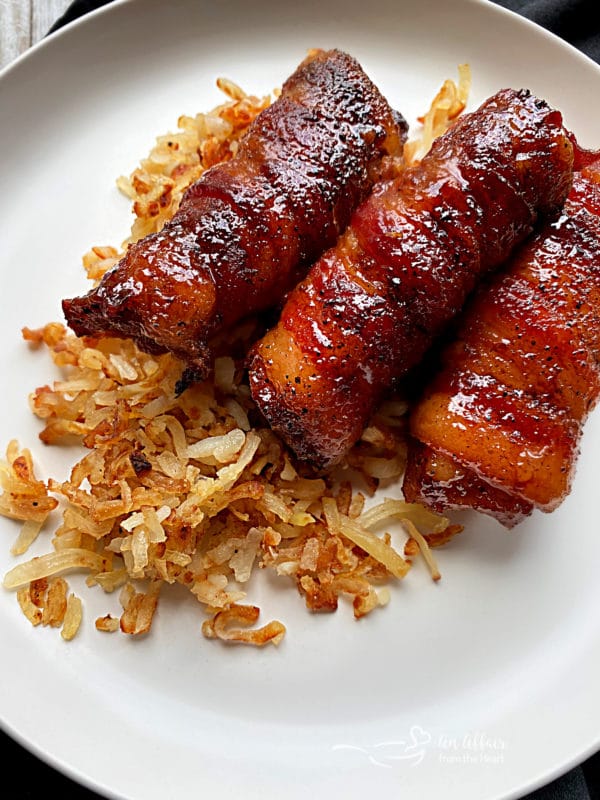 We served our bacon wrapped pork ribs with hash browns, sweet corn, and cornbread. There wasn't a single rib left.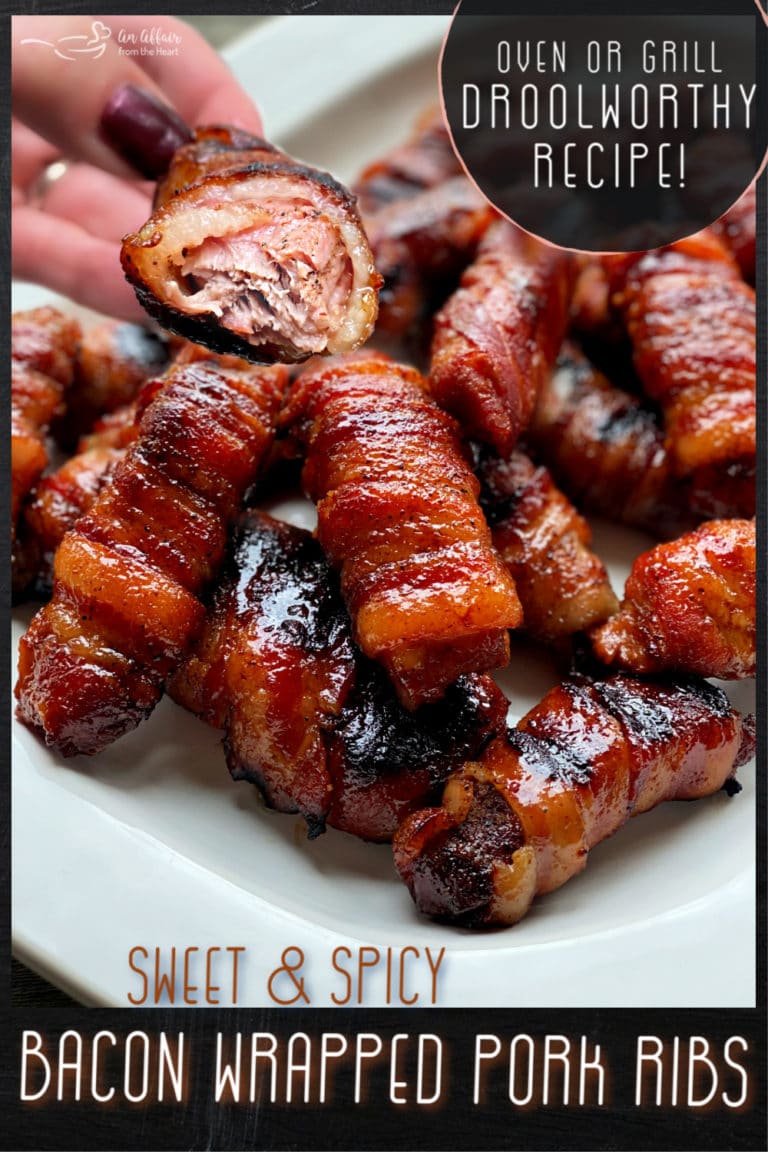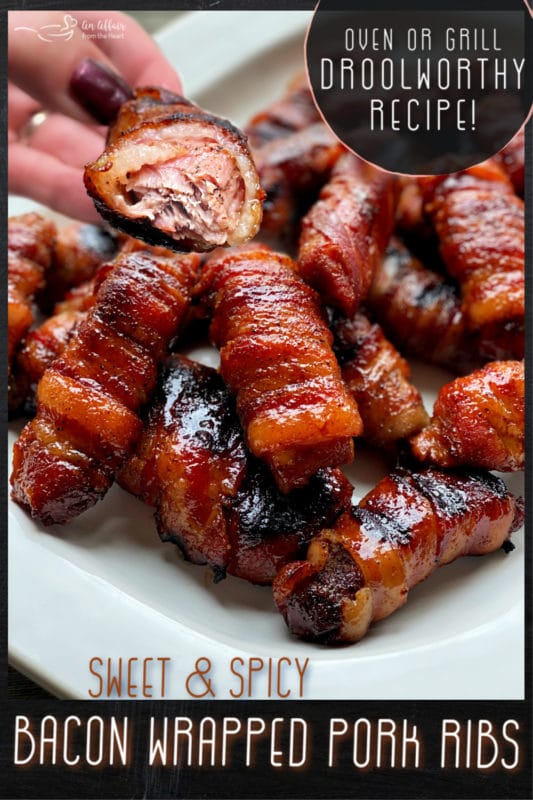 Love them? Pin them!
You'll be heartbroken if you forget where you saw this mouthwatering smoked bacon rib recipe. Make sure you take a second to pin it to your favorite Pinterest recipe board before you go. There is also a convenient printable recipe card at the bottom of this post.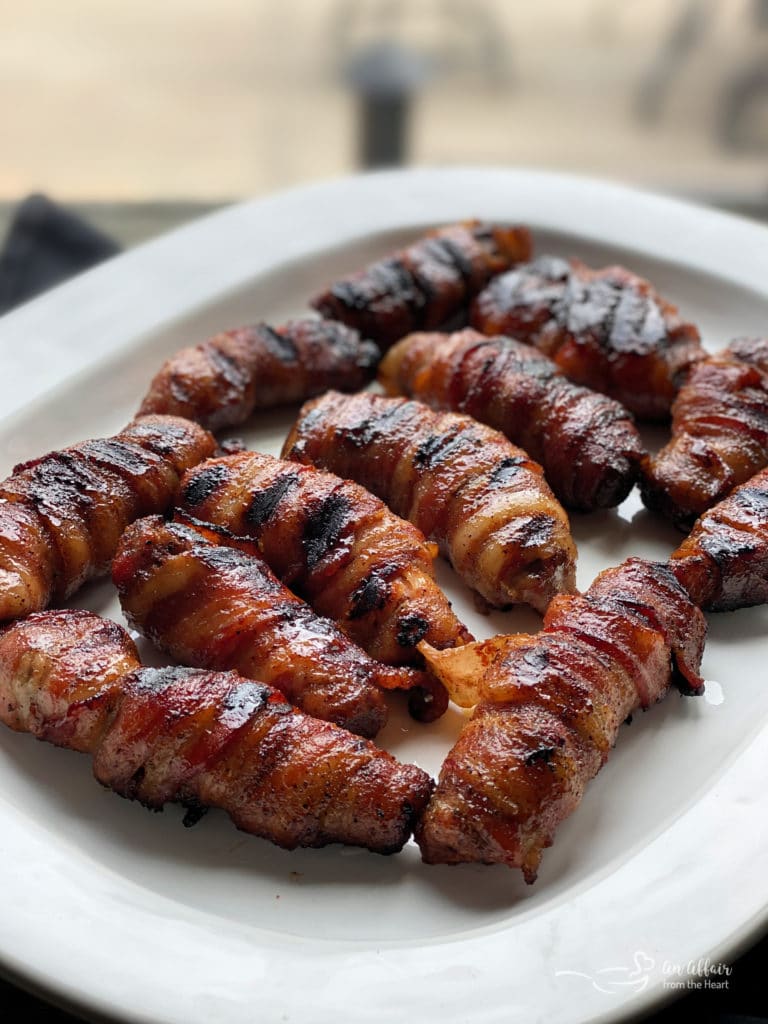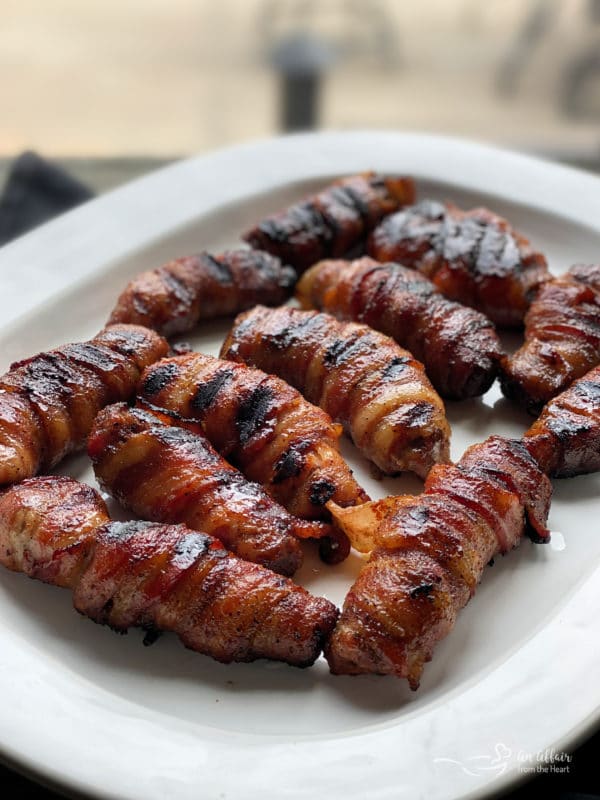 Lots of pork Recipes for you!
Even though I didn't grow up on a farm in Iowa like my husband did, growing up we ate pork a lot. My Mom's Pork Chops and Mushroom Gravy were one of my most favorite comfort foods as a kid and I still make them all of the time for my own kids. Little do they know, while they are enjoying my pork recipes, I am enjoying Pork's nutritional value.
You should see my son's eyes light up when I tell him we are having breaded pork cutlets for dinner! I love them because they are delicious, but also because they are super economical to make.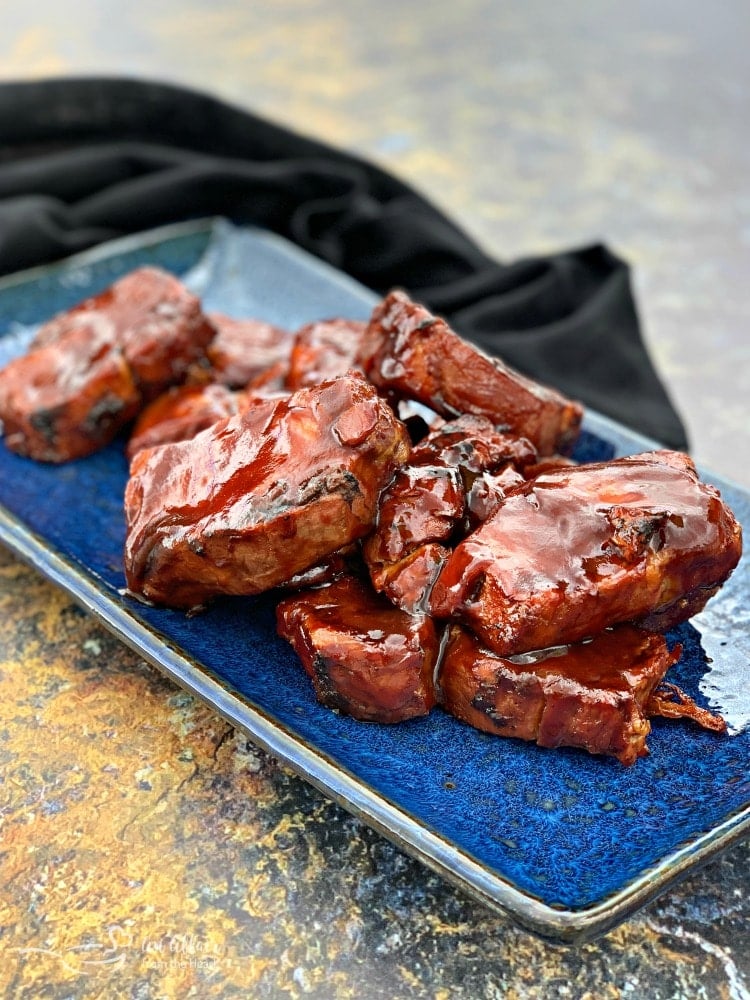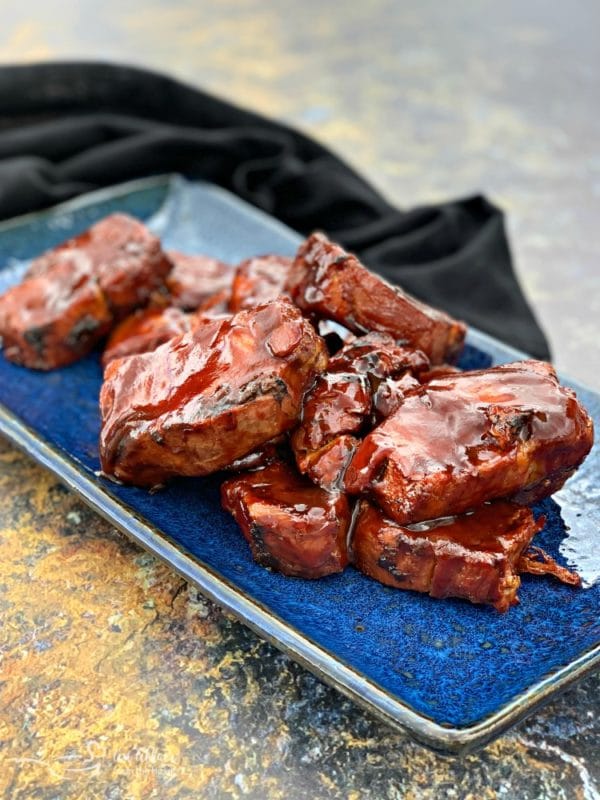 Be sure to follow along with Iowa Pork on Instagram, Facebook, Pinterest, and Twitter for delicious pork recipes year round!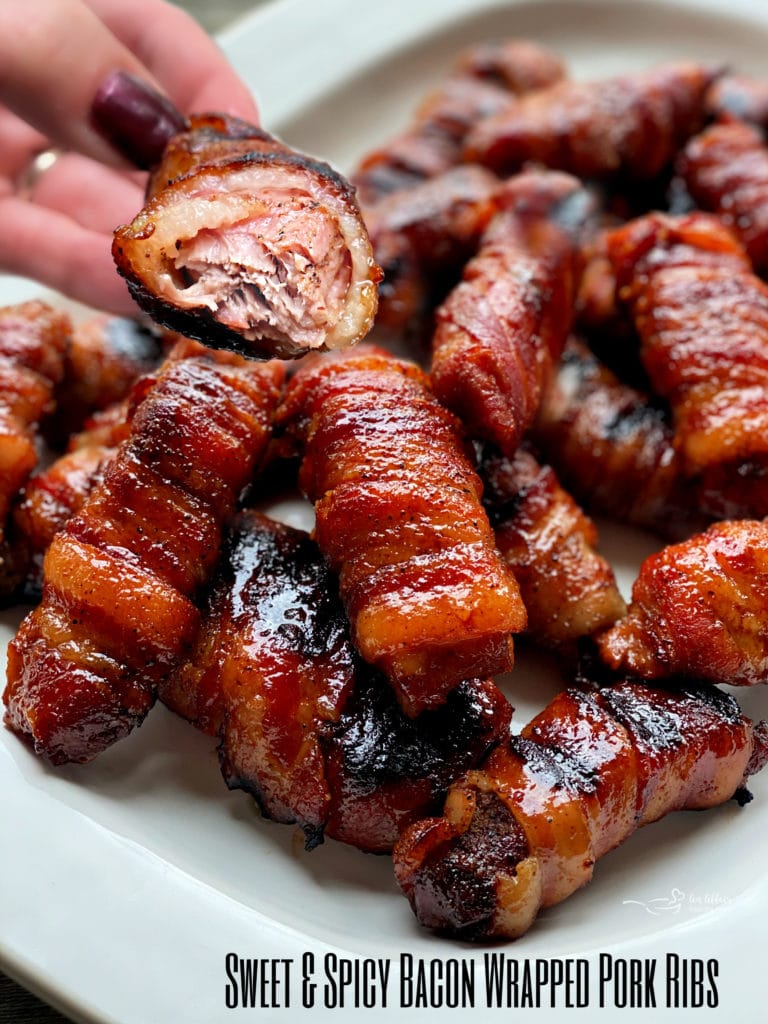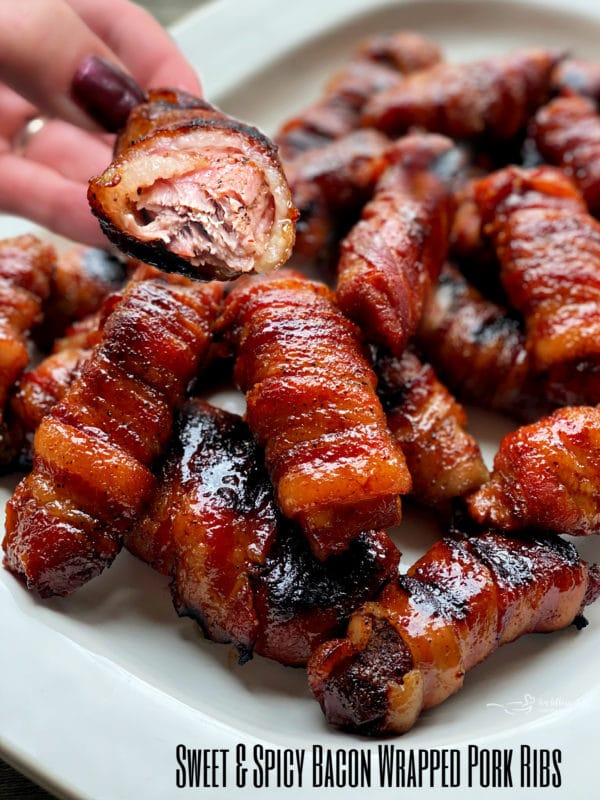 I'm starving!! Let's get to this Sweet & Spicy Bacon Wrapped Pork Rib Recipe!

Yield: Serves 4
Sweet & Spicy Bacon Wrapped Pork Ribs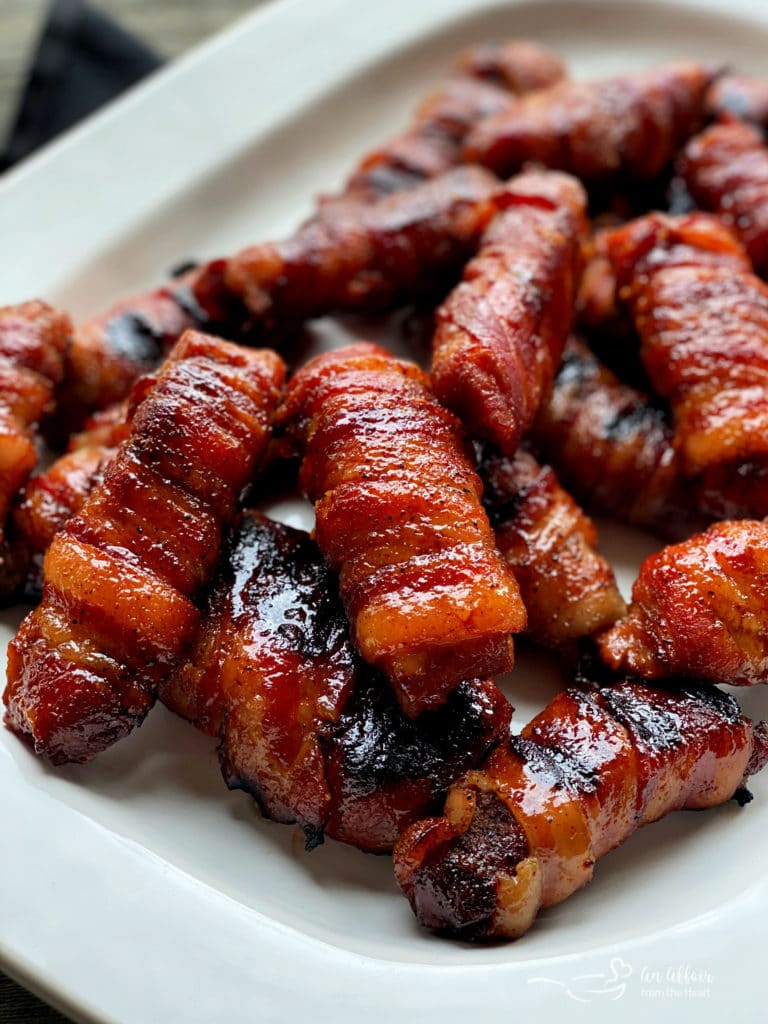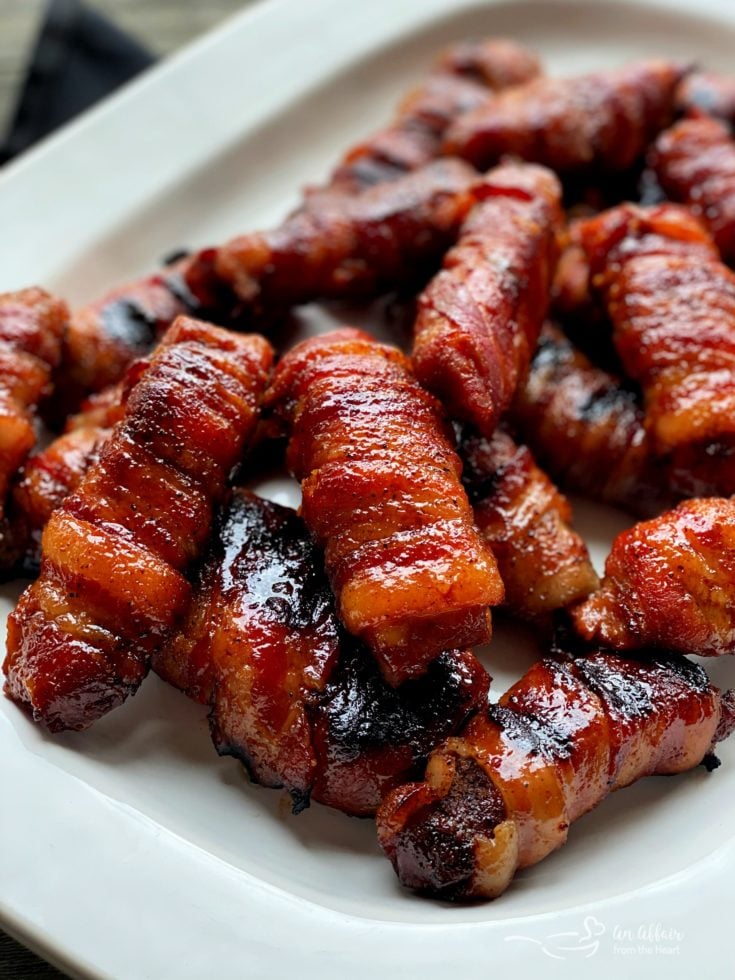 Pork ribs coated in spices to give them a little heat, then wrapped in bacon and rolled in brown sugar. Cooked low and slow on the grill or in your oven. Moist, tender ribs in a coating of sweet and salty bacon.
Additional Time
5 minutes
Total Time
2 hours
20 minutes
Ingredients
2.5 pounds Country Style Pork Ribs (about 8 ribs)
16 slices of bacon (two slices for each rib)
1 teaspoon black pepper
1 teaspoon salt
3 teaspoons garlic powder
1 teaspoon cayenne pepper
1 cups brown sugar (I used dark - either is fine)
Instructions
Preheat grill or smoker to 275 degrees.
Make seasoning mix by combining peppers, salt, and garlic powder in a small bowl.
Lay ribs in a 9x13 aluminum pan. Sprinkle both the top and the bottom of each rib with spice mix. Reserve a small amount.
Wrap each rib with two slices of bacon, placing them back into the pan, seam side down.
Sprinkle remaining seasoning over the top of the bacon.
Sprinkle the brown sugar on top of the bacon evenly.
Place the pan on your grill over indirect heat. (only turn burner on one part of the grill) Let them "smoke" for 2 hours. They will make an amazing glaze while they do.
Check internal temperature with a meat thermometer. Pork ribs should be 145 degrees F. in the center. Remove from grill.
Turn grill up to 325 degrees and place each rib on direct heat, grilling them until the bacon crisps. Brushing with the glaze as you do. This will only take a couple of minutes. No need to worry about the ribs getting overdone.
Let meat rest for 3 minutes before serving.
Notes
To prepare this recipe in the oven, follow the same instructions for the grill, but place in a preheated oven and bake at 275 degrees for the same amount of time. Turn oven up to 325 and place ribs on a broiling pan to crisp up the bacon before serving.
I often cut my large country style pork ribs in half to make them go a little further. That is why the size varies between my photos here and the recipe video.
Note: All grills, smokers, and ovens can vary. Check to make sure your ribs aren't done sooner than mentioned here.
Recommended Products
As an Amazon Associate and member of other affiliate programs, I earn from qualifying purchases.
Nutrition Information:
Yield:
4
Serving Size:
2 ribs
Amount Per Serving:
Calories:

1165
Total Fat:

68g
Saturated Fat:

24g
Trans Fat:

0g
Unsaturated Fat:

41g
Cholesterol:

318mg
Sodium:

1516mg
Carbohydrates:

48g
Fiber:

0g
Sugar:

44g
Protein:

91g
Nutrition isn't guaranteed accurate.

If you make this recipe, I'd love to know! Snap a picture, share the photo on social media with the hashtag #AnAffairFromTheHeart – I'd love to see what you made! – Michaela