Apple Moonshine Glazed Pork Chops
As an Amazon Associate and member of other affiliate programs, I earn from qualifying purchases.
Soaked in an apple moonshine brine, rubbed with seasoning and grilled to perfection, then brushed with a sweet glaze…these pork chops have a serious "wow-factor!"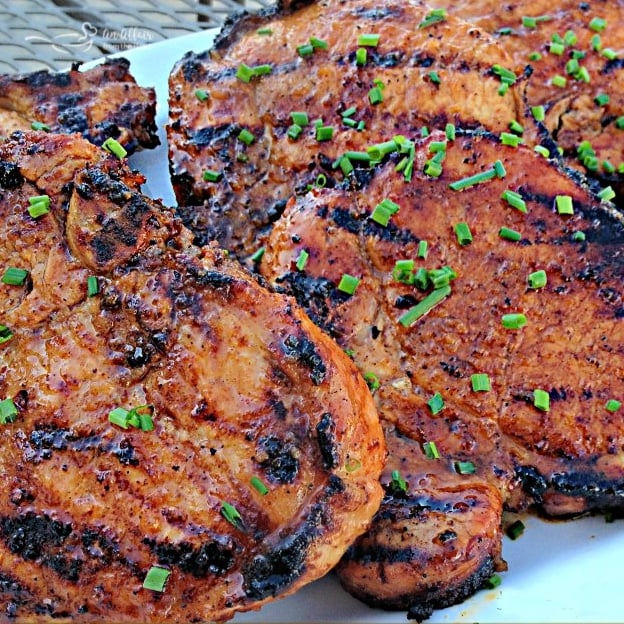 Pork Chops with Attitude
Happy Father's Day meal meant a "manly meal.' I started brainstorming what to make and came up with pork chops…but how mix it up? I wanted something with a "wow-factor" because my hubby deserves wow-factor.
What goes better than pork chops than apple? <cue Brady Bunch quote> "PORK CHOPS 'n APPLE SAUCE!"
I started looking for ideas and thought, it would be so fun to use that apple moonshine I had in the fridge. I found a recipe that I could adapt, and went for it!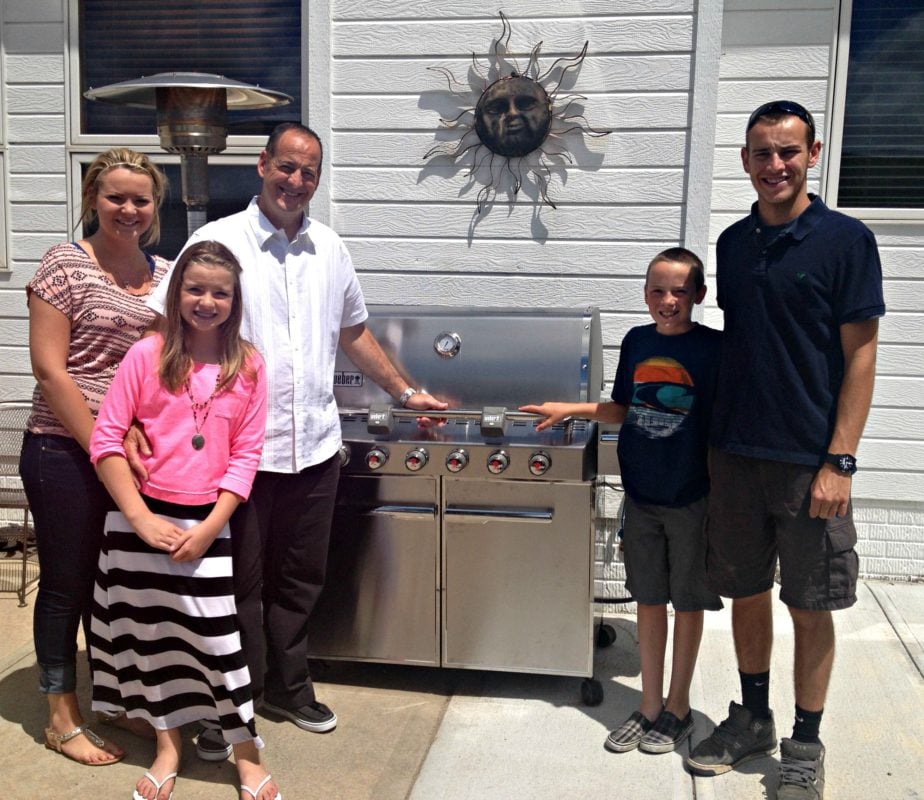 Apple Moonshine Glazed Pork Chops on a new grill!
We are doing a bit of a backyard remodel this summer, and we really needed a new grill. The one we had has seen MANY a backyard BBQ over the last 10 years. It seems family gathers here, and in the summer when we do, it's in the back yard.
We needed something a little bigger. So, the kids and I got him a new grill for Father's Day. What's better than a new grill?? Getting to TRY IT OUT!
The day of, I did all of the prep work and my hubby and our oldest son did the grilling.
I served it up with some Homemade Cornbread Drop Biscuits and mixed greens salad topped with Warm Bacon Vinaigrette.
I've mentioned before that I typically grill by adding a little salt and pepper and throwing it on the grill. Then I made the Jack & Coke Steaks a while back and we loved them. I am really getting sold on marinades. It makes the meat so much more tender and juicy. The flavor of these pork chops was out of this world!
There is nothing better than a meal on the grill!
Pork Grilling Recipes
When done right, pork from the grill is outstanding. It's tender and juicy and never dry. People complain that pork is dry, and I am here to tell you, that's because you cooked it way too long.
The misconception is that things like pork loins and pork chops need to be cooked to 160 degrees like ground pork does to be considered "done." To get the best tasting, juicy, never dry pork chops and loins, the internal temperature should be 145 degrees F. Iowa Pork has a great read on Safe Internal Pork Temperature.
My husband grew up on a farm in Iowa where they raised hogs his whole life. As you can imagine, we love the story of Iowa farmers and farmers in general, and we eat a lot of pork.
I thought I would share some of my other favorite pork grilling recipes with you today!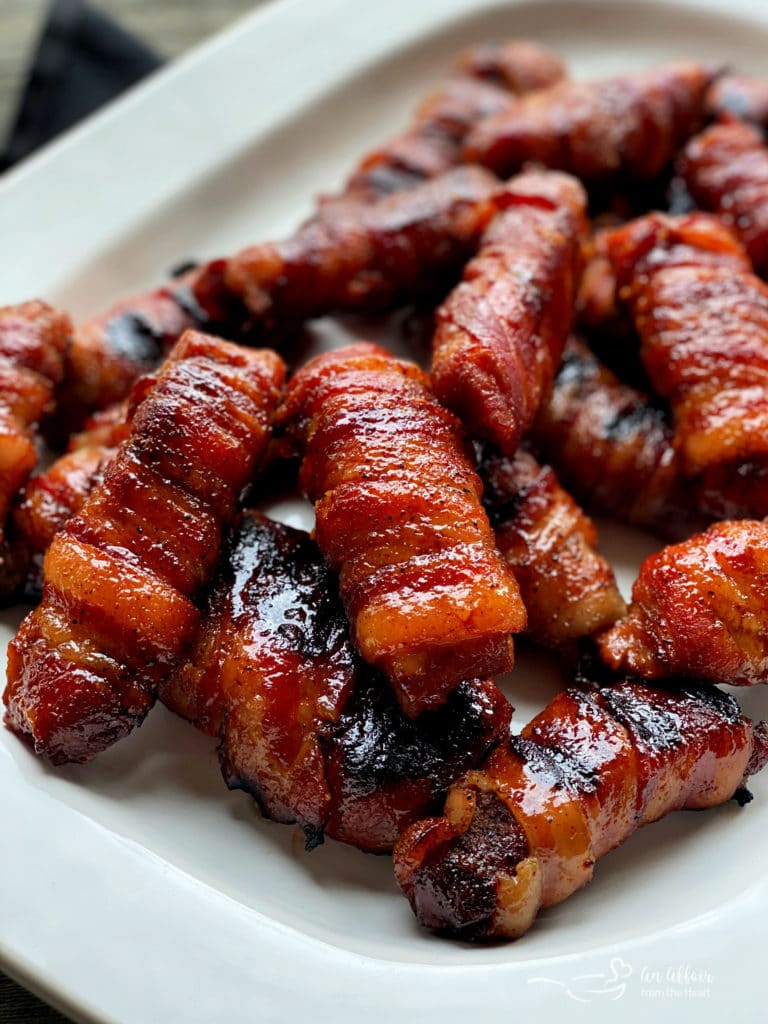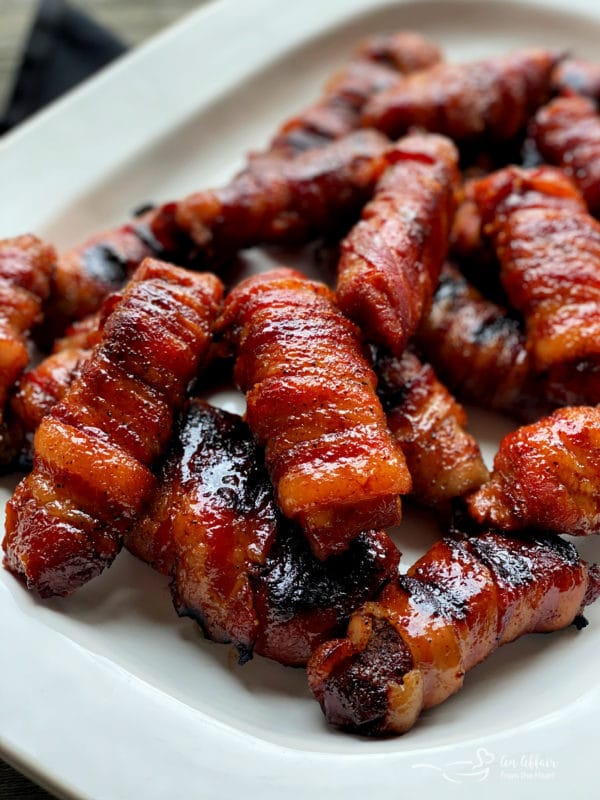 Sweet & Spicy Bacon Wrapped Country Style Pork Ribs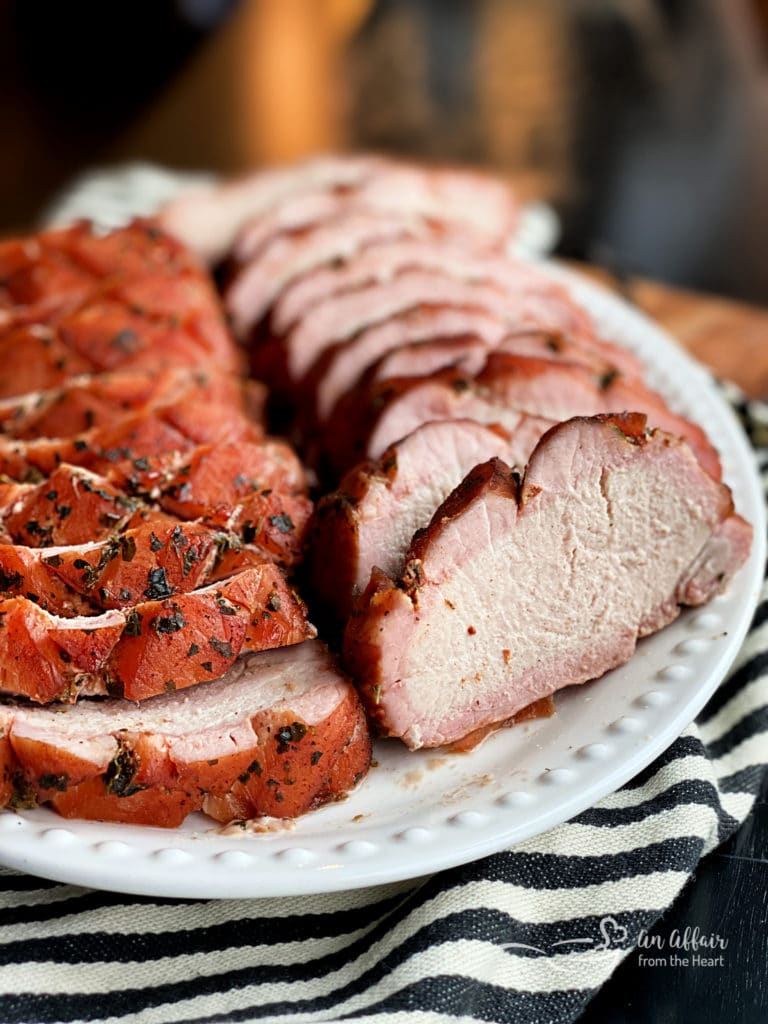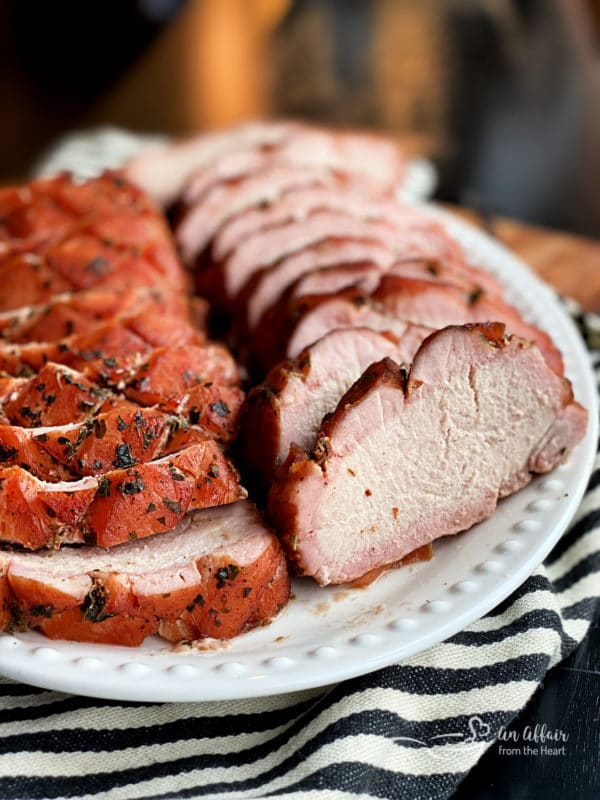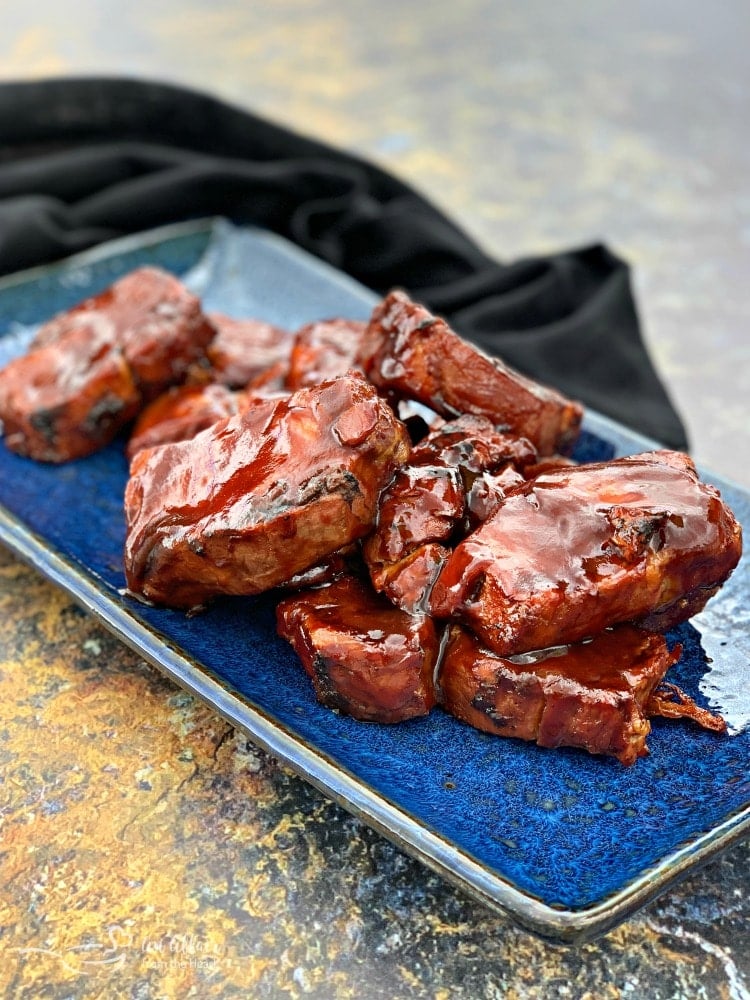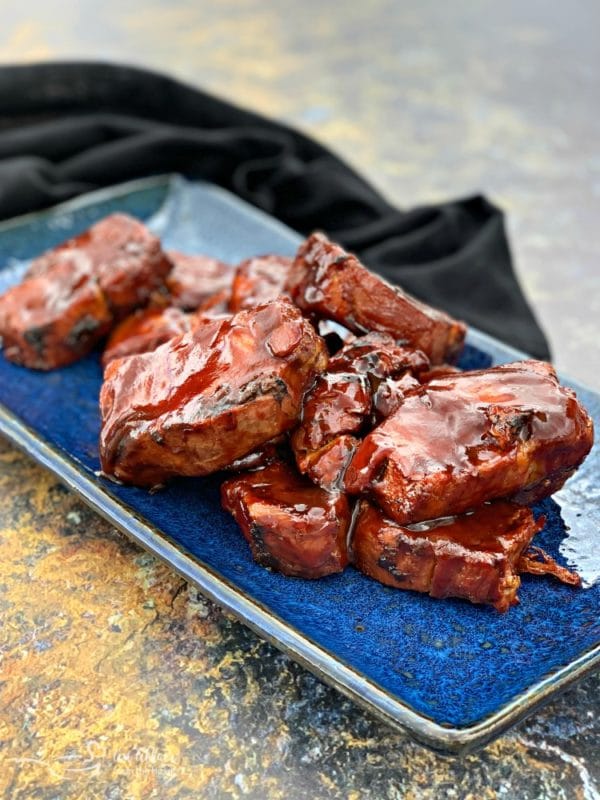 Instant Pot Dr. Pepper BBQ Pork Ribs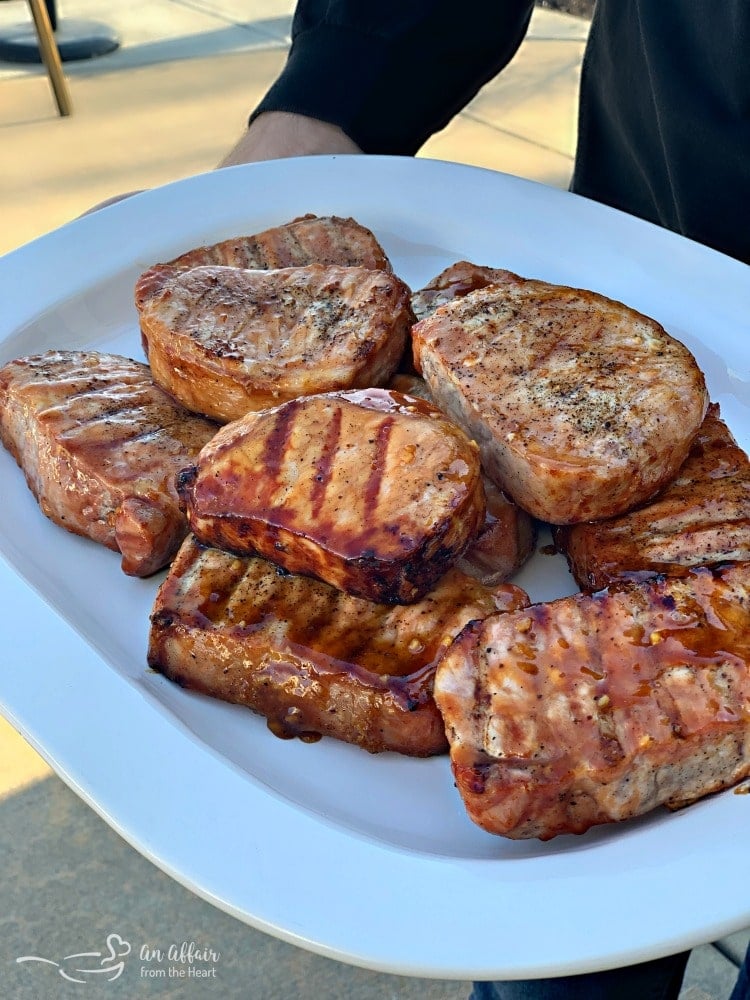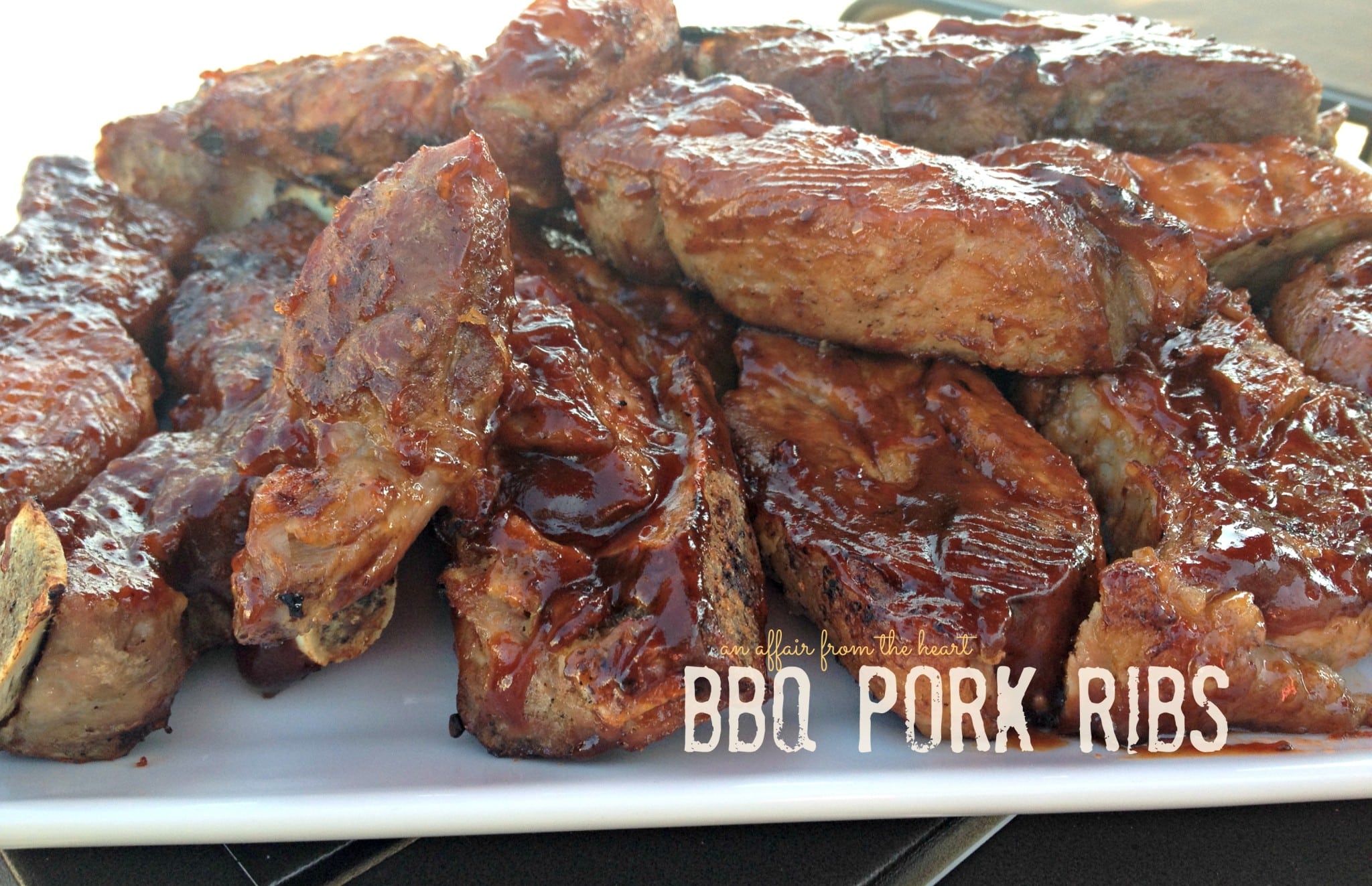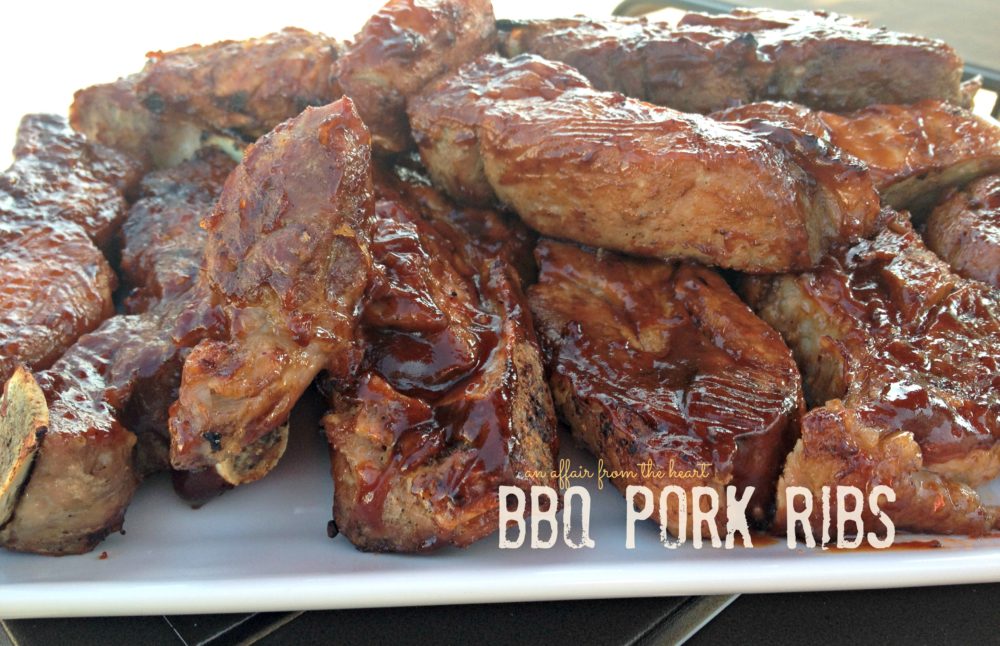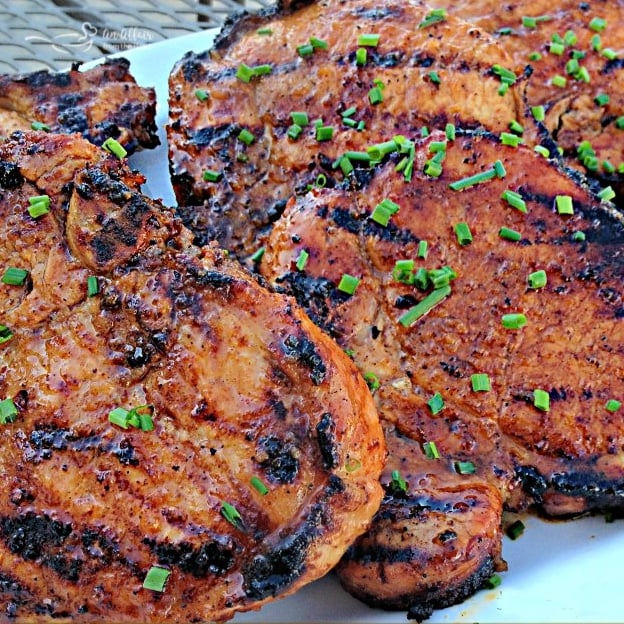 Apple Moonshine Glazed Pork Chops Recipe
I found a recipe online that I adapted these Apple Moonshine Pork Chops from. The original recipe actually used apple cider, so feel free to do that if you don't have any moonshine on hand or if you don't like the thought of cooking with alcohol.
My husband was so impressed that the chops were done to perfection based on the grilling times the online recipe suggested. The instructions were spot-on.
So even though I switched up the ingredients to our liking and to what I had on hand, I used his grilling instructions verbatim.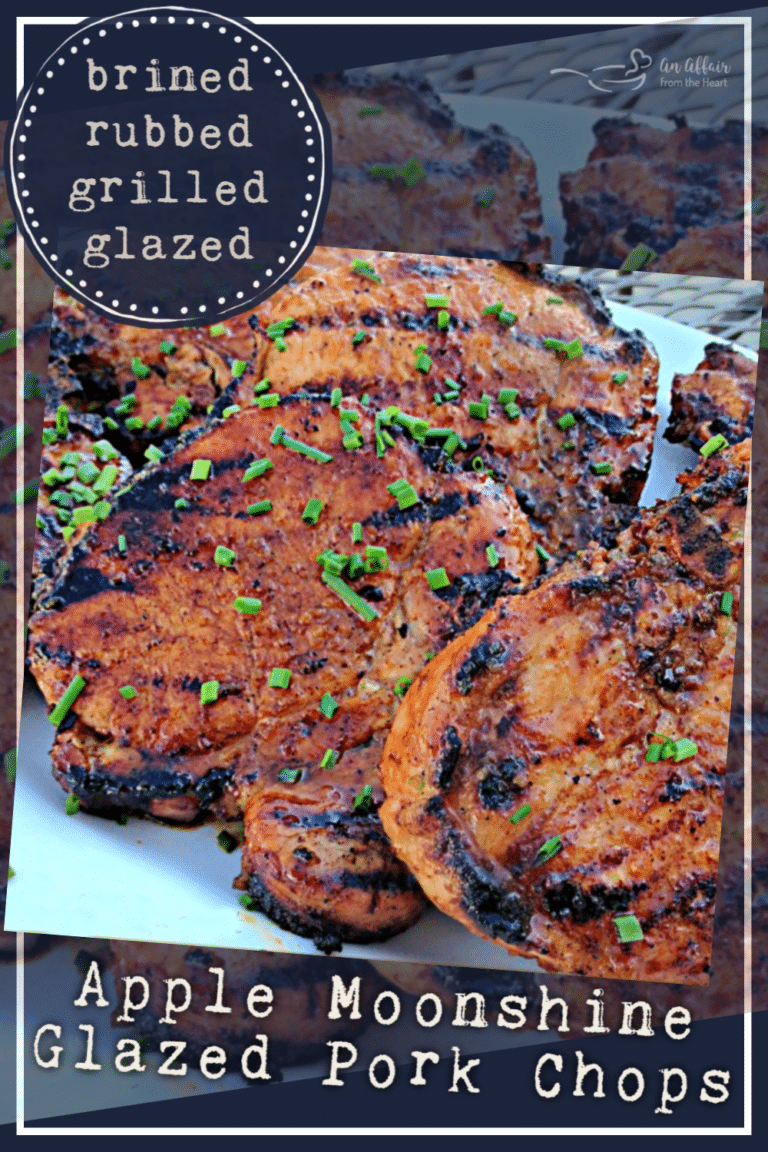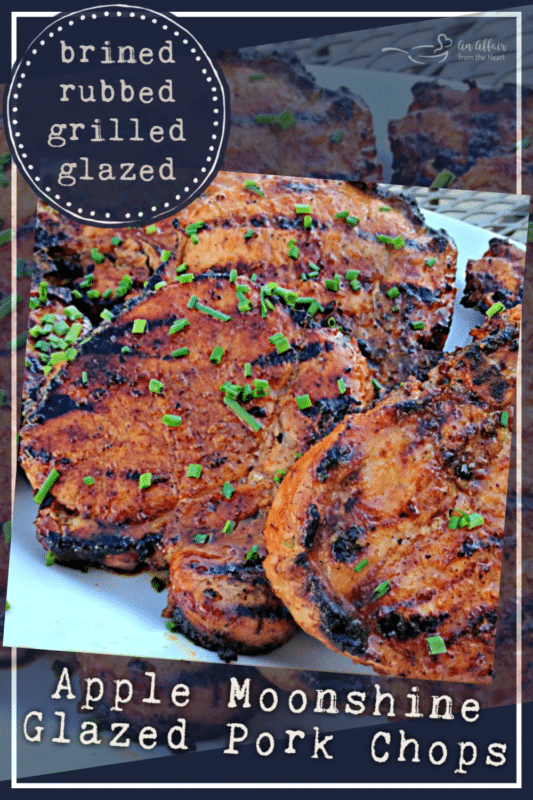 Love Them? Pin them!
If you can't wait to try these Apple Moonshine Glazed Pork Chops – you're going to want to save this recipe for later! Pin it to your favorite Pinterest recipe board before you go!
Dinner was enjoyed by all, and I am happy to report that my hubby LOVES his new grill. He is such an amazing man, his father's day had to have some WOW FACTOR… I hope he felt it!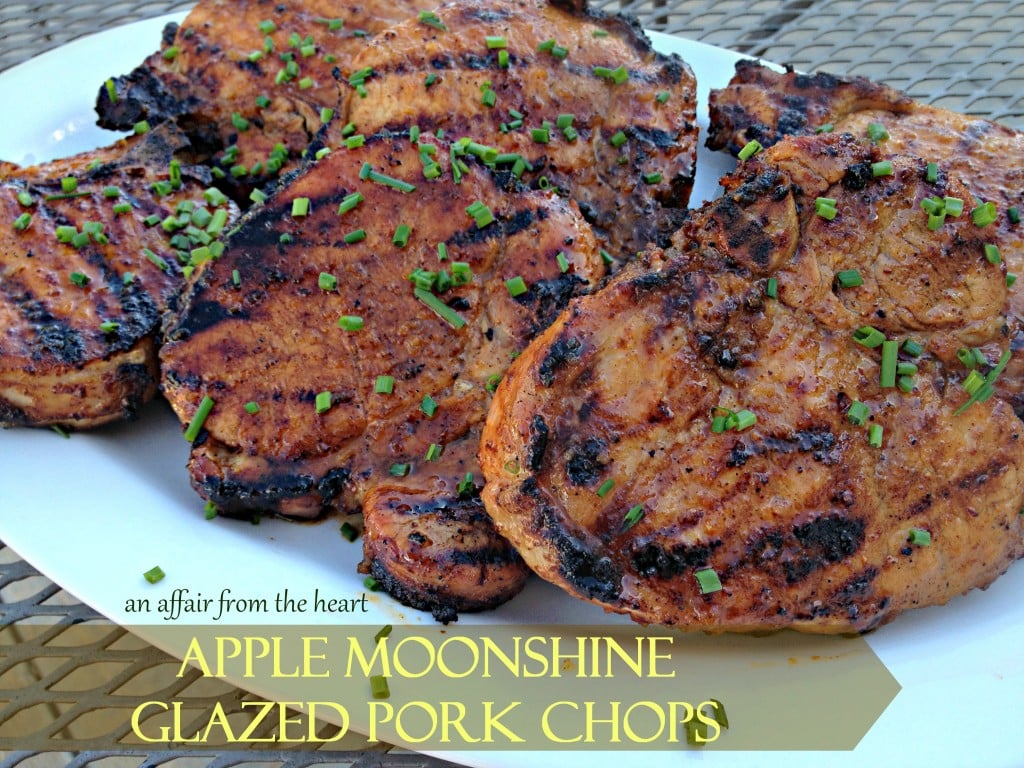 Let's get to this amazing grilled pork chop recipe using apple moonshine!

Yield: 6
Apple Moonshine Glazed Pork Chops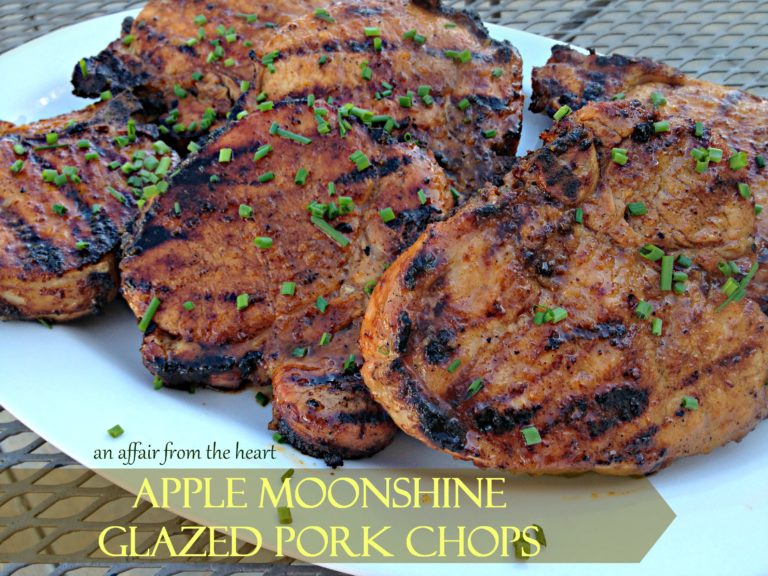 Soaked in a brine, rubbed with seasoning and grilled to perfection, then brushed with a sweet glaze...these pork chops have a serious "wow-factor!"
Total Time
4 hours
20 minutes
Ingredients
MEAT
6 Thick Cut, Bone-In Pork chops
BRINE
1 tablespoon crushed hot red pepper flakes
2 tablespoons boiling water
2 cups Apple-Moonshine, or substitute apple cider
2 cups water
1⁄2 cup kosher salt
1⁄2 cup honey
6 garlic cloves, minced
SEASONING
2 tablespoons chili powder
1 tablespoon paprika
1 tablespoon firmly packed dark brown sugar
3⁄4 teaspoon ground mustard
1⁄2 teaspoon garlic salt
1⁄2 teaspoon black pepper
1⁄2 teaspoon sea salt
1⁄4 teaspoon Old Bay Seasoning
1⁄4 cup vegetable oil, for rubbing.
GLAZE
1⁄2 cup apple jelly
1 tablespoon fresh lemon juice
1 small Granny Smith apple, peeled, cored and grated
GARNISH
1⁄4 cup finely chopped chives
Instructions
PREPARATION:
Place the pepper flakes in a small bowl and pour boiling water over them, letting them sit and re-hydrate. Combine the pepper flake with all the remaining brine ingredients. Blend using an immersion/stick blender, or blend in a regular blender.
Place the chops in an extra- large re-seal able plastic bag (I used a 2 gallon size). Add brine to bag and squeeze out any excess air. and zip closed. Roll the bag to evenly coat all of the meat in the brine. Place bag in the refrigerator 3 or 4 hours. I flipped the bag over a couple of times when I thought about it.
Combine all of the seasoning ingredients (EXCEPT the oil) in a jar with a lid and shake to combine. Set seasoning aside until ready to grill.
Combine ingredients for glaze in a jar with a lid, set aside.
TO GRILL
Preheat one grate of a well- oiled charcoal or gas grill to high and another to low.
Remove the chops from the brine, letting any excess brine remain in the bag.
Sprinkle the seasoning blend evenly on all sides of the chops. Coat your hands with oil and rub the seasoning over all sides of the chops.
It is preferable that the chops be moved to a clean area of the grate when flipped during the initial charring. Depending on the grill size, they may need to be cooked in batches to ensure there is a clean portion of the grill to flip to. Place the chops on the high grate, and keeping the lid open, do not move the chops until they are well marked and lightly charred, about 3 minutes. Flip, still over high, with the lid open, and repeat on the second side, grilling for about 3 minutes. Move the chops to the low grate, and close the lid. Open the lid every few minutes, flipping, jockeying, and stacking throughout the remaining cooking time. Cook about 8 minutes for medium, about 10 minutes for medium-well, and about 12 minutes for well-done. The chops will continue to cook as they are glazed. Give the glaze a quick shake to reincorporate any ingredients that may have settled. Brush with the glaze on the first side, flip, and brush on the second side. Remove the chops from the heat and let rest for about 5 minutes.
FINISH
Sprinkle with fresh chives and serve.
Nutrition Information:
Yield:
6
Serving Size:
1
Amount Per Serving:
Calories:

459
Total Fat:

15g
Saturated Fat:

3g
Trans Fat:

0g
Unsaturated Fat:

11g
Cholesterol:

39mg
Sodium:

9951mg
Carbohydrates:

65g
Fiber:

4g
Sugar:

53g
Protein:

13g
Nutrition isn't always accurate.