Smoked Pork Loin
As an Amazon Associate and member of other affiliate programs, I earn from qualifying purchases.
Smoked pork loin, marinated and cooked low and slow on a pellet Traeger grill makes a very flavorful piece of pork that goes great with a variety of sides. This is an easy recipe for a perfectly prepared pork loin.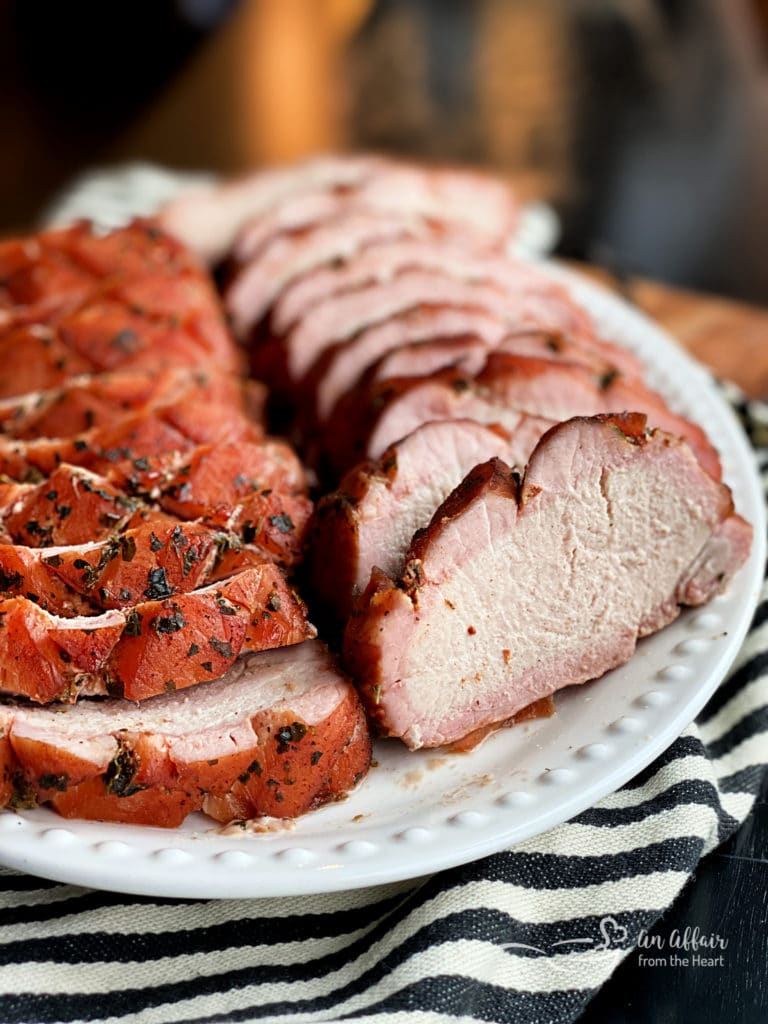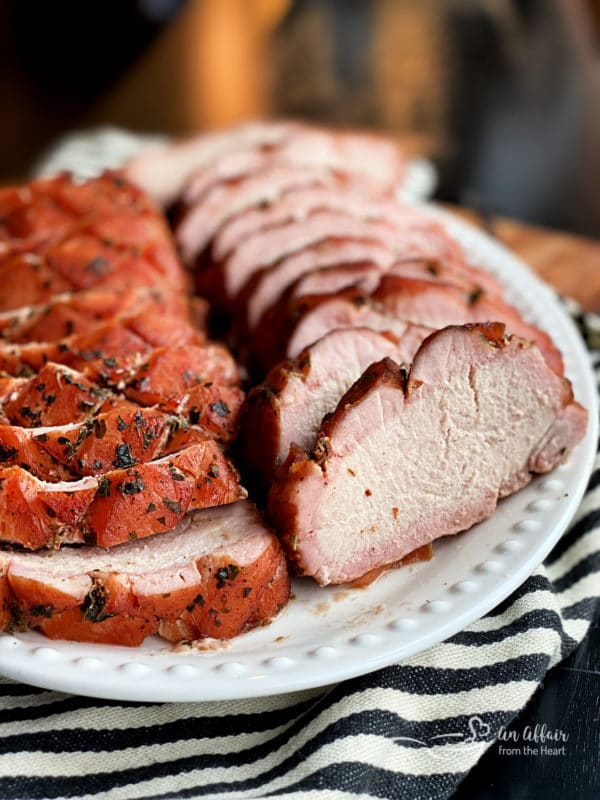 Smoked pork loin made on a Traeger pellet grill is the perfect way to get into grill season shape! If you don't have a Traeger, then, of course, you can use any type of pellet grill or even use coals as well. You just have to be careful to allow the smoke to cook the pork loin low and slow. So make sure not to put the meat directly over the hot coals.
It is very different than my crock pot pork tenderloin recipe, but check that out if you don't have a grill or smoker handy.
SOME OF THE ITEMS BELOW CONTAIN AFFILIATE LINKS; I AM A PARTICIPANT IN THE AMAZON SERVICES LLC ASSOCIATES PROGRAM, AN AFFILIATE ADVERTISING PROGRAM DESIGNED TO PROVIDE A MEANS FOR US TO EARN FEES BY LINKING TO AMAZON.COM AND AFFILIATED SITES. I AM ALSO AN AFFILIATE FOR OTHER BRANDS. HOWEVER, I ONLY PROMOTE THINGS THAT I LOVE AND THINK YOU WILL LOVE, TOO. FOR MY ENTIRE DISCLOSURE POLICY PLEASE CLICK HERE.

Smoked pork loin on the Traeger
When the weather is right, then getting outside to do some grilling is awesome, but a smoked pork loin tastes so great you might find yourself wanting to smoke it in the rain, sleet, or snow too! (I mean … just look at that beautiful pink smoke ring!)
Pork loins are a lot less expensive than beef and much easier to cook. They don't take as long. The meat seasons in the smoke nicely, and you can still make a gravy from the jus if you want.
Smoked pork loin marinade
The first thing you want to do is get the meat in the marinade. You want to get at least three hours or so in the marinade, so I recommend doing it first thing in the morning, or even the night before. If you do it overnight, then make sure you have enough marinade to cover the entire piece of pork. If you do it in the morning, then you can easily just flip the piece of pork loin in the marinade about halfway through.
I also recommend scoring the loin with a knife about a quarter-inch deep before you put it in the marinade. Not only will this allow for greater penetration of the flavorful sweet and spicy marinade, but it will also help you get a nice sear on the pork exterior as well.
Smoked pork loin should have leftovers
You definitely want to make sure there are leftovers. It will be hard but do whatever it takes, like making twice as much as you intend to serve. Why? Because leftover smoked pork loin sliced up later for use in sandwiches and salads rocks hard, like bang your head and point at the sky with your arms raised high hard.
That's right. Smoked pork loin is like the culinary equivalent of a smoking hot guitar solo.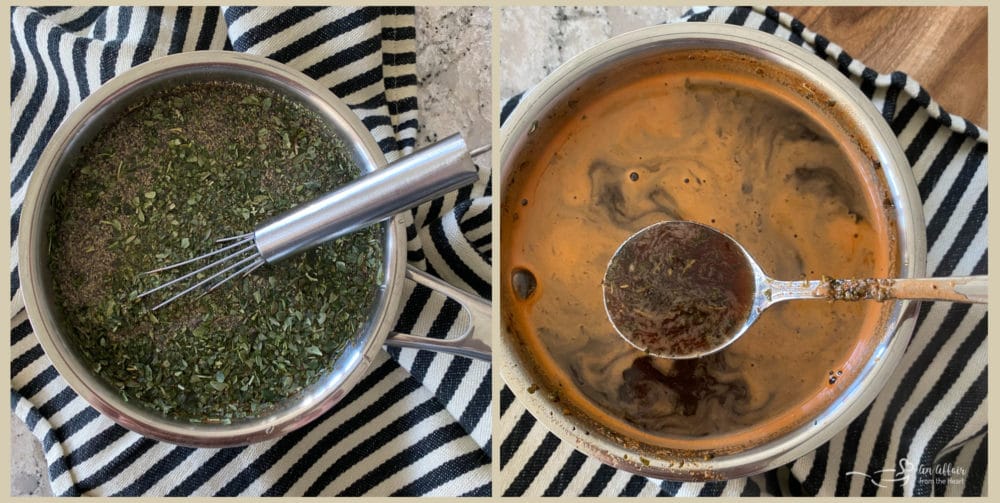 For my marinade, I used apple juice, honey, brown sugar, oregano, black pepper, and Traeger's chicken and pork rub. Whisk it together in a saucepan and place it over medium heat on your stovetop.
Cook until the brown sugar is dissolved. Remove from heat.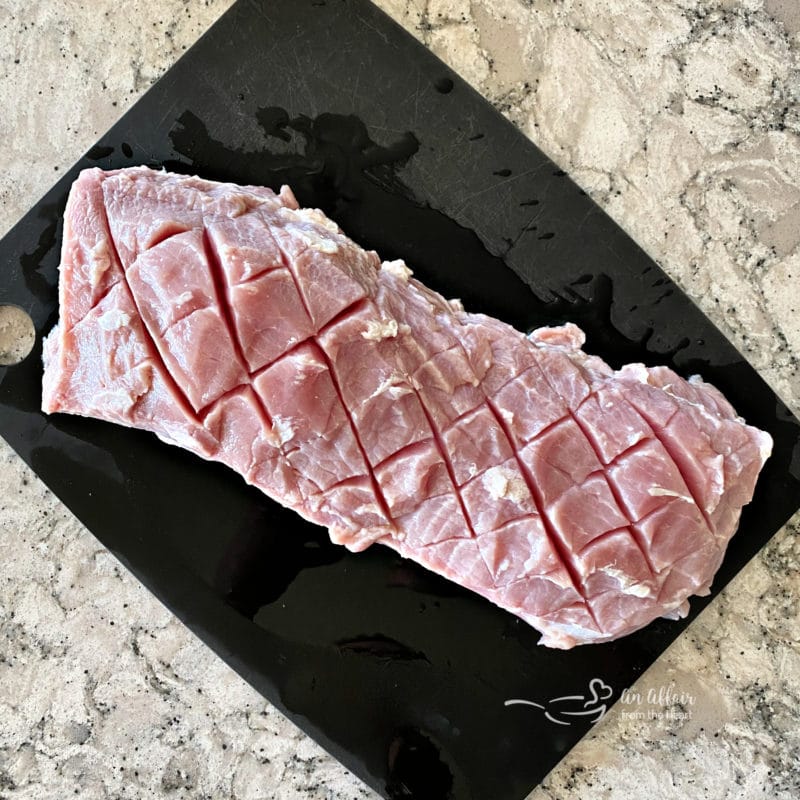 Here is my pork loin scored and ready for the marinade.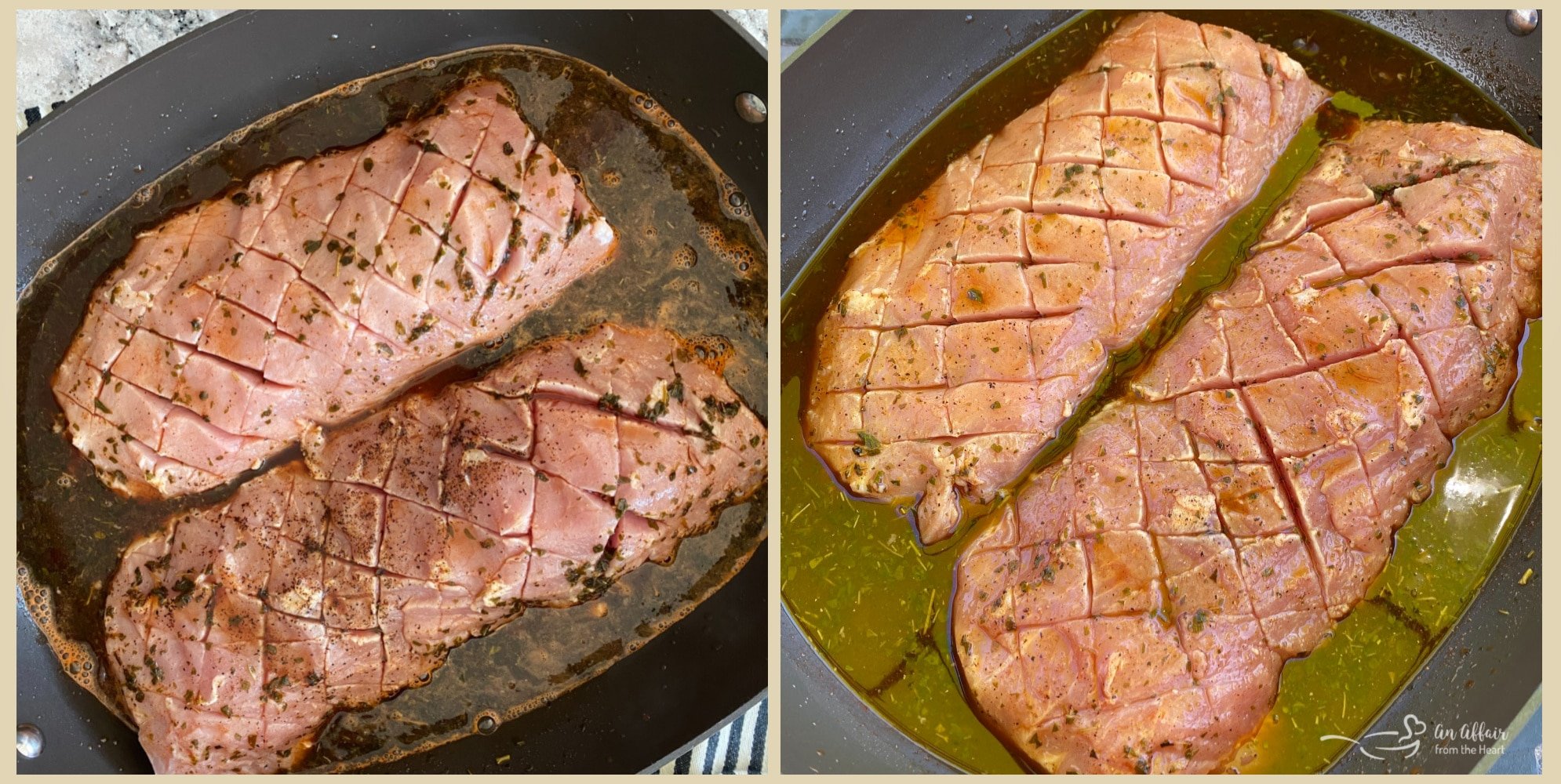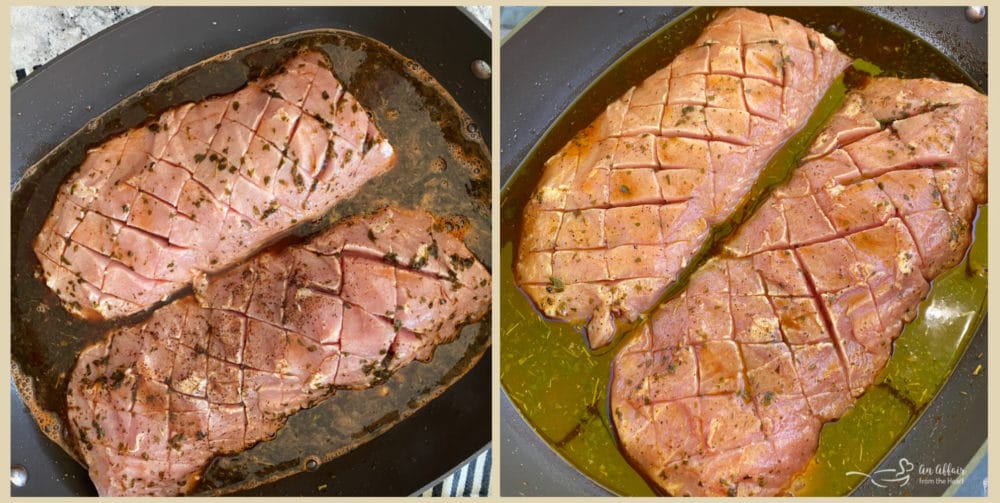 Pour the marinade over the loin in a pan deep enough to house the meat. Place in the fridge. Let marinate at least 3 hours, flipping halfway through.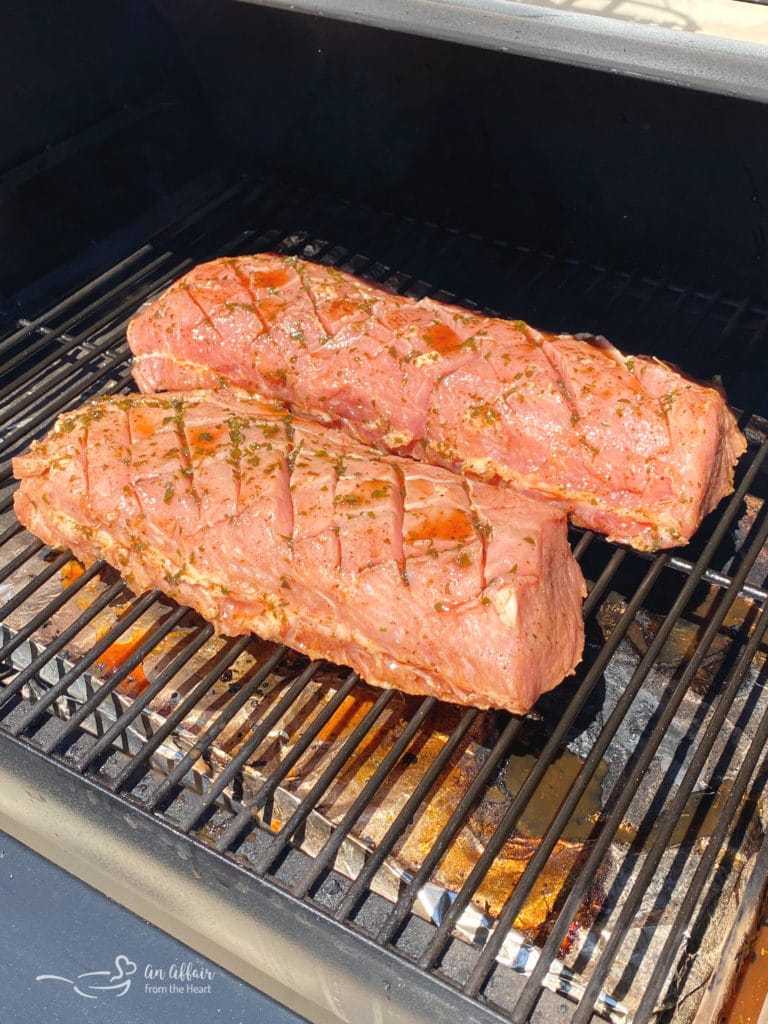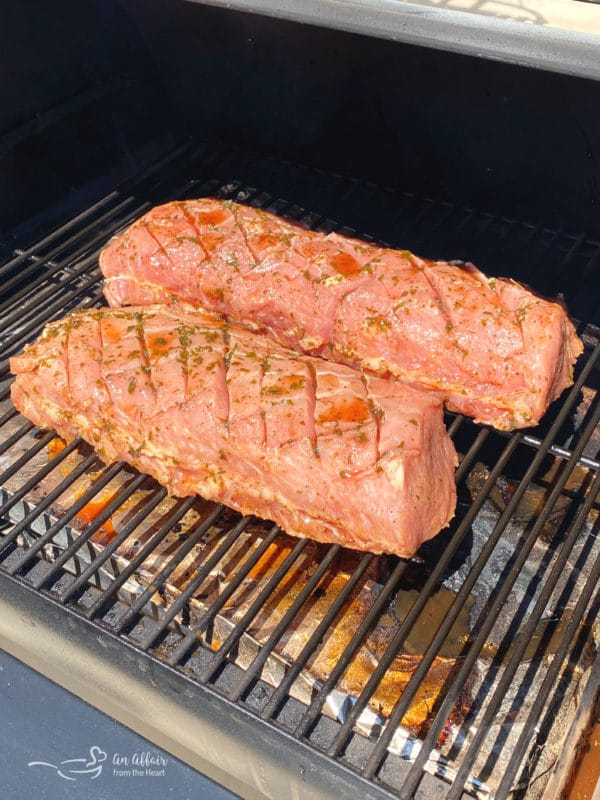 Place the loins on a preheated smoker set to 225 degrees F. We used Mesquite pellets to make ours. Apple pellets also work well, but you will have a much sweeter outcome to the meat, I feel like it is similar in taste to ham.

When is a Pork Loin done?
Cooking the pork to an internal temp of 145 Fahrenheit is just right. People all too often cook their pork way too long and it ends up becoming dry and even tasteless. Which is really hard to do with pork, but over-cooking it will do that. Especially, tenderloin, because that is already a less fatty and juicy piece of pork anyway.
So trust your thermometer. If the meat is a blushing light pink inside then that is just right. The pink is ok. If no blush pink color is present in the center of your pork, then you have gone a bit too long. It will still be edible of course, but if you get that light pink medium then it will have more flavor.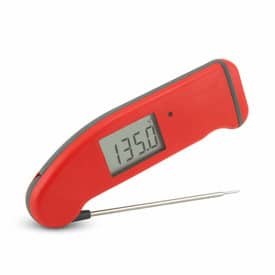 My Thermapen Mk4 is the BEST meat thermometer I have ever owned. It reads almost instantly, is super accurate, and I love how the thermometer itself pivots for use in all sorts of directions. You can read more about all of the cool functions it has on the Thermapen website.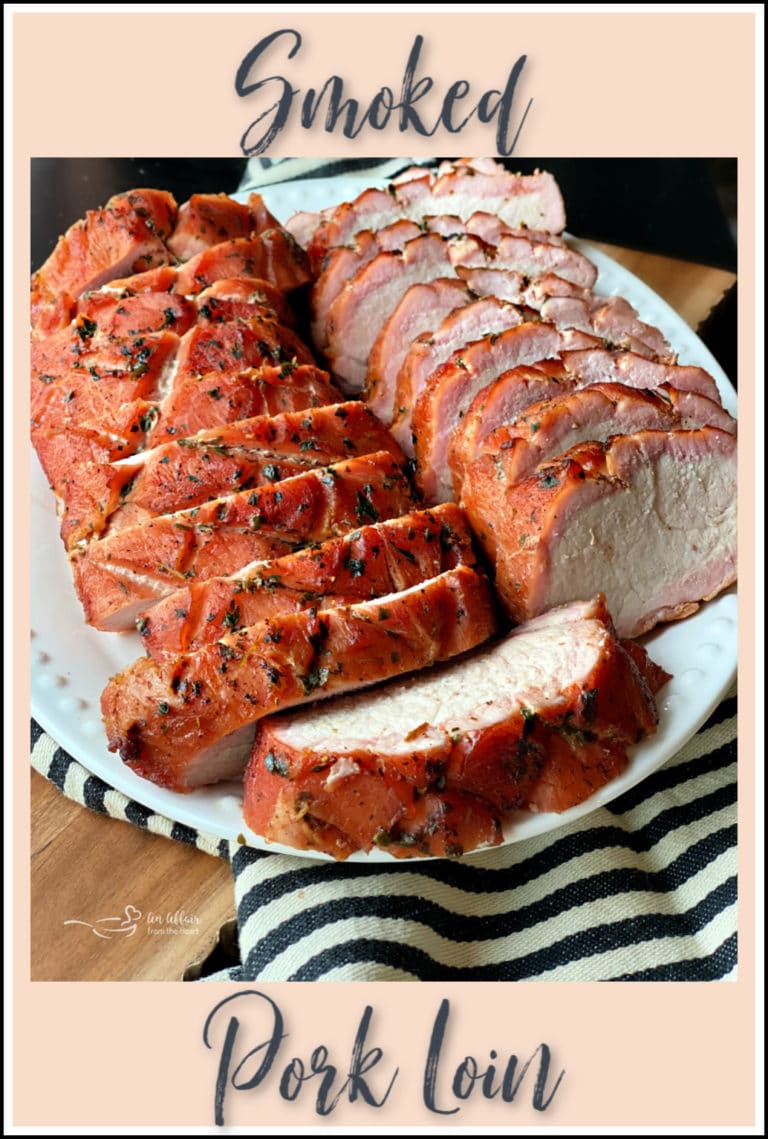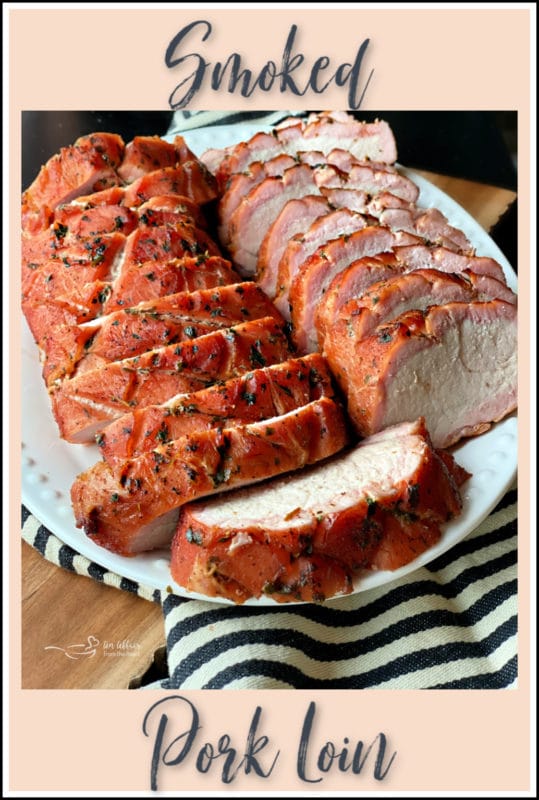 Love it? Pin it!
If you love this recipe, and you can't wait to try it, make sure you pin it to your favorite Pinterest recipe board before you go! Then you will be sure to find it easily!
The difference between Pork Loin & Pork Tenderloin
A pork loin and a pork tenderloin sound very similar, but in fact, they are two totally different cuts of pork, and the process of cooking them is different, too.
A pork loin is a large cut that runs along either side of the backbone. The loin is turned into the many different kinds of chops and roasts. A pork loin roast may be referred to as a top loin roast, or a center-cut roast. It's available both boneless and bone-in varieties. Typically a boneless pork loin is about 5 inches in width.
Pork tenderloin is only about 2 inches around and is a smaller, more tender cut of meat. Size alone will make a huge difference in how long a tenderloin takes to cook vs. a pork loin.

What goes great with smoked pork loin
The versatility of pork knows no bounds. You can pretty much serve it with anything. The "other white meat" actually goes great with any sides that you might typically do for chicken, and the same holds true for any typical beef sides too. So, you could do a basil garlic fried rice for example. Or, why not go with this Tomato Cracker Salad?
Of course, you can never go wrong with Grandma's Baked Beans! If you want to do potatoes, then I recommend a classic picnic style potato salad. A simple and colorful green salad works beautifully too.
Pork is like khakis, it literally goes with everything and makes it looks tasteful.
More delicious pork recipes
Given all the choices, smoked pork loin has to be one of my favorites, but I do have some other great pork recipes to check out, too, including my latest Sweet & Spicy Bacon Wrapped Pork Ribs. Did you know that you can use a pork loin chop in place of ribs when you are unable to find ribs at the store? You sure can!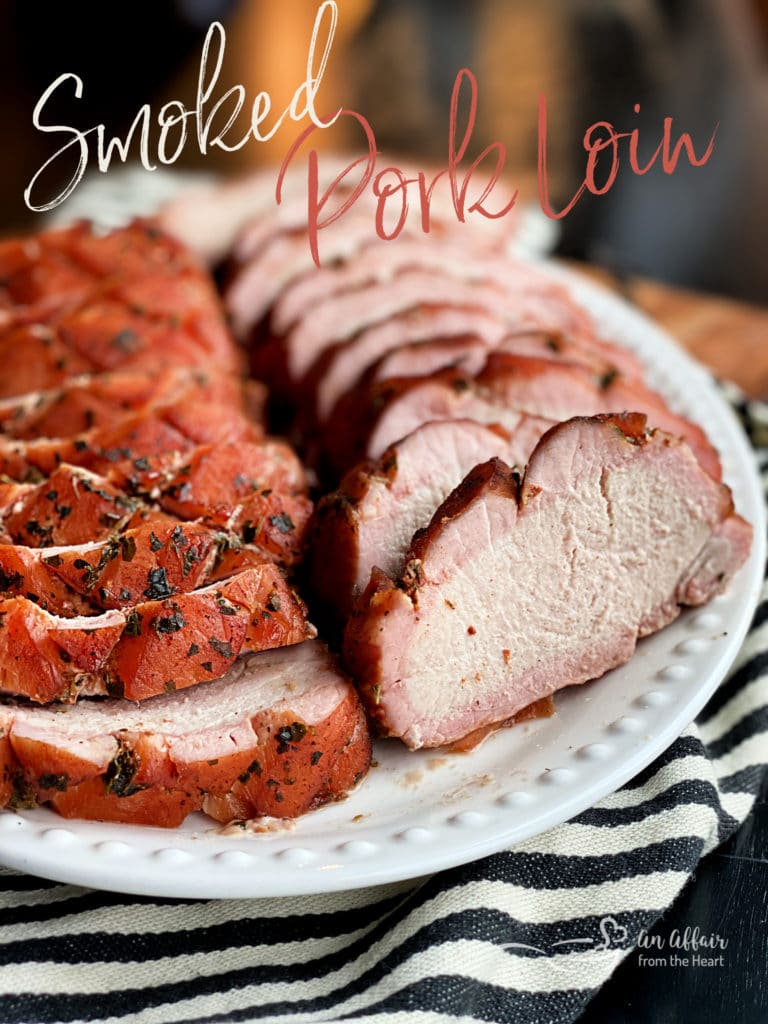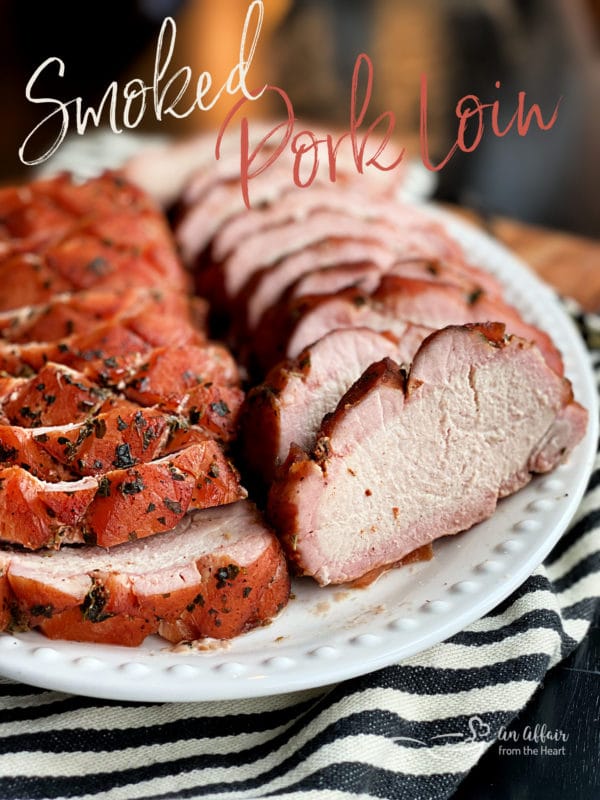 Any way you slice it, this Smoked Pork Loin is a must make on your smoker! Let's get to the recipe!

Yield: Serves 12
Smoked Pork Loin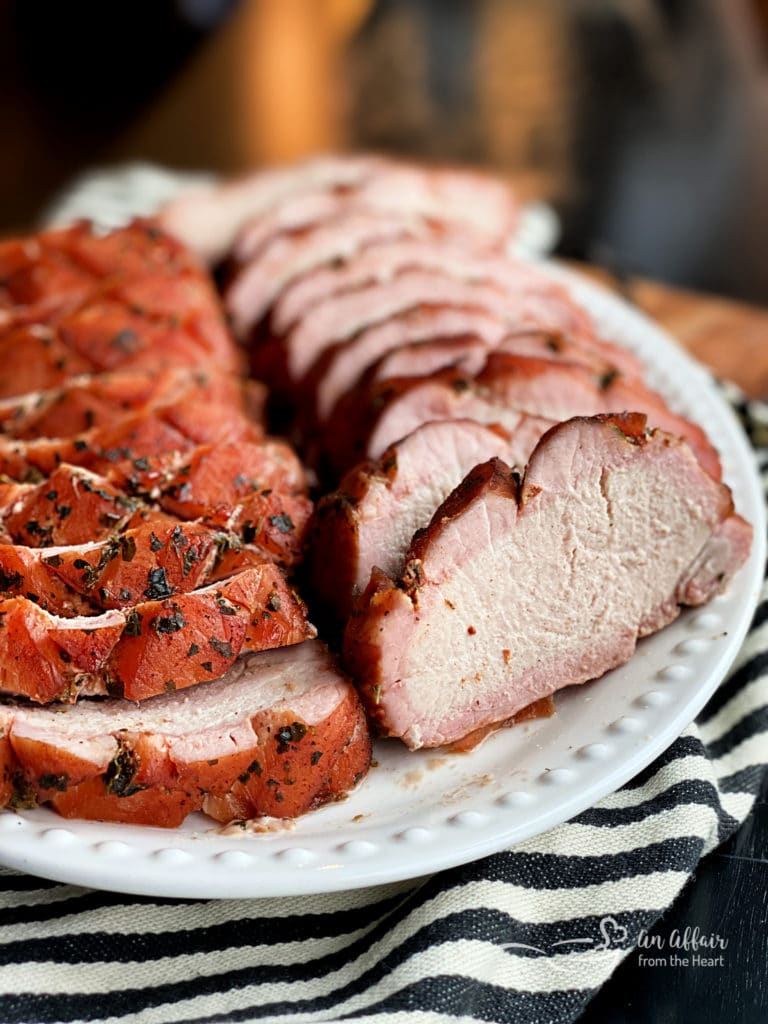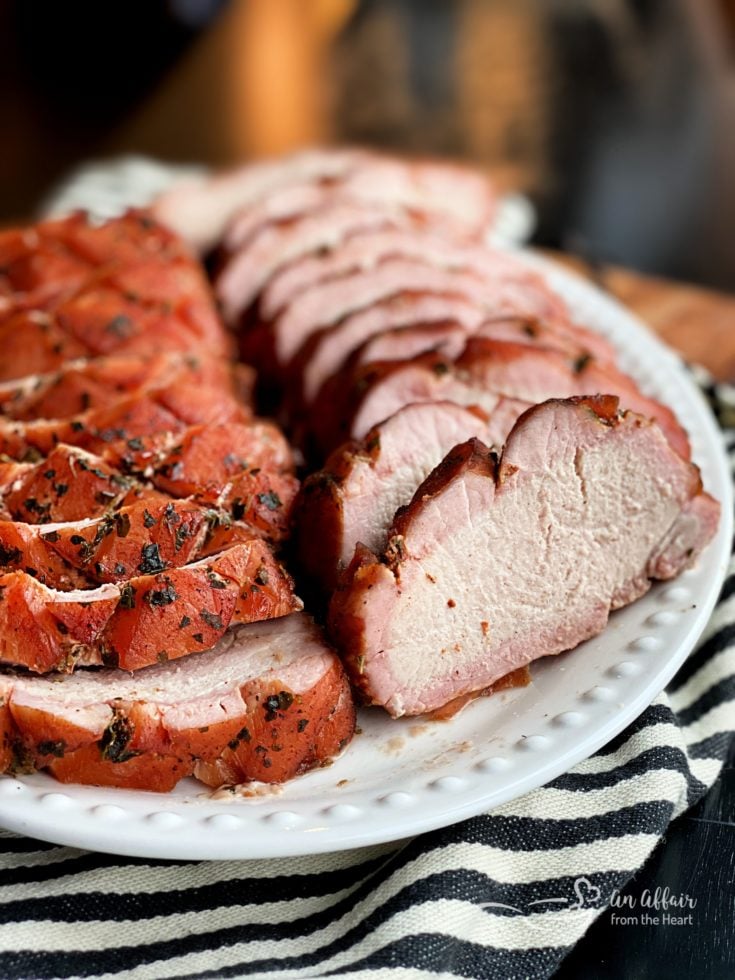 Smoked pork loin, marinated and cooked low and slow on a pellet Traeger grill makes a very flavorful piece of pork that goes great with a variety of sides. This is an easy recipe for a perfectly prepared pork loin.
Total Time
5 hours
10 minutes
Ingredients
1 (8-9 pound) Pork Loin
1 3/4 cups apple juice
1/2 cup honey
3/4 cup brown sugar
1/3 cup Traeger Chicken/Pork Rub
1 Tablespoon black pepper
1/4 cup dried oregano
Instructions
In the morning, mix up the marinade: apple juice, honey, brown sugar, Traeger rub, pepper and oregano, in a saucepan. Cook over medium heat for about 5 minutes, or until sugar is dissolved.
Trim fat from pork loin, and using a sharp knife score the loin going about 1/4 inch deep, and 1 inch apart. Repeat going the opposite way.
Place the loin in a deep pan, and pour the marinade over the loin. Refrigerate for 3 hours, flipping the loins half way through marinading.
Using Mesquite pellets, Preheat smoker to 225 degrees for 15 minutes with the lid closed.
Place loin directly on the grates and smoke until the internal temperature of the meat is 145 degrees. (about 2 hours)
Let rest for 5 minutes before slicing.
Notes
My pork loin started out as one big loin, but after de-frosting it, it broke into two pieces.
Reduce the marinade for smaller portions of pork.
Recommended Products
As an Amazon Associate and member of other affiliate programs, I earn from qualifying purchases.
Nutrition Information:
Yield:
12
Serving Size:
1
Amount Per Serving:
Calories:

156
Total Fat:

3g
Saturated Fat:

1g
Trans Fat:

0g
Unsaturated Fat:

2g
Cholesterol:

16mg
Sodium:

16mg
Carbohydrates:

28g
Fiber:

1g
Sugar:

26g
Protein:

5g
Nutrition isn't guaranteed accurate.