Pork Roast & Sauerkraut
As an Amazon Associate and member of other affiliate programs, I earn from qualifying purchases.
Perfectly roasted pork roast, sitting on a bed of Frank's Kraut. Pork Roast & Sauerkraut, bringing the family together for decades. Some even say that eating Pork & Kraut on New Year's Day will bring you good luck. Who couldn't use a little good luck?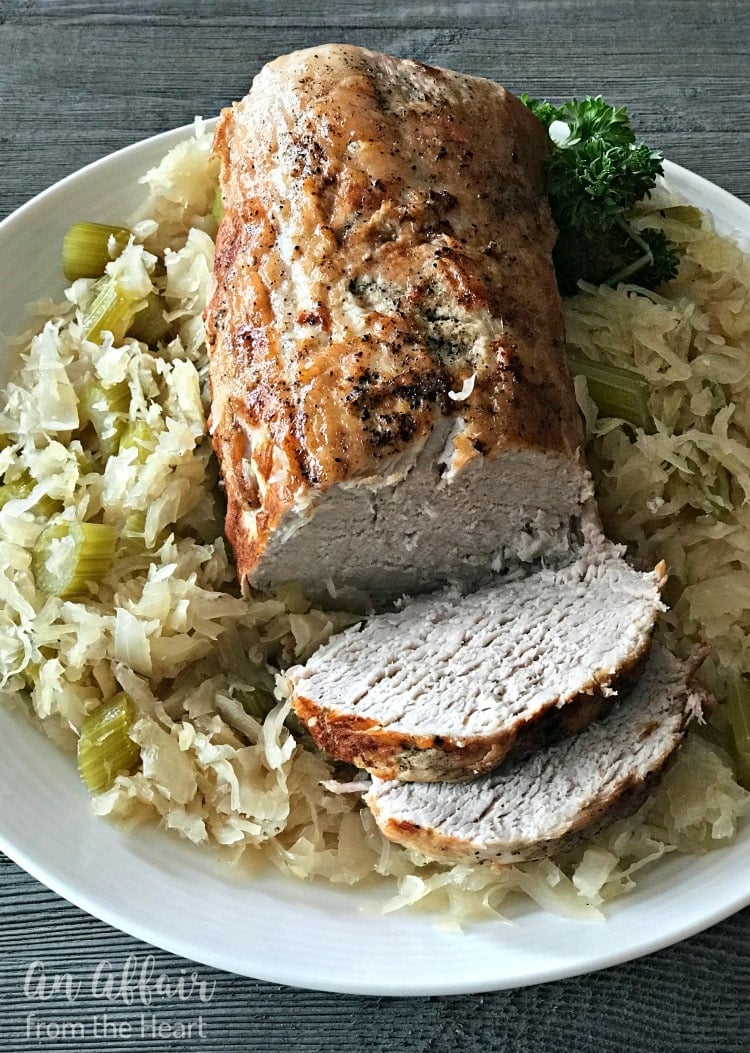 Pork Roast & Sauerkraut
Pork and Kraut is not only the perfect gather your family around the table, Sunday supper kind of meal, it's also been said to be good luck to enjoy it on New Year's Day.
It's pure comfort, make your tummy smile food. Plus it's so delicious, I just wish that you could smell it!
Thank you to Frank's Kraut for sponsoring this post. Know that the opinions in this post and the love for their sauerkraut are all my own. Please support the brands that make An Affair from the Heart possible.

Love it? Pin it!
Don't forget where you found this recipe for Pork & Kraut! Pin it to your favorite Pinterest recipe board before you go!
National Family Week
National Family Week is the week of November 19-25, and Frank's Kraut asked me to prepare a meal that would gather the family together. I think this gets the job done, don't you?
National Family Week originated in Canada in 1985 and is celebrated the week before Thanksgiving. National Family Week in the United States takes place the week of Thanksgiving. It was first proclaimed by Ronald Reagan on November 19, 1987.
Thanksgiving can get chaotic, so maybe a new tradition would be to have a quiet meal at home with the family before the craziness of the holiday starts? Gather them around a hot meal, time to connect and enjoy one another.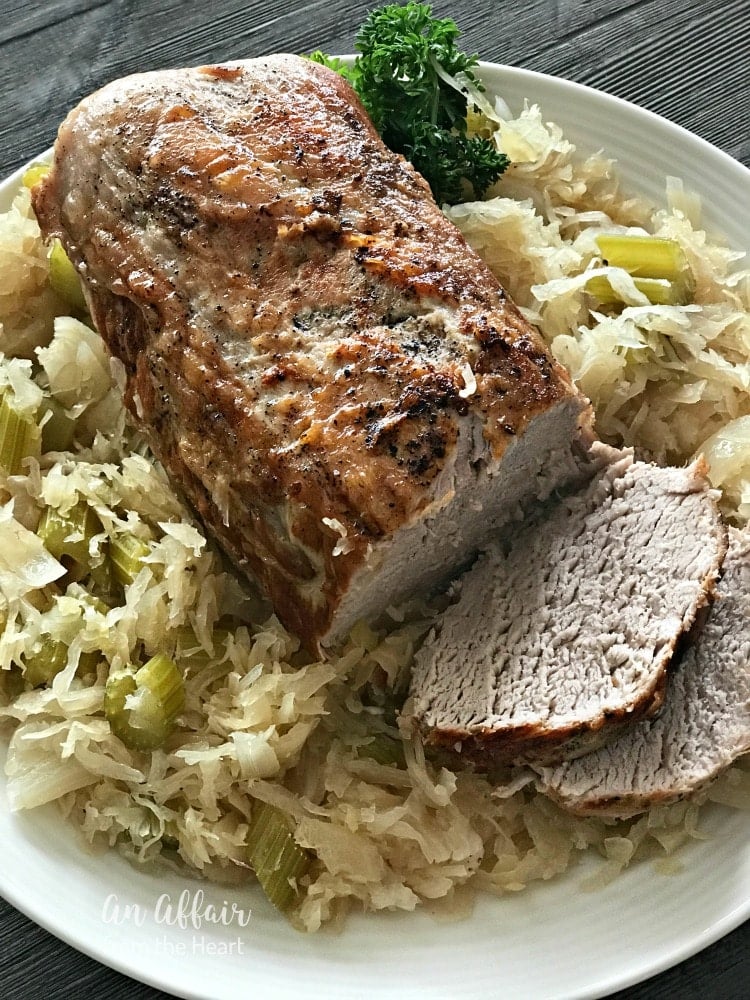 Where did the tradition of eating Pork & Sauerkraut on New Year's Day originate?
Germans have always believed that eating pork and kraut on New Year's eve at midnight (New Year's Day) brings wealth and luck all year long. When they came to the U.S. and took up residence in the Midwest, mainly in Ohio and Pennsylvania, in the 17th and 18th centuries, the Pork & Sauerkraut Tradition continued.
They claimed that the pig is a symbol of good luck and perfect for looking toward the new year with a positive mind. Makes sense as the pig looks forward as it roots for food, where say, chickens and turkeys scratch backward. So eating chicken or turkey was claimed to be a bad idea.
The wealth comes from the sauerkraut as their wish for one another was that they would "receive as much wealth as there were shreds of cabbage in the batch of sauerkraut."
Sauerkraut wishing you Well Being
So sauerkraut not only is here to bestow wealth but well being, too. The magic that kraut works on your gut and digestive system is nothing short of amazing. There is a reason that kraut is a true superfood. Who wouldn't want to move forward into the New Year with good digestion, and a boosted immune system?
Too many cocktails and heavy food on new years eve?
You will receive a digestive boost from this live food, that helps to cultivate your inner biome and keep all of that good bacteria behaving. Fast-absorbing vitamins and minerals will flood your system and help to relieve anything yucky that you may have put in it the night before.

Ingredients You'll need to make Pork and Sauerkraut in the Oven:
Boneless Pork Roast
Salt & Pepper
Olive oil
Celery
Sweet Onion
Brown Sugar
Doesn't get much simpler than that, does it?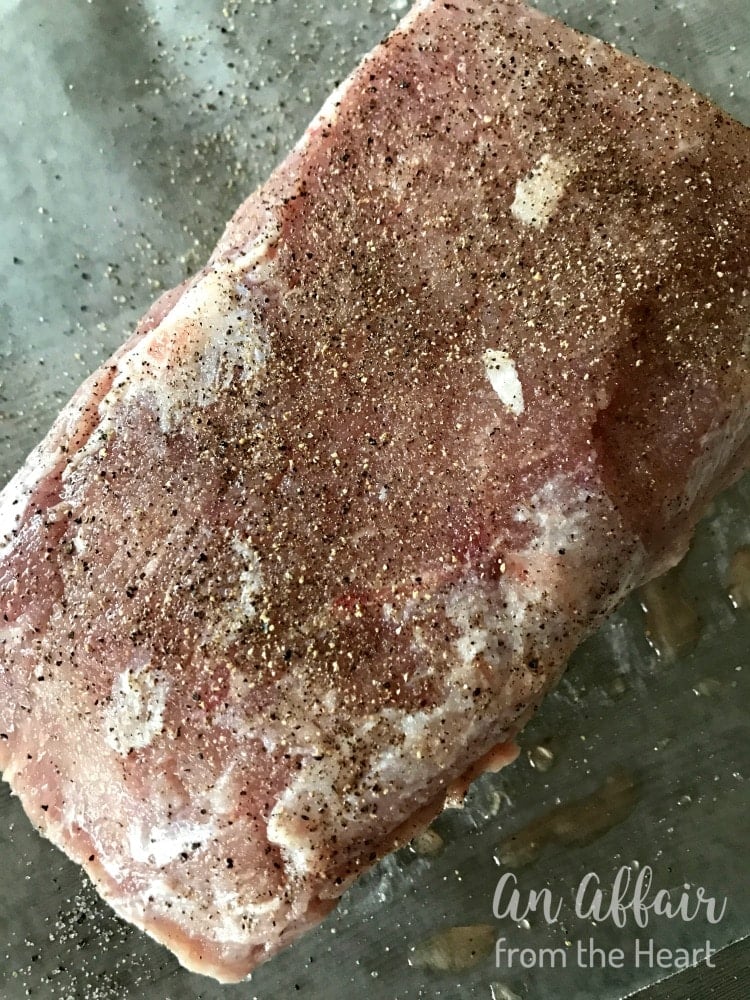 How to make An Affair from the Heart's Pork Roast and Sauerkraut Recipe
The key to getting this roast super moist on the inside? Searing it before you begin the roasting process. Sprinkle the roast generously with salt and pepper, rub it in, and brown the roast in your dutch oven in hot olive oil on all sides.
After the roast is seared and nice and golden brown, remove it and clean out the bottom of the pan. Add sauerkraut, sprinkle with brown sugar, place the roast on top, and sprinkle the celery and onion around it. Cover the pan. Bake.
*Find the complete printable recipe at the bottom of this post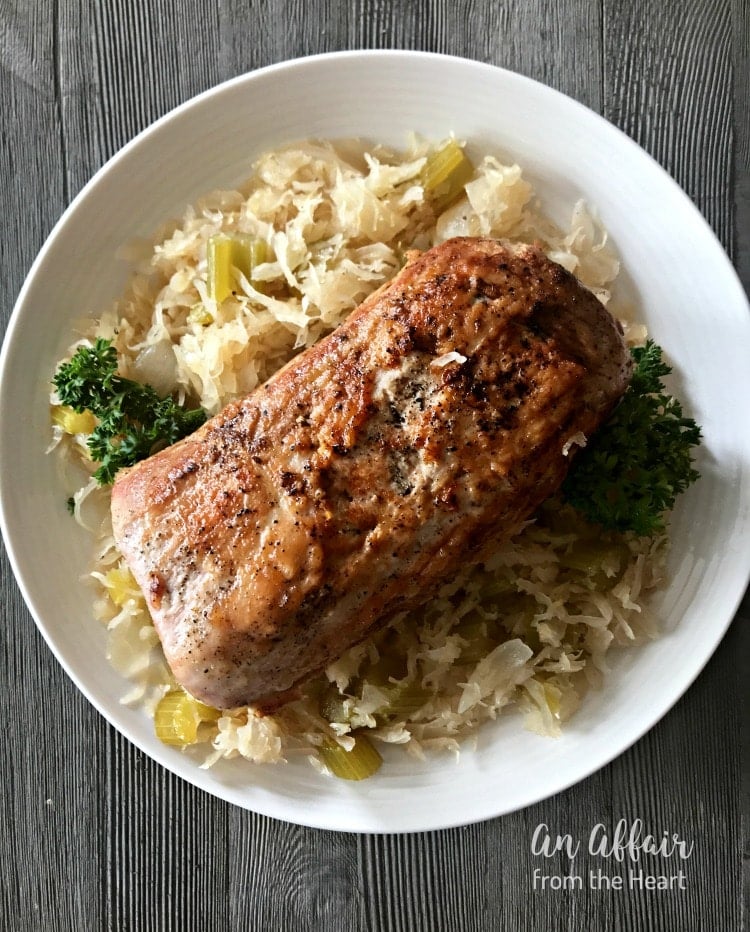 Perfectly done, every single time. The flavor is AMAZING.
Tip: Sometimes I add sliced apples to this recipe – it sweetens it up, and it is another yummy way to enjoy it! Simply slice an apple, or cut it into chunks, with or without the skin is fine, just remove the core and seeds, of course.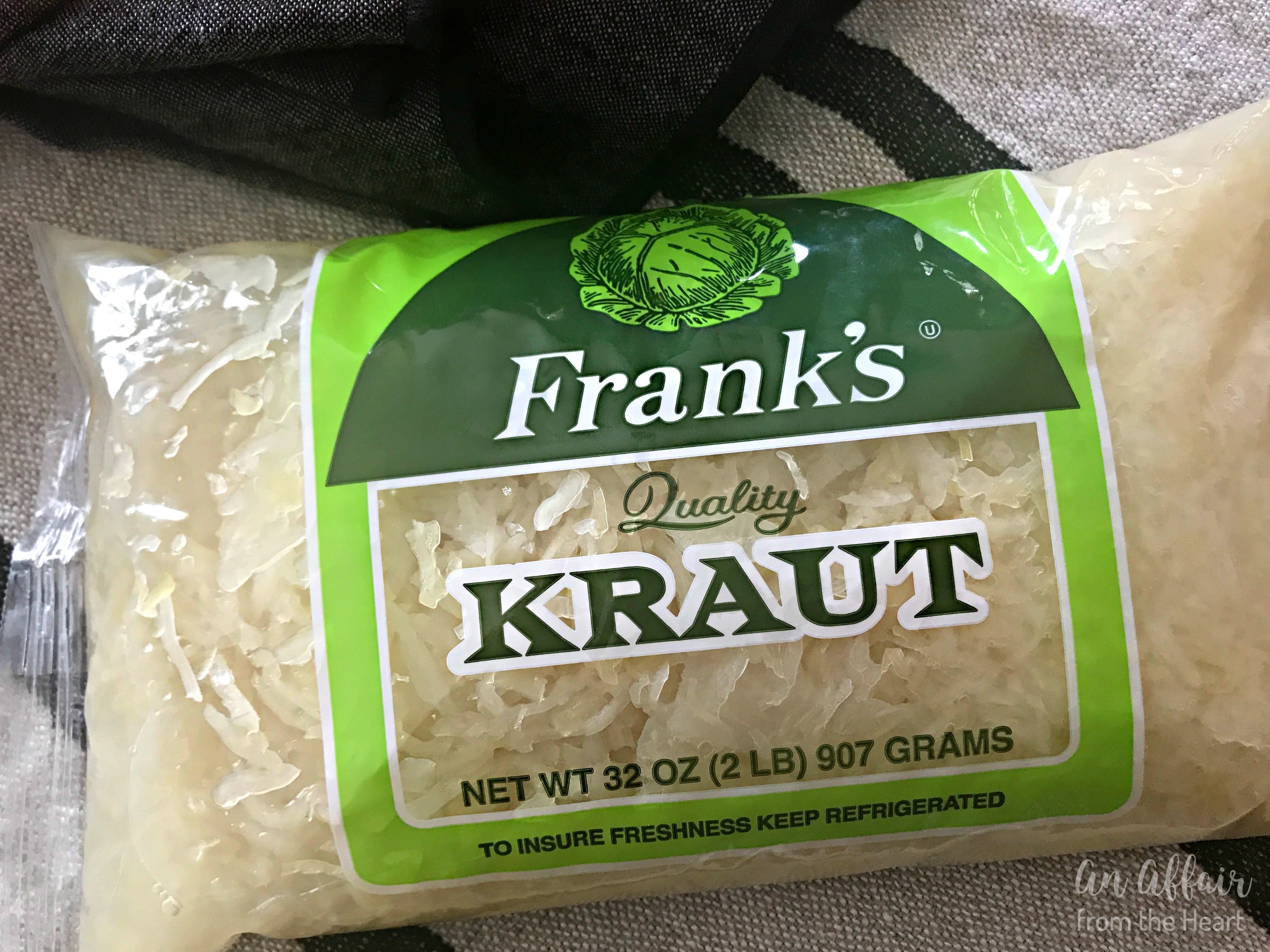 What is the BEST Sauerkraut?
Frank's Kraut is the BEST sauerkraut! How do I know this? Well, with my German and Polish descent, you can say we ate a lot of sauerkraut. (understatement of the year) Frank's Kraut was the only one my Mother and my Grandmother ever used. You will find it in all sorts of our family recipes!
One of my favorites? Smoked Polish Sausage & Sauerkraut just like my Grandma Czaplewski made it. We enjoy it for Easter dinner every year!
Love Sauerkraut?
Everything you always wanted to know about Kraut! Where it comes from, how it's made, and tons of Sauerkraut recipes in this Ultimate Guide to Sauerkraut.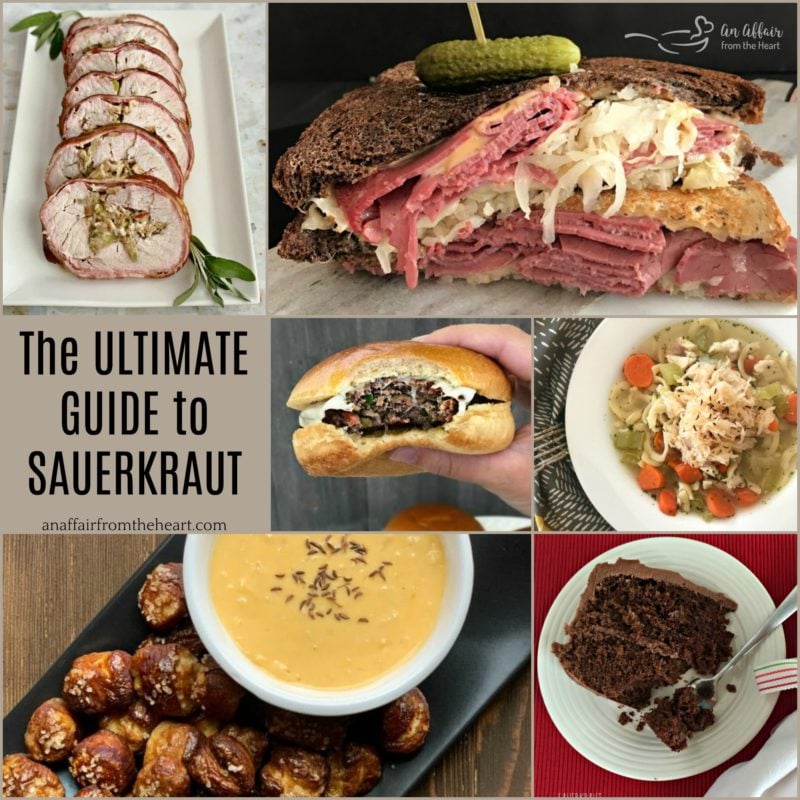 Follow along with Frank's Kraut on their social media to get delicious recipes all year long. Follow them on Facebook, Twitter, Pinterest and Instagram for all things sauerkraut!
I hope this one gathers your family around the table. Cherish those moments. Family is forever.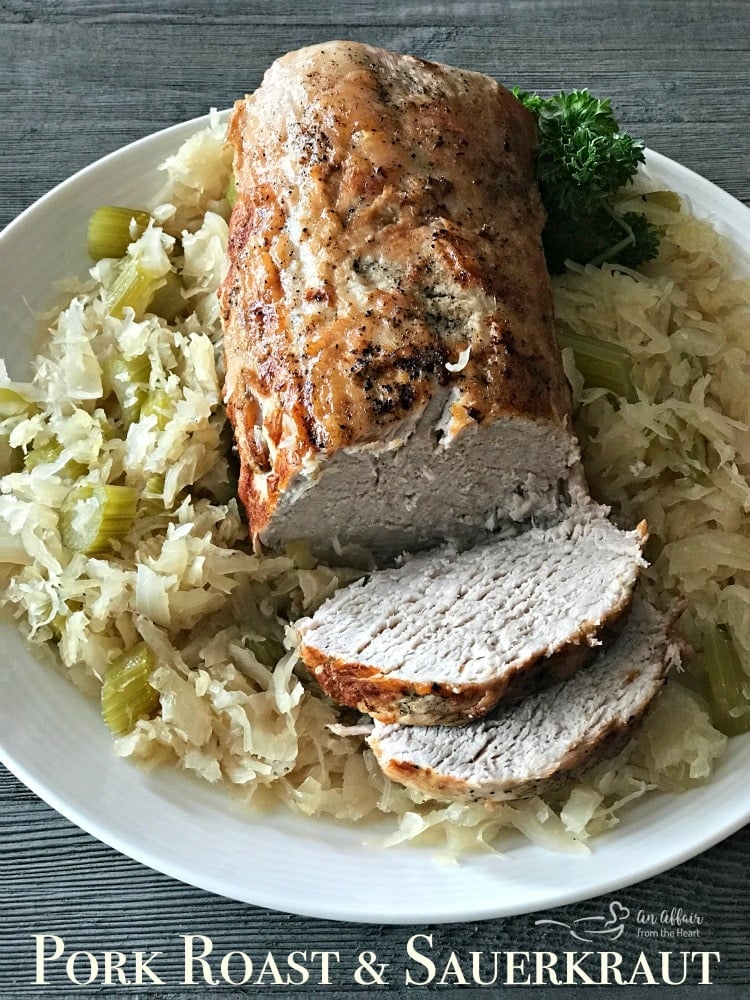 I hope that you and your family enjoy this Pork Roast and Sauerkraut recipe, and as German tradition says, may Vie Glück (Good Luck) and wealth be yours in the New Year!

Yield: 6
Pork Roast & Sauerkraut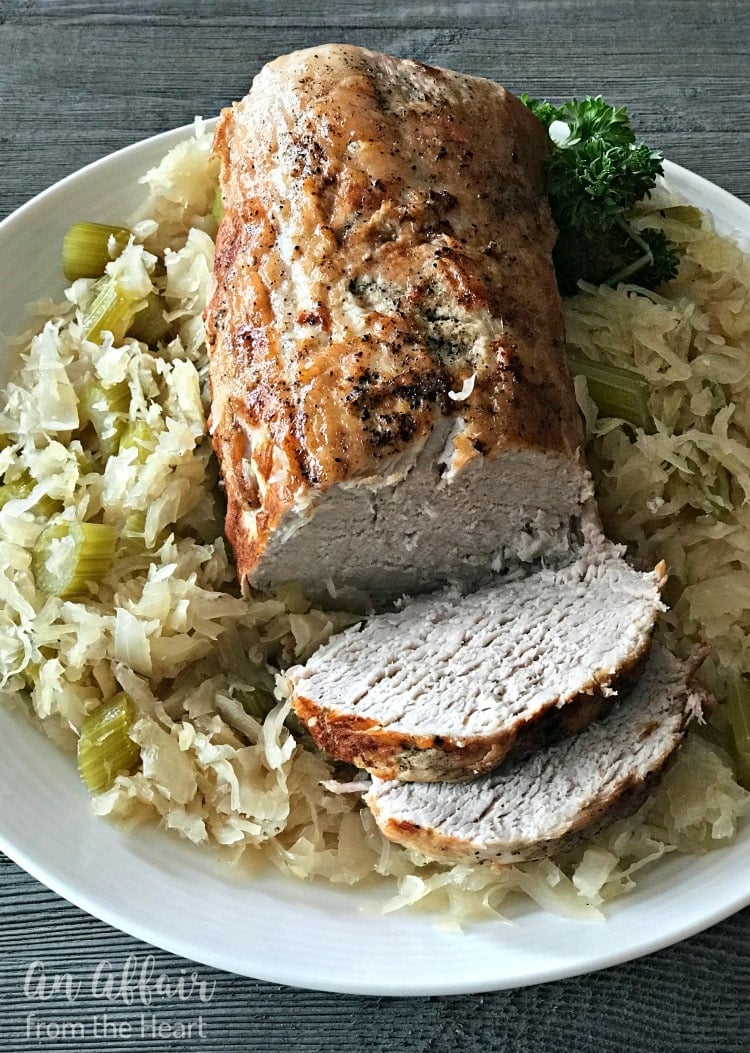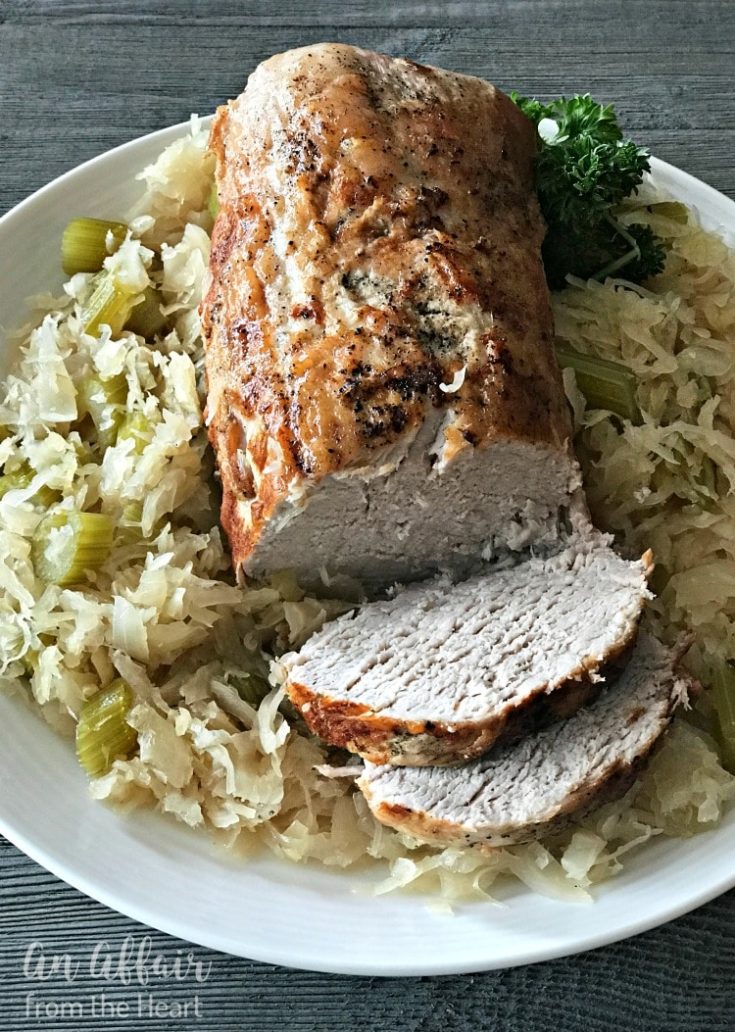 Perfectly roasted pork roast, sitting on a bed of Frank's Sauerkraut. Bringing the family together for decades.
Additional Time
40 minutes
Total Time
2 hours
5 minutes
Ingredients
3 pound Boneless Pork Roast
Salt & Pepper
Olive oil
4 stalks celery, chunked
1 medium sweet onion, cut in chunks
1/2 cup brown sugar
Instructions
Preheat oven to 325 degrees.
Rinse pork roast, and pat dry, generously sprinkle it with salt and pepper and rub in all over the roast.
Coat the bottom of your dutch oven in a couple of Tablespoons of Olive oil, and place on the stove on Medium-High heat. Place roast in pan and sear on all sides until it's a nice golden brown. About 5 minutes per side. (Don't forget the ends!) Remove roast and set aside while you clean the bottom of the pan out. Getting rid of the little burnt bits and excess oil.
Place the sauerkraut, with all of the liquid in the bottom of the dutch oven and sprinkle with brown sugar.
Place the roast in the middle. Sprinkle onions and celery around the roast.
Cover and bake 20 minutes per pound. 60 Minutes for a three pound roast.
Roast should meet an internal temperature of 150 degrees.
Remove from oven, let stand for 10 minutes before slicing.
Nutrition Information:
Yield:
6
Serving Size:
1
Amount Per Serving:
Calories:

1004
Total Fat:

73g
Saturated Fat:

27g
Trans Fat:

0g
Unsaturated Fat:

38g
Cholesterol:

248mg
Sodium:

875mg
Carbohydrates:

22g
Fiber:

1g
Sugar:

19g
Protein:

62g
Nutrition isn't always accurate.