With my Polish and German heritage, of course I am passionate for kraut. Although you may prefer to call it sauerkraut, I like it just the same. Small wonder, the terms are actually synonymous and derive from the German word for Cabbage or herb.
Kraut in recent years has made a comeback. If you think of sauerkraut only when you are slapping it on your spicy Polish sausage at the game, you are missing out! Of course if you love a Reuben sandwich, then the better you understand kraut, the better your Reuben will be!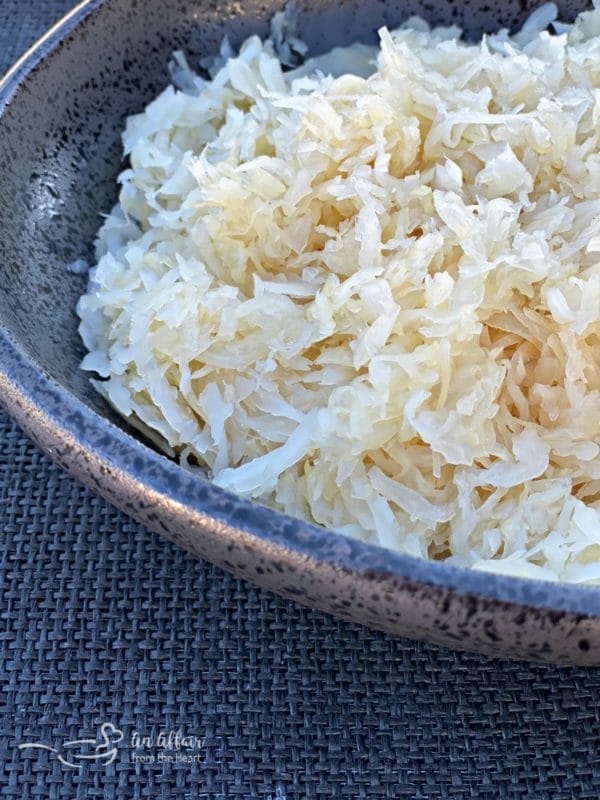 Kraut can be used in a variety of recipes, from soups to salads, entrees to appetizers. I have a ton of kraut recipes to check out. If you haven't guessed, I am a big fan.
Sure, it might be in my DNA from a cultural heritage perspective, but kraut actually exists in other cultures as well. Like Korean kimchee for example. This is simply kraut by another name in another culture.
What is kraut?
Sauerkraut refers to pickled cabbage. Translated literally it means "sour cabbage." The sour part comes from pickling cabbage with brine. The brine helps extract water. The water helps dissolve the sugars.
As the cabbage sugars break down, fermentation occurs which creates lactic acid. This brings on the pickling. Best of all, the pickling juice will keep the product edible for months or even years!
The sour flavor results from the lactic acid fermentation and the growth of some very healthy bacteria. Those same bacteria actually prevent unhealthy bacteria, including preventing botulism!
So in this regard, kraut is very similar to cucumbers pickled in brine which then become pickles. And it is similar to kimchee made by fermenting cabbage in brine and red pepper.
In essence, it is a non-heated way to cause pickling. Also, although many sauerkrauts do use vinegar, that is not necessarily the traditional way.
The history of kraut
My favorite kraut, Frank's Kraut, has been around for over 100 years. However, that is merely a drop in the bucket pulled from the ocean of time kraut has been around!
Germans, Poles, and Czechs definitely love their kraut. I have the recipes of multiple Polish immigrant generations to prove it, but kraut actually most likely came from the Mongols.
That's right. Ghengis and Kublai Khan went around conquering the world helped by a steady diet of kraut! Of course, other cultures claim they invented it too, but the Mongols certainly got around and turned many different places on to it.
That is when they weren't doing all the burning and pillaging I suppose.
What is the difference between pasteurized and unpasteurized kraut?
These days, you can find both pasteurized and unpasteurized kraut available in markets. Both are good for you. However unpasteurized has more health benefits.
Just like yogurts have healthy bacteria if they have not been pasteurized, sauerkraut is the same way. You can tell the difference easily. If the ingredients contain only water, salt, and cabbage, then that is unpasteurized.
If you see vinegar or other preservatives, then that has been pasteurized. The vinegar and other preservatives are used to help preservation. This is necessary because the heat from pasteurization kills those healthy bacteria.
When those are gone, then you need a way to preserve and prevent the unhealthy bacteria/mold from growing. The healthy bacteria of unpasteurized kraut doesn't just inhibit mold growth. Multiple peer reviewed studies show that they even help inhibit cancer cells!
So how healthy is kraut?
Sauerkraut comes packed with vitamins regardless of being heat pasteurized or not. Vitamins C and K, low in sugar, high in fiber, kraut has been used as a folk remedy for a number of ailments for years.
Of course, it is always nice when modern science realizes some of those traditions actually possess some merit, right?
The many variations on sauerkraut
Sauerkraut doesn't necessarily have to be just made with shredded cabbage. In different parts of Europe, you can find a number of variations.
In Poland, the typical kraut gets made with shredded cabbage and shredded carrots. Another variety uses beets with the cabbage. This also gives it a very cool color as well I might add.
In Germany, caraway seeds and juniper berries often get added to cooked sauerkraut. Alsatian French recipes use potatoes with kraut.
Also, kraut can be mixed into things like meatballs. I have a meatball kraut recipe that I love to serve. It is especially good for those who claim to hate sauerkraut…
Of course, don't let on that there is kraut in them until after they tell you how good they are!
How do I make my own kraut?
If you intend to make your own sauerkraut, then you just need mason jars, pickling salt, water, and shredded cabbage.
Make sure mason jars and lids are sterilized, but let them cool. You want the good bacteria to have a safe and healthy home. Build layers of your shredded cabbage in with layers of salt. Pack it down as you go.
For salt and water, you want one to three tablespoons of salt per quart of water.
Add your water. The most important part is keeping the cabbage completely submerged by the brine solution. This is critical to the fermentation process. You might need to use some "fermentation weights" to keep it submerged.
A fermentation weight is typically a piece of glass that looks sort of like a mini see through hockey puck. Make sure no one takes a slapshot with it. That could spell big trouble.
Look for them by where you find the mason jars, lids, and other canning supplies.
Seal your lid tightly. Store in a cool place. You don't have to store it in the fridge, but you definitely don't want to store it by the stove or the heater.
Let the jars sit for about two weeks. They will actually store for much longer. After all, that is the idea. Open and enjoy. Take pride in knowing that you made something so simple, yet so healthy and delicious!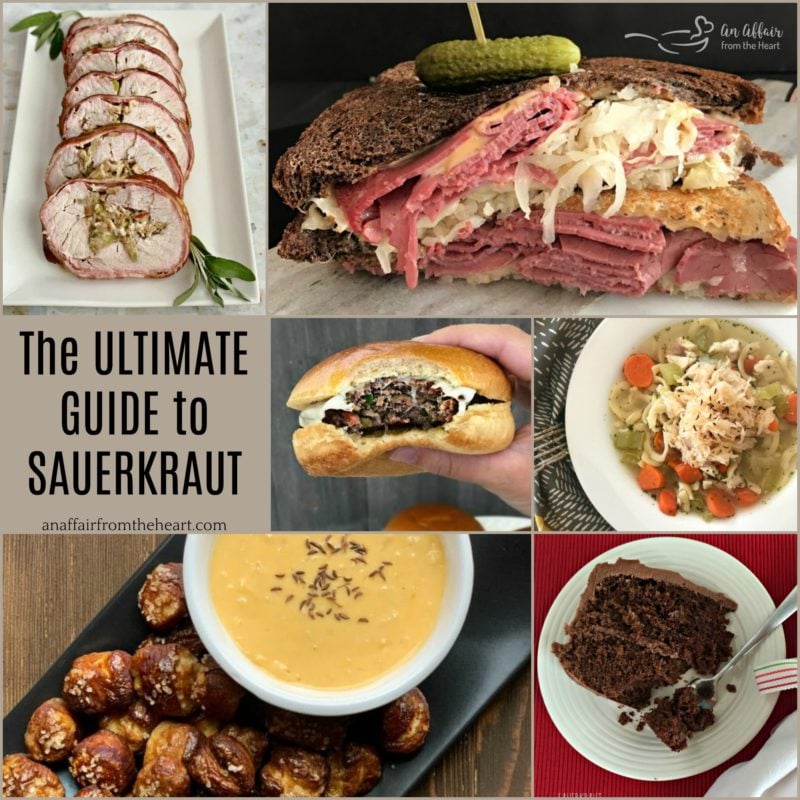 What about those Kraut recipes!
Well, that brings me finally to the most important part. Using sauerkraut in all kinds of dishes!
As I mentioned, I am a fan of Franks, and a lot of that has to do with how well it works in dishes. It has a great texture and a nice tang to it.
Of course, feel free to use any other brand, pasteurized or not, or make your own. All I ask, and I am definitely asking nicely here… please don't keep thinking kraut is just good for serving with a weiner and bun.
Not going to deny a great dog topped with kraut and mustard, but a wide world awaits. After all, any dish that gets passed along for a few thousand years is bound to evolve into a wide variety of delicious cuisines.
Even over a thousand years ago, chefs got bored of doing the same old, same old. So of course they came up with a few new twists then added fun turns to their favorite foods.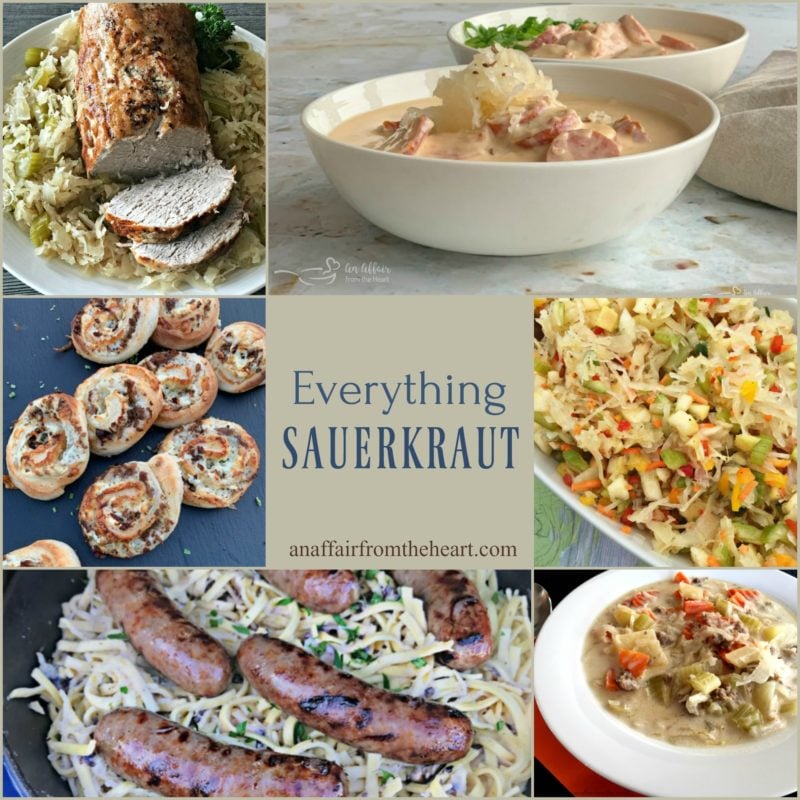 Here is a mix of some of my family's recipes and some others I learned along the way.
So, if you ever thought sauerkraut was just for topping a Polish dog at a game, you know now that that just isn't true. I encourage you to give my Kraut Recipes a try, and maybe even do a little experimenting of your own. Stick with me, because I always have a new sauerkraut recipe waiting for you! Be sure to follow my Sauerkraut Board on Pinterest for even MORE ideas!


If you make this recipe, I'd love to know! Snap a picture, share the photo on social media with the hashtag #AnAffairFromTheHeart – I'd love to see what you made! – Michaela