Polish Sauerkraut Soup (KAPUSNIAK)
As an Amazon Associate and member of other affiliate programs, I earn from qualifying purchases.
Kapusniak holds a very special place in my heart. My Polish heritage pours love and tradition into making this Polish Sauerkraut Soup.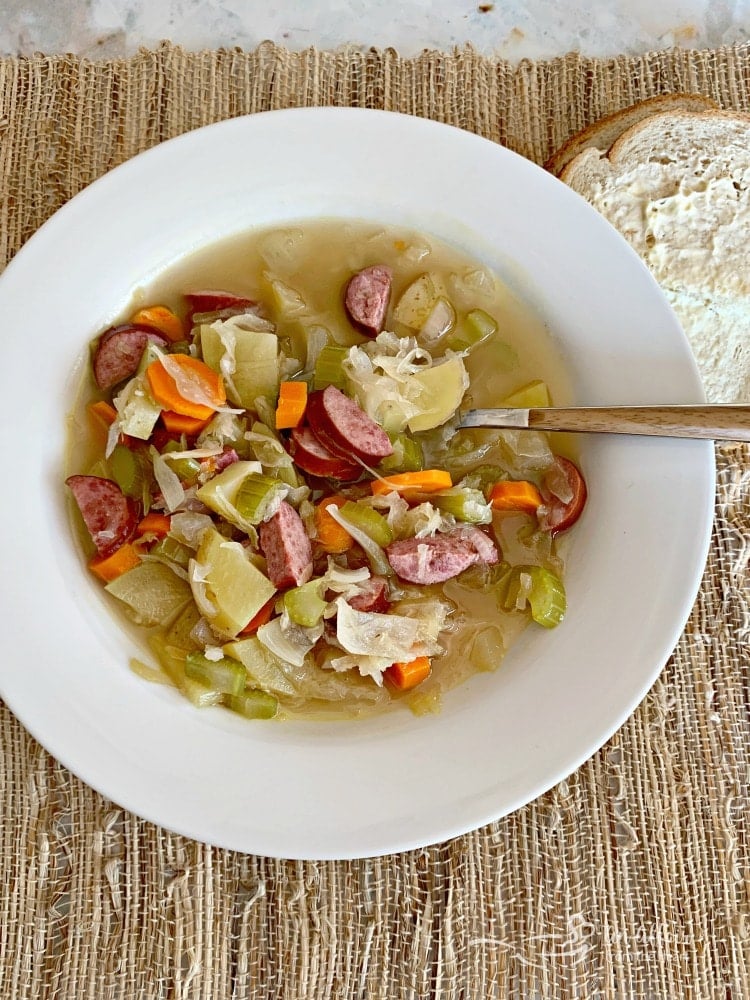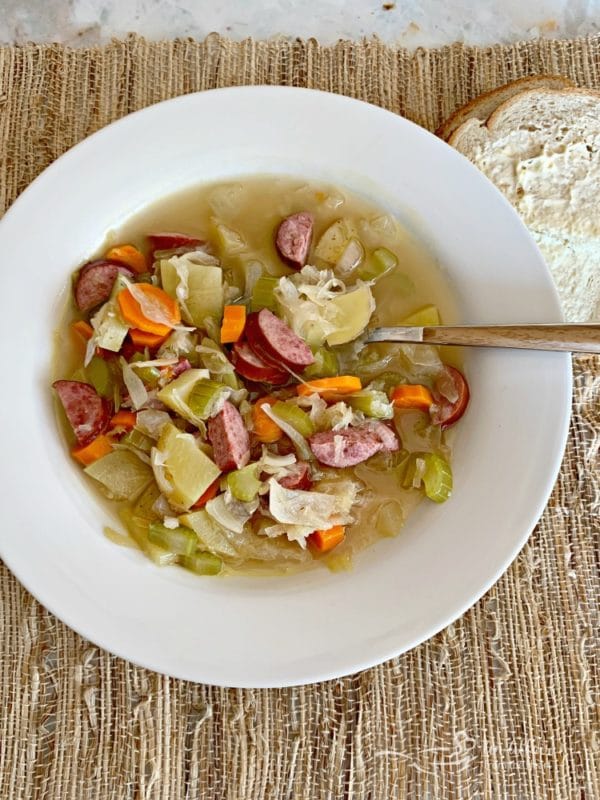 This Polish Sauerkraut Soup is sometimes done with vegetable stock, sometimes chicken, even pork broth in some variations. You can make it with cabbage or kraut. For my version, I use sauerkraut and polish sausage, to make a "hot & sour soup" done in the Polish culinary tradition.
This post is sponsored by Frank's Kraut, but my lifelong love of their sauerkraut and opinions in this post are all my own.
SOME OF THE ITEMS BELOW CONTAIN AFFILIATE LINKS; I AM A PARTICIPANT IN THE AMAZON SERVICES LLC ASSOCIATES PROGRAM, AN AFFILIATE ADVERTISING PROGRAM DESIGNED TO PROVIDE A MEANS FOR US TO EARN FEES BY LINKING TO AMAZON.COM AND AFFILIATED SITES. I AM ALSO AN AFFILIATE FOR OTHER BRANDS. HOWEVER, I ONLY PROMOTE THINGS THAT I LOVE AND THINK YOU WILL LOVE, TOO. FOR MY ENTIRE DISCLOSURE POLICY PLEASE

CLICK HERE

.
Kapusniak, which is pronounced "Kah-Pus-Knee-Ack, traditionally was a vegetarian soup, often times served during Lent. This recipe is my take on a couple of different versions I have tried over the years. This is the recipe that I serve my family.

My Polish Sauerkraut Soup Features Chicken Broth And Polish Sausage
Kapusniak brings a heartwarming glow to the kitchen. Every culture that has chickens has a version of chicken soup. Chicken soup never fails us, especially with the weather getting chilly.
This sauerkraut soup has the flavors of old world traditions. It was typically made in the fall and winter months when the sauerkraut had properly fermented. On a cool and rainy day, a warm bowl of Kapusniak with a bit of rye bread to dip in it? So divine!

Are there other styles of Kapusniak?
Yes, this cabbage soup has many different regional styles and variations. Czechs typically use cabbage. The Poles favor sauerkraut. There are meat and vegetarian versions. Some styles call for potatoes, but others leave them out. The basics are the same. Cabbage, vegetables and flavorful stock create a very healthy soup!
For my version though, I prefer chicken stock and using Polish sausage.

Frank's Kraut is ideal for Kapusniak!
There are many varieties of sauerkraut to choose from. I love Frank's Kraut for everything I do with kraut. And no joke, I definitely have plenty of sauerkraut recipes handy.
Franks works wonderfully because it holds up and keeps the crunch. Nobody wants their kraut disintegrating into the soup.
I recommend rinsing it first. This will wash off a bit of saltiness, but you'll still have plenty of flavor.
Love Sauerkraut? Everything you always wanted to know about Kraut! Where it comes from, how it's made and tons of Sauerkraut recipes in this Ultimate Guide to Sauerkraut.

The Ultimate Guide to Sauerkraut – A complete guide to everything you need to know about sauerkraut or kraut, including information on different variations and regional traditions.
How healthy is cabbage or sauerkraut soup?
Folk traditions and modern science both recognize the benefits of sauerkraut as well as chicken stock based soups. Sauerkraut is full of fiber, vitamins A and C, and full of beta-carotene. It is basically a food built for fighting colds. Chicken stock is anti-inflammatory. So combine sauerkraut and chicken stock to make a great cold fighter.
Of course, hot soup just feels good when you have a cold, too.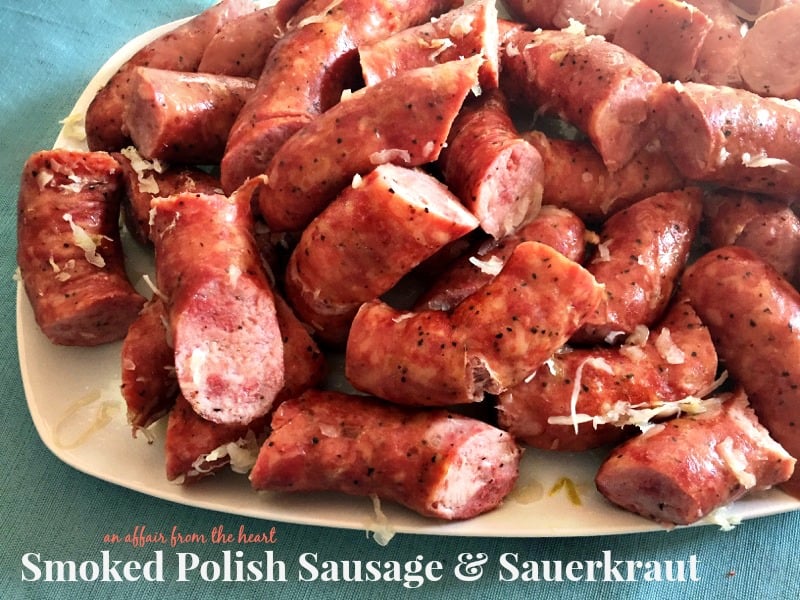 What kind of sausage is best for Kapusniak?
This is a Polish soup with sausage and kraut in a chicken broth base. I hope you will do it justice with a proper Polish sausage! I am talking Polska kielbasa of course. Kielbasa is the traditional style of polish sausage.
In the US, kielbasa sausage typically comes in a long spiraling link. It is made with pork. However, Poles take their sausages very seriously. Tons of variety abound.
Kabanosy – These are thin like an American hot dog, air-dried, then flavoured with caraway seed. They come typically made with pork

Krakowska – a short and thick sausage which is heat smoked smoked with pepper and garlic from Kraków

kiełbasa biała – a white veal and bacon sausage and often used in soups too.

kielbasa odesskie – A much thicker brat style sausage made with beef.

wiejska – Also known as "farmhouse sausage". This is a pork and veal sausage with marjoram and garlic so it is lighter in color but rich in flavor!

kiełbasa wędzona – This is the style most Americans think of as Polish sausage and is often used in soups like kapusniak.

Kiszka – A blood sausage that is dark in color and rich in flavor

Myśliwska – Another style of smoked pork sausage sort of like a smoked bratwurst
If you are looking for any of these fancier styles of Polish sausage for your Kapusniak, then you might find them in the meat counter at your local market. However, I also recommend going into one of those small European markets you see often buried in strip malls.
You know, the one you always drive by. The one you say you have to go into some day. When you find out they have an amazing variety of polish style sausage? Score!
Ingredients in Polish Sauerkraut Soup (Kapusniak)
Frank's Kraut
Polska Kielbasa
carrots, celery, potatoes, onion
olive oil
bay leaf, caraway seed
salt & pepper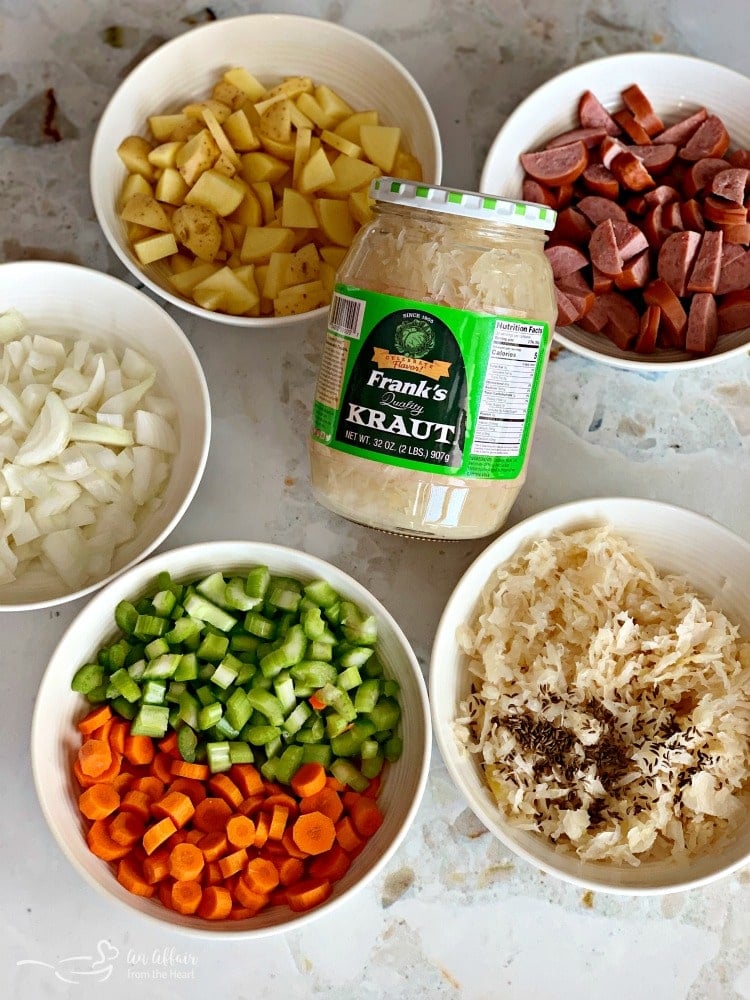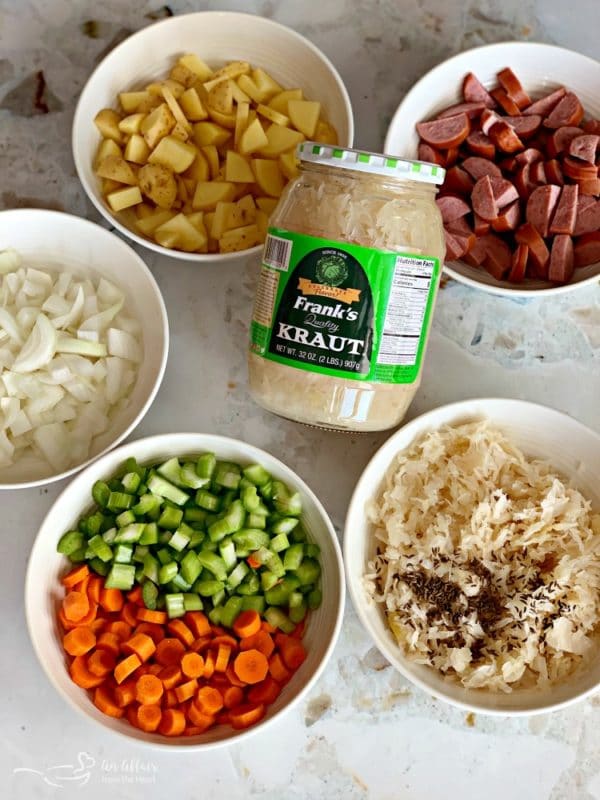 Again, the use of Polska Kielbasa is purely optional. As I mentioned before, this soup started out as a vegetarian soup, many times consumed during Lent.
Do rinse your kraut with cool water, and drain it. The soup still has a delicious sauerkraut taste, but it will keep from the soup getting overly salty. I love adding caraway seeds. Optional, but if you enjoy them, I say throw them in!
The potatoes are also optional, and if left out, you'd have a great low carb option. But I love the heartiness they give.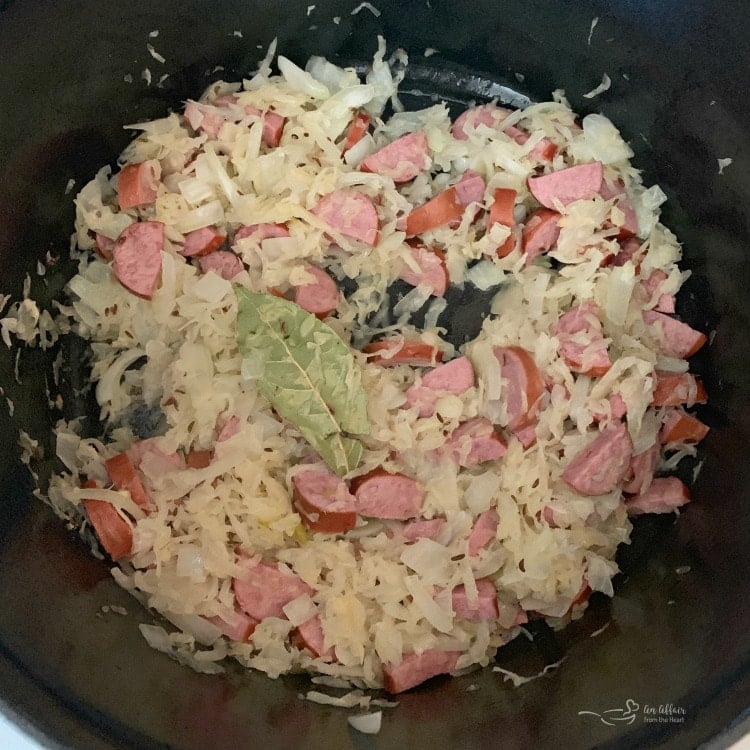 In your dutch oven, add olive oil, bay leaf and onion and sauté. After a few minutes add in your Polish sausage. I always purchase the smoked kind, so it's already cooked. Give it a stir. Add in Kraut. Let it cook for a few minutes.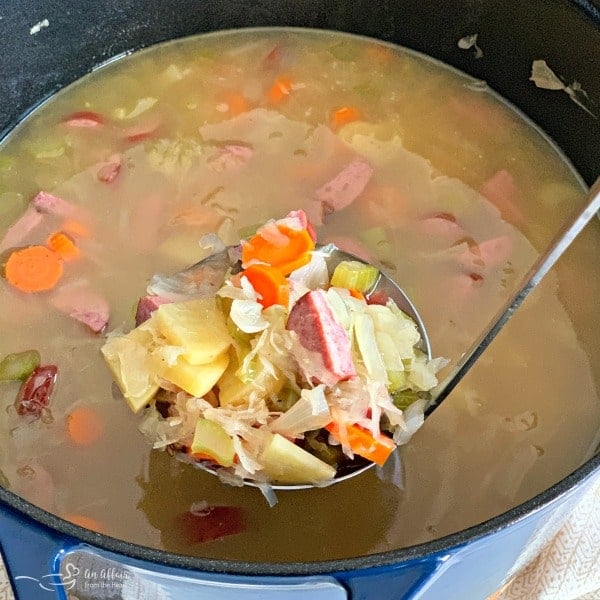 Stir in remaining vegetables, and add in spices (not salt!) and chicken stock. Bring soup to a boil, reduce heat and cover and simmer for about 30 minutes, or until veggies are desired tenderness.
Serve hot with a slice of rye bread for dipping.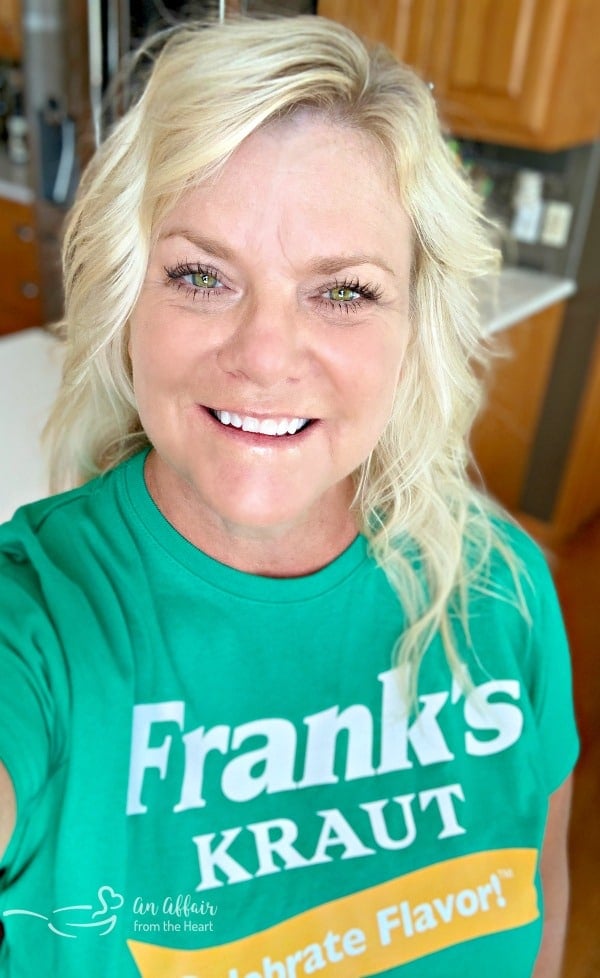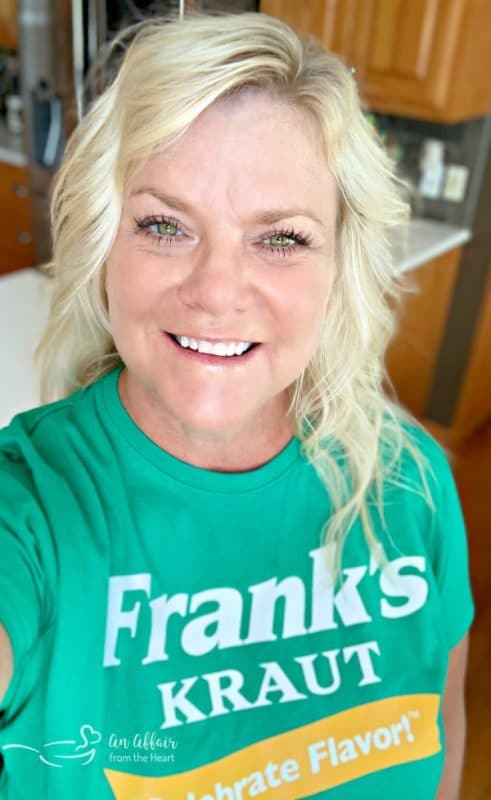 I have partnered with Frank's Kraut on tons of sauerkraut recipes over the last few years. I wanted to take a minute to thank them for reaching out to me way back when, and asking me to develop recipes for them!
Side note: I love my cool new t-shirt they sent, so I had to add a "Frank's Kraut Selfie" to this post. (I have people ask me all of the time if I wear colored contacts. Nope, that's my eye color. )
Frank's Kraut is been in business since 1905. They are located in Ohio, and employ many cabbage farmers. We are like minded in how our communities support their farmers and "take care of their own." It's an honor to work with them!
Follow along with Frank's Kraut on their social medias to get delicious recipes all year long. Follow them on Facebook, Twitter, Pinterest and Instagram for all things sauerkraut!
If you can't find Frank's where you live, you can order on their website or buy Frank's Kraut on Amazon.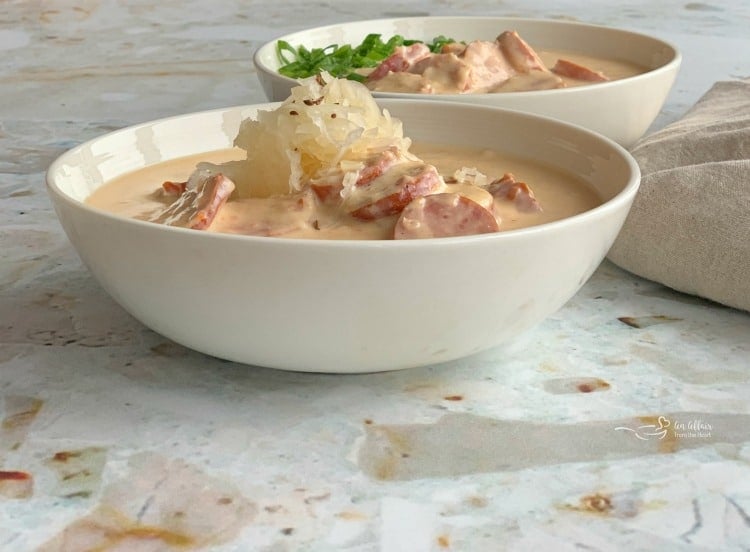 I have used sauerkraut in many other soups. It's one of my favorite things to add to soup. Not only adding a flavor you get no where else, but adding health benefits you can't get anywhere else.
Sensational Sauerkraut Soup Recipes: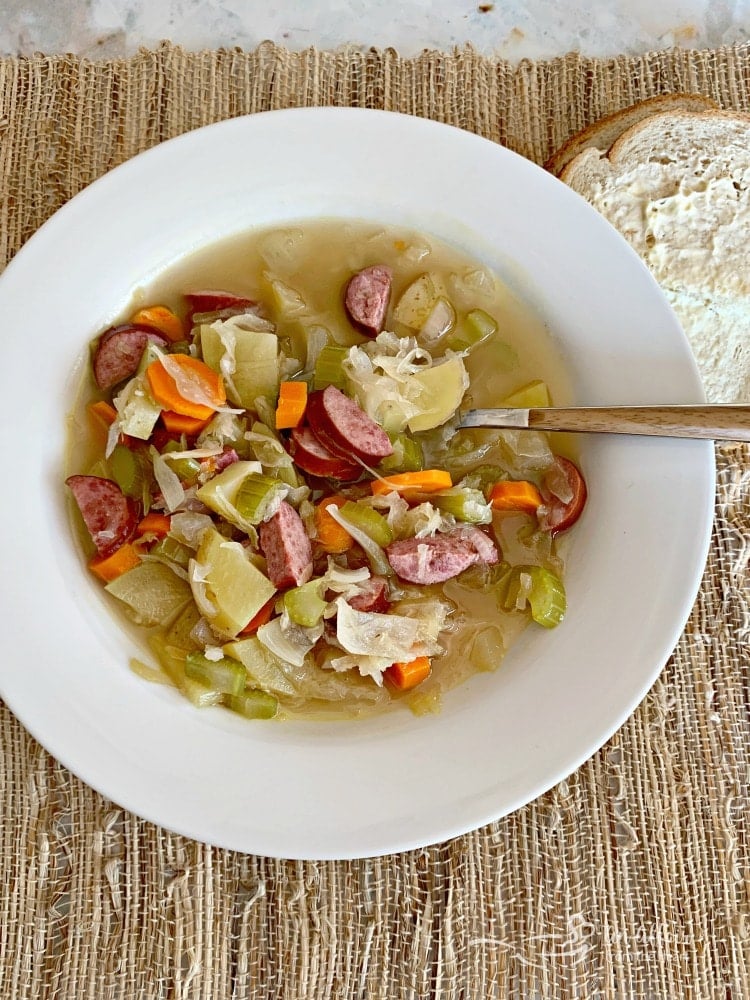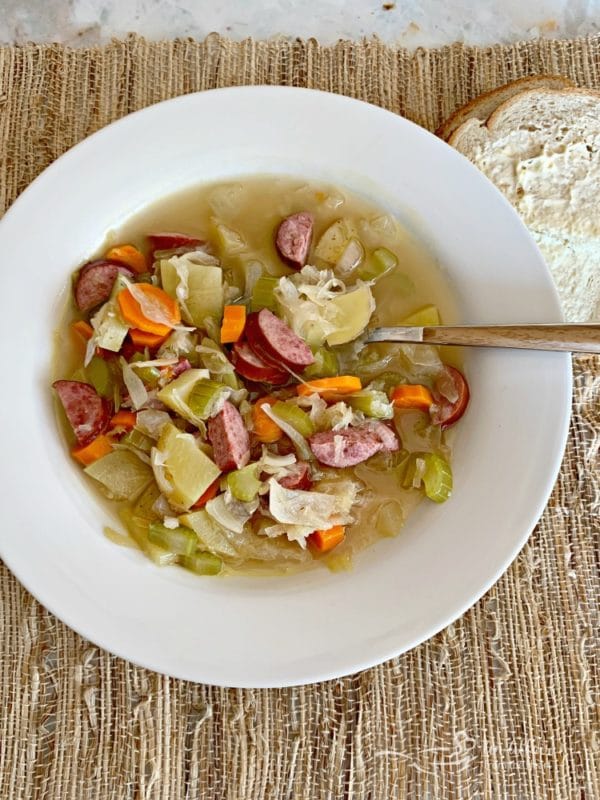 I hope you like Kapusniak as much as I do. This is the sort of simple yet delicious dish that can be passed on to generation after generation. It's delicious anytime, but I think it tastes especially good on a damp and chilly day.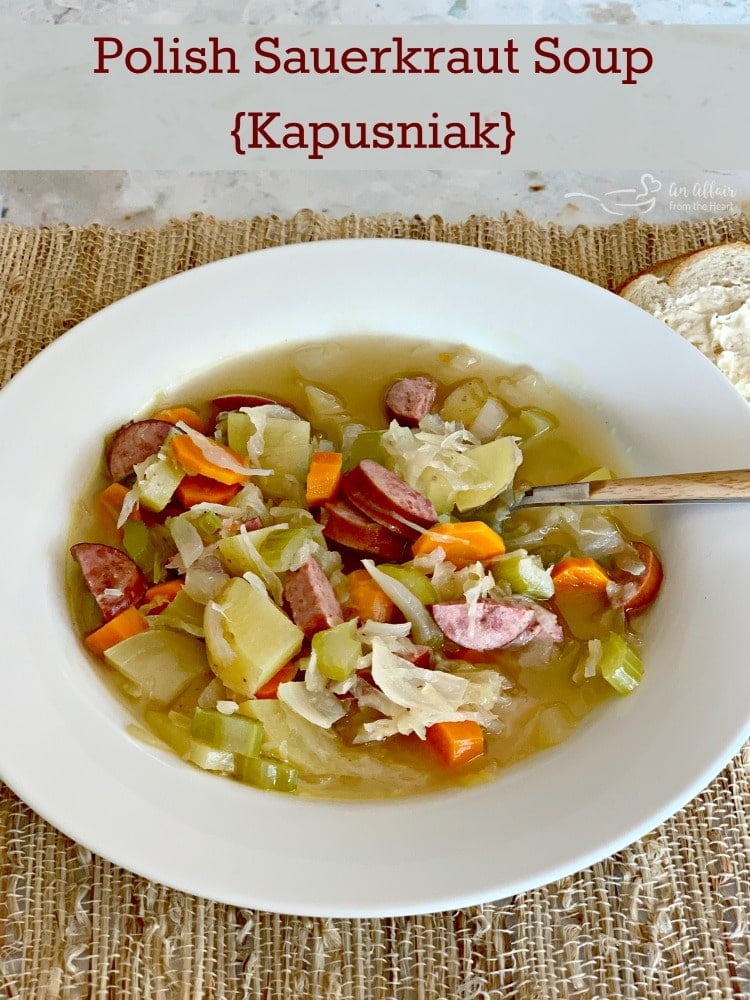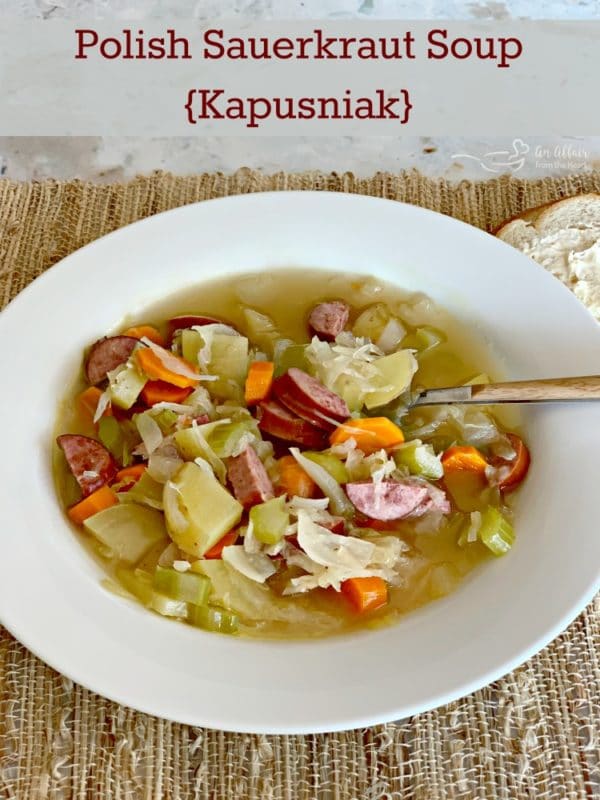 Let's get to the recipe for my Polish Sauerkraut Soup!

Yield: 8 servings
Polish Sauerkraut Soup (Kapusniak)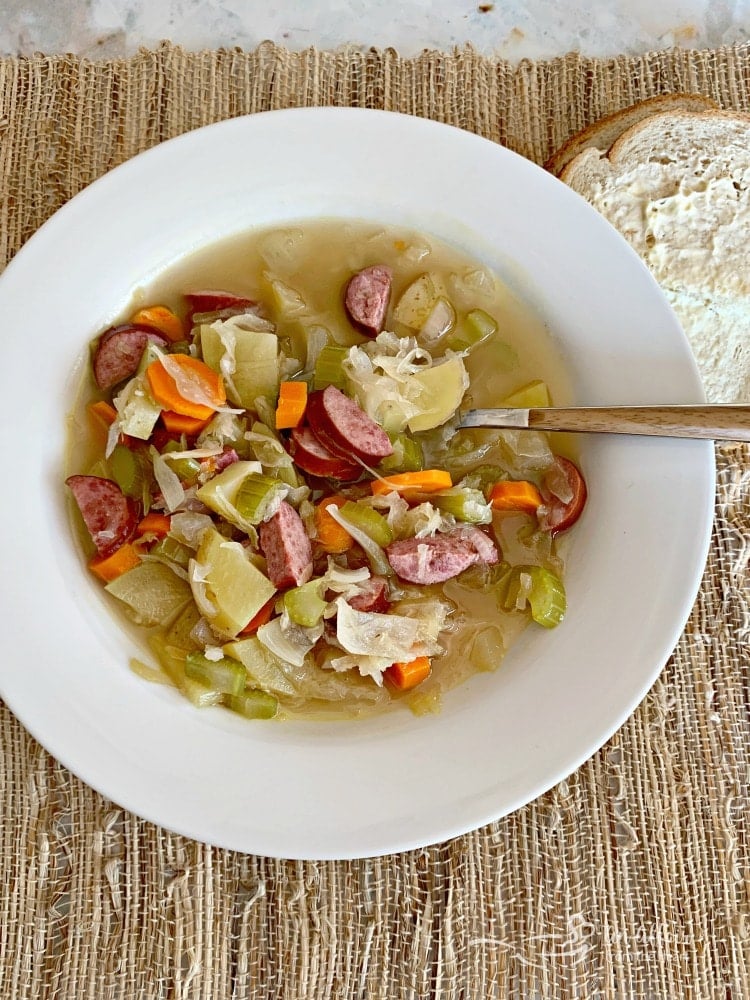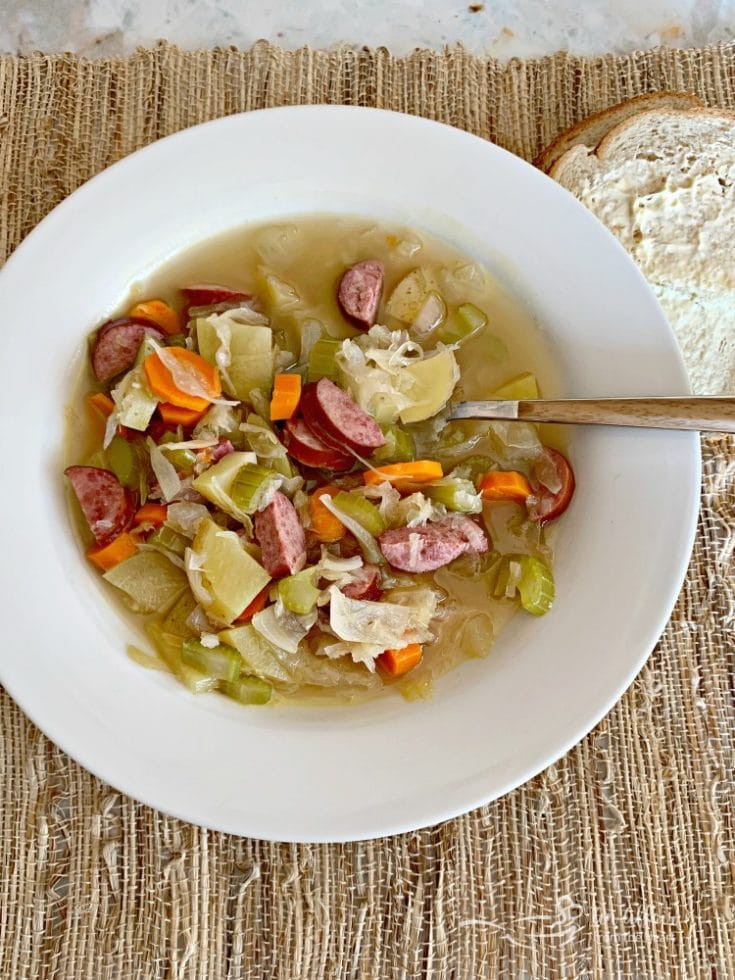 Kapusniak holds a very special place in my heart. My Polish heritage pours love and tradition into making this Polish Sauerkraut Soup.
Ingredients
2 Tablespoons Olive Oil
1 bay leaf
2 cups Frank's Kraut, rinsed and drained
1 teaspoon caraway seed (optional)
1 pound Polska Kielbasa, sliced
4 stalks celery, chopped
3 carrots, sliced
2 cups white potatoes, diced
2 (32 ounce) containers chicken stock
1/2 teaspoon pepper
1-2 teaspoons salt (to taste)
1 small onion, diced
Instructions
In a Dutch oven over medium high heat, add oil and onion. Sauté for about 5 minutes, then add in kielbasa, kraut and caraway seeds. Cook for about 5 minutes more. Add in carrots, celery and potatoes and cook, stirring occasionally for about 10 minutes.
Add in chicken stock, cover. When it comes to a boil, turn heat down to medium low. Cook covered for about 30 minutes, or until veggies are desired tenderness.
Salt and Pepper to taste. Serve hot with a slice of rye bread.
Recommended Products
As an Amazon Associate and member of other affiliate programs, I earn from qualifying purchases.
Nutrition Information:
Yield:
8
Serving Size:
1
Amount Per Serving:
Calories:

467
Total Fat:

37g
Saturated Fat:

13g
Trans Fat:

0g
Unsaturated Fat:

21g
Cholesterol:

75mg
Sodium:

1806mg
Carbohydrates:

17g
Fiber:

2g
Sugar:

4g
Protein:

16g
Nutrition isn't guaranteed accurate.