Homemade Chicken Noodle Soup, just like grandma always said, can help with colds, but how about adding a true superfood like sauerkraut? You get tons of nutritional value and healing powers that will boggle your mind!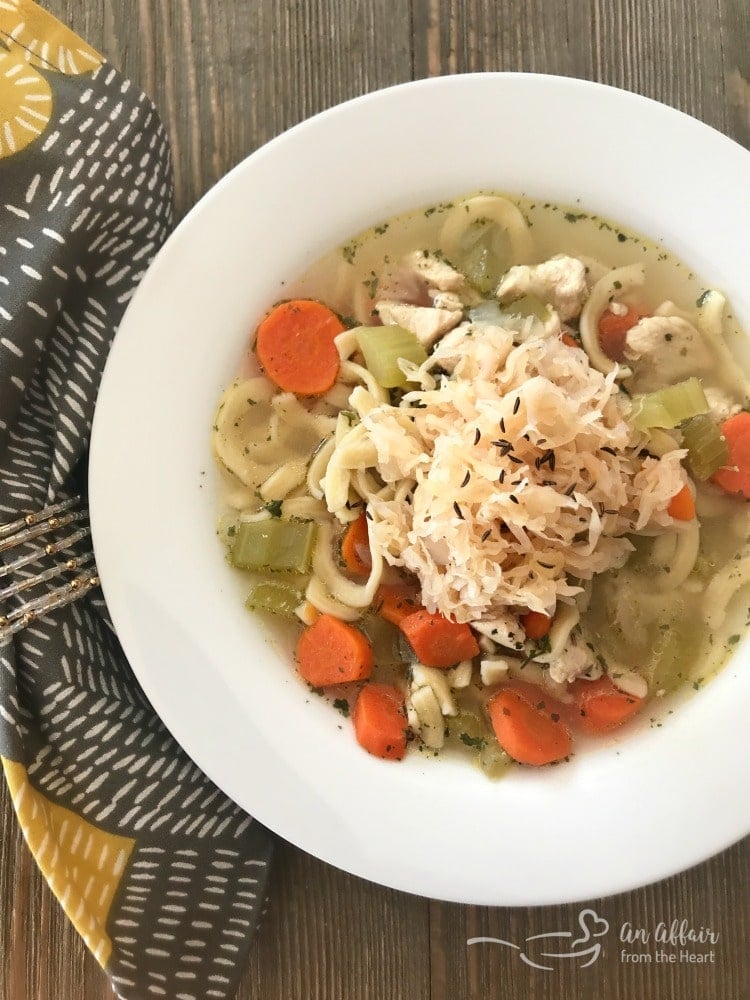 Tis the season, and not just the holiday season, cold and flu season is upon us, and if you listen to the news, they say that this year could be the worst on record. But enough of the gloom and doom — I have a good old fashioned remedy that you need to keep handy on the off chance you don't escape the winter without a cold or the flu.
Thank you to Frank's Kraut for sponsoring this post. Know that the opinions in this post and the love for their sauerkraut is all my own. Please support the brands that make An Affair from the Heart possible.
There have been many many studies done about Chicken Noodle Soup and it's healing powers. Since the 12th century, Grandmas all over have been making this claim.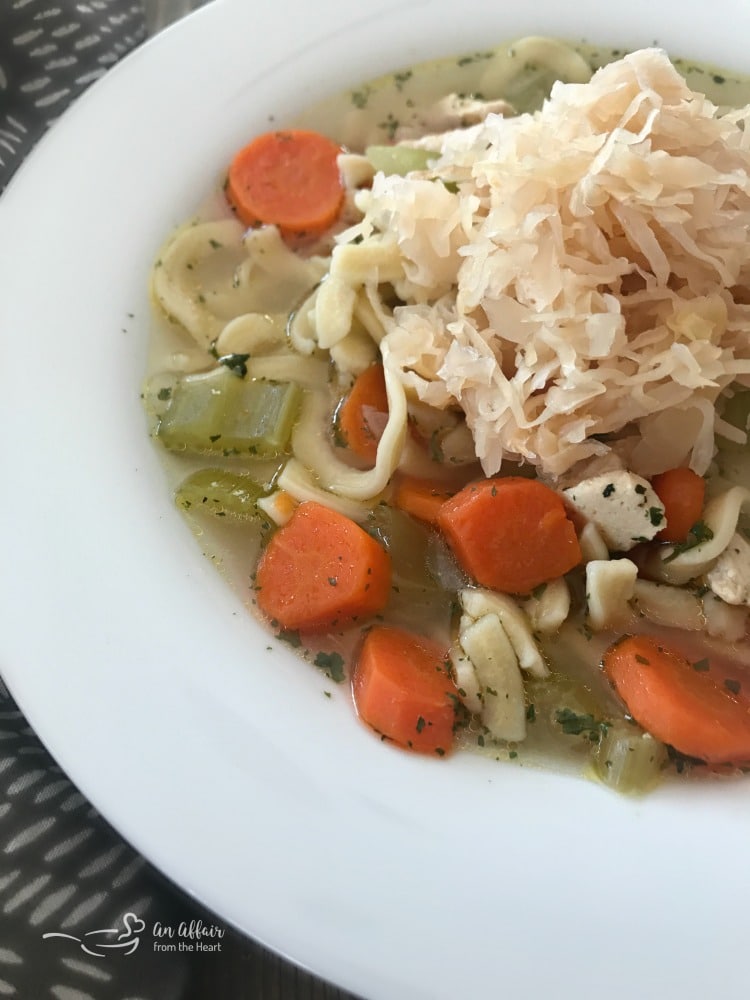 Is it the steam from the piping hot bowl of soup? That definitely helps clear up congestion in your nose and your throat. Plus, the fluid. That broth is helping fight infection, by just being an added fluid. But all of the parts working together? They can actually reduce inflammation and help you feel better.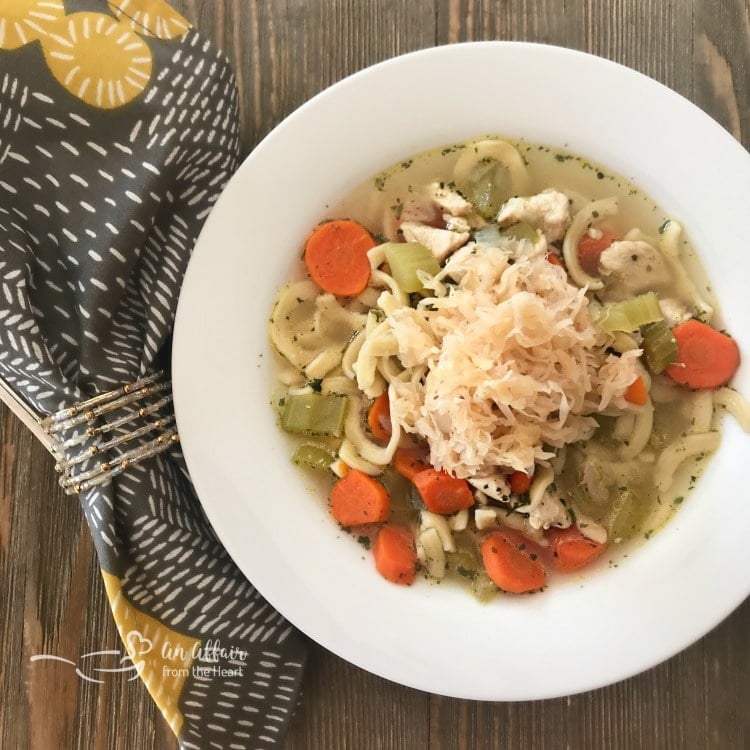 A study done by Dr. Stephen Rennard, MD, a researcher at the University of Nebraska Medical Center, claims chicken soup acts as an anti-inflammatory agent for your nasal cells, it gives your nose the relief it needs. The more ingredients you put in your soup, the better, according to Rennard and his research team, who have found that adding a variety of veggies to your chicken soup can help ease the symptoms of upper respiratory tract infections, like congestion, stuffy nose, cough, and sore throat. So let's break it down.
Chicken contains cysteine, an amino acid that is released when the soup is made. This amino acid thins mucus in the lungs, speeding up the healing process. Chicken is a great source of protein, helping with your sore muscles, very beneficial when your body feels weakened and drained during illness. Adding onions in the soup adds protein, calcium, and especially sulfur, which is proven to decrease swelling and reduces nasal congestion. Another significant ingredient in chicken soup is carrots. Carrots help our bodies to produce vitamin A, which strengthens our white blood cells and in turn allows us to better fight off infection. Celery is a superfood all on it's own. Adding it to your soup adds in anti-microbial properties that fight infections. Celery seeds have actually been used for centuries as an herbal medicine with reported antibacterial effects, it can be used to naturally boost immunity and fight bacterial infections.
If all of that isn't good enough, you know what we are going to do? Stir some sauerkraut into our soup. Not just any sauerkraut though, Frank's Kraut.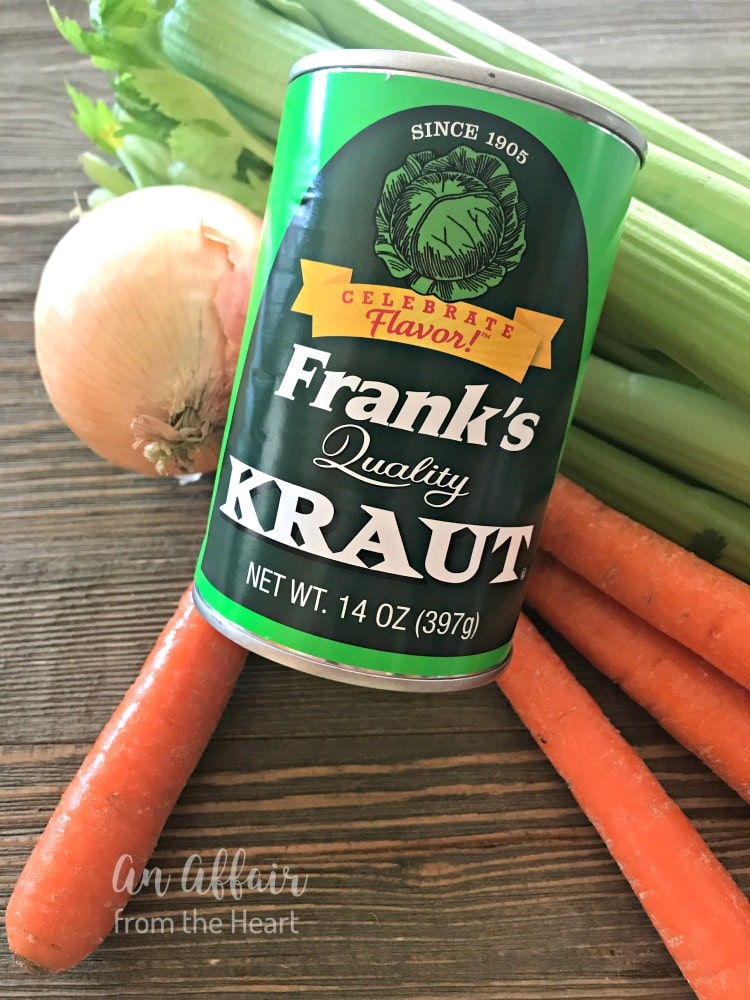 Frank's – Creating America's Best Tasting Sauerkraut Since 1905
"The making of sauerkraut is a time honored tradition that has been passed down among families for generations. While there are many varieties and types of sauerkraut the basic preparation method is a follows: take cleaned and shredded white cabbage and place into a sealable container, add salt and apply a lid to induce pressure. The salt drains the water out of the cabbage and allows the cabbage to ferment in its own juice. A week or two later you will have fresh, delicious sauerkraut." – The Story of Sauerkraut eBook
Those of us in the Midwest can easily find this delicious sauerkraut, but not everyone in the US can. That's why Frank's will ship it right to your front door!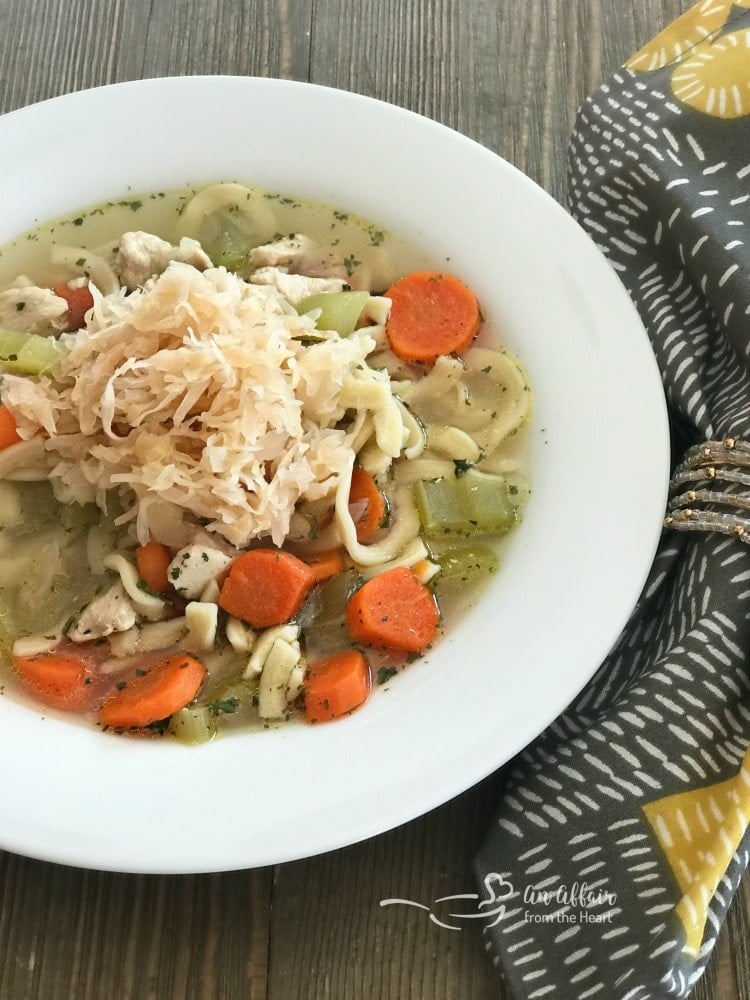 Nutritional Value Of Sauerkraut
Sauerkraut contains high levels of dietary fiber, as well as significant levels of vitamin A, vitamin C, vitamin K, and various B vitamins. it's a great source of copper, sodium, magnesium, iron, manganese, and calcium, in addition to contributing a moderate amount of protein to your diet.
So, if this Super-Food and all of it's vitamins and minerals isn't enough, think about this, sauerkraut has amazing anti-inflammatory agents. Phytonutrient antioxidants contained in sauerkraut can reduce the pain and discomfort of joints, muscles, or other inflamed areas, like your sinuses!
Everyone knows that Vitamin C is fantastic for you, especially when you have a cold! But next time, don't reach for that glass of Orange juice, add a serving of sauerkraut to your diet. A single serving of sauerkraut has 35% of your daily recommended intake of Vitamin C. Vitamin C stimulates the production of white blood cells and helps with cellular regeneration and repair. Vitamin C is one of the most important elements of your immune system.
Sometimes I make my chicken soup using a whole bird. Other times, like today, I made it quickly using boneless chicken breasts.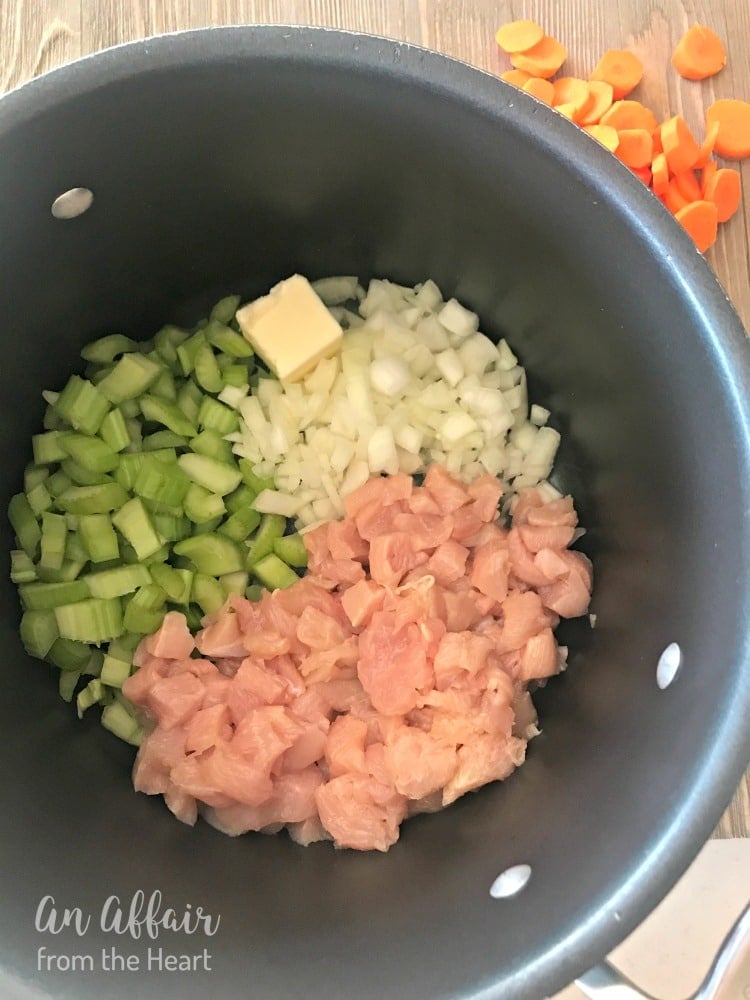 Once you have it all of your carrots, celery, onion and chicken breasts chopped, get it on the stove, and you can be eating a bowl of soup within the hour.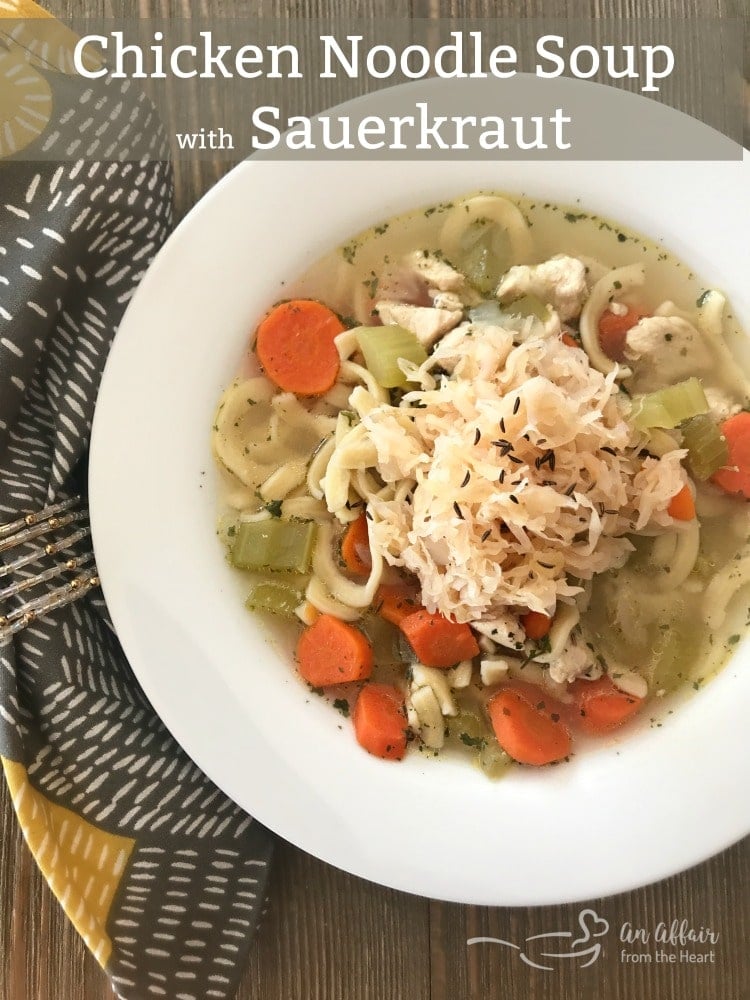 So, the next time you feel under the weather, OR you just want a delicious comforting meal FULL of nutrition, make a pot of homemade chicken soup, but don't stop there. Top it with a heap of Frank's Kraut!
Love Sauerkraut? Everything you always wanted to know about Kraut! Where it comes from, how it's made and tons of Sauerkraut recipes in this Ultimate Guide to Sauerkraut.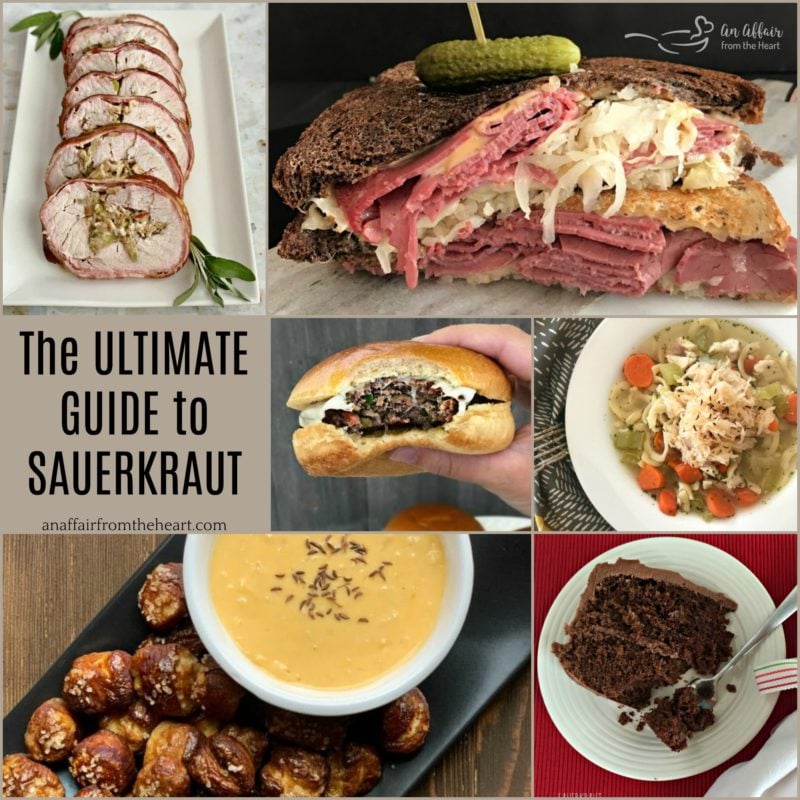 What do you say we get cookin' ?

Yield: 6-8
Homemade Chicken Noodle Soup with Sauerkraut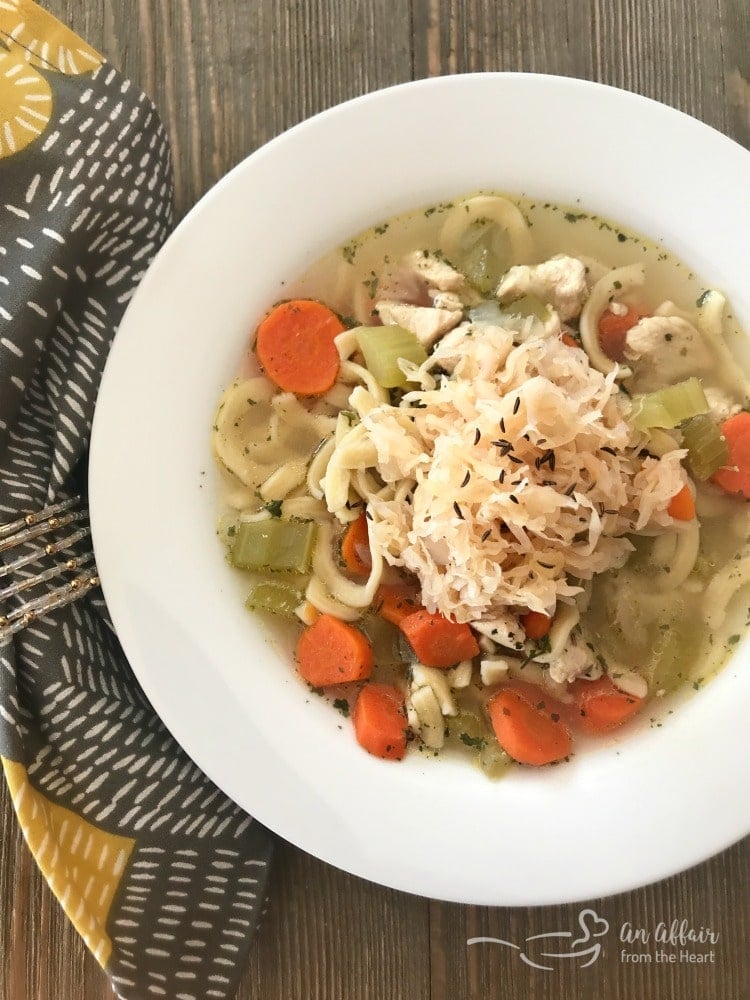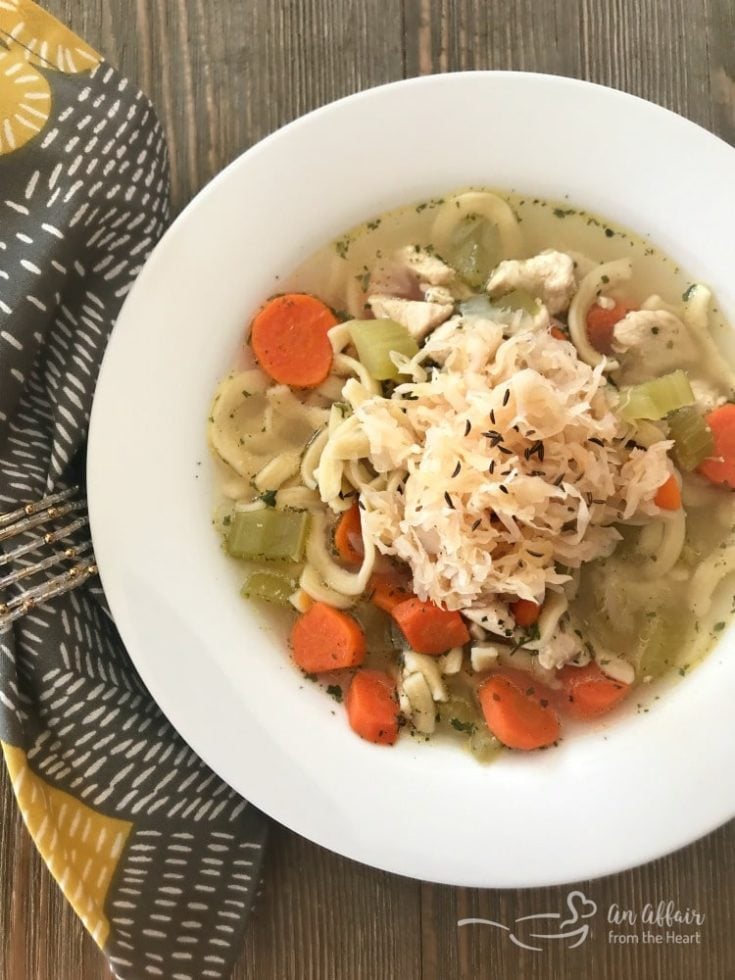 Homemade Chicken Noodle Soup, just like grandma always said, can help with colds, but how about adding a true superfood like sauerkraut? You get tons of nutritional value and healing powers that will boggle your mind!
Ingredients
1.5 pounds Boneless skinless chicken breasts (or sub thighs), cut into small pieces
4 large Carrots, sliced
1 medium sized Onion, chopped
4 stalks celery, chopped
3 Tablespoons butter
Salt and Pepper, to taste
1 quart Chicken Stock
3 cups water
12 ounces Kluski Noodles (Egg Noodles), prepared according to package instructions
1 Tablespoon Parsley Flakes
Caraway seeds, if desired
Instructions
Place your chicken, celery, onion and butter in a soup pot over Medium-High heat, Salt and pepper to taste, stir until chicken is no longer pink.
Add in carrots, chicken stock and water. Cover and bring to a boil. Reduce heat and cook until chicken and vegetables are cooked to desired tenderness.
Add in prepared noodles and parsley. Let heat through for about 5 minutes.
Dish into bowls and top with Frank's Kraut, and caraway seeds if desired.
Enjoy!
Nutrition Information:
Yield:
6
Serving Size:
1
Amount Per Serving:
Calories:

580
Total Fat:

22g
Saturated Fat:

8g
Trans Fat:

0g
Unsaturated Fat:

11g
Cholesterol:

149mg
Sodium:

788mg
Carbohydrates:

40g
Fiber:

3g
Sugar:

7g
Protein:

53g
Nutrition isn't always accurate.
LOVE SAUERKRAUT?
Follow along with Frank's Kraut on their social medias to get delicious recipes all year long. Follow them on Facebook, Twitter, Pinterest and Instagram for all things sauerkraut!

If you make this recipe, I'd love to know! Snap a picture, share the photo on social media with the hashtag #AnAffairFromTheHeart – I'd love to see what you made! – Michaela