Simple White Country Gravy Recipe
As an Amazon Associate and member of other affiliate programs, I earn from qualifying purchases.
Simple to make Homemade White Country Gravy comes together in minutes so it's perfect for a busy weeknight. Creamy and comforting over mashed potatoes, chicken fried steak, biscuits or whatever you want to pour it over! You are sure to love this easy white gravy recipe!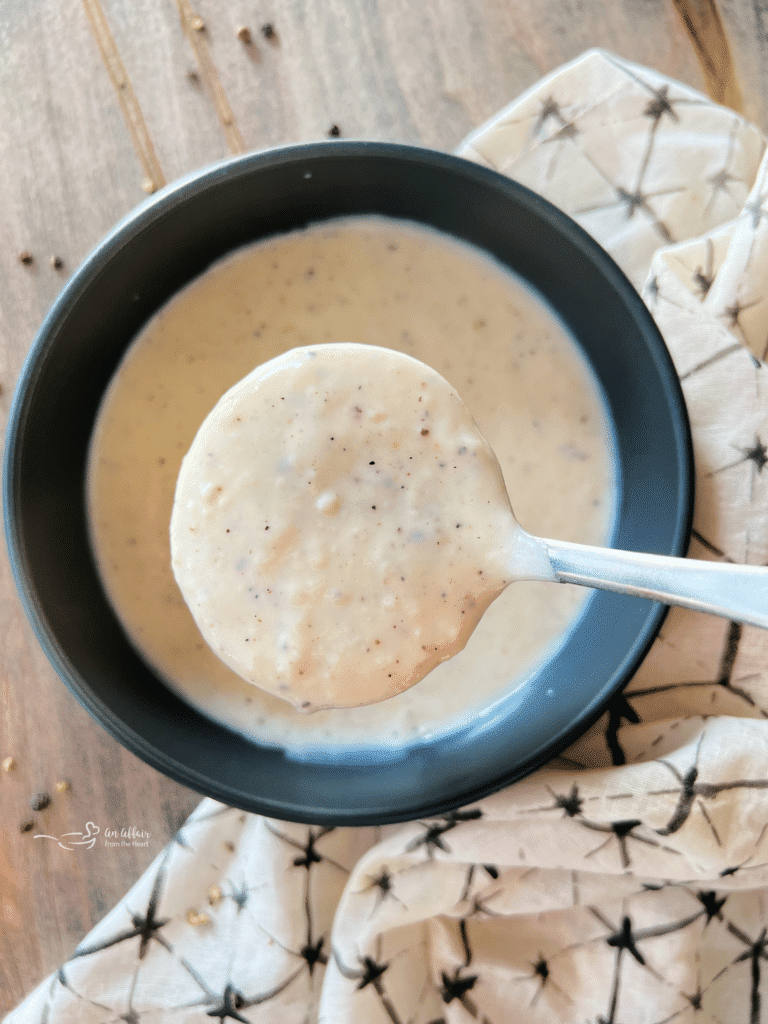 Making this creamy white peppered simple country gravy is so easy! This Country Gravy recipe uses only butter, flour, milk, and salt & pepper and comes together in minutes! The perfect white gravy to top your mashed potatoes, country fried steak, or to make into sausage gravy for biscuits!
HOW TO MAKE HOMEMADE SIMPLE COUNTRY GRAVY
Homemade simple country gravy turns the simple biscuit into a work of art, a masterpiece of breakfast foods. Learning how to make it is easy, but you can get endlessly creative too. As long as you get the main ingredients and technique dialed, then adding variations is endless. The most important part of how to make country-style gravy? Getting the roux base just right, but it's easy!

WHAT IS WHITE GRAVY CALLED?
White gravy is also called "béchamel" Every sauce needs to have a fancy French cooking term name too… Right? By any name though, this easy gravy style sauce makes anything it touches hearty and warm. It basically is the essence of "feel good" food.
It goes by other names as well, white peppered gravy, country gravy, white sauce, and when you make it with either sausage or bacon grease, it is sometimes referred to as sawmill gravy.
WHAT IS THE DIFFERENCE BETWEEN WHITE GRAVY AND BROWN GRAVY?
The main difference between white gravy and brown gravy comes from using broth instead of milk. Most prefer using chicken broth for country brown gravy, but you can use vegetable broth or beef, or any other broth as well.
WHAT IS THE DIFFERENCE BETWEEN COUNTRY GRAVY AND WHITE GRAVY?
This depends on where you live. Country gravy and white gravy can mean exactly the same thing. But for some, "country gravy" means the roux uses bacon or sausage grease as well as butter. So, what country style is made of all depends on where you grew up and who was doing the cooking!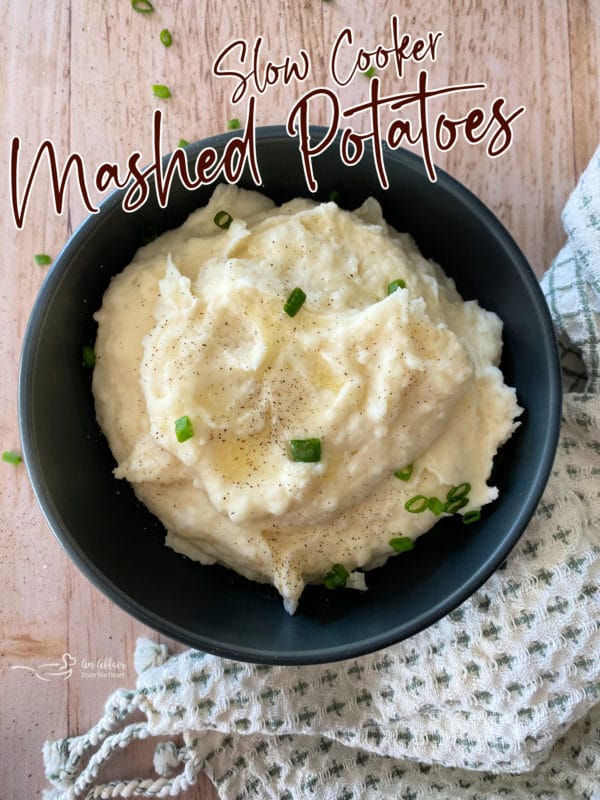 The BEST Slow Cooker Mashed Potatoes Recipe

INGREDIENTS YOU NEED FOR SIMPLE COUNTRY GRAVY
For complete measurements and instructions, scroll down to the printable recipe card at the bottom of this post.
Flour – I use all-purpose flour
Butter – salted or unsalted butter
Salt – sea salt or table salt is fine.
Black Pepper – this classic country gravy recipe is nothing without the pepper!
Milk – can substitute heavy cream if you'd like
HOW TO MAKE WHITE GRAVY
This quick and easy recipe will be ready in minutes – and is perfect for busy weeknights!
Get the pan medium hot, then add your butter.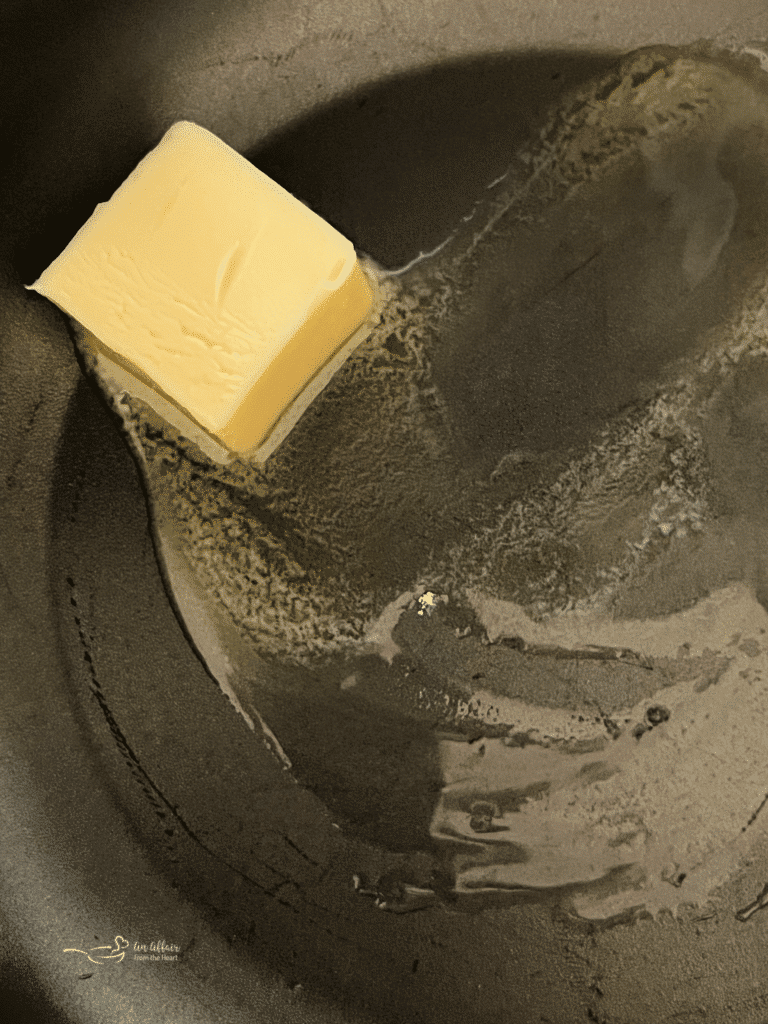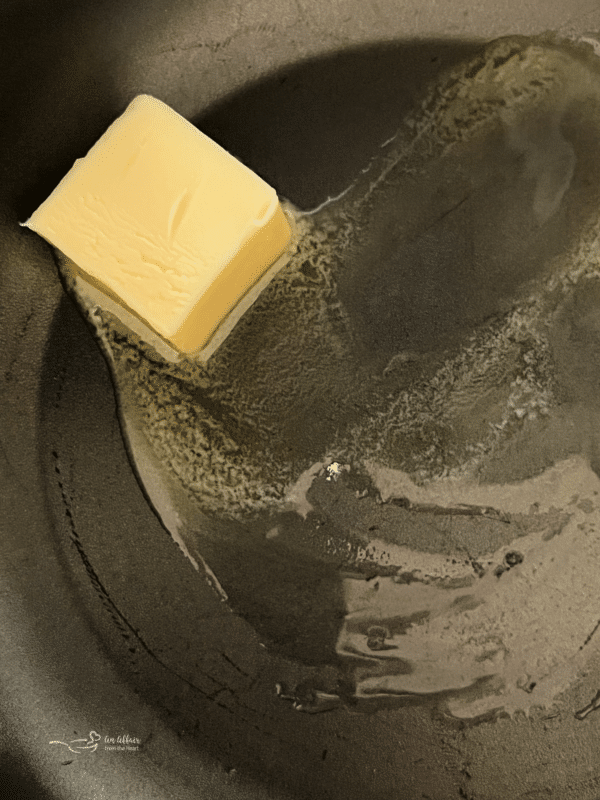 Let the butter melt a bit, but make sure to stir it. Don't let the butter scald before adding the flour to make your roux.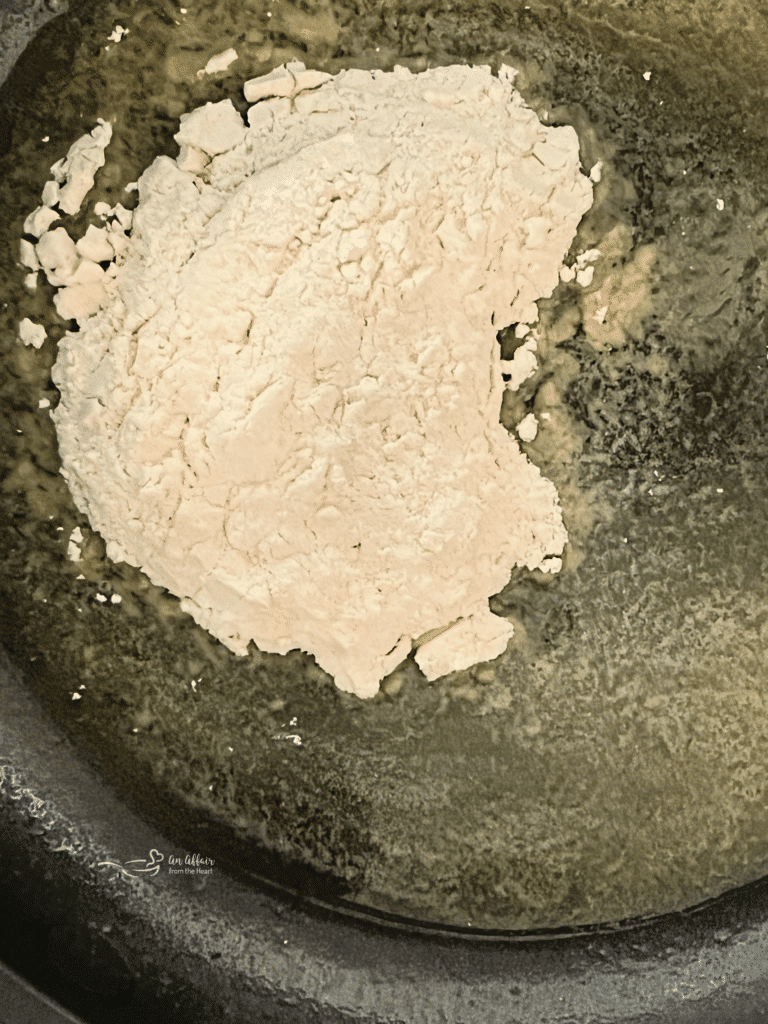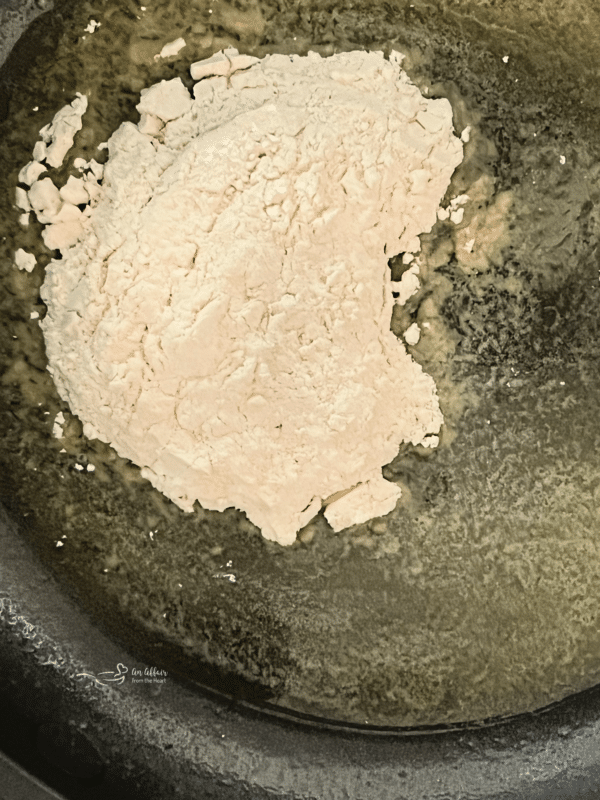 Stir the butter and flour together. A whisk helps combine the ingredients and makes everything smooth out. Getting that smooth pasty consistency is key.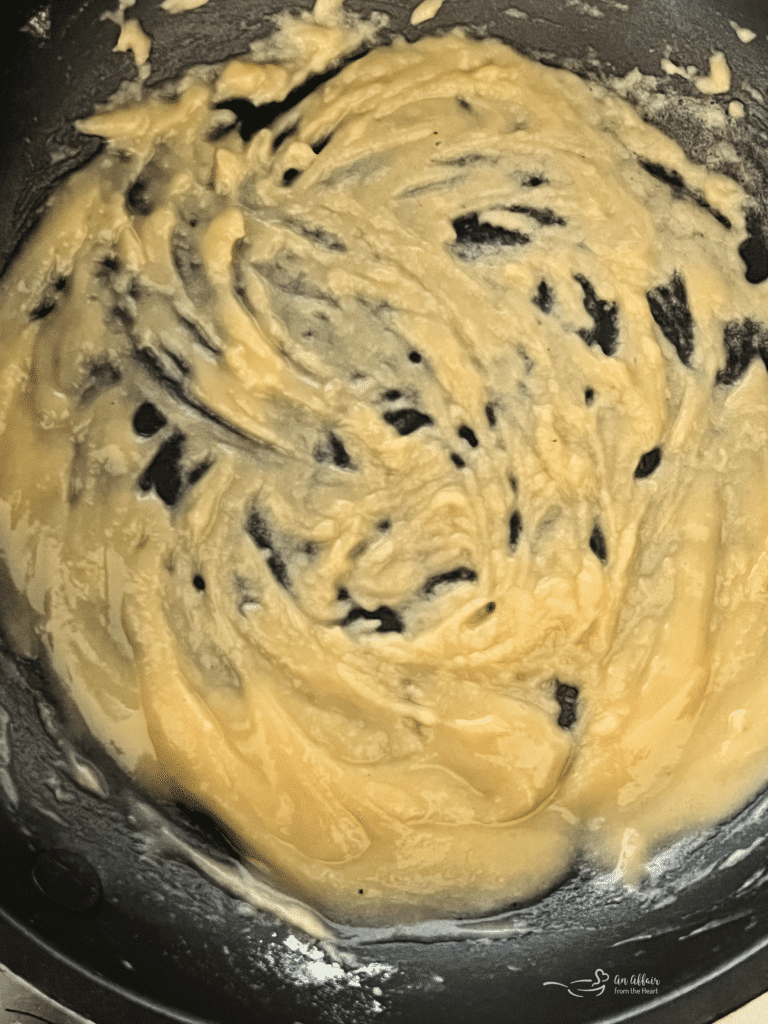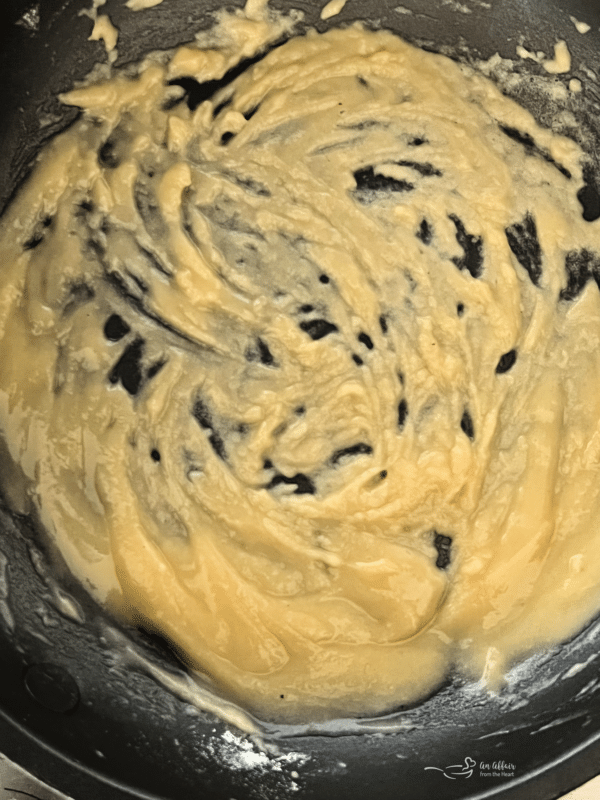 Reduce the heat a little to about medium-low, then let the butter and flour mixture, the heart and soul of your roux, gain a bit of color. A nice creamy-looking tan color is great. Keep stirring so nothing scalds. Once it turns to that nice beige then you can start adding the milk.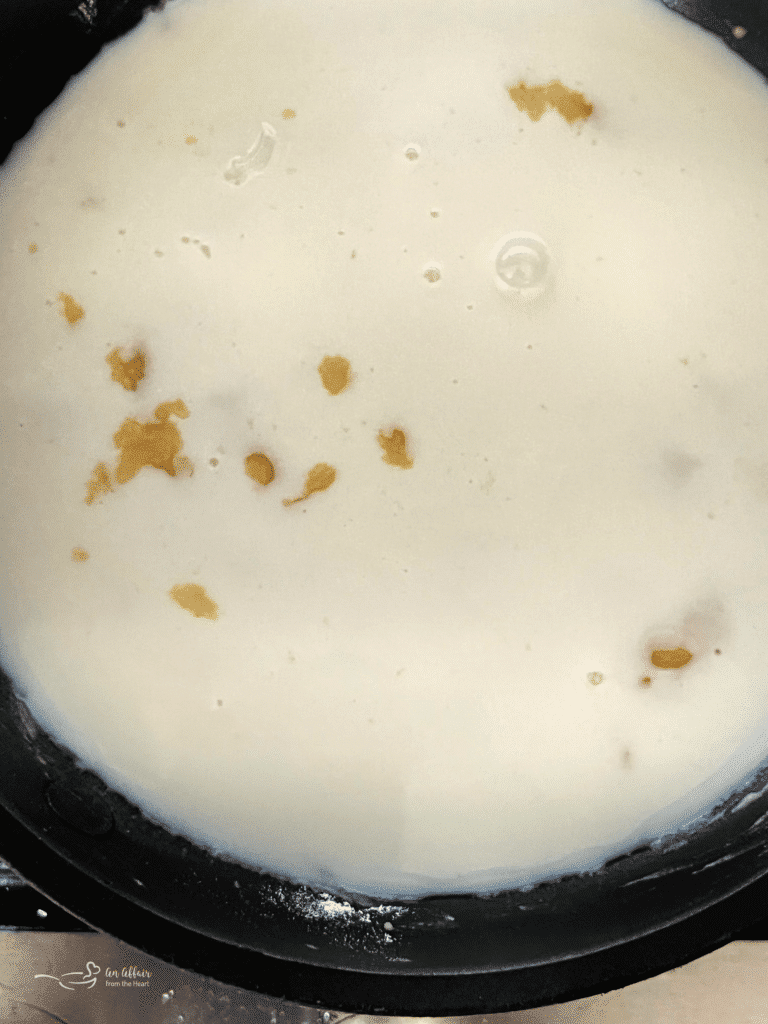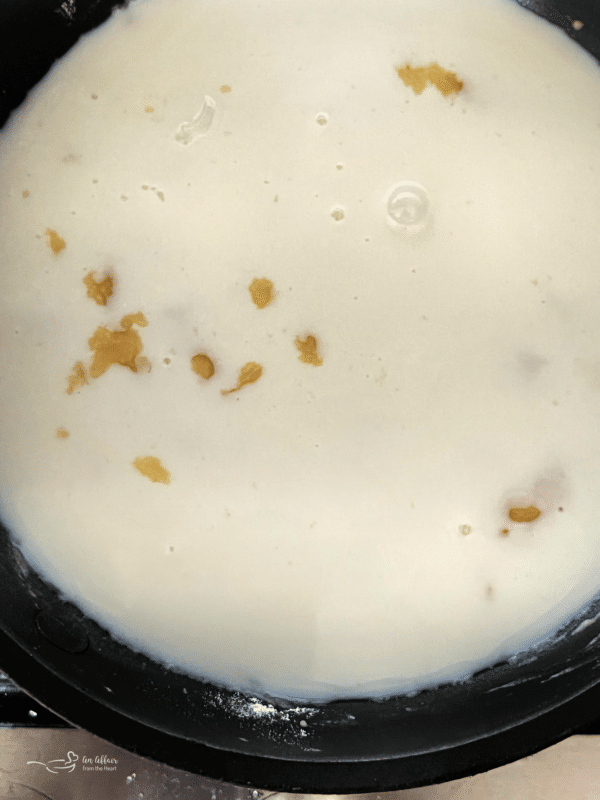 Adding the milk in a slow steady stream helps make it easier to whisk in. Keep a little back for getting the consistency just right after adding the seasonings.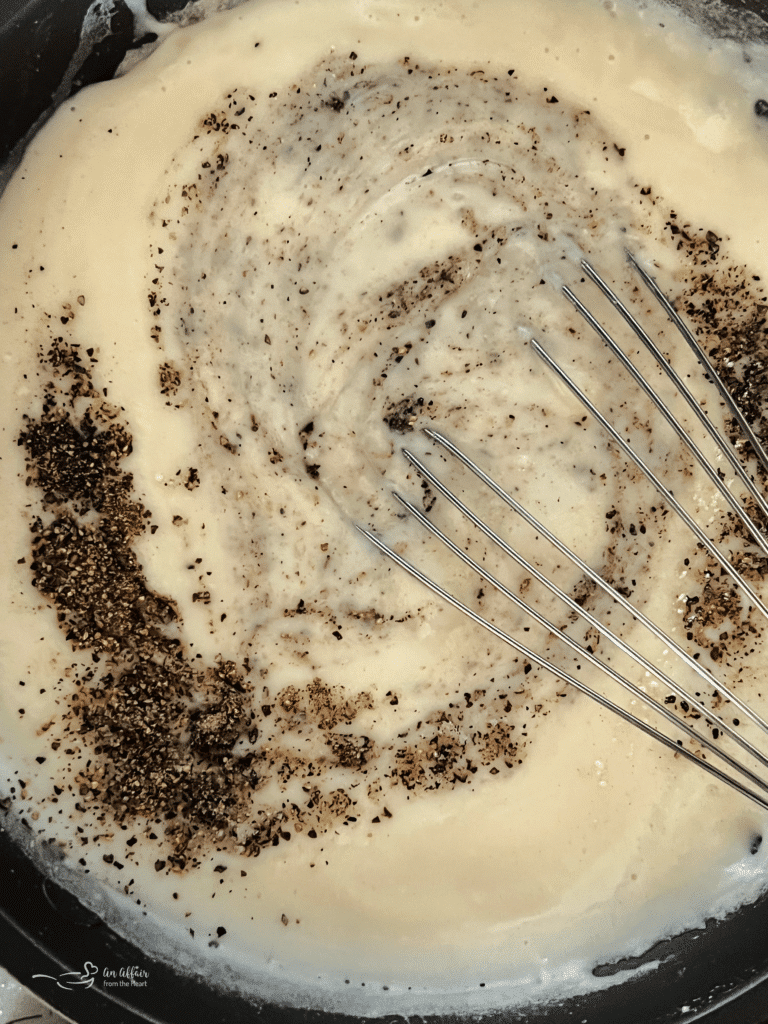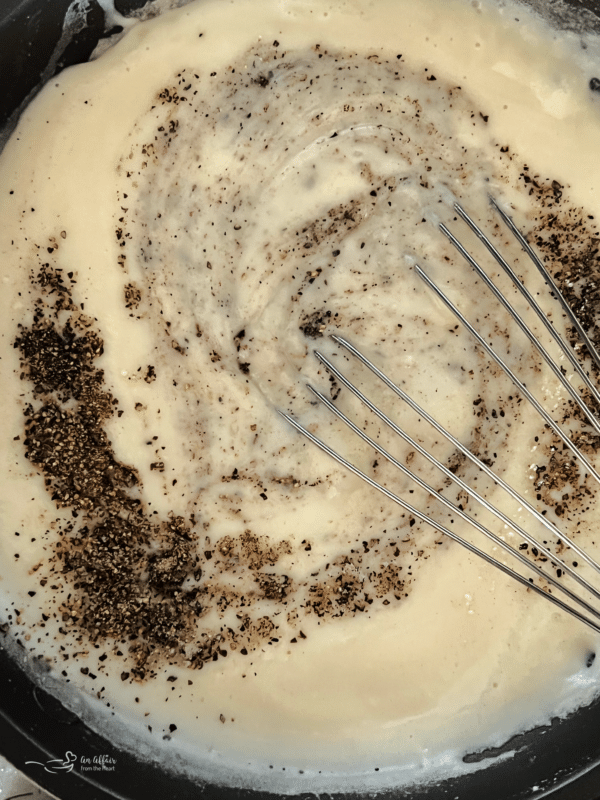 When you whisk in the pepper and salt, then keep whisking them in. The sauce thickens a bit more quickly again, so make sure to add a bit of milk or broth to thin it to the desired consistency.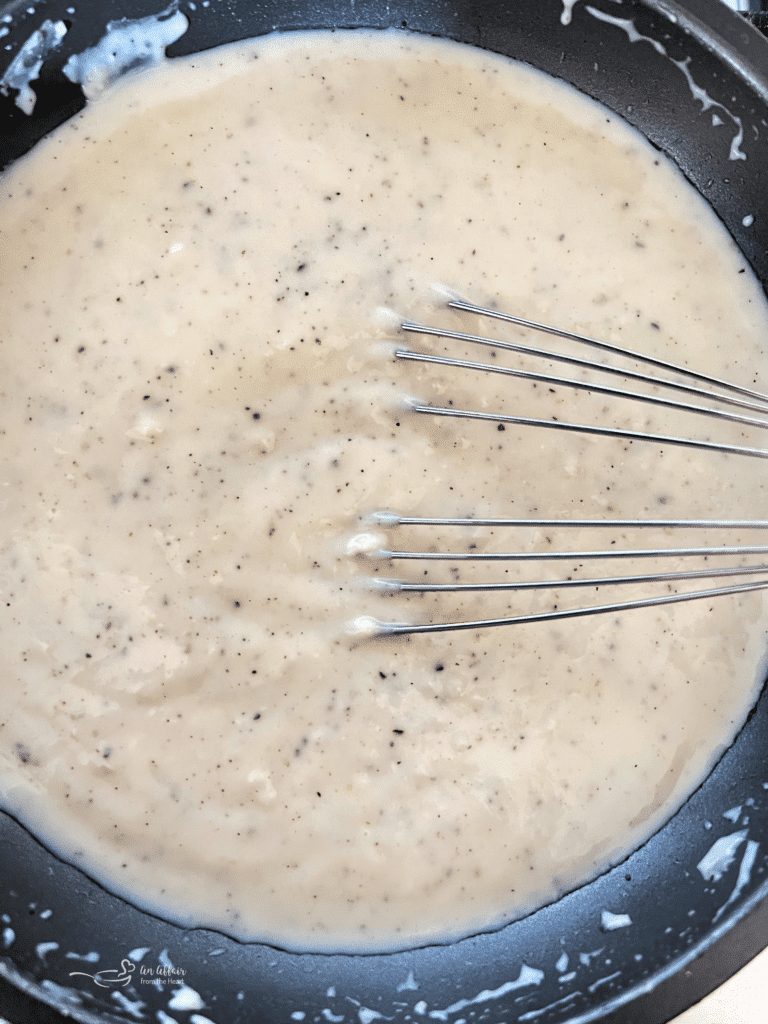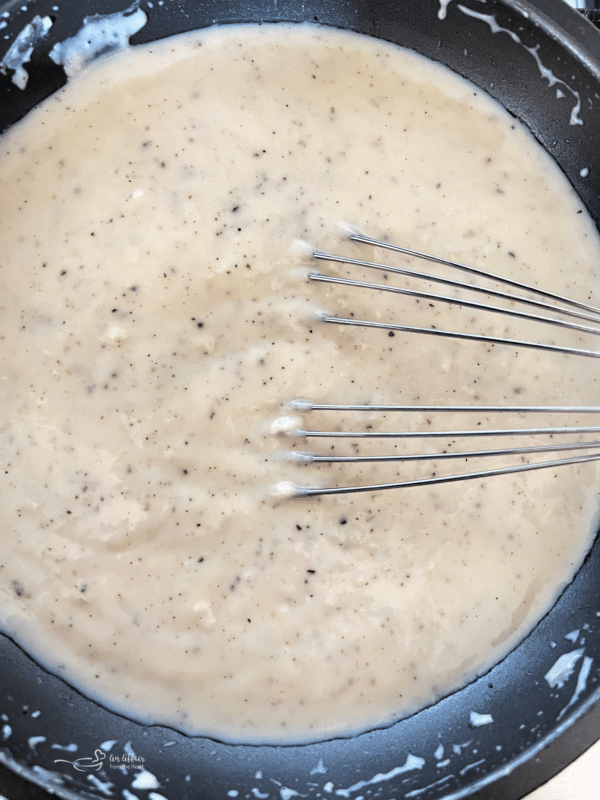 Ready to serve! Take it off the heat so it slows down the thickening. Re-heating and adding more milk or broth later is easy.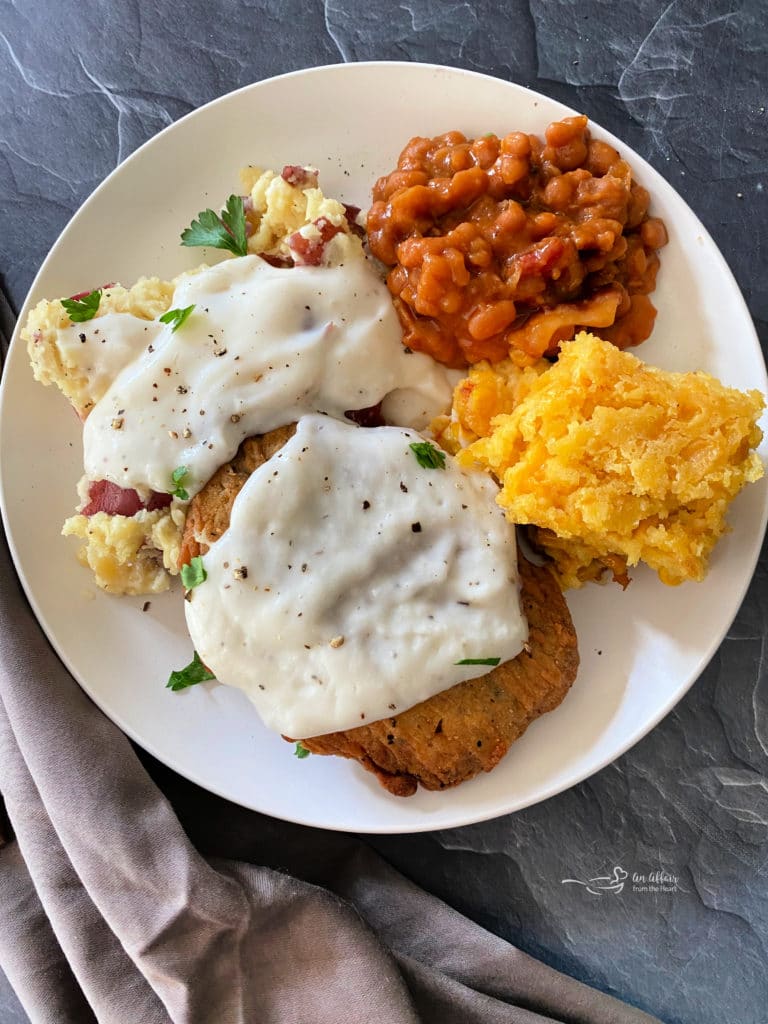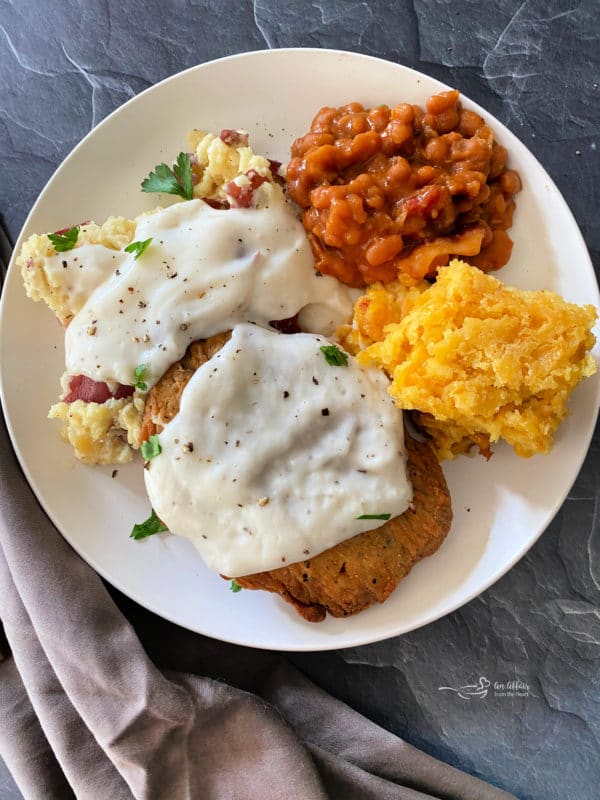 Pour it over whatever your heart desires! Like this comforting meal of chicken fried steak, smashed potatoes, corn casserole, and baked beans.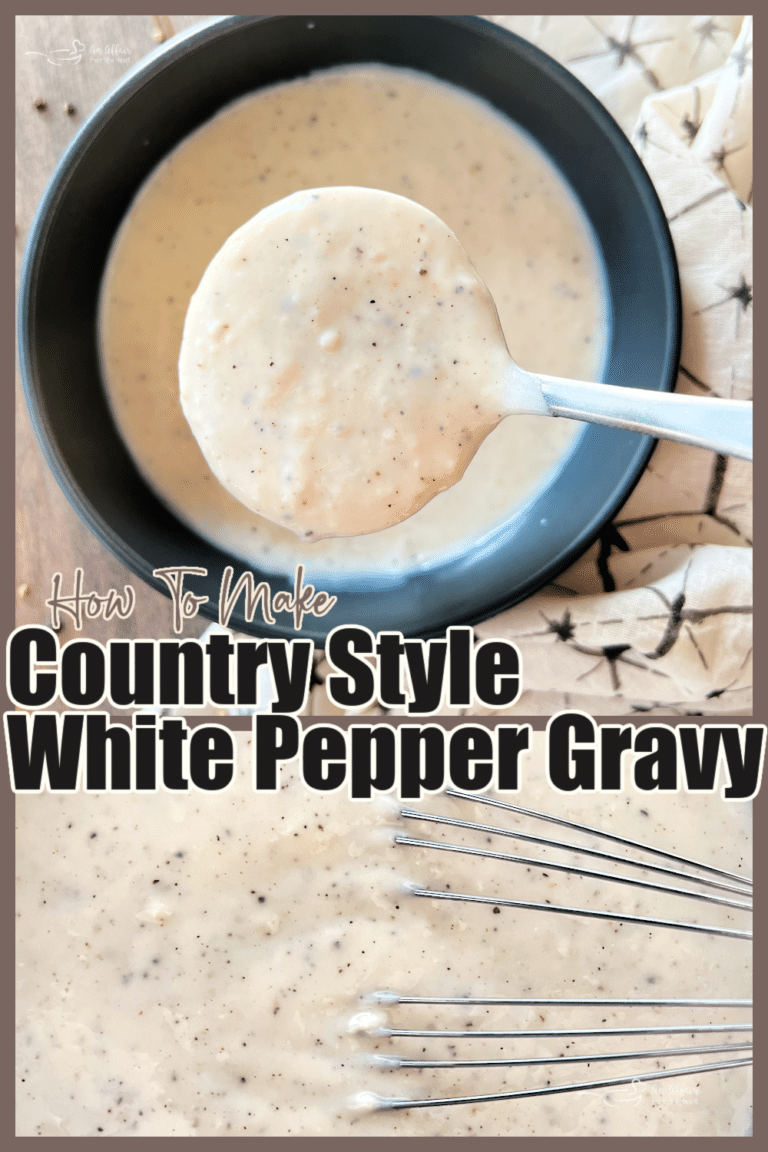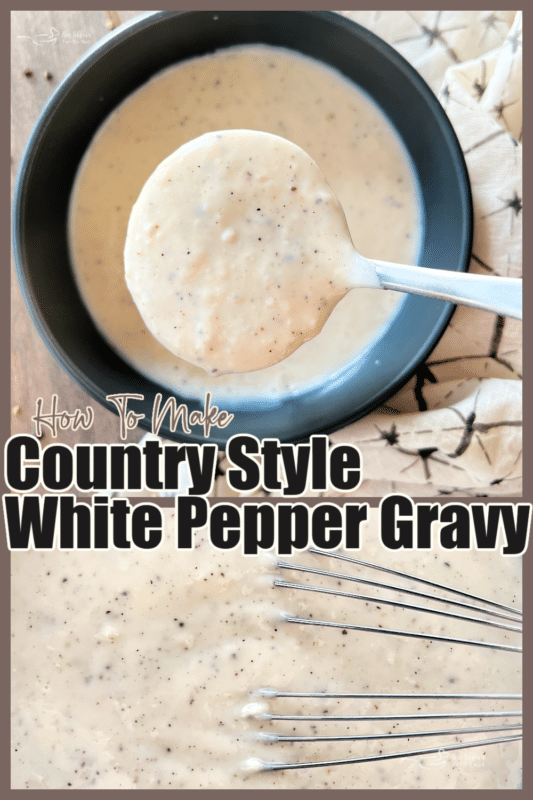 LOVE IT? PIN IT!
Don't forget where you found this recipe for Country Style White Peppered Gravy! Pin it to your favorite Pinterest recipe board before you go!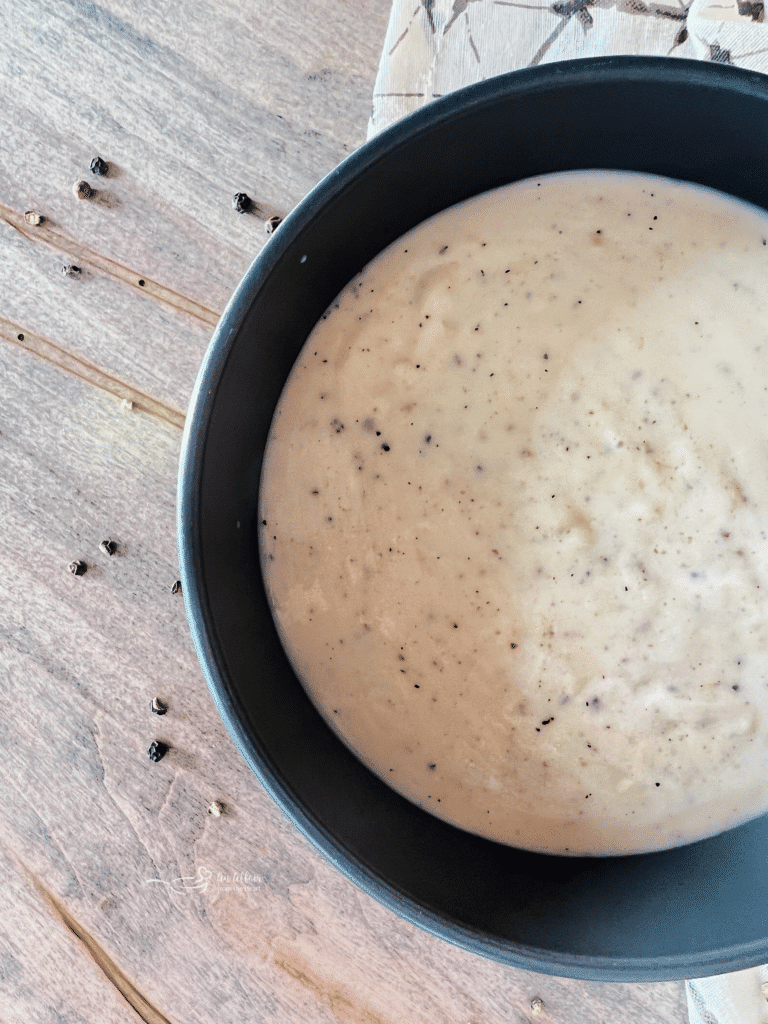 BISCUITS AND GRAVY
All you need to turn this into the best gravy for biscuits is ground pork sausage. Just brown the sausage then add it to the white gravy. You can either brown or add it after draining it. Or use the meat drippings from the pork sausage as part of your delicious gravy. It also works instead of using only butter to brown your roux.
Serve over Homemade Buttermilk Biscuits.
VARIATIONS ON WHITE COUNTRY GRAVY
The really cool about béchamel sauce is how creative you can get with it. It is like the base canvas on which to create your own gravy masterwork. Chop in some mushrooms for a mushroom sauce. Use ground sausage or bacon bits to make it a super country-style meat gravy. You can add herbal flavors like parsley and sage, which make it great for putting on turkey or breaded pork cutlets or country-fried steaks too.
CAN I MAKE VEGAN COUNTRY WHITE GRAVY?
Yes! You don't have to give up white gravy just because you are vegan. There are easy vegan alternatives for white country gravy. First of all, you substitute the butter with vegan butter, typically made with hydrated vegetable oil or coconut oil. Then, instead of milk, use a suitable milk alternative. Oat milk, almond milk, hemp milk, cashew milk. Each imparts certain flavors, so it comes down to personal preference whatever you like best.
Also, you can make it a brown gravy by using vegetable broth instead of plant-based milk. Mushroom broth makes an awesome brown vegan gravy!
STORING WHITE GRAVY
You can store white gravy to use later on. It will keep in the fridge for a week, or in the freezer for up to three months. Just make sure to seal it in an airtight container.
When you use it, then heat on low heat and add your milk or stock as needed to bring it back to the smooth and pourable gravy.
GREAT COUNTRY BRUNCH RECIPES
MORE GRAVY RECIPES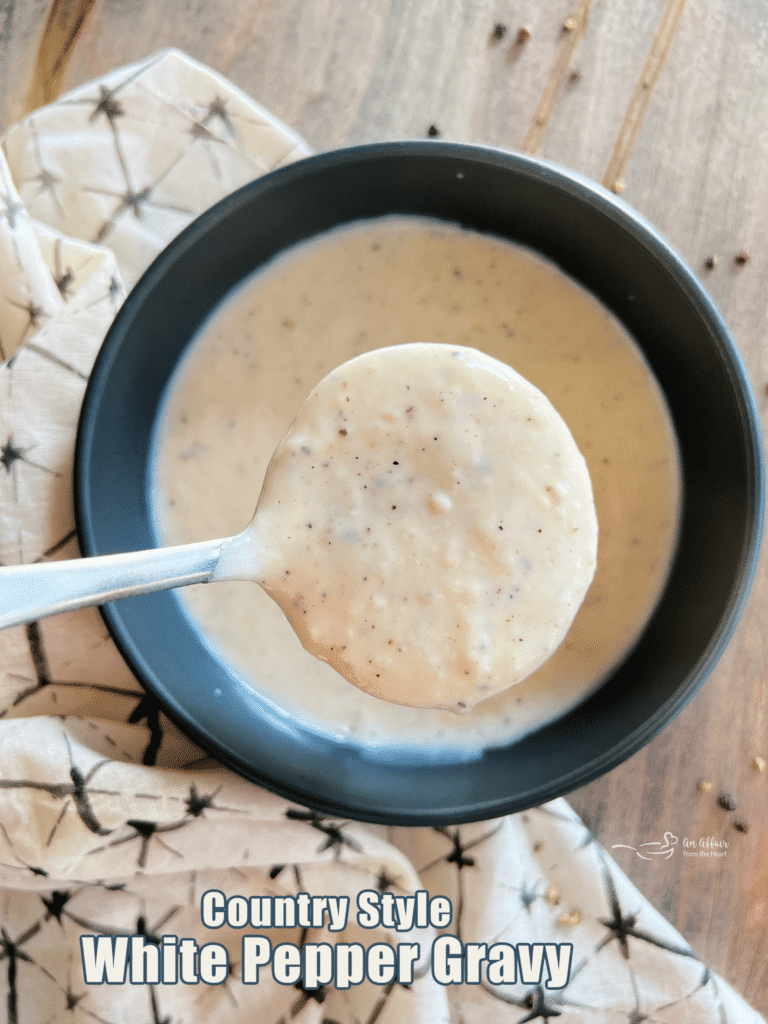 Ready to make some homemade white country gravy? Let's do it!


Yield: About 1 cup
How to Make Country Style White Pepper Gravy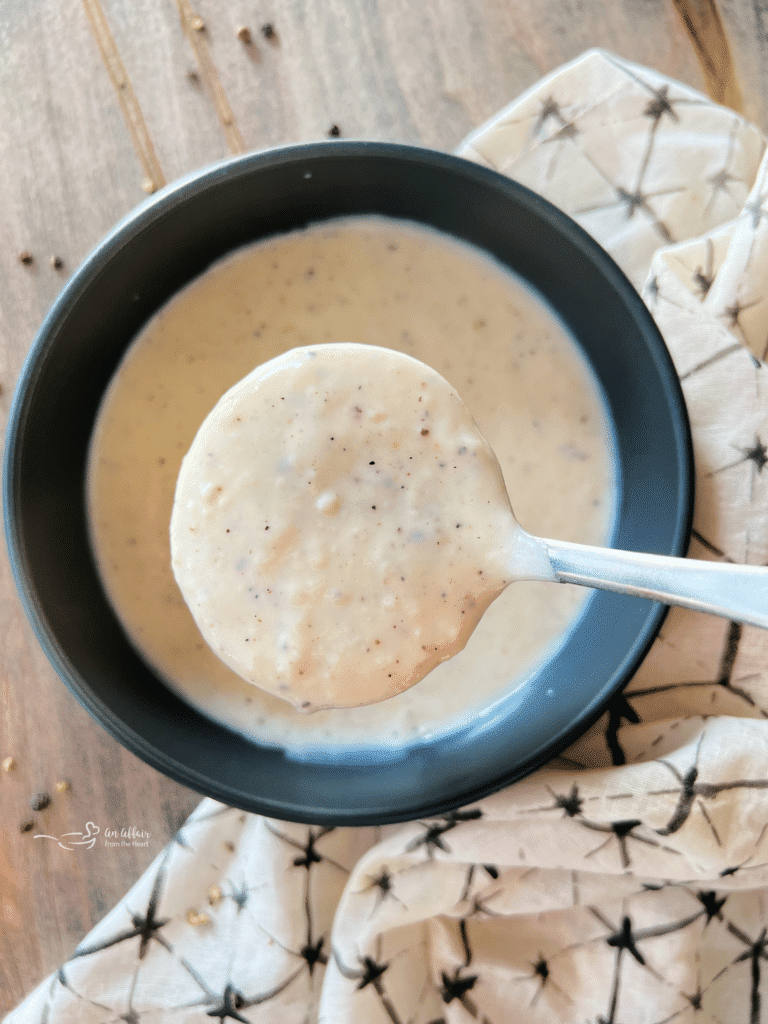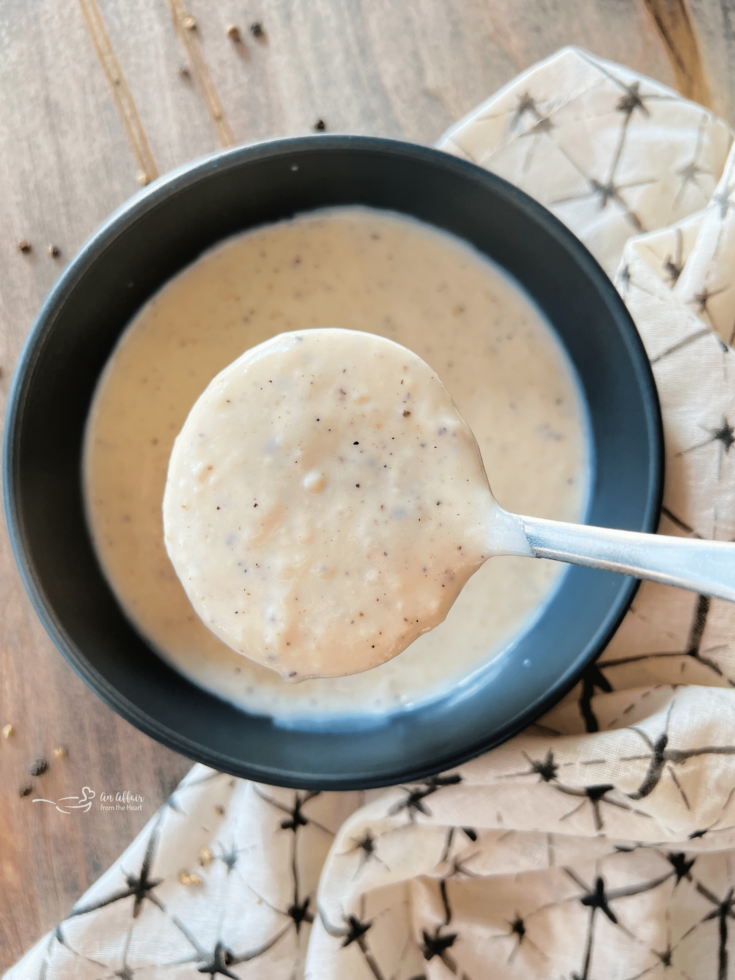 Simple to make creamy country-style white pepper gravy. Perfect for topping mashed potatoes, country-fried steak, or for using with biscuits and gravy.
Ingredients
2 Tablespoons butter
2 Tablespoons flour
1 cup whole milk
1/2 teaspoon salt
1/2 teaspoon pepper
Instructions
In a small skillet over medium-high heat, melt butter.
Whisk flour into the melted butter to make a roux.
Turn the temperature down to medium and whisk the milk into the roux.
The mixture will begin to thicken.
Season with salt and pepper to taste.
Serve immediately.
Notes
If the gravy sits for long and begins to cool it will thicken up too much. Simply add milk to the gravy and whisk together until warm and the desired consistency.
Recommended Products
As an Amazon Associate and member of other affiliate programs, I earn from qualifying purchases.
Nutrition Information:
Yield:
2
Serving Size:
1
Amount Per Serving:
Calories:

206
Total Fat:

16g
Saturated Fat:

10g
Trans Fat:

0g
Unsaturated Fat:

5g
Cholesterol:

43mg
Sodium:

673mg
Carbohydrates:

12g
Fiber:

0g
Sugar:

6g
Protein:

5g
Please note that nutrition is not guaranteed accurate.