The BEST Slow Cooker Mashed Potatoes
As an Amazon Associate and member of other affiliate programs, I earn from qualifying purchases.
These are the Best Slow Cooker Mashed Potatoes you'll ever have! Creamy, savory, and filled with flavors of garlic, cream cheese, sour cream, chicken broth, butter, and tender potatoes, these mashed potatoes in the slow cooker are perfect for families who are busy and just want to eat a comforting meal!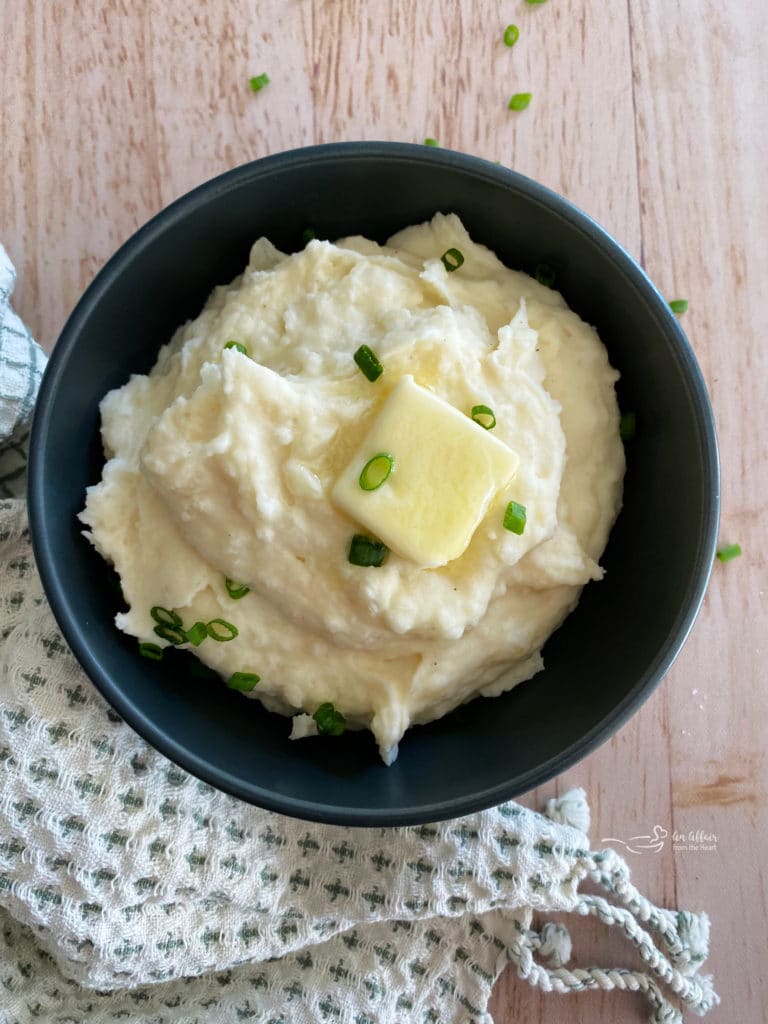 This recipe for slow cooker mashed potatoes is simply heavenly. Not only are these mashed potatoes just amazingly creamy and filled with delightful notes of butter and garlic, but they're just so easy to make, too. Why? Just throw everything in the Crockpot and let it work its magic!
I like to make these Crockpot mashed potatoes when I'm short on time. This easy side dish is perfect for all types of occasions: holidays such as Thanksgiving, Christmas, or Easter in addition to easy weeknight meals at home. The best part? On the following day, I get to make my amazing mashed potato cakes with the leftover mashed potatoes!
This recipe is sponsored by Great American Comfort Classics, but my opinions of their products and statements made here are all my own.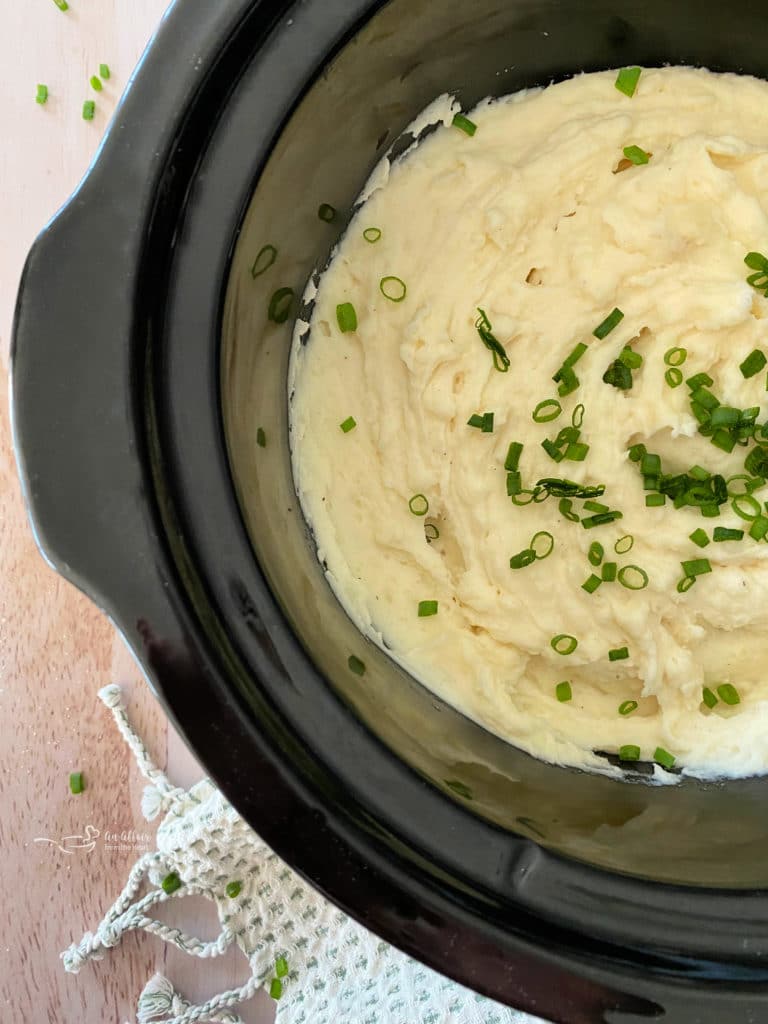 Why You're Going to Love This Slow Cooker Mashed Potato Recipe
Easy to make: These mashed potatoes are so easy to make with just a handful of steps! Forget standing over a pot of boiling water. Let the Crockpot do the work for you.
Simple ingredients: This recipe is made with simple and classic ingredients for mashed potatoes. The perfect vessel for serving up your favorite gravy, but honestly, they are delicious all on their own!
Perfect as a side dish for main courses: These slow cooker mashed potatoes are so versatile that they will go with basically any type of main meal. Need to cook for the holidays? This mashed potato recipe is PERFECT as a side dish!
Creamy and fluffy: Yes, creamy and fluffy. Are mashed potatoes supposed to be any other way? These potatoes simply melt in your mouth when you bite into them.
Slow Cooker Mashed Potatoes with Southern Chicken Fillets & Gravy
Look at it. That plate right there just hollers "Come and get some comfort food!" Perfectly breaded chicken, fluffy mashed potatoes with a pour of country gravy over the top. It looks like a Sunday supper that took all day, right? Well, actually, it took me about 45 minutes. (not counting the middle part where the crockpot did most of the work for you on the potatoes)
With a little bit of prep, you and your family can be settling around the dinner table in front of this meal vs. a bag of burgers and fries, even on their busiest of days! Let me share my secret.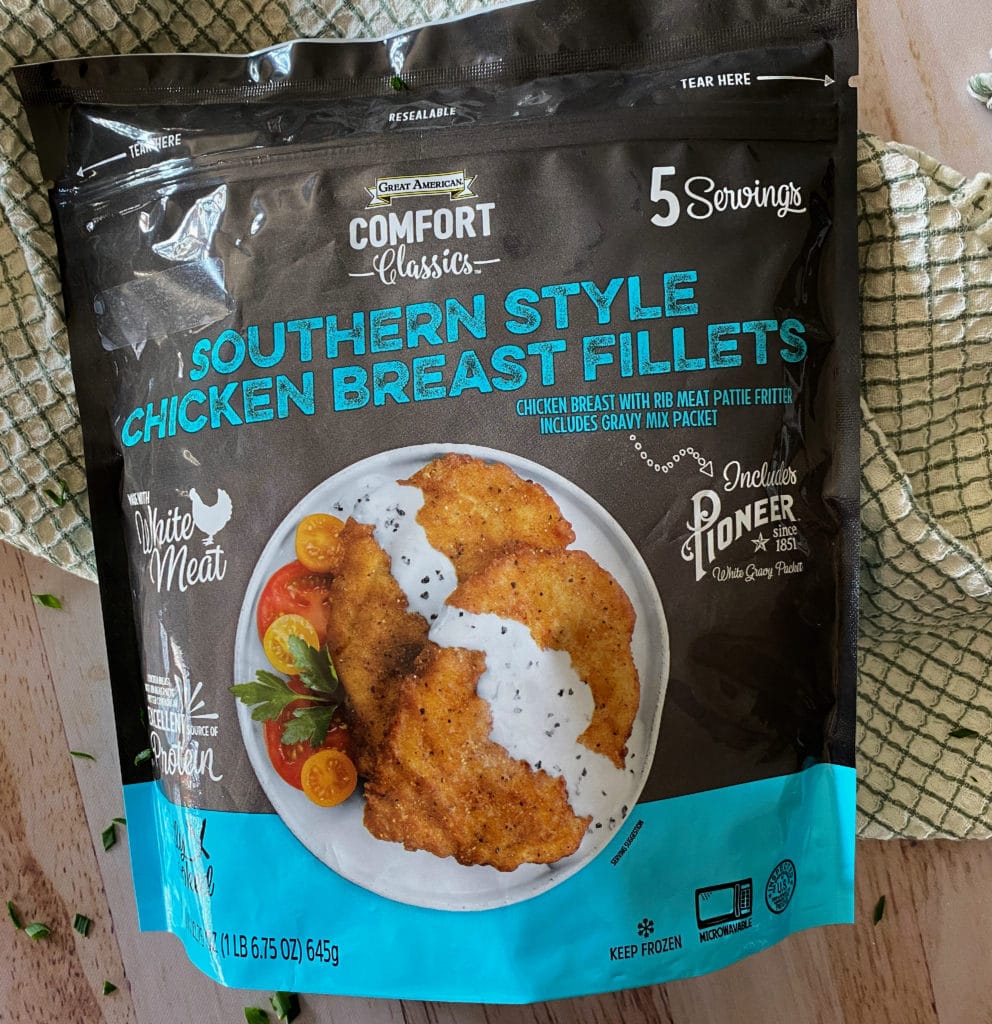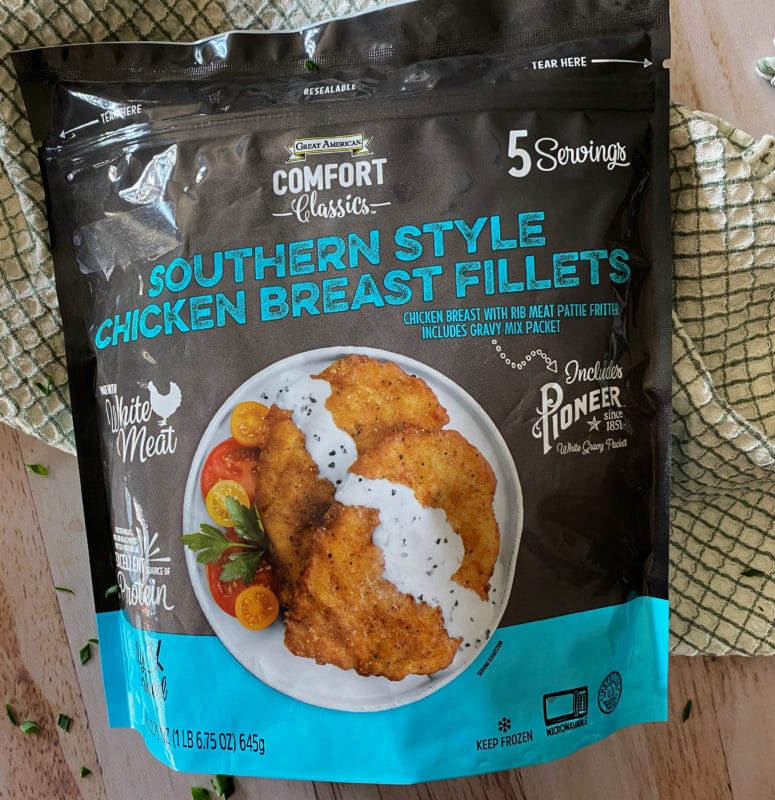 Southern Style Chicken Breast Fillets from Great American Comfort Classics
Recently I was asked to try some new convenience items at my local HyVee supermarket. Comfort Classics, under the Great American brand, is a new line of fully cooked protein comfort food classics. The collection has Country Fried Steaks, Meatloaf Slices, Crispy Steak Strips, Chicken & Waffle Style Bites, and Southern Style Chicken Breast Fillets.
All of the Comfort Classics items were made with savvy parent consumers in mind, addressing the need for high quality, good tasting, convenient ways to prepare meals for their families. It's perfect for when moms and dads are busy with work, kids, life in general and they don't always have the time to cook, but are trying to stay out of the drive-thru, and just want to gather their family around the dinner table at the end of the day.
Comfort Classics has a nice variety of proteins to choose from that can be prepared in the oven, microwave, or air fryer, for a meal that is ready in minutes!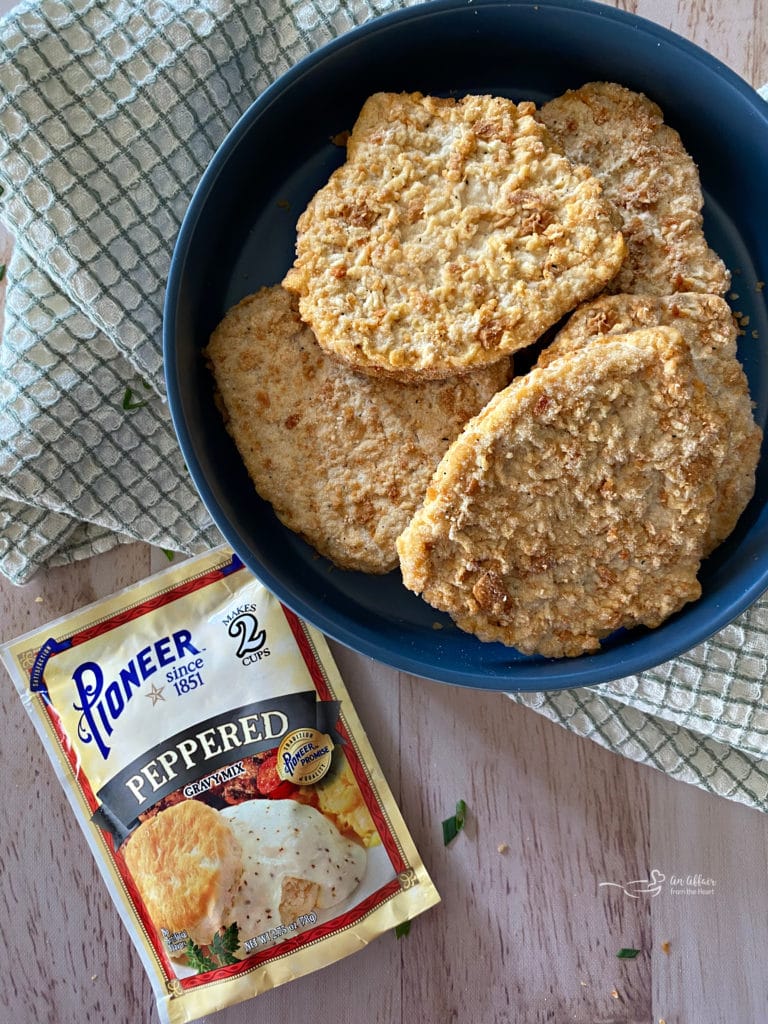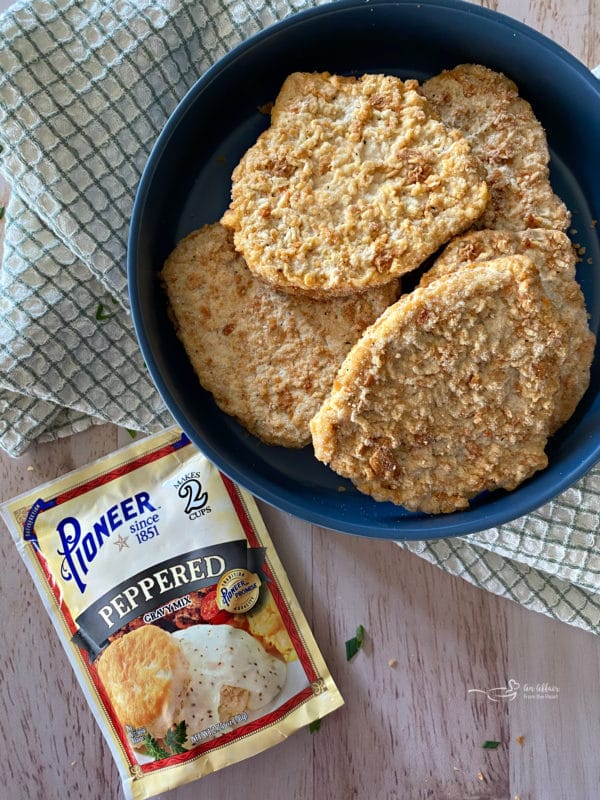 Southern Chicken & Gravy
The economically priced package of chicken came with 5 pieces and a packet of peppered gravy mix. Can I tell you a secret? I am a bit of a gravy snob. Not to toot my own horn, but I make some pretty amazing gravy, so I was skeptical of a mix.
My opinion was wrong though. This gravy was really tasty.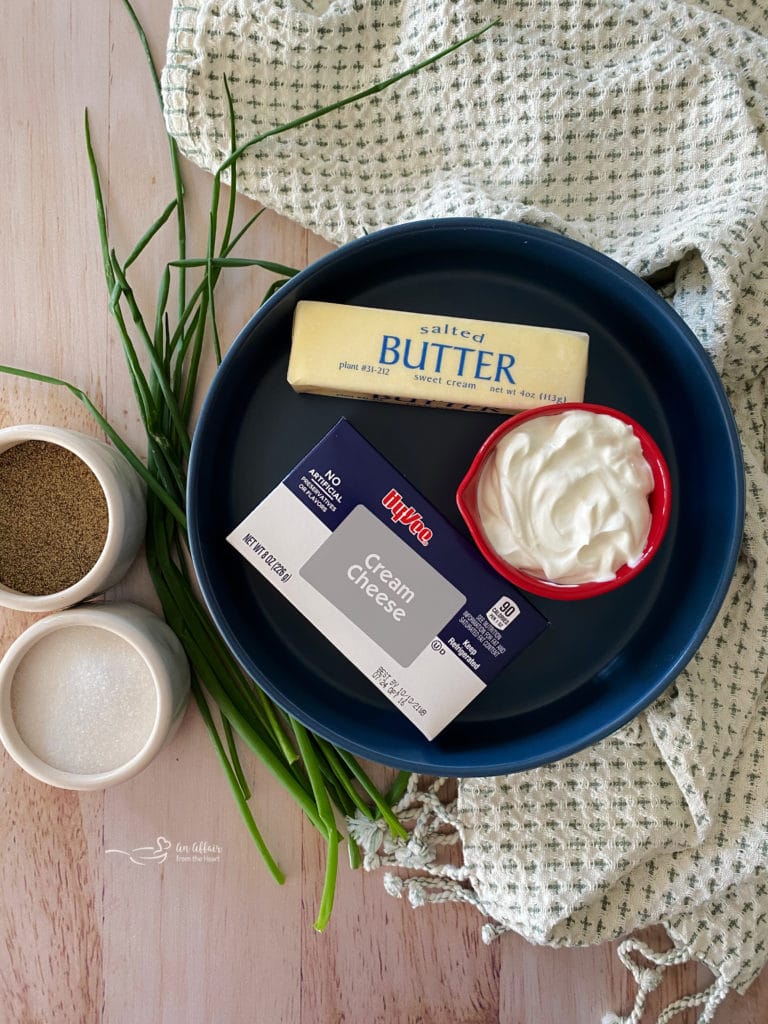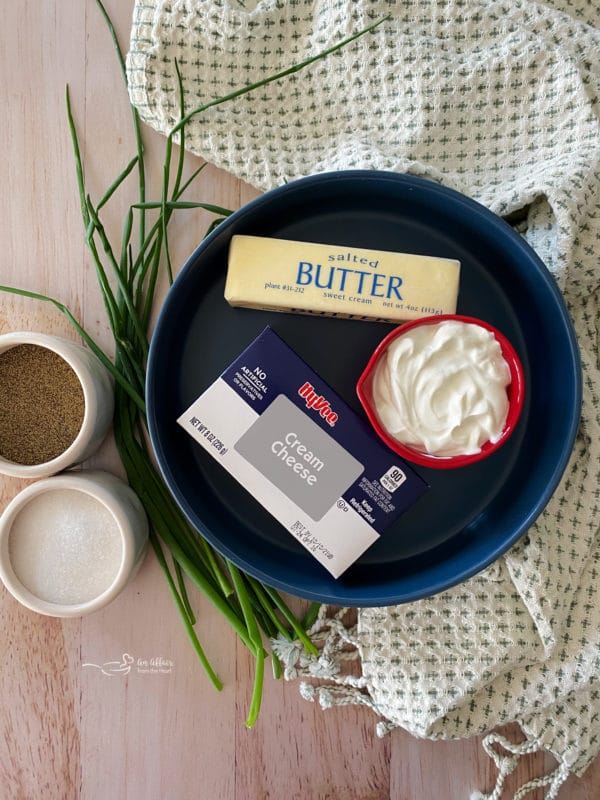 What You Need to make Slow Cooker Mashed Potatoes
Butter- For this recipe, I used salted butter. You'll want to use salted butter because of the extra flavor, but if you don't have salted butter, that's okay: just supplement with salt!
Potatoes- The classic Russet potatoes are needed for these mashed potatoes. Due to how light and fluffy Russet potatoes cook, they are ideal for the fluffiest mashed potatoes.
Garlic powder- What is a mashed potato recipe without garlic? You probably already have this in your pantry!
Broth- I used chicken broth for this recipe, but you can also use vegetable broth, too.
Cream cheese- You'll want to make sure the cream cheese is softened so it can be whipped into the potatoes. The cream cheese is responsible for the extra punch of flavor in this recipe.
Sour cream- Another key component to fluffy mashed potatoes, you'll need to have some sour cream!
Fresh chives- Optional, but highly recommended.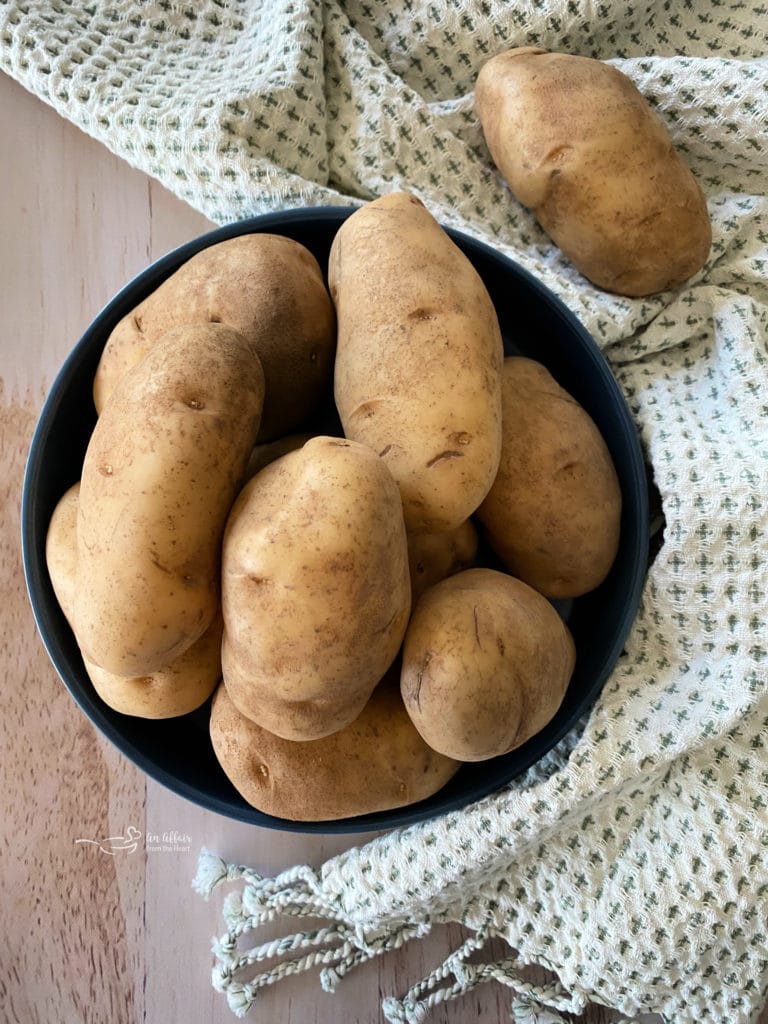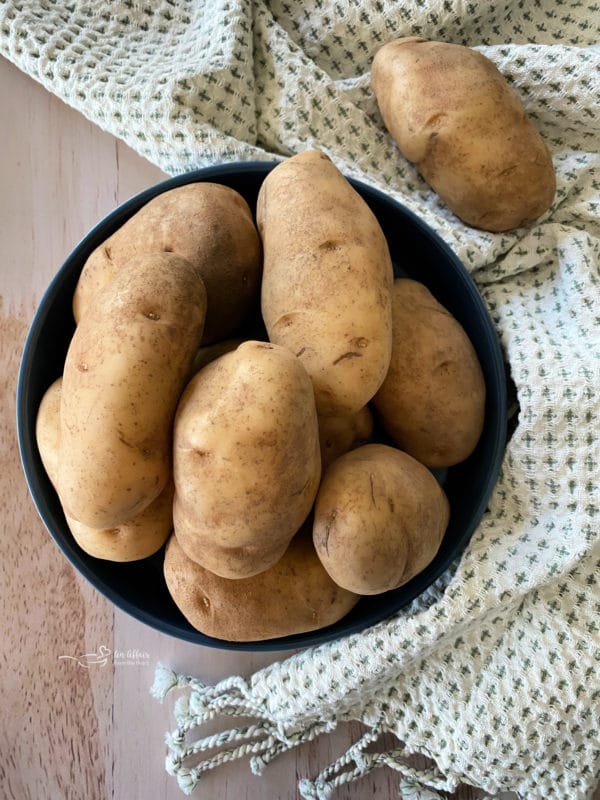 How to Make Mashed Potatoes in a Slow Cooker (Crockpot)
Step 1: Peel and cut the russet potatoes. Place in a bowl and set aside.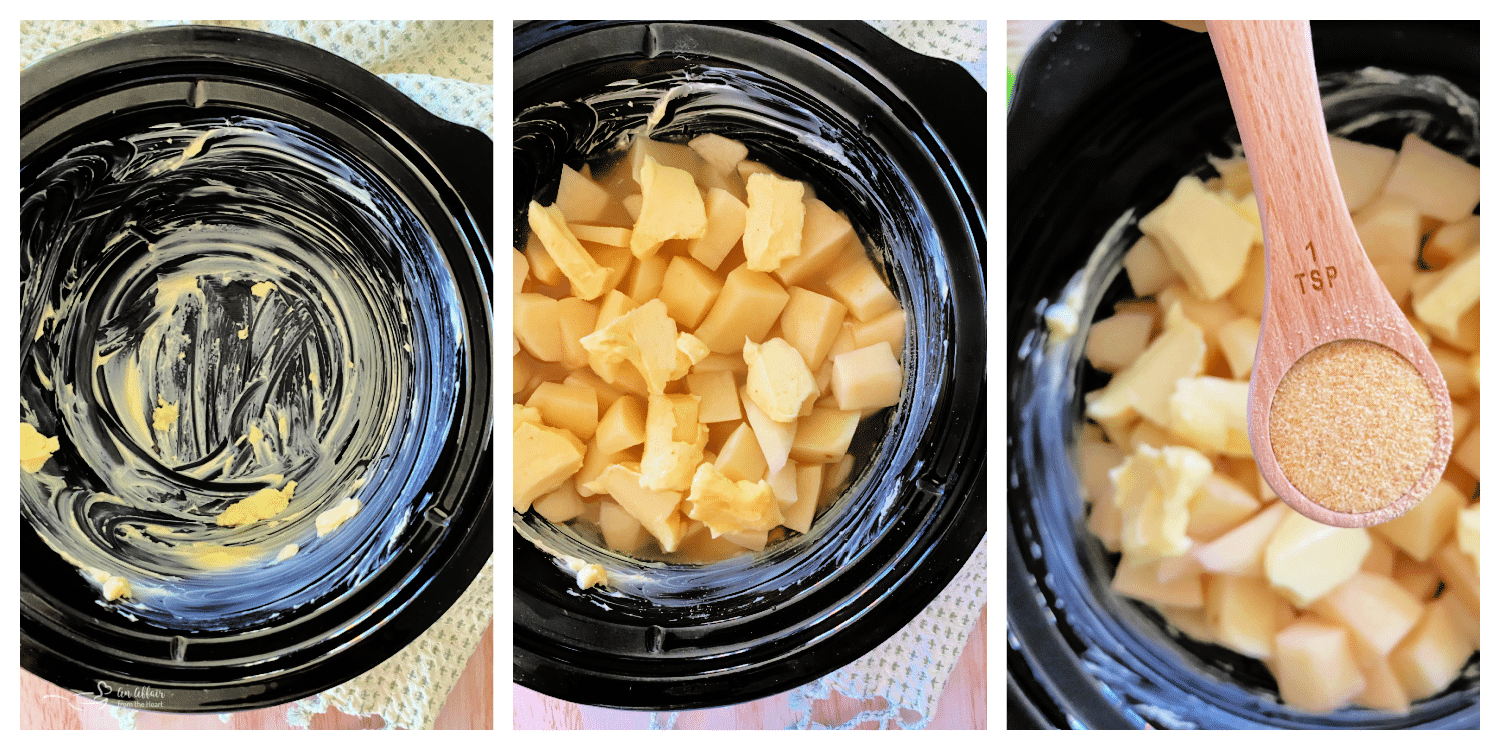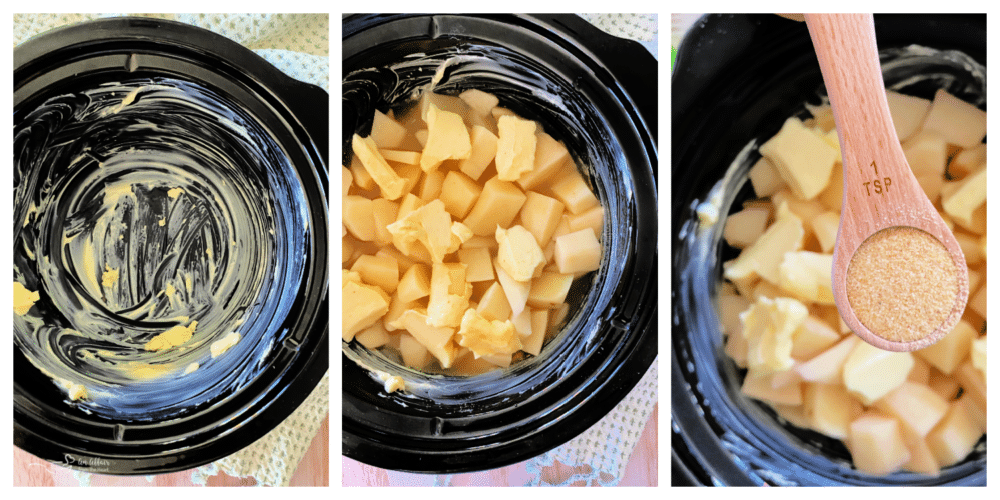 Step 2: Butter the inside of the Crockpot. Set the remaining butter aside.
Step 3: Next, place the cubed potatoes into the slow cooker and top with butter. Sprinkle with garlic powder.
Step 4: Pour the chicken or vegetable stock over the potatoes. Cover and cook on high for four hours or low for six hours. Drain the potatoes.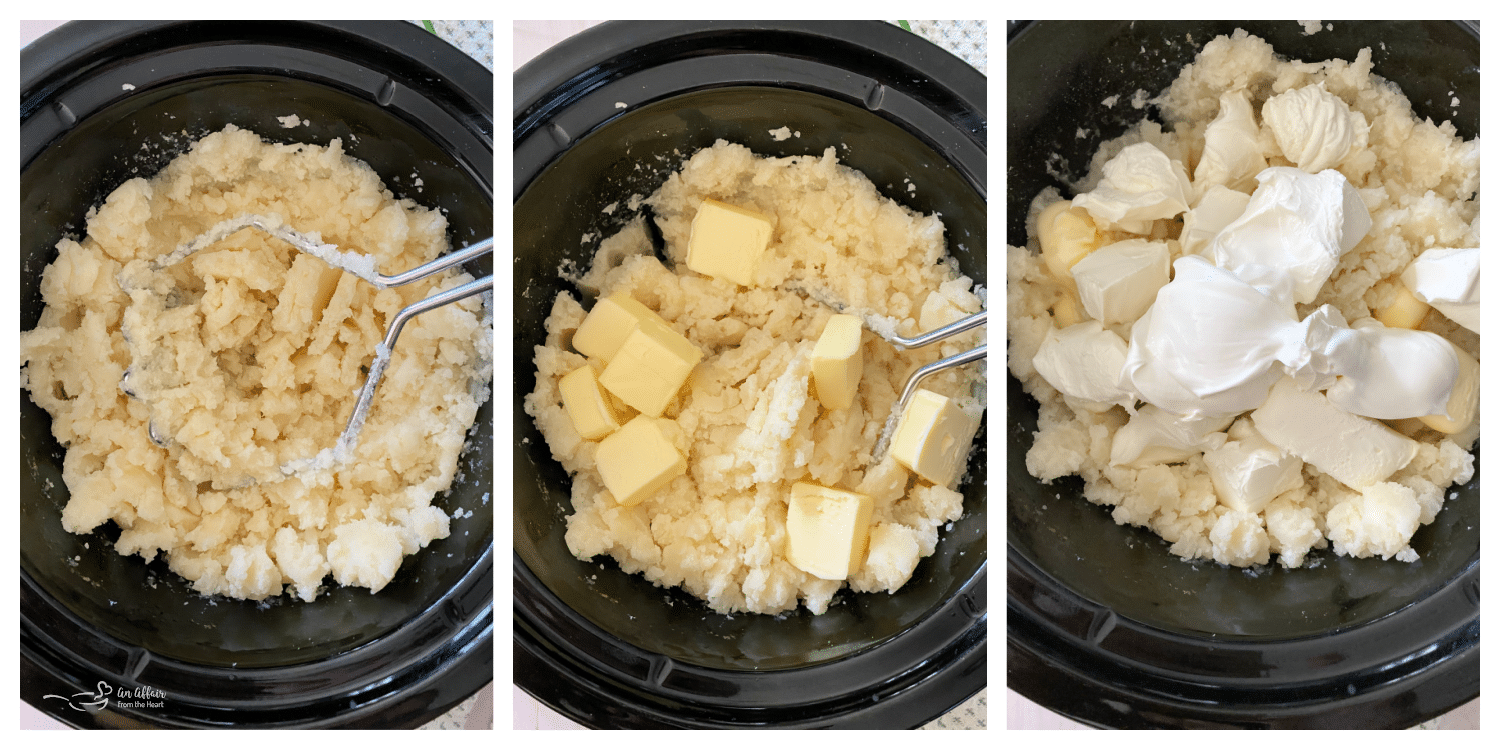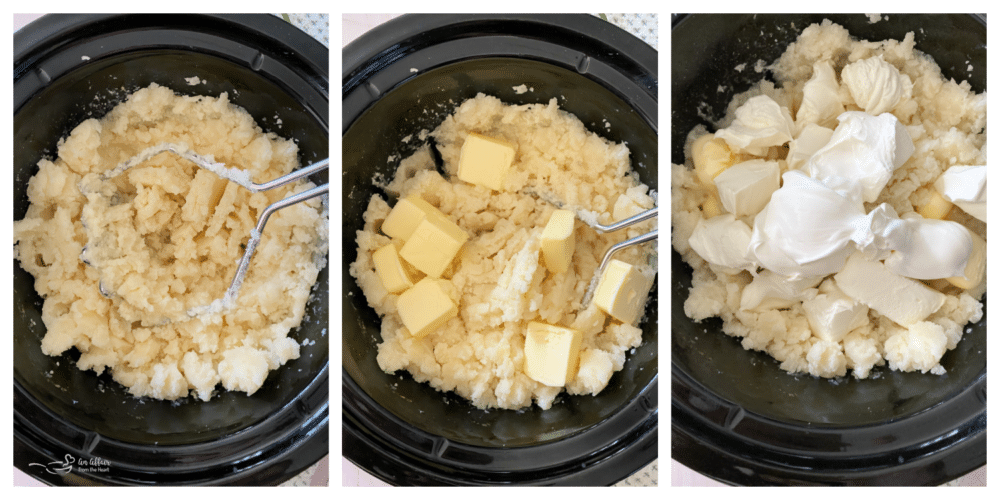 Step 5: Mash the potatoes. Add in the rest of the butter, cream cheese, and sour cream.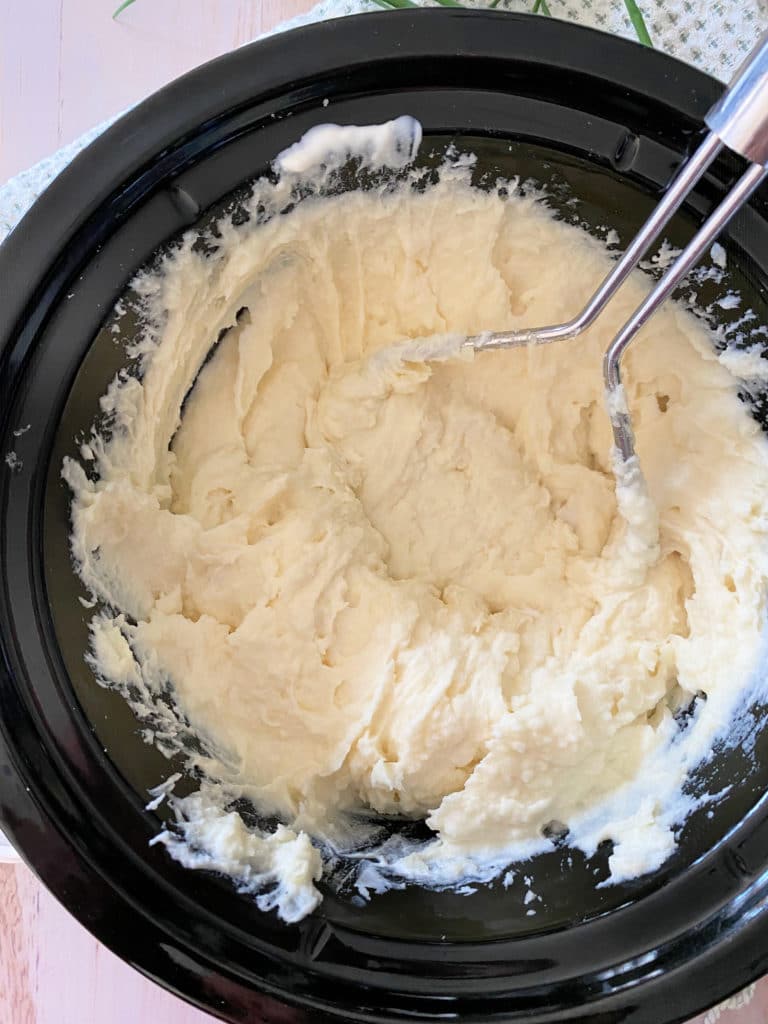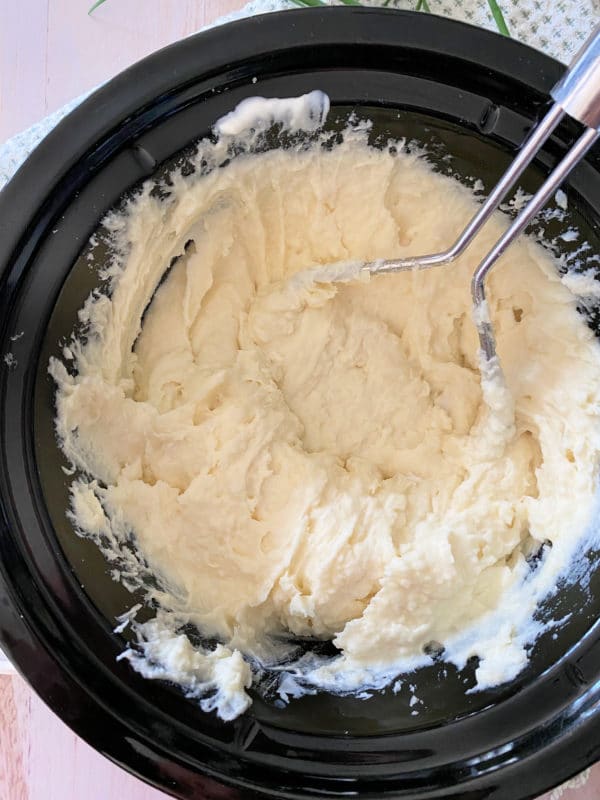 Step 6: Continue to mash the potatoes until they are your desired consistency.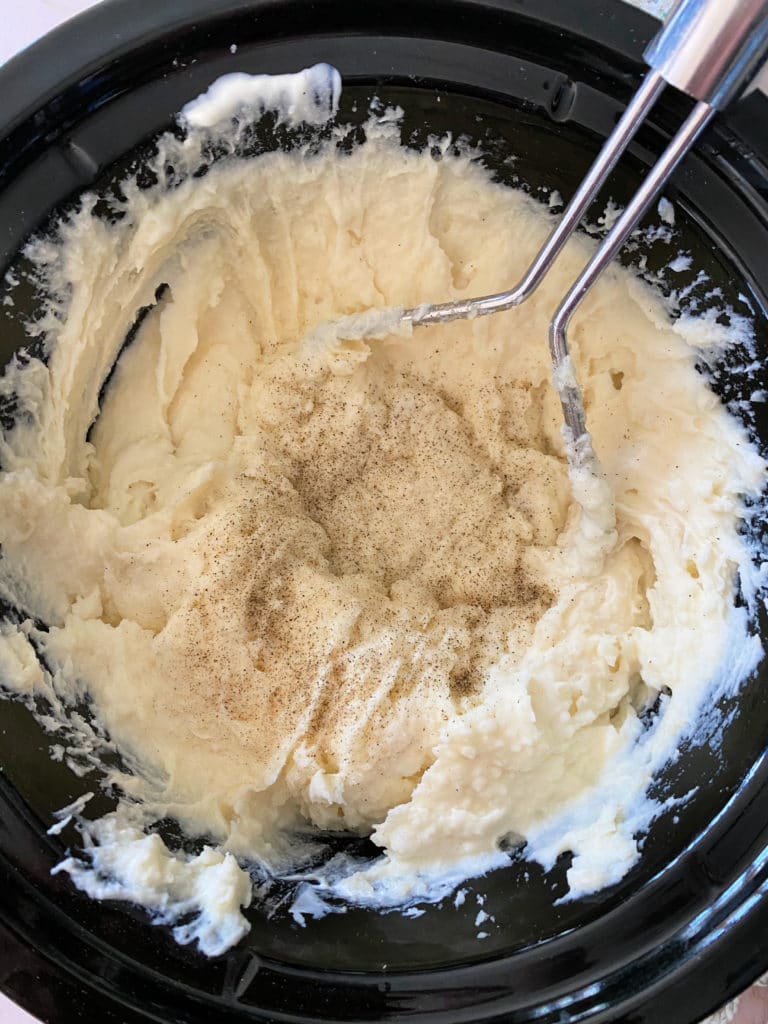 Step 7: Season with salt and pepper. Stir in fresh chives.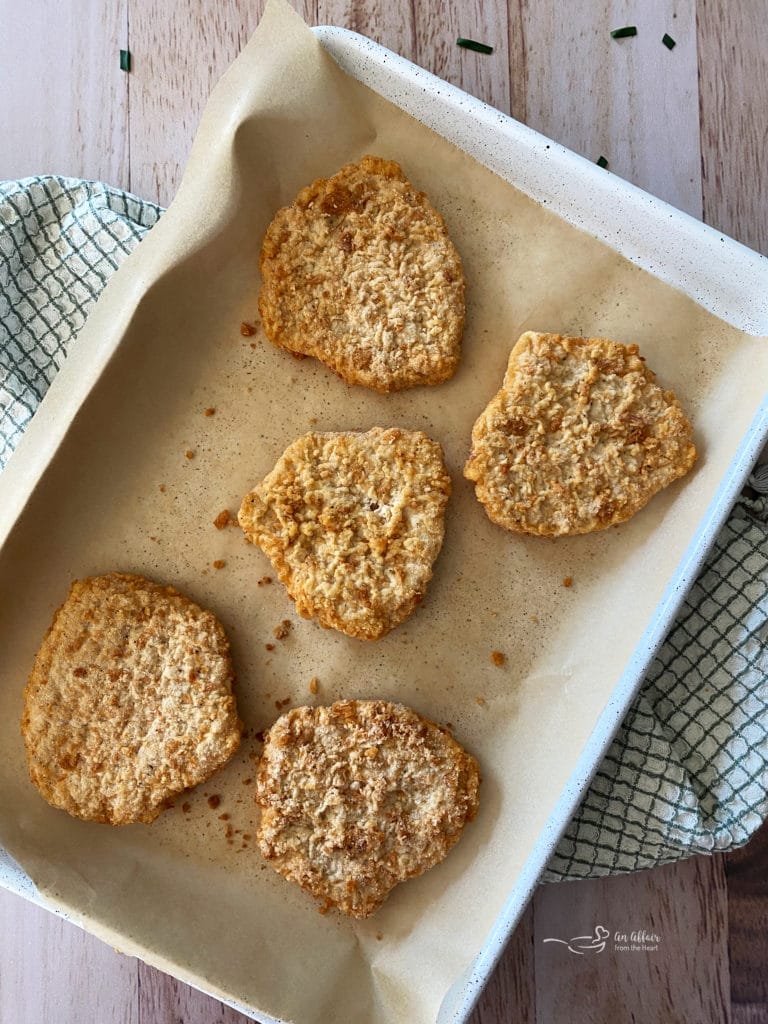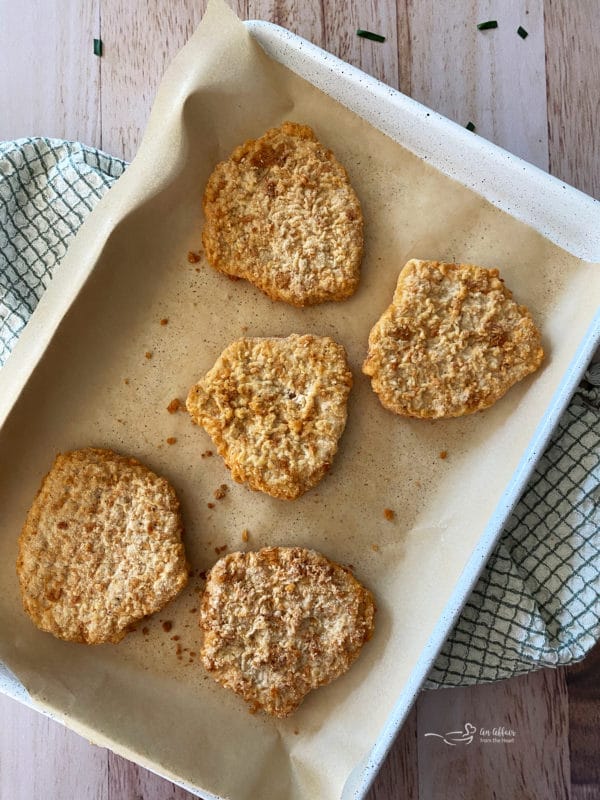 Before I began the mashing of the crock pot potatoes, I placed the chicken fillets onto a baking sheet, lined with parchment paper for easy clean-up. I put them in the oven to bake while I added in the remaining ingredients and mashed my potatoes, covering them and keeping them warm in the crockpot.
On the stovetop, I mixed the gravy. All it takes is water and the packet that is included. It thickened up nicely, and I kept it warm on the stove until we were ready to eat.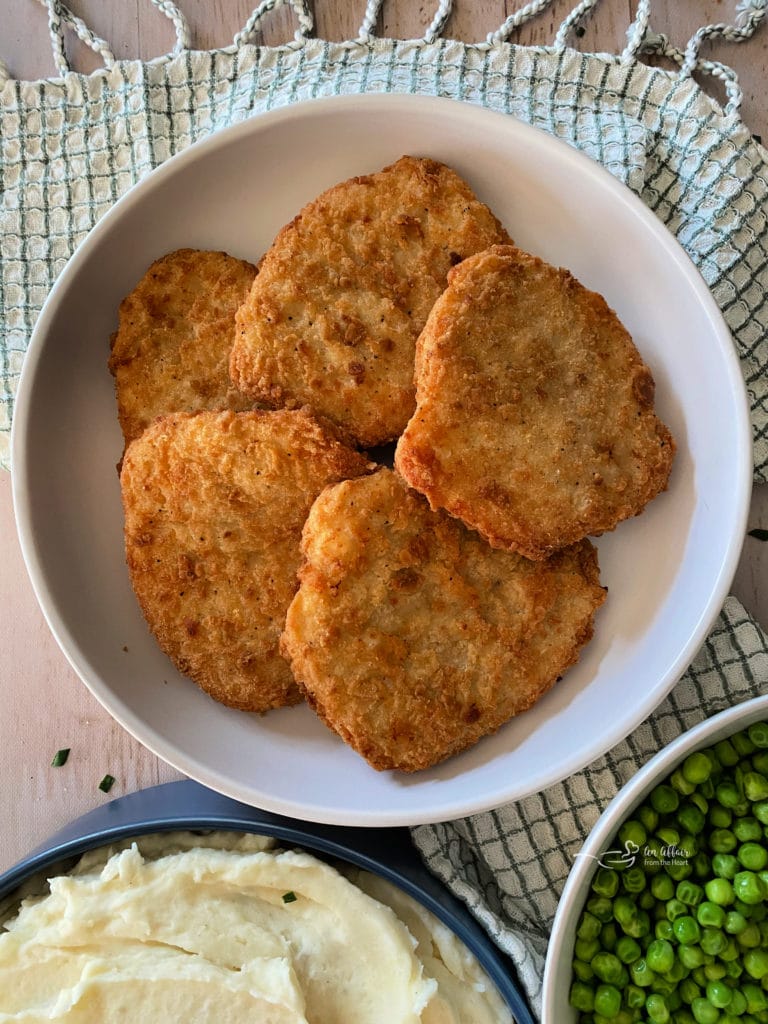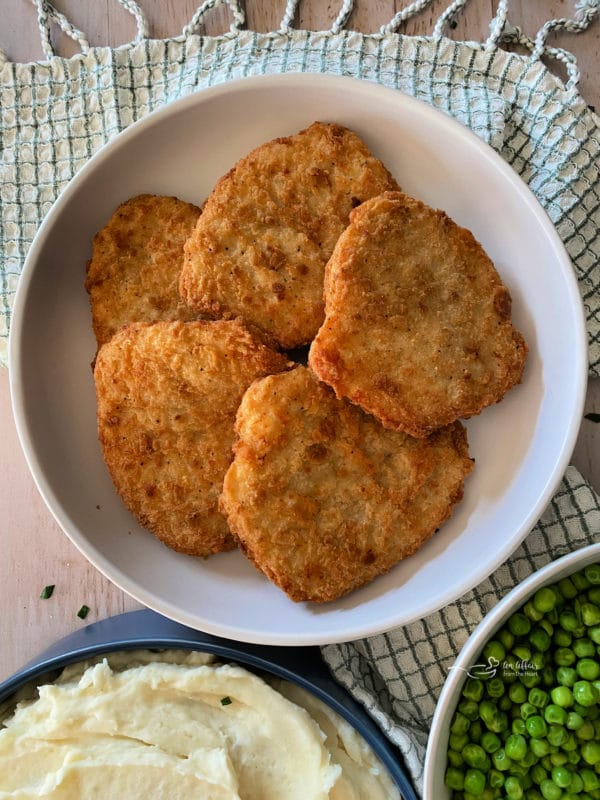 I put some frozen peas in the microwave, and everything was ready for the table in about 25 minutes.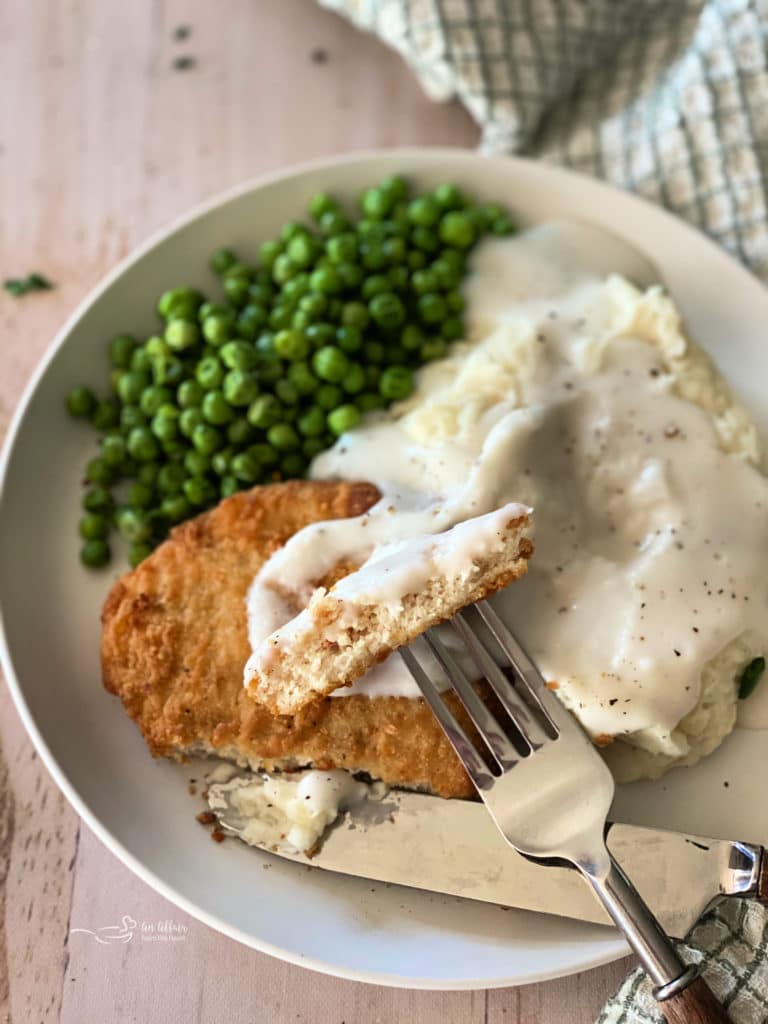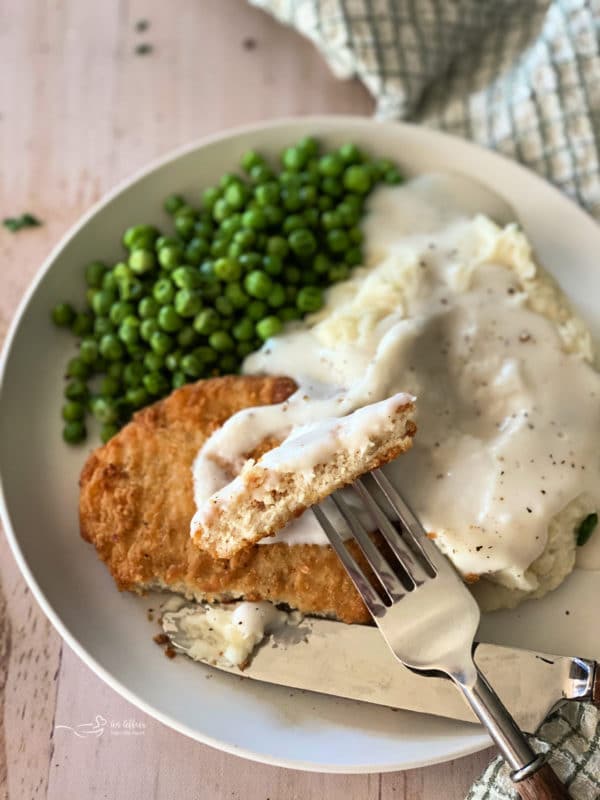 We gathered our family around the table for this simple meal that tastes like one of those comforting Sunday suppers that everyone loved. It was perfection.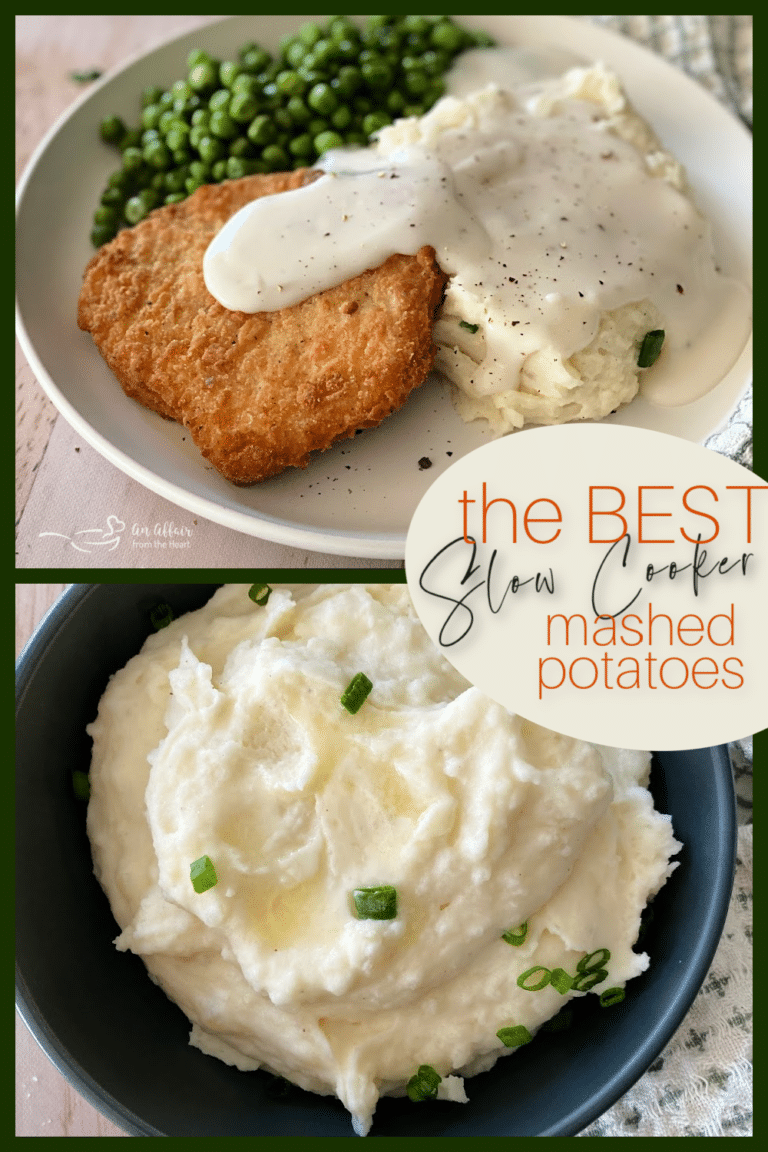 Love it? Pin it!
Don't forget where you found the recipe for the BEST Slow Cooker Mashed Potatoes! Pin them to your favorite Pinterest recipe board before you go!

Can I make mashed potatoes ahead of time and keep them in the slow cooker/Crock pot?
Yes! You can definitely make these ahead of time and warm them back up either in the Crockpot or microwave. If you're wanting to keep the potatoes cooking all day long, we recommend turning the slow cooker to low to cook the potatoes, once they are mashed and ready, turn the setting to the lowest "keep warm" setting until you are ready to eat.
Can you put raw potatoes in the slow cooker/crock pot?
Of course! The raw potatoes just need to have a liquid to cook with so they can become tender as they cook. You can use stock or water!
Why do my potatoes turn black in the slow cooker?
Potatoes turn black because they go through an oxidation process once the flesh is exposed to air. Perfectly normal and fine!
How to Stop That from Happening
You can soak the potatoes in a bowl with something acidic such as vinegar or lemon juice to neutralize the potatoes. This should prevent them from browning!
Tips
If you prefer a more "country style mashed potato", then leave the skins on. I like to use Yukon gold or red potatoes when cooking with the skins on because it adds a rustic look with texture!
Store the leftovers in an airtight container in the refrigerator for up to four days.
If you don't have a potato masher, then you can mash the potatoes with a fork or handheld blender, or mixer.
Where you can find Great American Comfort Classics
Great American Comfort Classics launched its new line at select Hy-Vee stores in Omaha and neighboring Midwest states in April 2021. You will find Comfort Classics in the frozen aisle. But never fear, if you don't live near here, your local supermarket may carry the brand, too! You can find out by checking Great American Brand's website for more details.
If you want to see these delicious comfort food classics in your store, fill out a comment card or ask the store manager if they can get them in for you, and be sure to follow Great American Comfort Classics on their Facebook page for more information and recipes.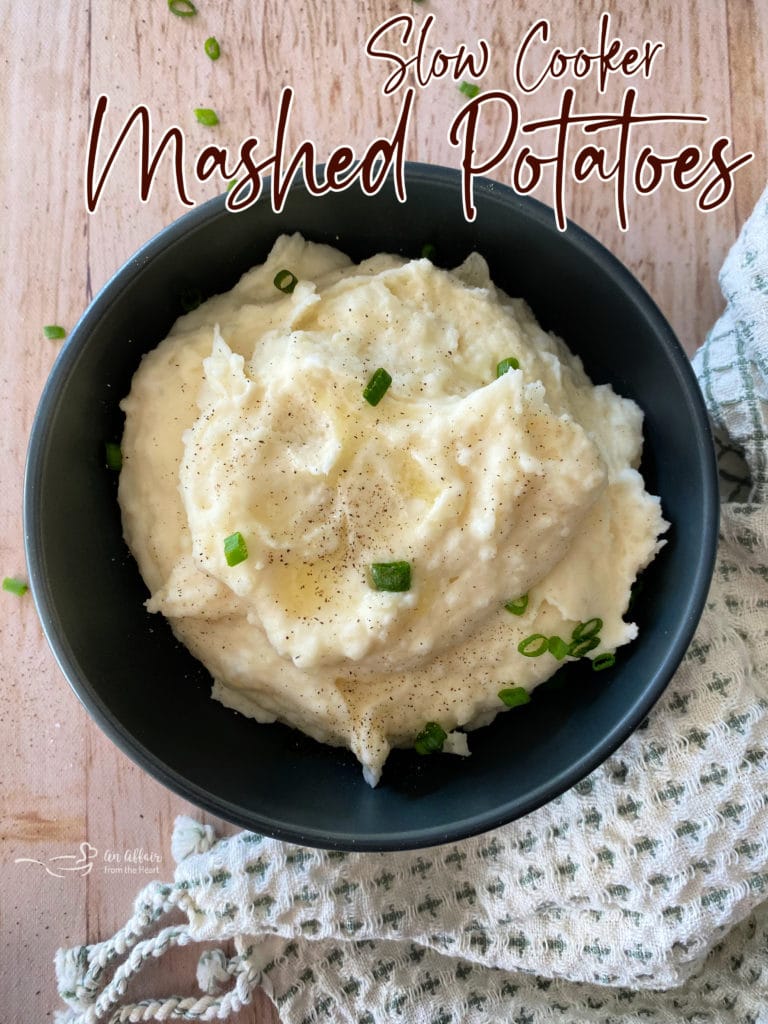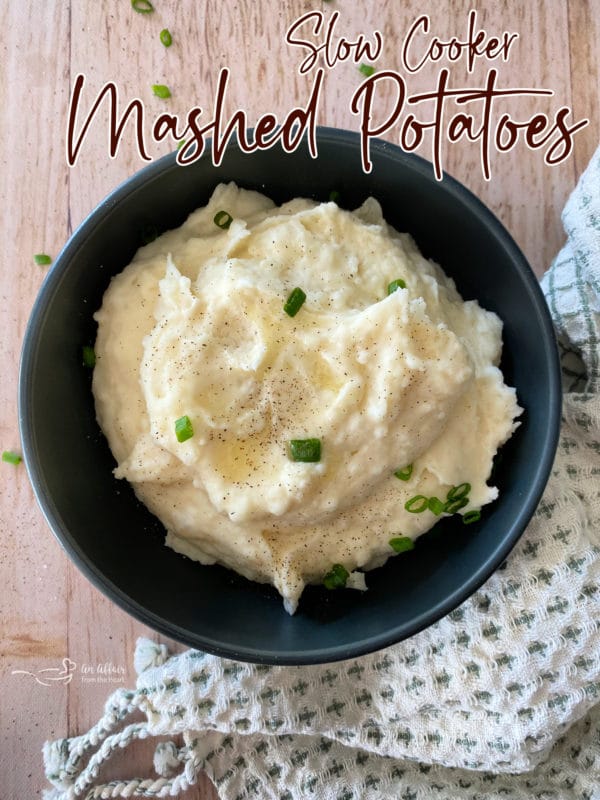 Let's get to the recipe for these simple Slow Cooker Mashed Potatoes!

Yield: 10
The BEST Slow Cooker Mashed Potatoes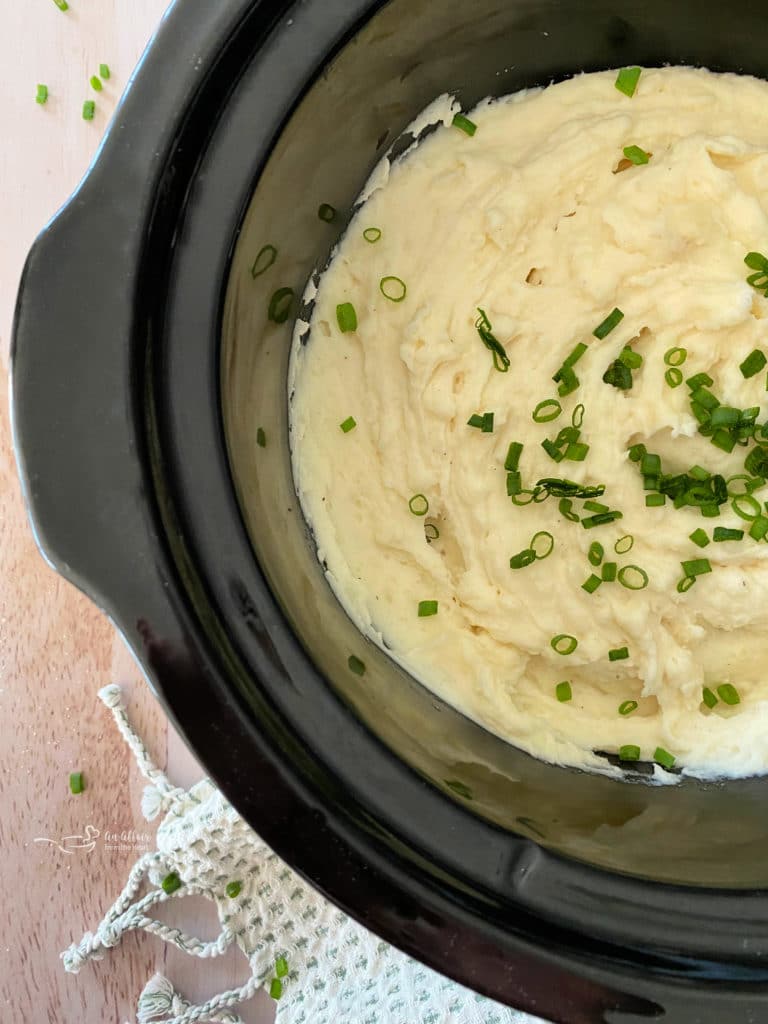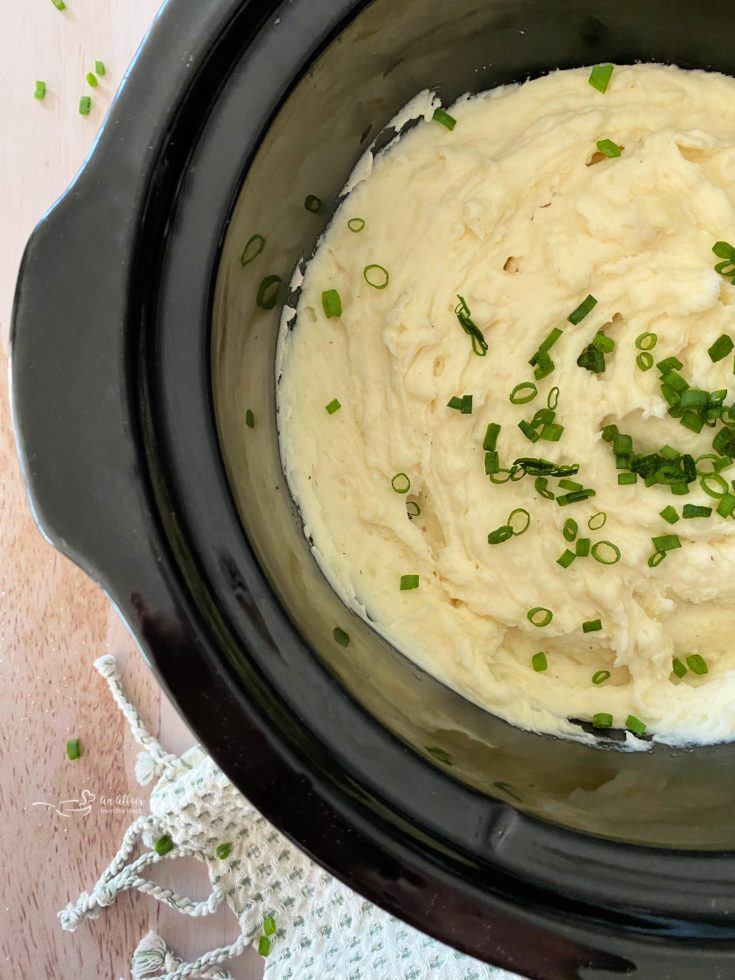 These are the BEST most creamy and decadent mashed potatoes EVER and the slow cooker does most of the work for you! Filled with flavors of garlic, sour cream and cream cheese, butter and chive, you will want to come back for seconds, guaranteed!
Total Time
4 hours
15 minutes
Ingredients
5 pound bag of russet potatoes, peeled and cut into cubes
2 sticks of salted butter (1 cup), divided cut into cubes
1 teaspoon garlic powder
32 ounces (4 cups) chicken or vegetable broth
8 ounces cream cheese, softened and cubed
1/3 cup sour cream
Salt & Pepper, to taste
fresh chives, optional
Instructions
Using part of one stick of butter, butter the inside of your crock pot. Cube the remaining and set aside.
Place cubed potatoes into the slow cooker and top with remaining butter cubes. (from the first stick - reserve the other stick)
Sprinkle with garlic powder.
Pour chicken stock over potatoes. Cover and cook on high for 4 hours, or on low for 6. Potatoes will be fork tender when they are done.
Carefully drain the liquid from the slow cooker and place the potatoes back into the cooker.
With a potato masher, mash your potatoes.
Add in the remaining stick of cubed butter, the cubed cream cheese and the sour cream. Continue to mash them until they are your desired smoothness.
Salt and pepper to taste and add in fresh chives if desired.
Keep warm in the crockpot until ready to serve.
Recommended Products
As an Amazon Associate and member of other affiliate programs, I earn from qualifying purchases.
Nutrition Information:
Yield:
10
Serving Size:
1
Amount Per Serving:
Calories:

317
Total Fat:

28g
Saturated Fat:

17g
Trans Fat:

1g
Unsaturated Fat:

8g
Cholesterol:

76mg
Sodium:

2384mg
Carbohydrates:

13g
Fiber:

0g
Sugar:

5g
Protein:

4g
Please note that nutrition is not guaranteed accurate.