How to Prepare Turkey & Turkey Gravy like a Pro
As an Amazon Associate and member of other affiliate programs, I earn from qualifying purchases.
You don't have to be a seasoned cook to be able to prepare a turkey and turkey gravy for a big meal. It's really so much easier than you think! These how to recipes will teach you how to make a perfectly golden turkey, with homemade turkey gravy.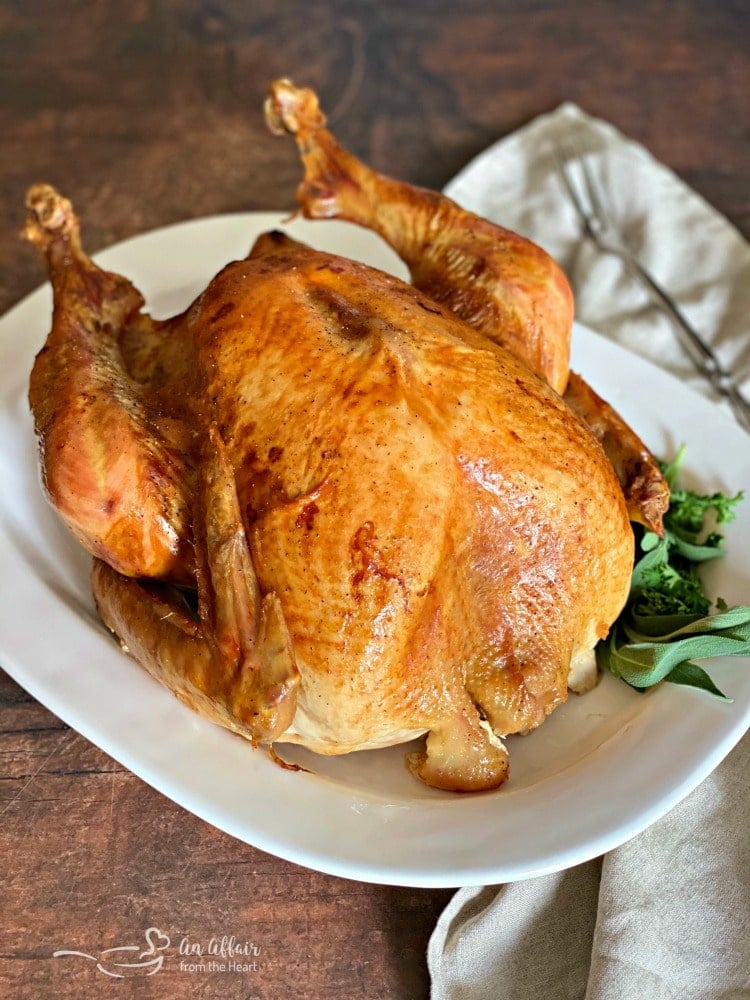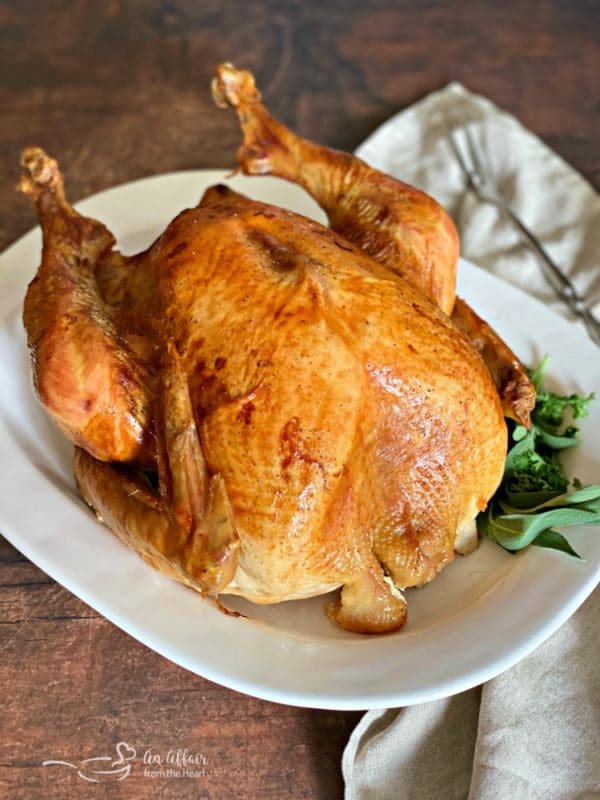 About two weeks ago, my mom came and spent the day with me. She came at 8 in the morning, and we spent the whole day together, preparing her traditional Thanksgiving meal. All of the components of the meal, I have made myself, but I have never photographed them. So she and I worked side by side that day and prepared my favorite meal of the whole year.
It's a day I will always cherish, and one where you get to enjoy the recipes. Because I think that my mom's Thanksgiving dinner is the best. I may be biased, but that's how I feel.

Turkey and Turkey Gravy Time!
Time to think about cooking a turkey and making turkey gravy! My husband loves Thanksgiving and I have to agree. It is one of my favorite holidays. Our Thanksgiving meals are packed with traditions and we love the time spent with family and of course… the food!
With the holiday season approaching fast, that sends many of us into something like a panic attack. Not me, l love the holidays and the idea of cooking great big family meals represents something joyful. I always look forward to it.
Of course, I am lucky to feel so prepared and that is half the stress for many people. Hopefully sharing my secrets for a successful holiday meal can help reduce your anxiety about the holidays. At the very least, it's worth a try!
Even just a little thing like baking a perfect turkey and making delicious turkey gravy, can make everything a bit better. Bringing the turkey out of the oven, and getting the gravy together gets appetites into overdrive. You can't go wrong from there.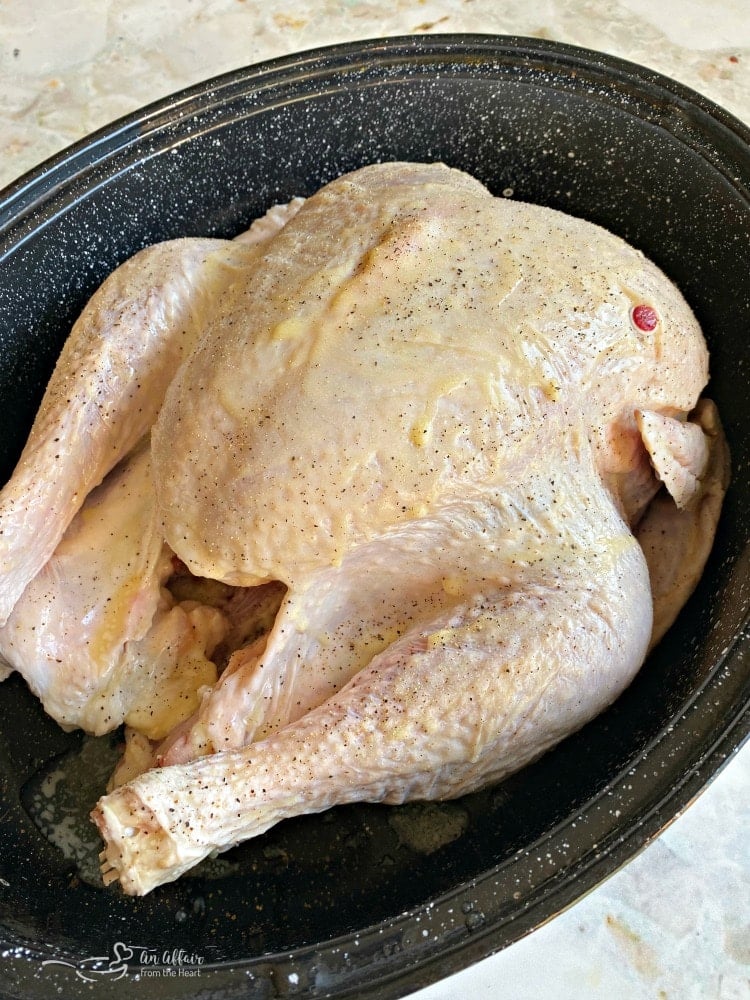 Turkey basted with melted butter and seasoned with salt and pepper.
All you really need to make the perfect turkey are four components. Of course, the turkey, a good roaster, preferably with a lid, a meat thermometer, and some butter and salt and pepper to season the skin.

Baking A Turkey
Fundamentally, baking the turkey doesn't have to be terribly complicated. You just have to season the bird well, and make sure that your skin will crisp up. Then, make sure you can measure the internal temp properly.
First, make sure your turkey is fully thawed before you begin. You can't thaw a turkey overnight, so be prepared to thaw it in the refrigerator for a couple of days prior to baking. You can thaw a turkey in your kitchen sink in a pinch, but you need to take care when doing so.
Thawing a turkey in a sink full of cold water is faster than thawing in the refrigerator, but it's not safe to leave it in the sink to thaw overnight. Keep the wrap on your turkey and place it in a large, leakproof plastic bag. Place it in a sink filled with cold water and immerse the turkey. It will take about 30 minutes per pound to defrost. Change the water every 30 minutes, turning the bag over occasionally.
Brushing melted butter on the skin of the turkey will help the skin brown and crisp up, giving you that perfect golden brown bird. The only seasoning I ever use is a sprinkling of salt and pepper.
Typically, I stuff my turkey with Sausage & Sage Stuffing. It's my favorite part of the meal, and we have always prepared turkey this way.
If preparing the stuffing inside the bird weirds you out, I get it. Just cook it separately, and follow the package instructions for how long to cook a stuffed turkey vs. one that isn't.
Some birds these days come with built-in thermometers. Those are nice, but I just never trust them. Keep a good meat thermometer handy. Make sure you stick it in the thickest meat of the thigh and to face it so you can see it when you pop the bird in the oven.

How long do I cook a Turkey?
You want the oven to be 325 degrees F. and you can expect about 13 to 15 minutes per pound cooking time. This 15-pound bird was done in about 4 hours.
Bake it uncovered at first, you'll want to baste it a couple of times per hour while it bakes. Halfway through you will cover it, either with the lid or with a foil "tent." Continue basting a couple of times per hour until the internal temperature reaches 185 degrees F. and the turkey is done.
When you pull the bird from the oven, tip it to let some of the hot juices run free from the cavity into your roasting pan. These are the super flavorful pan juices that you will use to build your gravy.

At my Mom's we all have our "duties" when it comes time to getting everything ready for the table. My brother carves the turkey, the hubs mashes the potatoes, my mom helps the others get all of the sides in dishes and to the table. My job has always been making the gravy.

Making Perfect Turkey Gravy
There are two schools of thought on turkey gravy, with or without giblets. Both are wonderful and it comes down to just personal preference. My preference is for giblets in. I think it adds so much flavor!
For using the giblets, take that packet that contains the neck, liver, heart, and gizzards and add them all to a saucepan. Cover them with turkey or chicken stock and bring them to a boil. When they are fully cooked, then remove the giblets and set the stock aside.
Take the giblets and chop them up. The meat on the neck will pull off easily. Just make sure it is cool enough to touch first! Add them to the stock, and keep in the fridge until you are ready to make your gravy.
When you can take the turkey out of the pan, add the giblets and stock to the pan juices. I prepare mine right in the roaster on the stove over medium heat.
Make a flour/milk mixture in a mason jar, either shake it or use an emulsion blender to combine it. You don't want any lumps! Gradually add the mixture to the stock and stir to thicken.
Salt and pepper to taste.
Pour into your gravy server and you are ready to go! I always keep the extra gravy on the stove, on low, to keep it hot for when the gravy boat needs to be re-filled.
My Family Recipes For Thanksgiving Sides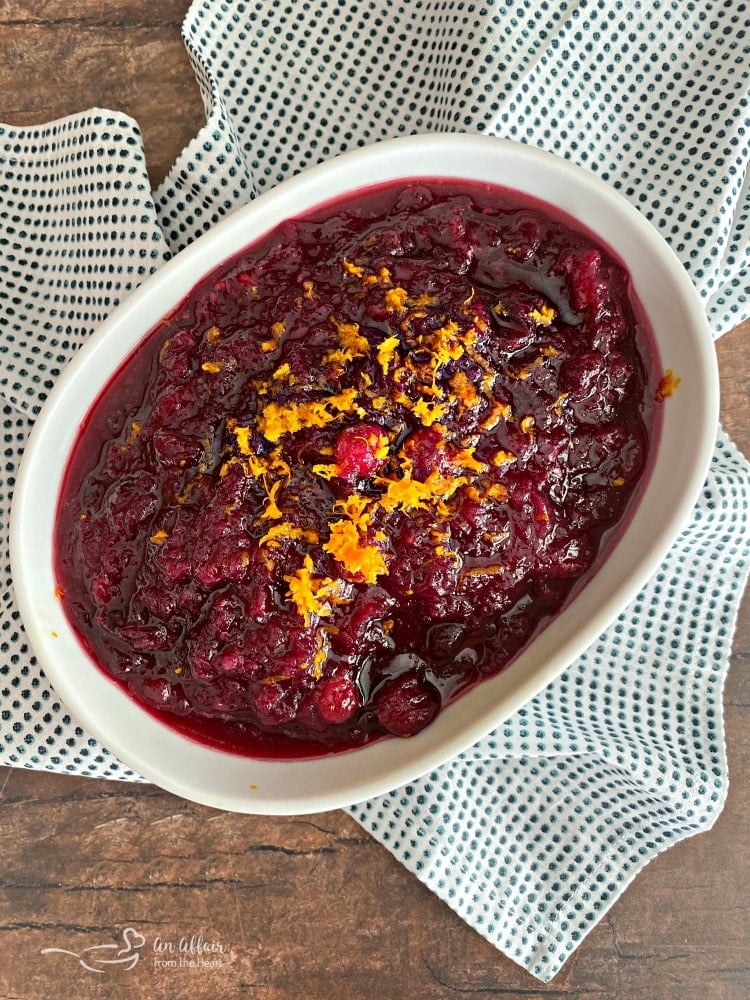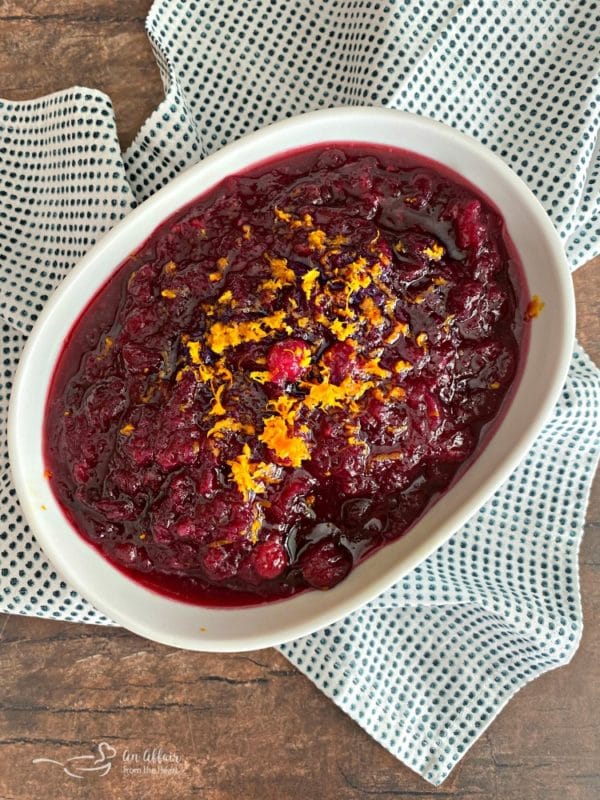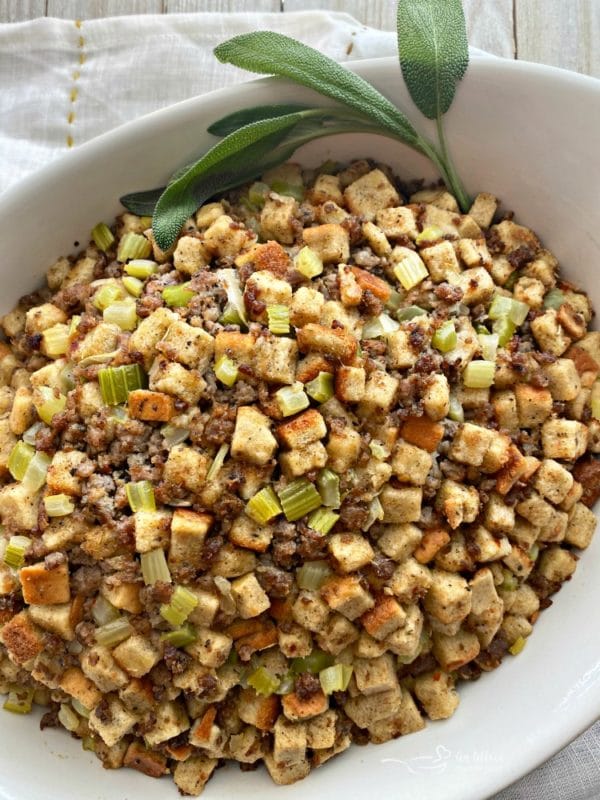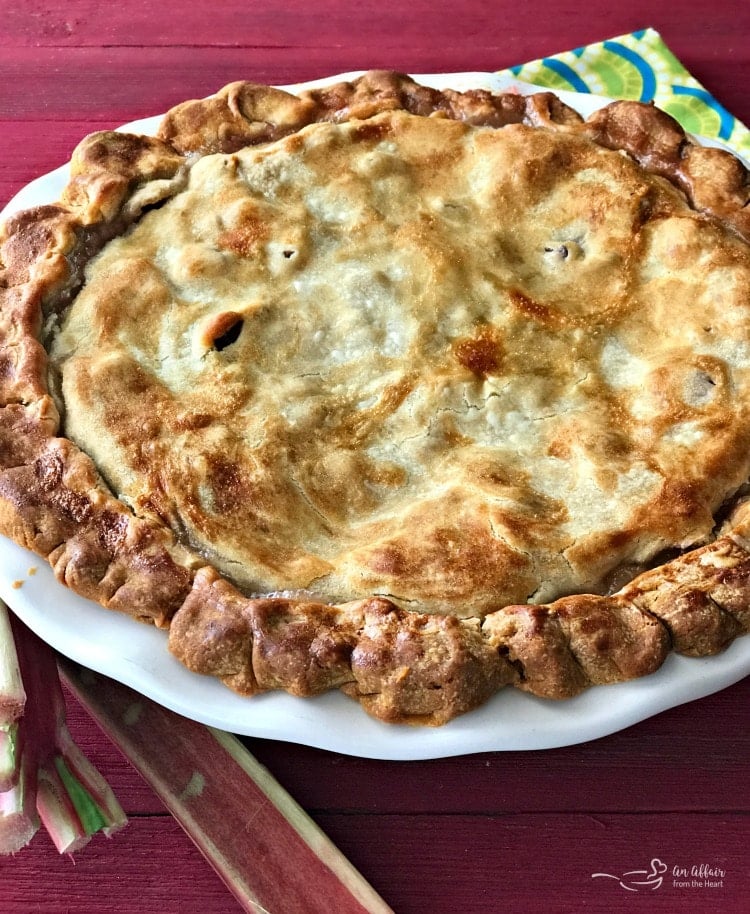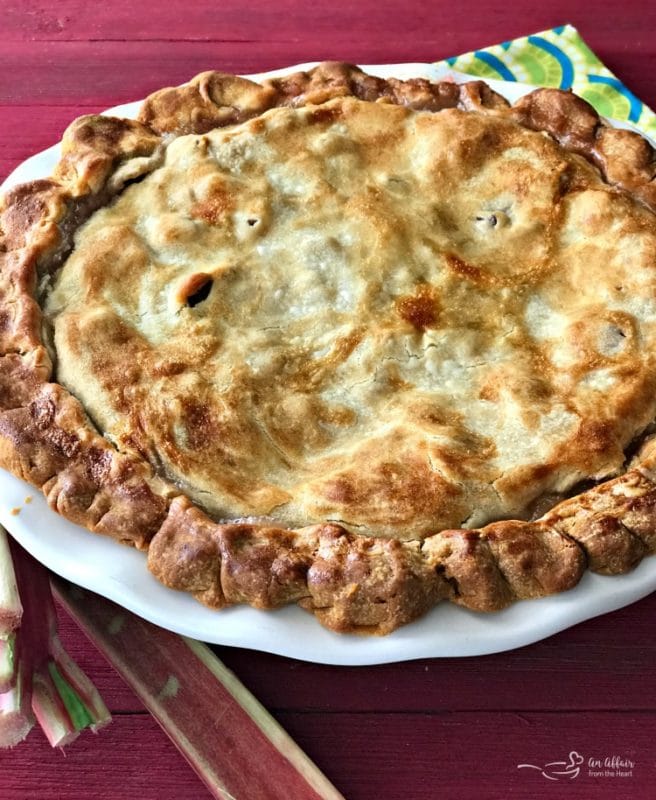 I hope you enjoy the holidays and your turkey and turkey gravy bring smiles and fill appetites! Have a happy and blessed holiday season. Don't stress, all that matters is quality time with your loved ones!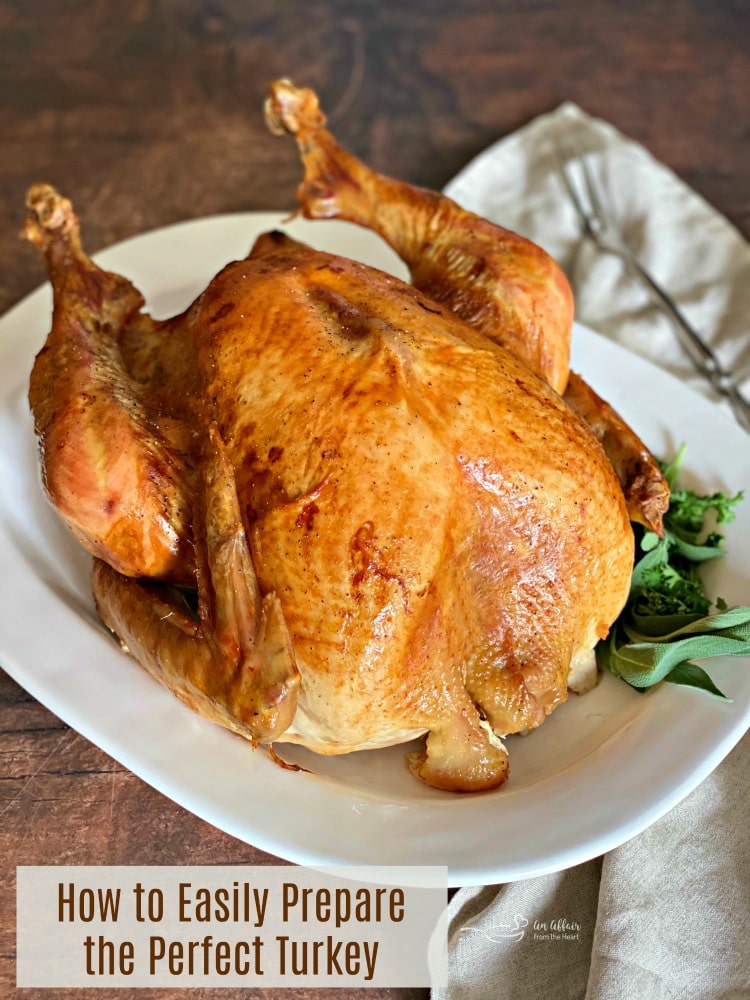 Shall we get to these easy instructions and recipes to prepare a turkey and turkey gravy? I think so!

Yield: 15 pound Turkey
How to Prepare Turkey & Turkey Gravy Like a Pro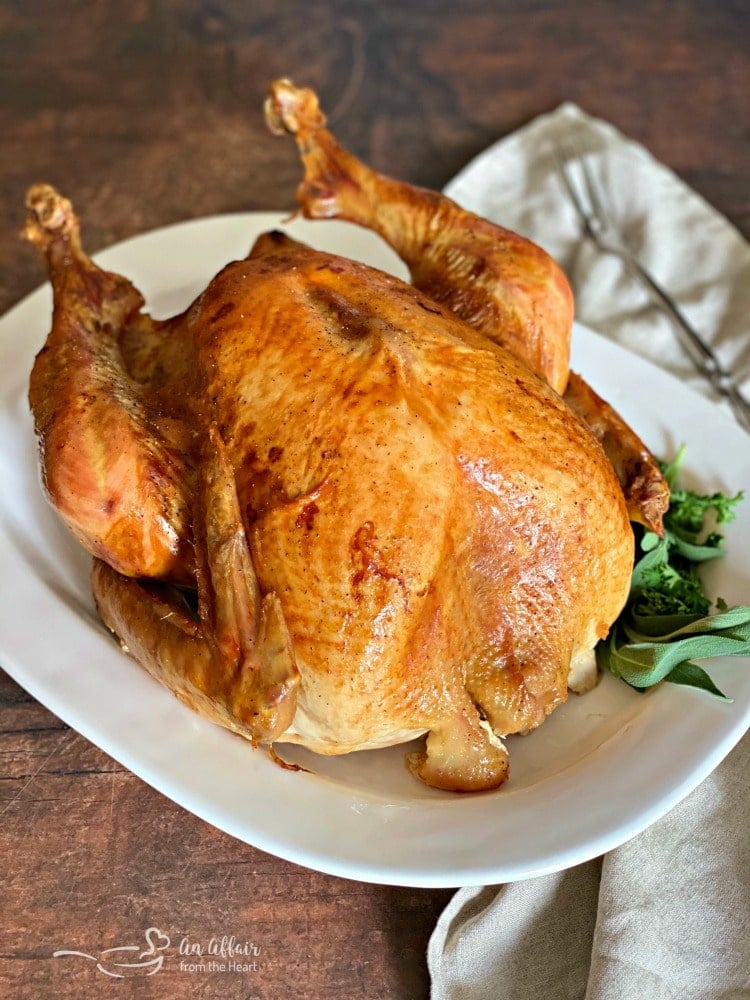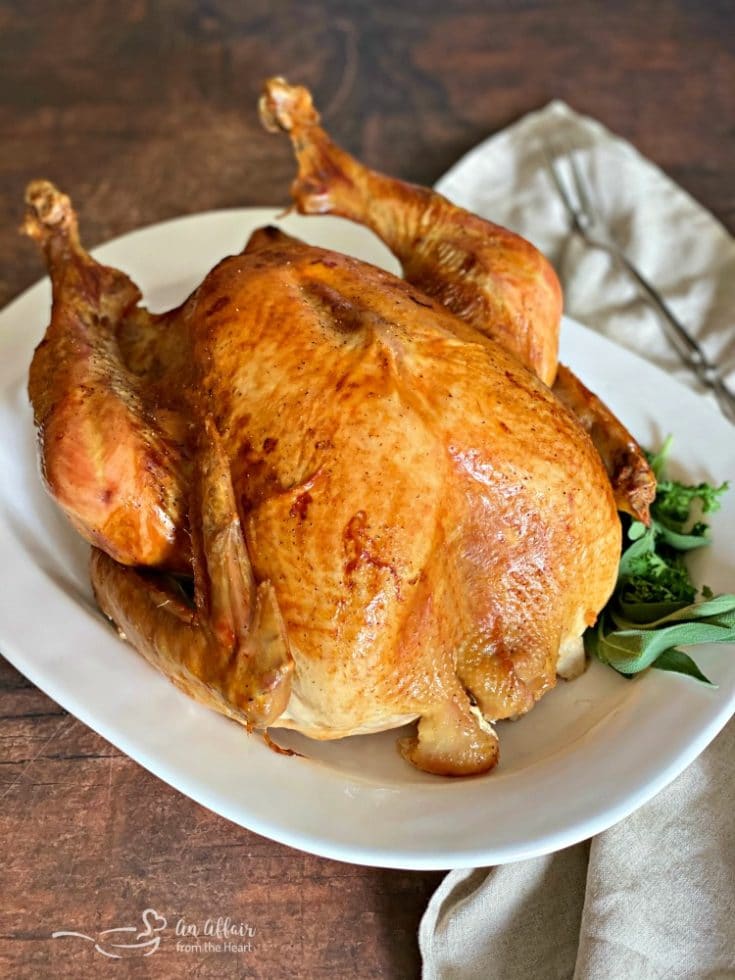 You don't have to be a seasoned cook to be able to prepare a turkey and turkey gravy for a big meal. It's really so much easier than you think! These how to recipes will teach you how to make a perfectly golden turkey, with homemade turkey gravy.
Total Time
4 hours
15 minutes
Ingredients
1 (15 pound) whole turkey with giblets
32 ounces Chicken or Turkey Stock
1 cup water
1 stick melted butter
1 1/4 cup flour
2 cups milk
Salt & Pepper
Instructions
Remove the giblets from the defrosted turkey, set aside. Rinse the turkey inside and out with cool water.
Place turkey in a roaster, breast side up.
Brush turkey all over with melted butter. Salt and pepper generously.
If you are stuffing the bird, now is the time.
Bake according to the weight of your turkey per package instructions. Bake uncovered until the turkey becomes golden brown. (about halfway through baking time/2 hours for this sized bird) Baste turkey a couple of times per hour while it bakes. Then cover and bake until a meat thermometer reaches an internal temperature of 185 degrees F. Place the thermometer in the thigh meat. If the turkey has a popper, don't rely on that. Check it periodically before and after it pops. Continue basting throughout the baking process.
Typically I prepare the giblets the day before I make my turkey, but you can do it while the turkey is cooking, too. The giblets and the stock they provide will be added to the turkey gravy.
In a pot on the stove, cover giblets with 32 ounces of chicken or turkey stock, and give them a good sprinkling of salt and pepper. I also add in a small onion diced and the leaves from a bunch of celery stalks. Cover them and bring them to a boil. Turn down and simmer them for one hour. Add in one cup of water.
Remove giblets, chop the meat up fine, removing any skin or bones. Drain the stock, and pour into a mason jar, add chopped meat and store in the fridge until you are ready to make your gravy.
When the turkey is done, remove it from the roaster to carve. Place the roaster on the stove, we always use two burners. Turn the temperature to medium and get the juices from the bird boiling. Add in the giblet stock.
Mix flour and milk in a jar by shaking, or use your emulsion blender. Make sure there are no lumps! Slowly pour into the roaster and stir to thicken your gravy. You might not need all of the milk mixture, as some turkeys will produce more juice than others. Taste and salt and pepper as needed.
Notes
Remember to make adjustments based on the size of the turkey.
Baking time will differ if your turkey is stuffed or unstuffed. This time my bird was unstuffed.
Hint: Keep the extra gravy hot on the stove while you eat to fill up that gravy boat when it becomes empty!
Recommended Products
As an Amazon Associate and member of other affiliate programs, I earn from qualifying purchases.
Nutrition Information:
Yield:
15
Serving Size:
1
Amount Per Serving:
Calories:

273
Total Fat:

16g
Saturated Fat:

7g
Trans Fat:

0g
Unsaturated Fat:

8g
Cholesterol:

117mg
Sodium:

167mg
Carbohydrates:

10g
Fiber:

0g
Sugar:

0g
Protein:

21g
nutrition isn't guarantedd accurate.