Pecan Pie
As an Amazon Associate and member of other affiliate programs, I earn from qualifying purchases.
A golden, flaky crust filled with sweet caramel buttery filling and pecans. This pecan pie has received rave reviews from all who have eaten it!
Honestly? I have never really cared for pecan pie. Many may gasp, but I didn't grow up with it, and pecans were never my favorite.
Gimme peanuts and chocolate or ooooo…cashews…but pecans?
Not so much.
So when I took pie orders for Thanksgiving, I had to do a little research and asked for Pecan Pie loving TASTE TESTERS.
I had quite a few takers.
I hope you enjoy it as much as the pecan pie lovers in my life did!
This pie recipe was originally posted in December of 2013, and updated in 2019.

Fan Favorite Pecan Pie
Those picky Pecan pie fans love this recipe and I am pretty proud of myself on this one. Doing a recipe for pecan pie, which I am definitely not a fan of, is challenging. I like to taste what I make so I can give my personal "thumbs up".
Making something that I personally don't really care for is a bit of a challenge. So when my tasters gave it their mark of approval, I was super happy! Like jump up and down in the kitchen and do the happy dance happy.
I kind of feel like if I can make something that is out of my comfort zone halfway edible, then I am doing ok. The fact that they loved my pecan pie just made me positively downright giddy!

Pecans Are Pretty Interesting Actually
I had to learn a bit about pecans if I was going to make a pecan pie, so I did learn a few cool things to know.
Humble Pecans apparently have the most healthy fats of any nut! Wow, who would've guessed, right? But yes, pecans are actually pretty darn good in terms of being nutty.
Also, Pecans are also super high in protein and vitamin E. All good there. I mean if you are going to be making a sugary treat like pecan pie, it is still good to know that you have some health benefits in there as well.
At the very least, you don't have to feel quite as guilty about grabbing that second slice…
And just to add to that, Pecans also are a great source of vitamin B1 (thiamin) and also stacked in crucial minerals too. So, pecans really do have a purpose. I may have to give pecan pie another try. The taste buds are always changing right?
American pecan farmers deserve a big round of applause too. I learned that the USA produces 80% of the world's pecans. Maybe we should be saying "As American As Pecan Pie" from now on…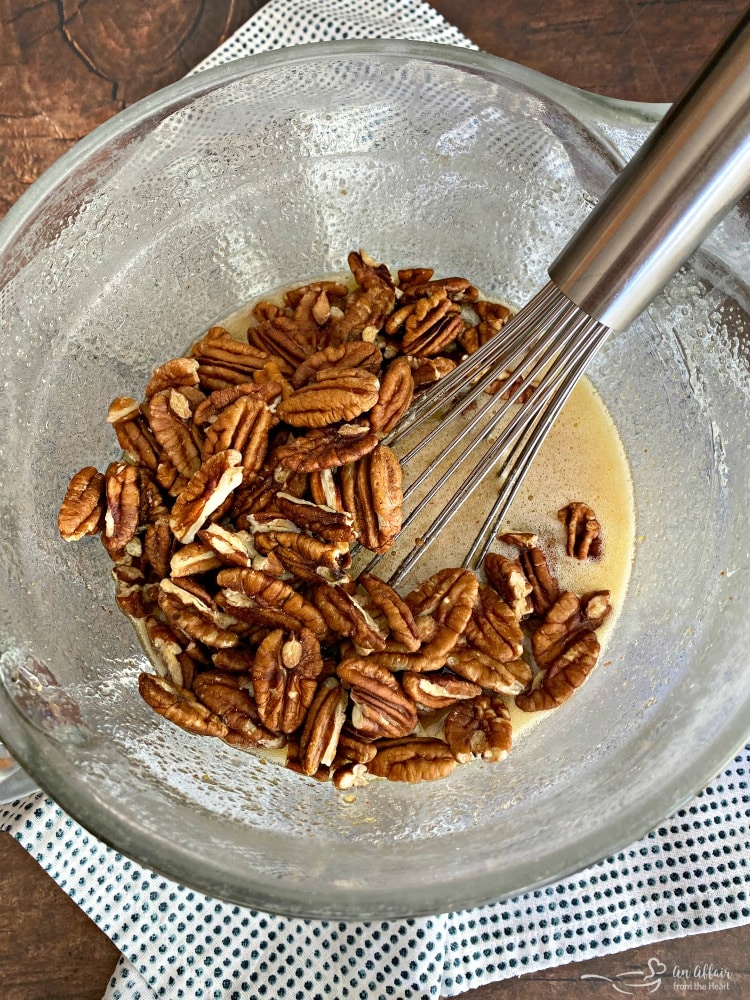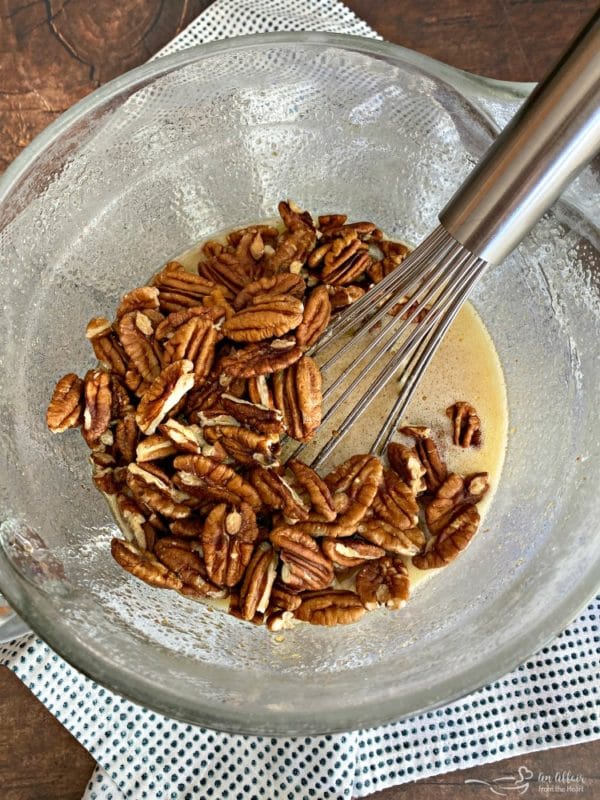 You'll brown the butter to get it nice and fragrant before mixing it with the eggs, sugars, and pecans.
You'll want to make sure and pre-bake, or "blind bake" your pie crust. If you're not sure exactly what that means, or how to go about it, I have a post that explains How to Pre-Bake a Pie Crust, you don't even have to have any special gadget to do it if you don't want them. It's easy!
Some Handy Pecan Pie Tips
The Pecans in the pie filling actually float to the top when you bake the pie. If you are sitting there wondering, "why your pie doesn't look like a regular pecan pie with the nuts on top?", then don't worry. They will make their way there during baking.
Your pecan pie is cooked when you can poke the center and the test toothpick or fork comes out clean. So, look for the center to have some rigidity and not be so runny or jiggly.
Don't overcook the pie. Although it may seem like you need more cooking time, it is best to avoid overcooking it. Why? Because, the filling is really a custard and when you overcook custards then you end up with something like chunky egg salad and not sweet and smooth custard.
If you overcook the custard then it will curdle and pecan pie lovers will look at you like you just kicked their dog.

The most important crust tip
As mentioned before, pre-baking your crust is very important. You want the crust mostly cooked when you add the filling. Just make sure to cool the crust and the filling before you combine them. Then add into the oven and bake together to finish it off.
To Serve Pecan Pie Hot Or Cold?
Some pies are best served hot or at least warm. In the case of pecan pie, they are best served cooled down to room temp or even out of the fridge. You want that filling to set up like a pudding inside.
Serve it while it is too warm then that stuff just comes spilling out. You may have to serve it with a straw in that case. Better to just be patient and wait for the pie to cool and set up.
Do you have leftover pecans? I have some great recipes with pecans. Like these: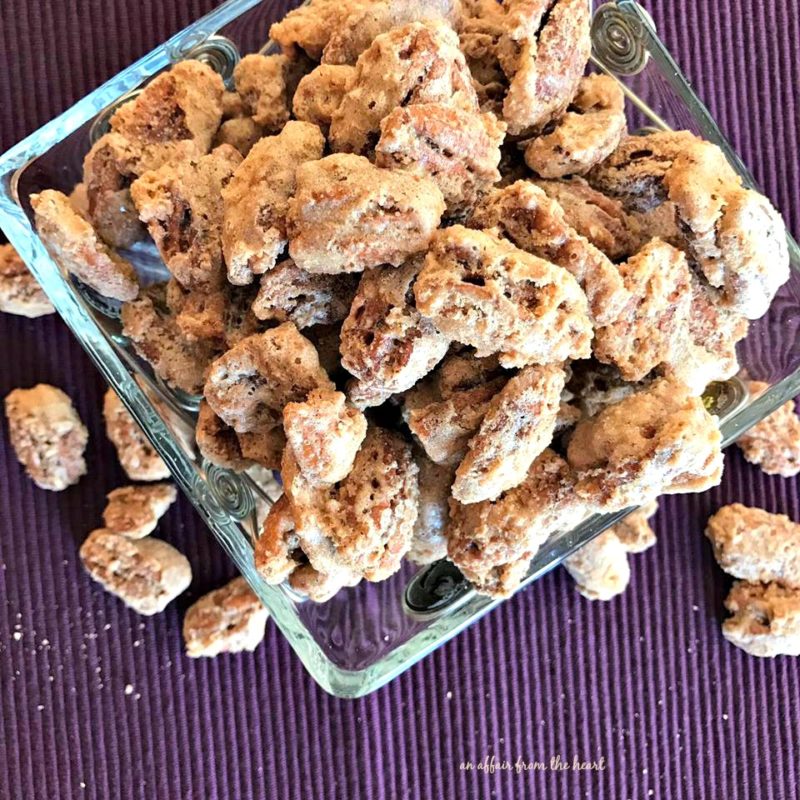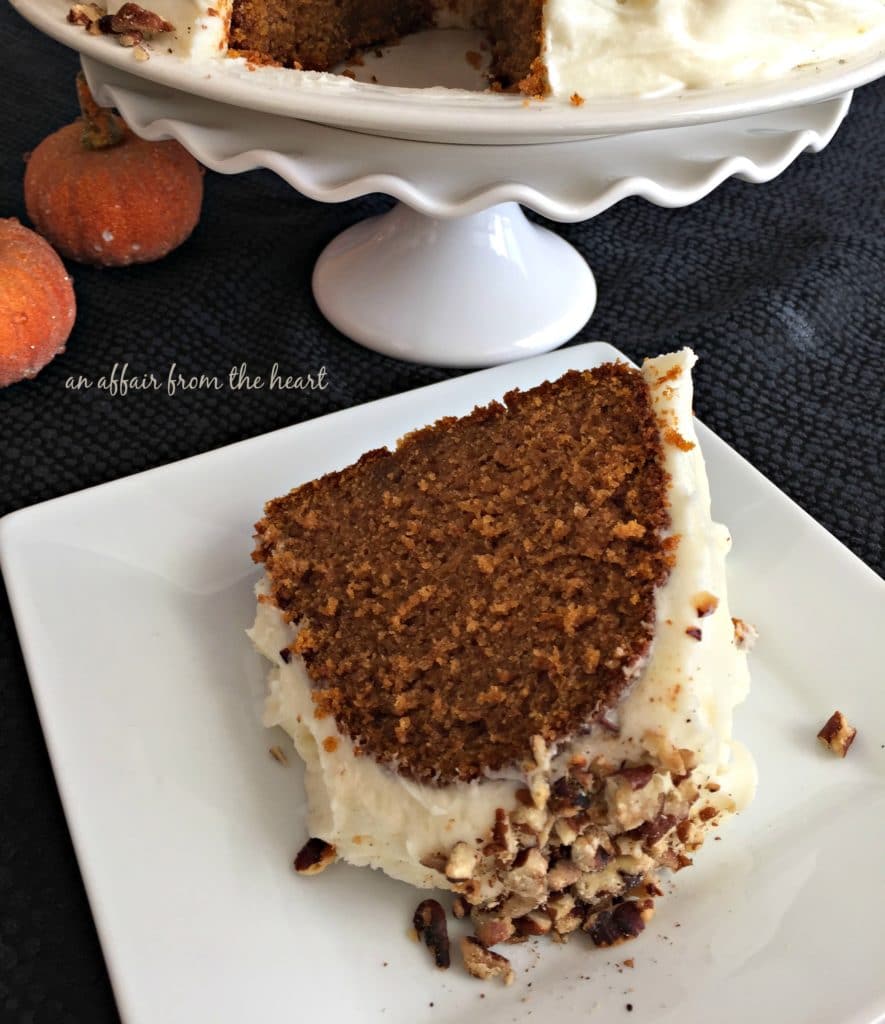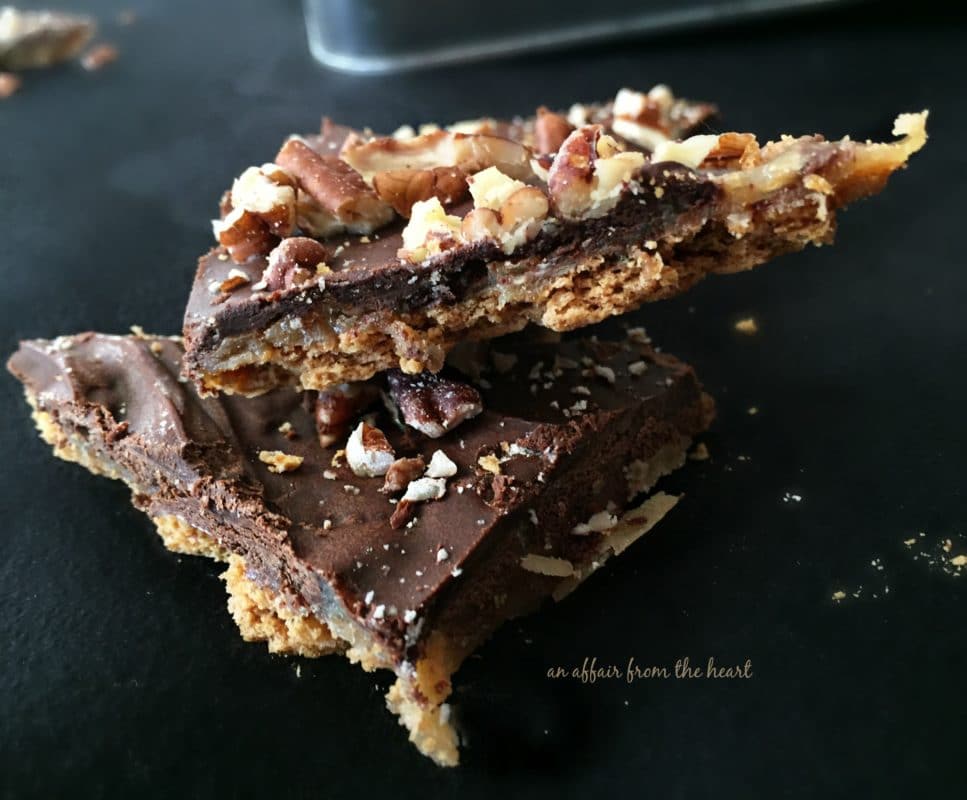 Do You Have Other Great Pie Recipes?
If you enjoy my pecan pie, then please also check out some of my other pie recipes. If you have been here with me a while, you know hat pie is kinda my thing. 😉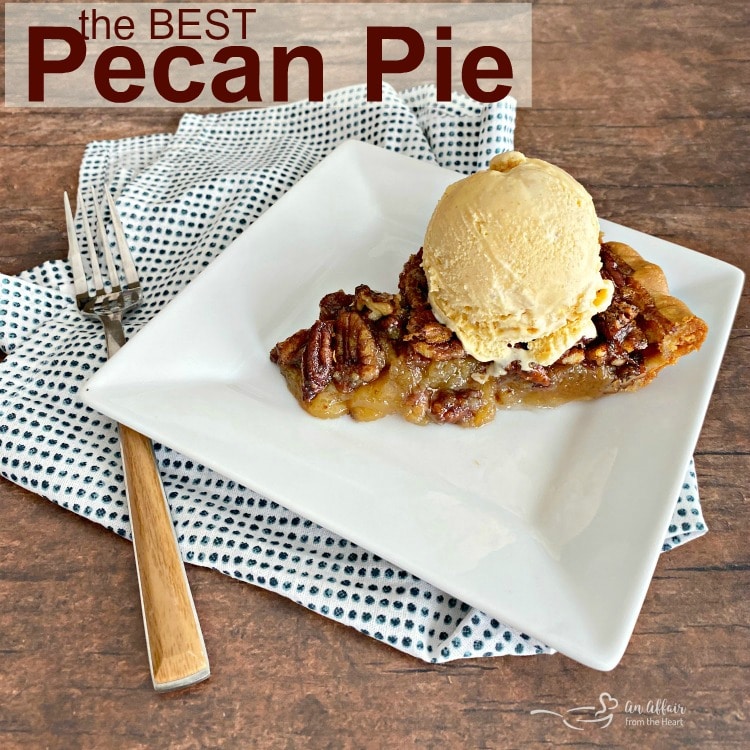 I found this pumpkin pie ice cream, and I thought it was perfect on top of the pie. (can you tell I like my ice cream?) Some enjoy it with a dollop of whipped cream, or just all by its lonesome. Any way you slice it, this Pecan Pie is the really the BEST. I hope you love it as much as we do!

This Pecan Pie is filled with a luscious caramel and pecan filling. It really is the BEST pecan pie EVER.
Total Time
1 hour
15 minutes
Ingredients
1 pie crust PRE-BAKED
1 cup sugar
1 cup light corn syrup
1 teaspoon vanilla
1 teaspoon salt
1/4 teaspoon ground cinnamon
4 eggs beaten
1 stick of salted butter
2 cups pecans
Instructions
Preheat oven to 350 degrees for pie.
In a medium bowl whisk together sugar, corn syrup, vanilla, salt and cinnamon. Add eggs and whisk until smooth.
In a small saucepan, melt butter and heat for about 4-5 minutes, until butter becomes brown and fragrant. Stir often. Pour butter into the sugar mixture and whisk to combine. Stir in pecans and pour into prepared crust.
Bake for 50-60 minute or until center is set. If your crust edges begin to get too brown, you can remove pie and cover crust with foil.
Cool pie on rack for 3-4 hours before slicing and serving.
Notes
original recipe from Gimme Some Oven
Nutrition Information:
Yield:
10
Serving Size:
1
Amount Per Serving:
Calories:

507
Total Fat:

31g
Saturated Fat:

9g
Trans Fat:

0g
Unsaturated Fat:

19g
Cholesterol:

99mg
Sodium:

406mg
Carbohydrates:

58g
Fiber:

3g
Sugar:

48g
Protein:

6g
Nutrition isn't guaranteed accurate.