Chocolate Meringue Pie
As an Amazon Associate and member of other affiliate programs, I earn from qualifying purchases.
Family gatherings and occasions will be even more special when the perfect Chocolate Meringue Pie is served! The old-Fashioned chocolate cream pie was my favorite dessert as a kid, and no chocolate lover will be able to resist the homemade chocolate custard, baked into a flaky pie crust and topped with the most luscious meringue!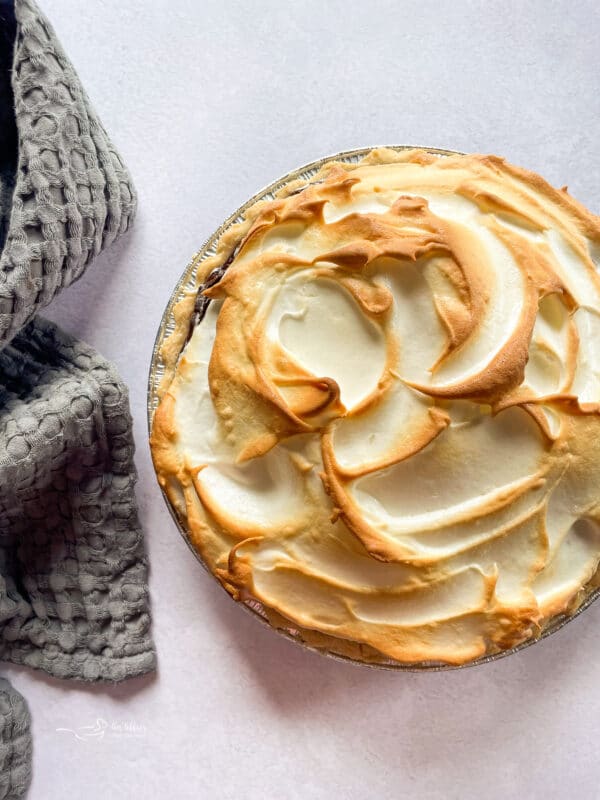 When I was a kid, my Grandma Martin used to make me this homemade chocolate meringue pie for my birthday. I used to love going to stay with her in the summer, she was quite the baker! She always made a pie while I was there because she knew I loved them, and while she was making it, there was always an "extra crust" that she would bake with cinnamon and sugar on it.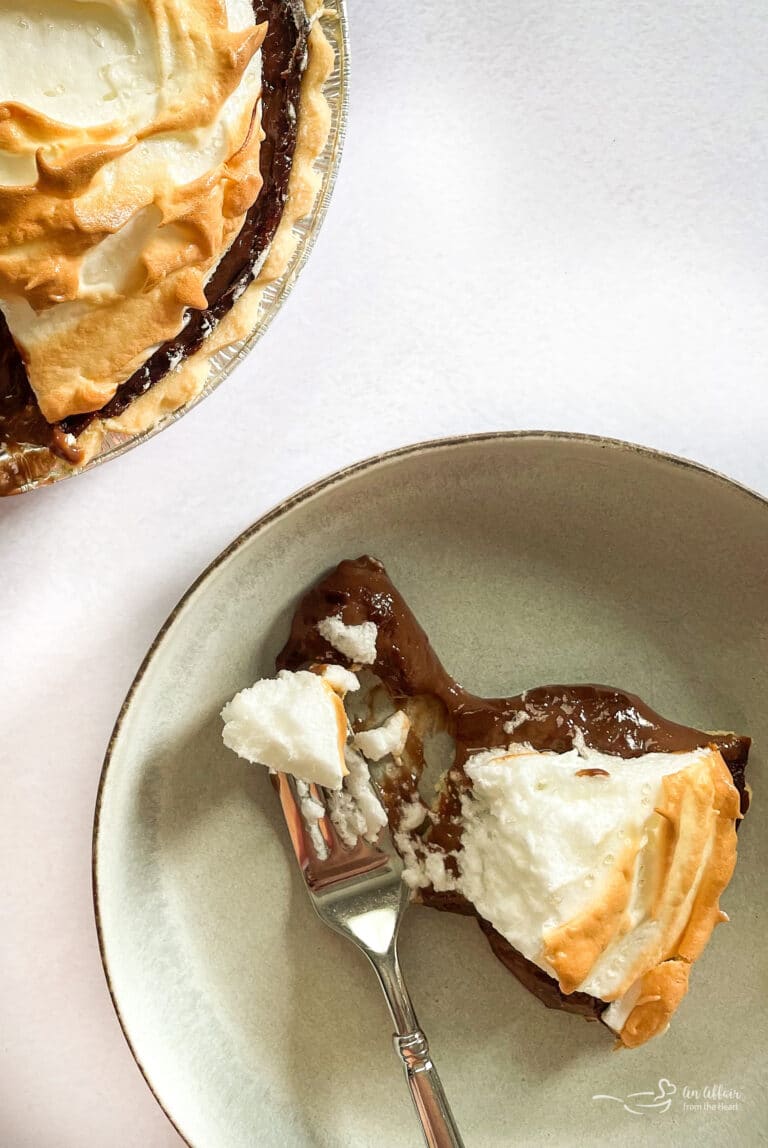 She also made this homemade chocolate pie for New Year's Day because she and my grandpa always came for dinner that day. One year, my grandma walked in with tears in her eyes, and we all were concerned. Someone had stopped suddenly in front of them while they were driving and my grandpa slammed on the brakes. The pie flew off of her lap and my grandma's chocolate pie hit the floorboard of the car. Boy, was that a mess! She felt terrible because she knew how much I looked forward to it.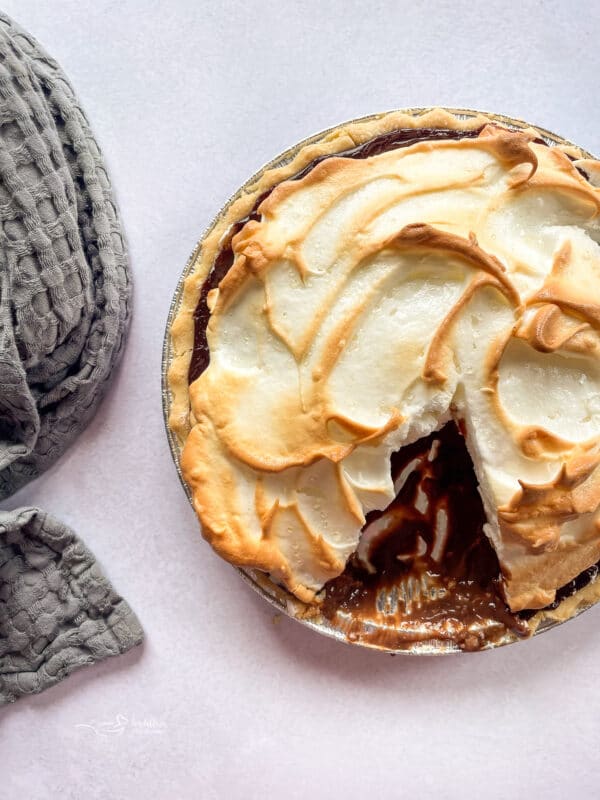 For the longest time, I struggled with the meringue, until I got my Kitchen Aid mixer, that thing ROCKS!! Put the ingredients in, and let it whip until the meringue peaks! Since my grandma is no longer with me, I bake this pie whenever I'm feeling sentimental. This pie isn't too sweet, and has a yummy chocolate custard! The recipes that have been with us for ages are always the best, aren't they? She never really "followed" a "recipe" but my Aunt Sue and Aunt Carol helped me work through this, so I could mimic it.

WHY GRANDMA'S RECIPE IS THE BEST CHOCOLATE MERINGUE PIE
Meringue pies are delicious, light, and fluffy. They are versatile and perfect for any season. Lemon or key lime meringue is a great summer treat, while pumpkin is perfect for fall. However, chocolate meringue pie is delicious for every season! I mean, who doesn't like a rich chocolate filling?
Alter the recipe by using a graham cracker crust, oreo crust, instead of the classic buttery pie crust.
You can bake this old-fashioned chocolate meringue pie to impress guests. Meringue is very easy for beginning bakers and extremely impressive and delicious.

INGREDIENTS NEEDED FOR CHOCOLATE MERINGUE PIE RECIPE
Sugar – White sugar is best for whipping meringue

Cornstarch

Salt

Egg yolks – You need yolks for the custard

Egg whites – You need egg whites for the meringue

Milk – Dairy milk is best for consistency and taste. Whole milk will ensure a thick mixture.

Vanilla – Pure vanilla extract or vanilla bean paste will deliver the richest flavor.

Cocoa – 100% cocoa powder adds the deepest chocolate flavor.

Single pie crust – You can make your own from scratch or store-bought pie dough or pie crust. I use my Grandma's homemade pie crust recipe:

Cream of tartar – Cream of tartar is tasteless and helps to stabilize the egg whites to achieve those beautiful stiff peaks!

HOW TO MAKE HOMEMADE CHOCOLATE MERINGUE PIE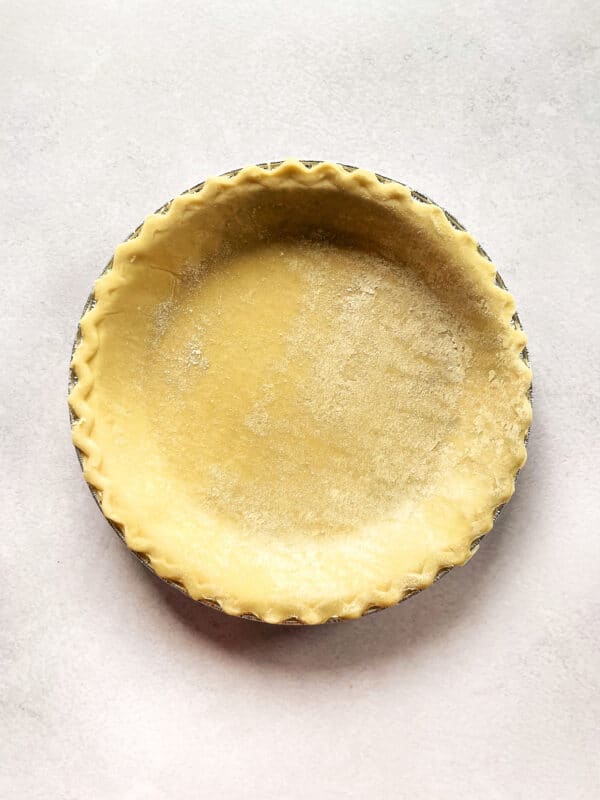 FIRST: Preheat the oven to 350° Fahrenheit and bake your pie dough for 15 minutes. Set aside while you prepare the meringue and custard. Check out this post for tips and tricks on pre-baking your pie crust. Even if you don't have pie weights, it is super easy!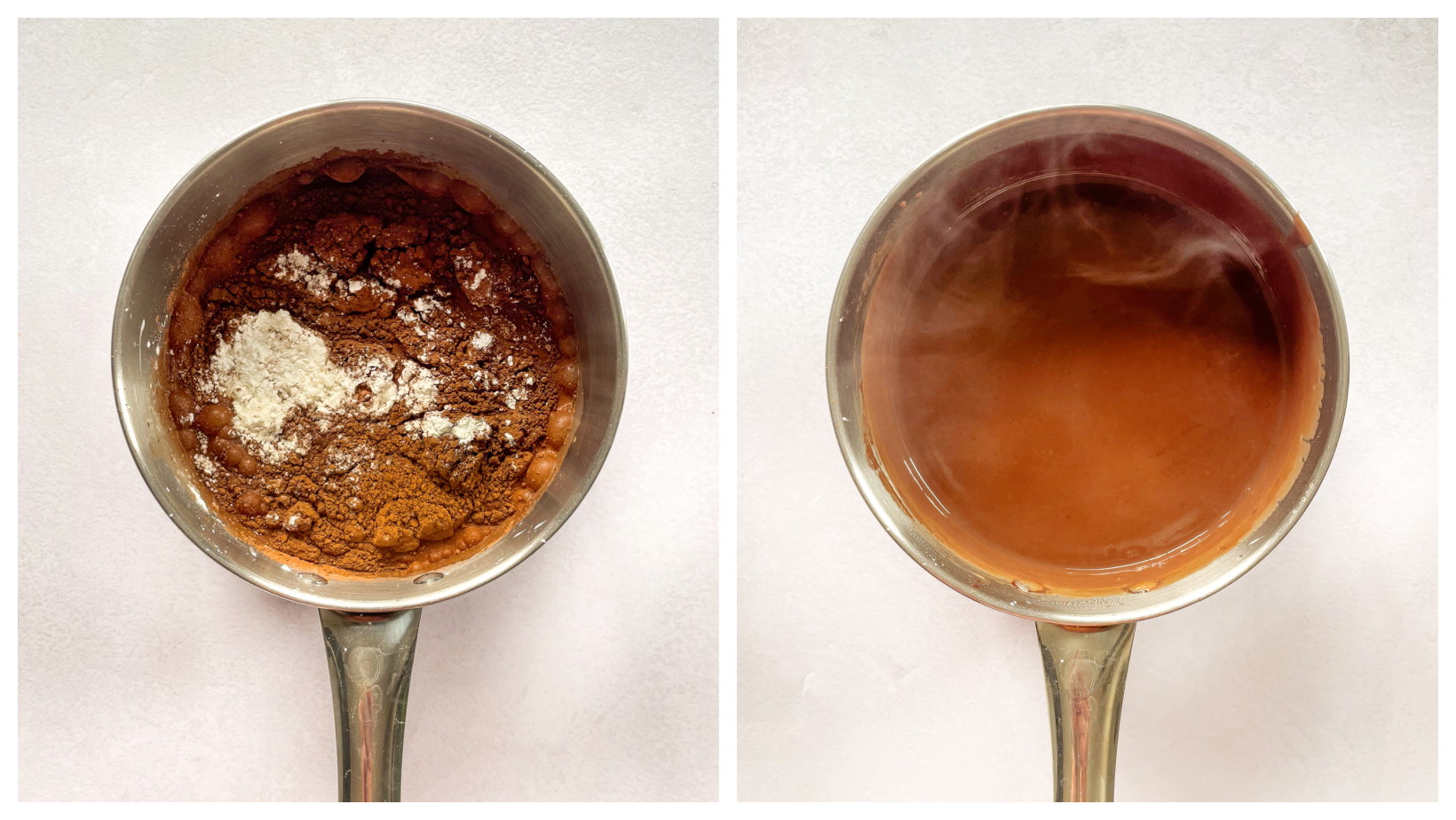 SECOND: To make the custard, combine sugar, cornstarch, salt, egg yolks, milk, vanilla, and cocoa powder in a medium saucepan on medium heat. Whip ingredients until a pudding consistency forms, about 15 minutes.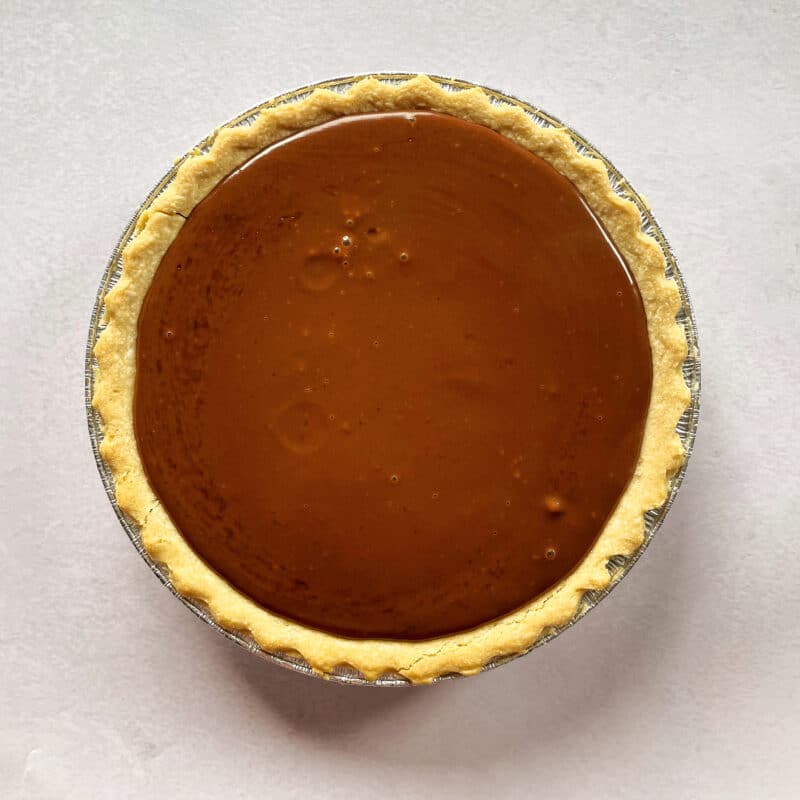 After, pour the chocolate mixture into the cooled pie shell.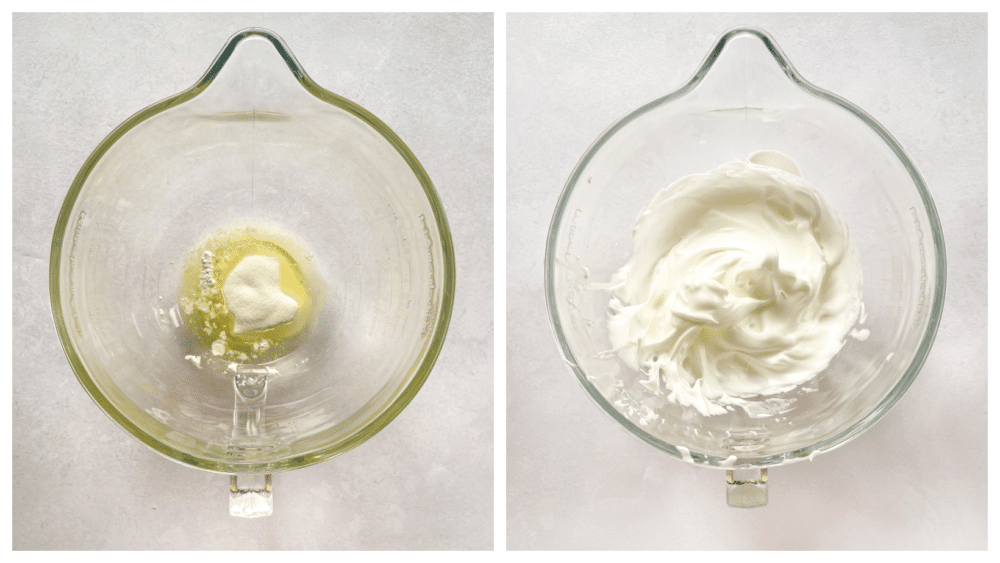 THIRD: To make fluffy meringue for the chocolate pie, whip egg whites, sugar, salt, and cream of tartar until stiff white peaks form, about 7-10 minutes.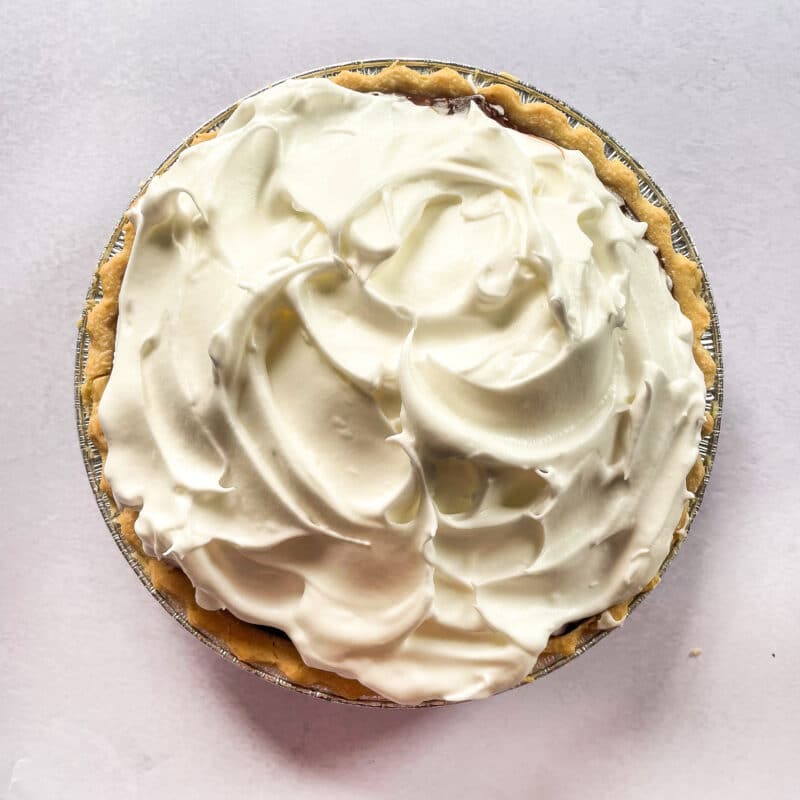 Spread over chocolate custard.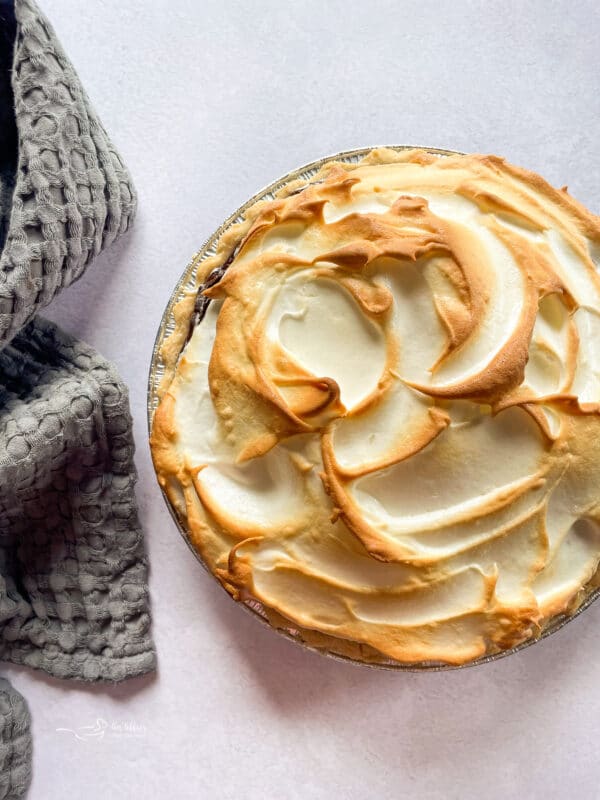 FOURTH: Bake it for 12-15 minutes. Meringue should be golden brown and no longer watery. Let cool and enjoy.

Love it? Pin it!
If you love this GRANDMA'S CHOCOLATE MERINGUE PIE RECIPE recipe make sure that you don't lose it! Pin it to your favorite Pinterest recipe board before you go!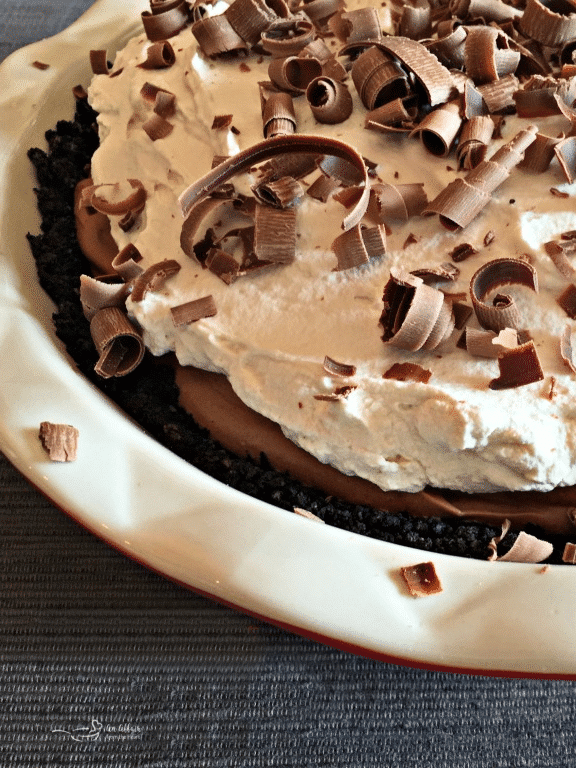 More Pie Recipes to Love
If you love Grandma's Chocolate Meringue Pie, you will also want to try these recipes:

FAQ's
How do you keep a chocolate meringue pie from weeping? "Weeping" is when the meringue separates from the pie filling, leaving a liquid layer between the filling and meringue. Weeping happens when the meringue is not fully baked, or when the sugar is not fully dissolved. To prevent this from happening, spread the meringue on the custard while the custard is still hot. This ensures that the hot custard mixture bakes the under part of the meringue.
Can chocolate meringue pie be left out? Chocolate meringue pie is best stored at room temperature for the first two hours out of the oven. If you put your meringue pie in the fridge too soon, it can re-moisten the meringue mixture and cause it to weep. Keep your covered pie in the fridge after serving.
Why does my chocolate pie get watery? If your chocolate custard mixture is watery, that means you either mis-measured the cornstarch, or you undercooked your filling. Ensure that you measure your thickener correctly and you fully cook your custard on the stove, as well as in the oven.
How much sugar is in a chocolate meringue pie? Most chocolate meringue pies average around 30 grams of sugar, which is a day's worth of sugar! However, with a recipe this good, the splurge is worth it. And, you're probably not planning to eat the whole pie!
SUBSTITUTIONS:
Cornstarch: All-purpose flour is the best thickening substitute for cornstarch. For every tablespoon of cornstarch needed, replace with two tablespoons of all-purpose flour. Just double the amount!
Cocoa Powder: You can also use an equal amount of chopped unsweetened baking chocolate.
Cream of Tartar: For every ½ teaspoon of cream of tartar, replace with 1 teaspoon of lemon juice or vinegar. Please note this may alter the taste. You can also use baking powder. For every 2 teaspoons of cream of tartar, you can use 3 teaspoons of baking powder.
TIPS & TRICKS
Store your meringue pie in the refrigerator for up to 4 days. To cover a meringue pie, you can place toothpicks in the meringue overtop and cover it with plastic or foil, to keep your meringue looking pretty.

To get the stiffest meringue peaks you will need cream of tartar. This helps to whip very stiff peaks. However, another useful tip is to let your egg whites sit for about 30 minutes before whipping. If your egg whites are room temperature, they will whip better than a cold egg. An electric mixer saves your arm from the workout and ensures whipped stiff peaks!
Take a Peek at this Peppermint Meringue Recipe, as well as my Bread Pudding Soufflé and my Coconut Whipped Frosting for more ways to tickle your sweet tooth!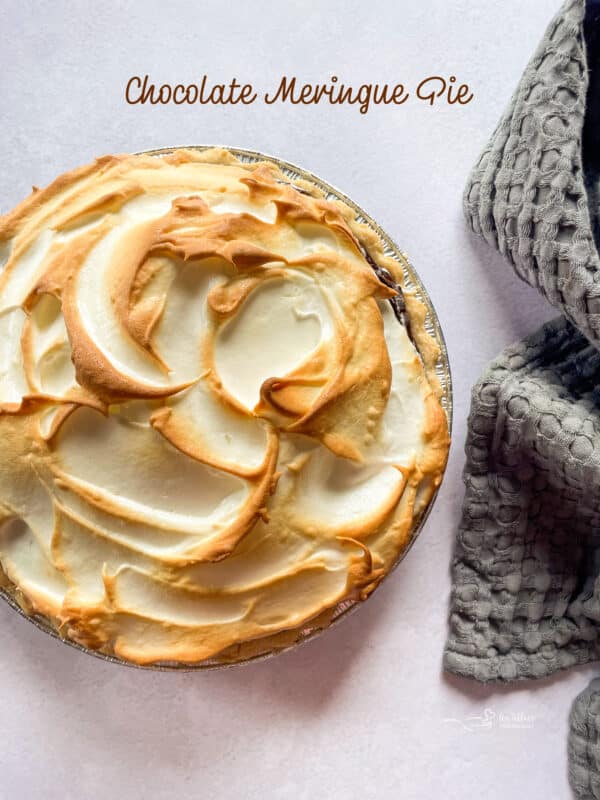 Make Grandma's homemade chocolate meringue pie recipe for any holiday, special occasion, or just because! It is certain to be a dessert your family will pass down from generation to generation.

Yield: 8 servings
Chocolate Meringue Pie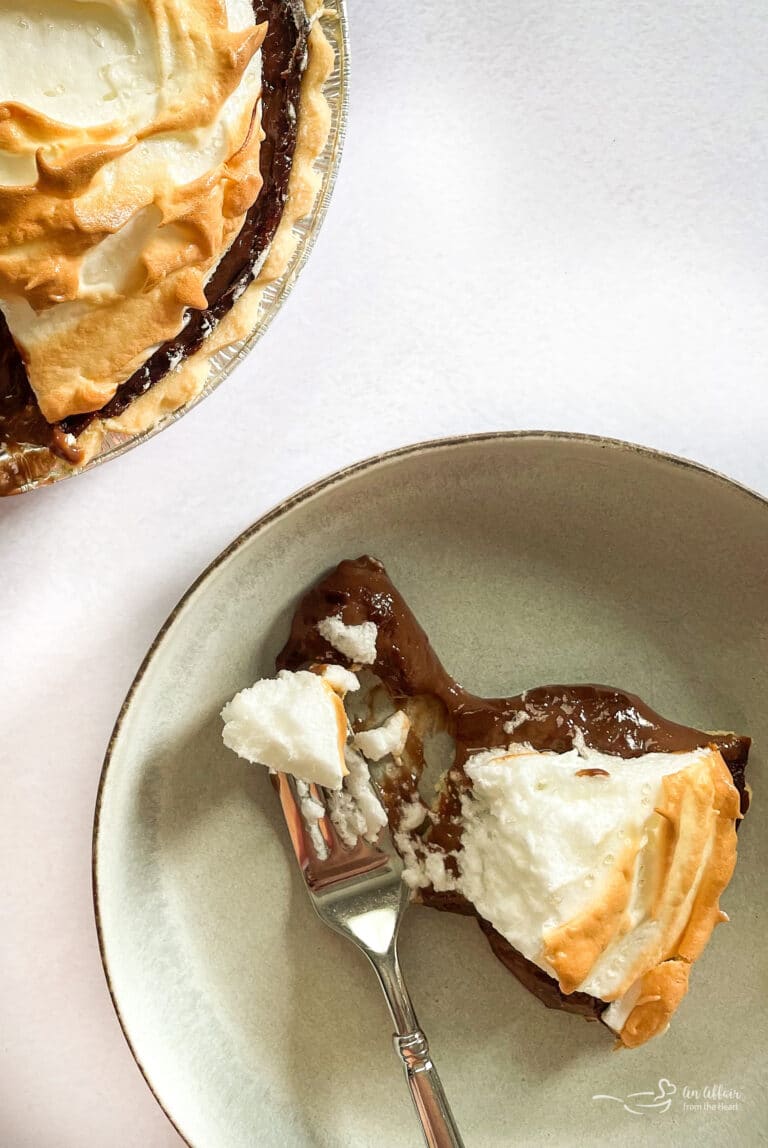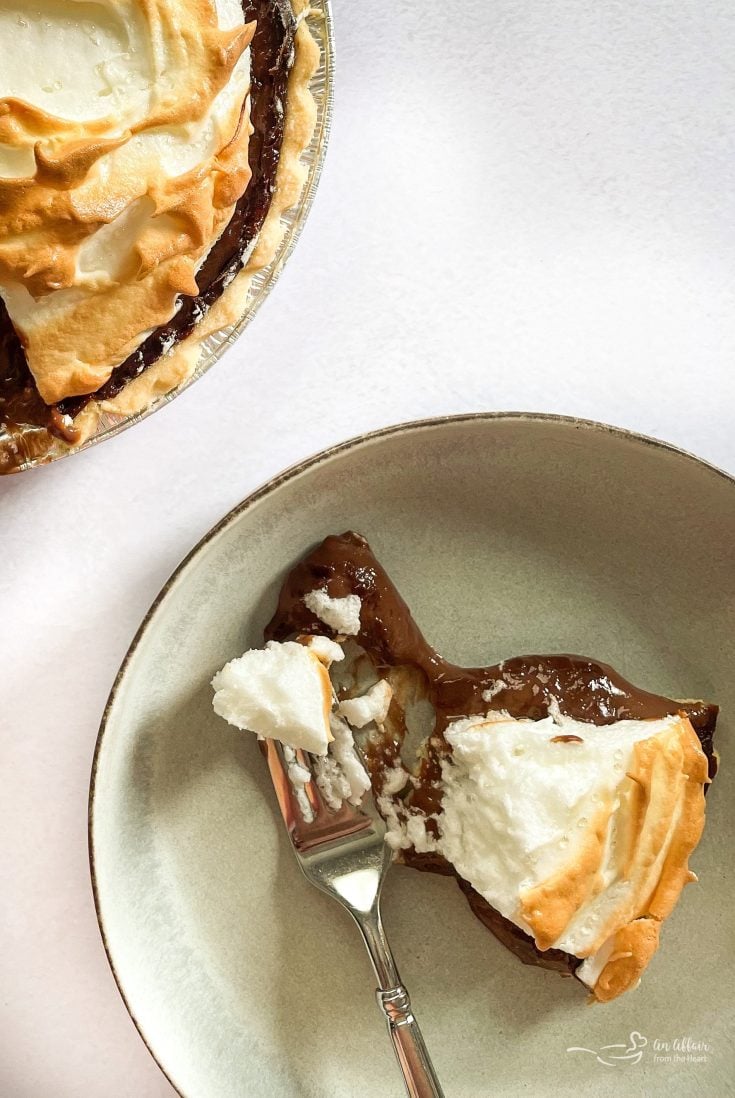 Family gatherings and occasions will be even more special when the perfect Chocolate Meringue Pie is served! The old-Fashioned chocolate cream pie was my favorite dessert as a kid, and no chocolate lover will be able to resist the homemade chocolate custard, baked into a flaky pie crust and topped with the most luscious meringue!
Ingredients
For the Custard:
2./3 cup sugar
2 1/2 Tablespoons Cornstarch
1/2 teaspoon salt
3 egg yolks (save whites)
2 1/2 cups milk
1 1/2 teaspoon vanilla
4 Tablespoons cocoa
For the Meringue:
3 egg whites
3 Tablespoons sugar
1/4 teaspoon salt
1/2 teaspoon cream of tartar
One single crust pie shell
Instructions
Preheat oven to 350 degrees. Form pie crust into pie plate and pre-bake for about 15 minutes, or until crust is a light golden brown. Set aside.
Combine custard ingredients in saucepan on the stove, on medium heat. Whip with a whisk until thickened, will be a thick pudding consistency. About 15 minutes.
Pour into pie crust.
In your mixer, combine meringue ingredients. Whip until meringue forms stiff peaks.
7-10 minutes.
Spread over chocolate custard.
Bake in oven for 12-15 minutes, until meringue becomes a light golden brown, and is no longer watery.
Cool and enjoy.
Recommended Products
As an Amazon Associate and member of other affiliate programs, I earn from qualifying purchases.
Nutrition Information:
Yield:
8
Serving Size:
1
Amount Per Serving:
Calories:

228
Total Fat:

5g
Saturated Fat:

2g
Trans Fat:

0g
Unsaturated Fat:

3g
Cholesterol:

75mg
Sodium:

290mg
Carbohydrates:

39g
Fiber:

1g
Sugar:

28g
Protein:

6g
Please note that nutrition is not guaranteed accurate.
This recipe was originally posted on June 5, 2013. It has been updated to improve user experience and re-shared on June 5, 2023.