Bread Pudding Soufflé with Whiskey Sauce
As an Amazon Associate and member of other affiliate programs, I earn from qualifying purchases.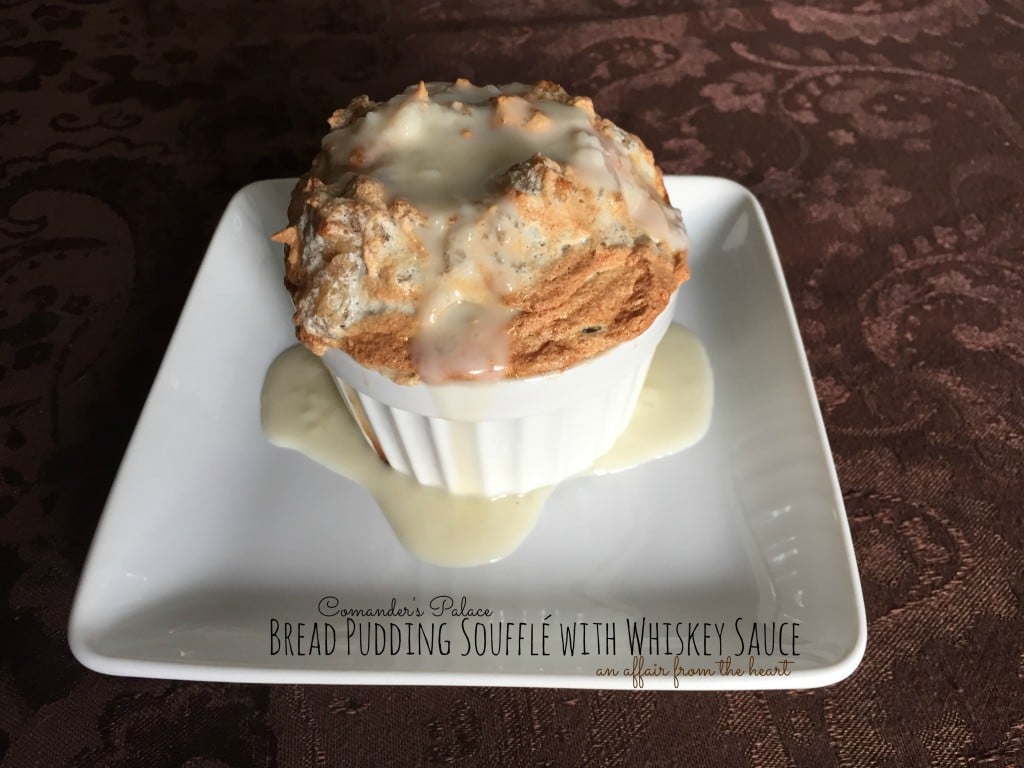 Bread Pudding Soufflé with Whiskey Sauce?!?
If you would have told me that I would even attempt making anything with the word "Soufflé" in it 5 years ago I would have told you you must have bumped your head. That word just makes me nervous. That is like Julia Child kind of stuff right there.
My Mom and her husband went to NOLA last year and ate at The Commander's Palace. The waiter told them they just HAD to have this dessert, they were famous for it. After polling my facebook readers, I found that to be true!
Joe decided that we needed to make these when they returned and he promptly ordered the Commander's Kitchen Cookbook so "we" had the recipe! Time ticked away, and fast forward to last week. It was his birthday, and like always, I had no clue what to get him. I decided I would make this dessert and surprise him.
It starts off with a bread pudding rich in cinnamon and a few plump raisins – add some meringue, bake it to puffy perfection, poke a hole deep into the center and fill it with a whiskey cream sauce. Beautiful Presentation.
I was so nervous it would flop. I agonized all day. Now, I have never been there, or eaten this dessert, I had to google it to see what it even LOOKED like. I was assured by both him and my Mom that it tasted just like it.
WHEW!!
So, if you have been there, and want to try this one at home, or maybe you haven't been and this just sounds wonderful… I think you should give it a whirl. If I can make a souffle, anybody can!
Here are a few prep photos, in case, like me, you had no clue what you were trying to make! 😉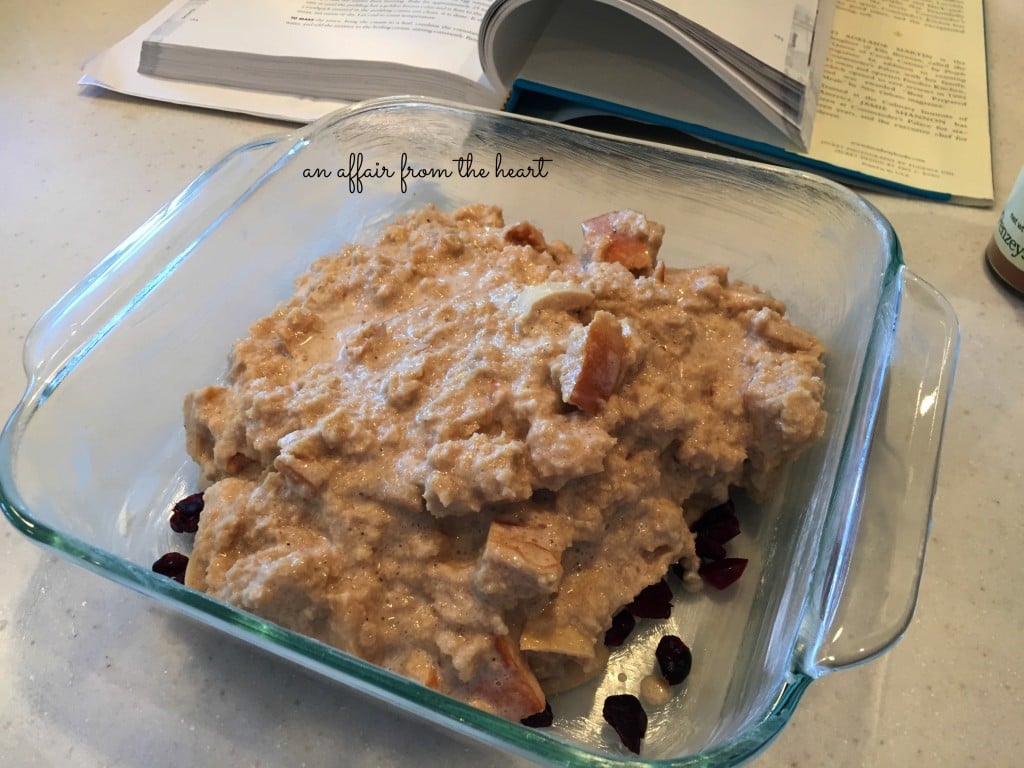 Pouring the bread/custard mixture over the raisins to bake the bread pudding.
Here they are going into the oven with their domes of puffy meringue!
Just out of the oven, golden brown and ready to serve!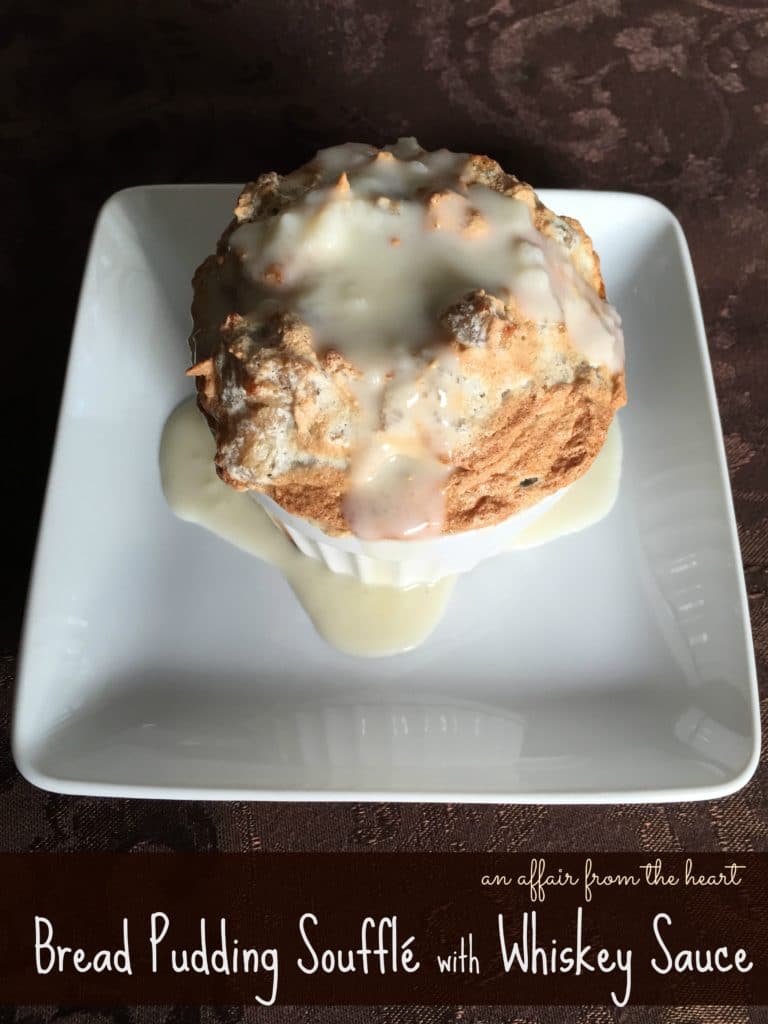 Yield: 6
Bread Pudding Soufflé with Whiskey Sauce
Bread Pudding, cinnamon and a few plump raisins – add some meringue, bake it to puffy perfection, and fill it with a whiskey cream sauce. Beautiful Presentation.
Ingredients
For the Bread Pudding:
3/4 cup sugar
1 teaspoon ground cinnamon
pinch of ground nutmeg
3 medium eggs
1 cup heavy cream
1 teaspoon pure vanilla extract (DO NOT USE IMITATION)
5 cups day old french bread (Italian works, too) cut into 1 inch cubes
1/3 cup raisins
For the Whiskey Sauce:
1 1/3 cup heavy cream
2 teaspoons cornstarch
2 tablespoons cold water
1/3 cup sugar
1/3 cup bourbon
For the Meringue:
9 medium egg whites, at room temperature
1/4 teaspoon cream of tartar
3/4 cup sugar
Instructions
Preheat the oven to 350 degrees and grease an 8x8 baking dish.
To make the Bread Pudding: Beat eggs with spices and sugar until smooth. Gradually add in the cream and vanilla. Fold into the bread, stirring until it soaks up the liquid. Scatter the raisins into the bottom of the pan, pour bread/custard mixture over the top. Bake for 25-30 minutes, or until pudding has a golden brown color and a toothpick inserted in the center comes out clean. Set aside to cool to room temperature.
To make the whiskey sauce: In a small bowl combine the bourbon and sugar, set aside. In another small bowl combine the cornstarch and water, set aside. In a saucepan over medium heat bring your cream to a boil, stirring frequently. Add the cornstarch mixture and return to a boil. Boil for 30 seconds, stirring constantly. Remove from heat and stir in bourbon mixture. Set aside to cool to room temperature.
(at this point I separated my egg whites and placed them on the counter to come to room temperature)
When you are ready to prepare/serve: Preheat oven to 350 degrees and butter 6 - 6 ounce ramekins.
Divide your bread pudding in half, and crumble with your fingers or a spoon into two separate bowls. Set aside. In your stand mixer, with the whisk attachment, place egg whites (taking care to not have ANY yolk in them) and cream of tartar - begin whisking until foamy. Gradually add sugar and continue to whisk until stiff peaks form. You want to make sure that your meringue has stiff peaks to insure it doesn't fall flat. Take 1/4 of meringue and fold it into one of the halves of the bread pudding. Mix until incorporated. DO NOT OVER MIX, the more you work with it, the more the air will escape from your egg whites. Divide this mixture into the ramekins. Take the remaining meringue and combine it with the other half of the bread pudding. Top each ramekin and form into a dome. Mine was a couple of inches high. (I did have some left over) Bake on a cookie sheet for 20 minutes or until golden brown. Serve immediately.
To serve: Place ramekin on a small plate, take a knife or spoon and poke a hole in the center of each souffle. Pour whiskey sauce into the hole and let it drizzle down a bit.
Nutrition Information:
Yield:
6
Serving Size:
1
Amount Per Serving:
Calories:

787
Total Fat:

37g
Saturated Fat:

22g
Trans Fat:

1g
Unsaturated Fat:

12g
Cholesterol:

186mg
Sodium:

377mg
Carbohydrates:

93g
Fiber:

1g
Sugar:

71g
Protein:

15g
Nutrition isn't always accurate.
I love to make desserts, but bread pudding was never on the list until now.
If you would like to check out some of my other dessert favorites, click <HERE>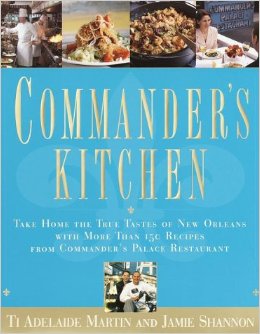 This recipe is taken directly from The Commander's Kitchen Cookbook — these recipes from The Commander's Palace in NOLA.
This cookbook is FABULOUS!! — and after reading it from cover to cover I have LOTS book marked to try! So stay tuned for more yumminess to come from New Orleans… well, at least from the cookbook! 😉