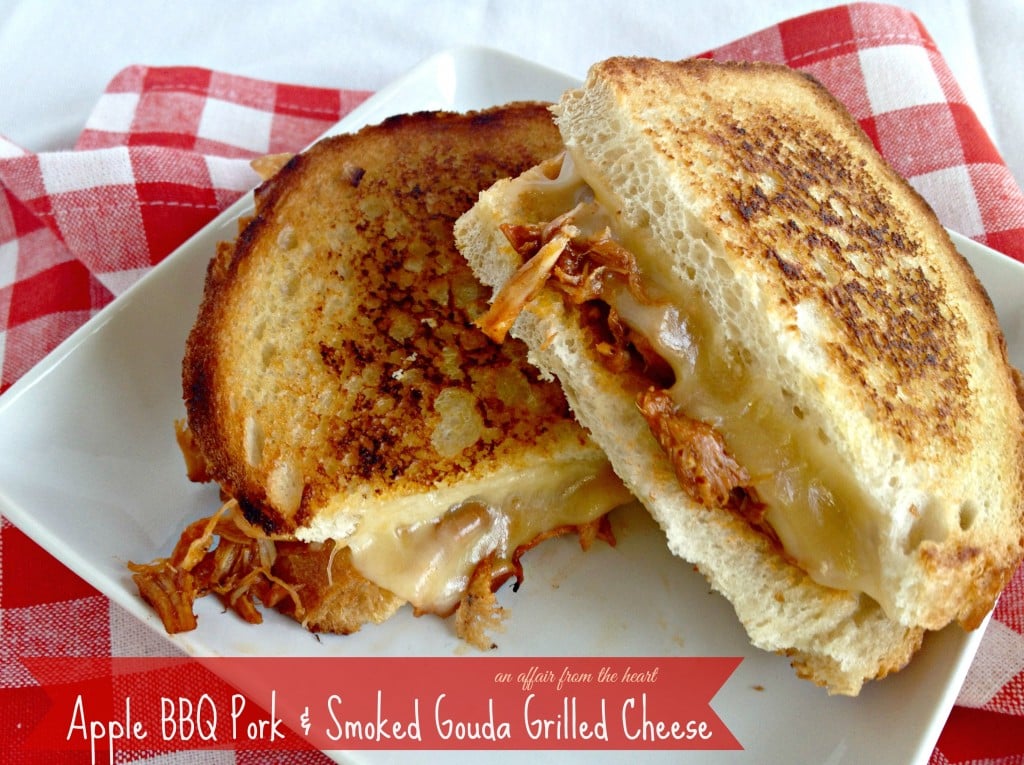 There is nothing like a good grilled cheese sandwich. Not the American cheese slice wrapped in plastic and grilled on white bread, (although those are still pretty good from time to time with tomato soup!) I am talking good crusty bread, good cheese and maybe a little "somethin' – somethin'" extra? This Apple BBQ Pork & Smoked Gouda Grilled Cheese has a lot of somethin' extra!
My favorite bread to make grilled sandwiches with is sour dough. Who am I kidding? I think sour dough bread is pure perfection, period! But slather it with butter and grill it? Delicious! We love to make Grilled Turkey Havarti Sandwiches using sour dough, and when I was standing at the bakery trying to decide what to use for this sandwich, I really couldn't think of anything else that sounded better to me. So, sour dough it is!
Last week when I made Apple Pork Tenderloin in the slow cooker, we had left overs. Don't get me wrong…it was delicious, I am just trying to figure out how to cook for us now that my oldest son is away at college. I was super happy I had these left overs. A while back I had a similar sandwich to this at a restaurant. I thought it was a sensational concept, and wanted to make one of my own. I kept with the apple and took the left over pork and combined it with some apple juice in a pan on the stove. I re-heated it with the juice and shredded it up. I tossed with with some BBQ Sauce and set it aside until I was ready to grill up the sandwiches.
I coated the outsides of a couple slices of sour dough and grilled them until toasted. That part became the inside of the sandwich. I added the pork and the cheese, sandwiched it together, buttered the outside and grilled until the cheese was melted and the outside was toasted golden brown.
Yield: 6-8
Apple BBQ Pork & Smoked Gouda Grilled Cheese
This apple BBQ pork & smoked Gouda grilled cheese is a great way to use up extra pork roast. Whip up a grilled cheese that will WOW your family!
Ingredients
4 cups Pork Tenderloin Roast (cooked)
3/4 cup apple juice
3/4 cup BBQ sauce
Sour Dough Bread, sliced
Smoked Gouda cheese, sliced
Butter
Instructions
In a pan over medium heat add the pork tenderloin and the apple juice. As it heats up with will shred easily, using a fork. I let mine heat until the meat re-hydrated itself with the juice. About 10 minutes or so.
Remove from heat, stir in BBQ sauce and set aside.
Butter one side of two slices of sour dough bread. Turn your skillet to high heat, and grill that buttered side. When toasted golden brown, turn that side inward, add a slice of cheese and a layer of BBQ pork.
Butter the outsides of the bread and grill until the cheese is melted and the outside are toasted golden brown.
Cut in half and serve.
Nutrition Information:
Yield:
6
Serving Size:
1
Amount Per Serving:
Calories:

360
Total Fat:

10g
Saturated Fat:

4g
Trans Fat:

0g
Unsaturated Fat:

4g
Cholesterol:

121mg
Sodium:

568mg
Carbohydrates:

24g
Fiber:

1g
Sugar:

15g
Protein:

42g
Nutrition isn't always accurate.
~~~
My kids went nuts! This is a really good way to spice up your leftovers!
Enjoy!
Love BBQ Pork?
I bet you would love these Pork Ribs!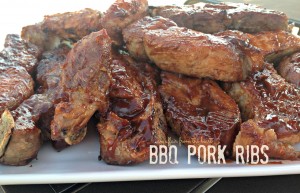 If you make this recipe, I'd love to know! Snap a picture, share the photo on social media with the hashtag #AnAffairFromTheHeart – I'd love to see what you made! – Michaela