Apple & Cinnamon Crumble
As an Amazon Associate and member of other affiliate programs, I earn from qualifying purchases.
When you ask someone what flavors and scents they might associate with fall,many might say things like nutmeg, cinnamon and apples. These flavors just go hand in hand with the season. This Apple & Cinnamon Crumble has all of these flavors and more.
When I received my September assignment for the Secret Recipe Club last month, I got right to work looking at the blog I was assigned, Searching for Spice. Corina resides in the UK and is the mother of two young children. She has her hands full and loves to cook and recently to bake, but tries to keep things simple. Her blog got it's name because of Corina's love of cooking with and the discovery of all sorts of spices! If you love curries, stir fries and spicy food, Searching for Spice is for YOU!! Two recipes that appealed to me were her Chicken and Noodle Salad (Ji Shi Liang Mein) and the Chicken Fried Rice.
I knew though, that I wanted to try and make something that would fall into the desire September brings for all things APPLE. I found a couple of apple recipes on Corina's blog, but settled on this Crumble. I make apple crisp year round, as my kids adore it. I was curious to see how her dessert varied from mine. My kids thought it was neat to have their own individual dessert, and were immediately "mmmm'ing" as they ate.
This recipe was fun to make and enjoyed by all!
Thanks, Corina!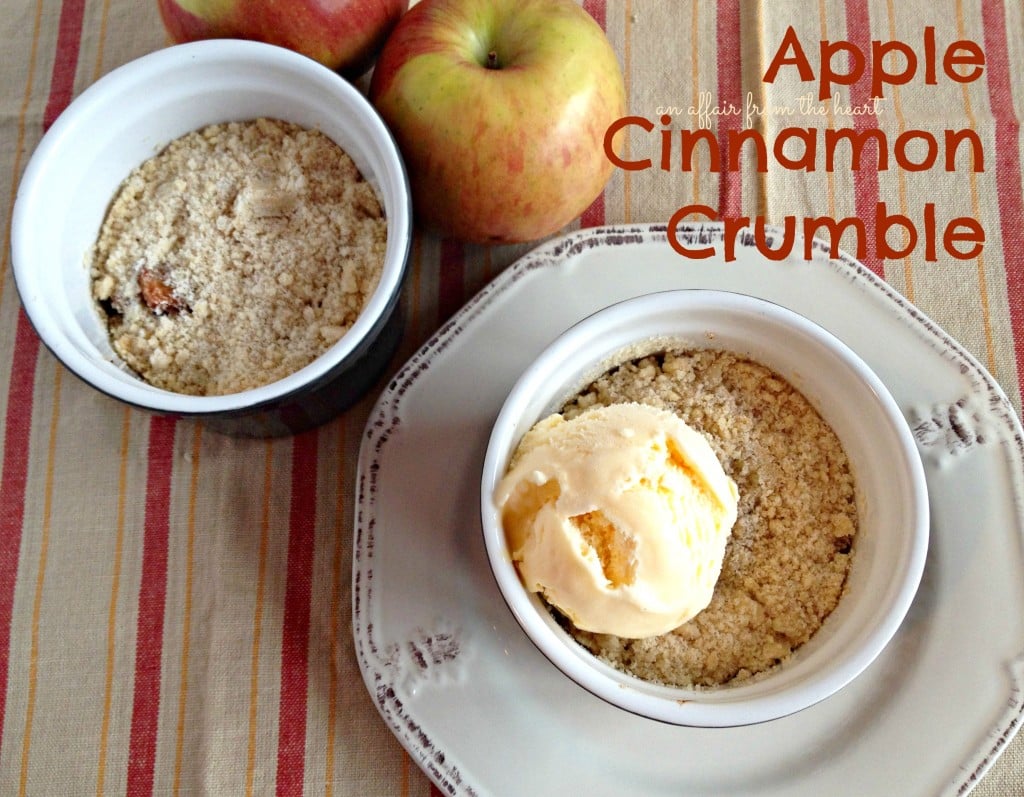 I did change up a few things on this recipe, but kept the main idea. I added the Craisins, and a little more spice, and made them in individual portions. Please take a moment to peek at the ORIGINAL RECIPE and while you are there, take a look at all of the other good recipes!
Yield: 4 servings
Apple & Cinnamon Crumble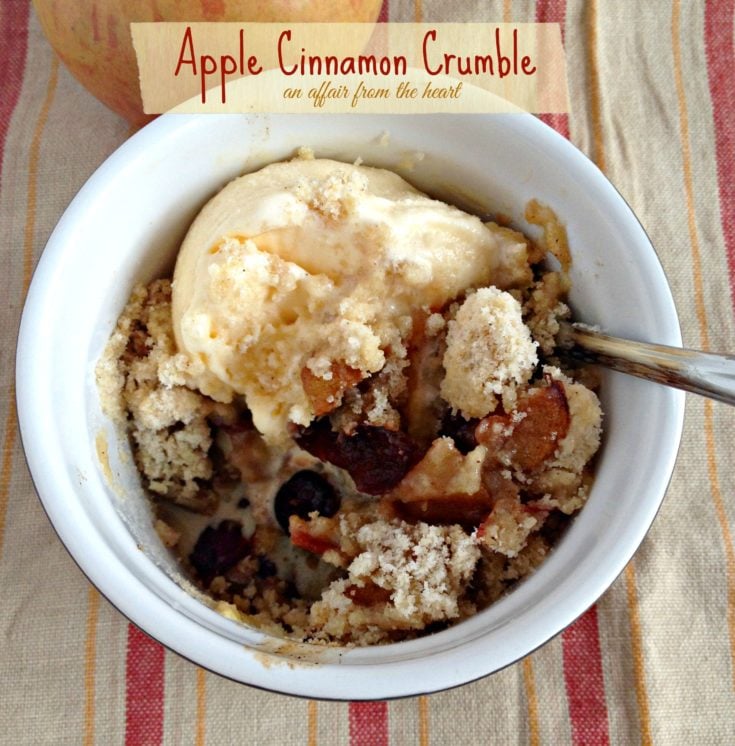 Baked in these individual ramekins, these apple cinnamon crumbles make a great dessert with flavors of fall.
Ingredients
For the inside:
3 Tablespoons of water
3 apples, peeled, cored and cubed
1 teaspoon cinnamon
1/2 teaspoon nutmeg
1/4 teaspoon cloves
1/3 cup Craisins
For the Crumble:
2/3 cup flour
3 Tablespoons cold butter
1/4 cup sugar
a sprinkling of cinnamon and cloves
Instructions
Preheat oven to 350 degrees, prepare 4 large ramekins with non-stick cooking spray and set aside.
In a saucepan over medium heat, combine apples and water and cook until apples are becoming tender. Stirring often. (about 10 minutes)
When apples are desired tenderness (remember they will continue to bake in the oven) add the spices and the Craisins. Stir to combine.
Divide evenly between ramekins.
In a small bowl, with your fingers crumble the butter, flour and sugar together until butter is incorporated.
Divide evenly over the tops of the apples in each ramekin.
Sprinkle lightly with cinnamon and cloves.
Bake for 20 minutes and serve warm with vanilla ice cream.
**Be careful, ramekins stay hot for a while.**
Nutrition Information:
Yield:
4
Serving Size:
1
Amount Per Serving:
Calories:

319
Total Fat:

9g
Saturated Fat:

6g
Trans Fat:

0g
Unsaturated Fat:

3g
Cholesterol:

23mg
Sodium:

73mg
Carbohydrates:

60g
Fiber:

6g
Sugar:

36g
Protein:

3g
Nutrition isn't always accurate.
To see many other recipes from my friends in The Secret Recipe Club see the links below.
');