Ham and Cheese Sliders
As an Amazon Associate and member of other affiliate programs, I earn from qualifying purchases.
Ham and Swiss cheese, loaded on King's Hawaiian rolls, slathered with a Dijon butter, and baked in the oven. Great for company or tailgates!
I have seen this recipe or variations of it over the years, always getting rave reviews. Why didn't I try it sooner? I am the master of the post-it note in magazine and cookbooks, only to forget why it's there, or what book it's in. I am also known for pinning things I am sure I won't forget, then 100 pins on my Pinterest boards later, and *poof!* it's gone. I think that comes with age. Not that I am crazy about the whole aging thing, but I mean, it sure beats the alternative, am I right?
You have all heard me talk of my buddy, Brandi, from Aunt Bee's Recipes. She and I have become super good friends over the last year or so. I am grateful for her wit, and that she knows when I rant about things only a food blogger can rant about to another food blogger that she understands where I am coming from. Typically to commiserate with me, make me laugh with some meme that she googled and texted me with Ninja-like speed, just to make me smile. I would be remiss though to not say that I (and my family) is grateful for her recipes!
So, when I saw these on her blog one day that I was creeping on her, I knew they would be perfect, not only for a pool party I was having for my kids and their friends, but for upcoming tailgates! YES!
Swiss cheese and good quality ham are loaded onto King's Hawaiian rolls before baking. This is a great idea to use that leftover holiday ham! Most of the recipes, including Brandi's calls for Poppy Seeds. I am not a fan, so I left them off. The recipe puts them as "optional" so you can include if you'd like!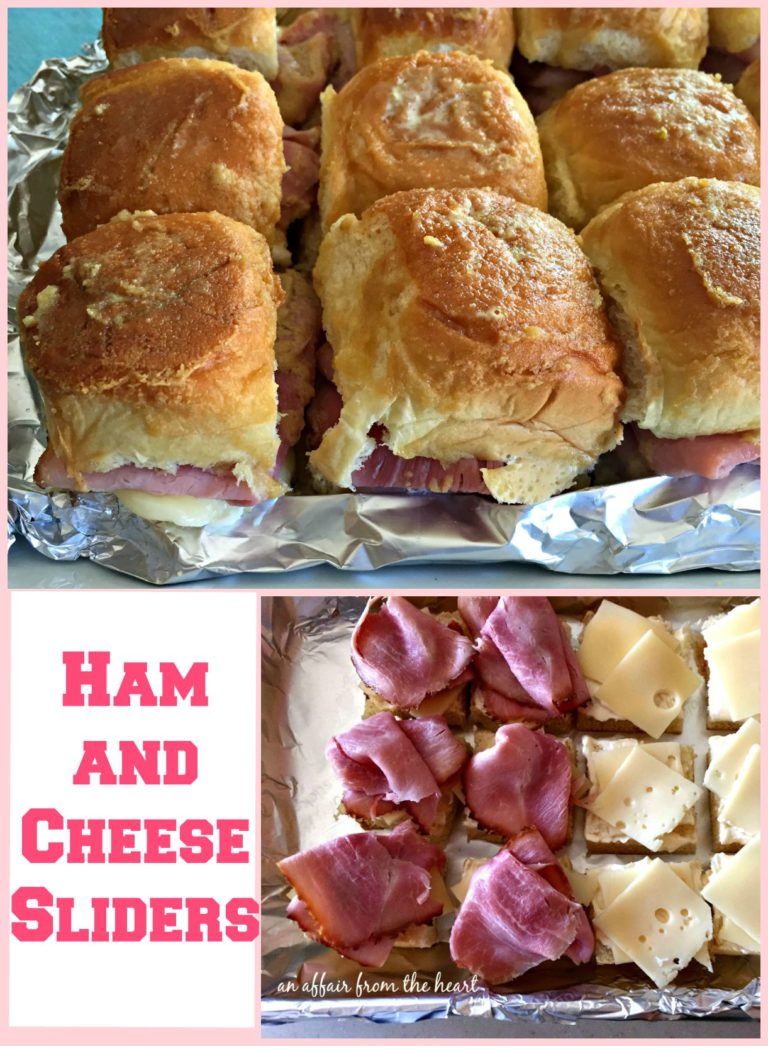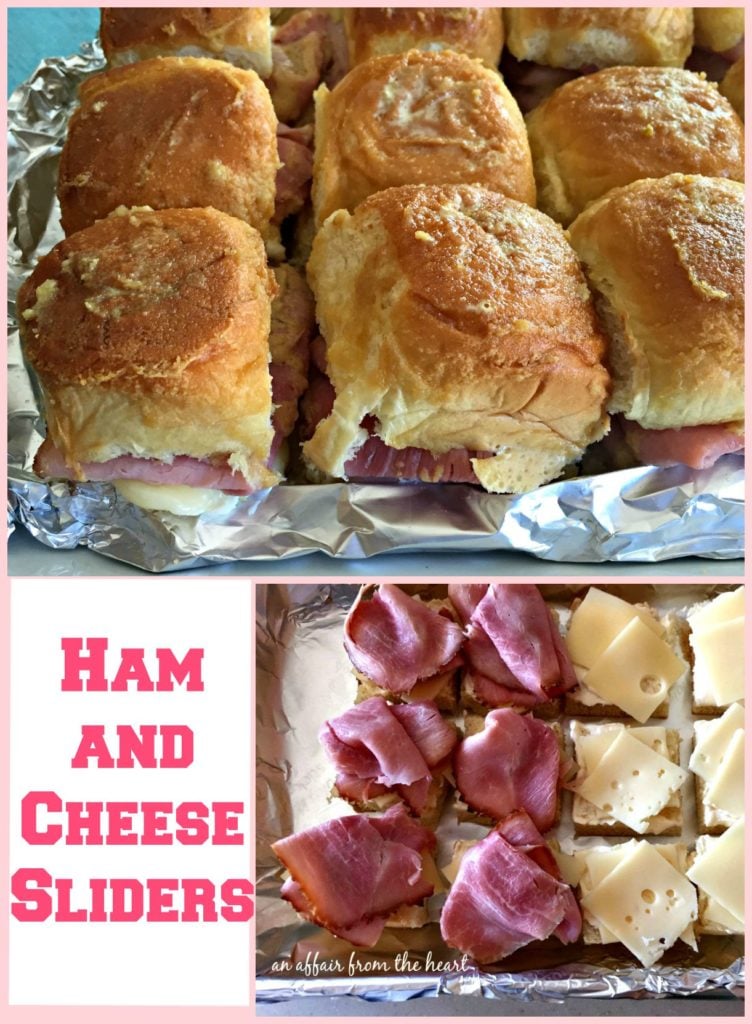 ~~~
Yield: 12 sliders
Ham and Cheese Sliders
Ham and Swiss cheese, loaded on King's Hawaiian rolls, slathered with a Dijon butter, and baked in the oven. Great for company or tailgates!
Additional Time
5 minutes
Ingredients
1 (dozen) King's Hawaiian rolls
Mayonnaise
12 thick slices Swiss Cheese
1 pound Ham
1/2 cup butter, melted
1 Tablespoon Onion Powder
1 1/2 Tablespoon Dijon Mustard
1 1/2 teaspoon Worcestershire Sauce
1 Tablespoon Poppy Seeds (optional)
Instructions
Preheat oven to 350 degrees.
Separate rolls then using a bread knife, cut them in half horizontally.
Spread a layer of Mayonnaise on the bottom half of each, then a layer of Swiss cheese, then ham, then the tops of the rolls.
Place sandwiches in a baking dish where they are slightly touching each other.
Whisk together melted butter, onion powder, Dijon mustard (optional poppy seeds), and Worcestershire sauce. Pour over the tops of the sliders.
Cover with aluminum foil and bake for 10 minutes. Remove foil and bake for 2 minutes longer. Let sit for 5 minutes before serving.
Nutrition Information:
Yield:
12
Serving Size:
1
Amount Per Serving:
Calories:

254
Total Fat:

20g
Saturated Fat:

11g
Trans Fat:

1g
Unsaturated Fat:

7g
Cholesterol:

72mg
Sodium:

554mg
Carbohydrates:

3g
Fiber:

0g
Sugar:

1g
Protein:

17g
Nutrition isn't always accurate.
~~~