Copy Cat P.F. Chang's Mongolian Beef
As an Amazon Associate and member of other affiliate programs, I earn from qualifying purchases.
Love the Mongolian Beef at P.F. Chang's? Now you can make it right at home!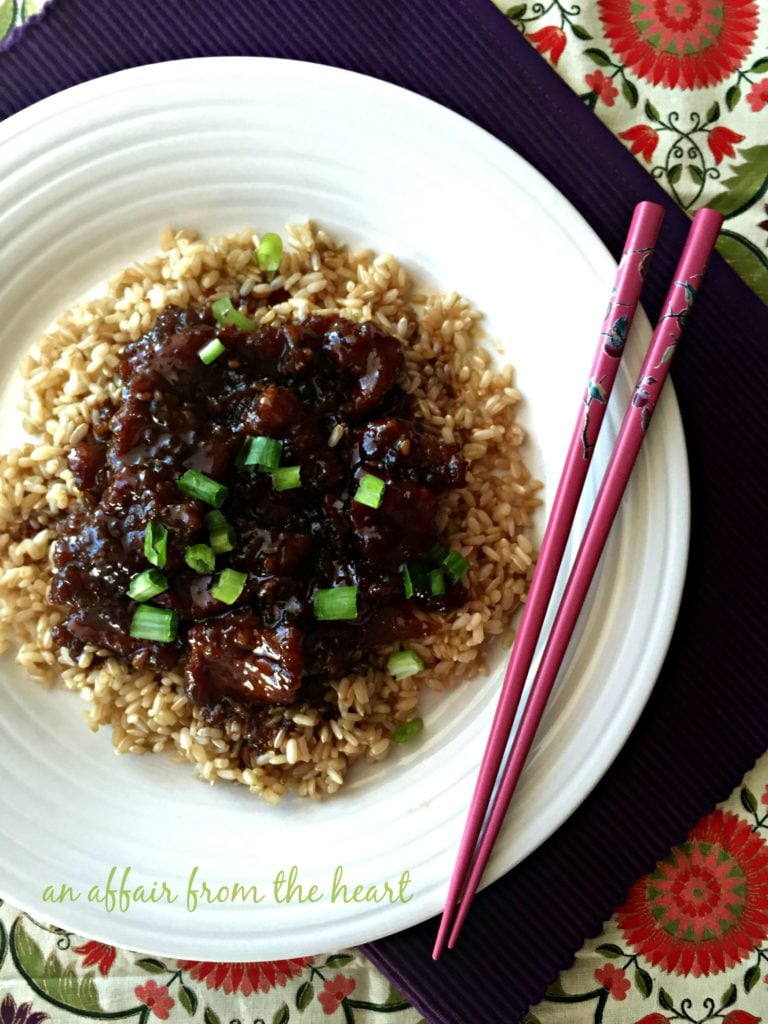 You have heard me mention before that I love Chinese take out. When it comes to making it at home, it's not something that I typically do. It is sort of my "night off" food, if you know what I am saying. Recently, though, I was chatting with my friend, Brandi, of Aunt Bee's Recipes. I asked her what her MOST favorite thing on her blog was. To a food blogger, that isn't an easy question. It's sort of like being asked to pick your favorite child! In the end, she chose this recipe, Mongolian Beef. She says it is her most favorite of all of her recipes – well having cooked from Brandi's site before, I knew I couldn't go wrong making it for my family.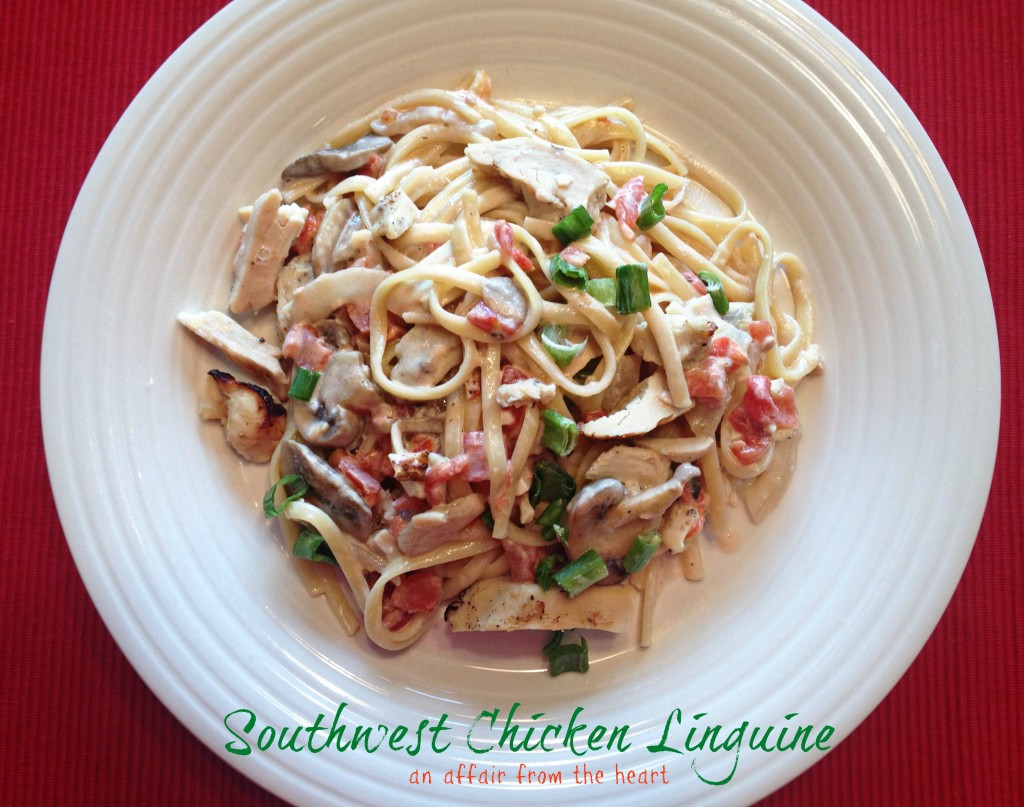 I made her recipe for Southwest Chicken Linguine, and it was a quick family favorite! I have made this countless times.
This past weekend, I made her Ham & Cheese Sliders, (be looking for that blog post coming soon) and a couple of weeks ago, her Peanut Butter Mug Cookie For One. The perfect little sweet snack when you "just need a little cookie or something," as my friend Jill says.
This recipe is super good. I myself, have never eaten this particular dish at P.F. Chang's, I am a Broccoli Beef creature of habit, but I am told it tastes just like it. One thing that Brandi says is key, is to dust the meat and let it absorb the corn starch before cooking. I have never used corn starch like this before. Now I know how they get the meat that consistency in the restaurant. Brilliant.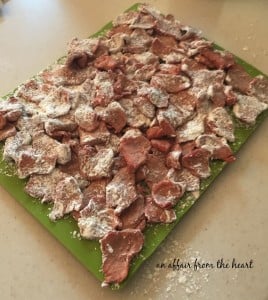 Brandi also says that it is important not to crowd the meat while cooking. Cook it in multiple batches if need be. I have a large electric skillet, and still made two batches. You don't want the meat sticking together.
Serve over rice. Brandi suggests a side of Fresh Ginger and Garlic Roasted Broccoli to get your veggies in. I stir fried some broccoli and mushrooms on the side. you know me, I love my mushrooms!
Thanks for all of the GREAT recipes, Aunt Bee — I can't wait to make something new from your blog this week!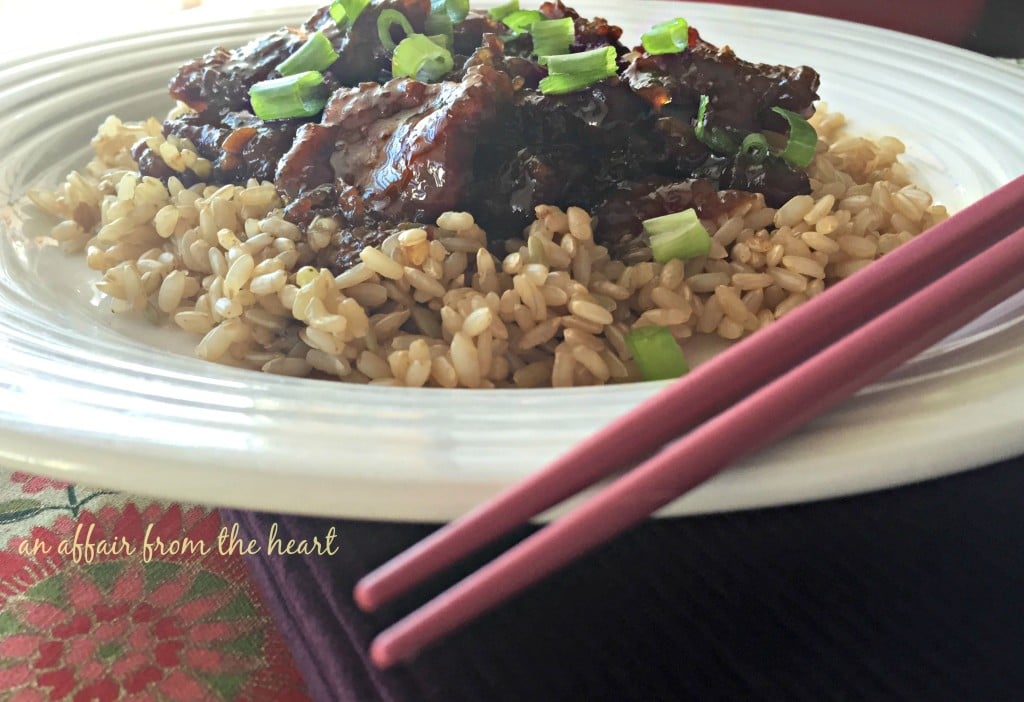 —
Yield: Serves 4
Copy Cat P.F. Chang's Mongolian Beef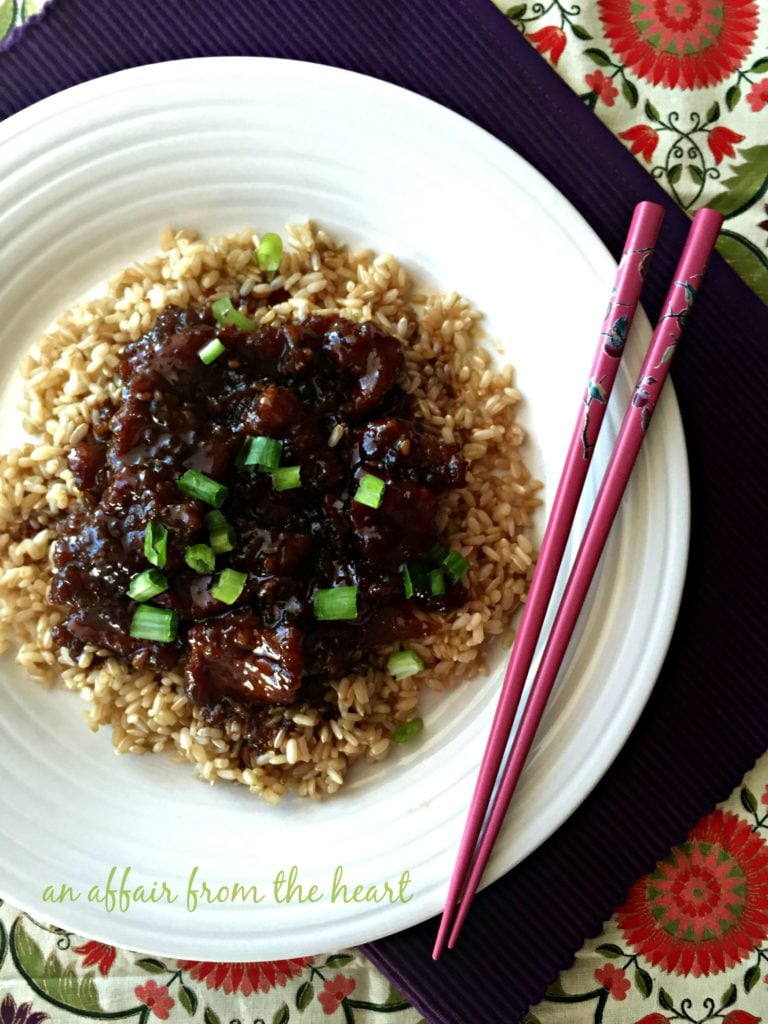 Love the Mongolian Beef at P.F. Chang's? Now you can make it right at home!
Additional Time
30 minutes
Ingredients
4 teaspoons vegetable oil + 1 cup for frying
1 teaspoon ginger, minced
2 Tablespoons garlic, chopped
1 cup LOW SODIUM soy sauce
1 cup water
1 1/2 cups dark brown sugar
2 pounds top sirloin or flank steak, trimmed of fat and gristle and sliced against the grain
1/2 cup cornstarch
Green Onions, Chopped
Rice, cooked
Instructions
Trim fat and gristle from the beef and slice it against the grain. Dip each steak piece in the corn starch and let it sit for one half hour so it adheres to the meat.
Heat 4 teaspoons of oil in a large saucepan over medium heat. Add the ginger and garlic, stirring constantly for 1 minute. Quickly add soy sauce and water before the garlic has had time to burn.
Whisk the brown sugar into the sauce until it dissolves. Raise the temperature to boiling for 2 – 3 minutes stirring constantly until the sauce has thickened. Remove from heat.
When beef has sat for 30 minutes, heat up 1 cup of oil in a large skillet or wok. Heat the oil over medium heat so it is nice and hot but not smoking. Add the meat to the pan, taking care to give each piece plenty of room, so it doesn't stick together. Saute the beef for about 2 minutes on each side or until it starts to brown slightly. (It will continue to cook in the sauce.) Use a slotted spoon to remove meat from pan, transferring to a paper towel lined plate to drain.
Clean the oil out of the skillet, add the meat and the reserved sauce. Simmer for 10 minutes.
Serve over rice, sprinkled with green onions.
Notes
I doubled the recipe for my family, as I cook for 6-7 people on a regular basis. This recipe, as written, feeds a family of 4 easily, pairing with a nice vegetable and served over rice.
Nutrition Information:
Yield:
4
Serving Size:
1
Amount Per Serving:
Calories:

1490
Total Fat:

89g
Saturated Fat:

18g
Trans Fat:

1g
Unsaturated Fat:

64g
Cholesterol:

225mg
Sodium:

2457mg
Carbohydrates:

98g
Fiber:

1g
Sugar:

67g
Protein:

74g
Nutrition isn't always accurate.
—
—