Dorothy's BBQ Little Smokies
As an Amazon Associate and member of other affiliate programs, I earn from qualifying purchases.
Dorothy's BBQ Little Smokies are little smokies like you have never tasted before! This appetizer favorite is simmered in Homemade Dorothy Lynch BBQ Sauce, red onion, and serrano peppers. Make them on your stovetop, grill, smoker, or in your oven or crockpot, and watch them disappear!!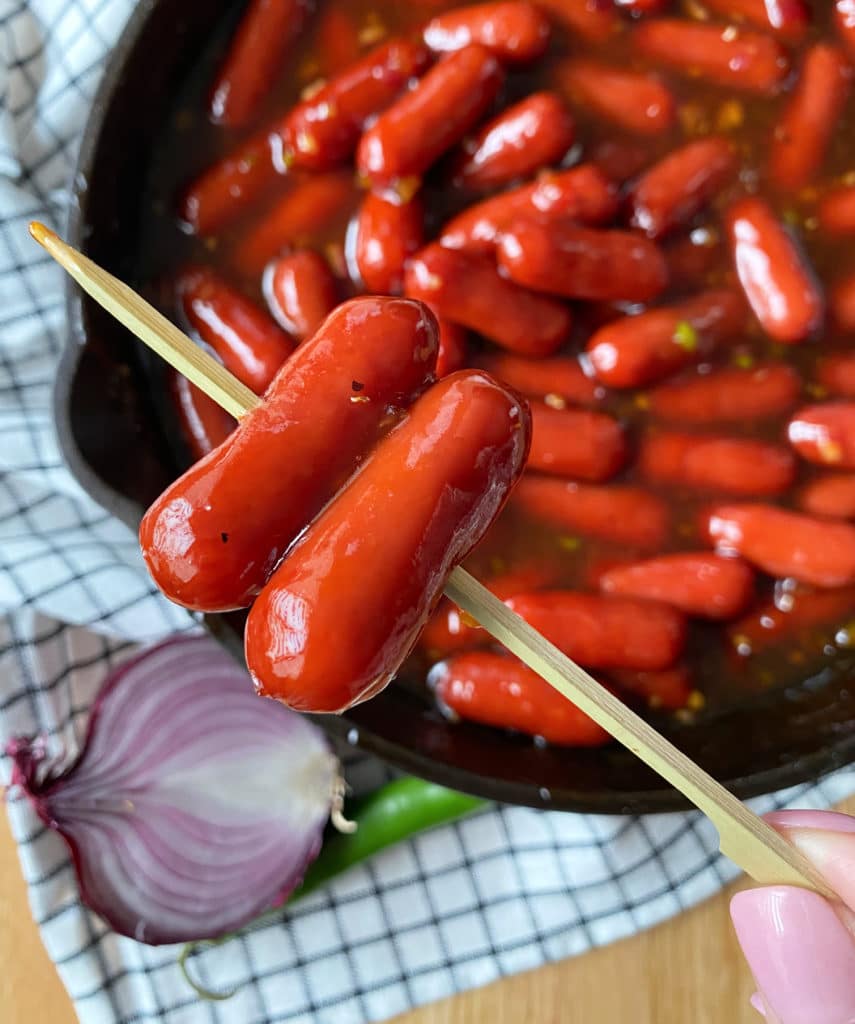 My dear readers, can you smell that? It's the sweet, sweet smell that only tailgates can bring. After last year, I, for one, am SO READY for a good 'ol Lincoln Nebraska Husker Tailgate! Today, I am kicking things off with a brand new Dorothy Lynch tailgate recipe that is sure to be a real winner!
Of course, tailgate grilling and barbeque just go hand in hand, don't they? You can incorporate that amazing flavor into just about any kind of recipe, but these BBQ Little Smokies are something to truly behold!
Before you think to yourself that they are just another lil smokie recipe, I assure you that they are not. These little smokies are cooked in a Homemade Dorothy Lynch BBQ Sauce and simmered with onion and serrano peppers.
This recipe is sponsored by Dorothy Lynch Dressing & Condiment. All of the opinions and love of their Nebraska-Made Home Style Dressing & Condiment are my own.
SOME OF THE ITEMS BELOW CONTAIN AFFILIATE LINKS; I AM A PARTICIPANT IN THE AMAZON SERVICES LLC ASSOCIATES PROGRAM, AN AFFILIATE ADVERTISING PROGRAM DESIGNED TO PROVIDE A MEANS FOR US TO EARN FEES BY LINKING TO AMAZON.COM AND AFFILIATED SITES. I AM ALSO AN AFFILIATE FOR OTHER BRANDS. HOWEVER, I ONLY PROMOTE THINGS THAT I LOVE AND THINK YOU WILL LOVE, TOO. FOR MY ENTIRE DISCLOSURE POLICY PLEASE

CLICK HERE

.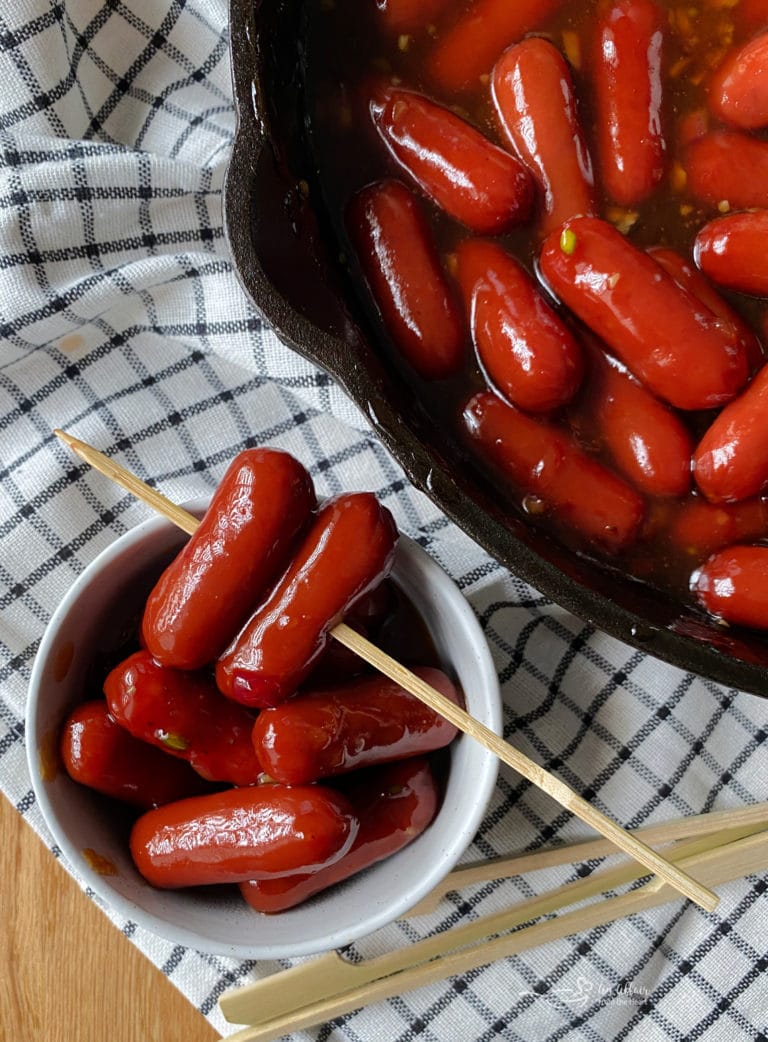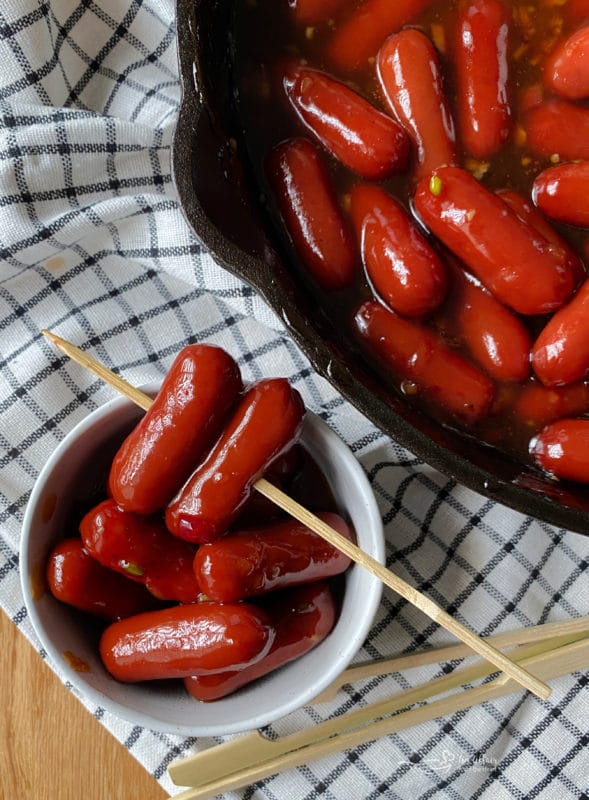 Little Smokies the Most Loved Appetizer
Every time I bring little smokies to a potluck or make them for a get-together, they disappear in minutes. There is just something about them that everyone loves. And when you are the one preparing them, the thing to love most is that they are so simple to make!
I am sharing them as a tailgate recipe today, but this appetizer classic is perfect for snacking anytime, and makes great hors d'oeuvres to have at holiday parties, too!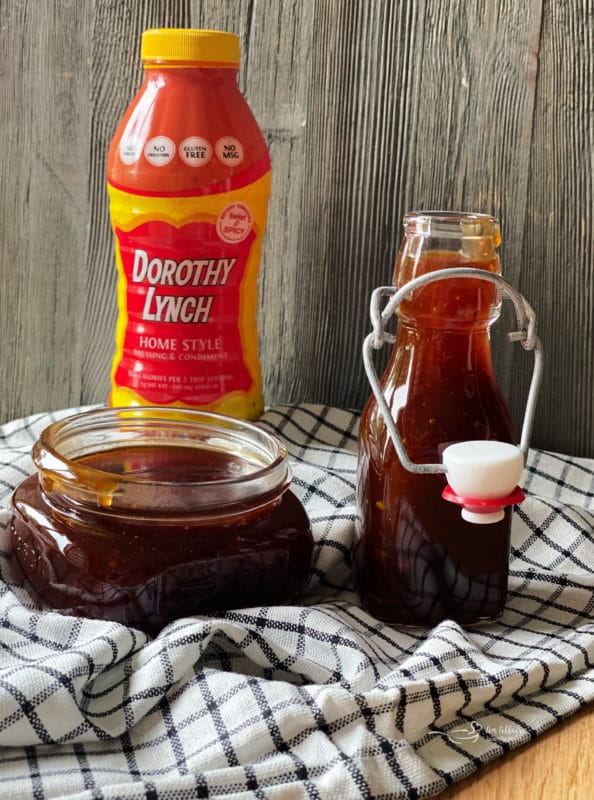 Dorothy Lynch BBQ Sauce from Scratch
Today, can we talk about the magic that making your own barbecue sauce does for a package of Beef Little Smokies? Sure, you could just buy the bottle of sauce at the store, but trust me here, homemade is just so much better.
Plus, this BBQ sauce is not hard to make, and I bet you might have these basic ingredients on hand in your cupboard right now. Adding Dorothy Lynch Dressing & Condiment to my barbecue sauce recipe, in place of the ketchup that I typically use was a complete game-changer. It gave it a whole new dimension of flavor, and its tomato base is the perfect addition to homemade barbeque sauce.
Dorothy Lynch Dressing & Condiment
You might be asking me — why are you turning a condiment into a condiment? I will tell you that Dorothy Lynch Dressing & Condiment makes so many sauces and seasonings better. I have used it to make homemade taco seasoning and taco sauce, pizza sauce, a ham glaze, holiday glazed meatballs, and of course, the infamous Sloppy Dorothy Recipe, which became one of my top ten recipes in less than a month. (yes, they are that good.)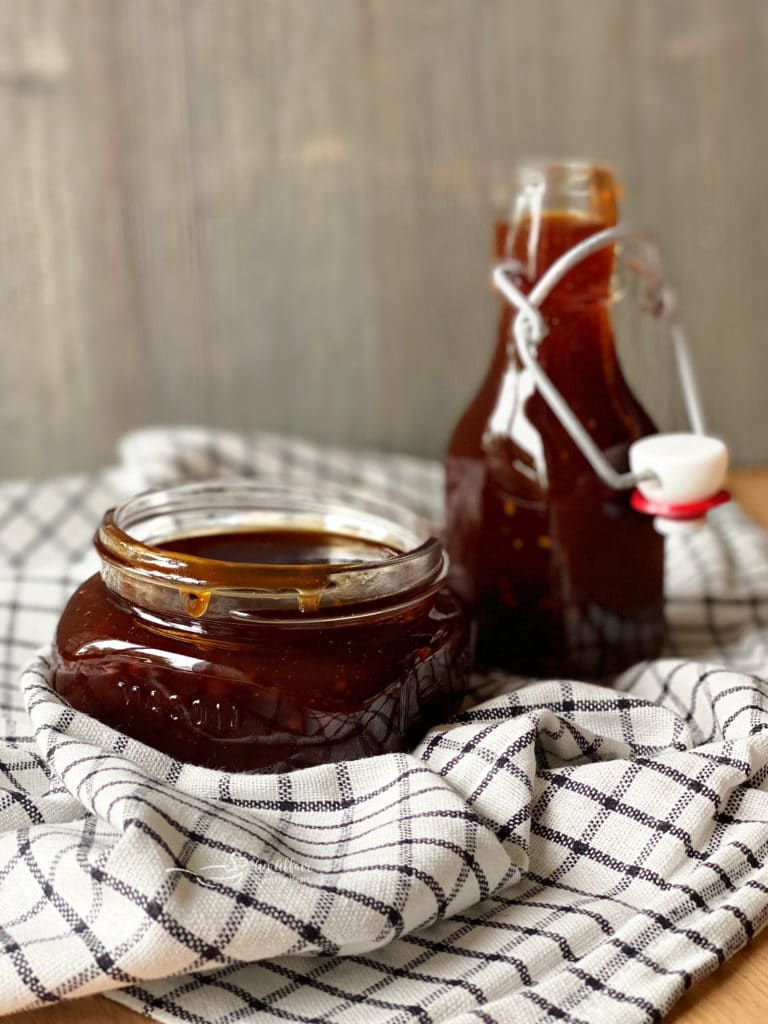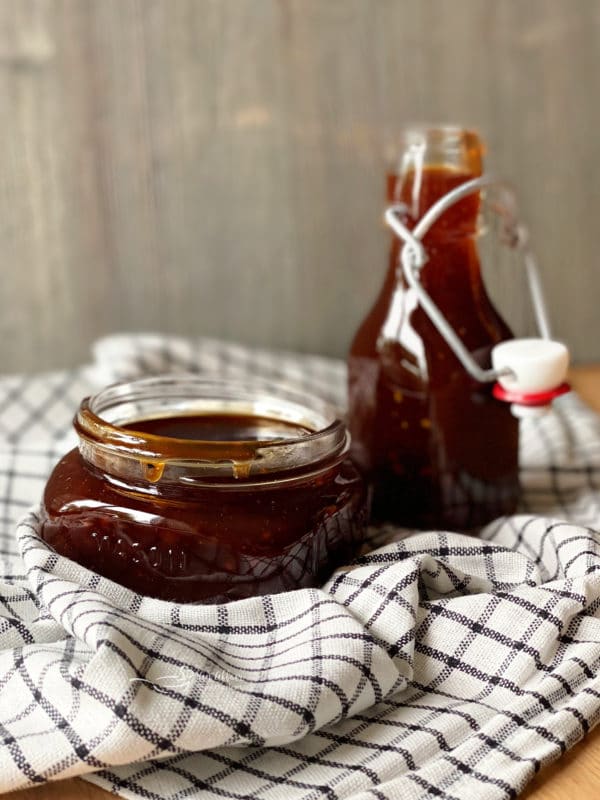 How to Make Dorothy's BBQ Sauce
With a few basic pantry ingredients, you can be slathering this homemade barbecue sauce on all sorts of things, not just little smokies!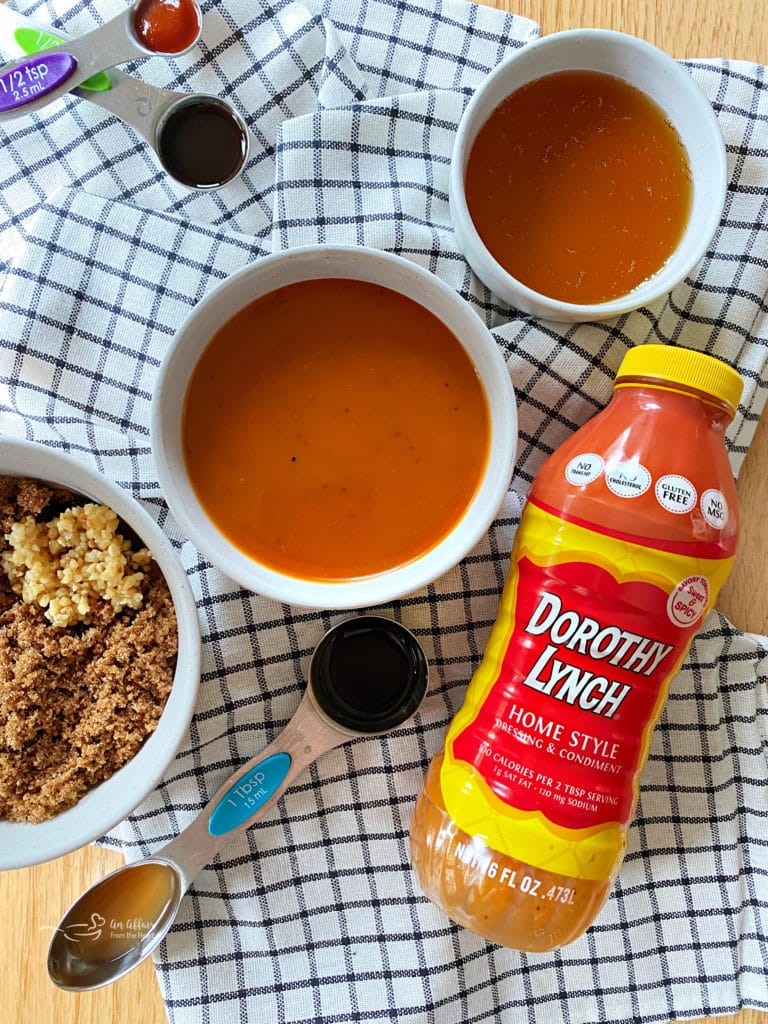 Ingredients in Dorothy Lynch BBQ Sauce
To make this barbecue sauce you'll need:
dark brown sugar
minced garlic
soy sauce
Worchestershire sauce
honey
sriracha
apple cider vinegar
cornstarch (optional)
(complete measurements in the recipe card at the end of this post)
Add all of the ingredients to a saucepan and simmer for about 15 minutes. Add in a little cornstarch to thicken if desired.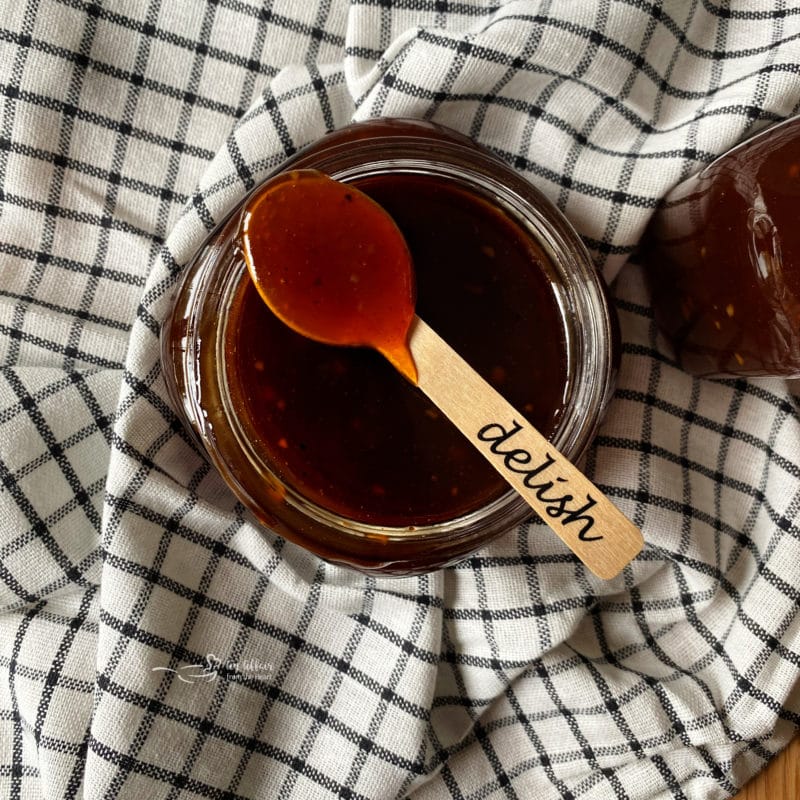 Makes about a cup of sauce.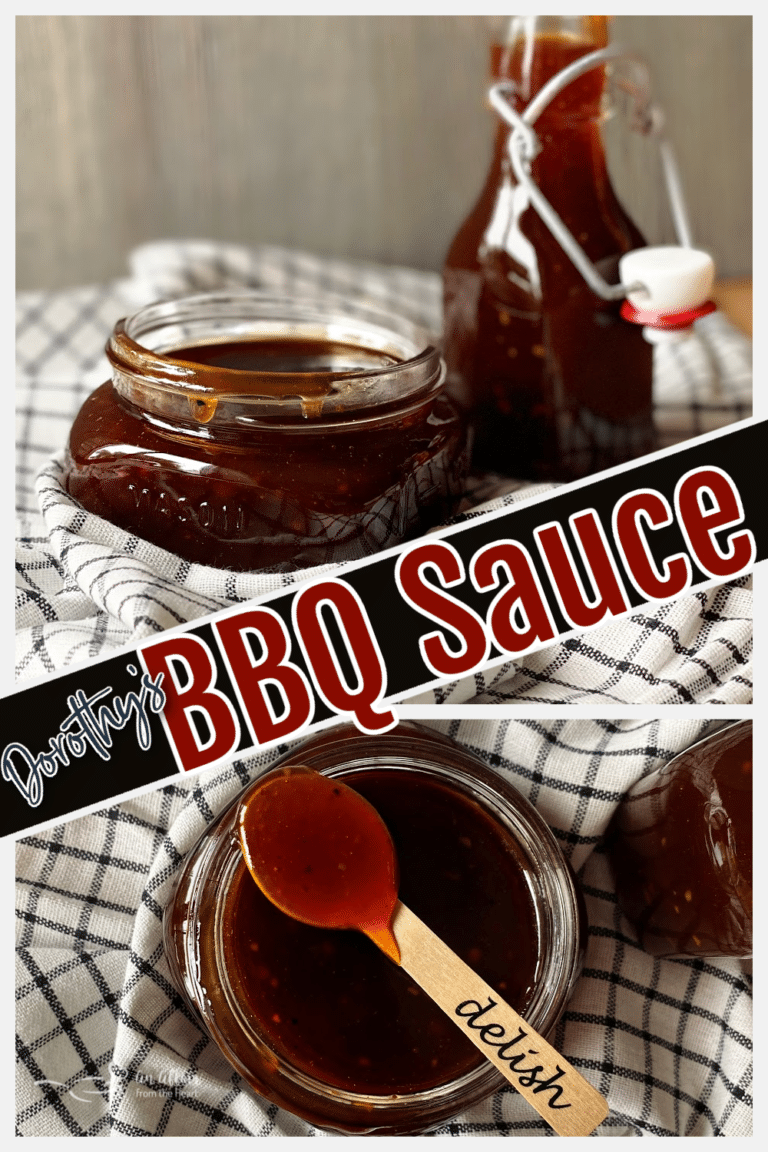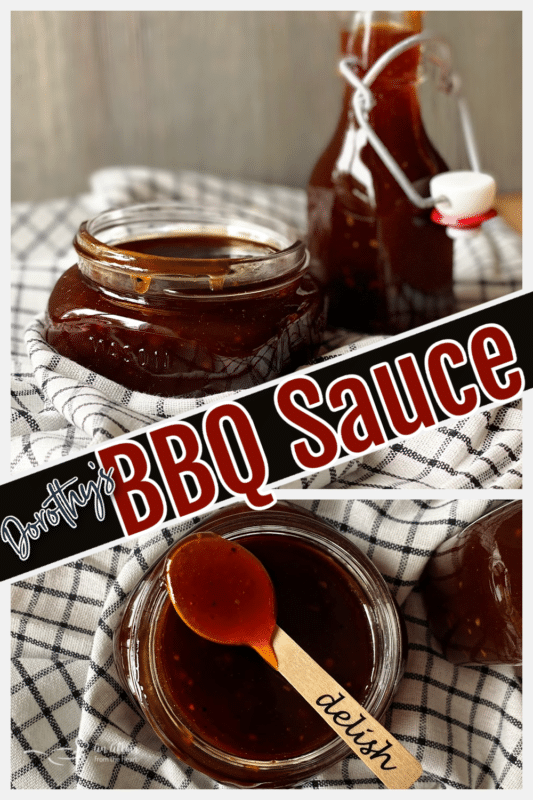 Pin the Recipe for Dorothy's BBQ Sauce to find it easily!
Adding the link to your Pinterest recipe board will make it easy to find when you are ready to make some! Pin it before you go!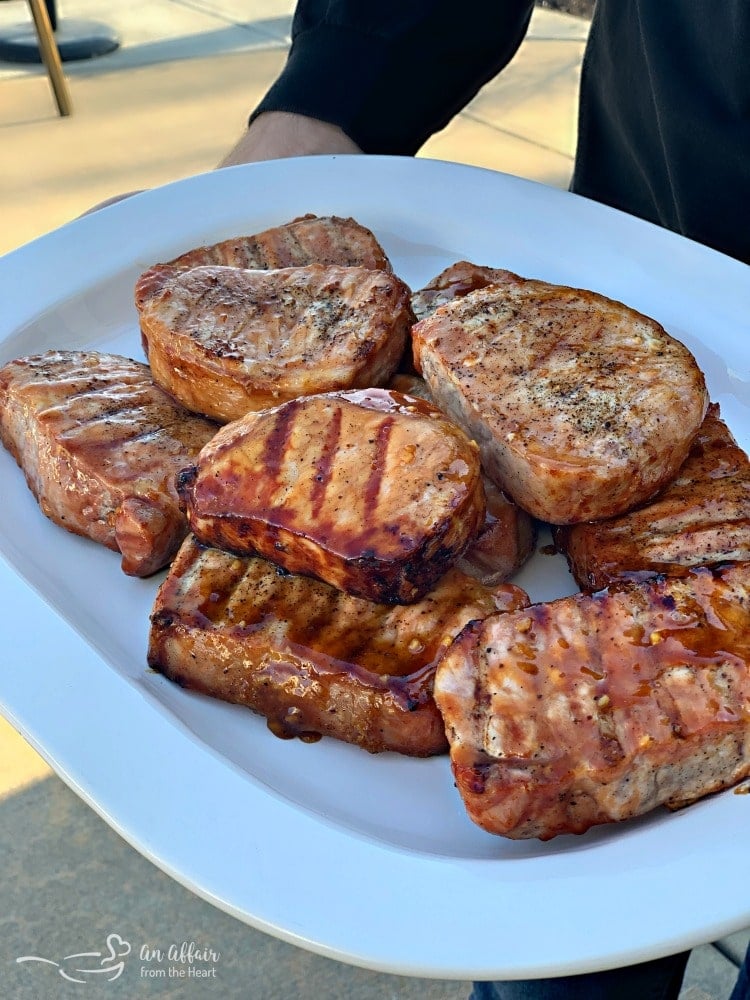 Other FAVORITE BBQ RECIPES FROM AN AFFAIR FROM THE HEART: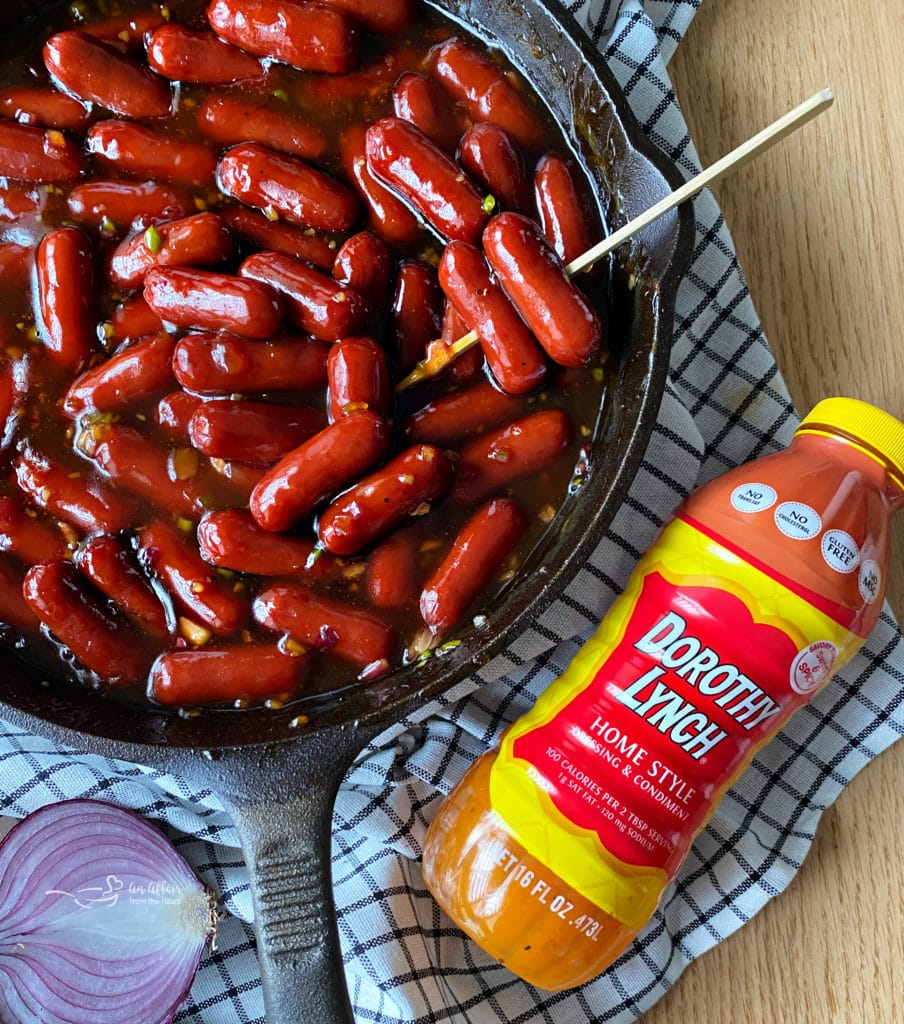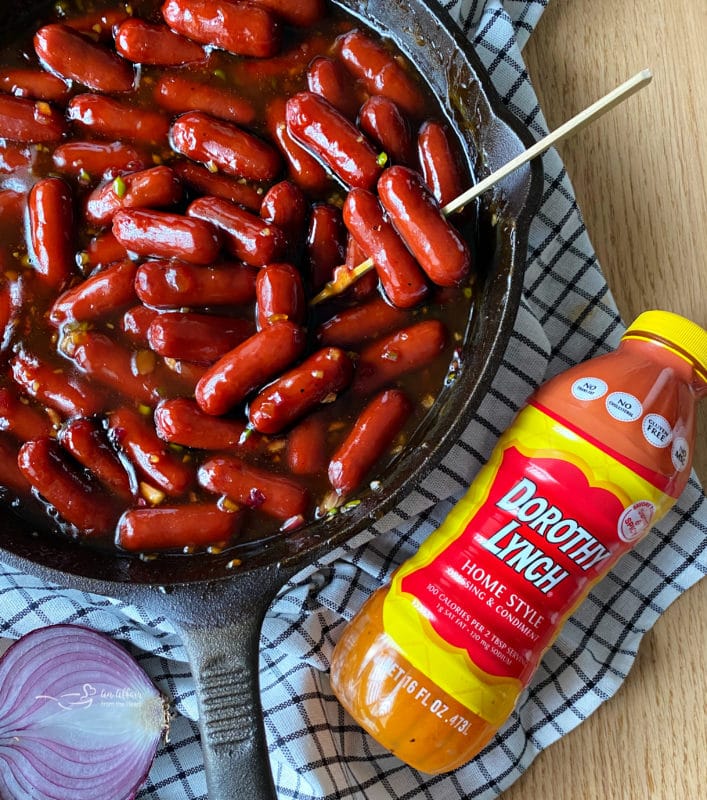 How to make the BEST BBQ LITTLE SMOKIES
Now that you have your homemade barbecue sauce, it's time to make this BBQ little smokie recipe! They can be prepared on your stovetop, in your oven, inside your slow cooker, or even on top of your grill or smoker!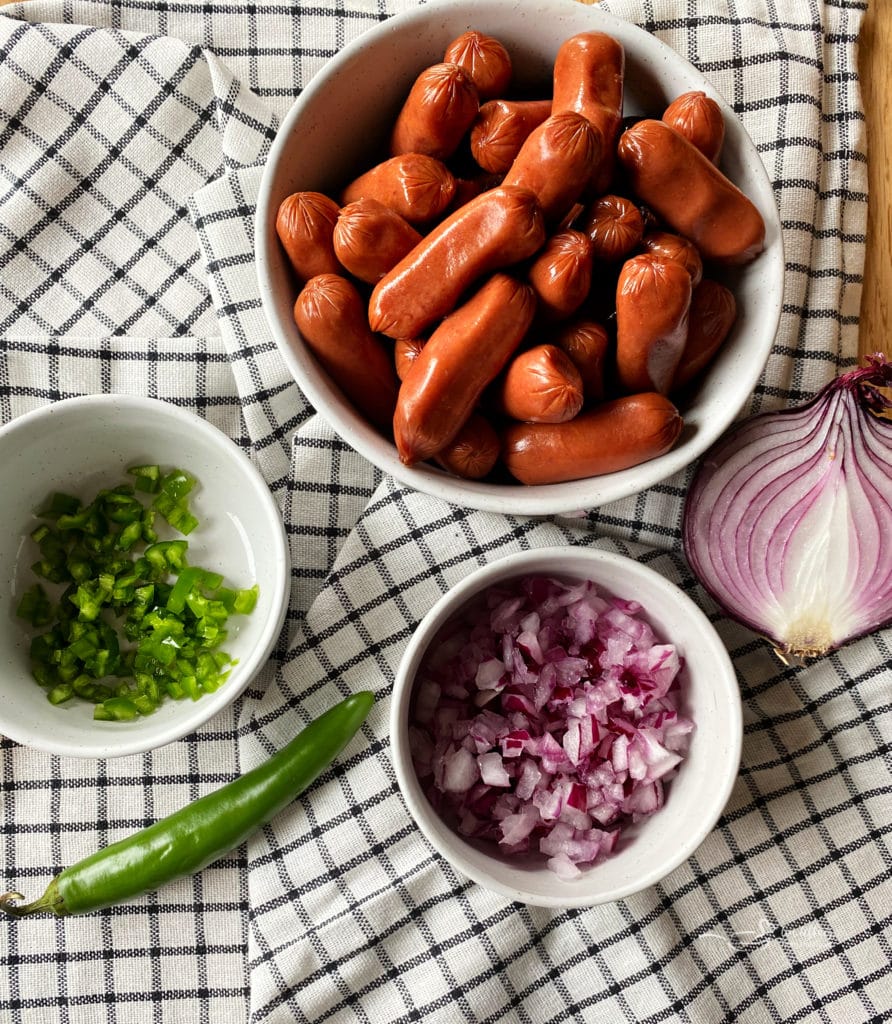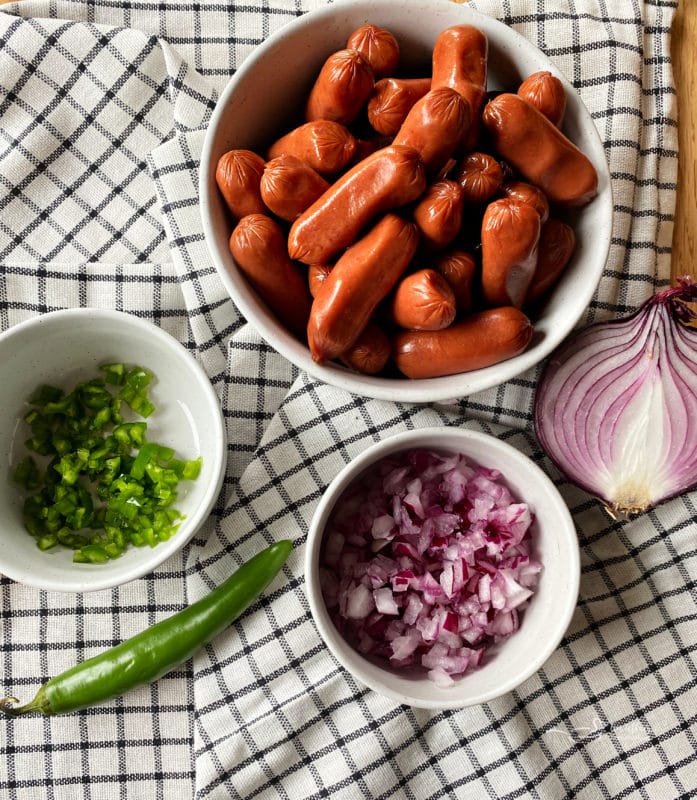 Ingredients in Dorothy's BBQ Little Smokies
Dorothy's BBQ Sauce
beef Little Smokies
red onion
serrano pepper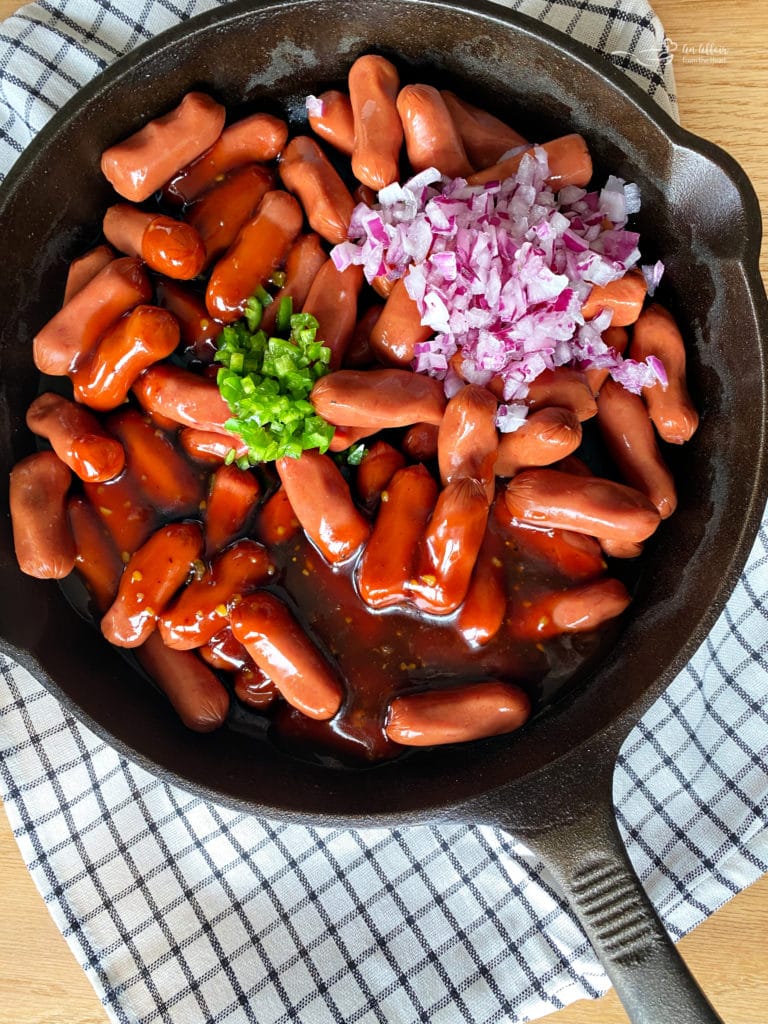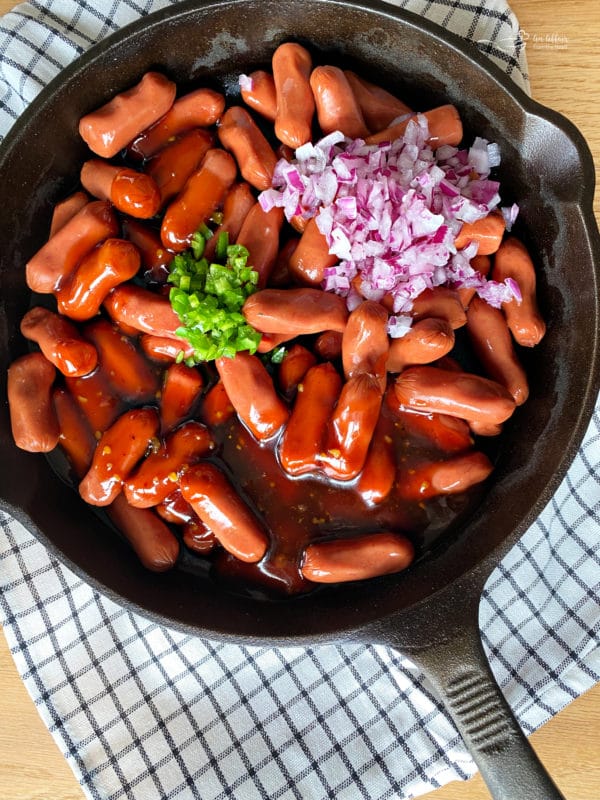 Add the sauce, onion and pepper to the smokies in a skillet.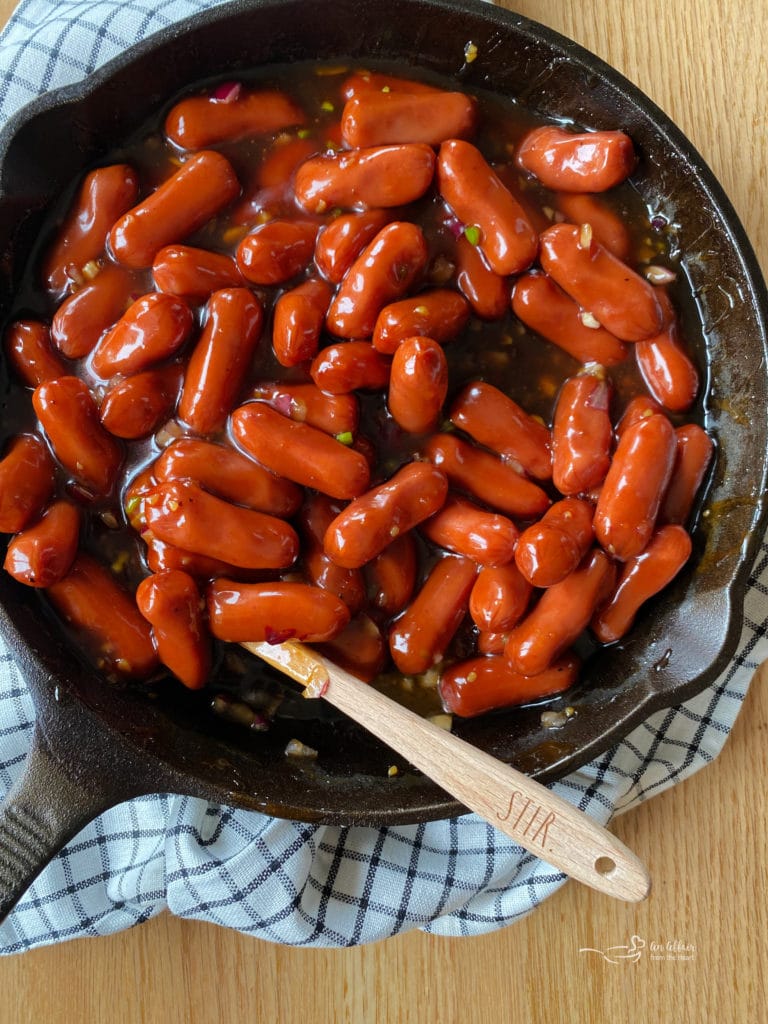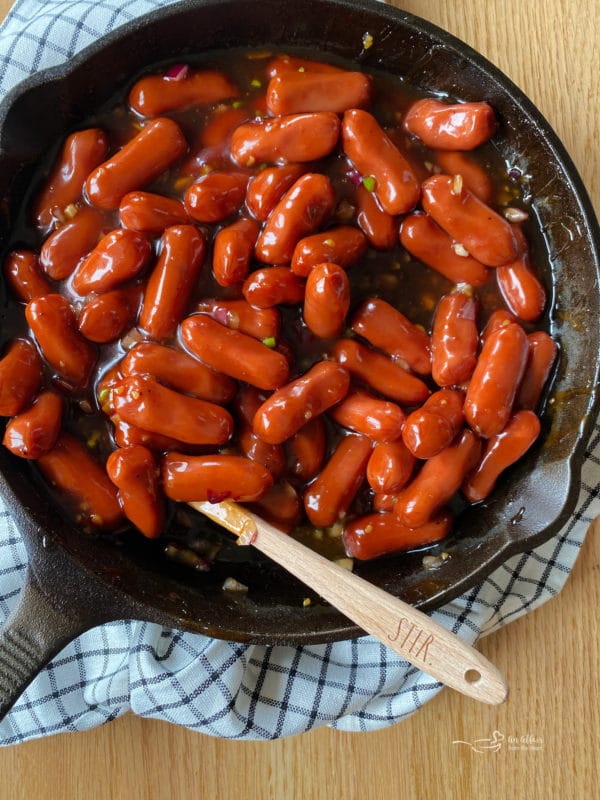 Give them a stir and cover and cook them for about 15 minutes. They will be heated through, and the onions and peppers will become tender.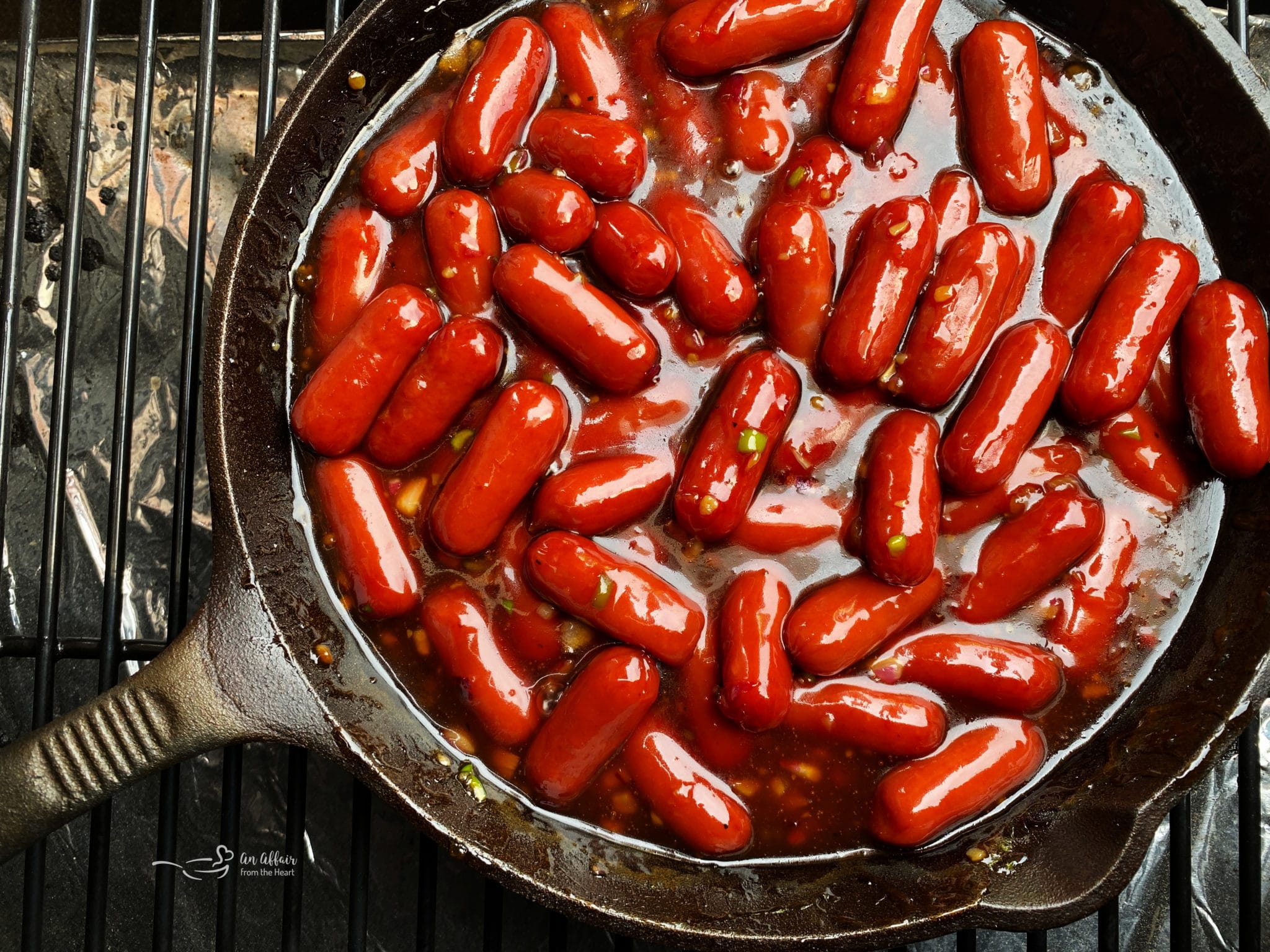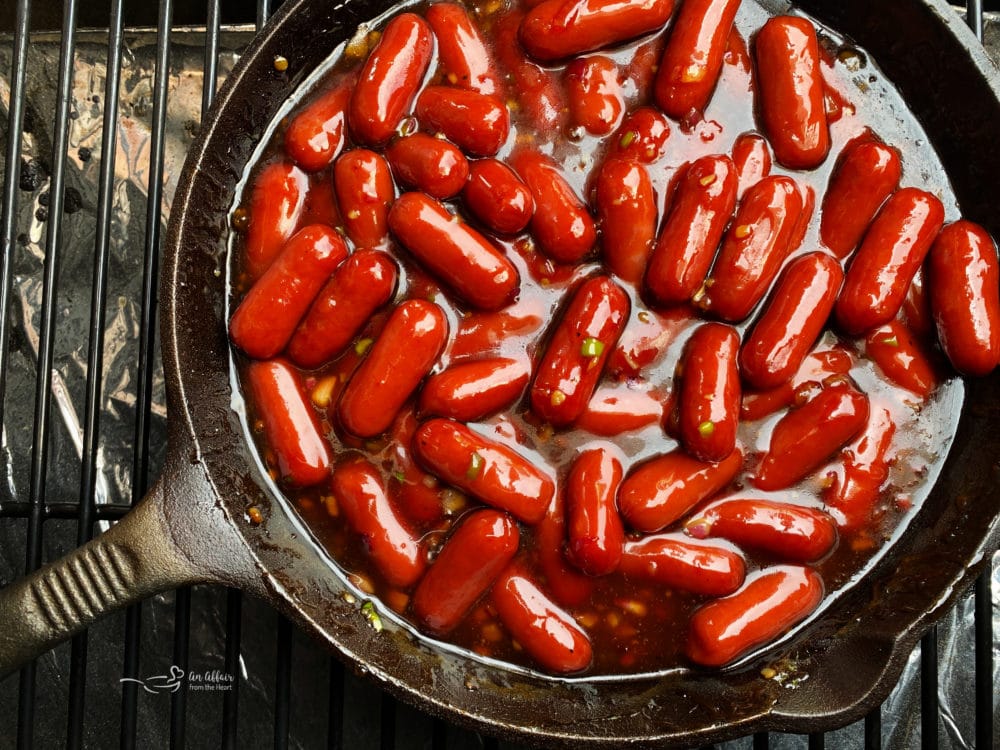 Making them on the smoker gives them another flavor element, adding in that extra smoke. It also makes them perfect for tailgating!
Tip: Don't want to lug your cast iron skillet? Make them in a disposable aluminum tray on your grill top. Toss it when they are gone.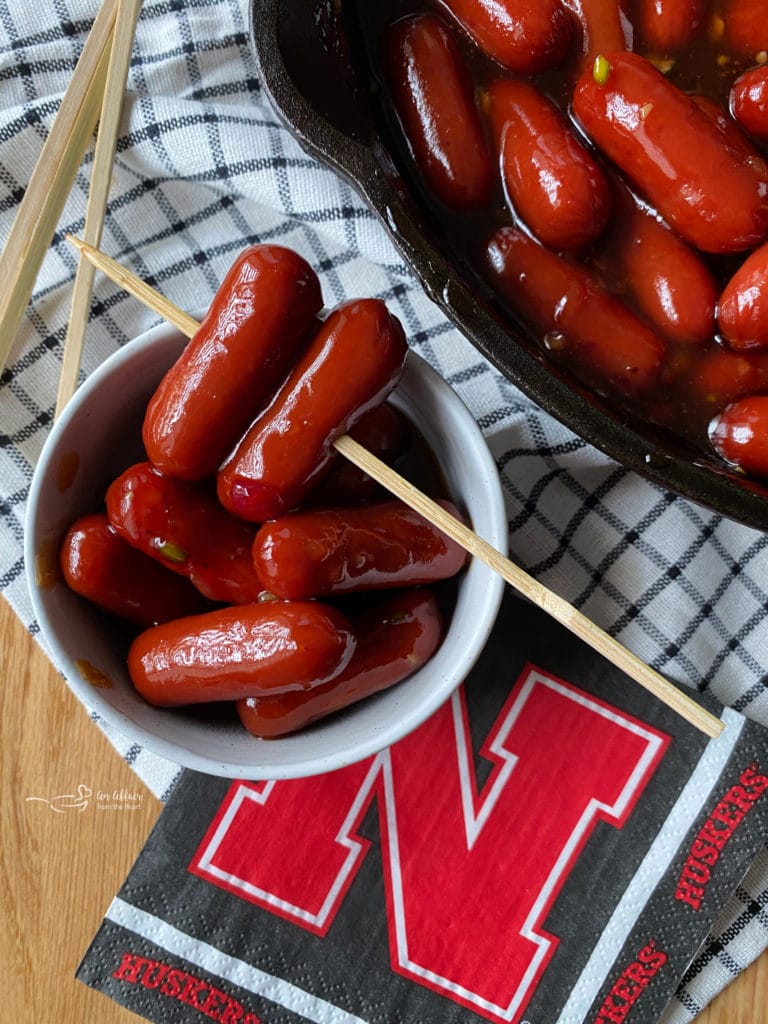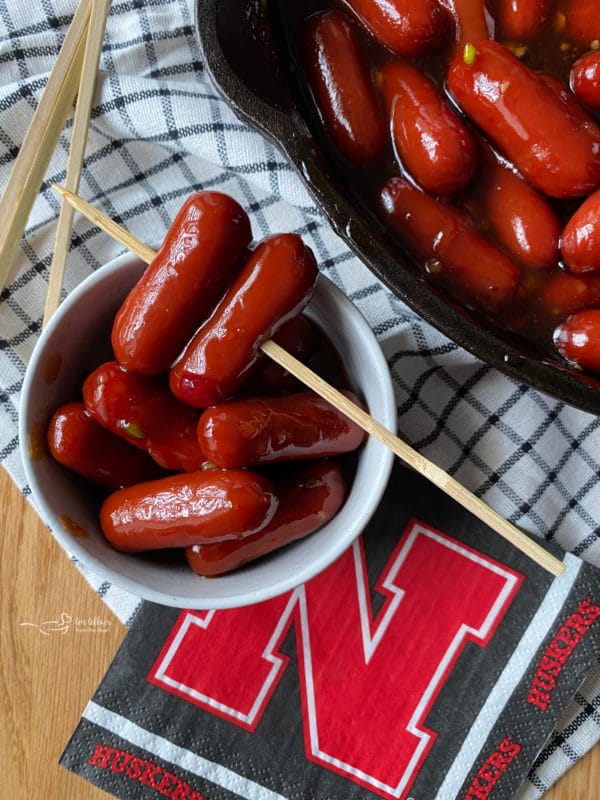 Serve warm with toothpicks.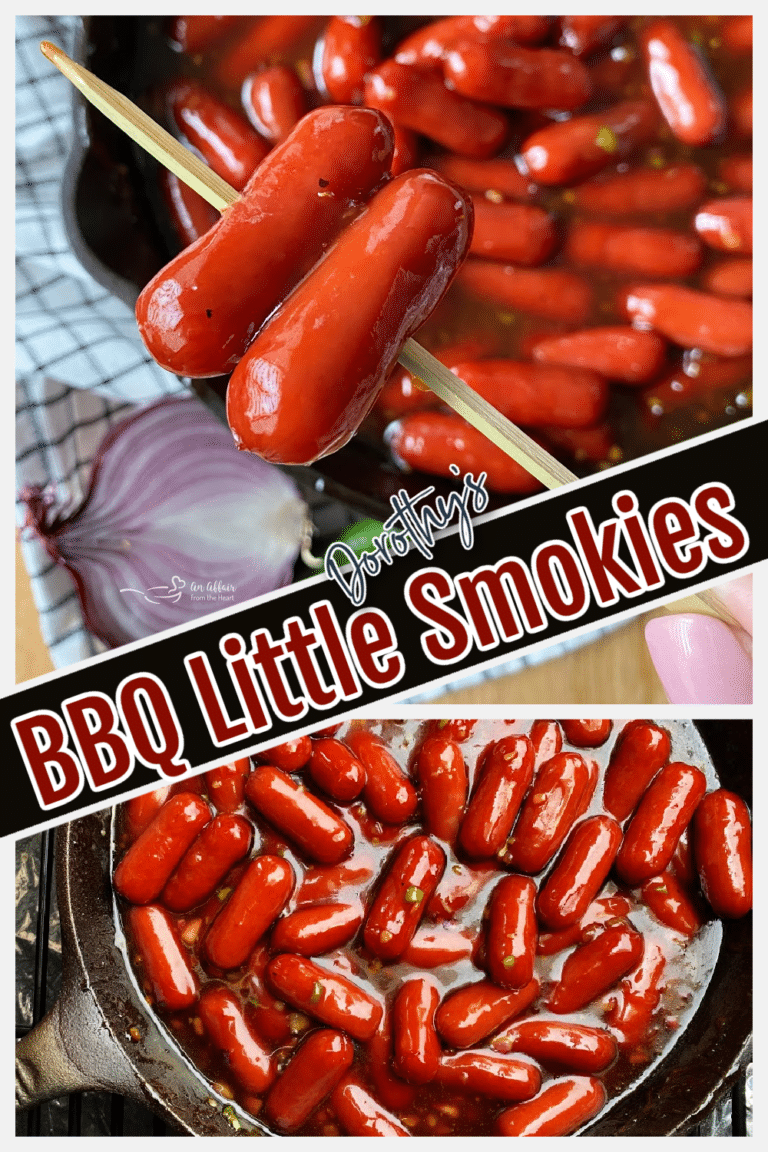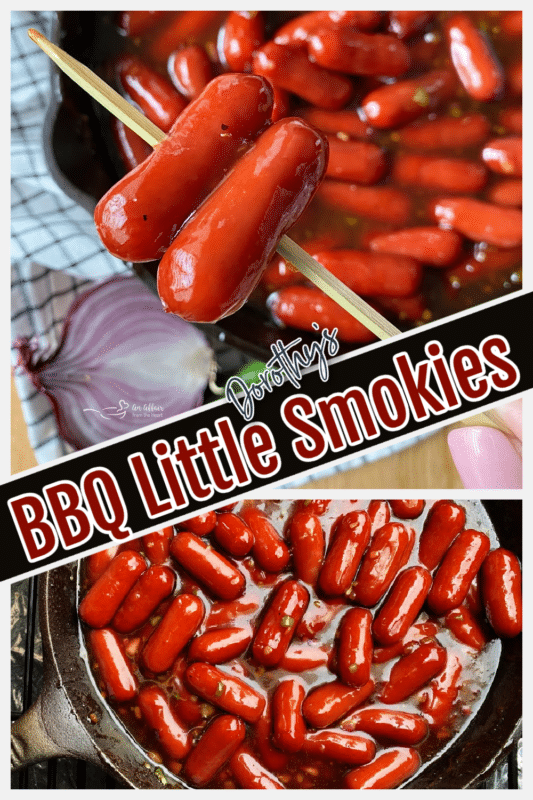 Love them? Pin them!
Don't forget where you found this recipe! Pin it to your favorite Pinterest recipe board before you go!
Frequently Asked Questions about Little Smokies
Are little smokies pre-cooked? Yes. They are pre-cooked, but it is still a good idea to heat them before eating them. Any kind of processed meat can run the risk of having bacteria transferred when it is packaged, however, cooking kills that. You shouldn't eat the little smokies "raw" or uncooked.
How long do Little Smokies keep in the refrigerator? Once the bag of little smokies is opened, you should consume them within 3 or 4 days. Always keep them refrigerated after opening.
What goes with BBQ'd Little Smokies? Anything! Typically when I serve them at a party, I have a nice charcuterie board alongside them, as well as a cold dip like my Dill Pickle Dip. If you are eating them more like a meal, you should try them with Dorothy's Potato Salad, yum!!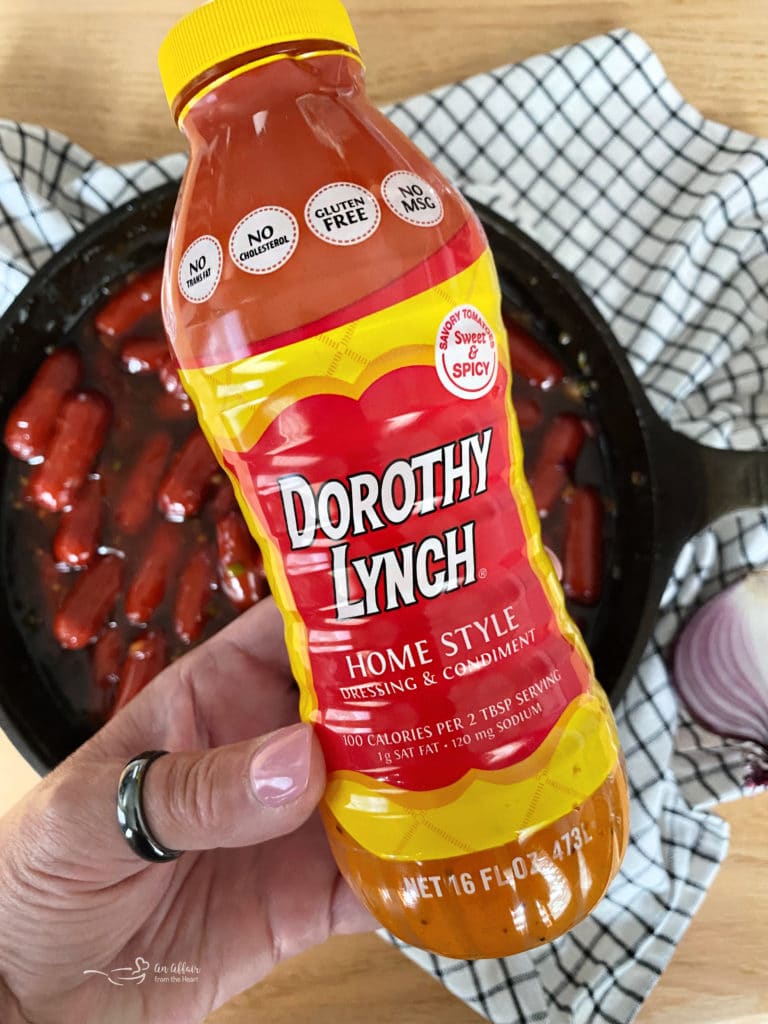 What is Dorothy Lynch Dressing & Condiment?
For those of you who are unfamiliar with Dorothy Lynch Salad Dressing & Condiment, let me share with you just what it is, and how it came to be.
Dorothy Lynch got its start in the 1940s at the Legion Club in St. Paul, Nebraska. Dorothy made her homemade dressing for the restaurant, and people fell in love with it. They even brought in their own bottles to have them filled with this delicious dressing. These days, the famed dressing is made in a 64,000 square foot plant in Duncan, Nebraska, population 351. Dorothy Lynch is available in Home Style and Light & Lean. Dorothy Lynch contains no MSG, cholesterol, or trans fats and is gluten-free.
MISCONCEPTIONS ABOUT DOROTHY LYNCH SALAD DRESSING & CONDIMENT:
Because of its color, people may think it would taste like French dressing. Not true. Where most French dressings have an oil base, Dorothy Lynch has a tomato base. It's thick and creamy and has a sweet and spicy flavor that everyone can enjoy. It simply tastes homemade. If you're from Nebraska, like me, it tastes like home.
WHERE DO I GET MY OWN BOTTLE OF DOROTHY LYNCH DRESSING?
Dorothy Lynch Dressing can be purchased at most grocery stores in Nebraska and can be found at select grocery stores around the country, including Walmart and HyVee. If you can't find it there, you can always get your pantry stocked with Dorothy Lynch by shopping Buy Nebraska or Amazon!
Follow along with Dorothy Lynch on their website, and their Pinterest, Facebook and Twitter account for delicious recipes all year long.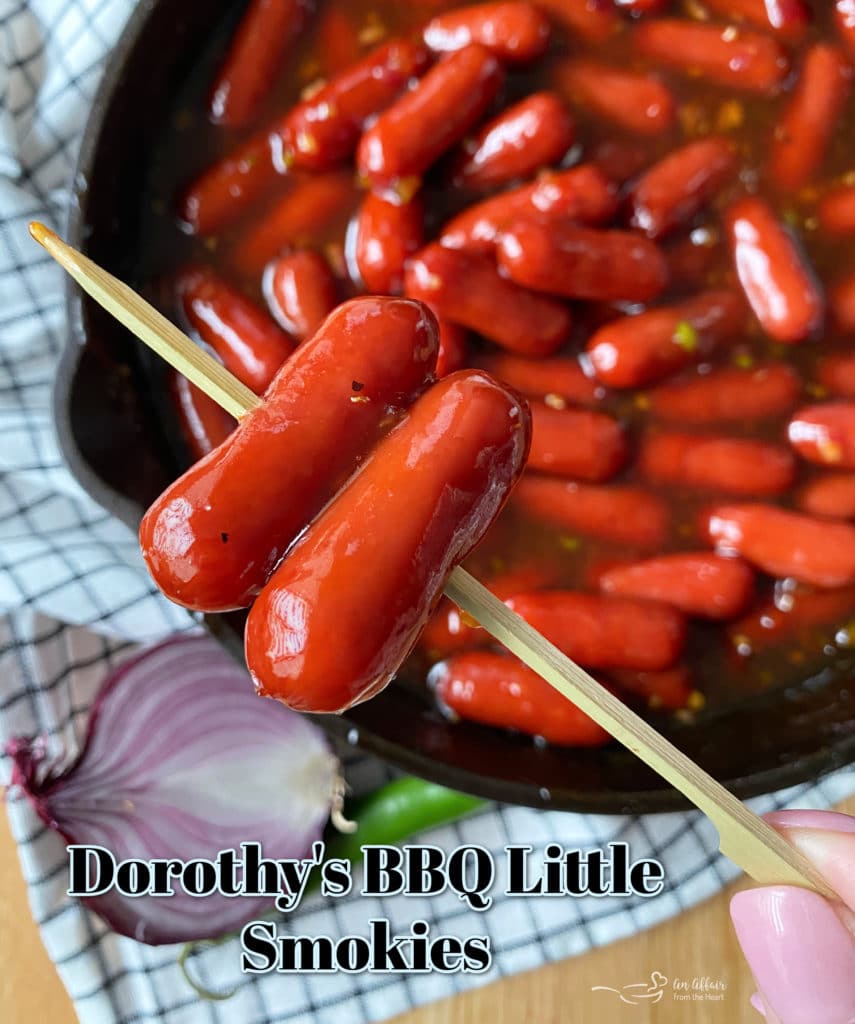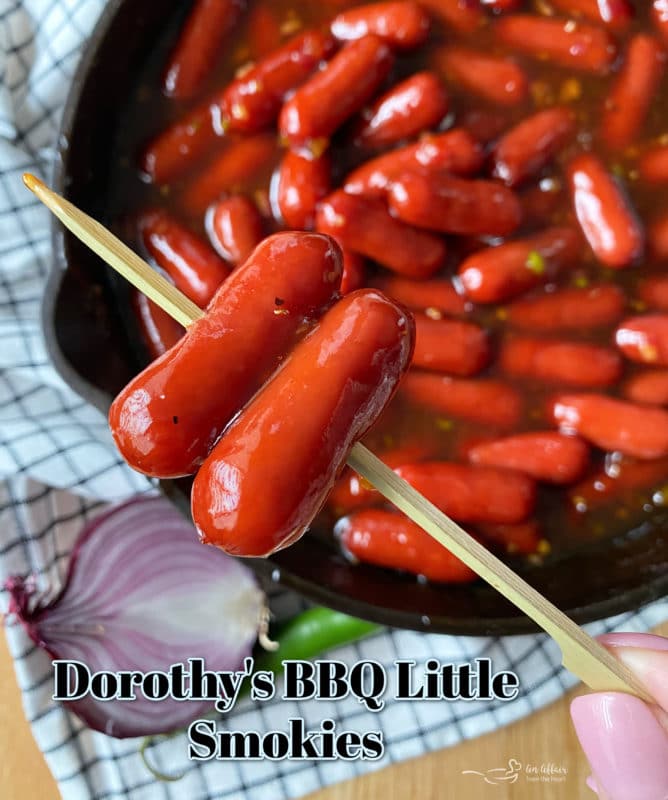 Grab your Dorothy Lynch and let's make some BBQ Little Smokies!

Yield: Serves about 16 as an appetizer (5 links per serving)
Dorothy's BBQ Little Smokies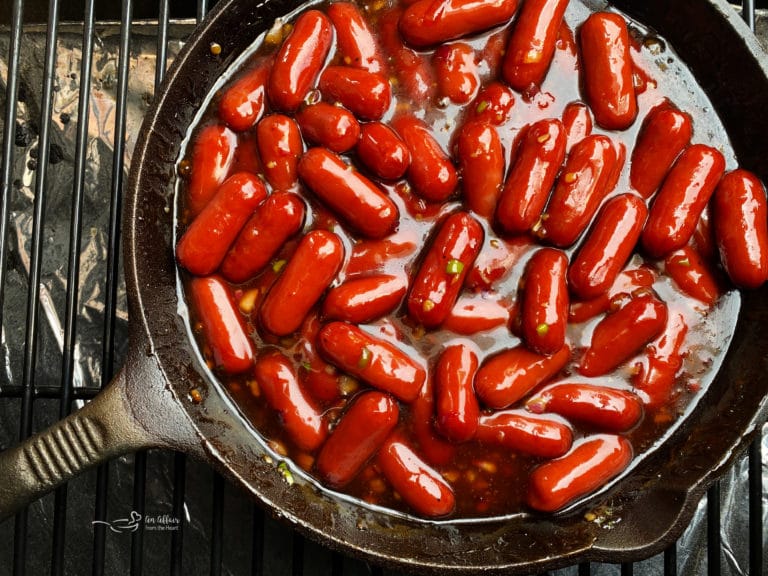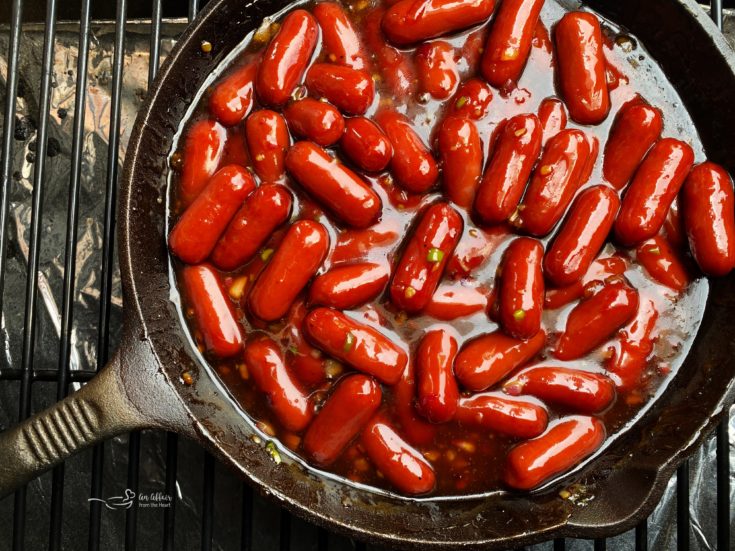 BBQ Little Smokies like you have never tasted before! This appetizer favorite is simmered in Homemade Dorothy Lynch BBQ Sauce, red onion, and serrano peppers. Make them on your stovetop, grill, smoker, or in your oven or crockpot, and watch them disappear!!
Ingredients
For the Barbecue Sauce
1 cup Dorothy Lynch Dressing & Condiment
1/2 cup dark brown sugar
1/2 cup honey
1 Tablespoon low sodium soy sauce
1/2 teaspoon sriracha (more if you want it spicy)
1/2 Tablespoon Worcestershire sauce
1 Tablespoon Apple Cider Vinegar
2 cloves garlic
2 Tablespoons cornstarch in 2 tablespoons water (optional for thickening)
For the Little Smokies
2 (12 ounce) packages Beef Little Smokies
1 Serrano pepper, chopped small
1/2 of a small red onion, chopped
Instructions
To prepare the Dorothy Lynch BBQ Sauce, combine all of the ingredients in a saucepan over medium heat, stirring and simmering for about 15 minutes. If you want the sauce to be thicker, stir in the cornstarch/water mixture and cook for a few minutes more.
Add the sauce, little smokies, onion, and pepper to a skillet give it a stir, cover and cook on your stovetop over medium heat for about 15 minutes, stirring occasionally.
Dorothy's BBQ Little Smokies are ready when they are heated through and the onion and pepper are tender.
Notes
Can be prepared on the grill or smoker in the same manner as on the stovetop.
To prepare in the oven, place little smokies, sauce, onion, and pepper in a casserole dish or in a cast-iron skillet, cover, and cook for 30 minutes at 350.
To prepare in your slow cooker, add ingredients to the cooker, cook on low for 4 hours or on high for 2 hours.
*** Store any leftover BBQ Little Smokies or BBQ sauce in the refrigerator, in an airtight container for up to 4 days.
Recommended Products
As an Amazon Associate and member of other affiliate programs, I earn from qualifying purchases.
Nutrition Information:
Yield:
16
Serving Size:
1
Amount Per Serving:
Calories:

145
Total Fat:

8g
Saturated Fat:

2g
Trans Fat:

0g
Unsaturated Fat:

6g
Cholesterol:

9mg
Sodium:

197mg
Carbohydrates:

17g
Fiber:

0g
Sugar:

15g
Protein:

2g
Please note that nutrition is not guaranteed accurate.