Slow Cooker Glazed Ham
As an Amazon Associate and member of other affiliate programs, I earn from qualifying purchases.
Prepare a beautifully glazed ham right in your slow cooker. The ham cooks in this 4-ingredient glaze, giving it the most delightful flavor. Nobody will believe you didn't spend all day in the kitchen! Serve additional glaze alongside the sliced ham at the table, because I promise, you'll want more!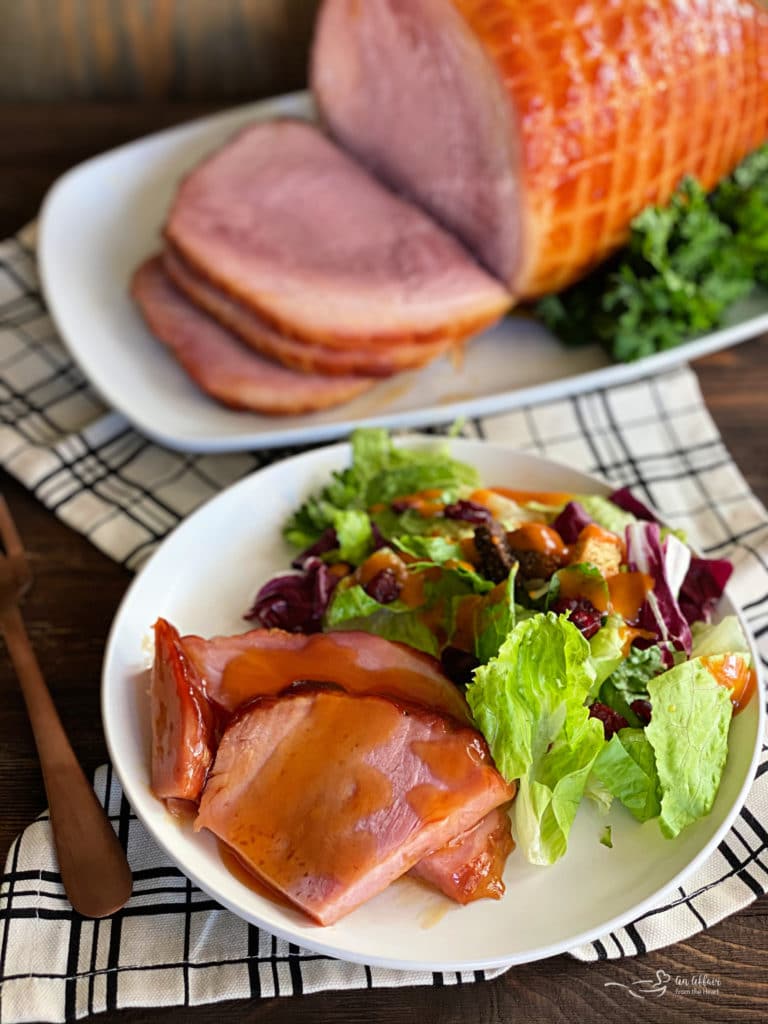 Don't bog down your oven during the holidays, make this beautiful glazed ham in your slow cooker! Isn't it a bit strange to think the holidays are literally right around the corner? This never-ending year, 2020, is almost to its end. What a crazy ride it has been!
I am certain the holidays won't be much different. In a time when we are used to big gatherings, in jam-packed loud kitchens, we will most likely be sticking closer to home and surrounding ourselves with our immediate family.
This post is sponsored by Nebraska's own Dorothy Lynch Home Style Dressing & Condiment, but my love of their product and the opinions stated here are all my own.
SOME OF THE ITEMS BELOW CONTAIN AFFILIATE LINKS; I AM A PARTICIPANT IN THE AMAZON SERVICES LLC ASSOCIATES PROGRAM, AN AFFILIATE ADVERTISING PROGRAM DESIGNED TO PROVIDE A MEANS FOR US TO EARN FEES BY LINKING TO AMAZON.COM AND AFFILIATED SITES. I AM ALSO AN AFFILIATE FOR OTHER BRANDS. HOWEVER, I ONLY PROMOTE THINGS THAT I LOVE AND THINK YOU WILL LOVE, TOO. FOR MY ENTIRE DISCLOSURE POLICY PLEASE

CLICK HERE

.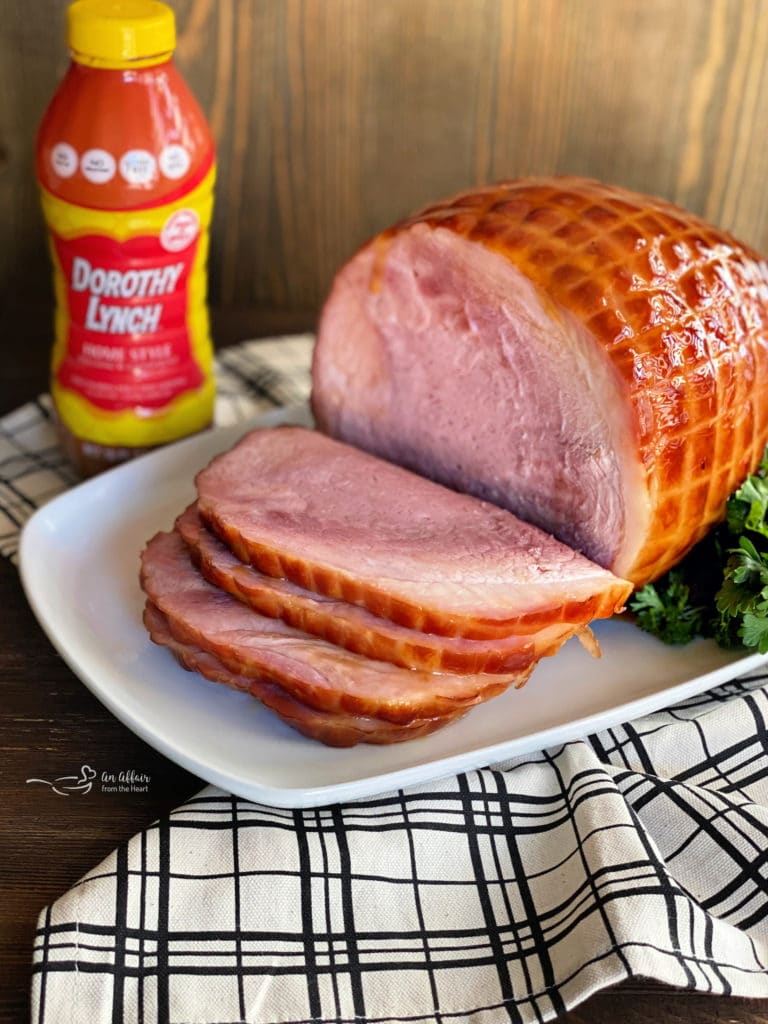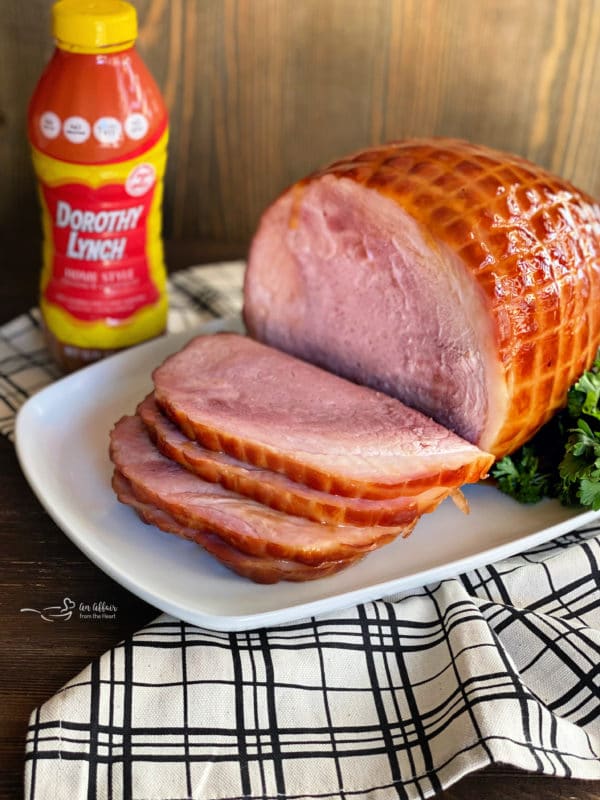 Dorothy's Holiday Slow Cooker Glazed Ham
Even though the holidays might look different than what we have become accustomed to, it doesn't mean they can't taste the same, right? Or heck, even better!
One of the struggles of holiday food prep, no matter how many people there are, is timing everything to go in and come out of the oven at the right time, and how to fit it all in! You have to have all of those things that you have come to expect at the holidays.
Ham, turkey, side dishes, rolls, you name it! Most of it needs to do its time in the oven. Finding other ways to cook big things like ham or turkey can be a lifesaver when there is only one oven to do all of the work!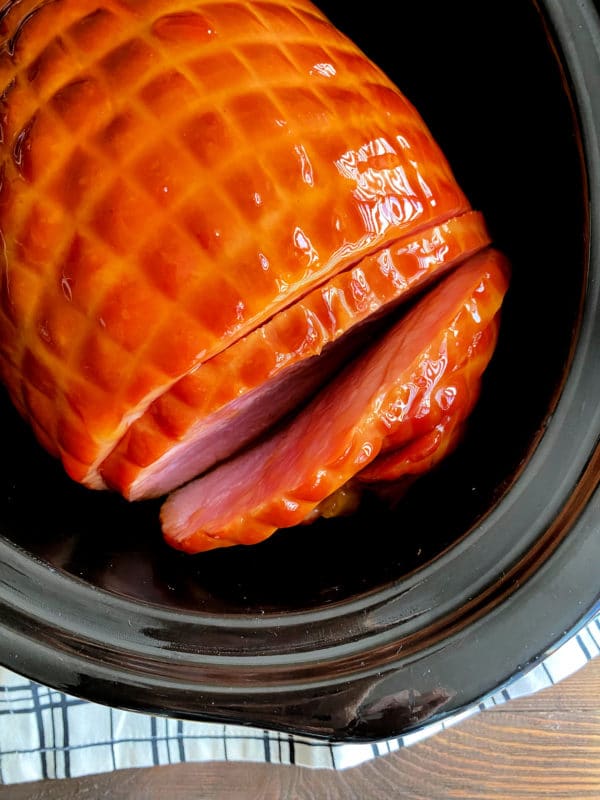 Slow Cooking Glazed Ham in a Crockpot
There are oodles of recipes for slow cooker glazed hams out there, but this one is unique because of that secret ingredient, Dorothy Lynch Home Style Dressing & Condiment.
Most of the recipes out there contain honey, and this one does, too. But that addition of Dorothy Lynch just gives the flavor a whole new twist! That perfect blend of herbs and spices, that teensy bit spicy, a little bit sweet & tangy taste makes this not your normal honey glaze for ham!

Ingredients in Dorothy's Ham Glaze
To make this recipe, you'll need these four ingredients:Dorothy Lynch Home Style Dressing & Condiment, honey, brown sugar and molasses. If you want to thicken the glaze up before serving it, you'll need a little cornstarch and water. Aside from that, just a ham and you're all set!


Combine the ingredients in a saucepan and simmer until the sugar is dissolved. Place the ham in the crockpot, add some water to the bottom of the pot and cover with glaze before placing the lid on top and letting it cook on low for 5 to 6 hours.
If you want to thicken the glaze, return it to the saucepan after the ham is heated and mix it with the cornstarch/water mixture until it's the desired thickness. Pour a little over the top before you slice the ham and serve the rest alongside it at the table.

What kind of ham works best for slow cooking?
There are two things to keep in mind when cooking a ham in the slow cooker. The first is that the ham fits in your slow cooker and the second is that you have purchased a pre-cooked, or smoked ham. For this recipe, you do NOT want a ham that isn't already cooked/smoked.
I prefer a boneless ham, and if you can get a spiral cut one, those are my favorite. For whatever reason, I struggle to find those year round where I live, and the day I bought ham for this recipe I couldn't find one. I purchased a picnic ham, and it worked beautifully.
What Size Ham Works Best For The Slow Cooker?
Size matters, but there are fixes for that, too. If the ham is too big (mine was just a smidge too big) you can slice a little bit off of the bottom, so the lid fits properly.
Alternatively, if the ham is way too large and there isn't a prayer of that lid fitting on, you can make a "tent" from a couple of pieces of heavy-duty foil, and secure it to the edges of the crockpot. Toss a dishtowel over the top to give it a little extra weight to hold it down so that the heat isn't escaping while it cooks.
It took 6 hours on low for my 8-pound ham to cook.
Love it? Pin it!
If you love this recipe, don't lose it! Pin it to your favorite Pinterest recipe board before you go!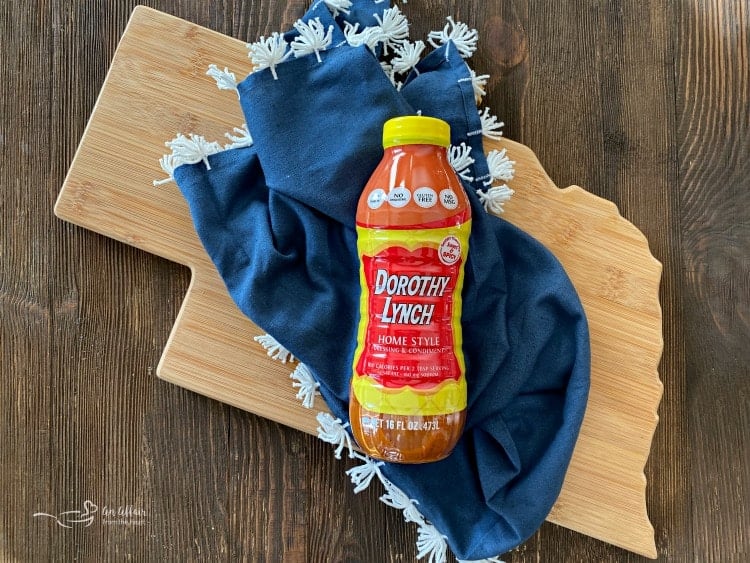 What is Dorothy Lynch?
"The" Dorothy Lynch was a woman, who created this dressing in the 1940s, and served it at a restaurant she and her husband ran at the local Legion Club in St. Paul, Nebraska. The dressing became so popular, that patrons would bring in their own bottles to have Dorothy fill them to eat at home.
Dorothy Lynch Home Style Dressing & Condiment can best be described as a sweet and spicy dressing that has a thick and creamy texture. Because of its color, many will assume it's just another French dressing, but that simply isn't true at all. In fact, it tastes nothing like it. French dressing is oil-based, Dorothy Lynch is tomato-based. The best word to describe its taste: Homemade.
How Can I use Dorothy Lynch, except for on a salad?
Don't get me wrong, Dorothy Lynch Home Style Dressing & Condiment is amazing on a salad. In fact, most of us Nebraskans came to know it that way.
But Dorothy Lynch is so much more than salad dressing. It's delicious as a condiment, dipping fries, pizza and best of all, fried chicken in it is crazy good!
You can even substitute Dorothy Lynch Light & Lean for a lower-calorie option with the same endless flavorbilities.
But when you get creative and start adding it to recipes? That's when things get really tasty! I have used it in all sorts of ways, you really need to give them ALL a try!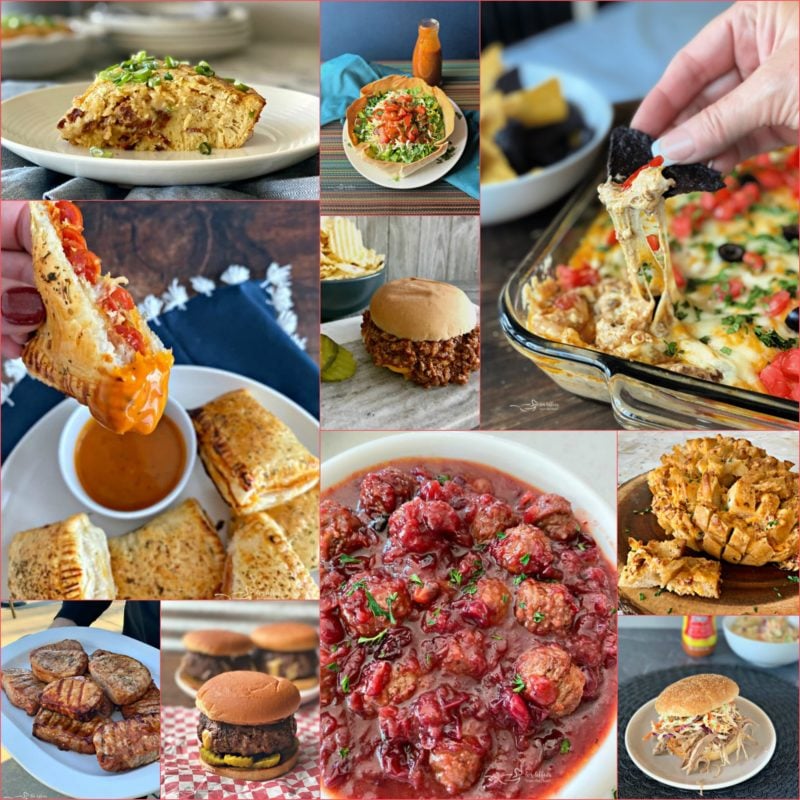 All of these Dorothy Lynch Recipes are delicious!
WHERE DO I GET MY OWN BOTTLE OF DOROTHY LYNCH?
Dorothy Lynch Dressing & Condiment can be purchased at most grocery stores in Nebraska and can be found at select grocery stores west of the Mississippi, including Walmart and Hy-Vee. If you can't find it there, you can always get your pantry stocked with Dorothy Lynch by shopping Buy Nebraska or Amazon!
Make sure to follow along with Dorothy Lynch on their website, and their Pinterest, Facebook and Twitter accounts for delicious recipes all year long.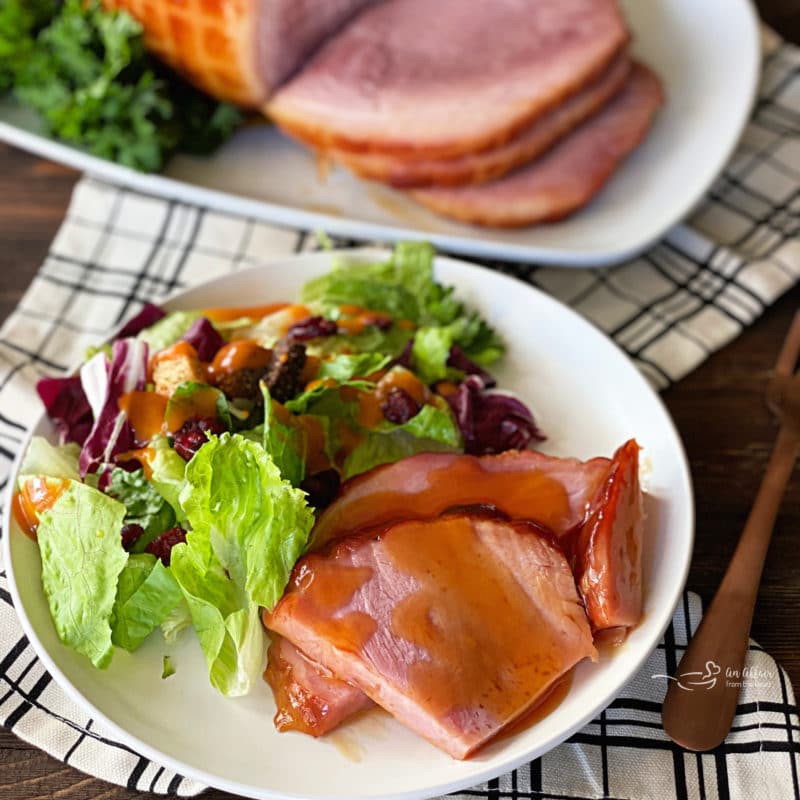 The holidays are sure to be a little tastier with Dorothy's Slow Cooker Glazed Ham! Let's get to the recipe!

Yield: 7-8 pound Ham
Dorothy's Slow Cooker Glazed Ham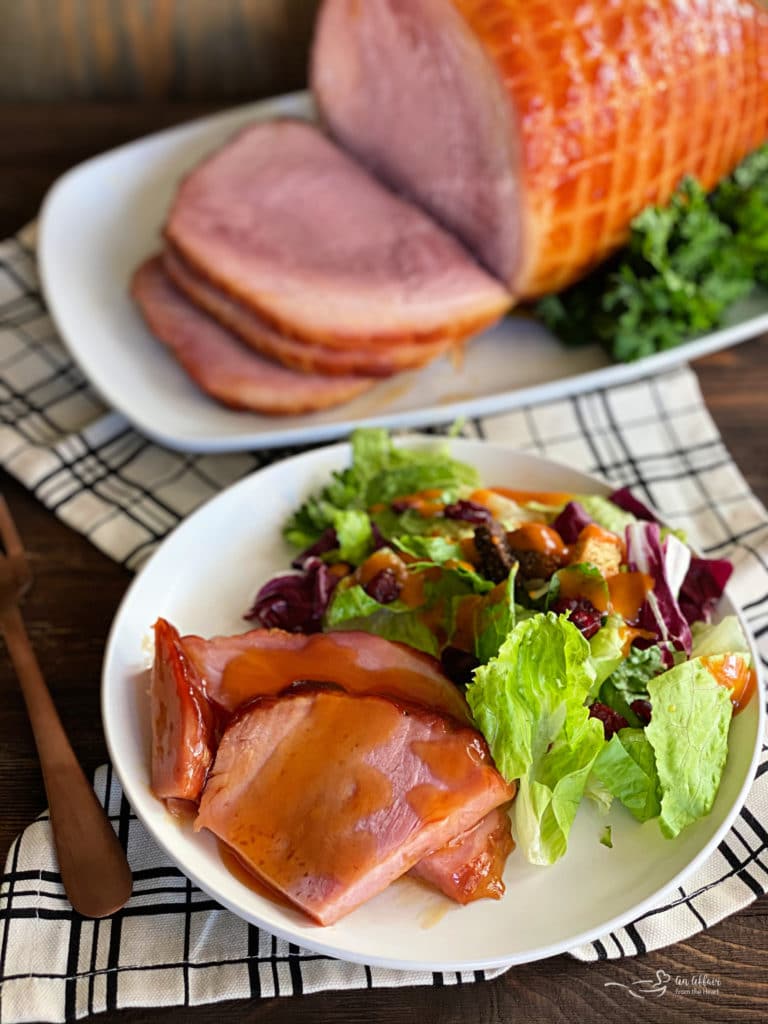 Dorothy's Slow Cooker Glazed Ham is perfect for the holidays, or any day! It is such a delicious and "hands-off" recipe, slow cooking all day while it makes its own sweet glaze. It's a showstopper!
Total Time
6 hours
5 minutes
Ingredients
1 ( 7-8 pound ) Ham
1/2 cup Dorothy Lynch Home Style Dressing & Condiment (can also use Light & Lean version)
3/4 cup brown sugar
3/4 cup raw honey
2 teaspoons molasses
1/2 cup water
2 Tablespoons corn starch mixed with 2 Tablespoons water
Instructions
Spray the inside of your slow cooker with non-stick cooking spray.
Place the ham flat side down in the slow cooker.
In a saucepan, over medium heat, combine Dorothy Lynch, brown sugar, honey and molasses until the sugar dissolves.
Add 1/2 cup of water to the bottom of the slow cooker.
Pour glaze over ham and cover and cook on low heat for about 6 hours. Baste the ham every 2 hours during the cooking process.
Remove ham from slow cooker, and return glaze back to the saucepan.
Whisk the cornstarch mixture into the glaze over medium heat until it thickens. Pour some over ham, and serve the rest on the table.
Notes
I used a "Pit Ham" for my recipe. This recipe works with any ham, I especially love a spiral cut ham. Just make sure that the ham you chose fits in your crockpot, so that the lid covers it. You may need to trim a little off the bottom to get it to fit.
Recommended Products
As an Amazon Associate and member of other affiliate programs, I earn from qualifying purchases.
Nutrition Information:
Yield:
12
Serving Size:
1
Amount Per Serving:
Calories:

206
Total Fat:

9g
Saturated Fat:

1g
Trans Fat:

0g
Unsaturated Fat:

7g
Cholesterol:

5mg
Sodium:

196mg
Carbohydrates:

32g
Fiber:

0g
Sugar:

30g
Protein:

0g
Nutrition isn't guaranteed accurate.