Somebody grab the tortilla chips because Dorothy's Hot Taco Dip just begs to be eaten! Creamy refried beans, taco meat, tons of cheese all baked until bubbly and topped with your favorite taco toppings. Trust me, you need to make this!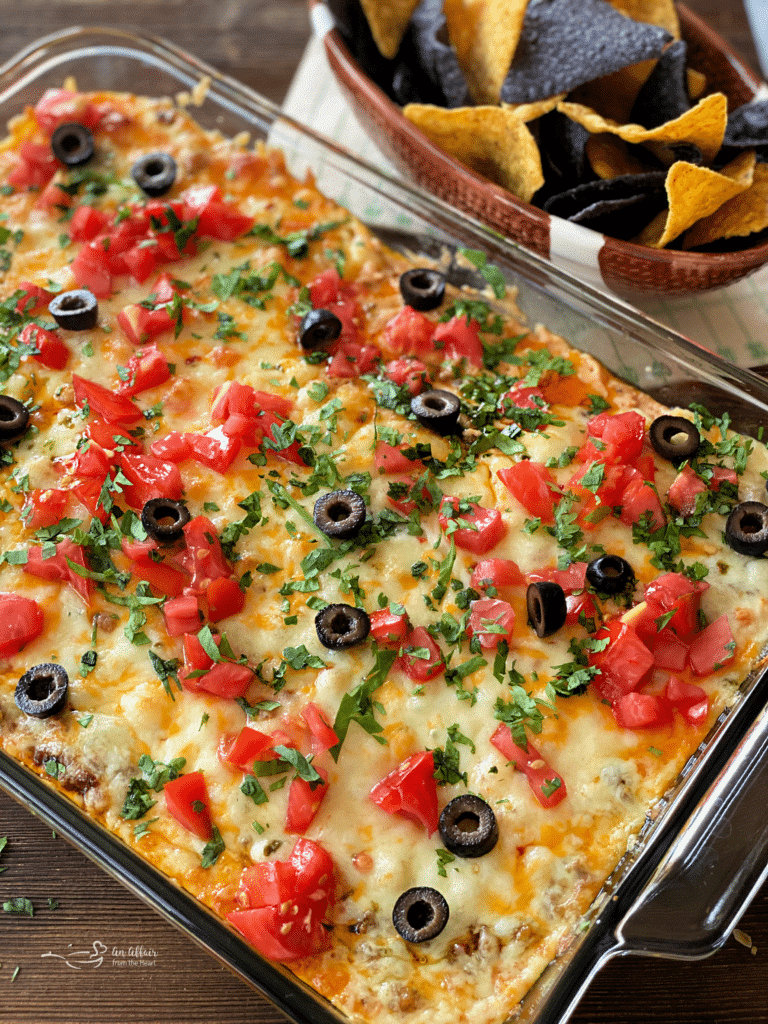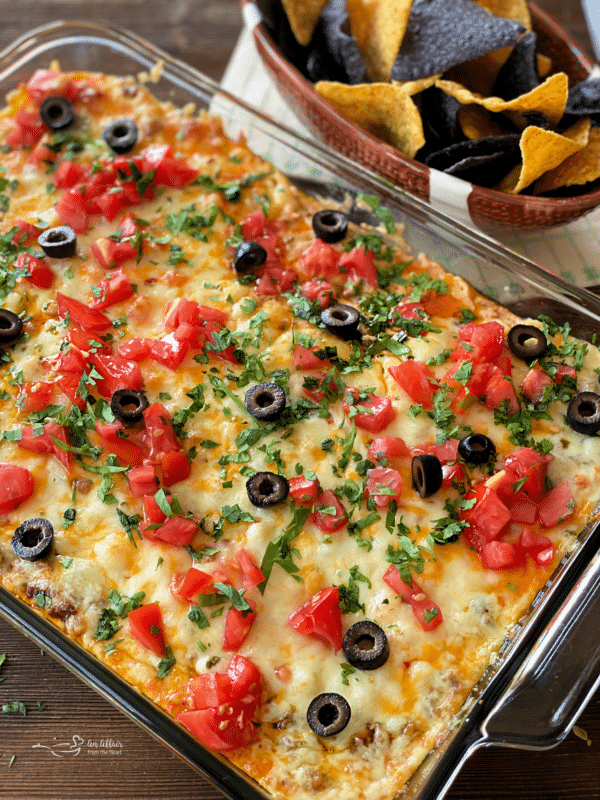 A Hot Taco Dip like No Other
You may be one of those skeptics that thinks that Dorothy's Hot Taco Dip is just like any other taco dip – but friends, I am here to change your mind. In fact, from the moment you take your first bite, you'll taste it.
I have taken one of my most popular recipes, my Texas Trash Bean Dip, and converted it into a taco dip that Dorothy Lynch herself would surely be proud of.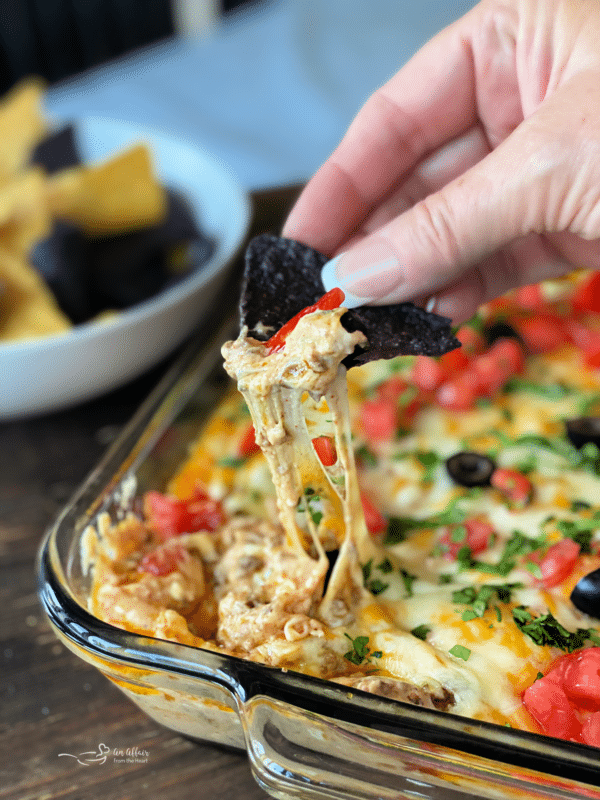 This post is sponsored by Nebraska's own Dorothy Lynch Home Style Dressing & Condiment, but my love of their product and the opinions stated here are all my own.
SOME OF THE ITEMS BELOW CONTAIN AFFILIATE LINKS; I AM A PARTICIPANT IN THE AMAZON SERVICES LLC ASSOCIATES PROGRAM, AN AFFILIATE ADVERTISING PROGRAM DESIGNED TO PROVIDE A MEANS FOR US TO EARN FEES BY LINKING TO AMAZON.COM AND AFFILIATED SITES. I AM ALSO AN AFFILIATE FOR OTHER BRANDS. HOWEVER, I ONLY PROMOTE THINGS THAT I LOVE AND THINK YOU WILL LOVE, TOO. FOR MY ENTIRE DISCLOSURE POLICY PLEASE

CLICK HERE

.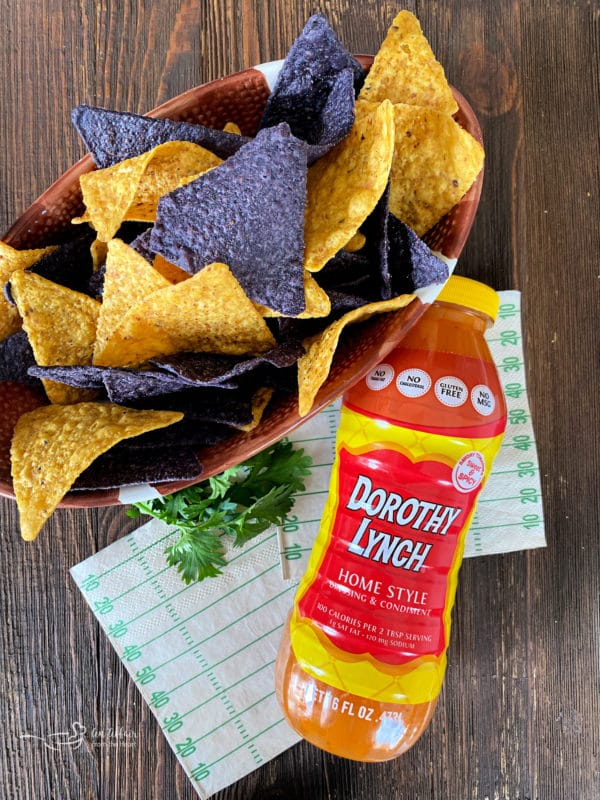 Who is Dorothy Lynch, you ask?
Dorothy Lynch is a bit of a legend in Nebraska. She is the creator of Dorothy Lynch Home Style Dressing & Condiment. This famous salad dressing got its start in the 1940s at the Legion Club in St. Paul, Nebraska.
Dorothy made her homemade dressing for the restaurant, and people fell in love with it. They even brought in their own bottles to have them filled with her deliciously unique dressing.
These days, the famed dressing is made in a 64,000 square foot plant in Duncan, Nebraska, population 351. Dorothy Lynch Home Style Dressing & Condiment is available in Home Style and Light & Lean. Dorothy Lynch contains no MSG, cholesterol, or trans fats, and both versions are gluten-free.
Even though Dorothy Lynch started out as just a salad dressing, it is so much more versatile than that. We use it for so many other things.
It's delicious as a marinade, a vegetable dip, a pizza dip, and it's excellent with barbecue and fried chicken. It also makes a great addition to recipes. Its unique flavor has taken so many of my own recipes to the next level!
WHAT DOES DOROTHY LYNCH TASTE LIKE?
Because of its color, people always assume it tastes like French dressing. Not true. Most French dressings have an oil base, Dorothy Lynch has a tomato base. It's thick and creamy and has a sweet & spicy flavor that everyone can enjoy. It simply tastes homemade. It tastes like home.

Dorothy's Hot Taco Dip for Game Day
I have lived in Nebraska my whole life. Pride in our state comes in many ways. We support our community, our farmers, and the products that are made here in our state, like Nebraska's food staple, Dorothy Lynch Home Style Dressing & Condiment.
Nebraska is a football state, through and through. So, when it comes to supporting all things Nebraska, that means we are born with a heartfelt love for our Nebraska Cornhusker football team, too.
We have season tickets to all of the home games in Lincoln, Nebraska, but of course, 2020's madness has changed that for us, too. But don't let the lack of college football deter you from trying this hot taco dip!
Dorothy's Hot Taco Dip makes great game day food, it feeds a crowd, and everyone loves it. Whether you are sitting on your sofa at home watching re-runs of football games of days gone by, or pre-gaming in the parking lot, this dip is a winner.
Tip: If you are enjoying this outdoors and away from your oven, prepare it and prebake it in a disposable aluminum pan, and warm it back up on your tailgate grill! You could also layer all of the ingredients in your crockpot and keep it warm that way, too!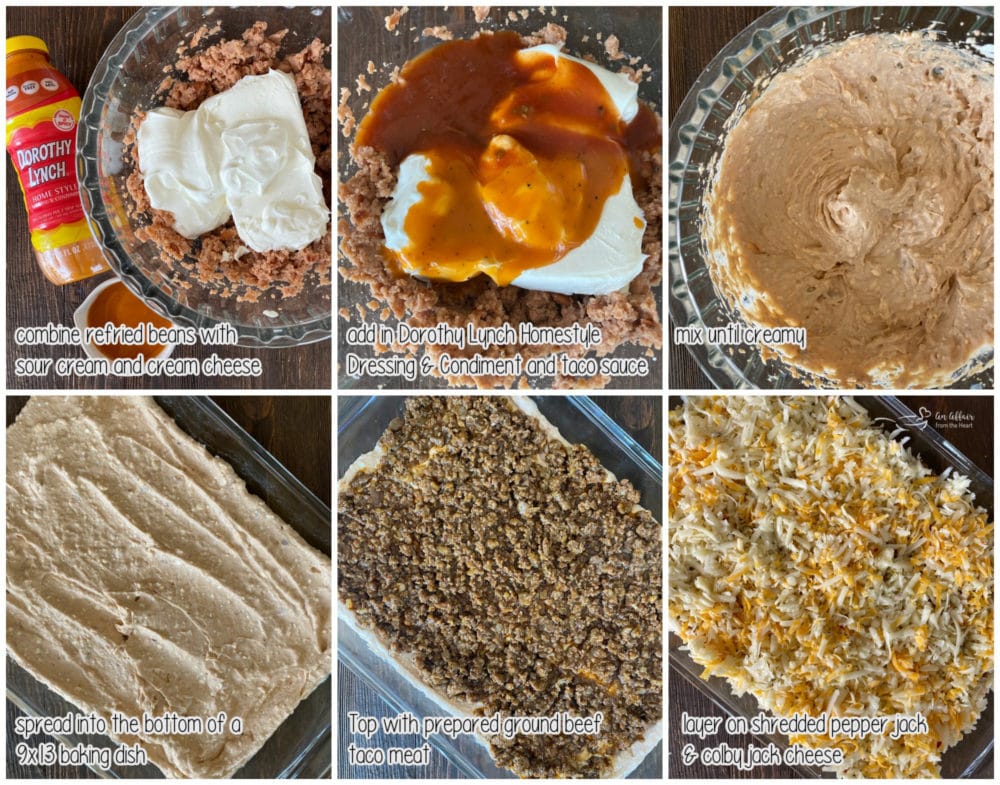 Is Dorothy's Hot Taco Dip Hard to make?
Not at all! In fact, that is one of the things I love about it. I typically have all of the ingredients on hand at all times; Ground beef, taco seasoning, refried beans, cream cheese, sour cream, cheese and of course, we always have one bottle of Dorothy Lynch in the fridge, and at least one in the pantry for a backup!
While your ground beef is browning, cream together refried beans, sour cream, and cream cheese, mix in taco sauce and Dorothy Lynch, and spread into a 9×13 baking dish. Top that with the taco meat and shredded cheese and bake it for about 20 minutes. In no time you're dipping and "Mmm-ing."
The dip is amazing as is, hot from the oven, or top it with your favorite taco toppings!
A full printable recipe can be found at the end of this post.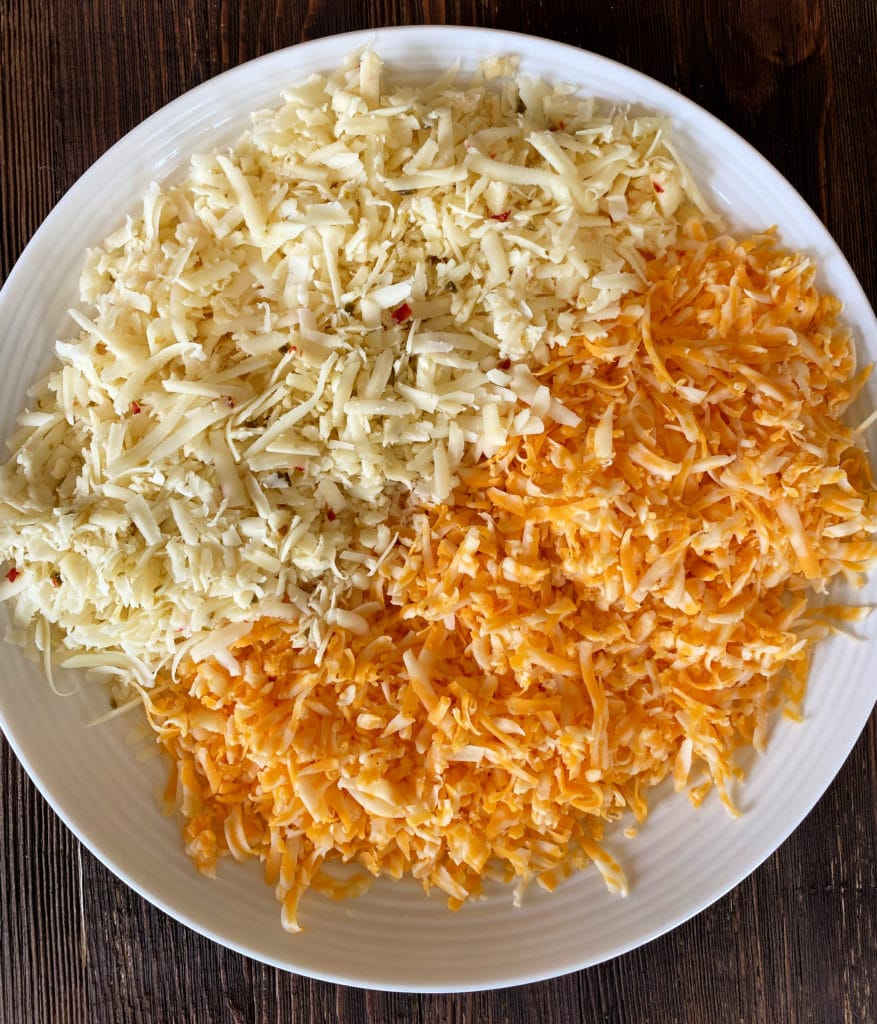 WHY YOU SHOULD GRATE YOUR OWN CHEESE
For one, it tastes better. It has no added chemicals or additives to preserve it in the packages. You get to enjoy the real fresh taste of the cheese. Not what they used to make it last longer in that package.
It melts better. Those preservatives and additives to that bagged shredded cheese help to keep it from sticking together. The starches they add will inhibit the cheese from that creamier, smoother melt you get when you shred your own from a block of cheese.
It's more economical. Don't let the price tag on an 8-ounce block of cheese sway you to purchase an 8-ounce bag of cheese. Did you know you will actually get more cheese out of a block of cheese that's the same size? Yep. Don't forget that bag of cheese comes with a "convenience charge."
And for heaven's sake don't use that stuff in the can. That will require its own list of reasons.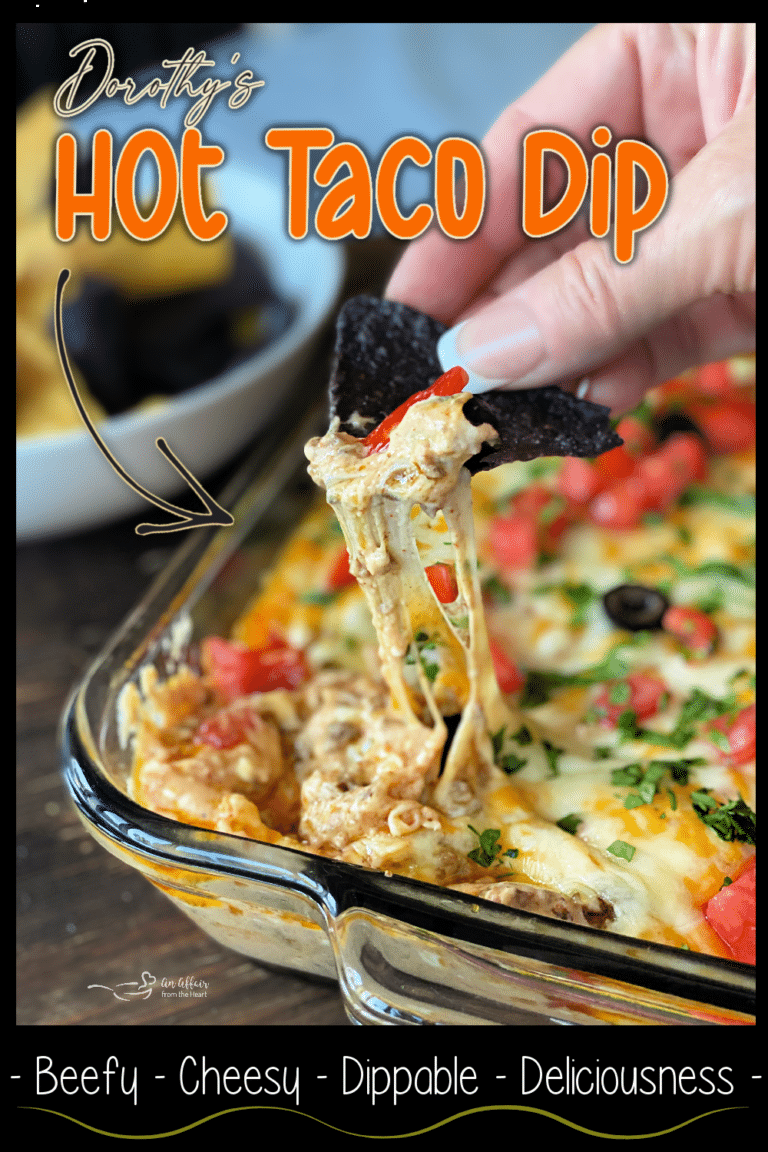 Love it? Pin it!
Don't forget where you found this hot taco dip recipe! Pin it to your favorite Pinterest recipe board before you go!
Lightened Up Taco Dip
This hot taco dip could easily be lightened up by making a few substitutions. Substitute Dorothy Lynch Light & Lean Dressing & Condiment in place of the Home Style.
Use fat-free refried beans, fat-free or low-fat sour cream, and fat-free or low-fat cream cheese or Neufchâtel. These selections alone will greatly reduce the calories and fat.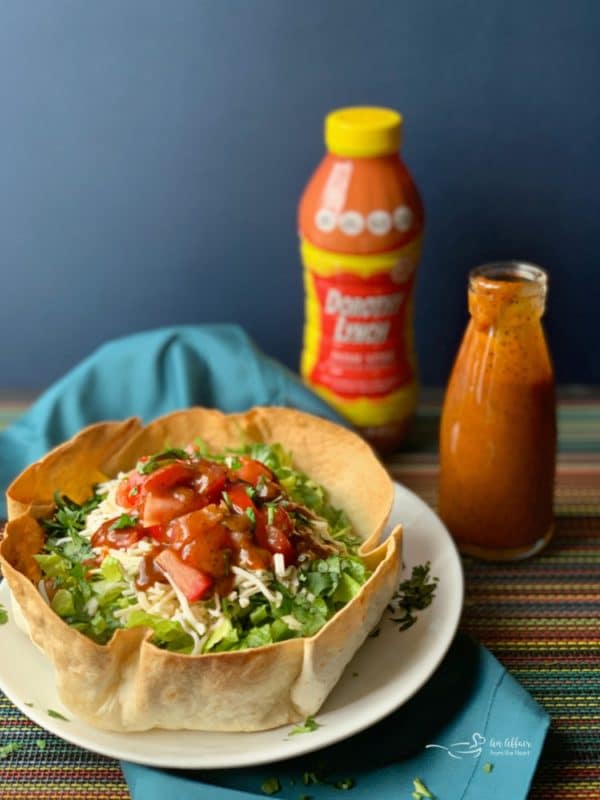 Last summer I shared this taco salad recipe with you. This isn't any ordinary taco salad. This taco salad is special, it's sprinkled with all sorts of Dorothy Lynch magic!
I used Dorothy Lynch Home Style Dressing & Condiment to make both the homemade taco seasoning and the homemade taco sauce. Yes, turning a condiment into another condiment is a real thing, and it's the greatest idea ever!
It's served up in a homemade air fryer edible taco bowl that you just can't help but smile about. So, if you want to really "Dorothy Up" your hot taco dip, I suggest using the taco seasoning and taco sauce from this salad to really get all of that sweet & spicy flavor.
DOROTHY LYNCH RECIPES ON AN AFFAIR FROM THE HEART
WHERE DO I GET MY OWN BOTTLE OF DOROTHY LYNCH?
Dorothy Lynch Home Style Dressing & Condiment can be purchased at many locally owned Nebraska shops and at select grocery stores around the country including Walmart and Hy-Vee.
If you can't find it locally, you can always get your pantry stocked with Dorothy Lynch by shopping online at Buy Nebraska, Amazon, or on the Dorothy Lynch website, where you will find even more great recipes!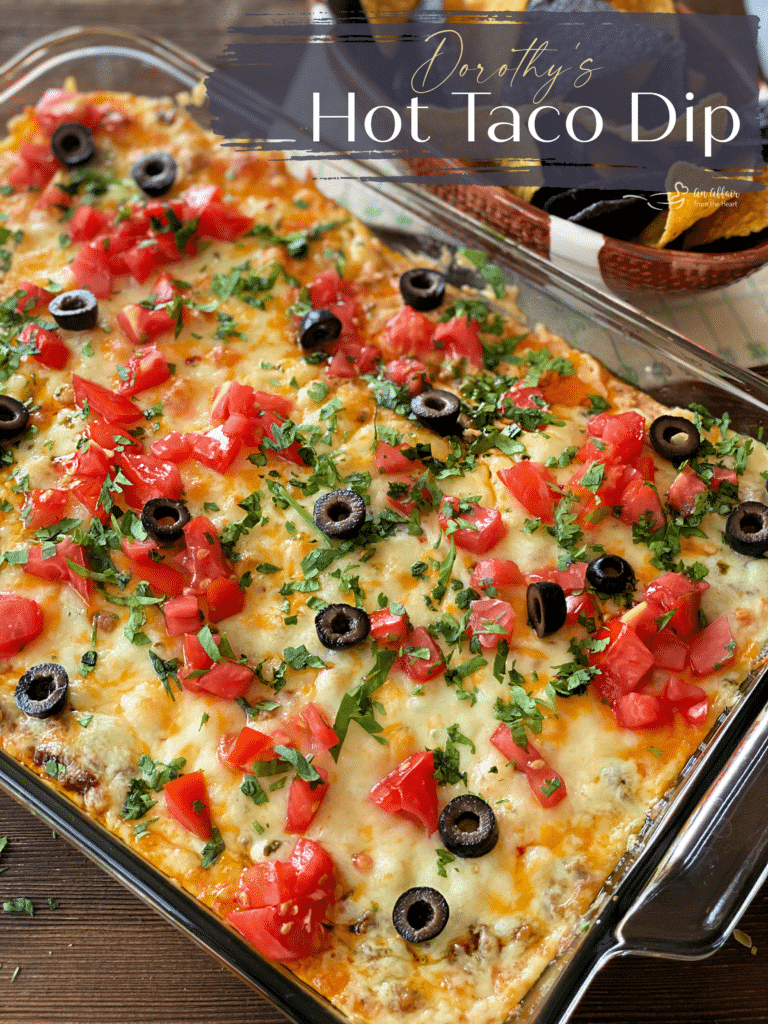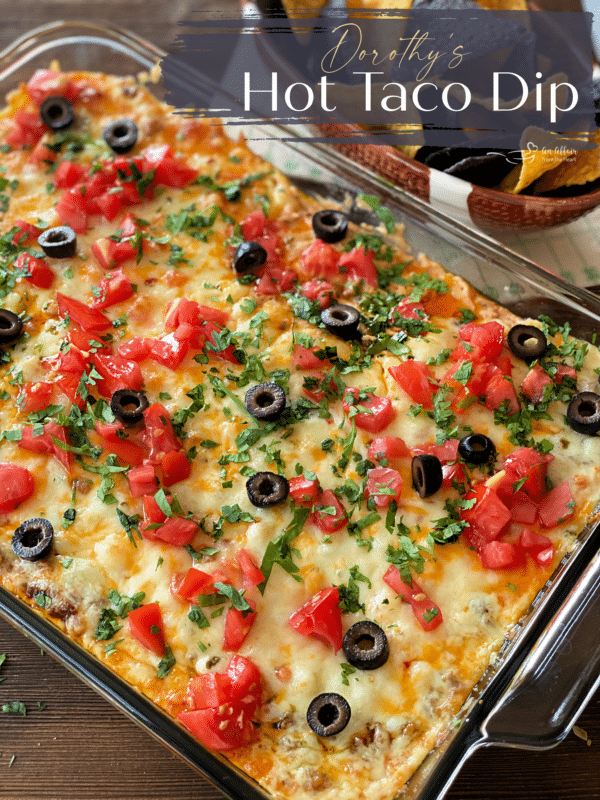 So excited to share this brand new recipe with you today! Dorothy's Hot Taco Dip is sure to be a fast favorite. I hope that you love it, too!

Yield: 9x13 baking dish
Dorothy's Hot Taco Dip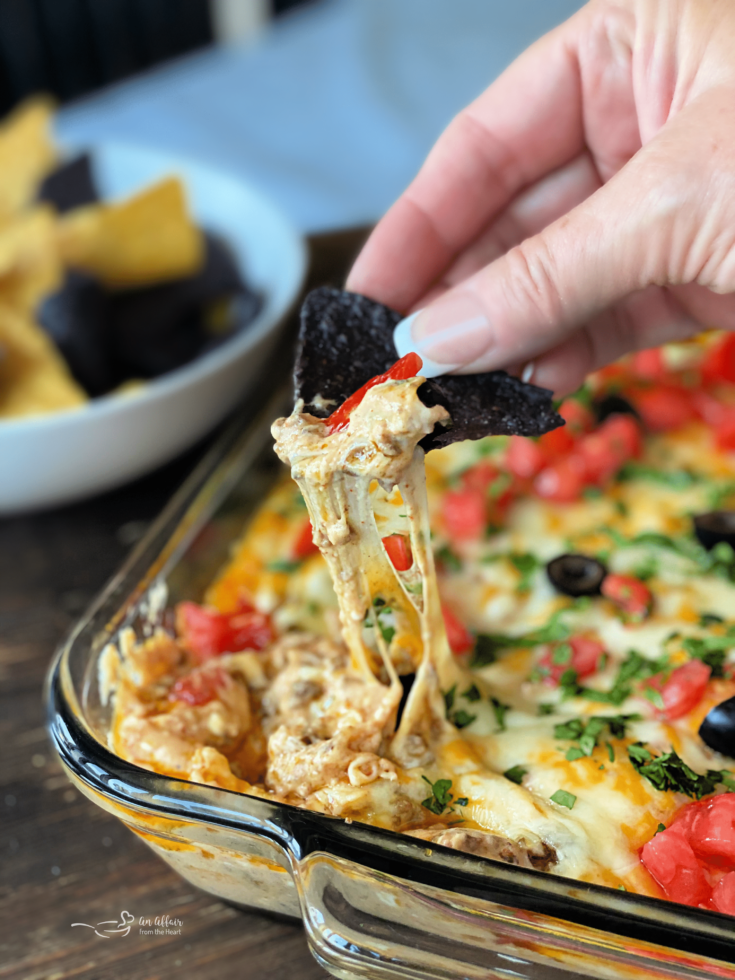 Somebody grab the tortilla chips because Dorothy's Hot Taco Dip just begs to be eaten! Creamy refried beans, taco meat, tons of cheese all baked until bubbly and topped with your favorite taco toppings. Trust me, you need to make this!
Ingredients
1 pound lean ground beef
1/4 cup chopped onion
1 packet taco seasoning
1 (16 ounce) can refried beans
1 (8 ounce) container sour cream
1 (8 ounce) package cream cheese, softened
1/3 cup taco sauce
1/3 cup Dorothy Lynch Home Style Dressing & Condiment
8 ounces Pepper Jack Cheese, shredded
8 ounces Colby Jack Cheese, shredded
Optional Toppings for serving: diced tomatoes, black olives, cilantro
Instructions
Preheat oven to 350 degrees F.
In a skillet, brown ground beef with onion. Drain any excess grease, add taco seasoning.
Cream together refried beans, sour cream and cream cheese in a mixing bowl.
Mix in taco sauce and Dorothy Lynch Home Style Dressing & Condiment. Spread into the bottom of a 9x13 baking dish.
Top with taco meat.
Top with shredded cheese.
Bake for 20-25 minutes or until cheese is melted and bubbly around the edges.
Optional: top with cilantro, tomatoes and black olives or your own favorite taco toppings.
Serve hot with tortilla chips for dipping.
Notes
Could be prepared in a slow cooker to make transporting easier.
Recommended Products
As an Amazon Associate and member of other affiliate programs, I earn from qualifying purchases.
Nutrition Information:
Yield:
12
Serving Size:
1
Amount Per Serving:
Calories:

364
Total Fat:

27g
Saturated Fat:

11g
Trans Fat:

0g
Unsaturated Fat:

14g
Cholesterol:

76mg
Sodium:

779mg
Carbohydrates:

8g
Fiber:

1g
Sugar:

3g
Protein:

22g
Nutrition isn't guaranteed accurate.

If you make this recipe, I'd love to know! Snap a picture, share the photo on social media with the hashtag #AnAffairFromTheHeart – I'd love to see what you made! – Michaela