Rice Pilaf with Dried Cranberries and Slivered Almonds
As an Amazon Associate and member of other affiliate programs, I earn from qualifying purchases.
Rice pilaf is one of the simplest ways to enjoy rice but also one of the most deeply satisfying. I love this recipe because it works as a side dish with just about anything else you put on the plate. It is super easy to make rice pilaf and feel free to bend and twist and turn the recipe upside down with all sorts of variations.

Homemade rice pilaf with slivered almonds and cranberries
Homemade rice pilaf becomes the go-to solution when you need a quick and easy starch. It will accompany any sort of protein, fish, pork, beef, or fowl equally well, and takes just minutes to prepare. Even the boiling of the rice goes quickly. As long as you don't watch the pot. Make sure you don't do that…

What exactly is "rice pilaf"?
At this point, rice pilaf is a dish that can be identified with so many different cultures and cuisines. Great dishes are like that. They travel the world and pick up so many variations along the way. In the case of rice pilaf, it has origins in the far east and middle eastern cuisines.
The dish is a simple rice dish, often made with a basmati style rice grain. The rice is first heated in hot oil or butter. I prefer butter for this recipe but you are always welcome to use oil if you want to.
The rice is then cooked in a bit of broth to infuse extra flavor. I use chicken stock. Of course, vegetarians can go with veggie stock, or if you want a beefy flavor then go with beef stock. Even fish stock works. You get the picture. Whatever you have stocked up in your pantry will do the trick.
What rice is best to use in rice pilaf?
This dish. is made with converted rice. You are welcome to use other types of rice but I suggest using a medium grain rice like basmati or jasmine. Don't use the short fat grain rice like Arborio. It is way more glutinous and you actually need the less glutinous varieties.
For that reason, it is also a good idea to rinse the rice first to reduce the gluten as well.

What is converted rice you might ask?
Converted rice and "minute rice" are similar but not the same thing. Both types of rice involve processing the grain with heat and water to treat the grain. However, converted rice actually retains more vitamins and minerals than minute rice. Also, as the name implies, minute rice cooks in a couple of minutes but converted rice takes about 15 or 20 minutes.
So, converted rice actually does cook quicker than whole grain rice though.
How do you make Rice pilaf from scratch?
As I mentioned, rice pilaf is super easy to make. All you need is a little time, a skillet and for my recipe, six simple ingredients!
Ingredients you'll need: converted rice (I used Uncle Ben's,) butter, slivered almonds, green onion, chicken stock (or vegetable stock if you're keeping things vegetarian,) and dried cranberries.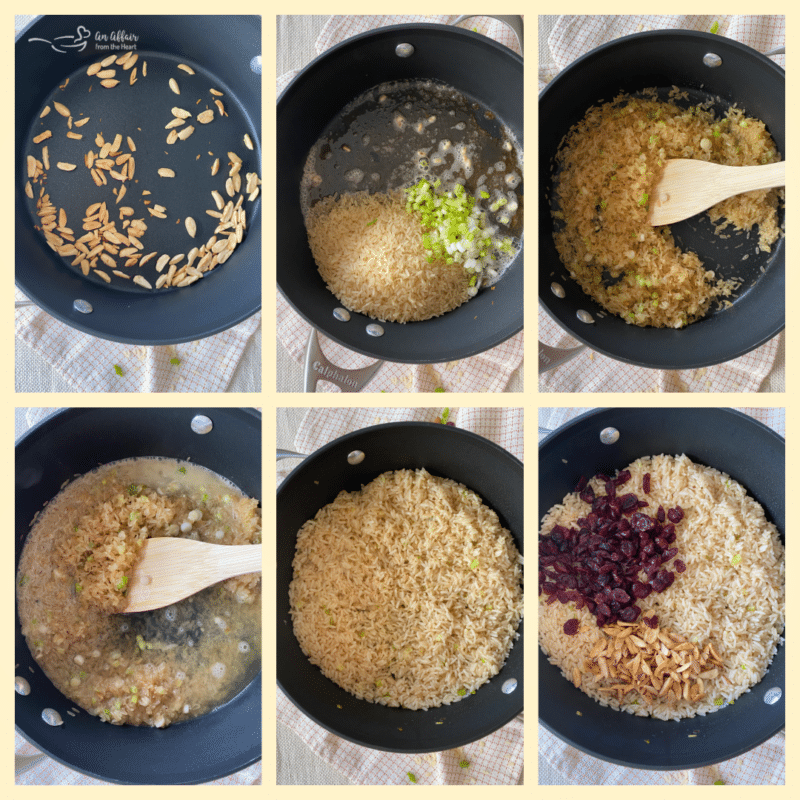 First, you'll need to toast your almonds in the skillet and remove them to cool.
Next, you'll add the butter, onion, and rice to the same skillet and cook it until it's lightly browned.
Then, pour in the chicken stock and some water. Bring it to a boil and cook until the rice is tender, and the liquid is absorbed.
Finally, stir in the cranberries and almonds and heat for about 5 minutes before serving.
Find the complete recipe in the printable recipe card below.

Serve garnished with a little fresh parsley and scallions if you want. This recipe serves a family of six but is easily doubled to feed the big family during the holidays.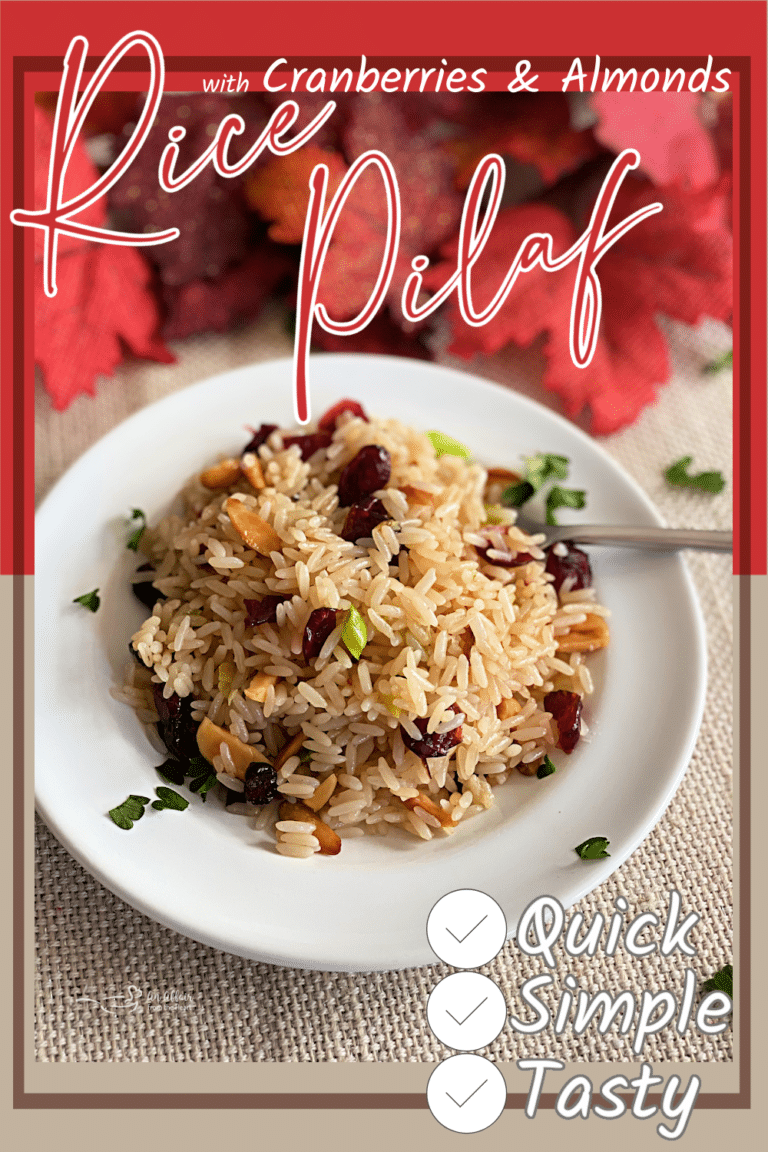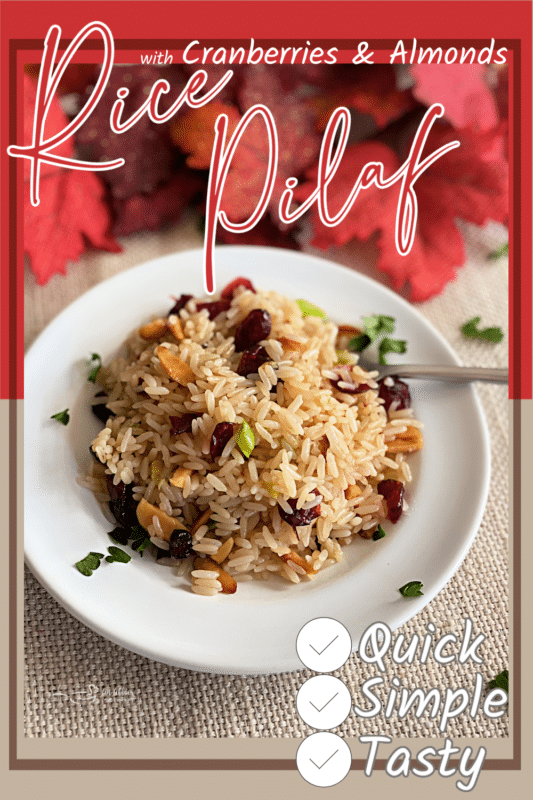 Love it? Pin it!!
Can't wait to make this Rice pilaf recipe? Well please don't forget where you found it! Pin it to your favorite Pinterest recipe board before you go!
Making rice pilaf from scratch is easy, so the only hard part could be finding slivered almonds. I know I had an issue finding them and I looked in both the bulk bin, the baking aisle, and where the nuts were. So I ended up having to use whole almonds and sliver them myself.
How to sliver your own almonds
If you do have to sliver your own almonds, then it is pretty easy to do. First, start with whole raw almonds. You can easily take the skins off the almonds easily. The "skin" is that dark brown exterior that just gets in your teeth anyway. Just soak the almonds in warm water for a few minutes then toss them vigorously and the skin slips right off.
Next, just cut the almonds lengthwise down the middle. If they are particularly large almonds, then go ahead and slice them into quarters. Why go lengthwise? Well, yes, you could just chop the almonds up any old way, but the lengthwise cuts just look so much more attractive in my opinion.

More rice dishes to check out
Want some other rice side dish ideas to choose from? Here are a few I can personally recommend:
This recipe is part of a group I am participating in called Holiday Side Dish Week. Here are the other two recipes that I posted for the event: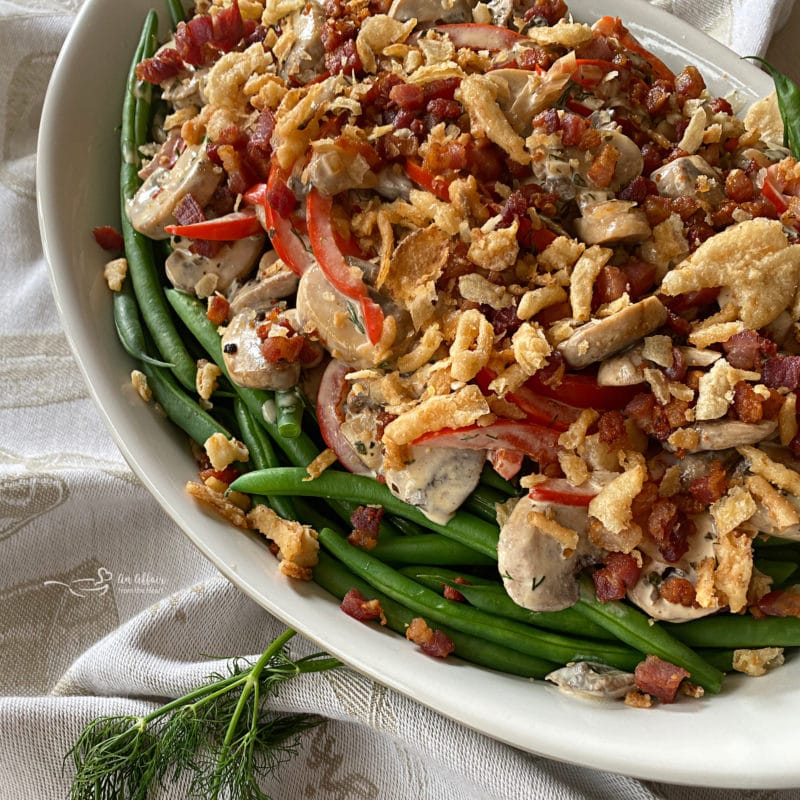 Sophisticated Green Bean Casserole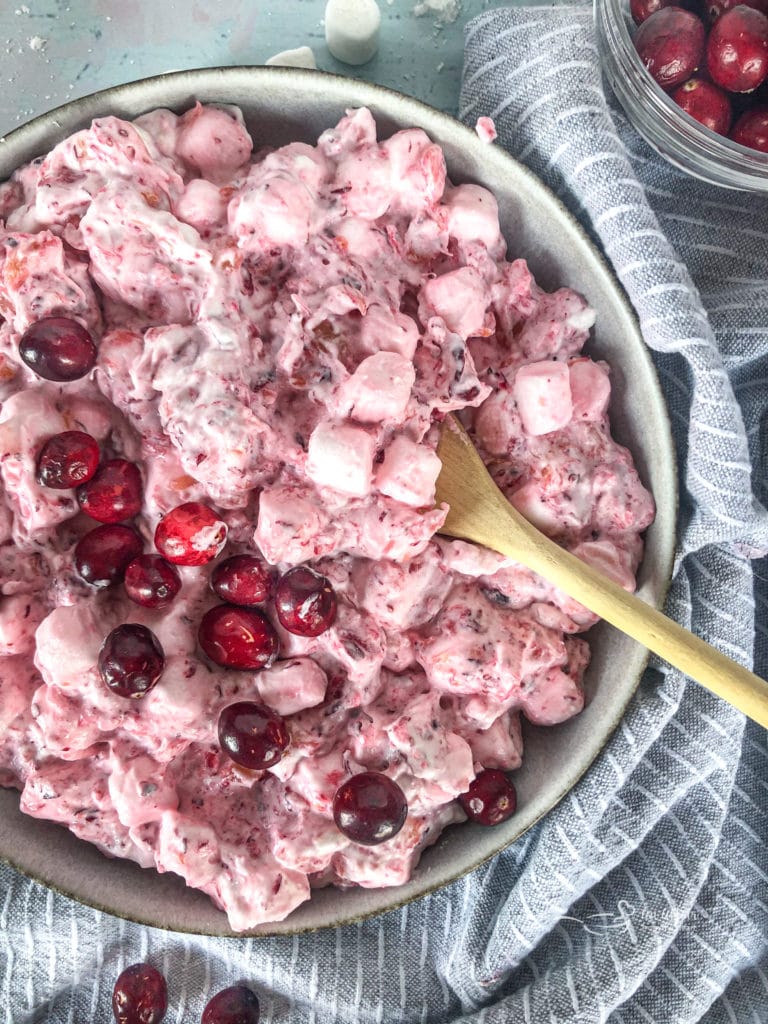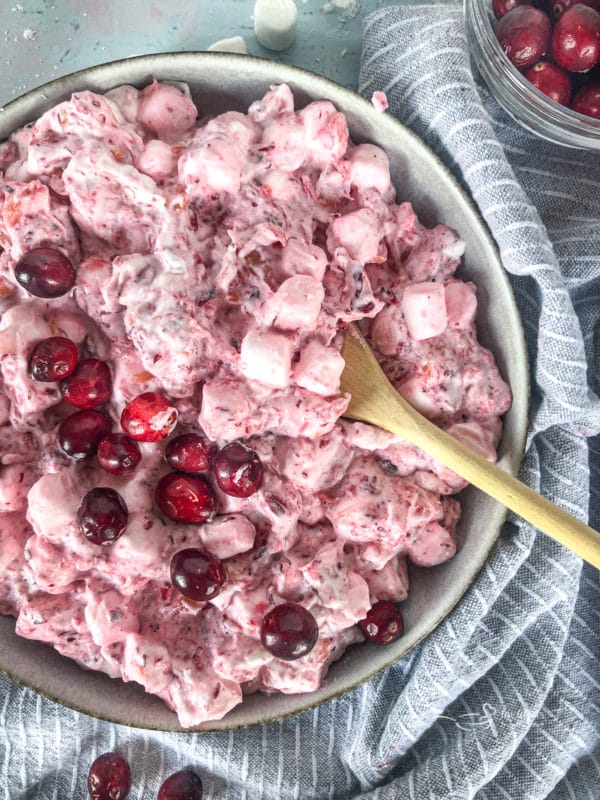 Below the recipe card, you can see all of the other creations from the other bloggers that are participating in #HolidaySideDishWeek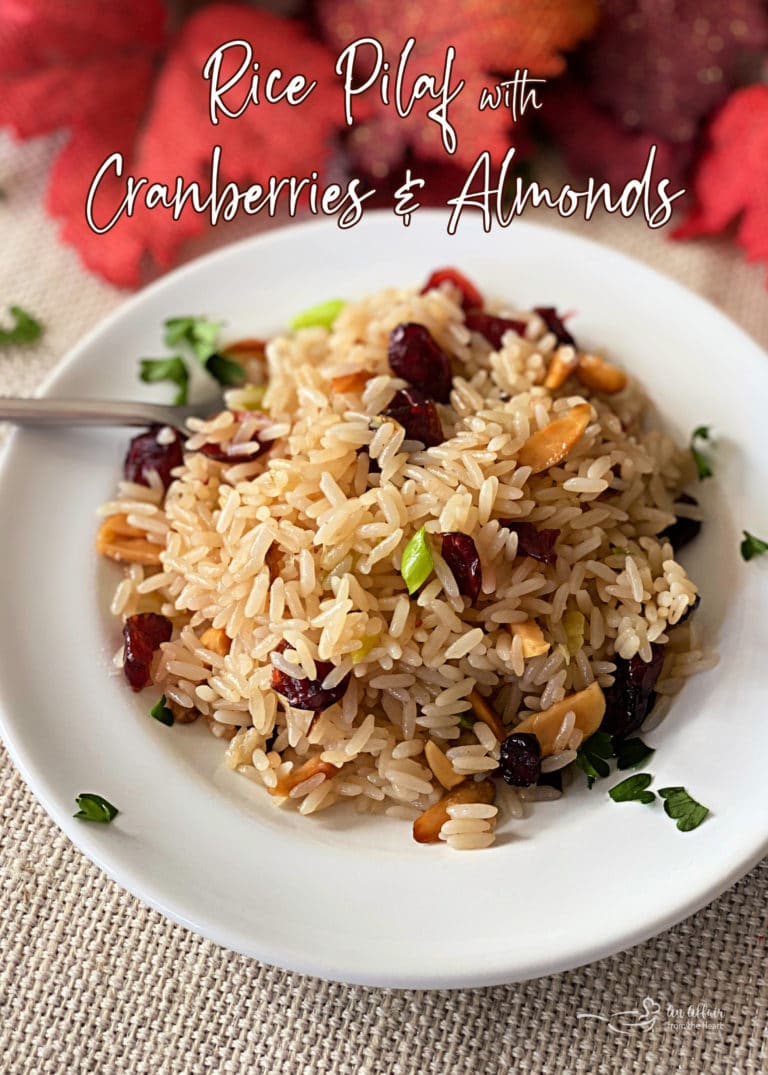 Let's get to the Rice Pilaf recipe!

Yield: 6 servings
Rice Pilaf with Dried Cranberries and Slivered Almonds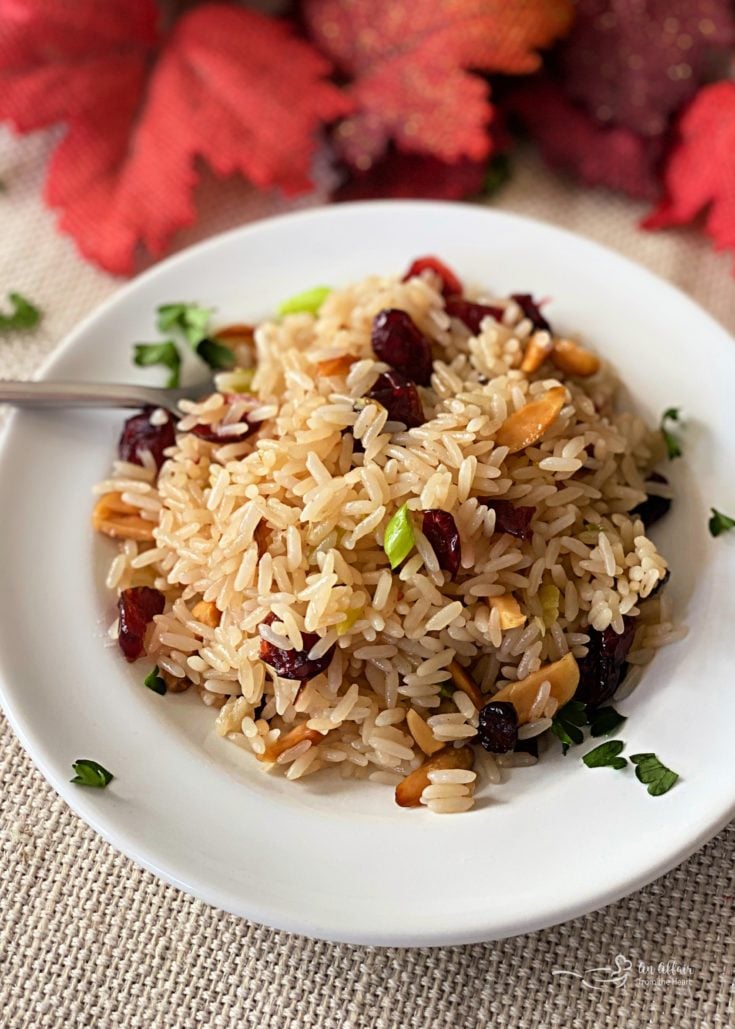 Buttery rice pilaf with dried cranberries and slivered almonds makes the perfect holiday side dish, but it is simple enough to toss together even on a busy weekday evening/
Ingredients
1/4 cup slivered almonds
2 Tablespoons butter
1 cup converted white rice
1/4 cup green onions sliced, reserve a bit of the tops for garnish
3/4 cup chicken stock
3/4 cup water
1/2 cup dried cranberries
Instructions
Add almonds to a skillet over medium heat and cook until lightly browned and toasted. Remove and set aside.
In the same skillet, melt butter over low heat. Add in rice and onion and cook until rice is lightly browned. Add in water and stock and bring to a boil over high heat. Reduce heat to low, cover and simmer for 15 minutes. Stirring occasionally.
Stir in almonds and cranberries and cook for another 5 minutes, or until liquid is completely absorbed, and rice is tender.
Garnish with more green onion if desired. Serve hot.
Notes
This recipe is also really delicious with dried cherries!
Recommended Products
As an Amazon Associate and member of other affiliate programs, I earn from qualifying purchases.
Nutrition Information:
Yield:
6
Serving Size:
1
Amount Per Serving:
Calories:

145
Total Fat:

6g
Saturated Fat:

3g
Trans Fat:

0g
Unsaturated Fat:

3g
Cholesterol:

11mg
Sodium:

76mg
Carbohydrates:

21g
Fiber:

1g
Sugar:

10g
Protein:

2g
Nutrition isn't guaranteed accurate.
Friday Holiday Side Dish Recipes: