Peanut Butter Chocolate Chip Cookie Dough Truffles
As an Amazon Associate and member of other affiliate programs, I earn from qualifying purchases.
These no bake chocolate chip cookie dough truffles are coated in semi-sweet chocolate and peanut butter and decorated up for the holidays.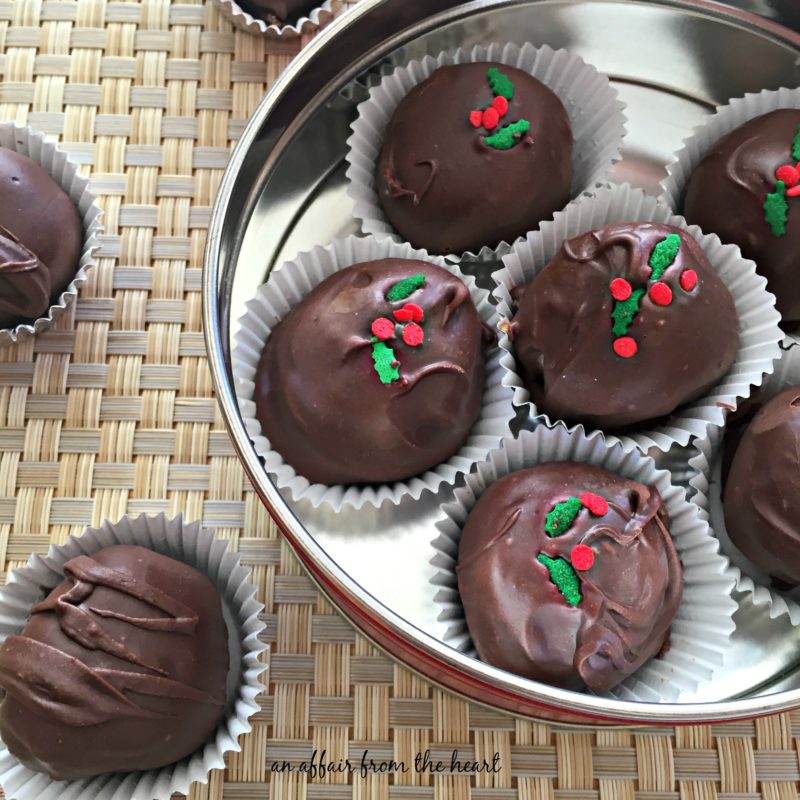 It's that time of the year, when you need to bring your sweet tooth over here on a regular basis.
Holiday BAKING SEASON!
This year I am kicking off the baking season with a recipe that is actually "No Bake." No bake recipes are always a winner at my house. It typically means they are EASY — and the only thing better than delicious when it comes to baking is EASY and DELICIOUS.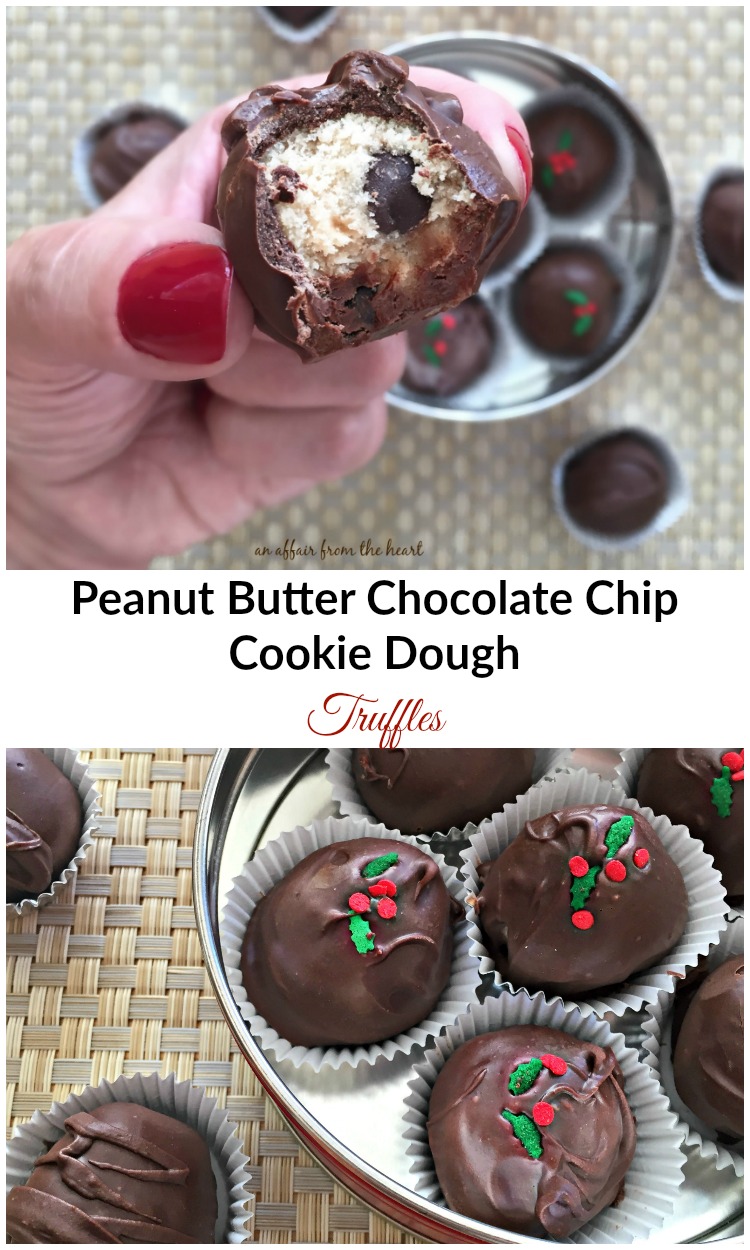 Start off with a box mix for chocolate chip cookie dough.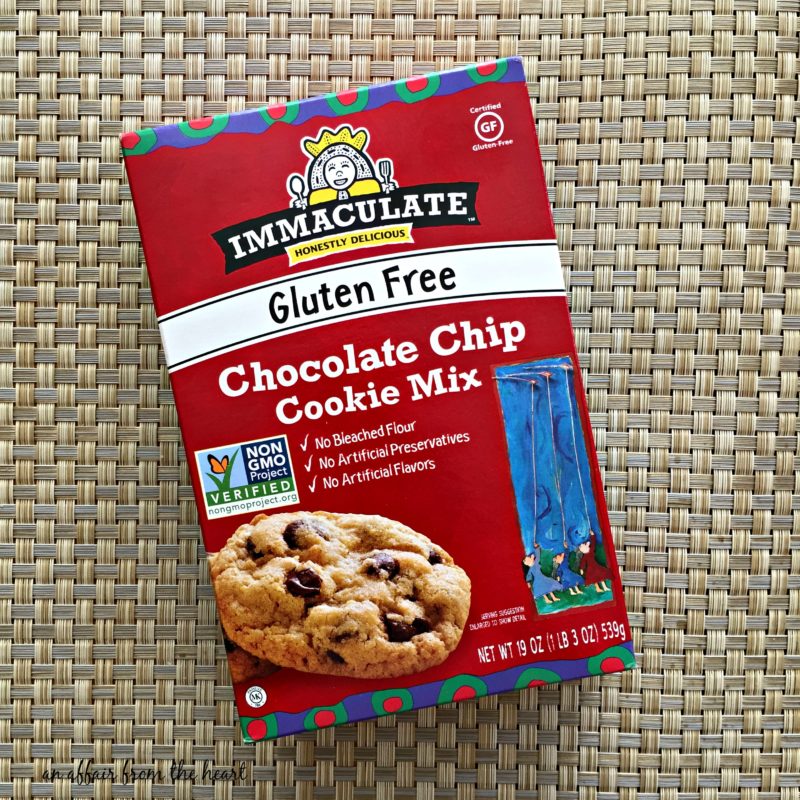 These truffles all began with this box mix from Immaculate Baking Company. Immaculate Baking Company was started by Scott Blackwell. Scott's love of sweets helped him through school. Whether it was selling candy bar kits, or baking and selling pies to get him through college, or his cookie and coffee business he ran out of his own garage, Scott had a vision, and that vision was sweet.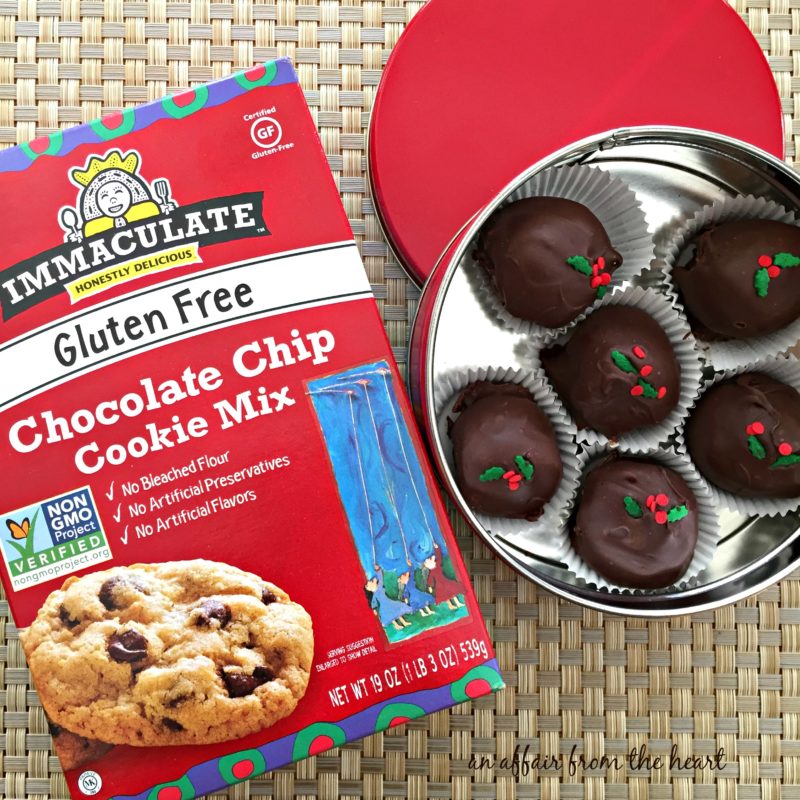 In 1997, Scott attended a food trade show on the West Coast and handed out his cookies. A man named Chuck Williams left that show with several Apple Pie cookies in his pocket. That very next week, Scott received an order from food retailer Williams-Sonoma. Two years later, Immaculate Baking's Leapin' Lemon Cookie won Most Outstanding Cookie in America at the Summer Fancy Food Show in New York. Immaculate Baking quickly outgrew Scott's garage and rapidly graduated to a huge facility in North Carolina. Immaculate Baking Company joined General Mills in 2012 and now offers several wholesome organic, natural, and gluten free products.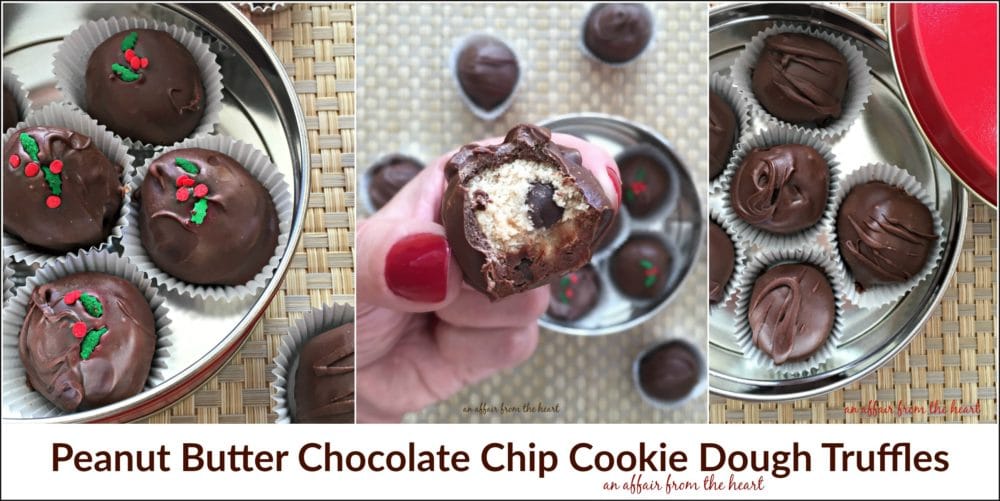 When do you typically start your holiday baking season? Mine usually starts the week or two before Thanksgiving. I begin test running recipes that I might like to add to my holiday trays. Mixed in with this is my Whole-Hearted-Love of all things pumpkin. Cakes, bars, pies — you name it. If I can get pumpkin in somewhere, you know it's happening! Then bring in the pies! I am the pie maker on both sides of our family, and have even taken orders for Thanksgiving pies from friends over the years. Most years I make anywhere from 12-24 pies the week before Thanksgiving. Crazy? Maybe. I love it though. There is nothing like Thanksgiving, is there?
Just time to spend with friends, family and really good food.
If you are like me, you might want to add some other bite sized treats to your holiday menu. These Peanut Butter Chocolate Chip Cookie Dough Truffles will fit the bill nicely. Mix up a batch, keep them in the fridge, and take out a few when guest pop by. You can leave them plain, or decorate them with season appropriate sprinkles.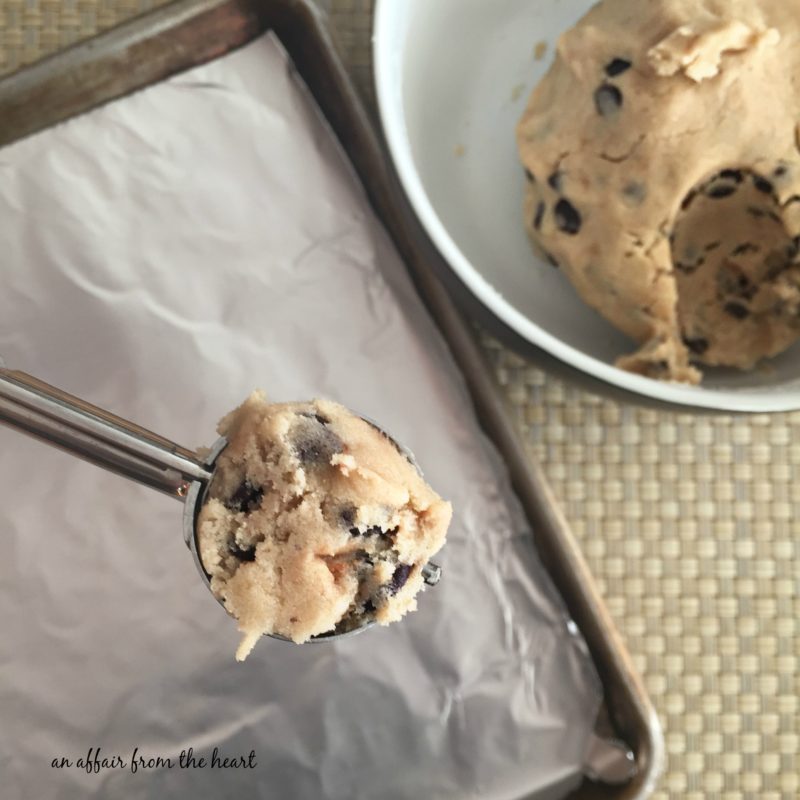 Simply mix up the Chocolate Chip Cookie Dough batter, but omit the egg. Add in a little bit of milk, and using your cookie scoop, form balls of dough and place in your fridge to chill.
Melt both Semi-Sweet Chocolate Chips and Peanut Butter Chips, and dip using the Bakerella Tapping Method.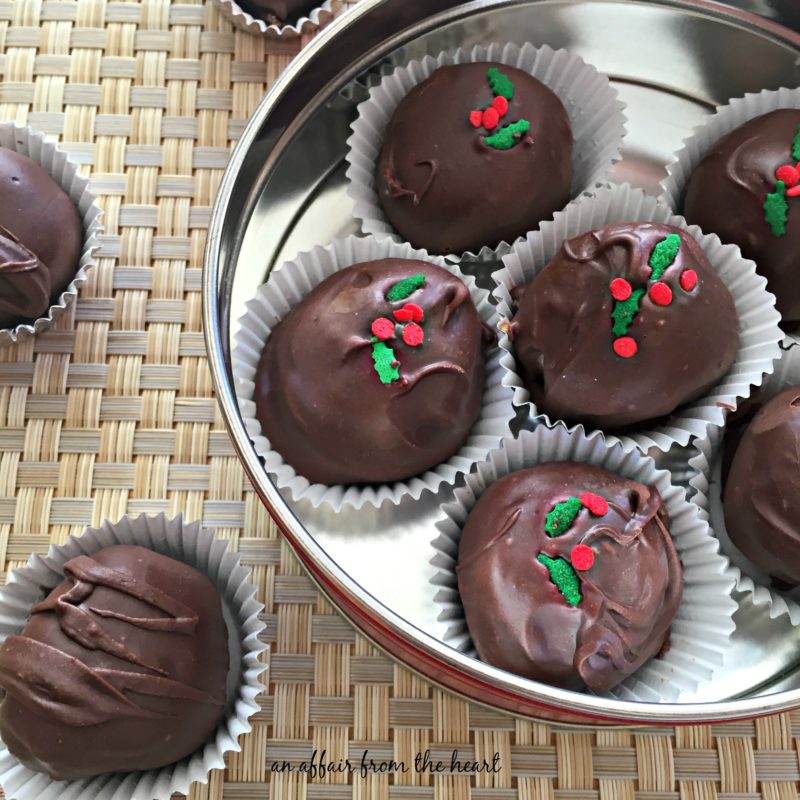 Leave them plain, or decorate them with sprinkles.
Make sure you sample at least one — "quality control" you know. 😉
Yield: about 3 dozen
Peanut Butter Chocolate Chip Cookie Dough Truffles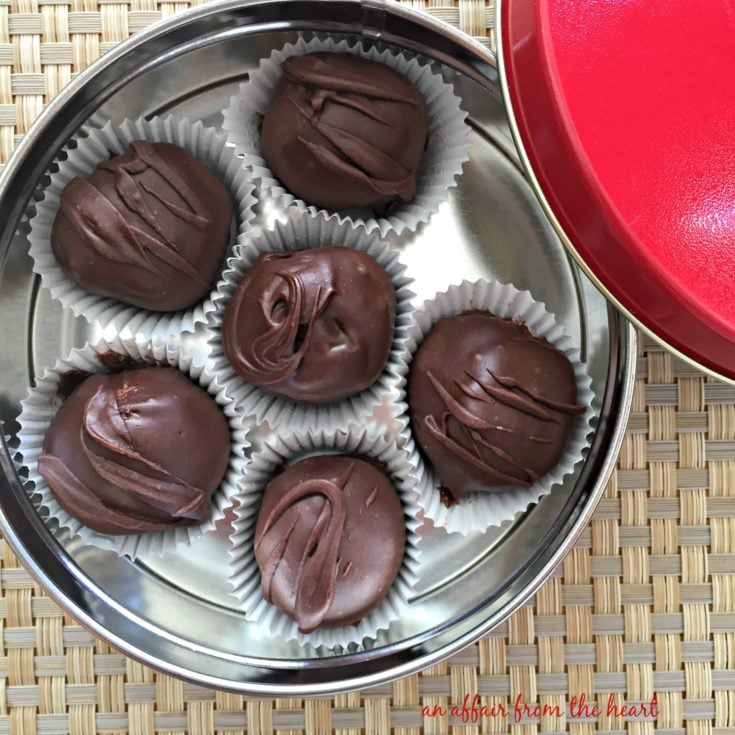 These no bake chocolate chip cookie dough truffles are coated in semi-sweet chocolate and peanut butter and decorated up for the holidays.
Ingredients
1 stick butter
1/4 cup milk
1 teaspoon vanilla (use gluten free)
1 (12 ounce) package Semi-Sweet Chocolate Chips
1 cup Peanut Butter Chips
sprinkles (optional)
Instructions
Prepare mix buy mixing softened butter into mix, adding vanilla and milk, until well combined. Form dough into a ball.
Using a cookie scoop, make dough balls, and place them on a cookie sheet lined with waxed paper or non-stick foil. Cover and refrigerate for a couple of hours.
Melt chocolate and peanut butter chips slowly in the microwave until smooth. Drop one dough ball into the melted chocolate and using a spoon cover with chocolate. Gently lift the truffle from the melted mixture on a fork. Tap your hand (not the fork) to remove excess chocolate. Gently transfer back to lined cookie sheet using a toothpick. Drizzle with remaining chocolate or sprinkles.
Keep refrigerated.
Nutrition Information:
Yield:
36
Serving Size:
1
Amount Per Serving:
Calories:

59
Total Fat:

5g
Saturated Fat:

3g
Trans Fat:

0g
Unsaturated Fat:

2g
Cholesterol:

7mg
Sodium:

35mg
Carbohydrates:

4g
Fiber:

0g
Sugar:

3g
Protein:

1g
Nutrition isn't always accurate.
—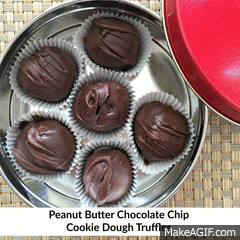 —
Check out ALL of the wonderful Immaculate Baking Products, and be sure to follow along with them on social media for great recipes all year long.
Click to grab $1.00 off coupon for Immaculate Baking Products