Mocha Chocolate Chip Icebox Cake
As an Amazon Associate and member of other affiliate programs, I earn from qualifying purchases.
Decadent is the word for this chocolate chip icebox cake. Layers of chocolate chip cookies and a mousse flavored with cocoa and a touch of Kahlua.
Imagine tiramisu meets chocolate chip cookie, they fall in love and have the most scrumptious dessert of all time — this icebox cake. Sound like an exaggeration? Trust me, here folks, this is one you just have to try! Plus, it's no bake, and it's hot outside. Two more reasons … I'm just sayin'!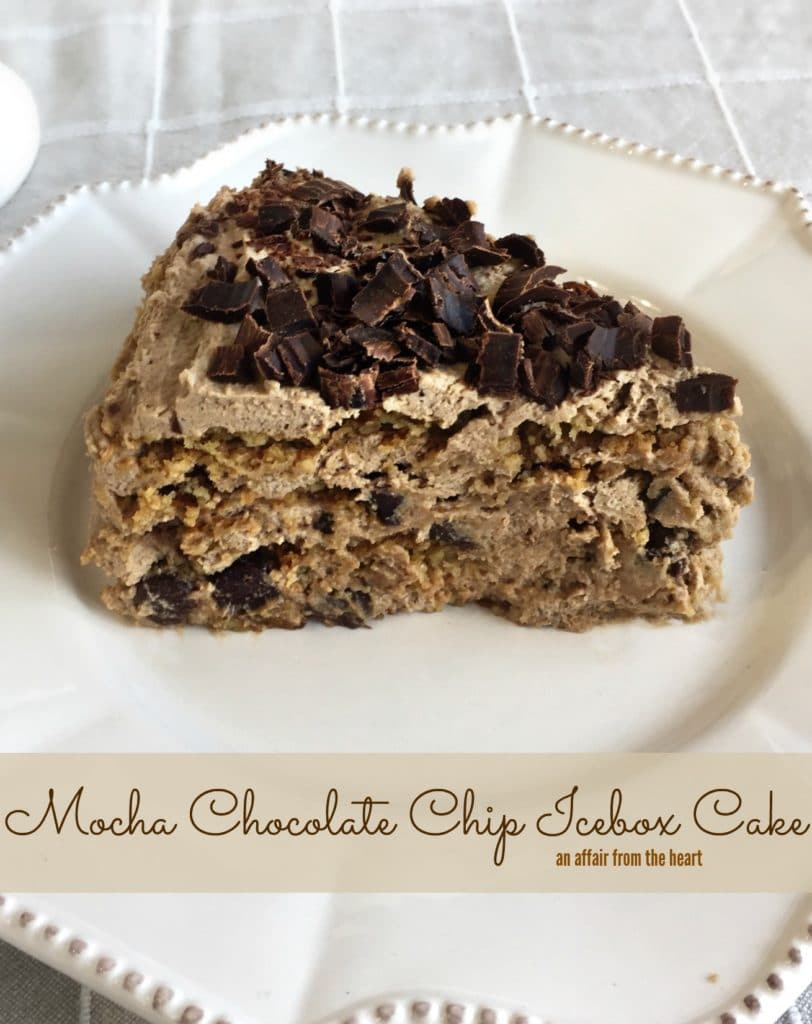 Don't let it fool you … it's not difficult to make at all. The key is letting it chill up really well in your fridge before removing from your spring form pan before slicing.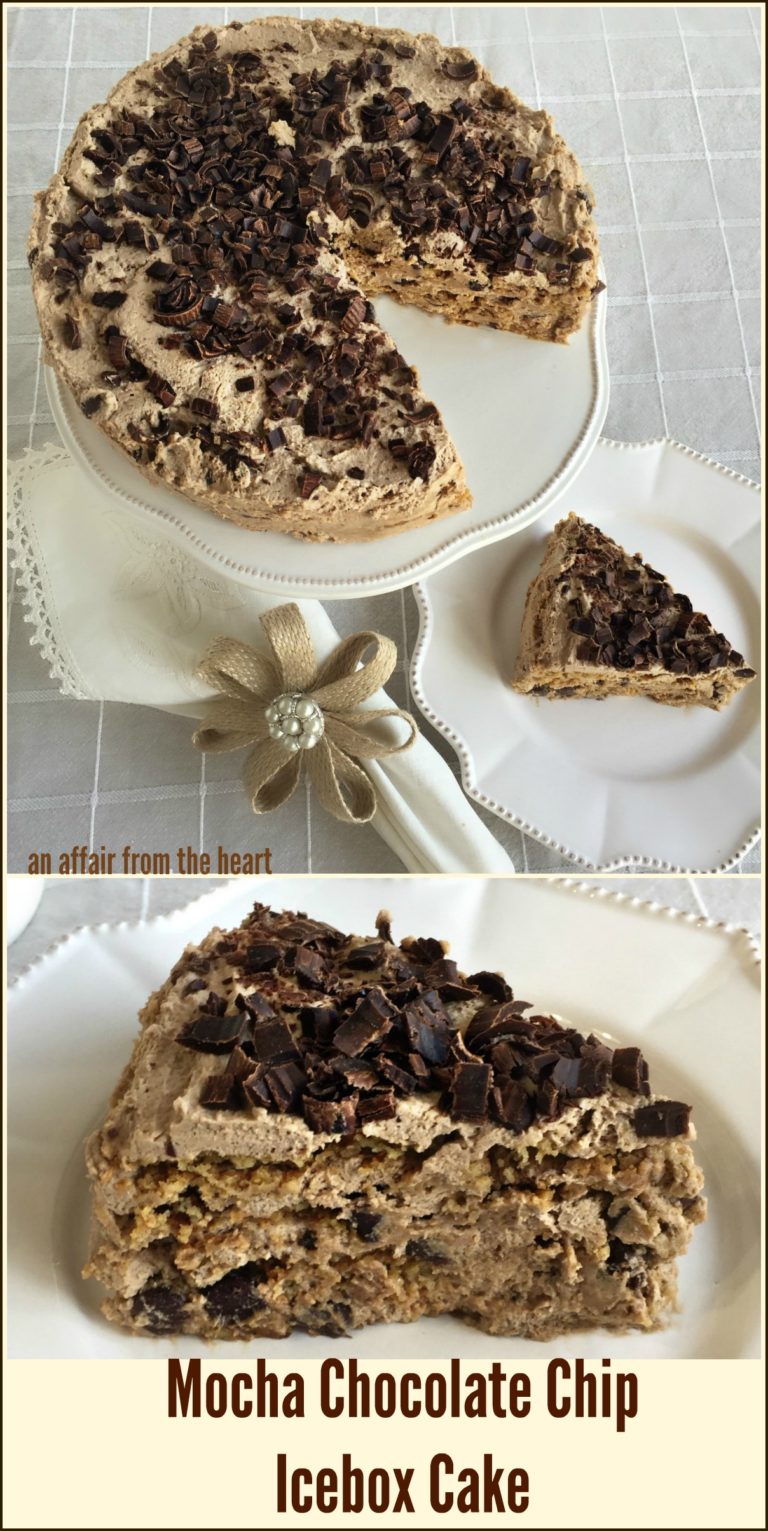 Remember about 3 weeks ago when I shared the news of my new fridge? You guys! I am so in love with it! Who knew you could be so giddy about an appliance?!?!
If you are just joining us, I will get you up to speed on what happened to me. Nebraska Furniture Mart, here in Omaha, Nebraska, gave me a new Samsung Family Hub Refrigerator! Can you believe it?!?! Yea, me either. I'm still pinching myself!
Here is a video from my facebook page that shows just a few of the super cool features! Take a peek back at where it all started almost a month ago.
While you're reading you can grab the recipe for this Old Fashioned Strawberry Icebox Cake I made to celebrate!
I thought I would come back and let you know a bit about how it's been going, and share with you some of the features I truly love.
The fridge was installed, and we began customizing the screen. How cool is it that you can download your own photos right to the fridge either using a USB or your phone? My daughter got that all set up, right away. We love how you can have different albums, and set them to a slideshow. How fun would that have been when I had that graduation party last summer?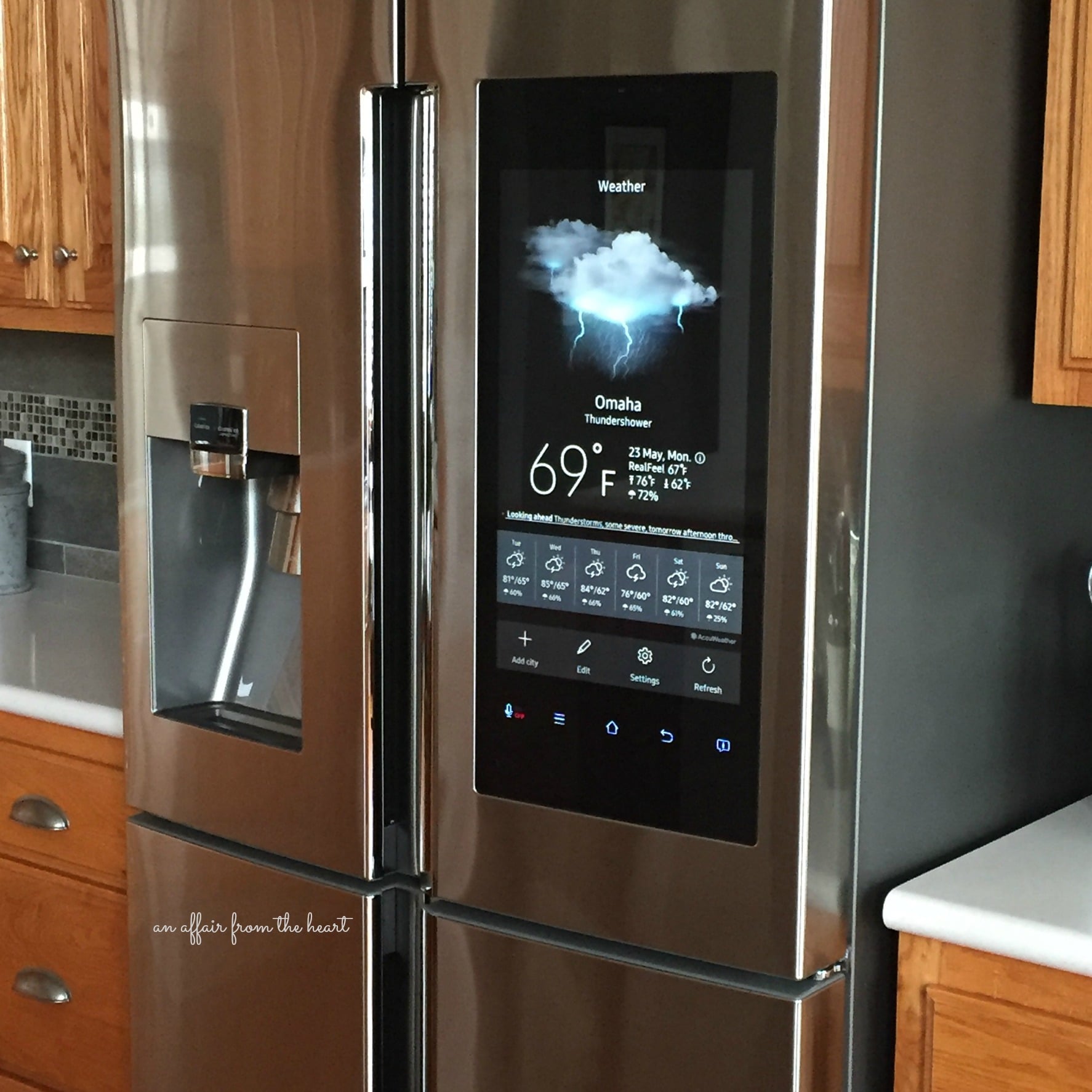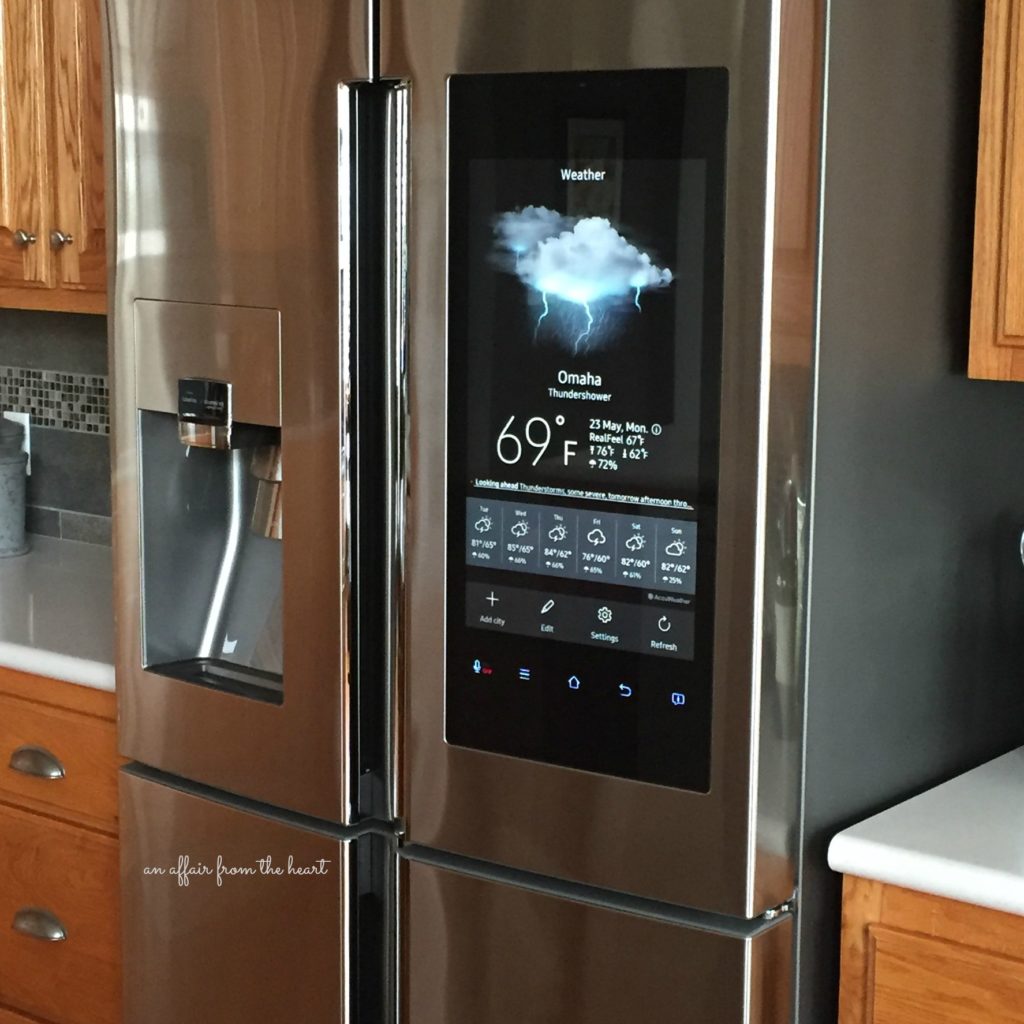 I have to admit, the weather is one of my favorite features. I have it set to always default back to the weather. The date, time and temperature will appear right on the front of the fridge. I love the graphics, too! When it's thunder storming, it actually flashes and the lightning strikes. At night, you can see a big bright moon with the appearance of shooting stars. Hot days, the sun is bright and looks like heat radiates off of it. It will be cool to see the snow — although I am in no rush for that!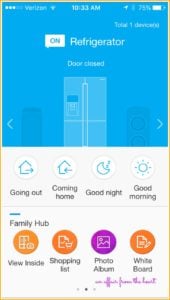 I had a slight problem setting up the app on my phone. (most likely operator error) — but the Samsung representative walked me right through everything and we had it working on my iPhone in no time.
Now, when I am at the store, I can see right inside the fridge!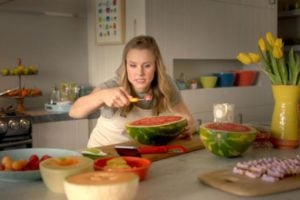 By now you have probably seen the clever commercials with Kristen Bell and Dax Sheppard, "this project is really going sideways" — and "the hen house is full."
Being able to access the cameras is super cool, but I, myself, love the shopping list. We add to it right on the fridge, and it can be accessed from my phone anywhere. No more paper lists to forget! What a lifesaver! We have multiple lists going, one for the grocery store, one for Costco, even what not to forget while packing for vacation. I can access it on my phone, and check items off as I purchase/complete them.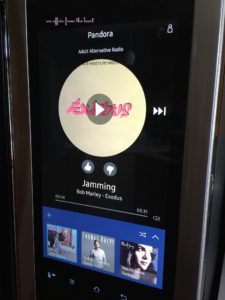 I knew from the start that the Pandora and Tune In Radio apps would be loved. We are a family that loves all kinds of music, and it's always in the background when I am cooking. Now it's right on my fridge!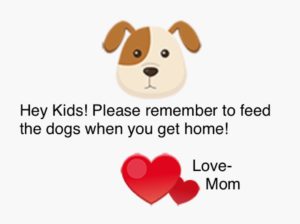 I am having fun with the White Board. I can send messages right to the fridge, because let's face it — when kids get home, that's usually where they head, right?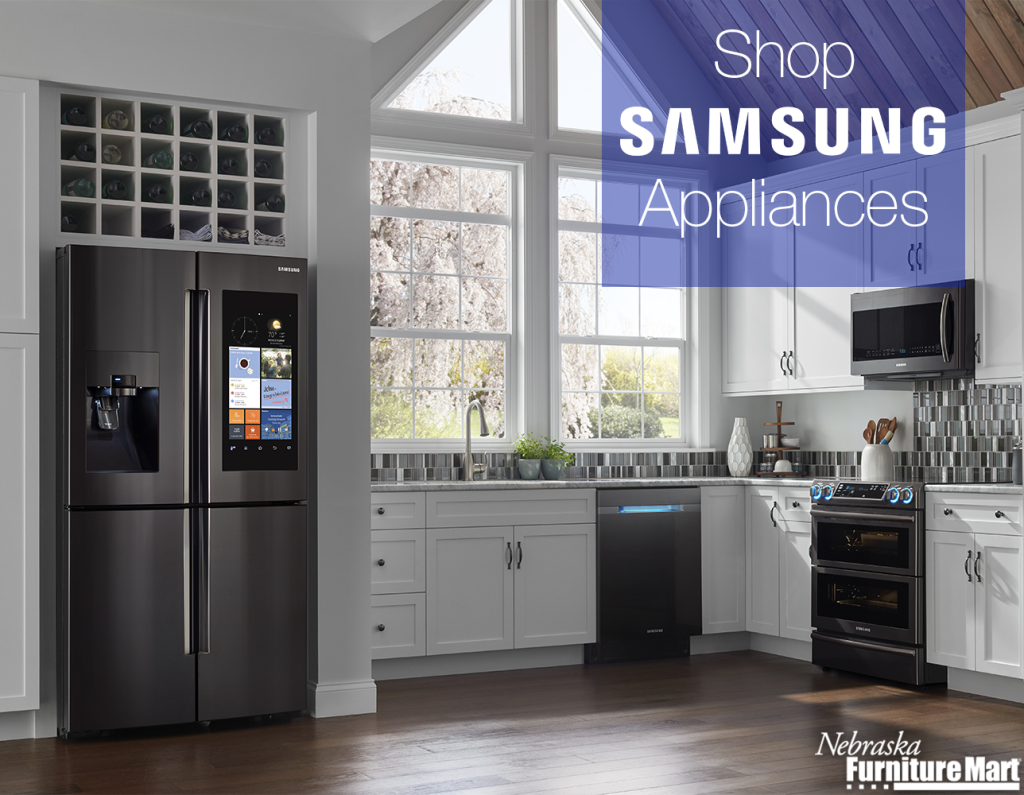 When you decide to add one of these awesome refrigerators to your kitchen — make sure you shop Nebraska Furniture Mart. They will always give you the best price!
Let's get you back to making that dessert now!
When the recipe calls for thin chocolate chip cookies — this is what I mean. I get these from the bakery at my local Hyvee. They are big, like 5 inches in diameter, and thin and crispy. This recipe used just shy of two dozen, but if you are using a smaller cookie, you will need more. I know they sell thin chocolate chip cookies at Trader Joe's also.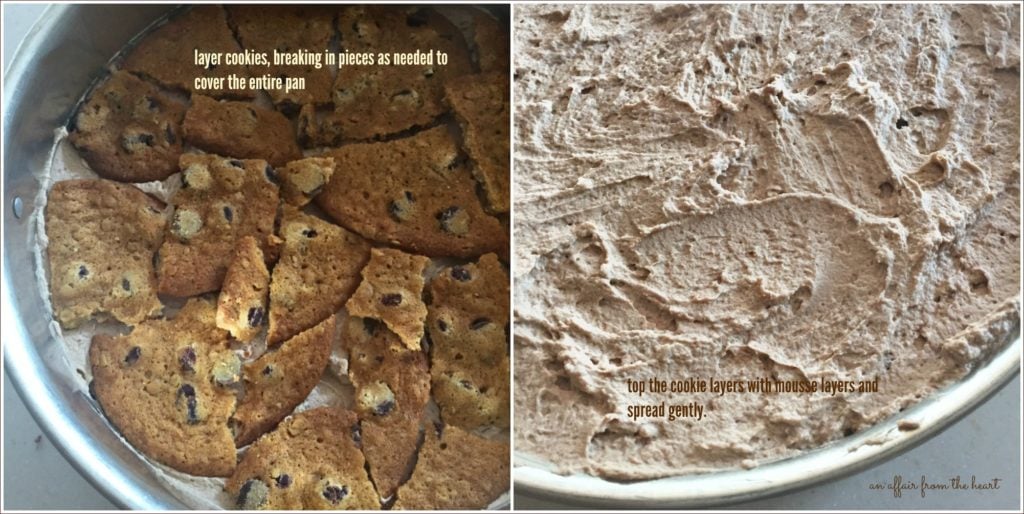 Layer all of that yumminess up in a 9 inch Spring Form Pan
Cover with plastic wrap and place in your refrigerator to chill overnight.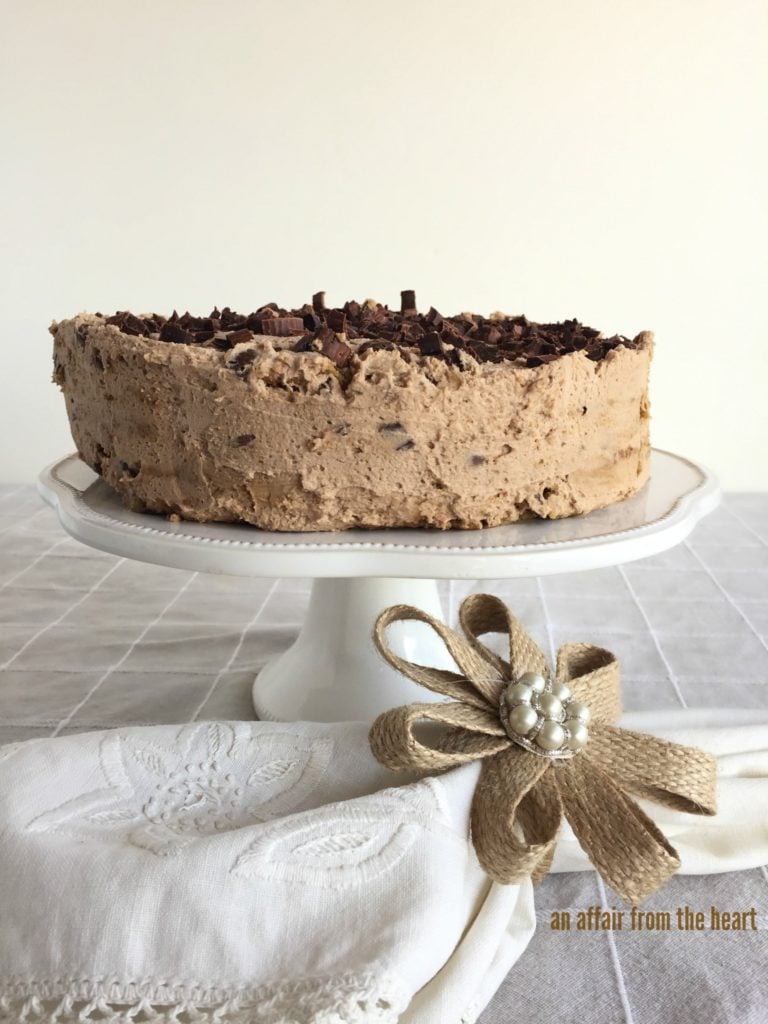 Thank you, to my friend, Betsy, for this amazing dessert recipe!
---
Yield: 10
Mocha Chocolate Chip Icebox Cake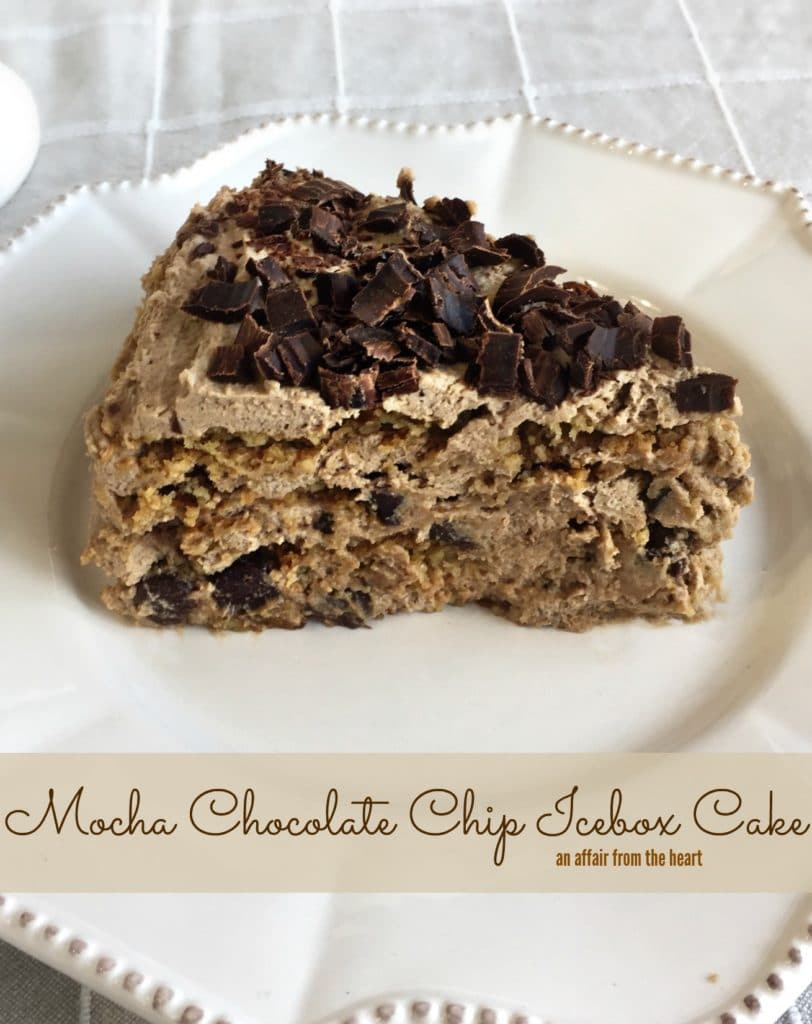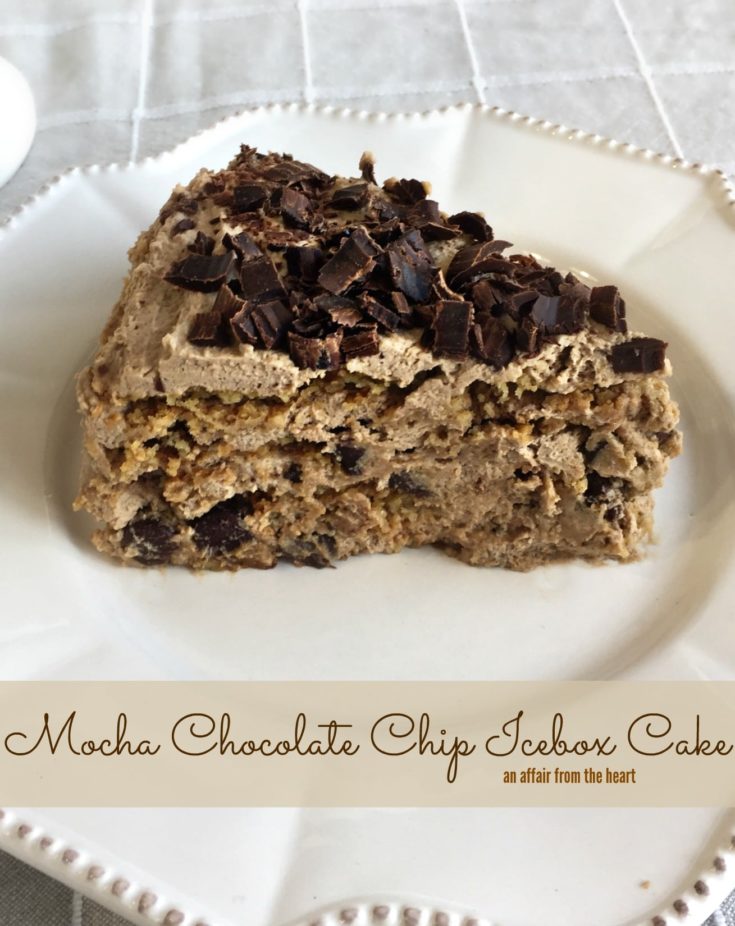 Decadent is the word for this chocolate chip icebox cake. Layers of chocolate chip cookies and a mousse flavored with cocoa and a touch of Kahlua.
Total Time
8 hours
25 minutes
Ingredients
2 dozen thin chocolate chip cookies
1 1/2 (8 ounce containers) mascarpone cheese
2 cups heavy whipping cream
1/2 cup sugar
1/4 cup Kahlua
1 teaspoon vanilla
2 Tablespoons cocoa powder
1 teaspoon espresso powder
1/2 cup shaved dark chocolate curls, for garnish
Instructions
In your mixer bowl, using the whisk attachment, combine the mascarpone, cream, sugar, Kahlua, vanilla, cocoa and espresso powder, slowly. As mixture begins to thicken, increase whipping speed, whipping until stiff peaks form.
Assembling the Cake: Cover the bottom of a 9 inch spring form pan with cookies, breaking them to cover completely. Divide mousse into 5 parts. Top with 1/5 of the mousse. Repeat cookie layer, then mousse layer, 5 times. Ending with the final mousse layer. Cover with plastic wrap and place in the refrigerator overnight to chill.
Loosen the spring form pan sides, carefully run a knife around the outside of the cake, and top with shaved chocolate pieces.
Cut and Serve cold.
Nutrition Information:
Yield:
10
Serving Size:
1
Amount Per Serving:
Calories:

485
Total Fat:

32g
Saturated Fat:

17g
Trans Fat:

1g
Unsaturated Fat:

12g
Cholesterol:

60mg
Sodium:

147mg
Carbohydrates:

45g
Fiber:

2g
Sugar:

31g
Protein:

4g
Nutrition isn't always accurate.
Thank you, to Nebraska Furniture Mart for this opportunity!
Shop for this fridge RIGHT HERE and Follow along with NFM on their BLOG, Facebook, Instagram, Twitter and Pinterest Accounts!
We are lifetime shoppers at NFM! The Samsung Family Hub Refrigerator was provided by Nebraska Furniture Mart, all opinions in this post are my very own.