This Candy Cane Peppermint Puppy Chow recipe is full of sweet and minty flavors! Made with melted white chocolate, Chex cereal, and crushed candy canes, this candy cane snack mix has Christmas written all over it!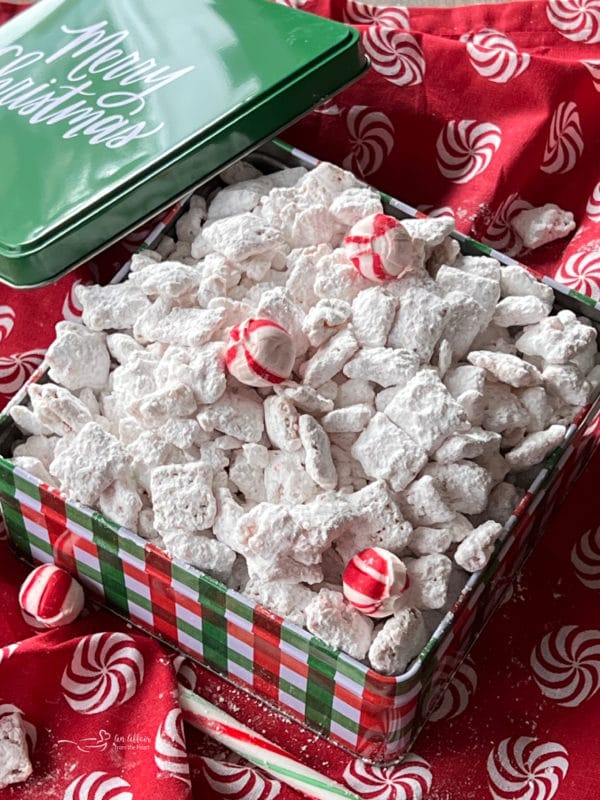 Oh, how I love candy cane peppermint puppy chow. Sweet, easy, and filled with white chocolate melted over rice Chex with some crushed candy cane, this simple holiday recipe is perfection. Ready in minutes and perfect for gift-giving for the holidays whenever you've got someone special on your mind, you will love this simple peppermint muddy buddies recipe!
When winter rolls around, I pull out the festive treats–such as this one and my Winter Wonderland Snack Mix. Powdered sugar, Rice Chex, white chocolate, mint… What else is there to ask for?
You just can't go wrong with puppy chow. Don't you agree? Serve it up as the appetizer, as a snack, or at the dessert table while you're hosting lunch or dinner. This snack mix is destined to please anyone who tries it.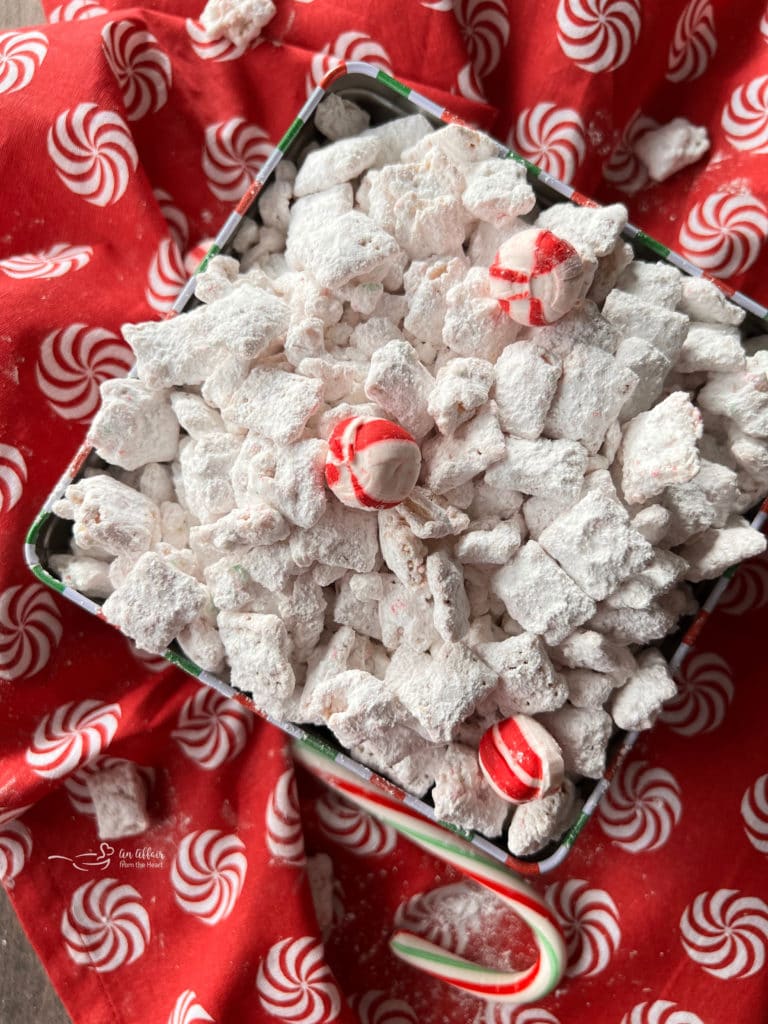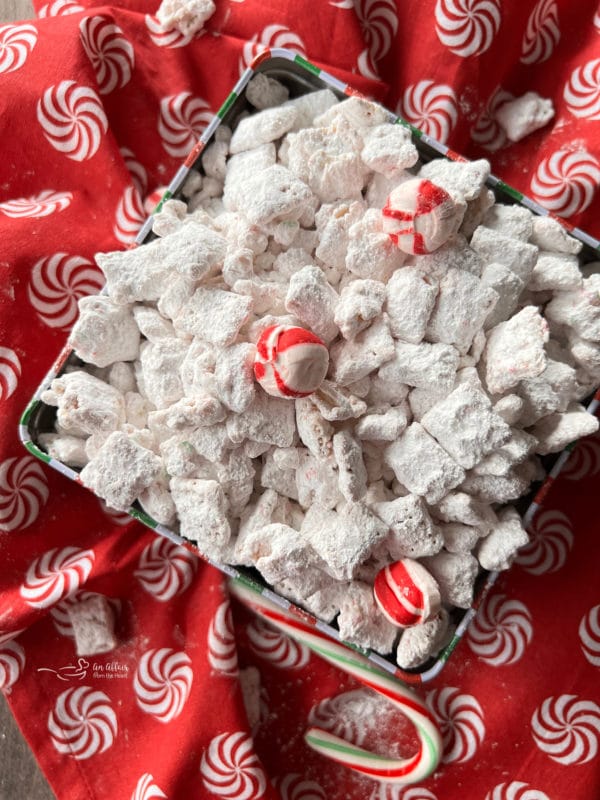 What to bring to a Cookie Exchange
So, you got invited to a cookie exchange, it's time to start thinking about what to bring. For years I hosted a cookie exchange every December, and aside from the obvious – cookies – I loved having an assortment of candy and also fun seasonal snack mixes.
When I make up my cookie trays I try really hard to have a little bit of something for everyone, and lots of flavors and colors. I love chocolate as much as the next guy, but let's face it, a tray of all brown is just not very festive!
One year, I made my Crispix snack mix and filled up Pringle cans that I had decorated for the exchange. Everyone loved it! I love having a fun holiday snack mix in the middle of my trays or sprinkled about. This Candy Cane Puppy Chow is perfect for that! I can't take credit for this recipe though – I got it from another blogger, named Lynn. She was my blog assignment for this fun virtual cookie exchange that I host every year, called Freaky Friday.

What is Freaky Friday?
Freaky Friday is a group of bloggers that gets together for a good 'ol fashioned blog hop five times a year; once per season and then for the Holiday Virtual Cookie Exchange, which is today!
We each are assigned a blog to bake from and we all reveal our recipe and who we had on the same day at the same time. That day is today! It's a great way for our readers to meet other bloggers and to find even more new recipes!
Fresh April Flours
For this round, I was given the blog Fresh April Flours to bake from, hosted by Lynn. Lynn is an incredibly talented baker and actually used to own her own cake company called Lucky Duck Cakes. Funny because she said that up until 2010, she had never baked a thing. She was looking for a hobby, took a cake decorating class, and as they say, the rest is history.
When I was searching Lynn's site for what to make I had about 25 tabs open on my computer! There is so much to choose from! I narrowed it down to two things though, this peppermint muddy buddy recipe and these funfetti snowball cookies. But the puppy chow won out in the end.
Speaking of Puppy Chow Recipes
What I didn't realize when I made the candy cane puppy chow is that Lynn has her own cookbook called The Chowdown Cookbook! It's a cookbook full of puppy chow recipes! Once I saw that then I realized that she also has her own line of sprinkles called Fresh April Sprinkles . She's a busy lady!
I wasn't able to choose her Winter Sangria recipe or her homemade peppermint mocha creamer for this round, to keep with the theme – but I can assure you those will be happening really soon!

WHY THIS CHRISTMAS PUPPY CHOW IS THE BEST
Easy: With only a few simple steps, this Christmas puppy chow is so simple to make! Basic ingredients and steps are just what you need for a relaxing holiday!
Sweet and Delicious: The combination of crushed candy canes, melted white chocolate, and confectioner's sugar create the perfect amount of sweetness that coats the Chex Mix perfectly.
Holiday Themed: What screams, "Christmas!" better than candy cane puppy chow? Red and white candy canes are perfect for Christmas and the holidays.
Perfect Stocking Stuffers: Whether you're making this peppermint Chex Mix for friends, loved ones, or guests for the holidays, this snack mix is perfect for stuffing in stockings, gift bags, boxes, thank you gifts, and much more. You never know whose day you may make by gifting them this chocolate peppermint puppy chow.

INGREDIENTS
Rice Chex: Use storebought Chex Mix or any type of store brand type of cereal that resembles Chex Mix. Crispix is another type of cereal that will work well for this recipe if you do not have access to different types of Chex cereals.
White Chocolate: Feel free to use white chocolate chips or chopped white chocolate candy bars. Just make sure you choose a good quality white chocolate.
Candy Canes: You can use leftover candy canes or your choice of peppermint candies for this recipe. If you happen to have a bunch of candy canes left over from the Christmas tree or holiday parties, then this recipe is perfect for them.
Powdered Sugar: Confectioner's sugar is light and dusty sweet sugar that is the perfect addition to this snack mix. Sweet, light, and delicious, the powdered sugar adds just enough flavor to this recipe.
HOW TO MAKE PUPPY CHOW USING LEFTOVER CANDY CANES
This recipe is easy, quick, and perfect for kids and the entire family. If you're looking for an extra holiday treat to make this year, then you've found the right recipe! This candy cane chow is perfectly displayed in serving dishes, tins, and much more.

MELT WHITE CHOCOLATE
First, add the cereal to a large bowl. Set aside until ready to use.
Next, in a small saucepan over low heat, melt the white chocolate pieces or chips. Stir the white chocolate until it is melted and smooth, but be sure to mix it constantly so it doesn't burn. Remove the chocolate from the heat once it has melted.

COMBINE THE CHOCOLATE AND CEREAL
Combine the melted white chocolate and the Rice Chex cereal in the bowl until mixed. Sprinkle the crushed candy canes over the top of the snack mix and stir to evenly coat the candy.


SHAKE
Next, place the coated cereal in a large zip-lock bag or a container with a lid. Add the powdered sugar to the mixture and shake to coat.

COOL
Spread the peppermint muddy buddies in a thin layer on a baking sheet. Allow the mix to completely cool at room temperature.
Store the puppy chow mix in an airtight container and enjoy it within two weeks!

LOVE IT? PIN IT THIS CHRISTMAS PUPPY CHOW!
Want to make this Christmas puppy chow this year for the holidays? What are you waiting for–save this recipe to your Pinterest board!
TIPS
Instead of white chocolate, use your favorite dark or milk chocolate chips. In a pinch, you can use almond bark, too. I actually made it again, and didn't have any white chocolate, I used vanilla almond bark and added a couple of drops of peppermint extract to it. It was yummy.
Add popcorn or pretzels to the Rice Chex cereal for extra crunch and flavor.
Add Christmas-colored M&Ms to the snack mix recipe before cooling on the baking sheet.

MORE RECIPES YOU WILL ENJOY
Take a look at all of our 2021 Freaky Friday Holiday Cookie Exchange Recipes:

An Affair from the Heart – Candy Cane Puppy Chow
The Carefree Kitchen – Christmas Linzer Cookies
Devour Dinner – Peppermint Meltaways
Family Around the Table – Chocolate Overload Cookies
The Foodie Affair – Easy Pecan Pie Crust Cookie Recipe
Fresh April Flours – Pecan Chocolate Chip Cookies
The Fresh Cooky – White Chocolate Peppermint Cookies
Hostess at Heart – Crumbl Cookie Recipe
House of Nash Eats – Peppermint Chocolate Chip Cookies
Kathryn's Kitchen Blog – Peanut Butter Cup Cookies
Lemoine Family Kitchen – Lemon Thumbprint Cookies with Strawberry Jam
Lemon Blossoms – Cranberry Orange Biscotti
Life Currents – Chocolate Mint Rugelach
Life, Love & Good Food – White Chocolate Macadamia Nut Cookies
Soulfully Made – Polar Bear Paw Cookies
The Speckled Palate – Saltine Cracker Toffee
Sue Bee Homemaker – Jam Thumbprint Cookies
Take Two Tapas – Sugar Cookie Truffles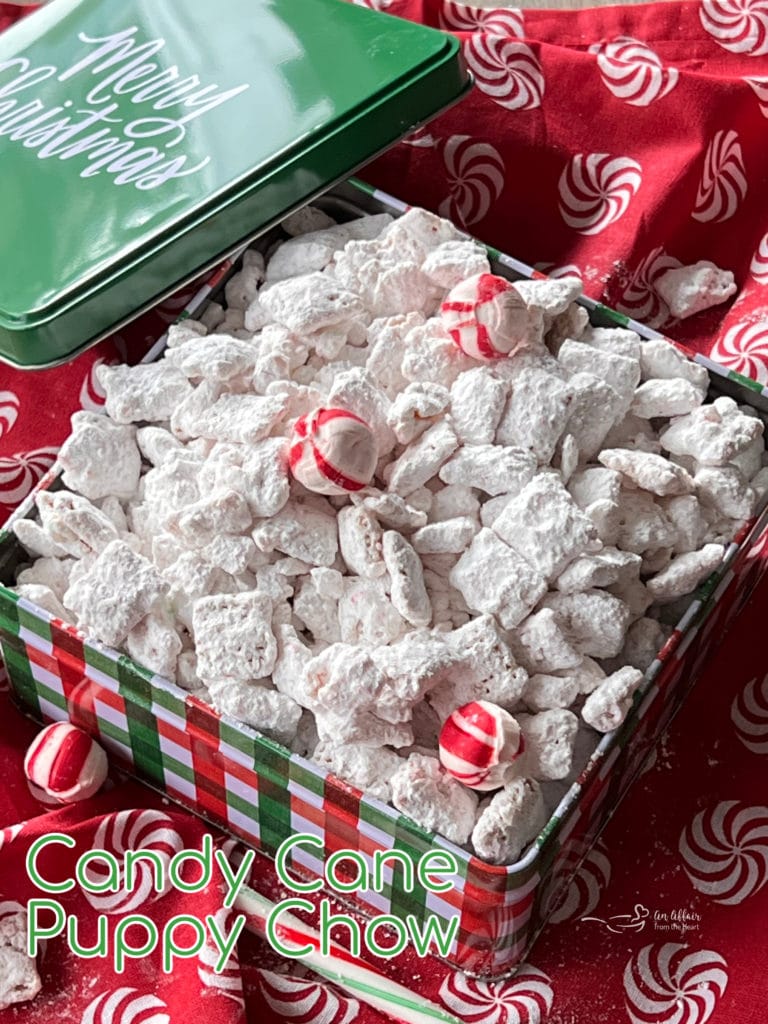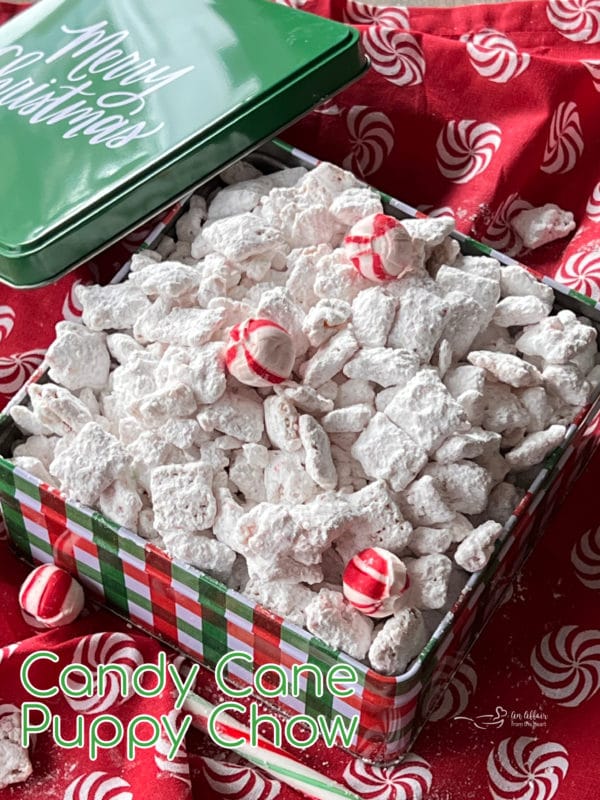 Let's make some Candy Cane Puppy Chow!

Yield: 5 cups
Candy Cane Puppy Chow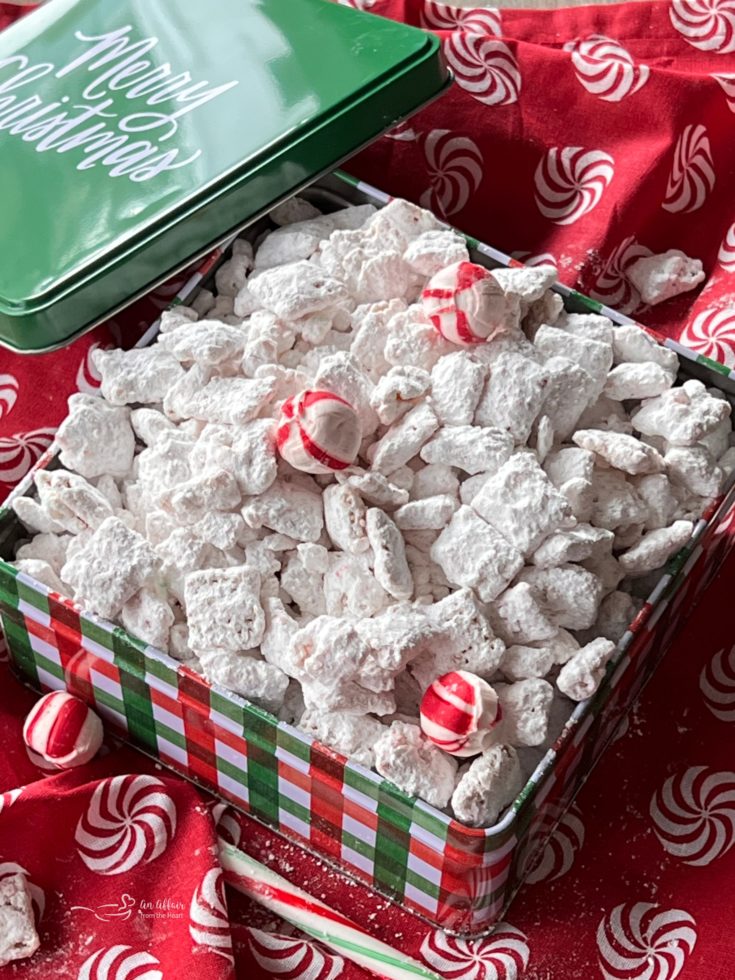 Simple to make and fun to eat this 4 ingredient candy cane puppy chow is perfect for the holidays. Add it to your holiday trays, give it as a gift, or just enjoy it while you are watching your favorite holiday movie. White chocolate, crushed candy cane and powdered sugar over rice Chex cereal.
Total Time
1 hour
5 minutes
Ingredients
4 1/2 cups Rice Chex cereal
8 ounces good quality white chocolate
1 cup crushed candy canes/peppermint candies
1 cup powdered sugar
Instructions
Add cereal to a large bowl. Set aside.
In a saucepan over low heat, melt the white chocolate. Stir it constantly taking care it does not burn. Stir until smooth. Remove from heat.
Pour the chocolate over the cereal and carefully stir to coat the cereal in melted white chocolate.
Sprinkle the crushed candy canes over the top and stir to evenly coat the cereal in peppermint candy.
Place the coated cereal in a large zippered bag, or a container with a lid and add in the powdered sugar. Shake to coat in sugar.
Spread onto cookie sheets covered in foil or parchment paper and let the mix cool completely.
Store in an airtight container. Consume within 2 weeks.
Notes
To melt chocolate in the microwave, add the white chocolate to a microwave safe bowl and heat on high in 20 second intervals, stirring until smooth.
Recommended Products
As an Amazon Associate and member of other affiliate programs, I earn from qualifying purchases.
Nutrition Information:
Yield:
10
Serving Size:
1
Amount Per Serving:
Calories:

303
Total Fat:

8g
Saturated Fat:

4g
Trans Fat:

0g
Unsaturated Fat:

2g
Cholesterol:

5mg
Sodium:

128mg
Carbohydrates:

58g
Fiber:

0g
Sugar:

40g
Protein:

2g
Please note that nutrition is not guaranteed accurate.

If you make this recipe, I'd love to know! Snap a picture, share the photo on social media with the hashtag #AnAffairFromTheHeart – I'd love to see what you made! – Michaela