White Chocolate Strawberry Muddy Buddies
As an Amazon Associate and member of other affiliate programs, I earn from qualifying purchases.
This White Chocolate-Covered Strawberry Muddy Buddies recipe is a delicious dessert or snack that can be served on Valentine's Day or any other festive occasion! Colorful, strawberry pink puppy chow is a Chex Mix made with melted white chocolate and freeze dried strawberries to create the best strawberries and cream flavor out there. A festive, fruity and sweet treat!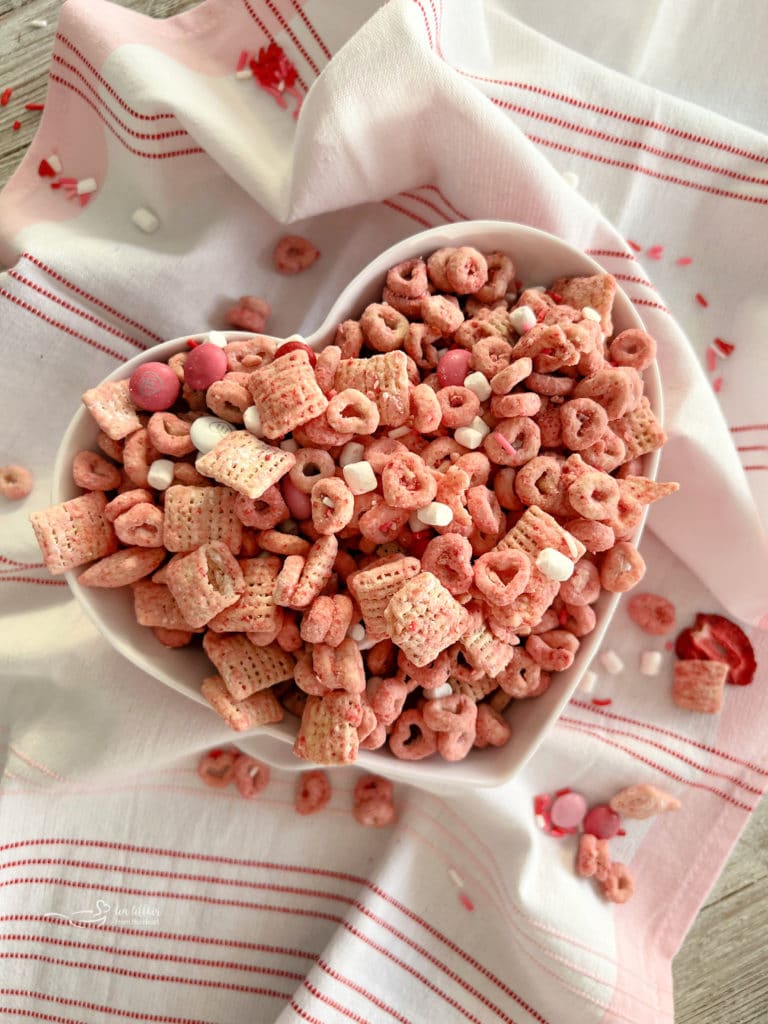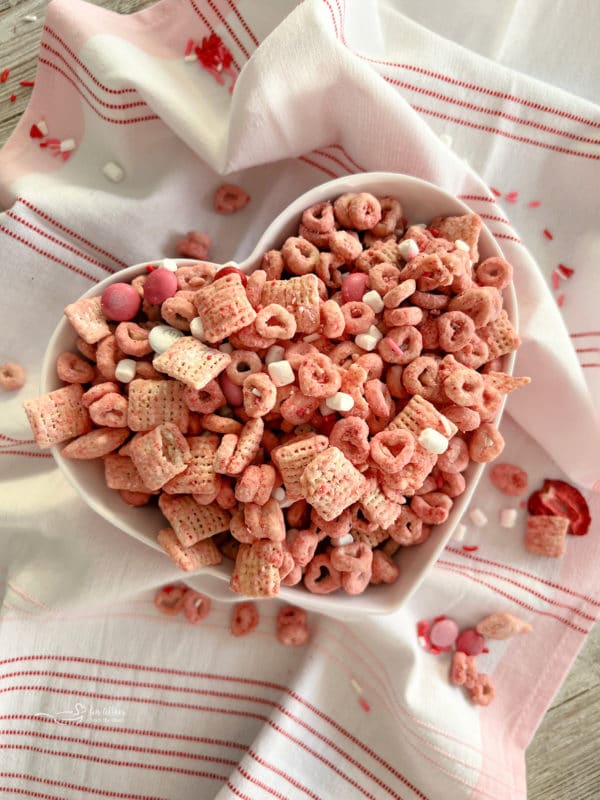 If you have been around here for a while, you know that my favorite holiday of the whole year is Valentine's Day! It's been that way my entire life. What's not to love about hearts, and pink and love and frills?? Nothing that I can come up with!
Even before Christmas arrives, I am already thinking about Valentine's Day and what I will make for my friends and family, and what new Valentine recipes I will add to the blog.

INDULGE IN THIS STRAWBERRY CHEX MIX
YOu're sure to be sweet on this strawberry puppy chow recipe! It's one of my favorite Valentine Chex Mix recipes. Irresistible, crunchy cereal is coated in sweet, melted white chocolate and strawberry sugar to create the best strawberries and cream flavors you will just adore.
Prepare this strawberry muddy buddies recipe as a Valentine puppy chow recipe for friends, family, kids, or classroom parties! You can even serve this strawberry Chex Mix for Easter, Memorial Day, Fourth of July, or even Christmas whenever you are wanting some bright sweet flavors. All you need to do is simply swap out the sprinkles and M&Ms if you're making this super easy pink puppy chow for other special occasions and holidays.
This Valentine muddy buddies recipe is perfect for Valentine's Day because it is the perfect shade of pink and an even blend of delicious strawberries and cream. The red and pink M&Ms are the perfect additions to this white chocolate-covered strawberry puppy chow recipe and are beautiful to look at along with the festive Valentine's Day sprinkles.
Any kind of sprinkles and candy will pair well with this strawberry muddy buddies recipe; just stick to your preferred holiday colors so you will have a delicious appetizer, snack, or dessert recipe ready for any celebration.
WHY THIS PINK PUPPY CHOW RECIPE IS THE BEST
Easy to Make: This strawberry Chex Mix recipe is prepared in less than 20 minutes and is one of the easiest appetizer recipes out there! Just a few simple steps are all you need for this recipe to create the best strawberry puppy chow.
Sweet and Crunchy: Blended freeze-dried strawberries and powdered sugar create sweet strawberry flavors that coat the Chex Mix perfectly with melted white chocolate. Strawberry puppy chow is going to woo anyone!
Easy to Customize: Switch things up for birthdays or other holidays by a couple of easy swaps. Use different-colored M&Ms to match different holidays and occasions as well as using different themed sprinkles. There are so many creative options when it comes to making strawberry Chex Mix!
Family-Friendly: Kids of all ages will love this easy muddy buddies recipe. Serve this puppy chow in lunchboxes or for classroom holiday parties at school for the littles.
Great for Gifting: Portion out individual servings in gift bags or boxes to gift to your friends and loved ones for a yummy Valentine Chex Mix recipe or another fun mix.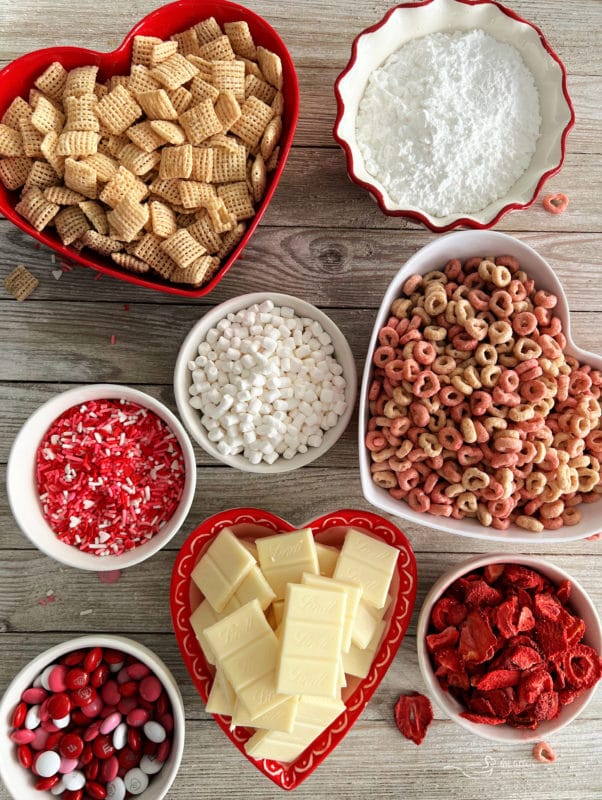 INGREDIENTS FOR WHITE CHOCOLATE-COVERED STRAWBERRY MUDDY BUDDIES
Strawberry Banana Cheerios: Crunchy, strawberry banana cheerios are naturally sweet and provide plenty of flavor to this strawberry Chex Mix recipe.
Rice Chex Cereal: The classic Rice Chex is perfect for this recipe because it is neutral and the perfect base for absorbing the sweet sugary strawberry flavors.
Freeze-Dried Strawberries: Sweet freeze-dried strawberries are blended into a smooth consistency to mix with the sugar.
Powdered Sugar: Confectioners or powdered sugar is mixed with blended strawberries because it is light, easy to work with, sweet, and creates a yummy sweet strawberry flavor.
White Chocolate: Melted white chocolate is melted until silky smooth. I like to use Lindt White Chocolate because it is so rich and melts perfectly compared to other white chocolate bars I have used.
EXTRA FUN SWEET ADDITIONS
M&Ms: For this strawberry Valentine Chex Mix, I like to use an array of different colored M&Ms such as red, pink, and white. You do not have to use these colors if you're preparing this puppy chow for other occasions.
Jet-Puffed Mallow Bits: Much smaller than regular marshmallows, mallow bits are tiny bits of marshmallows that are ideal for easy snack recipes like this one whenever you want just enough hints of creamy fluffy marshmallow.
Sprinkles: Valentine's Day sprinkles were used for this pink puppy chow, but any colored sprinkles will work for this Chex mix recipe. Get creative!
HOW TO MAKE STRAWBERRY PUPPY CHOW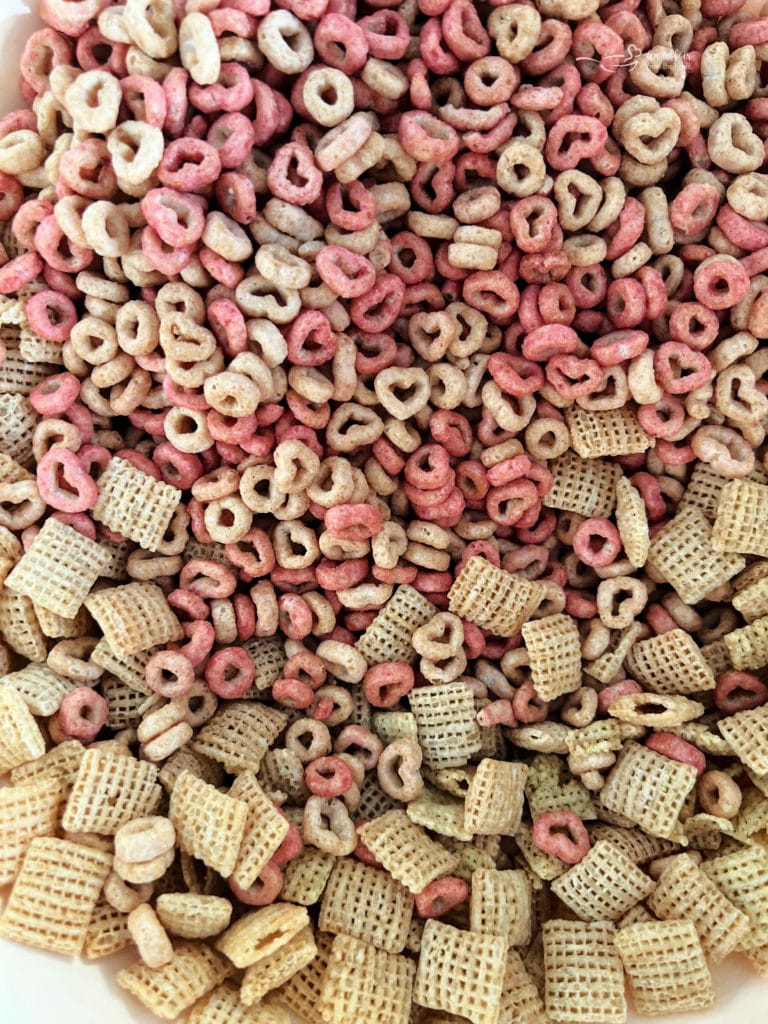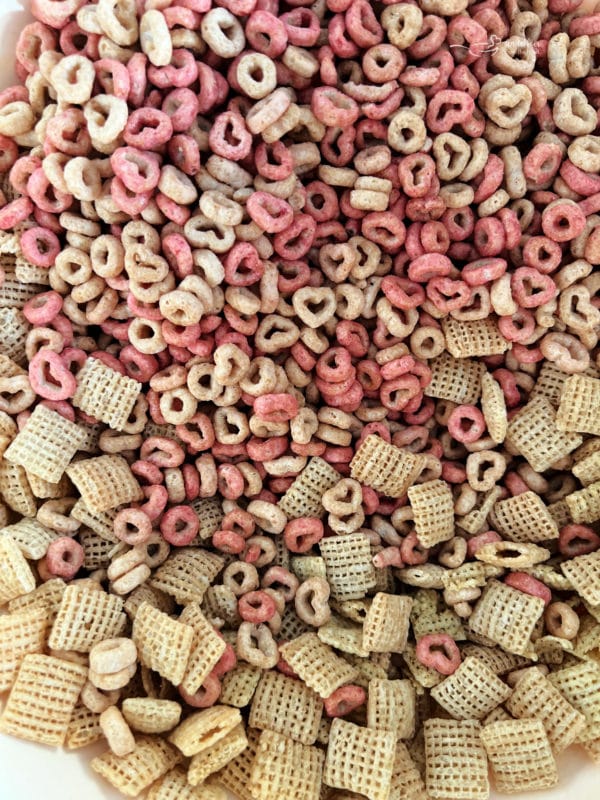 First, place both the Cheerios and Rice Chex cereals into a large bowl. Toss two kinds of cereal together until combined. Set aside.
I love how the Strawberry Banana Cheerios are heart-shaped!!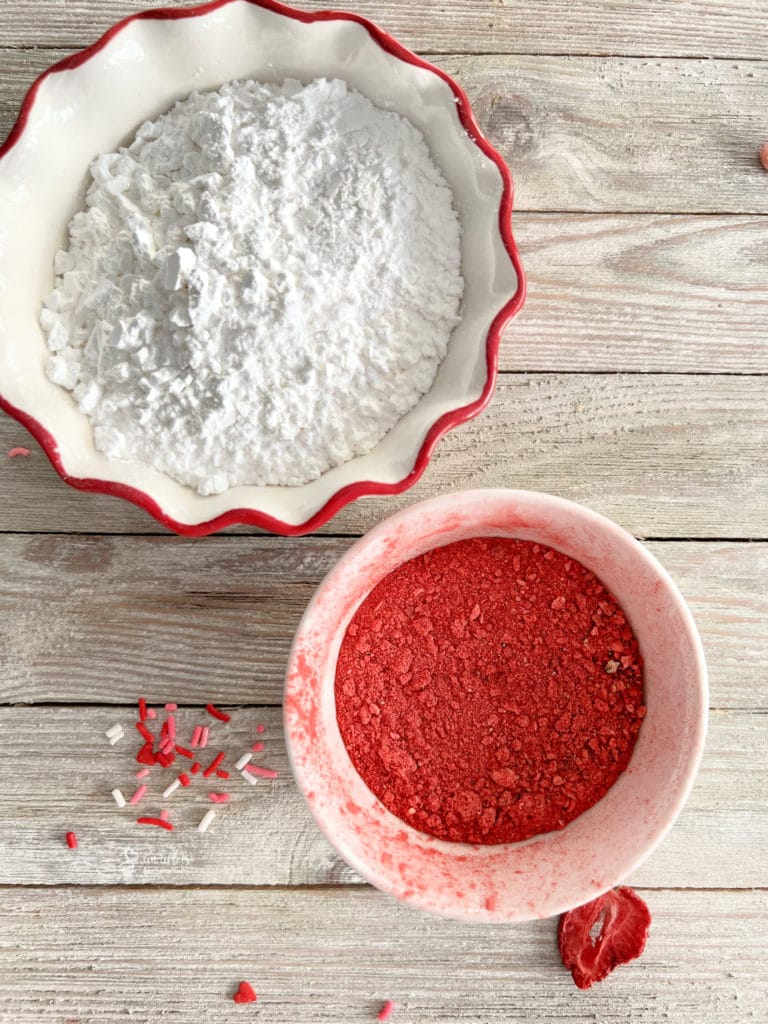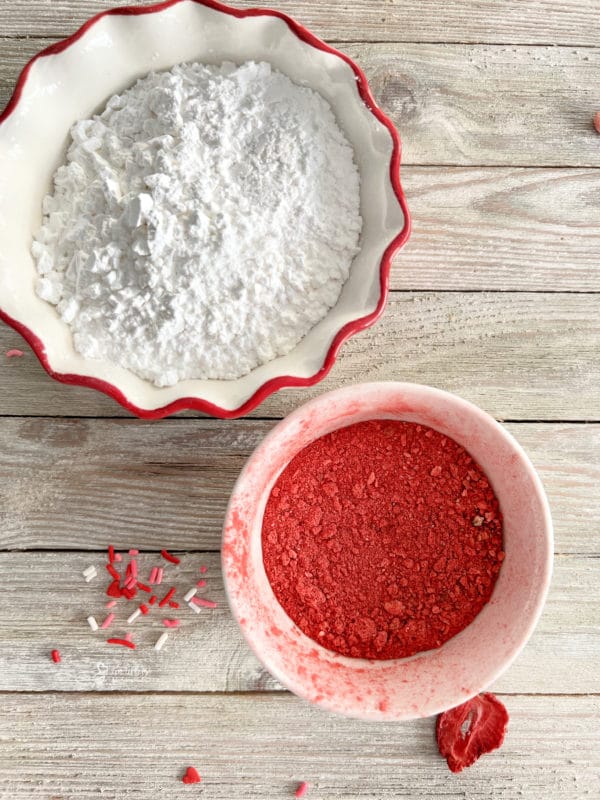 Next, we need to blend the strawberries into a sweet strawberry powder. Place the freeze-dried strawberries into a food processor or blender and blend until a powder-like consistency is formed.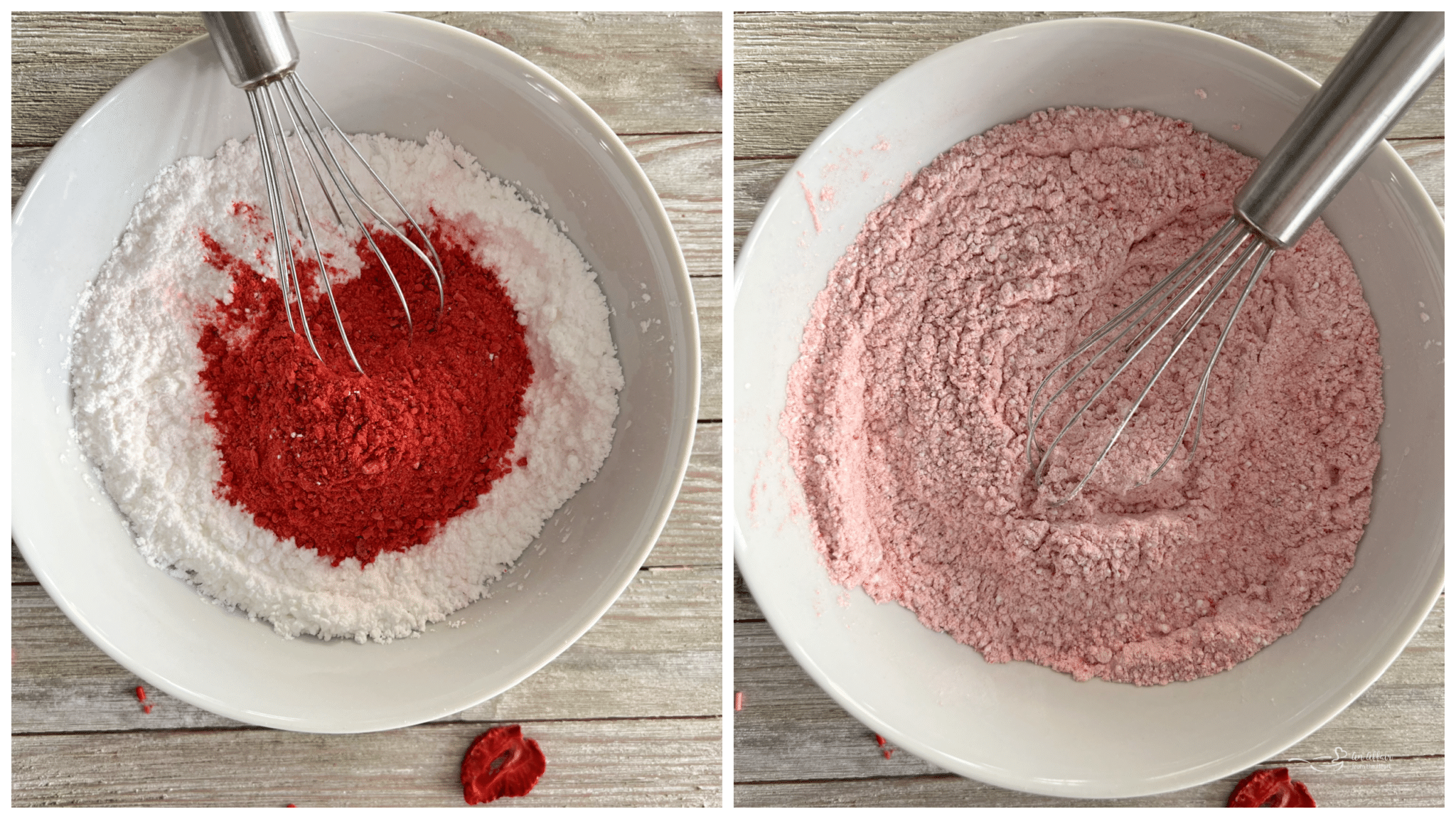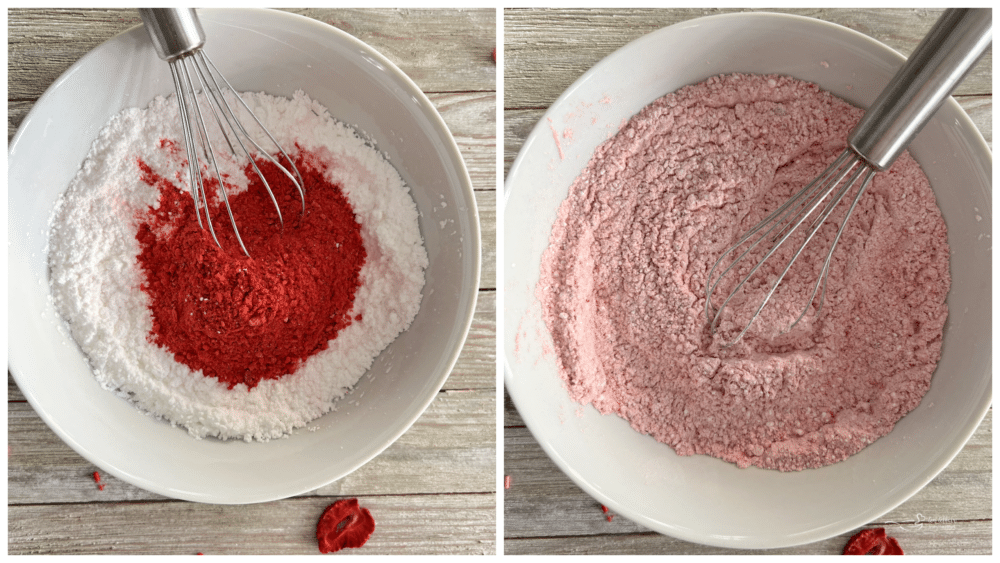 Mix the blended freeze-dried strawberries with the powdered sugar in a small bowl with a whisk.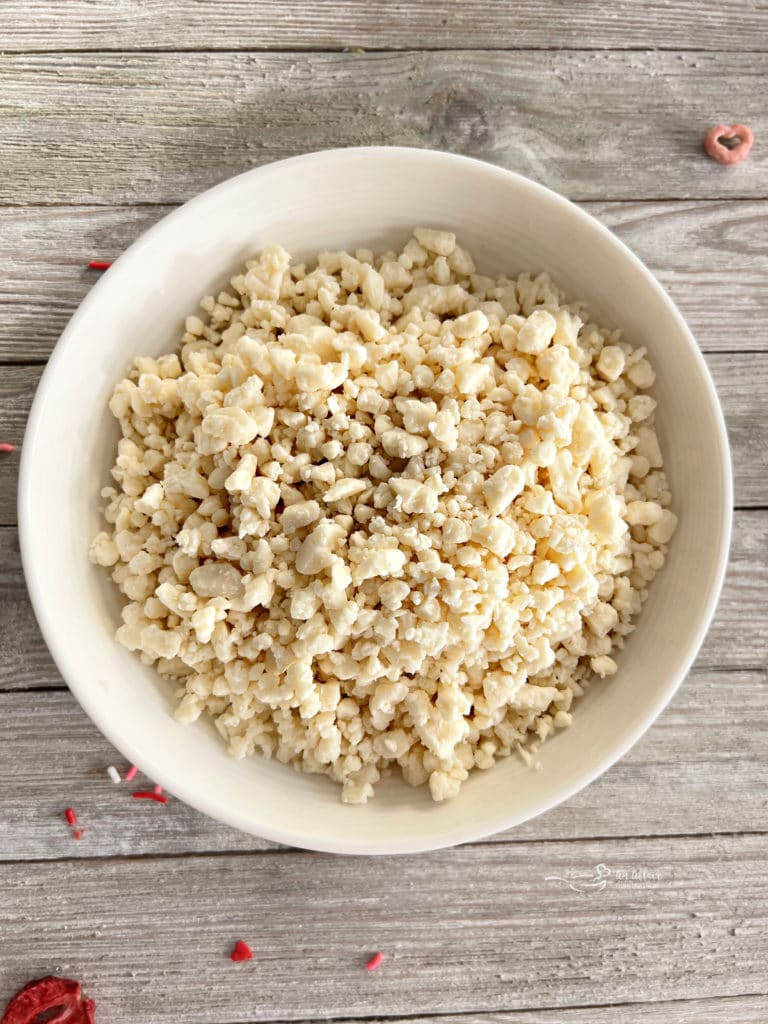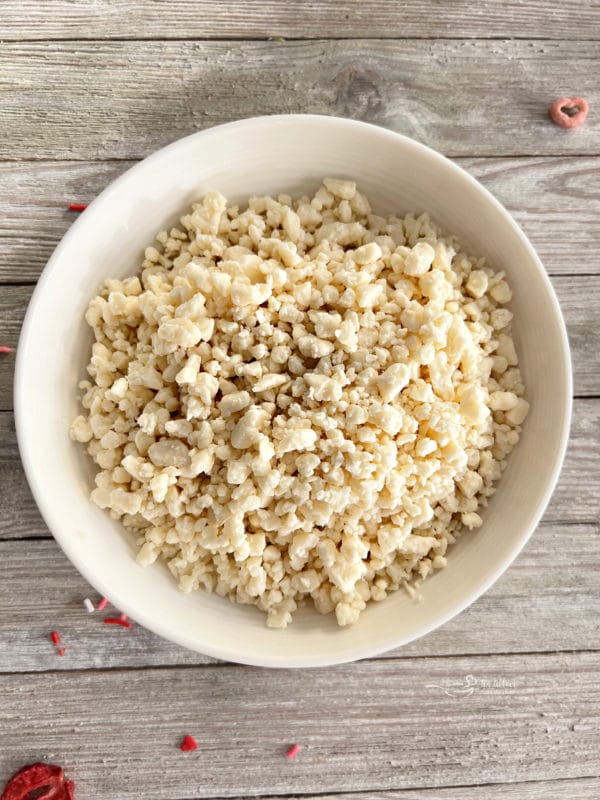 Next, melt the white chocolate in fifteen-second intervals until smooth and creamy. Stir the chocolate with a spoon to make sure all of it is melted.
COVER THE CHOCOLATE COVERED PUPPY CHOW WITH STRAWBERRY SUGAR

Pour the melted chocolate over the Chex Mix cereal. Stir everything with a rubber spatula to coat it all until evenly covered.
Next, pour the strawberry powdered sugar over the cereal and shake everything together until covered with the sugar.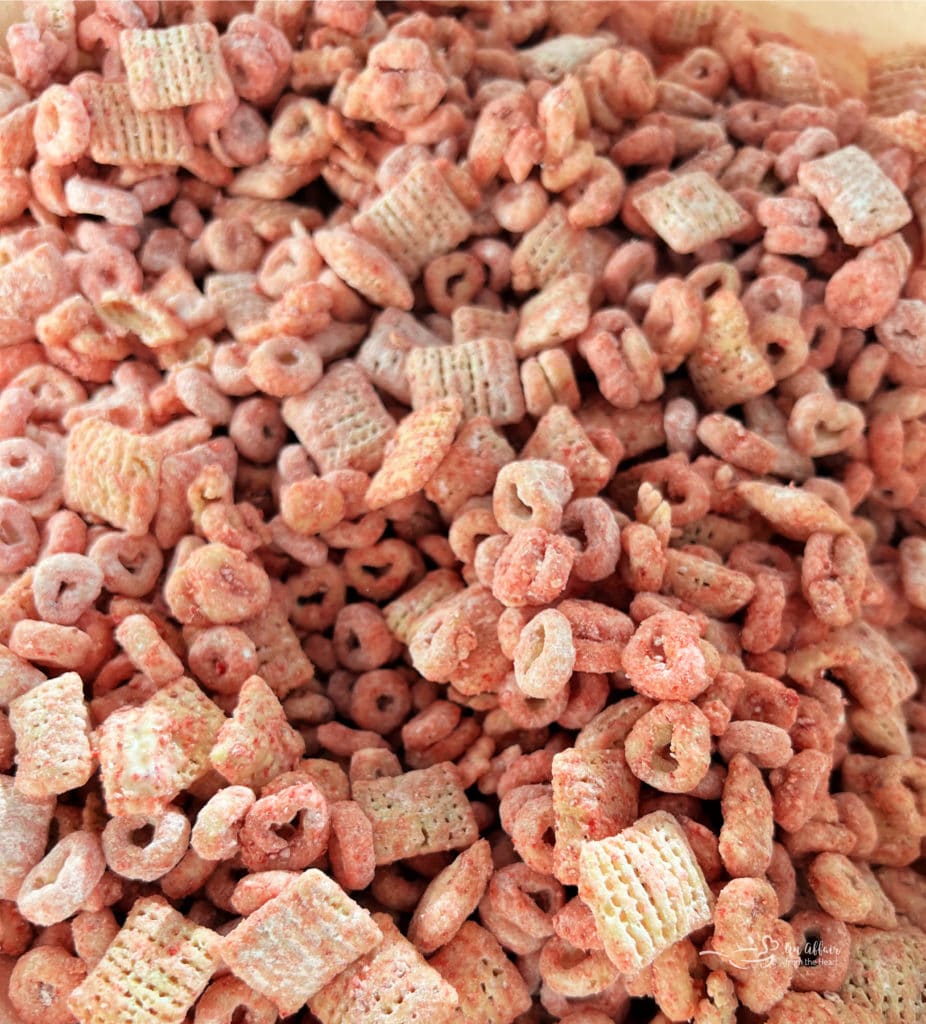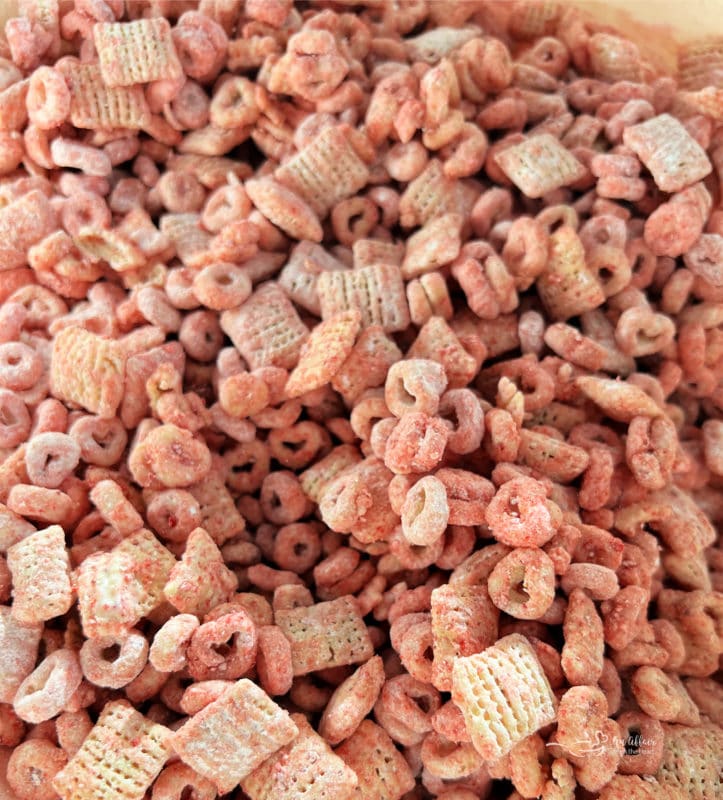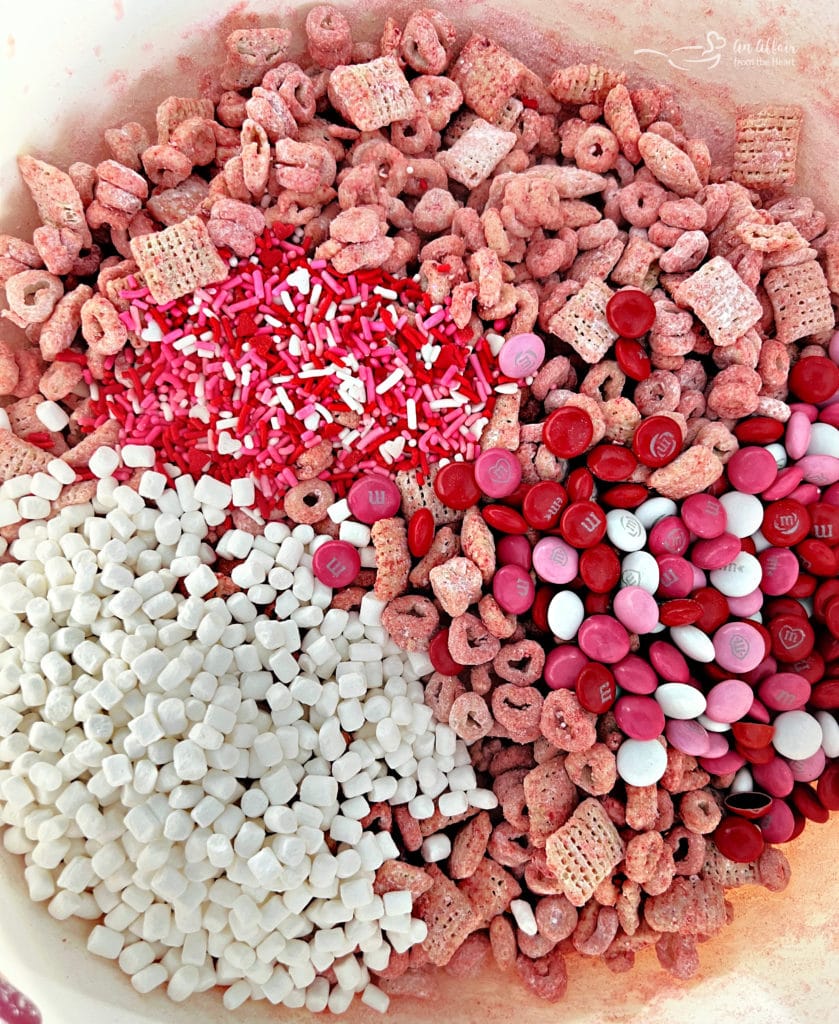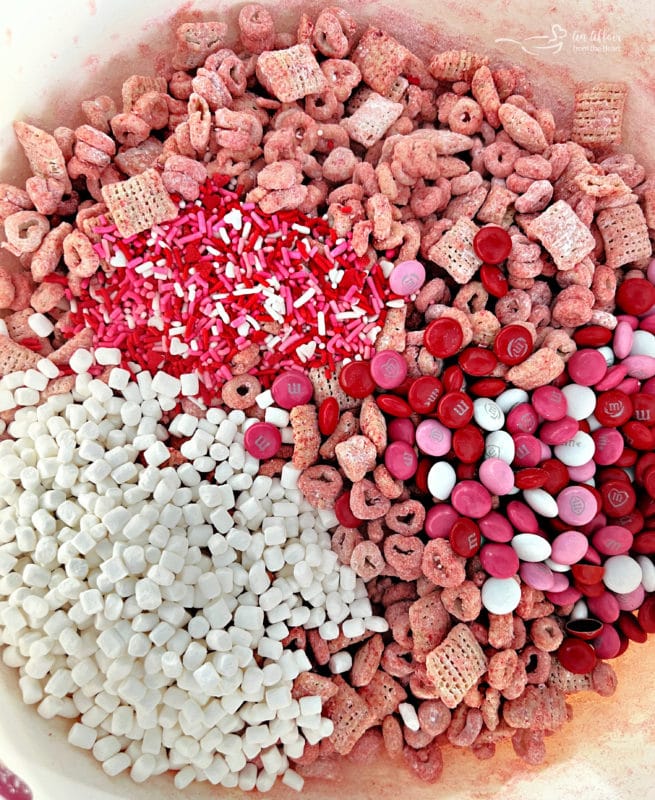 Finally, stir in the fun M&Ms, sprinkles, and mallow bits.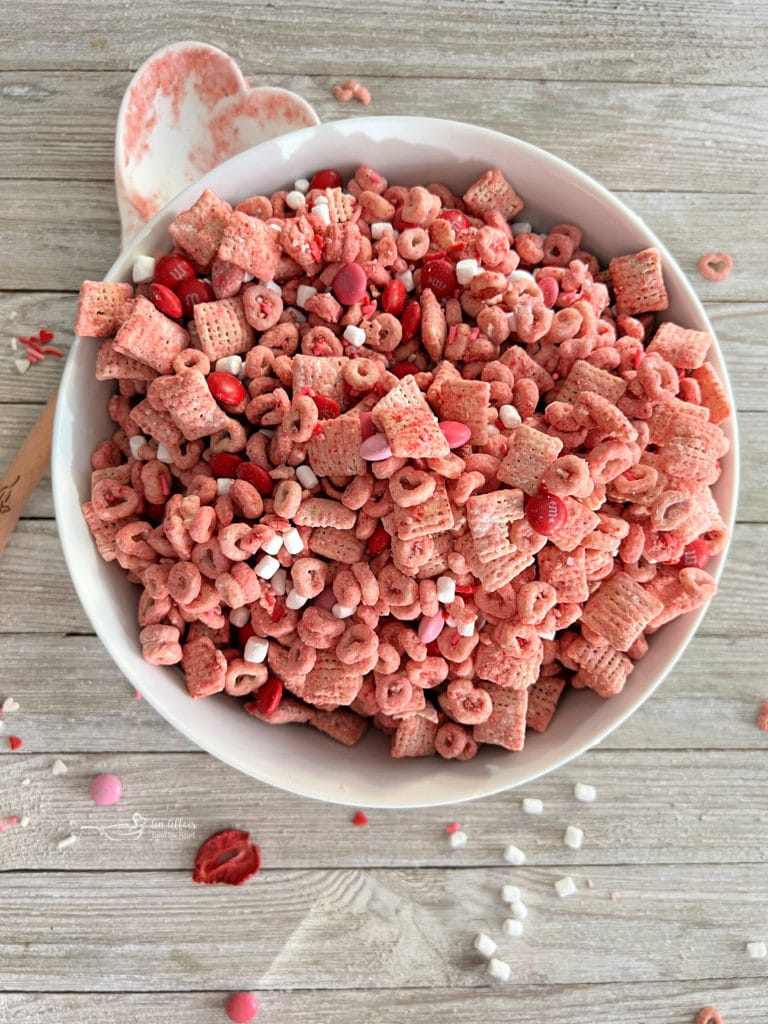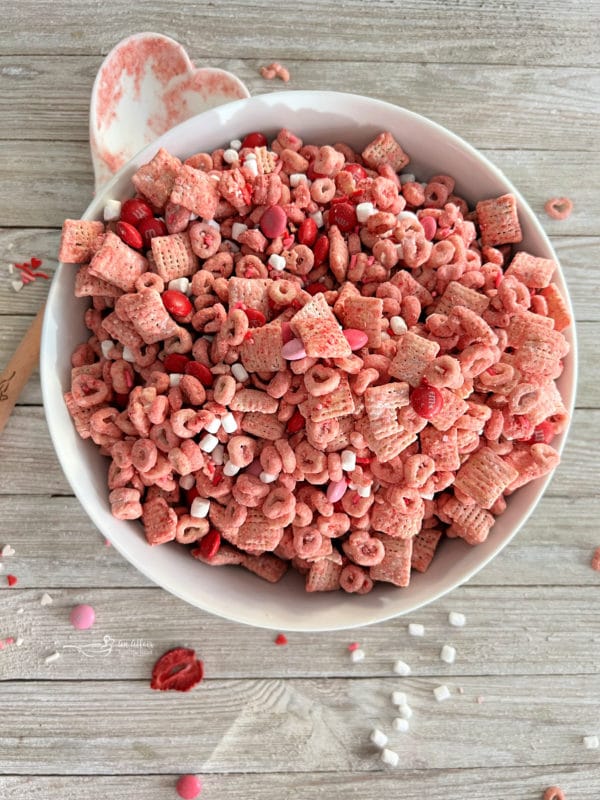 Get ready to dig in!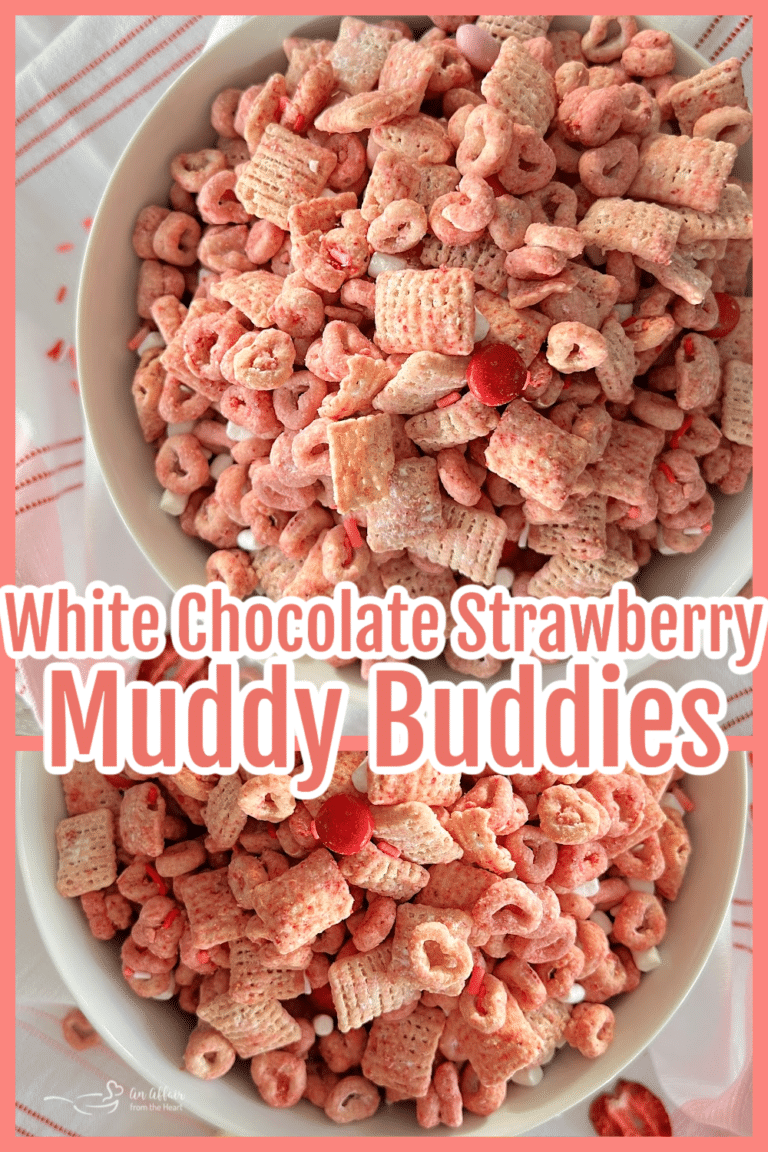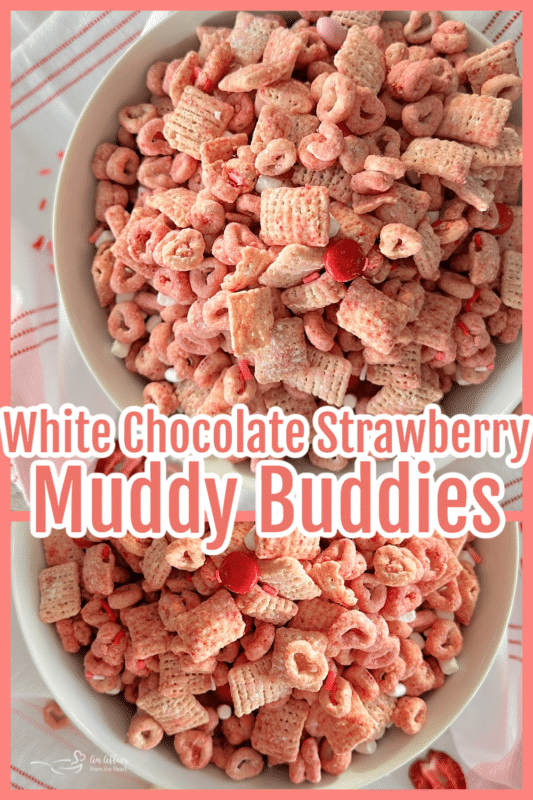 LOVE IT?! PIN IT FOR LATER!
Be sure to save this strawberry muddy buddies recipe for the next time you want to impress your friends or loves ones with a sweet strawberry puppy chow recipe. You won't regret it and you can use it over and over again for all kinds of holidays.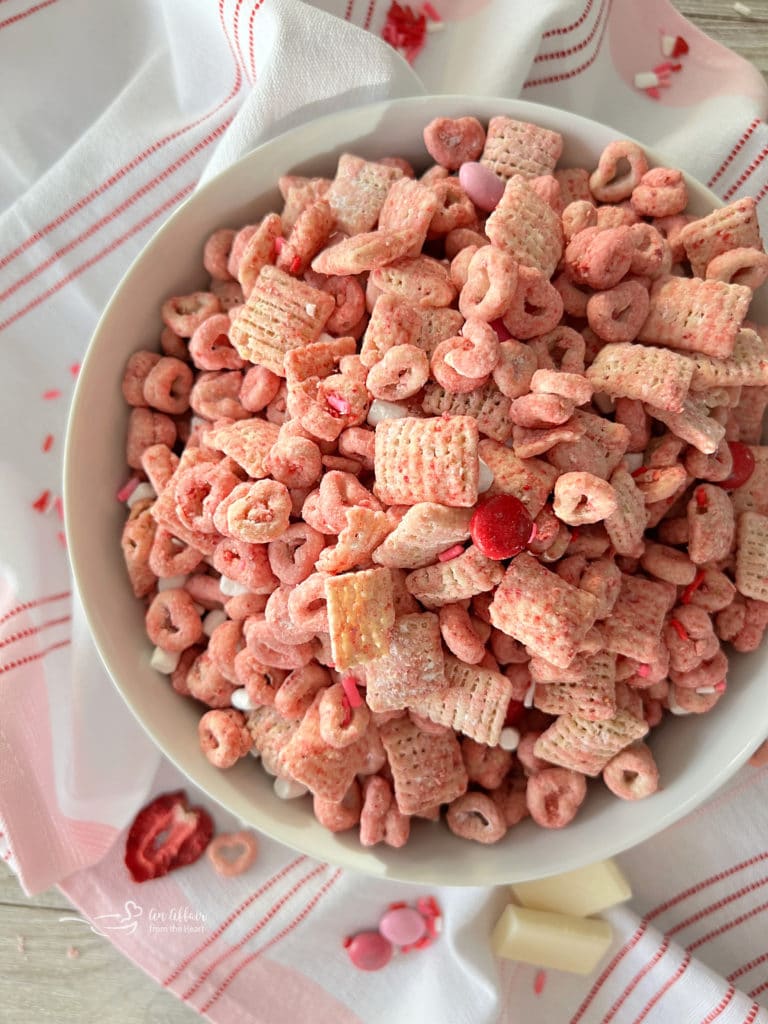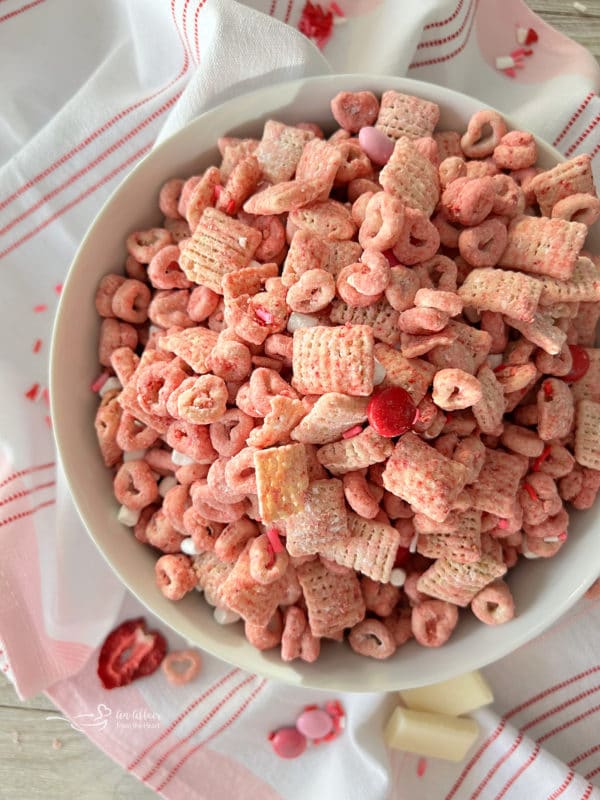 TIPS
Store the leftovers in an airtight container at room temperature for one week.
Instead of using a white chocolate bar, you can easily use white chocolate chips to melt the chocolate.
Garnish and serve with whole pieces of freeze-dried strawberries for an extra nice presentation.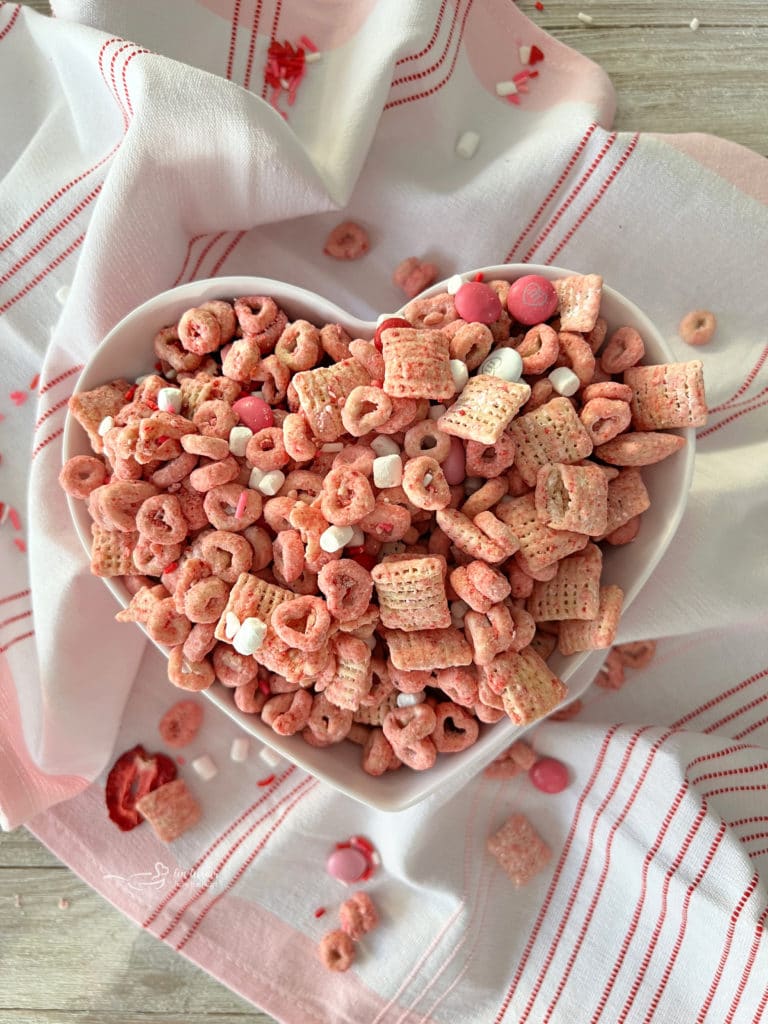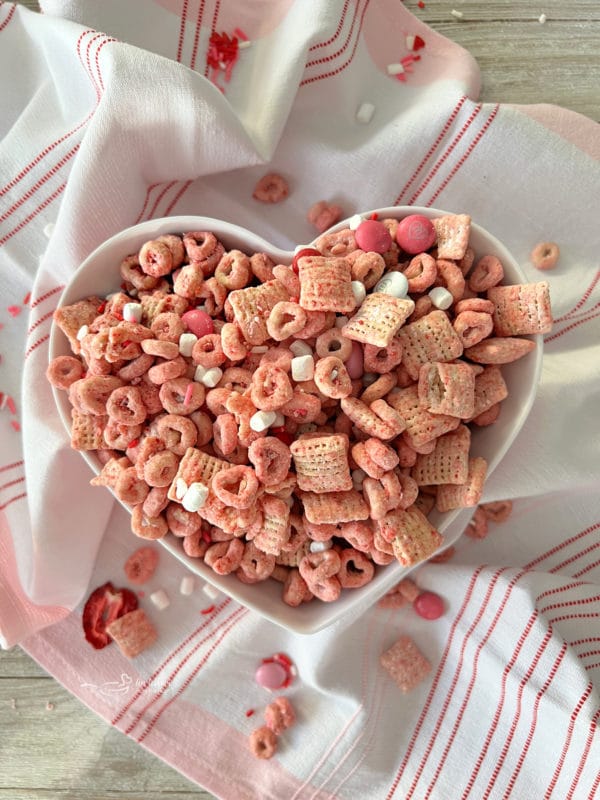 Serve this strawberry Chex Mix recipe alongside your other favorite appetizers and snack recipes. It makes a great snack for movie night, too!

MORE SNACK Mix RECIPES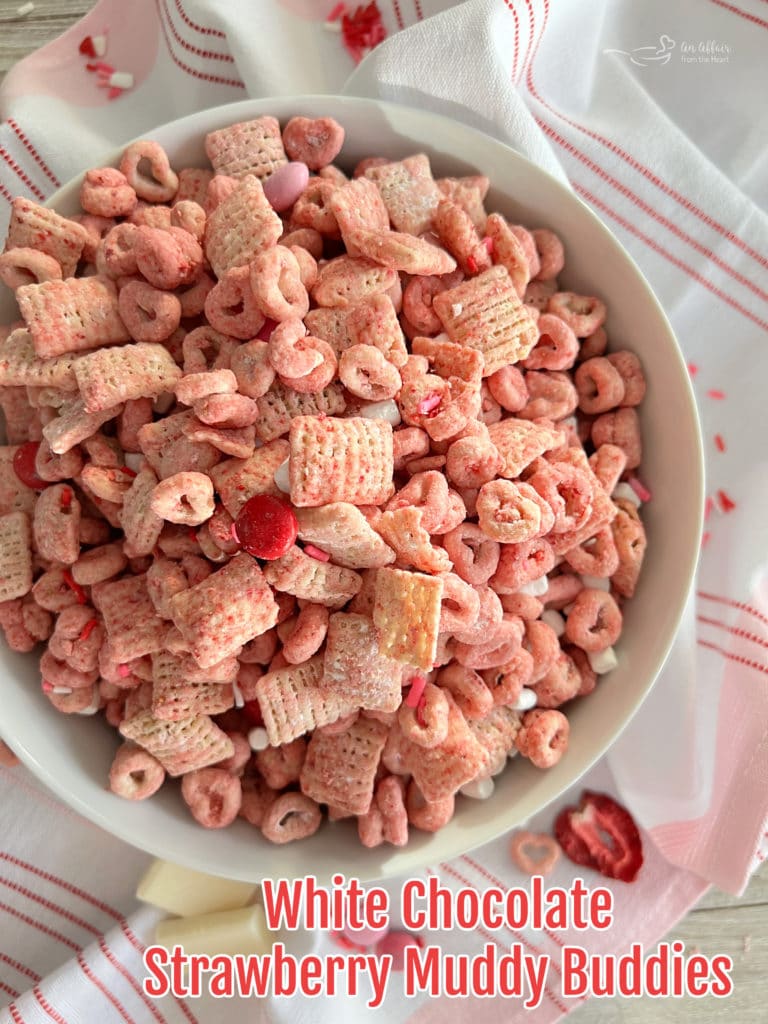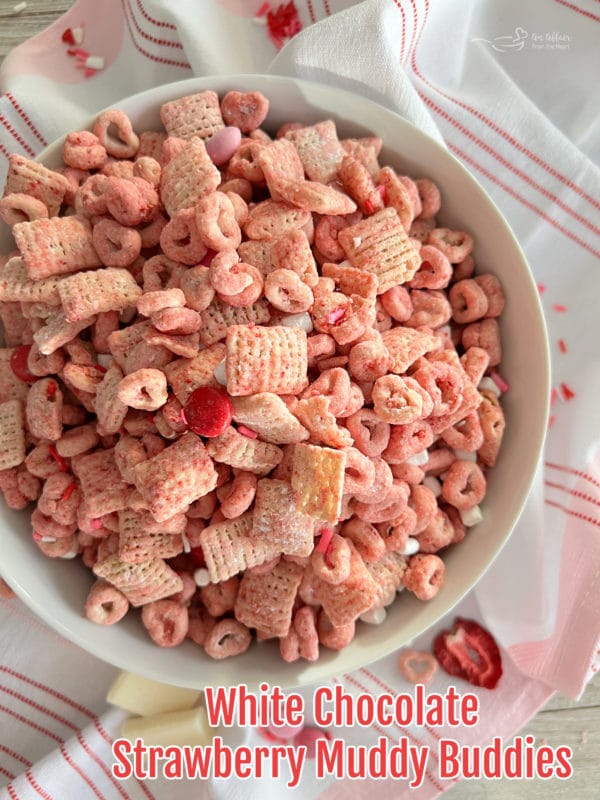 Fall in love with this White Chocolate Strawberry Muddy Buddy Recipe!

Yield: 10 cups
White Chocolate Strawberry Muddy Buddies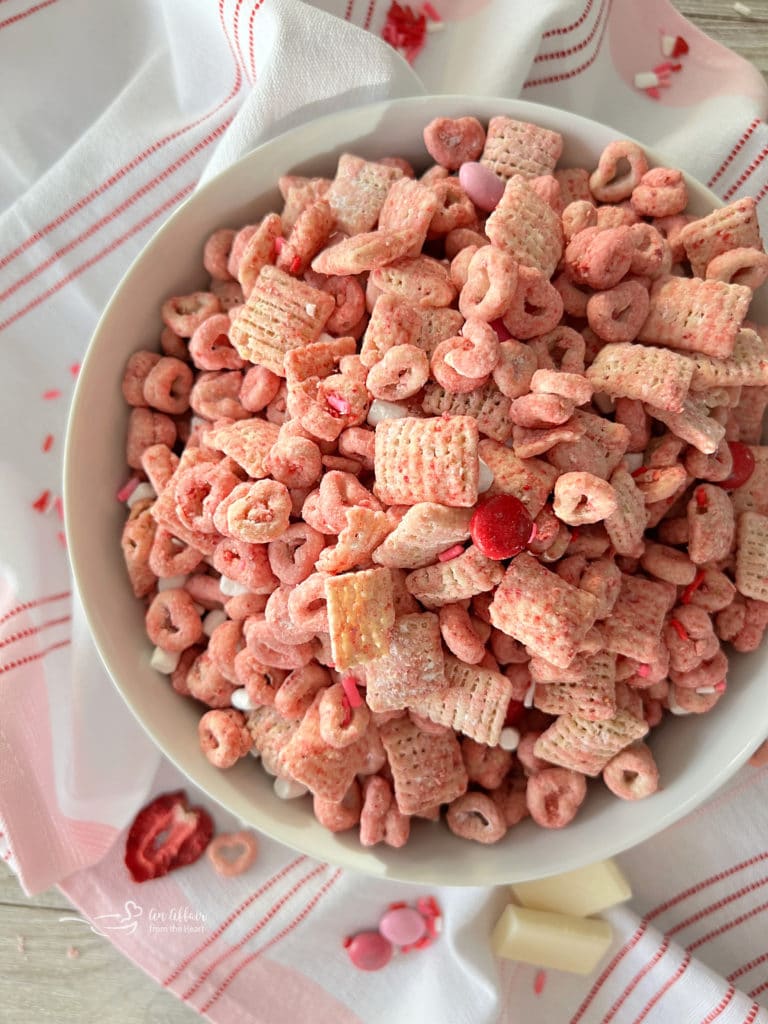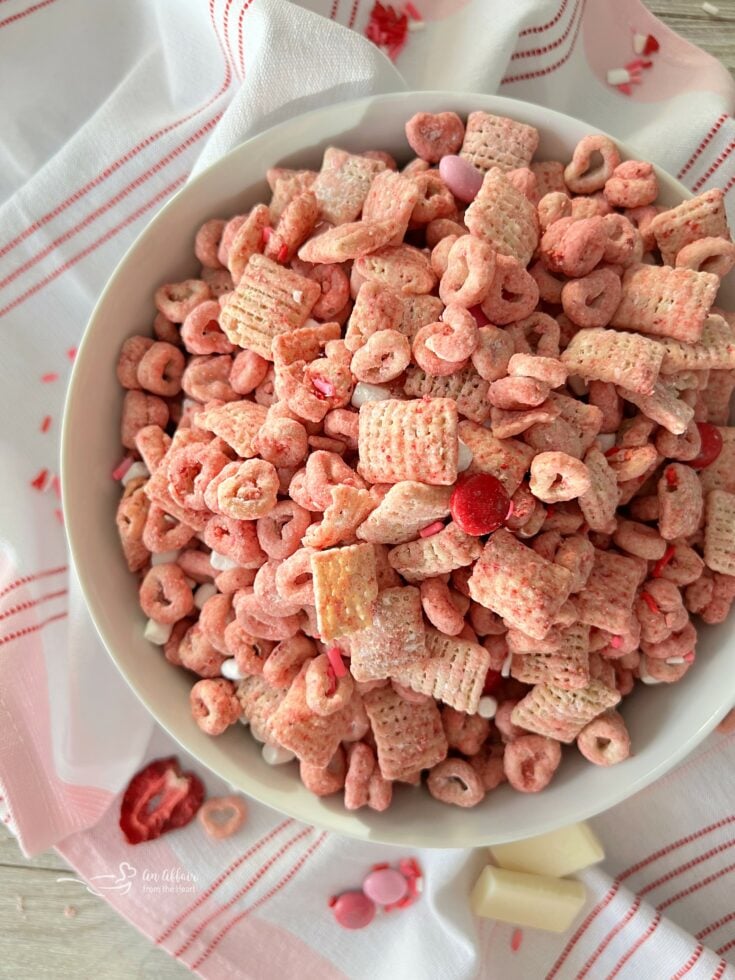 Ingredients
5 cups Strawberry Banana Cheerios
5 cups Rice Chex Cereal
1 (1.2 ounce) package of freeze dried strawberries (1 1/2 cups)
1 1/4 cup powdered sugar
3 (4.4 ounce) bars Lindt White Chocolate, chopped
1 cup Valentine M&M's (red, white, pink in color)
1 cup Jet Puffed Mallow Bits
1/4 cup Valentine sprinkles
Instructions
Pour both kinds of cereal into a large bowl. Set aside.
Using your food processor, pulse the freeze dried strawberries until powdery.
Mix powdered strawberries and powdered sugar together in a small bowl with a whisk.
Melt the chocolate at 50% power in the microwave in intervals of about 15 seconds, stirring until smooth.
Pour melted chocolate over the cereal, and stir to coat.
Pour powdered sugar mixture over the top and stir/shake to toss it all together until the cereal is completely coated in the strawberry sugar.
Stir in M&M's, mallow bits and sprinkles.
Store in an airtight container.
Notes
I used Strawberry Banana Cheerios (I love the heart shaped cereal!) if you can't find them, you can substitute frosted Cheerios or Honey Nut Cheerios.
adapted from the food network
Nutrition Information:
Yield:
20
Serving Size:
1
Amount Per Serving:
Calories:

171
Total Fat:

5g
Saturated Fat:

2g
Trans Fat:

0g
Unsaturated Fat:

2g
Cholesterol:

2mg
Sodium:

74mg
Carbohydrates:

32g
Fiber:

2g
Sugar:

22g
Protein:

2g
Please note that nutrition is not guaranteed accurate.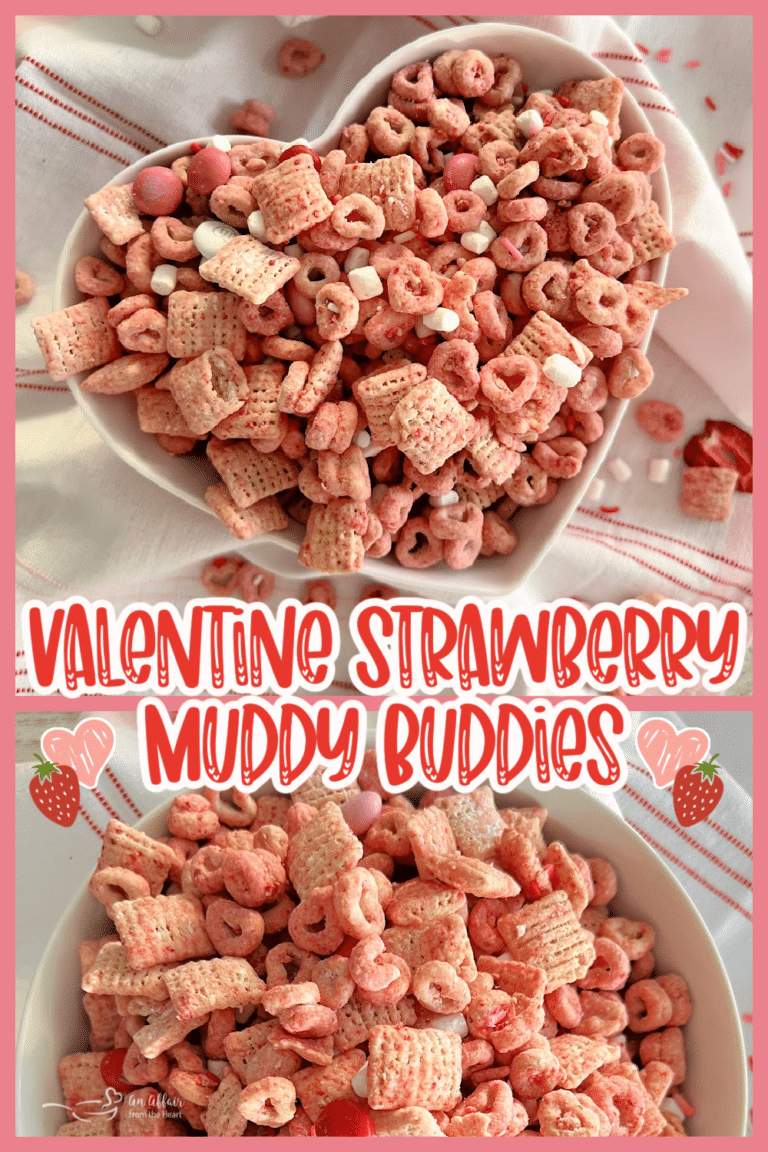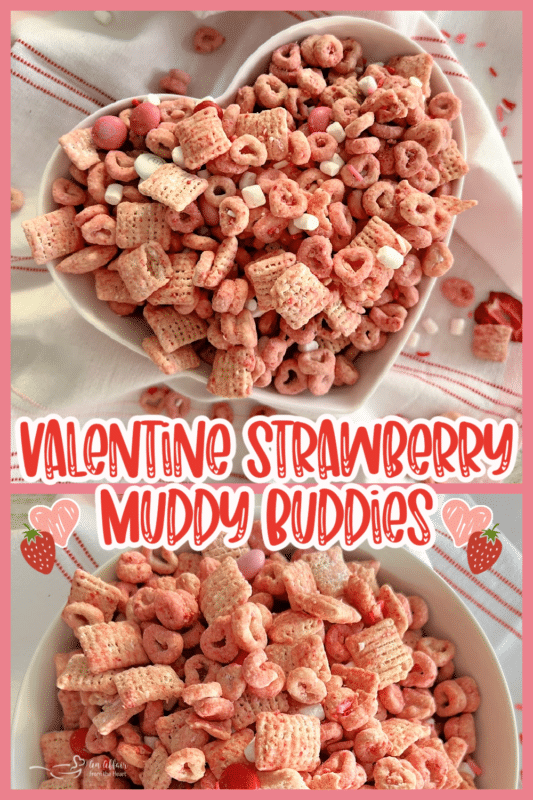 This week I got together with some of my blogger buddies and we are sharing some great chocolate recipes in honor of Valentine's Day. Here are some more recipes for you to check out for #ChocolateWeek: