Grandma Jane's Peanut Butter Cookies are incredibly indulgent and so delicious! This soft peanut butter cookie recipe tastes like Mom's and is made from scratch and simply the best. Easy to make with simple ingredients, chewy on the inside, and crisp on the outside, they are peanut butter cookie perfection.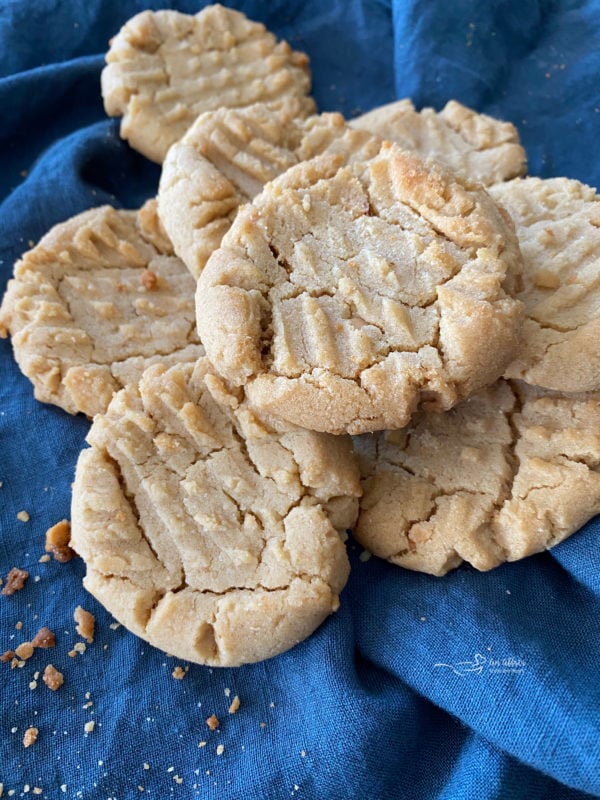 Grandma's peanut butter cookie recipe. Satisfying, sweet, in one word, a classic. This peanut butter recipe is the best! This is my Mom's (Grandma Jane to my kids) peanut butter cookie recipe and aside from the taste – they hold so many memories, too!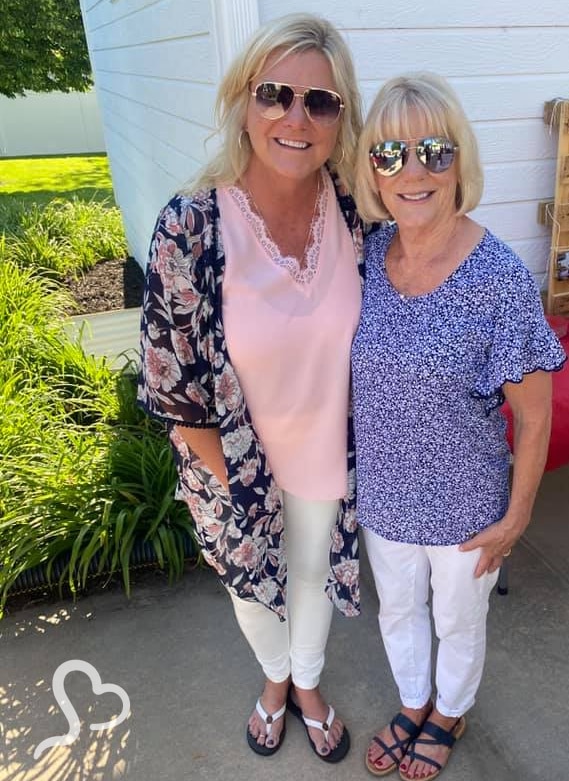 This is My Mom – "Grandma Jane"
I consider myself very lucky to have been a stay-at-home mom. When I was growing up, my Mom was always at home for us, and I loved that. If you have followed my blog at all, you have probably noticed that I speak of her a lot.
My Mom is one of the most special and inspirational people in my life. Not only is she my Mom, but she is also my very best friend. I can go to her about anything. She is always there for me to laugh with, cry with, and give me direction when I am lost. (even when that means giving me a good swift kick in the fanny!!)
"what do you want to be when you grow up?"
Maybe that is why when I was growing up, and in school, they would ask the kids "what do you want to be when you grow up?" Kids would shout "doctor!" "teacher!" "fireman!" What did I always say? "I want to be a Mom." She gives me big shoes to fill, but someday I hope that my kids can look back on their childhood and think that my "job" as their Mom was important.

grandma jane's peanut butter cookies
It was always a special day when my brother and I walked home from school to find that my Mom had baked something for our after-school snack. You knew it the second you walked in the door and were greeted by that scent only something sweet baking in the oven can make!
I have lots of favorite things that my Mom makes, they are very much my "comfort foods." We all have them. One of mine will always be her peanut butter cookies! I don't know what it is, but these are the BEST peanut butter cookies I have ever had.

Why You're Going to Love These Soft Peanut Butter Cookies
Easy to Make: Made with less than ten ingredients, Grandma Jane's peanut butter recipe is incredibly easy to make and you will have chewy cookies ready in less than 20 minutes! Perfect for whenever you're craving something sweet, but you don't want to spend a lot of extra time in the kitchen.
Fun: Yes, these peanut butter cookies are so fun to make! This peanut butter cookie recipe brings me back to mom's kitchen when we'd bake together. So fun and nostalgic!
Yummy: Because these cookies are so soft and chewy, they are incredibly delicious! Who doesn't like a classic peanut butter cookie recipe that is so easy to bite into?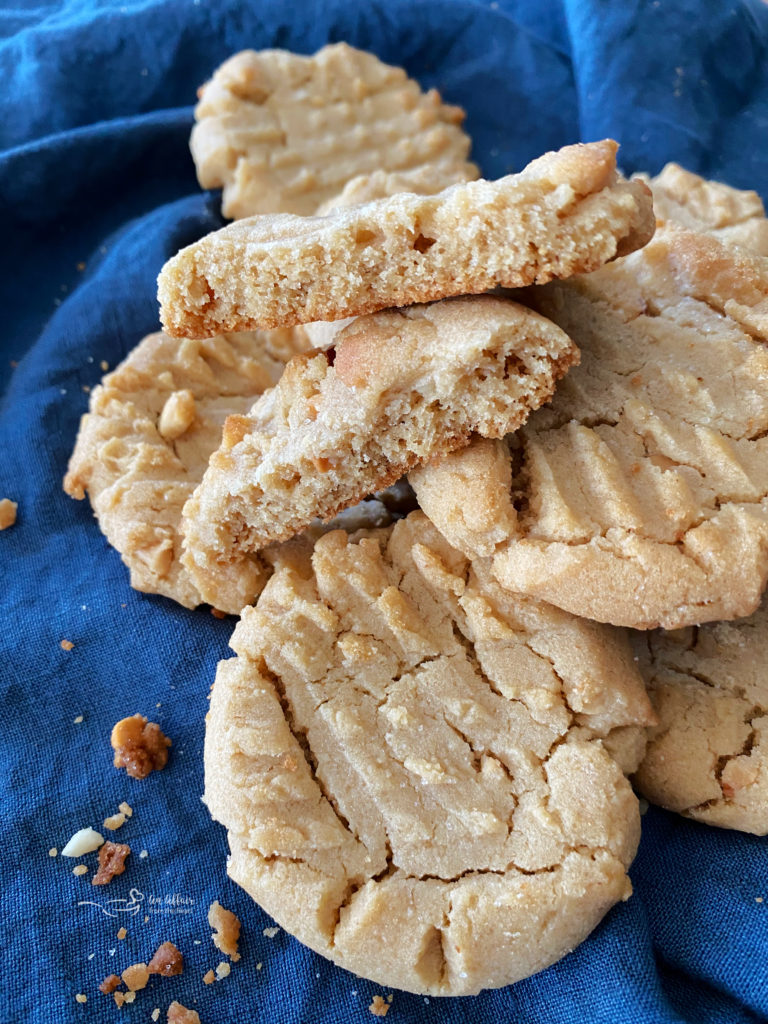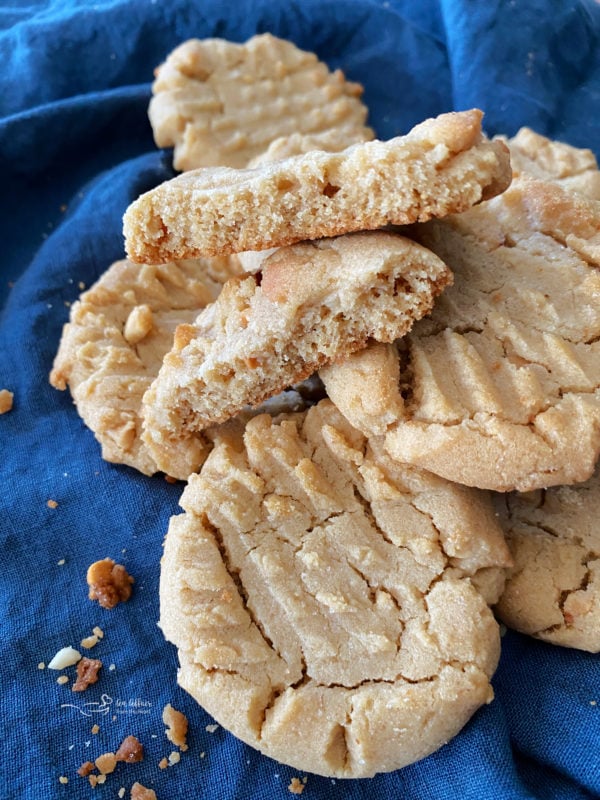 Why do Peanut Butter Cookies Have Fork Marks?
Peanut butter cookies have fork marks because the dough needs to be flattened prior to cooking since it is so dense with peanut butter. If you flatten the dough with a fork, then you will end up with cookies that are evenly baked– this is where the criss-cross fork marks come from!
What Ingredient Makes Cookies Moist and Tender?
For these chewy and soft peanut butter cookies, the eggs and sugars allow the cookies to become moist and tender. You will love how moist these cookies are!
Ingredients
For the full list of measurements, scroll down to the recipe card.
Shortening– used instead of butter, this old-fashioned ingredient makes cookies softer and helps them hold their shape better.
Peanut Butter– The key ingredient to this recipe, the peanut butter. You can use creamy or chunky. Feel free to experiment with other nut butter if you like, but I myself will stick to the classic.
Sugar– For this peanut butter cookie recipe, you will need both white granulated sugar in addition to brown sugar.
Eggs– Two eggs to help bind the cookies together and give these cookies even more chewy textures.
Flour– I used all-purpose flour for this recipe. You probably already have it in your pantry!
Leavening Agents– You will need both baking soda and powder for this recipe.
Salt– A little bit of salt adds an extra flavor element to these sweet cookies.

How Do You Make Mother's Homemade Peanut Butter Cookies from Scratch?
Flavors of peanut butter and brown sugar salt come together in a smooth and irresistible batter that is baked into the most perfect cookies you'll ever eat. You will want to eat these classic peanut butter cookies right out of the oven because that's when they are warm, gooey, and extra soft. But, no matter how you eat these cookies– you will certainly enjoy them!
Step 1
Preheat Oven: First, preheat the oven to 375 degrees Fahrenheit.
Combine Ingredients: Next, combine the shortening, peanut butter, sugar, eggs, flour, baking soda and powder, and salt. Mix until combined.
Step 2
Transfer Cookies: Drop rounded balls of cooking dough onto the baking sheet.
Step 3
Press Cookies: Next, dip the tines of a fork into sugar and criss-cross the forks down onto the cookie dough. You can also use a cookie stamp.
Step 4
Bake: Finally, bake the cookies for eight to ten minutes. Remove from the oven and allow them to cool before moving to a cooling rack.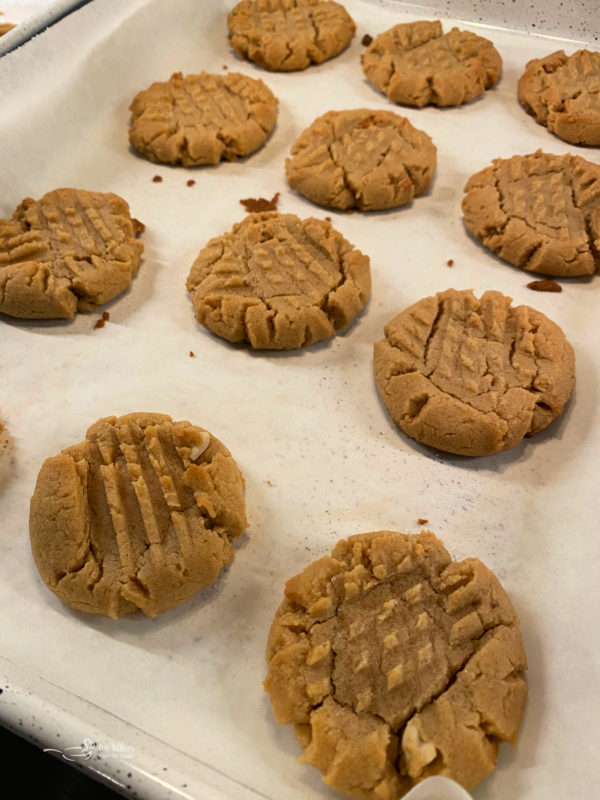 What Makes Cookies Chewy vs Crunchy?
A combination of shortening, brown sugar and a shorter baking time allows this recipe to produce cookies that are soft in the middle and light and crisp on the outside.
Why Are My Peanut Butter Cookies So Crumbly?
If you are cookies are too crumbly, then it is possible you added too much flour. Make sure to properly measure the flour!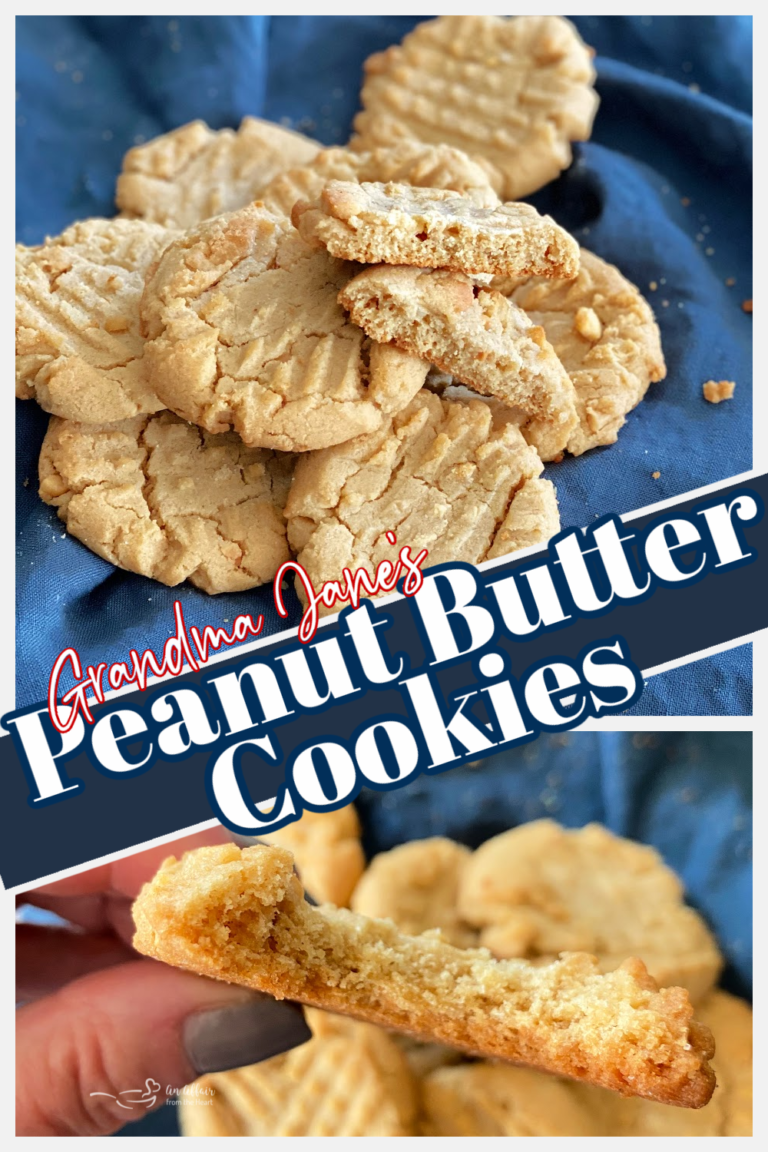 LOVE IT? PIN IT!
Make sure to save Grandma Jane's peanut butter cookies on your favorite Pinterest recipe board before you go! You will want to save this peanut butter cookie recipe so that you can find it easily.
Tips
Feel free to experiment with crunchy peanut butter if you would prefer.
Freeze these cookies in a freezer-safe bag or container to enjoy these cookies frozen or at a later date!
Keep these cookies in an airtight container for up to four days.
Pull the cookies when they look like they are not quite done. Leave them on the cookie sheet for a minute or two before transferring them to a cooling rack. That will keep them soft inside and crisp outside.

More Cookie Recipes You Will Love!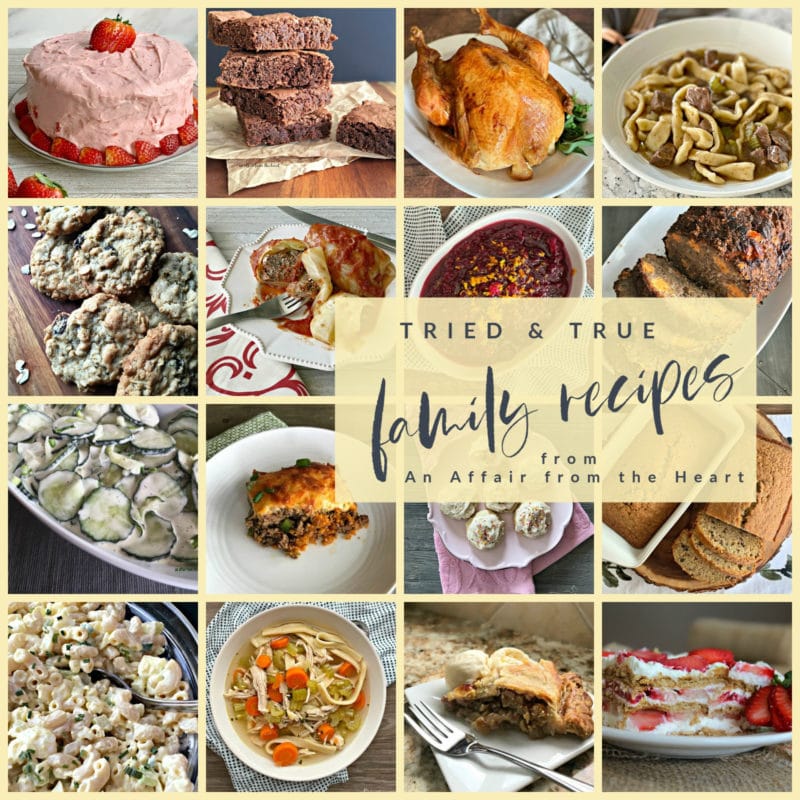 I have a complete assortment of my favorite family recipes all in one spot for you to enjoy! Of course, there is an entire section dedicated to my mom. Some of my most favorite recipes of hers, aside from these peanut butter cookies are her Oatmeal Raisin Cookies, her Homemade Chicken Noodle Soup, Beef & Noodles, Taco Casserole, Tuna Tetrazzini and how to make her complete Thanksgiving dinner! See all of her recipes and more from my Grandmas, aunts, and extended family in my Collection of Family Recipes post.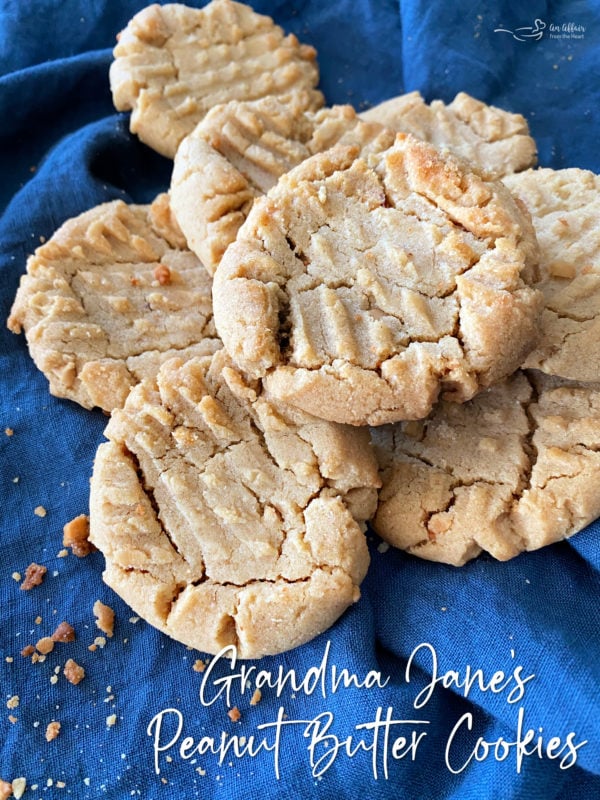 Let's get to baking, what do you say? Here is the recipe for my Mom's Peanut Butter Cookies!

Yield: 30 cookies
Grandma Jane's Peanut Butter Cookies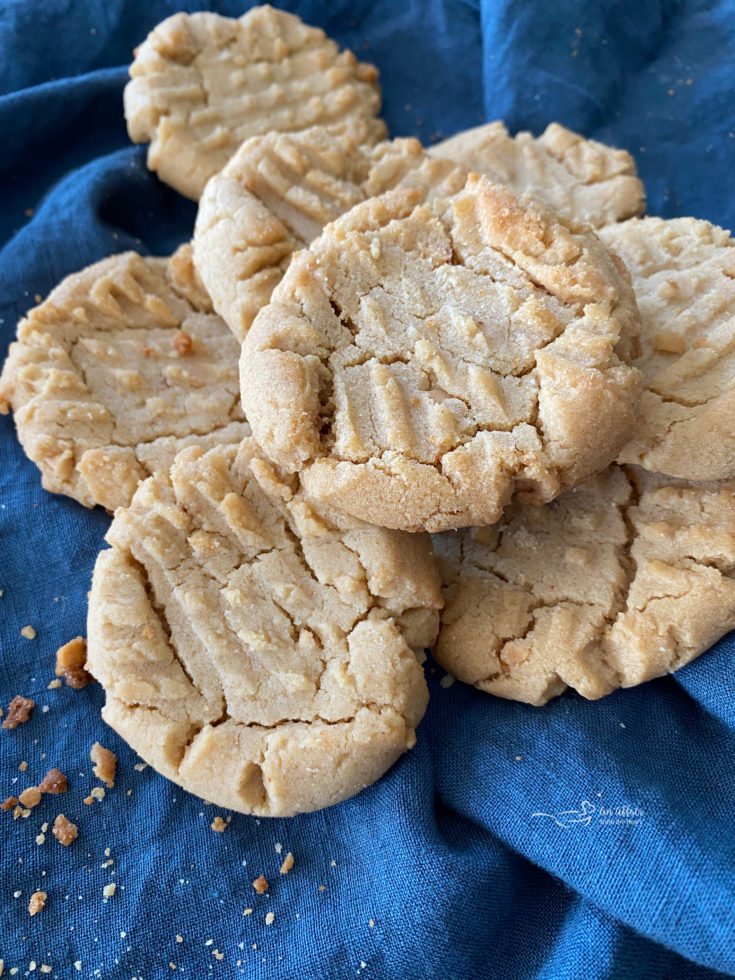 Grandma Jane's Peanut Butter Cookies are full of peanut butter flavor. My Mom's recipe that makes soft and chewy cookies on the inside and light and crispy on the outside.
Ingredients
1 cup shortening
1 cup peanut butter
1 cup sugar
1 cup brown sugar
2 eggs
2 1/2 cups flour
1 1/2 teaspoons baking soda
1 teaspoon baking powder
1/2 teaspoon salt
Instructions
Preheat oven to 375 degrees.
Combine the shortening, peanut butter, sugar, eggs, flour, baking soda and powder, and salt. Mix until combined.
Drop rounded ball shapes onto an ungreased cookie sheet. Dip the tines of a fork into granulated sugar and "criss-cross" them onto the cookie. (you could also use a cookie stamp)
Bake for 8-10 minutes. Watch them closely, because, in order for them to be soft and chewy, you can't over bake them! When the edges are golden brown, it's time to take them out. Leave them on the cookie sheet for a minute or two before removing to a cooling rack.
Store in an airtight container.
Notes
These cookies freeze well!
Recommended Products
As an Amazon Associate and member of other affiliate programs, I earn from qualifying purchases.
Nutrition Information:
Yield:
30 cookies
Serving Size:
2 cookies
Amount Per Serving:
Calories:

204
Total Fat:

12g
Saturated Fat:

4g
Trans Fat:

0g
Unsaturated Fat:

7g
Cholesterol:

16mg
Sodium:

162mg
Carbohydrates:

23g
Fiber:

1g
Sugar:

13g
Protein:

3g
Please note that nutrition is not guaranteed accurate.
I originally posted this recipe on August 13, 2011. It has been updated to improve user experience and reshared on July 6, 2021.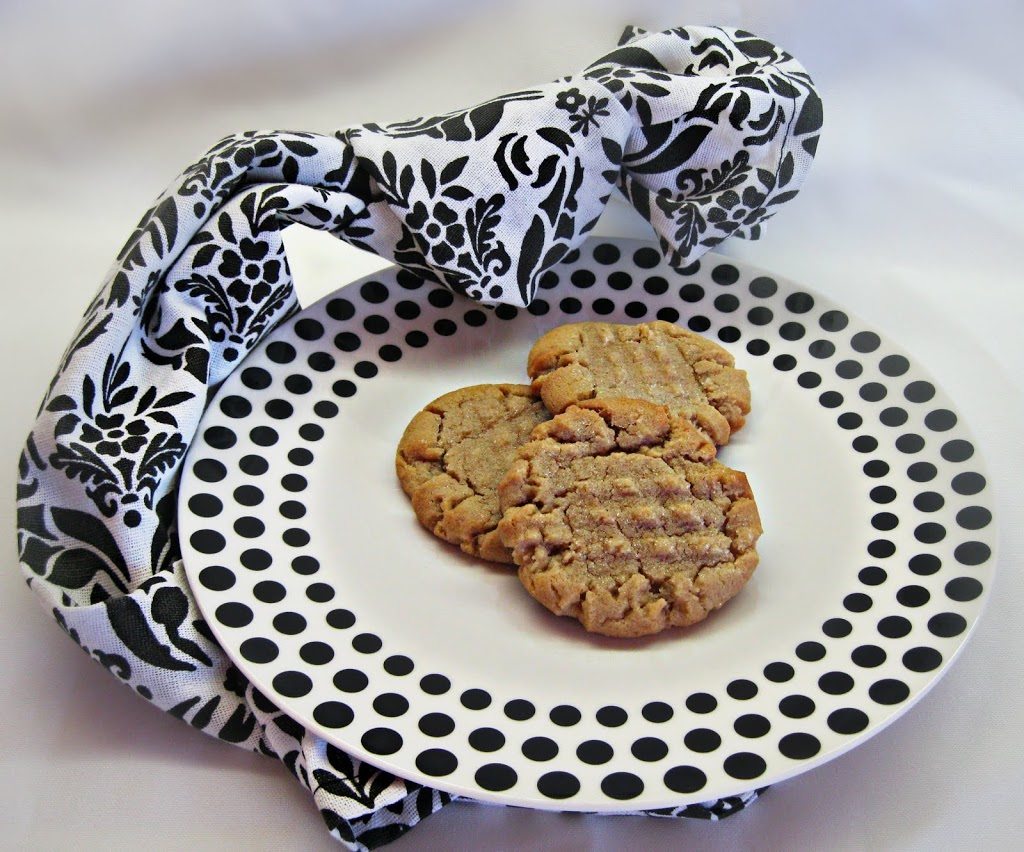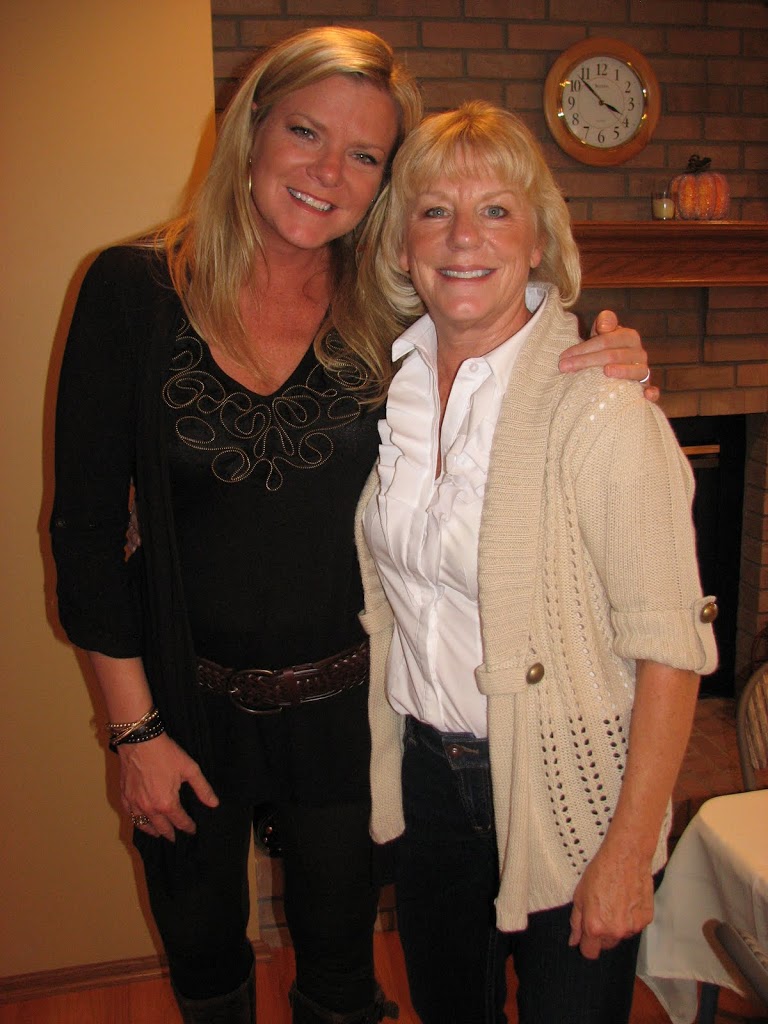 my mom and I in her kitchen in 2011

If you make this recipe, I'd love to know! Snap a picture, share the photo on social media with the hashtag #AnAffairFromTheHeart – I'd love to see what you made! – Michaela