Cookies and Cream Ice cream Cake
As an Amazon Associate and member of other affiliate programs, I earn from qualifying purchases.
It seems like just yesterday. But it wasn't *sad face* it was 17 years ago already.
I know it dates me to say "where does the time go" but for all of you youngin's out there, cherish every moment, for every day you are making new memories that you will most often wish you could go back to.
I remember having babies and trying to get something done around the house and they would have fussy days where they just needed to be held. When you had stuff to do back then, it was hard not to think about that laundry list of things to do while you sat in a rocker holding a fussing baby.
Now, I wish some days, that I could just spend a day with a swaddled baby in my arms,
and rock the day away.
It would be quite challenging to do that with my 6'1 "baby" these days.
Although, Spencer, is still not embarrassed to be a Mama's boy.
Oh, yea, he has that cool teenage boy exterior, but deep down he is one of the most caring and compassionate people that I know.
He is never afraid of who may see him give the unexpected bear hug, or who might see him plop down in the chair next to me.
at a husker game
I am forever grateful for the last 17 years with him.
Watching him grow up to be the person he has become has been one of life's biggest joys.
Even before we had kids, my husband and I talked about the importance of family dinners.
That was one thing he and I both cherished growing up.
Sitting down at the table, sharing our days and a meal.
Life is definitely busier, and we are not all always present, but every night give or take 15 minutes, we sit down as a family for supper.
Tonight will not be any different other than it's a birthday dinner night!
I have spoke in the past of our tradition of the birthday person getting to choose what Mom makes for dinner, and they get to eat off of the "birthday plate."
One more flash back to my growing up years. My grandma on my Dad's side was an awesome baker.
She had three sons, and they all had "their cake." (which sometimes wasn't a cake at all…maybe a pie.) The tradition continued with us grand kids. She would always bake it special for us, and called it "ours."
This particular cake became Spencer's when he was about 6 or 7.
His birthday always fell after Halloween. Spencer LOVES Halloween!
So, when he was little his birthday party was always a costume party.
One year, I was trying to decide what to make him for a cake, when I concocted this.
I used to make it in a 9×13 for his parties, and now, I make it in a spring form pan.
Every year I change it up a little. Some years I put more cookie crumbles on top of the cake. Some years I press the edge of a cookie into the soft ice cream before I freeze it, so they are sticking up.
Use your imagination, the options are endless.
I have also made this cake with mint chip and with chocolate chip.
These two look great topped with mini chips.
(word to the wise, take it out a bit before serving, though, because getting candles in it can be a challenge!)
I hope that Spencer enjoyed his Birthday dinner!!
We sure enjoy him!!
Happy 17th Birthday, Buddy!
Yield: 1 cake
Cookies and Cream Ice cream Cake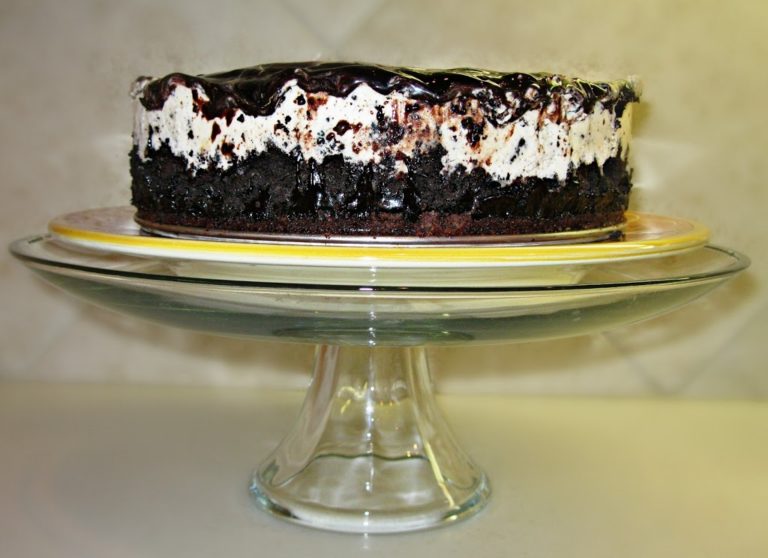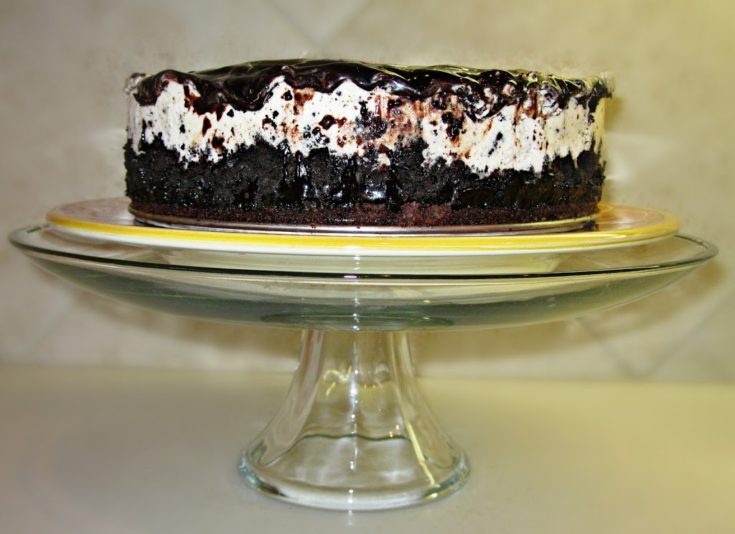 Brownie with cookies and cream ice cream make a delicious treat for the entire family.
Total Time
8 hours
35 minutes
Ingredients
1 package of brownie mix, 8×8 size
1 jar of hot fudge sauce
1/2 package of Oreo cookies, crumbled
1 quart of Cookies and Cream Ice Cream, softened
Instructions
In a spring form pan, Bake the brownies as instructed on the package.
Cool slightly. Warm hot fudge in microwave according to the jar. Spread a little more than 1/2 of the hot fudge over the brownies. Sprinkle crumbled cookies evenly over the top.
Spread softened ice cream over the cookies, and "frost" with remaining hot fudge.
Quickly put it in the freezer to harden.
Notes
I usually make this two days before we eat it.
Nutrition Information:
Yield:
1
Serving Size:
1
Amount Per Serving:
Calories:

4144
Total Fat:

162g
Saturated Fat:

53g
Trans Fat:

0g
Unsaturated Fat:

99g
Cholesterol:

198mg
Sodium:

2703mg
Carbohydrates:

664g
Fiber:

7g
Sugar:

147g
Protein:

47g
Nutrition isn't always accurate.