Pecan Caramel Bark – (Turtle Bark)
As an Amazon Associate and member of other affiliate programs, I earn from qualifying purchases.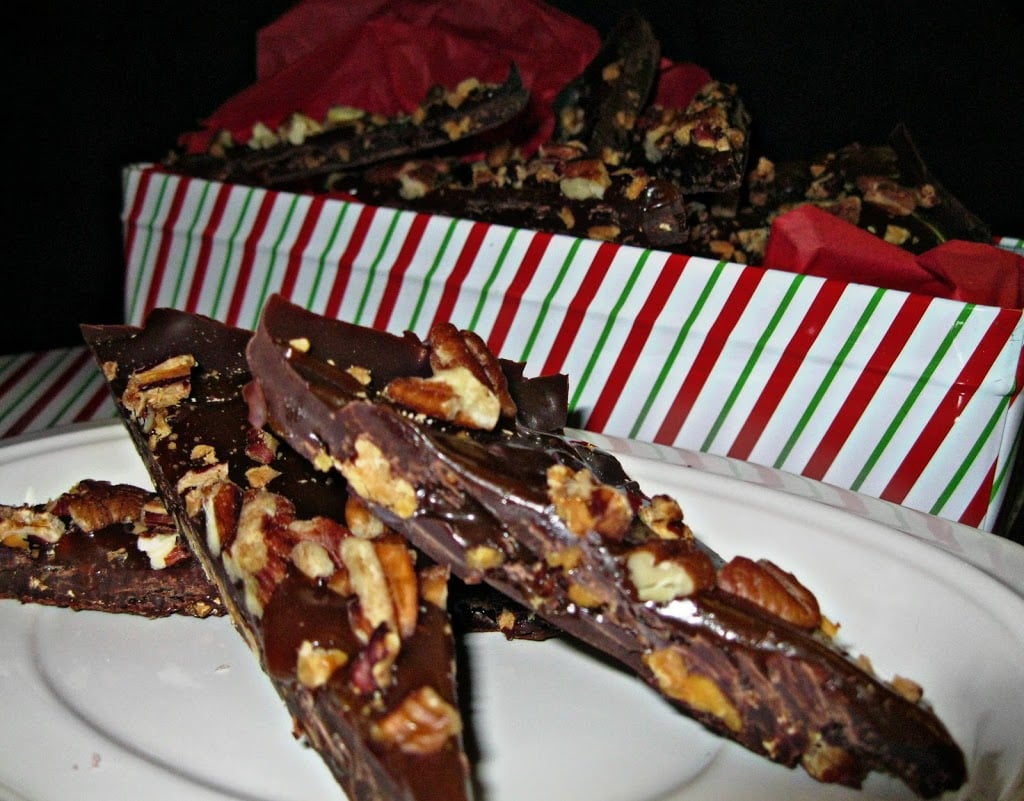 pecan caramel bark – turtle bark
I decided it would be fun to join a bake along challenge!!
I have been having so much fun in the kitchen, I figured if I did something like this, I would most likely be baking something I wouldn't normally bake.
Turns out, that happened on the first challenge!
First off, I have never been a big fan of pecans, and secondly, the thought of making homemade caramel always sort of intimidated me!
Well, Danielle, being the sweetheart she is, gave me a cheater version using melted caramels.
I seriously considered it…. and then I tightened my apron straps,
pulled up my big girl panties and tackled it!
I knew I had enough of the ingredients to have a few do-overs, and fully planned to.
Then… guess what?
I did it… on the FIRST TRY!
(takes a bow)
It was surprisingly easy.
So, I made this pecan turtle bark today with HOMEMADE caramel….
and it smells, looks and
TASTES amazing!
Thanks, Danielle for the fun "homework!"
Here is the recipe for those of you who want a yummy assignment!
* ~ *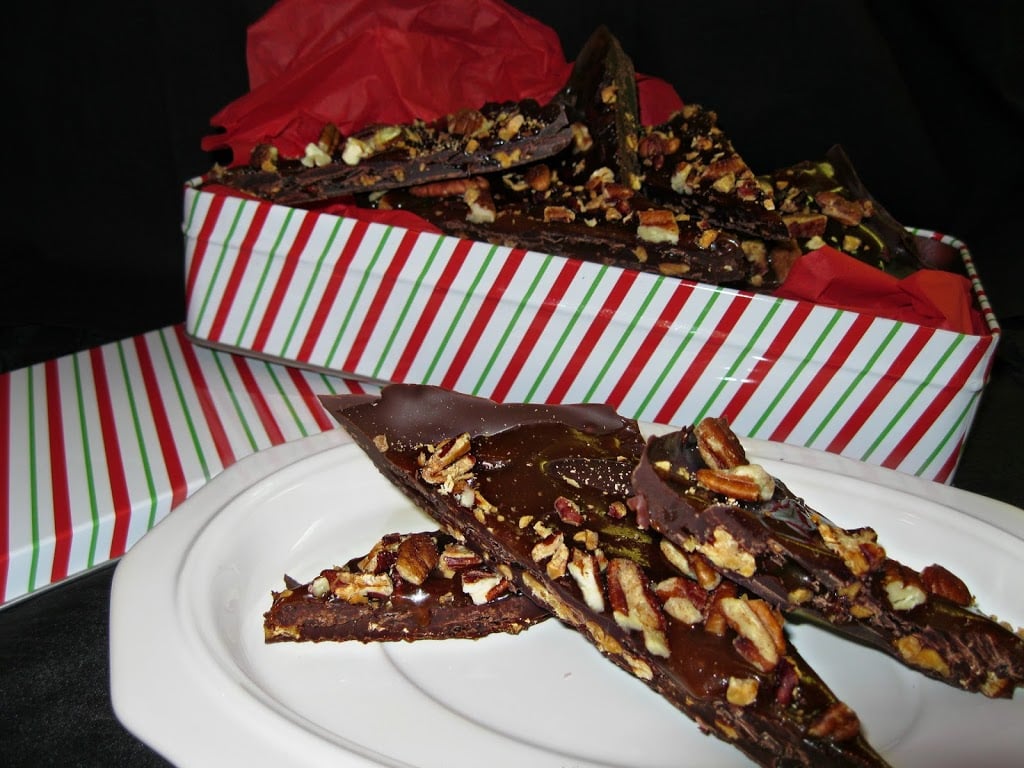 Guess who has a jump on her holiday baking?!!?
I do! I do!!
.
Yield: 8 x 8
Pecan Caramel Bark - (Turtle Bark)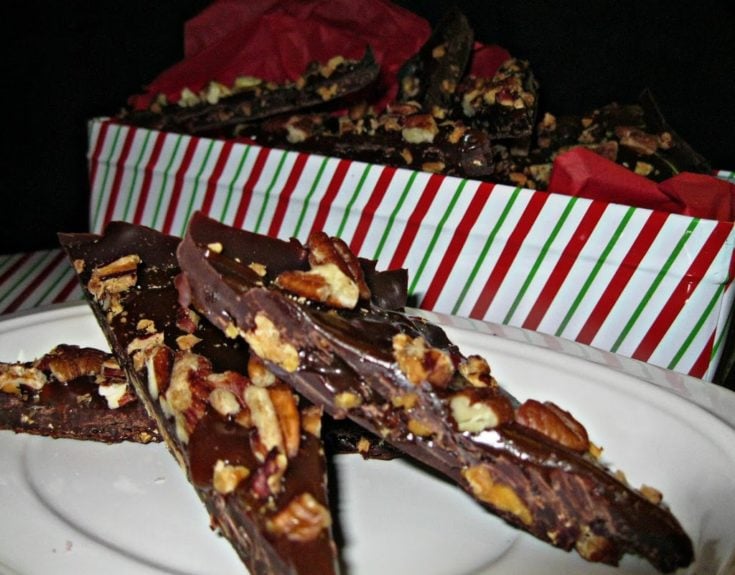 Pecans, Caramel and Dark chocolate make up this Turtle Bark.
Additional Time
27 minutes
Ingredients
½ cup pecans, toasted
16oz Ghirardelli DARK chocolate chips
Caramel Filling:
• ½ cup sugar
• 2 tablespoons water
• 1 tablespoon butter
• 5 tablespoon heavy cream
*Optional Topping:
2 tablespoon pecans, finely chopped
2oz caramel sauce
Instructions
Toasting the pecans:
Place pecans on bake sheet pan and toast at 375 degrees for about 5-6 minutes then stir for even toasting and bake for about another 5-6 minutes or until nuts darken and become aromatic. Remove bake sheet from oven and set aside to cool. Once pecans are completely cooled; chop and set aside. Reserve 2 tablespoons of chopped pecans and chop it some for a finely chopped consistency; set aside for finishing.
To make the caramel filling:
Add sugar and water into a saucepan over medium low heat. Stir until sugar has dissolved. Use a wet brush to remove any crystals that form on the side. Once sugar has dissolved increase heat to high. Now and then, using the handle give the pot a swirl to keep the mixture moving. Do not stir the mixture directly. The mixture will start to bubble after a minute. As the mixture darkens to a medium amber color, approximately 5-7 minutes, add the butter and heavy cream to saucepan. The mixture will bubble wildly.
Whisk to combine (bubbles will subside upon cooling).
Set aside to cool completely.
To melt the chocolate:
Place chocolate in a heat proof bowl over (not on) simmering water and stir until melted.
Preparation:
Line 8×8 pan with parchment or wax paper
To assemble:
Pour half of melted chocolate into prepared 8×8 pan, using an offset icing spatula smooth out chocolate until an even layer is achieved. Place pan in refrigerator for 5 minutes for chocolate to slightly harden. Remove from refrigerator and pour ¼ of caramel on top and sprinkle pecans on top of caramel and gently press pecans down into caramel. Place pan in refrigerator for 7 minutes for caramel to become slightly harden. Pour remaining chocolate on top and return to refrigerator for 20 minutes for fully assembled
Nutrition Information:
Yield:
1
Serving Size:
1
Amount Per Serving:
Calories:

4109
Total Fat:

240g
Saturated Fat:

120g
Trans Fat:

2g
Unsaturated Fat:

105g
Cholesterol:

154mg
Sodium:

566mg
Carbohydrates:

470g
Fiber:

41g
Sugar:

398g
Protein:

34g
Nutrition isn't always accurate.