Old Fashioned Spritz Cookies
As an Amazon Associate and member of other affiliate programs, I earn from qualifying purchases.
This is the best recipe for spritz cookies! Bake buttery soft spritz cookies for Christmas and during the holidays when you need some festive cheer! Sprinkled with sparkly sugar or sprinkles, this classic cookie recipe is fun and delicious. Made with an old-fashioned cookie press, these old-fashioned cookies can't be beat!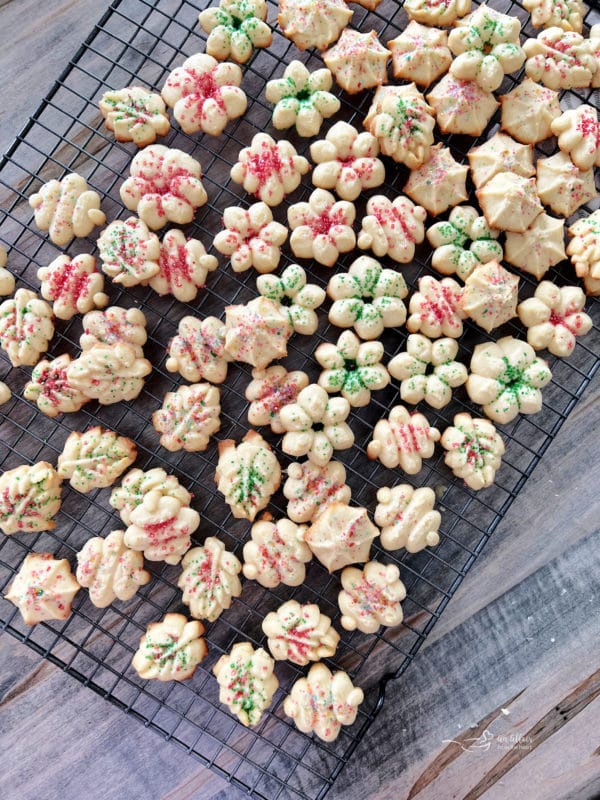 My Favorite Spritz Cookie Recipe
For many many years, I struggled to make spritz cookies. My friend, Julie, used to bring them to my cookie exchanges almost every year, and I loved them, but they just never turned out for me! I bought different cookie presses, tried different recipes, and had no luck. That was until one year I got a very special Christmas present.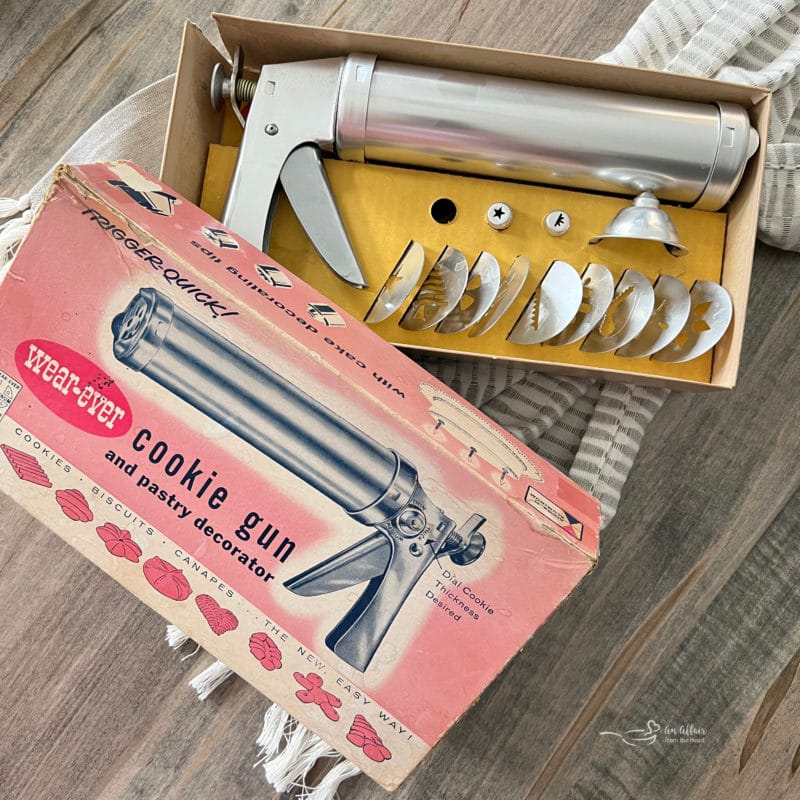 Julie searched high and low for a press like her mom's and she found one on eBay! It's a metal cookie press, and it came with her mom's lemon spritz cookie recipe and her tips and tricks for making the best spritz cookies!
Ever since I received that special gift, I have been making perfect spritz cookies! My family gets excited to see these freshly baked cookies in the cookie tins. Did I mention these cookies are perfect to leave for Santa on Christmas Eve?
I personally love having a little something lemon flavored on my cookie trays amidst the peppermint and chocolate to give my trays a nice varitety. But feel free to switch things up and make these cookies with vanilla or almond extract rather than lemon if you prefer!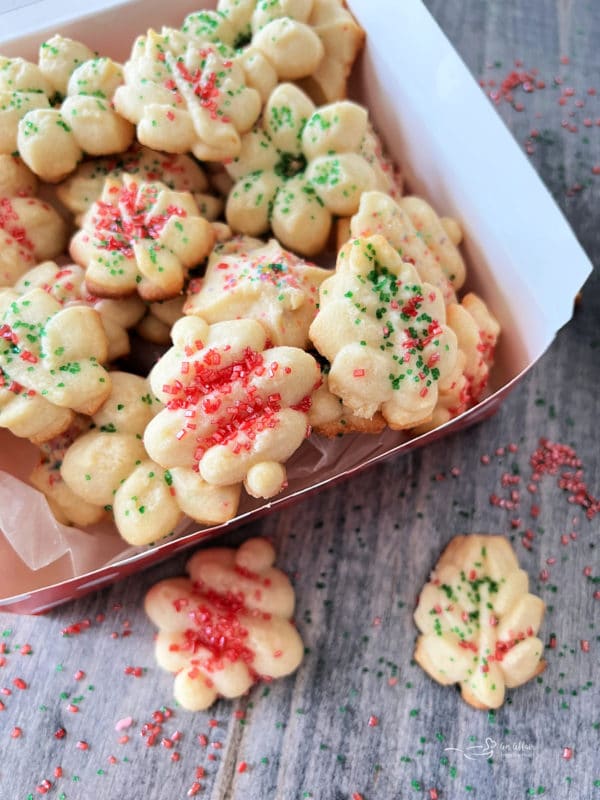 What Is The Difference Between Spritz And Butter Cookies? Are Spritz And Butter Cookies The Same?
Spritz and butter cookies are very similar, but there is a difference between the two! Spritz cookie dough contains egg and butter cookies do not. You can tell the difference between the two cookies' textures and crumbs.
Why This Recipe Is The Best
Great for Christmas: Once the holidays arrive, it's time to bake, bake, bake! These lemon spritz cookies are always my go-to every year because they bring me so much joy. The sprinkles, leaf designs, and little swirls are just so cute and fun to eat! Did I mention they are beautiful to display on the table? Another great thing about these cookies is that they are great for giving away as gifts.
Easy: This is a simple cookie dough recipe that almost anyone can make. Let the kids come into the kitchen to help! It may seem intimidating to use a spritz cookie press but it's really so easy to use!
Sweet and Delicious: Buttery, flaky, sweet, and perfectly crumbly, these old-fashioned cookies taste wonderful! If you enjoy classic cookies, then you will love these!
Fun: Baking these cookies during the holidays is so much fun. A warm and full kitchen with sweet fragrances from all the baked goods will make you feel nostalgic for all the times you helped Mom in the kitchen with different Christmas cookies.
Ingredients
All you need are just some basic cookie ingredients for this recipe! Find the exact measurements in the printable recipe card below.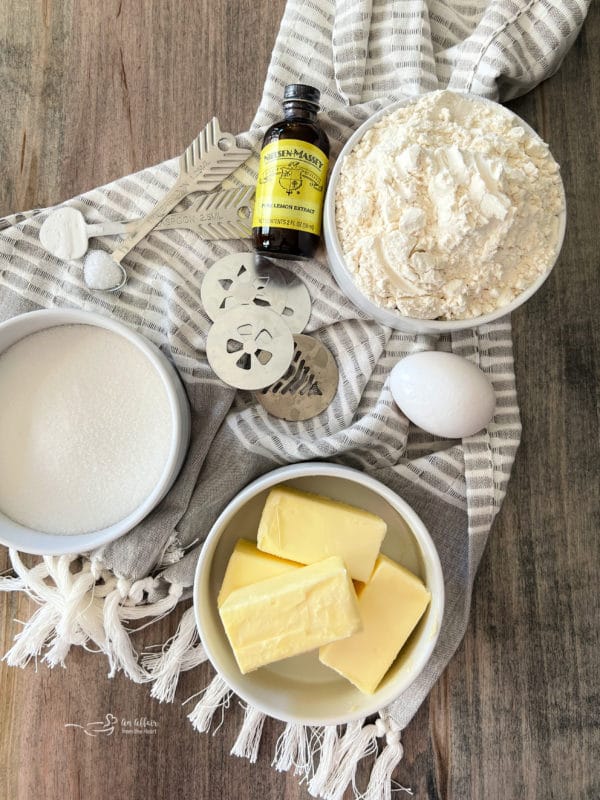 Wet Ingredients
Crisco: I use this to grease the pan really well so the cookies don't stick. Nothing is worse than baking yummy cookies only to find that they will not come off the baking sheet.
Butter: A key ingredient in these buttery cookies, you will want to have some softened unsalted butter ready to be used.
Egg: You will need one whole egg at room temperature to make these cookies even more delicate and crumbly.
Lemon Extract: I like using lemon, however, use vanilla or almond extract if you like!
Dry Ingredients
Sugar: White granulated sugar is a classic sweetener that gives these cookies their soft textures and sweetness.
Flour: All-purpose flour is a simple flour that is perfect for cookies and all types of baking. For a gluten-free version, use 1:1 gluten-free flour.
Salt: Just a little bit of salt is used to activate things while baking plus give them the perfect balance of flavors.
Baking Powder: Baking powder helps these cookies rise and fluff up. You will definitely need this ingredient!
Sprinkles or Colored Sugar: Use your favorite red and green colored sugar or sprinkles to get into the holiday spirit with these cookies. Or switch up the colors for other holidays, or use multi-colored sprinkles for any time!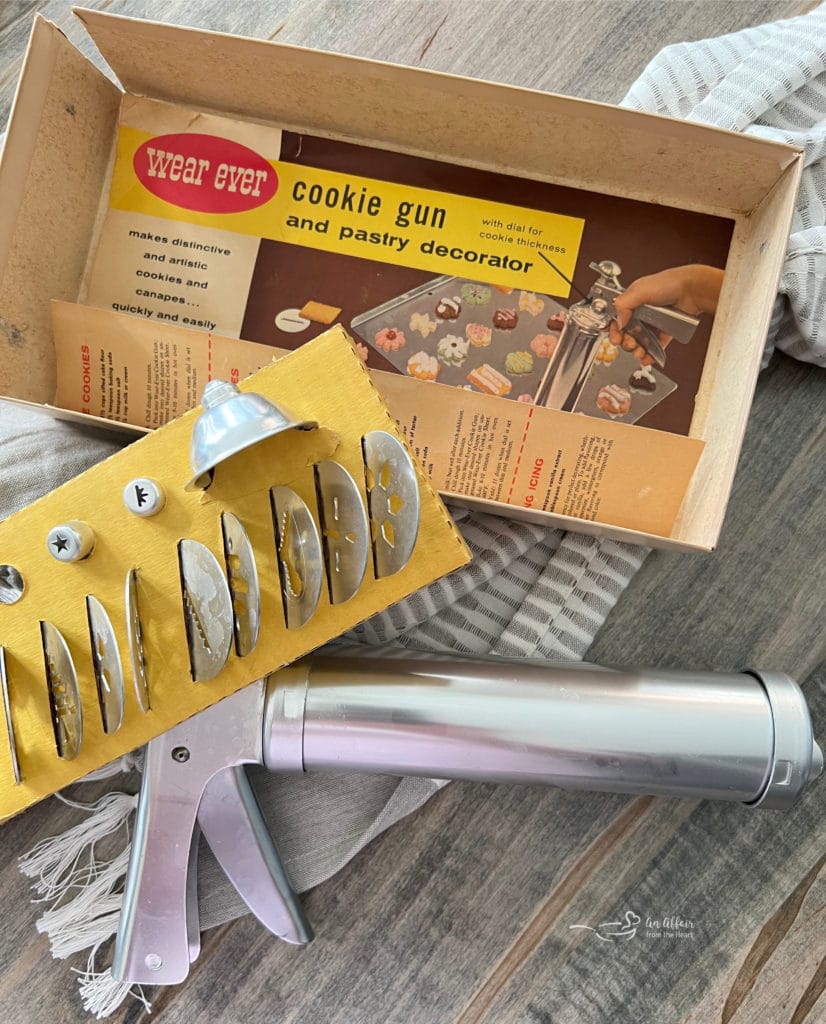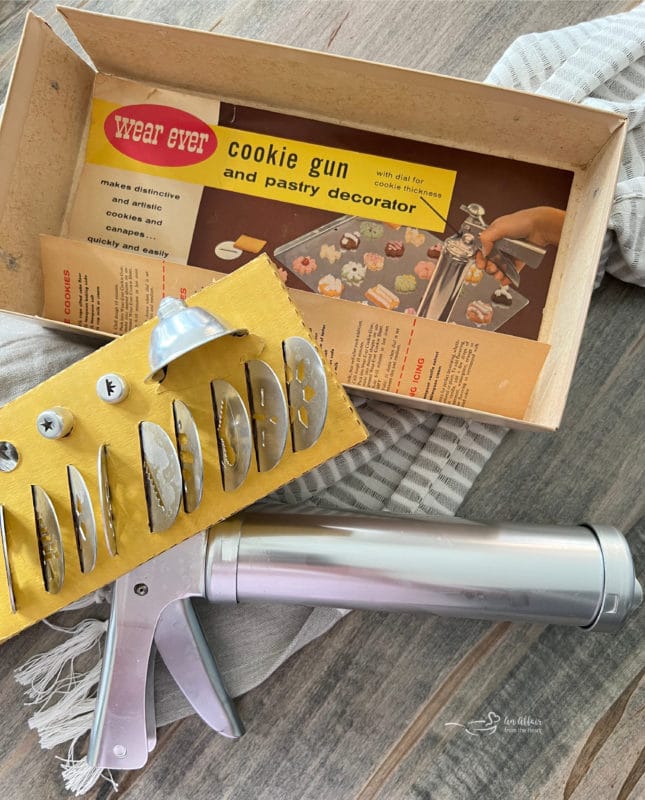 Where Did Spritz Cookies Originate?
Spritz cookies originated in Germany and were originally called Spritzgeback. Spritz originates from the German word, "spritzen", which means "to squirt" the dough onto the baking sheet.
How To Make Lemon Spritz Cookies
Preheat the Oven
First, preheat the oven to 400 degrees Fahrenheit and grease the cookie sheets very well with Crisco. If you do not have Crisco, then you can use butter.
Place the cookie press in the refrigerator.

Cream Sugar and Butter
With a stand or electric hand mixer, cream together the butter and sugar until fluffy and light.
Add the Egg
Next, add the egg and lemon extract to the butter mixture.
Sift Dry Ingredients
Sift the flour, baking powder, and salt. Gently stir the flour into the butter mixture in three different parts making sure to stir well after each addition.

Fill the Press
Fill the chilled cookie press with cookie dough and adhere which disc you'd like to the end.

Press the Cookies
Press them onto the greased baking sheet. Feel free to get creative with all of the different types of designs.
Decorate the Cookies
Sprinkle the cookies with sprinkles or sugar. You can purchase colored sugars from the store, or make your own as my Mom does for her sugar cookie recipe. Another fun idea is flavoring your sugars to give another level of yum!
Bake
Finally, bake the cookies for seven minutes or until the cookies are just barely golden brown on the edges. Cool the cookies on a wire rack.
Store the cookies in an airtight container or your favorite cookie jar!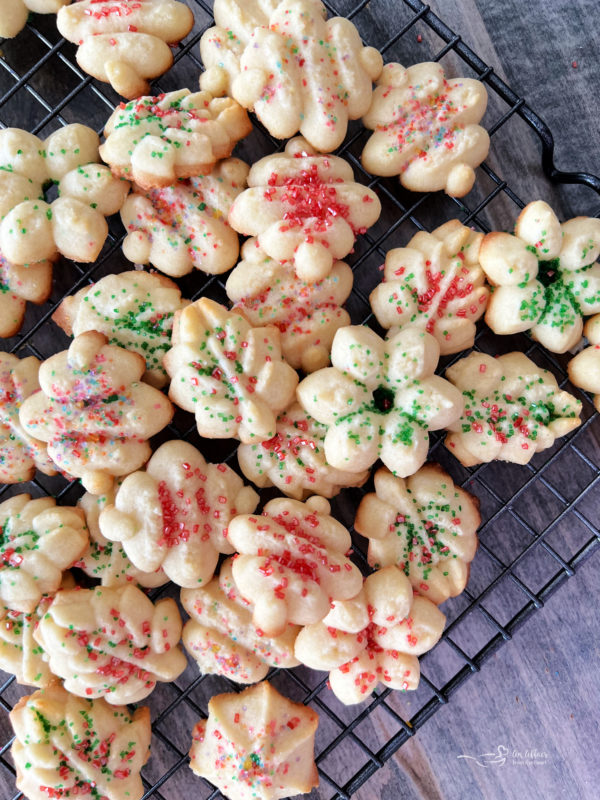 Do You Put Sprinkles On Spritz Cookies Before Or After You Bake Them?
I like to put the sprinkles on the dough before the cookies are baked so they stick to the tops of the cookies! Adding the sugar to the moist dough allows it to stay in place.
What Is The Secret To Making Spritz Cookies?
Slowly add the flour in small intervals and gently stir by hand until combined. Another thing you want to do is make sure the cookie press is chilled before using it so it is cold. When pressing the cookies, work directly above the baking sheet so the dough can easily be pressed into different shapes.
Notes and Tips
For best results, be sure to chill the cookie press before using it. Do not chill the dough, only the press. The cookie dough should be sticky.
All ovens vary so be sure to watch these cookies. In different ovens, these cookies can take anywhere between eight and ten minutes to bake. I like to pull my cookies out after seven minutes to make sure they are the perfect golden color.
Store the leftovers in an airtight container.
To save time during the holidays, bake these cookies ahead of time! These lemon spritz cookies are so easy to freeze and they freeze quite well! Just pull them out and let them thaw in the refrigerator when you are ready to use them.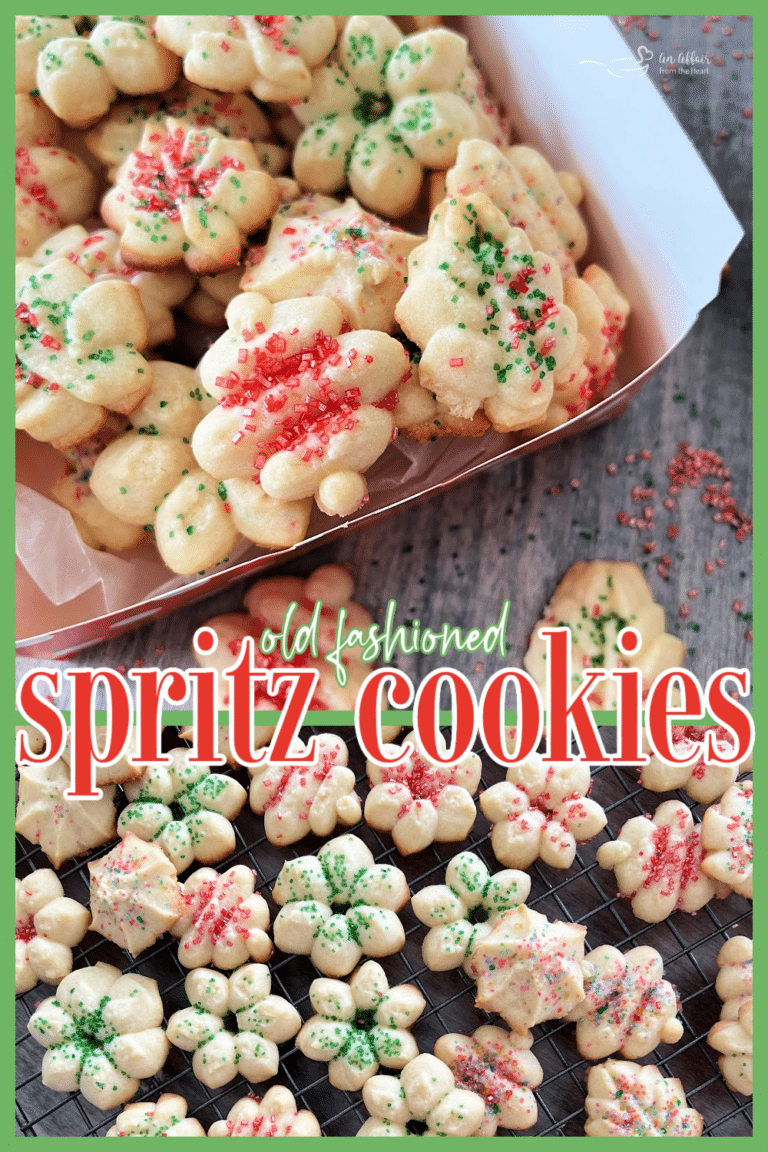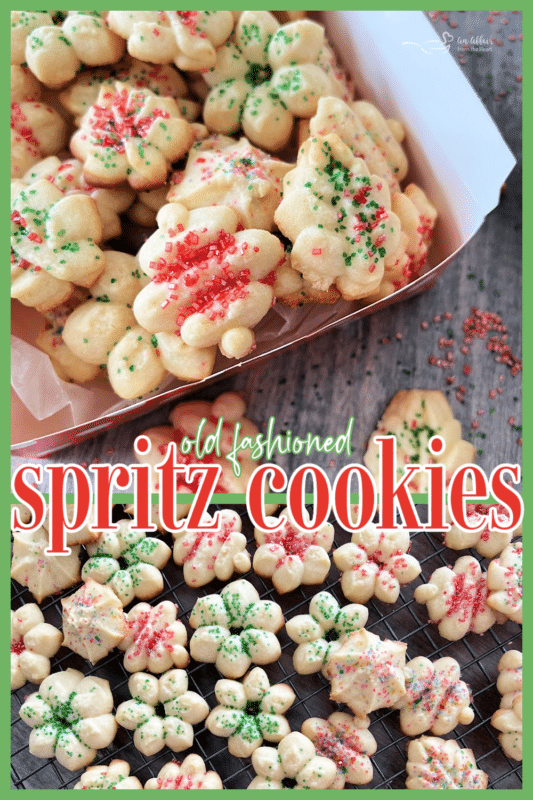 Love These Classic Cookies? Pin This Recipe!
Don't forget where you found this recipe and these tips and tricks for making the best old-fashioned spritz cookies! Pin it to your favorite Pinterest board before you go!

More Cookie Recipes You Will Adore!
I am in the baking spirit, are you?? Here are some other great cookie recipes you just have to try!
I am participating in Christmas Cookies Week – a group of bloggers get together and bake all sorts of yummy cookies and we share them all week long! Find a long list of other great ideas for your holiday cookie baking below.

Even More Christmas Treats!
Cookies are a must, but candy is a nice addition to a cookie try, too! Try some of these recipes when you are doing your holiday baking!

With these tips and tricks, you will be making the best spritz cookies ever! Let's bake!

Yield: makes about 5-6 dozen
Old Fashioned Spritz Cookies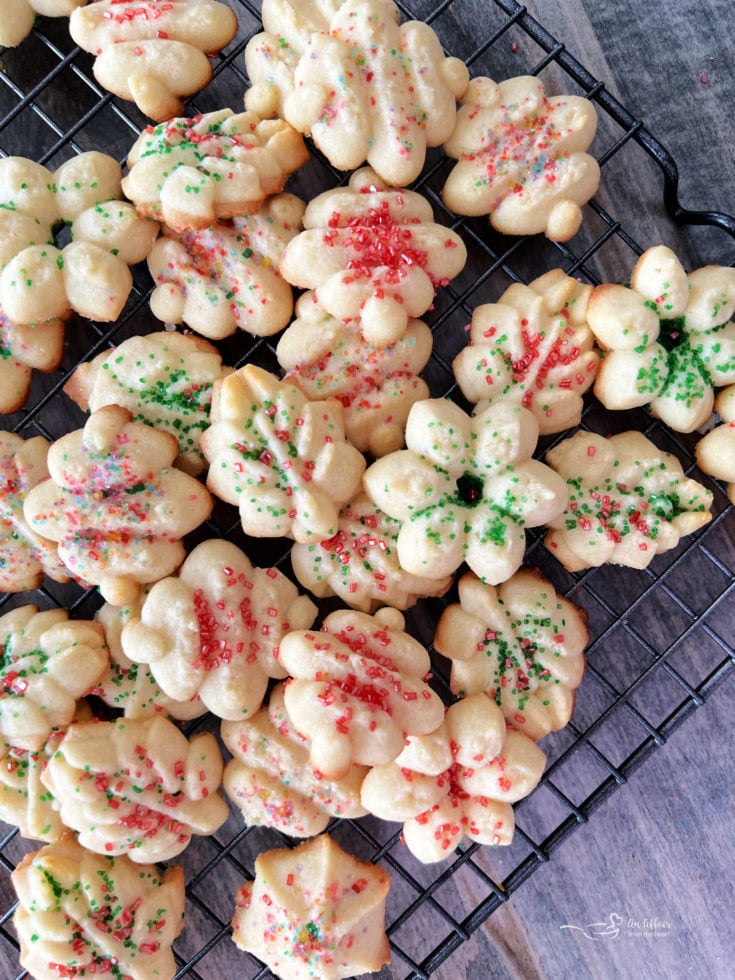 Old fashioned spritz cookies turn out perfectly each and every time when you follow this classic never fail recipe! Flavored with lemon, but easily adjustable to your flavor liking. Crisp, light and buttery spritz cookies, perfect for any holiday!
Ingredients
1 cup unsalted butter, softened
¾ cup sugar
1 egg, room temperature
1 teaspoon lemon extract (can sub almond or vanilla)
2 ¼ cups flour
¼ teaspoon salt
½ teaspoon baking powder
Sprinkles or colored sugar for decorating
Instructions
Preheat oven to 400 degrees F. Grease cookie sheets with Crisco. Place cookie press in the refrigerator.
With a mixer, cream together butter and sugar until light and fluffy.
Add in egg and extract and beat until mixed well.
Sift together four, salt and baking powder. Add flour mixture into the butter mixture in 3 parts, mixing well after each addition.
Pack the dough into a chilled cookie press and press them onto the greased cookie sheets.
Sprinkle with colored sugars or sprinkles.
Bake for 7 minutes (*see notes) or until they are just barely golden brown on the edges. Cool on wire racks.
Store in an airtight container.
Notes
Chilling the cookie press has been key to making these cookies work well. Chill the press, not the dough! The dough needs to be tacky to stick to the cookie sheet.
The original recipe says to bake 8-10 minutes. Ovens vary as you know, so watch them and see for yourself how long. I usually pull mine at 7 minutes, because by 8 minutes they are too brown.
Use whatever flavoring you like, we love the lemon! Plus, when I am making up my cookie trays, it's nice to have a little something lemon on them, with all of the other flavors.
Great make-ahead recipe, they freeze really well!
Recommended Products
As an Amazon Associate and member of other affiliate programs, I earn from qualifying purchases.
Nutrition Information:
Yield:
72
Serving Size:
4
Amount Per Serving:
Calories:

47
Total Fat:

3g
Saturated Fat:

2g
Trans Fat:

0g
Unsaturated Fat:

1g
Cholesterol:

9mg
Sodium:

12mg
Carbohydrates:

5g
Fiber:

0g
Sugar:

2g
Protein:

1g
Please note that nutrition is not guaranteed accurate.
Monday Christmas Cookie Recipes